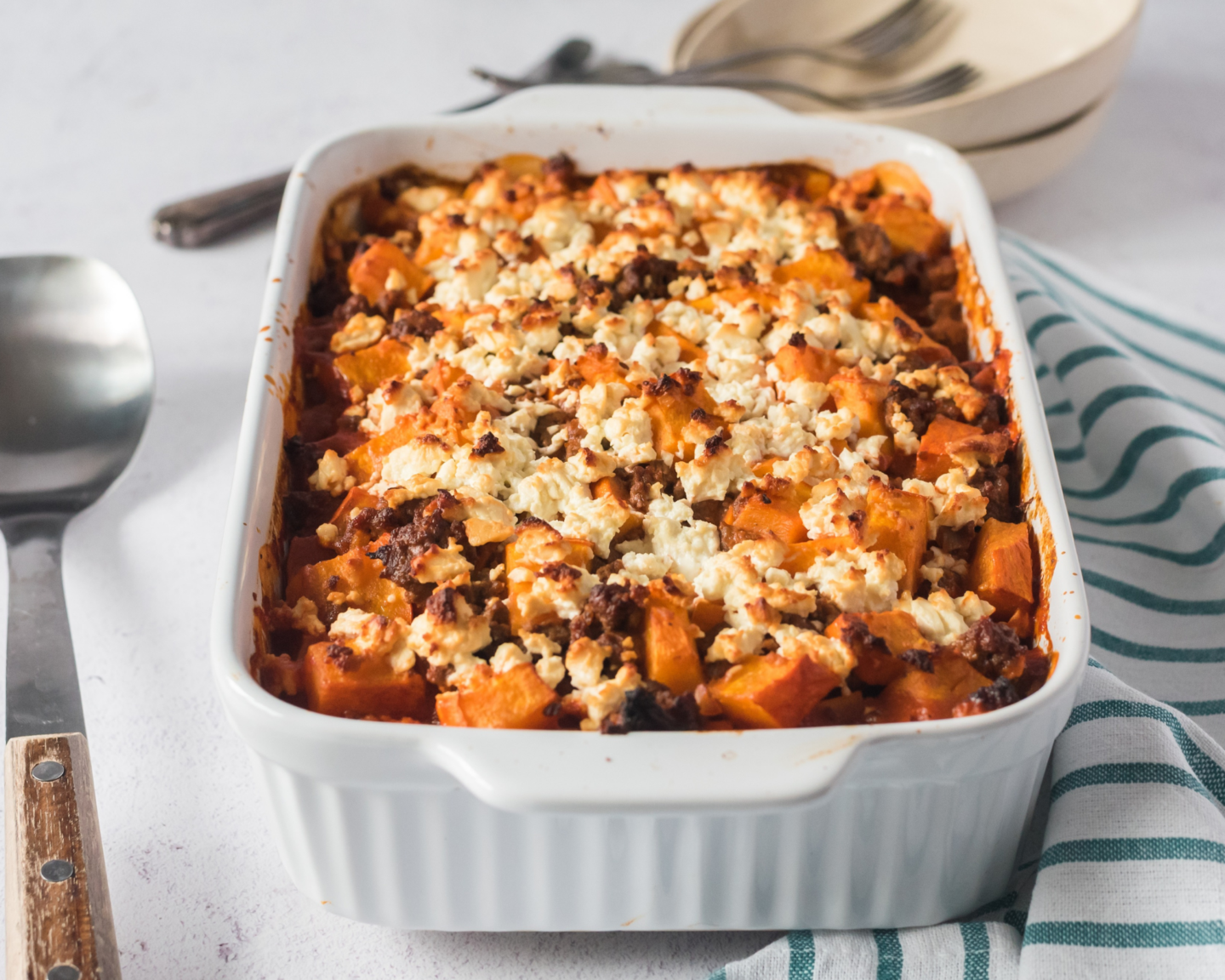 Bring pumpkin to your dinner table this fall with this delicious and savory pumpkin casserole dish that can easily be doubled to feed a crowd. This dish can be a great addition to your Thanksgiving dinner too!
When you think about fall, you probably think about pumpkins. From pumpkin spice everything to decorating with pumpkins, those pretty orange globes really are the epitome of fall. When you think about cooking with pumpkin, you may automatically think of making sweet treats. Pumpkin pie, pumpkin muffins, pumpkin bread and even pumpkin ice cream and my latest pumpkin dessert recipe: pumpkin s'mores cheesecake bars! But what about using pumpkin to make a more savory dish?
Well, today, I'm going to show you how to make a delicious, satisfying dish you and your family will love: Pumpkin Ground Beef Casserole.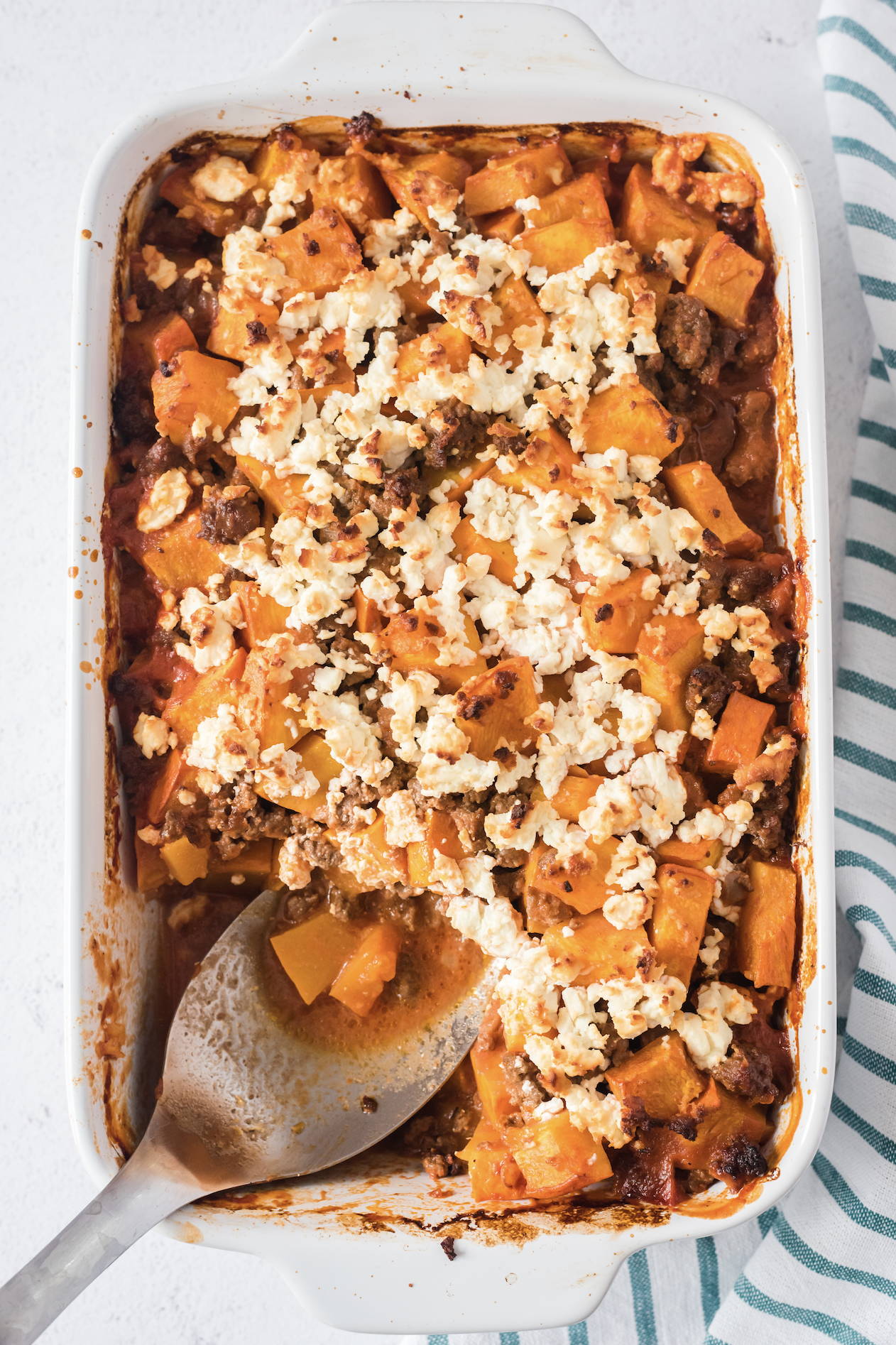 This savory pumpkin casserole dish is a fall dinner at its finest. Everything about this recipe screams "fall"! From the beautiful orange pumpkins to the browned ground beef and the perfect blend of seasonings, it really may quickly become your favorite fall meal. It's warm and quite filling and sure to heat up these cool fall nights! I also obsess over this recipe because it really serves as a full meal in itself.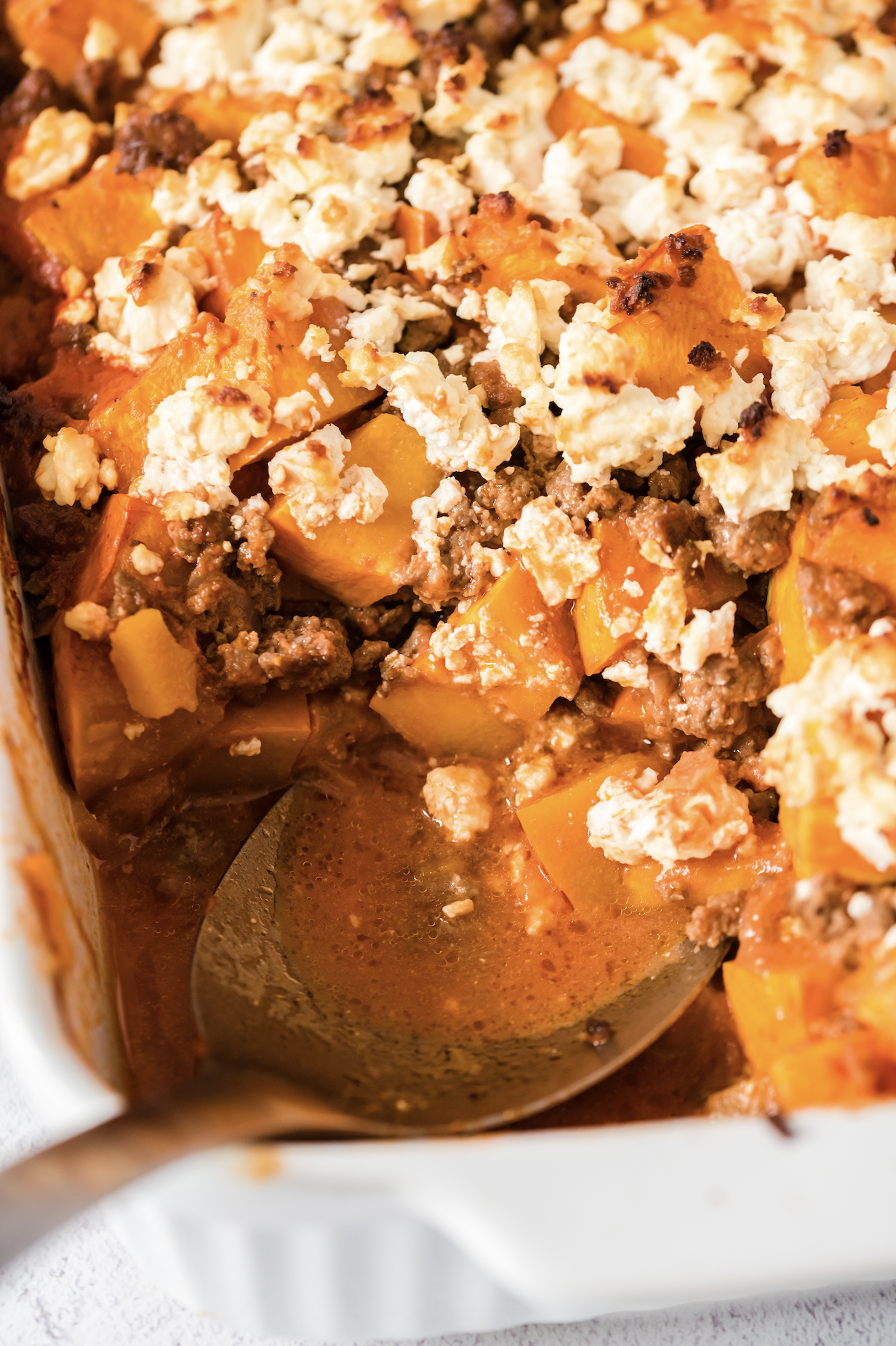 There are veggies (yes, pumpkin!), protein and starch all in one dish. No need for any extra sides if you ask me! Of course, you can serve the pumpkin bake along side some roasted Brussels sprouts or sautéed broccoli rabe if you want to add some bright green color to your table. But one pan of this delicious pumpkin casserole dish will be enough for everyone.
So how do you make savory pumpkin casserole? Let's take a look and get you ready to cook!
How to Make Pumpkin Ground Beef Casserole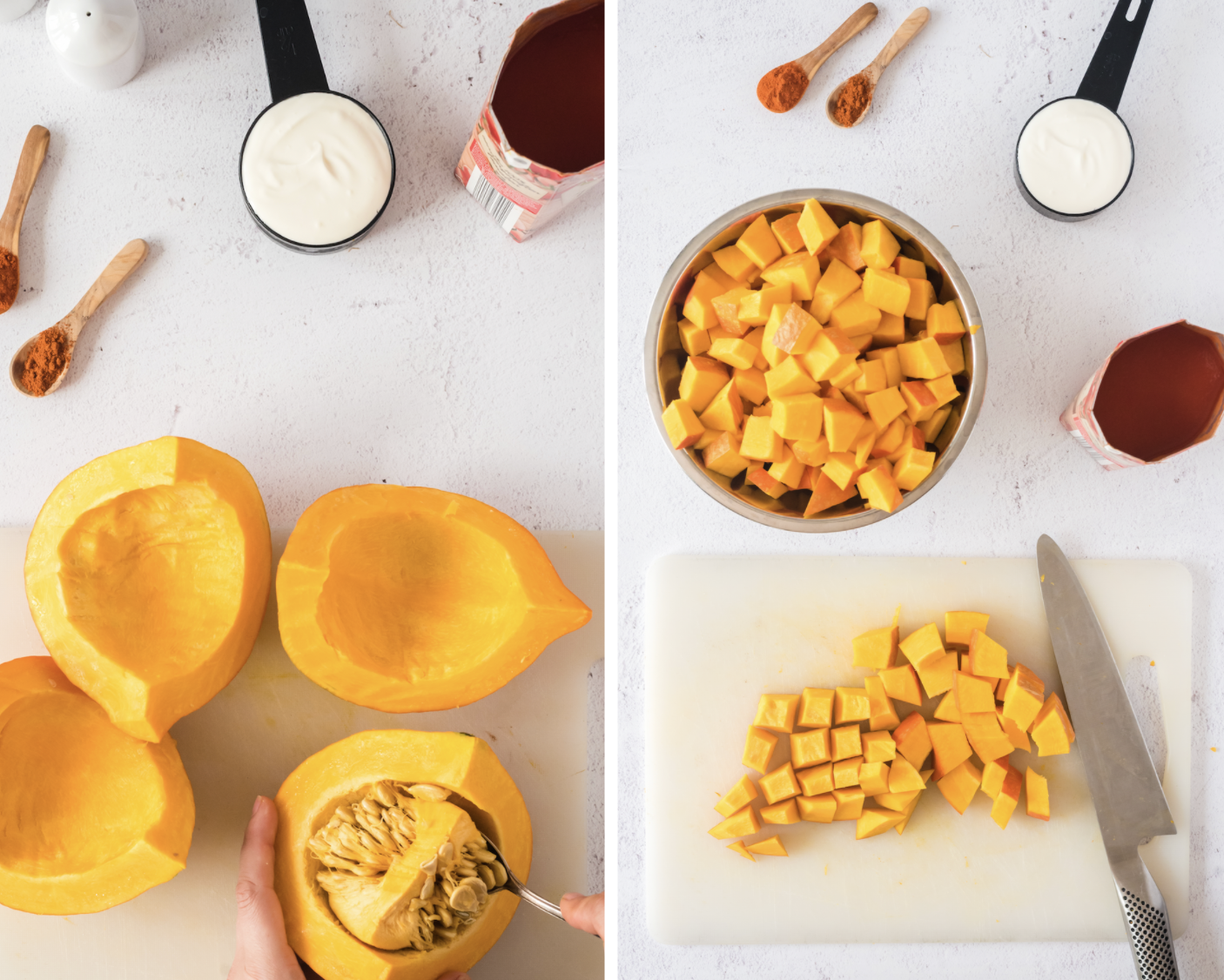 To begin, you will need to cut the pumpkins, remove the skin and remove the seeds. Look for small "sugar" pumpkins which are meant to be used for cooking. They are the perfect size for this recipe and much sweeter than larger pumpkin varieties. You may also want to consider saving the pumpkin seeds to roast later on- they make an amazing snack!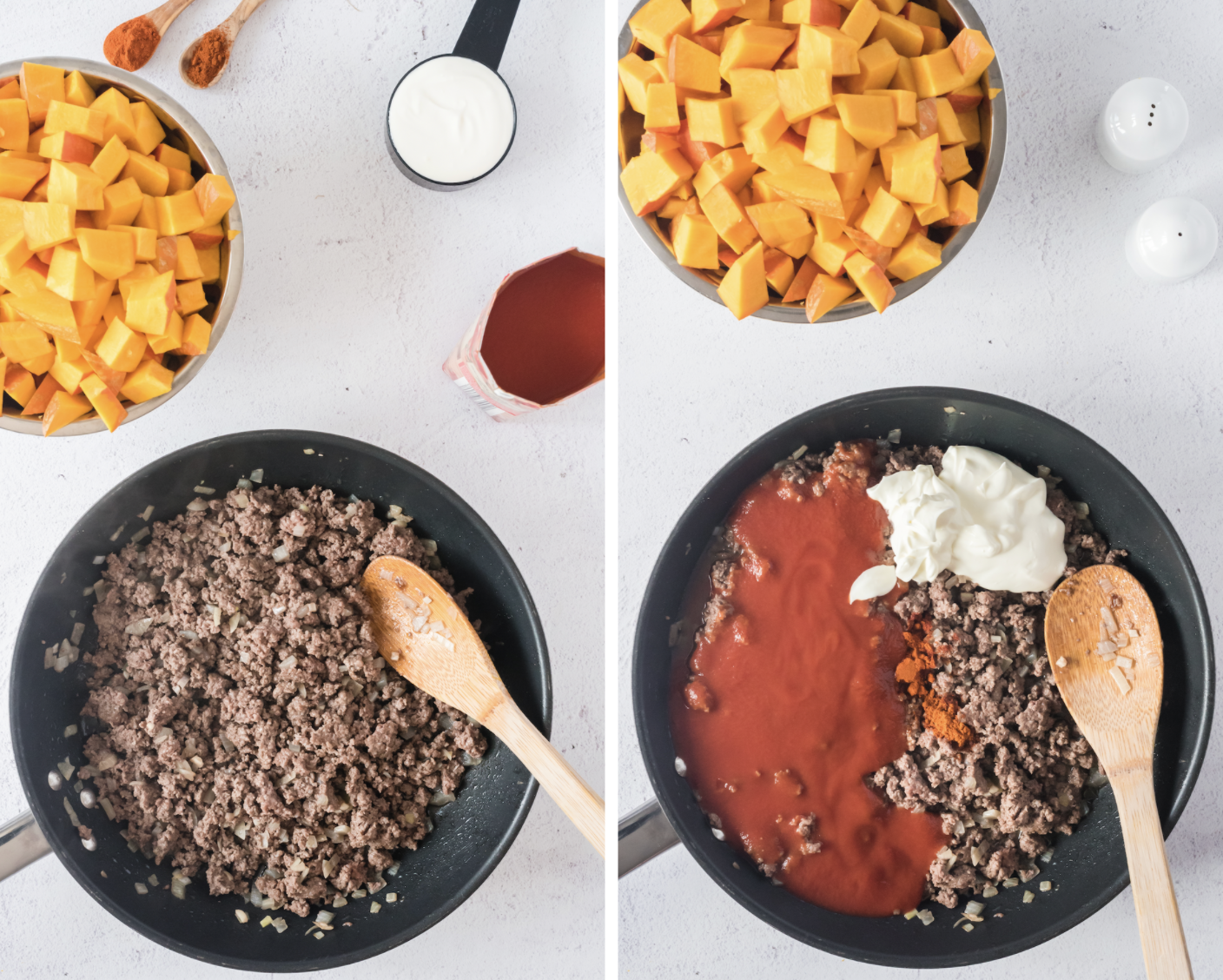 Ground beef is browned in a large skillet and then tossed with some onions and garlic. Paprika and cayenne are mixed into the meat, seasoning it to perfection. If you're not a fan of spice, simply skip the cayenne! The pumpkin casserole will still be amazing without it! Tomato puree and sour cream are mixed into the beef creating a saucy, creamy blend. Take a taste of the mix at this stage and adjust the seasonings to suit your personal preferences. Maybe a little more salt or a touch more cayenne if you really want to turn up the heat!




Spread the chopped pumpkin in a casserole dish and then pour the beef mix over the pumpkin.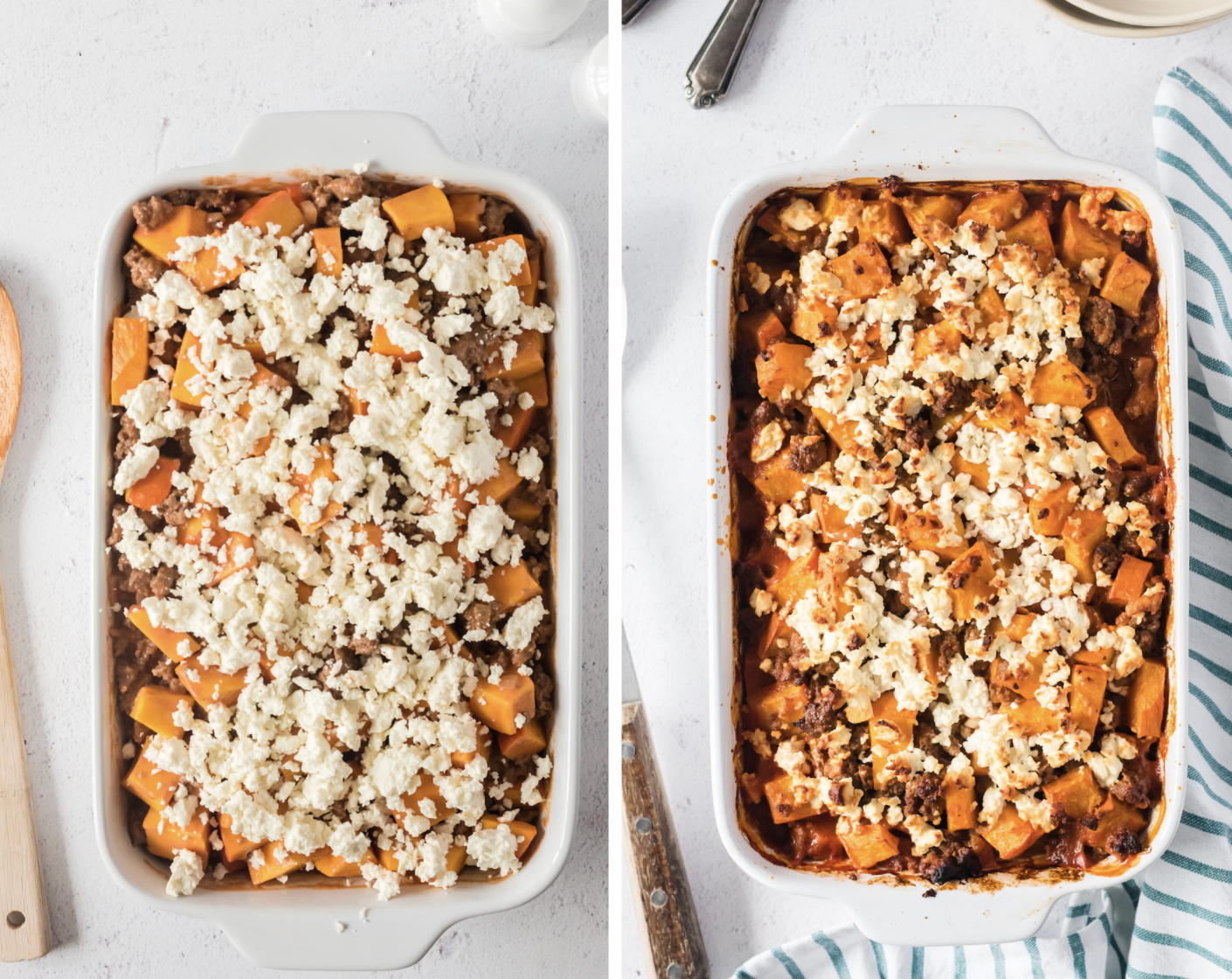 Feta cheese is then sprinkled on top as the perfect, finishing touch- everything is better with cheese! The pumpkin casserole dish goes into the oven and then it bakes, filling your house with a mouthwatering scent that will have everyone running to the dinner table. Pretty easy, right?!
Tips and Tricks for making Pumpkin Ground Beef Casserole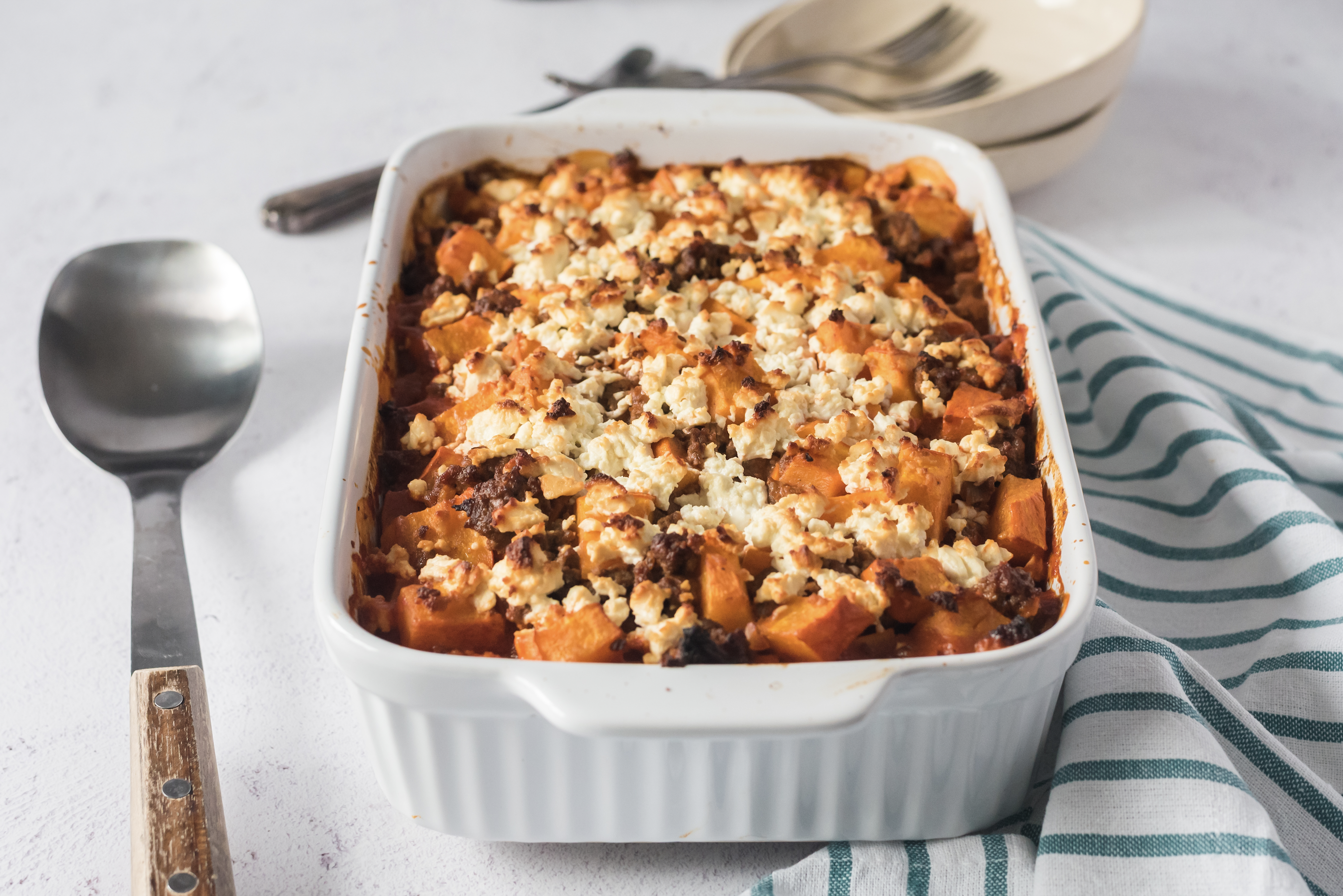 To save a little time, you can look for pre-chopped pumpkin in your grocery store, some places have it on hand this time of year. You would need about 6-8 cups of chopped pumpkin if you go this route.
If you want to quicken the cooking process, preheat the oven as your first step, cut the pumpkin, add it to your casserole form and precook it while you are preparing the sauce. Then go on as written in the recipe, but reduce baking time to around 20-30 minutes. You can also precook your Pumpkin in the microwave. Fill your pumpkin into a microwavable bowl and heat on maximum heat for 4-5 minutes. Add the cooked pumpkin into your casserole form, add sauce and feta and bake for 10-15 minutes.
To feed a crowd, just double the ingredients to fill up two casserole dishes or make even more.
You can prepare the sauce ahead and cut the pumpkin. Just throw everything together when needed and bake.
If you don't like feta, you can add mozzarella, cheddar or another cheese to your liking. Feta cheese gives a nice contrast though, if you like and have feta I would recommend using it.
You can keep the leftovers in your fridge for up to 2 days.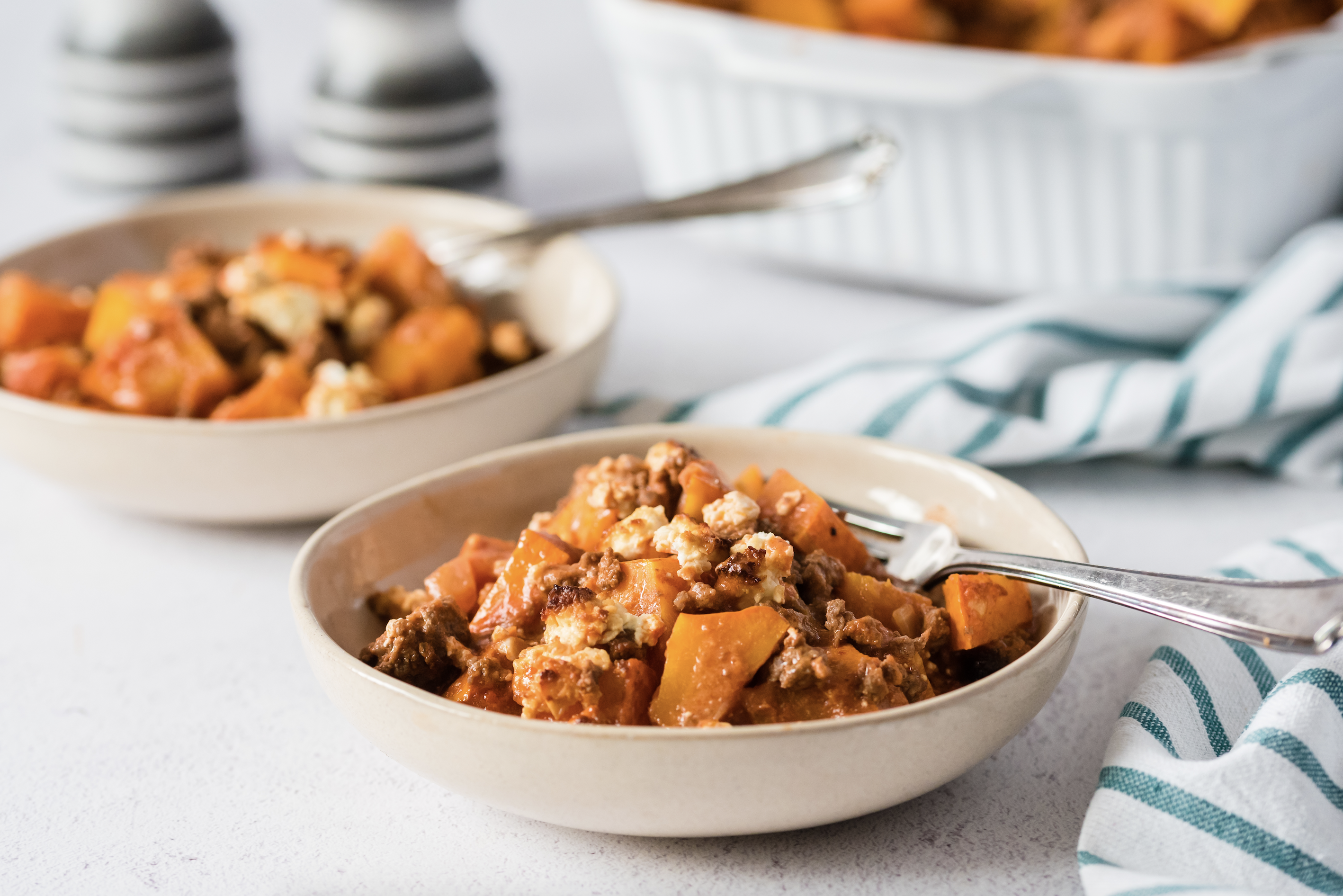 So are you ready to make some savory pumpkin recipes? Are you ready to bring pumpkin to the dinner table this fall? It really isn't just for dessert! And this delicious, hearty pumpkin bake will prove it!
Make my pumpkin casserole recipe this week and then let me know what you think. It could be your next new fall favorite dish!
Enjoy!
MORE DELICIOUS MAIN DISHES TO TRY!
I hope you like this recipe for pumpkin ground beef casserole – be sure to give it a review below! Also don't forget to follow Hip Mama's Place on Facebook, Instagram, Pinterest, and Twitter!
This post may contain affiliate links. Hip Mama's Place is a participant in the Amazon Services LLC Associates Program, an affiliate advertising program designed to provide a way for websites to earn advertising revenues by advertising and linking to Amazon.com and other retailers- at zero cost to you. You can learn more about our Privacy and Disclosure Policies HERE.
Print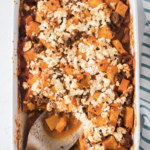 Pumpkin Ground Beef Casserole
---
Prep Time:

20 minutes

Cook Time:

1 hour

Total Time:

1 hour 20 minutes
1

small pumpkin, around 2 pounds

1

pound of ground beef

2 cups

tomato puree/sieved tomatoes

1

onion, diced

1

clove garlic, minced

½ cup

sour cream

8 oz

feta

1 tsp

paprika powder

½ tsp

cayenne pepper
salt and pepper to taste
---
Instructions
Cut the pumpkin into quarters and remove the seeds with a tablespoon.
Next, cut the pumpkin into bite size pieces and set aside.
Preheat your oven to 400F
Heat a pan over medium-high heat and cook the ground beef and cook for 1-2 minutes.
Add the garlic and onion to the pan and cook until the ground beef is no longer pink.
Add the paprika powder and the cayenne pepper and stir.
Pour in the tomato puree and stir everything together.
Remove pan from the heat, then add the sour cream and stir again
Fill the pumpkin into your casserole pan and pour the ground beef sauce evenly over it.
Spread the feta on top and bake for 50-60 minutes, until the pumpkin is soft. Check with a pointed knife if cooked.
Check on your casserole after around 40 minutes. If the feta is already getting brown cover the casserole form with tin foil.
Serve the casserole by itself or with rice, pasta or couscous if you prefer.
LOVE THIS RECIPE? PIN IT HERE!