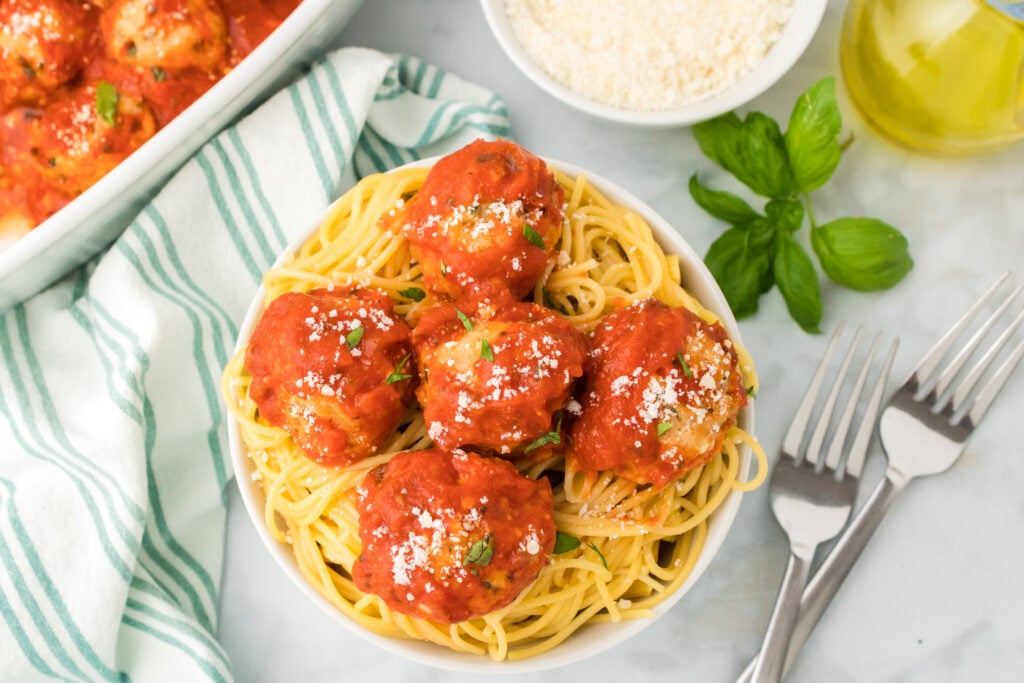 These homemade Chicken Parmesan Meatballs are light and flavorful with a fresh basil taste. The cheese in the middle is a fun surprise and gives these meatballs their Parmesan name. An easy stuffed meatball recipe perfect for any season of the year!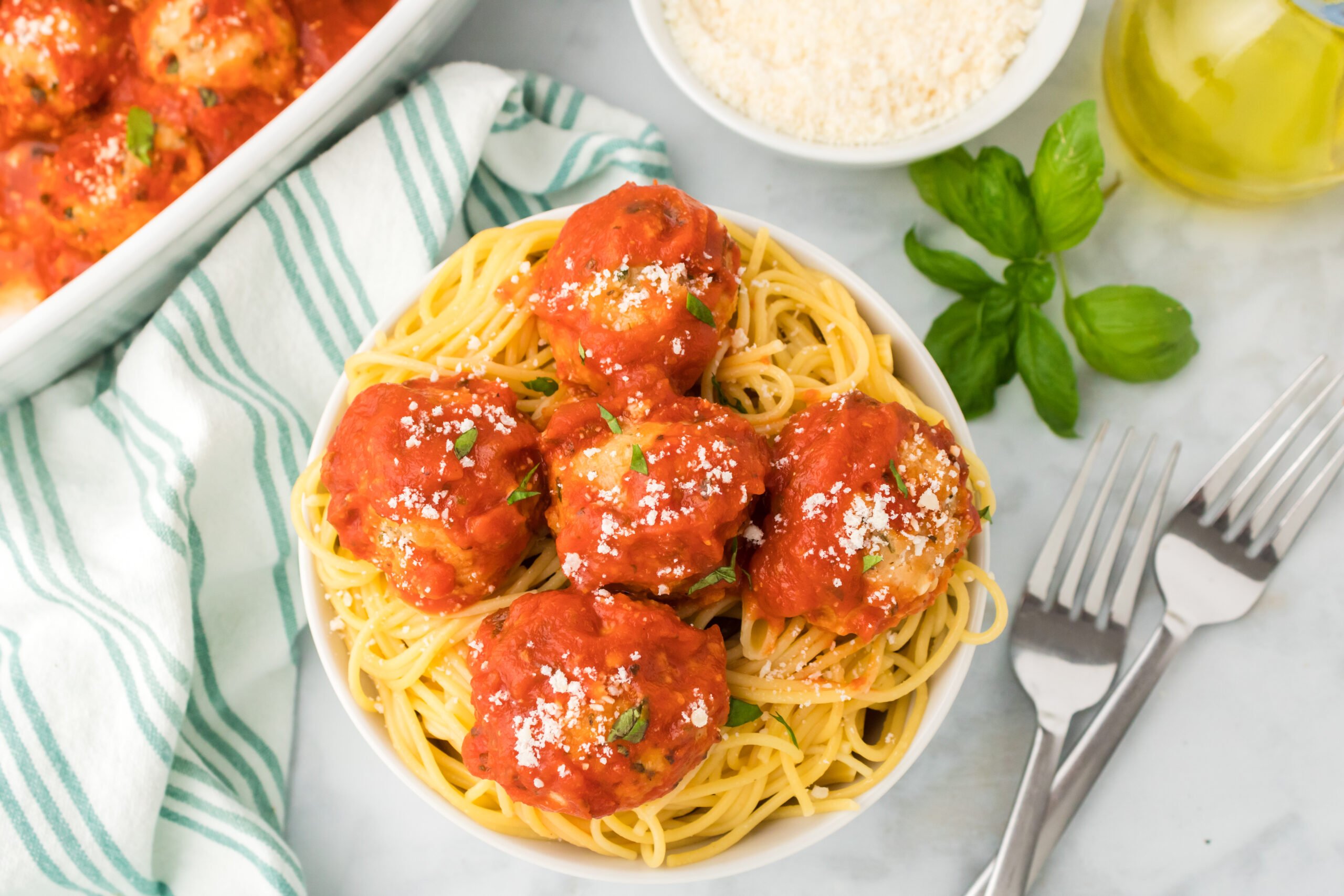 There are still many days of summer left but I am already in back-to-school mode. I'm already thinking about new school clothes, upcoming hectic schedules and how the relaxed days of summer are almost behind us. Make it stop! Make summer stay forever!
As much as I wish that could happen, I know we have to move on to the next chapter so, I am trying to be as prepared as possible. In addition to the usual back to school stuff, I have been playing around with some easy, make-ahead recipes that will help this busy time of year go a little smoother. Having an easy dinner on the menu can make my day better.
The first time I made my tasty baked chicken parmesan meatballs, it was such a huge hit on the dinner table and everyone in the family has been asking me to make them again. We all love chicken and meatballs so this recipe was a new way to combine some of our favorite foods. These cheesy chicken parmesan meatballs are definitely going to be on my back to school dinner menu!
WHAT IS CHICKEN PARMESAN?
Chicken Parmesan is a classic Italian meal that is made using breaded chicken cutlets, tomato sauce and mozzarella cheese. My family loves this traditional, chicken dinner but it takes a long time to make. Pounding the chicken cutlets, breading them, making the sauce and baking can take hours.
My baked chicken parmesan meatballs are a much faster way to get all the delicious flavor of chicken parmesan without spending hours in the kitchen. A lot of the ingredients are the same so anyone who loves classic chicken parmesan will adore these meatballs.



INGREDIENTS IN CHICKEN PARMESAN MEATBALLS
The ingredients needed to make my chicken parmesan meatballs are pretty straightforward. You may already have everything you need right in your pantry!
Here are the ingredients you need to make this super tasty, cheesy chicken parmesan meatballs:
ground chicken – I like to use lean ground chicken to keep the meatballs lower in fat. Look for ground chicken that is very light pink which indicates it is fresh.
bread crumbs – I always use Italian seasoned breadcrumbs. You can't go wrong with some extra flavor! Plain breadcrumbs will work as well since we will be adding lots of our own seasonings.
Parmesan cheese – I like to use the dry, crumbled parmesan cheese for this recipe. It lasts forever in the pantry and is nice and salty.
fresh chopped basil – If you still have basil growing in your garden, now is the time to use it! If you do not have fresh basil, dried basil will work in it's place
Italian seasoning, salt and pepper – These are the main seasonings in the meatballs. Using pre-blended Italian seasoning is a quick way to give the meatballs lots of flavor.
garlic – Good meatballs always have a lot of garlic. I'm sticking to that opinion!
egg – Eggs help bind the ground chicken and hold the ground chicken together.
jarred pasta sauce – Using jarred sauce keeps this recipe quick and easy. You can make your own sauce if you are feeling ambitious.
fresh Mozzarella balls – The secret cheese in the center of the meatball makes this diner restaurant-worthy!
Pretty simple ingredients, right? You can keep all of these things on hand, in your pantry, fridge or freezer. Whenever you need a quick dinner idea, pull the ground chicken out of the freezer, get the mozzarella out of your cheese drawer in the fridge and start cooking!
HOW TO MAKE CHICKEN PARMESAN MEATBALLS
I tried to keep this meatball recipe as simple as possible. I wanted it to be easy enough to prep in ten minutes so you can get dinner ready then continue on with your busy day. Here is how I make my chicken parmesan meatballs:
1. Mix the ground chicken, bread crumbs, Parmesan cheese, basil, Italian seasoning, garlic, salt, pepper, two tablespoons of pasta sauce and egg. Use your hands to really blend the ingredients together.
2. Scoop meatballs with a cookie scoop or just use your hands to grab a golf ball sized amount of ground meat mix.
3. Press a mozzarella ball into the center of the ground meat and then use your hands to roll the meatball, enclosing the cheese inside the ground chicken.
4. Place all your meatballs on a rimmed baking sheet tray and bake in the oven for 20 minutes.




5. Serve the meatballs while still hot, smothered in more marinara sauce or placed on top of pasta.
The more you make these chicken Parmesan meatballs, the faster you will get at putting them together. You will be a meatball making machine in no time!
CAN I FREEZE THE CHICKEN MEATBALLS?
One reason I love this recipe is because I can triple the batch and freeze a bunch of meatballs, saving them for even busier nights.
I make and bake the meatballs completely and then line them up in a freezer safe container. I like to pour the sauce over the meatballs in the container to keep them juicy in the freezer. Cover the container and freeze the meatballs for up to three months. Anytime you need a quick dinner, pop the meatballs in the microwave to defrost and reheat.
IS IT BETTER TO BAKE OR FRY MEATBALLS?
My chicken parmesan meatballs are baked. I like the simplicity of lining them up on a sheet tray, popping them in the oven and coming back 20 minutes later to perfectly cooked meatballs. It is easy and quick.
You can choose to fry these meatballs in a skillet of hot vegetable oil. This will give you very crispy, juicy meatballs. Both options work well so the choice is yours!
TIPS AND TRICKS FOR MAKING EASY CHICKEN PARMESAN MEATBALLS
Fresh basil is best, but you can use 2 teaspoons of dried basil or oregano in place of fresh if you prefer.
As an alternative to fresh mozzarella balls, cut a mozzarella cheese stick into ½ inch pieces.
I find making meatballs easier and less messy with a cookie scoop. It's also an easy way to make them the same size, but your hands work great too.
These stuffed chicken meatballs make great leftovers. Reheat covered in microwave until heated through.
I love these chicken parmesan meatballs over pasta but my kids are huge fans of chicken parmesan meatball subs. I must say, it does make a great lunch! And lining the meatballs up on a big roll is faster than waiting for pasta to cook.
To make chicken parmesan meatball subs, cut a long sandwich roll horizontally and then stuff the bread with baked chicken parmesan meatballs. Pour the sauce over the meatballs and bread and then sprinkle some shredded mozzarella over the top. Broil the sandwich to melt the cheese and heat the bread. Just another way to use these tasty chicken parmesan meatballs for a quick dinner!
I hope that these chicken parmesan meatballs help make your transition from summer to school year a little easier. Make this recipe today and freeze some meatballs for later. We moms know how to be prepared and make our families happy! Now that you have tonight's dinner planned, go enjoy those last summer days – they go by too fast!
This post was originally published on August 18, 2021. Updated February 17, 2022.
MORE DELICIOUS RECIPES TO TRY!
I hope you like my recipe for cheesy chicken parmesan meatballs – be sure to give it a review below!
This post may contain affiliate links. Hip Mama's Place is a participant in the Amazon Services LLC Associates Program, an affiliate advertising program designed to provide a way for websites to earn advertising revenues by advertising and linking to Amazon.com and other retailers- at zero cost to you. You can learn more about our Privacy and Disclosure Policies HERE.
Print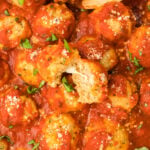 Chicken Parmesan Meatballs
---
Author:

Prep Time:

10 minutes

Cook Time:

25 minutes

Total Time:

35 minutes

Yield:

4

-

6

servings (

21

meatballs)

1

x
Description
These homemade Chicken Parmesan Meatballs are light and flavorful with a fresh basil taste. The cheese in the middle is a fun surprise and gives these meatballs their Parmesan name. An easy stuffed meatball recipe perfect for any season of the year!
---
1 pound ground chicken
¼ cup bread crumbs
⅓ cup Parmesan cheese, grated, plus extra for garnish
¼ cup finely chopped fresh basil, plus extra for garnish
1 teaspoon Italian seasoning
2 teaspoons minced garlic (about 2–3 cloves)
¼ teaspoon salt
⅛ teaspoon black pepper
1 large egg
8 ounces jarred pasta or marinara sauce, divided
21 fresh mozzarella balls
1 tablespoon olive oil
---
Instructions
Preheat oven to 400 degrees.
In a large mixing bowl, add chicken, bread crumbs, cheese, basil, Italian, seasoning, garlic, salt, pepper, 2 tablespoon pasta sauce, and egg and mix until combined.
Form meatballs with medium size cookie scoop. Place mozzarella ball into middle by pressing gently. Reform back each meatball so you can no longer see the cheese.
Place into lightly greased baking dish with space in between each meatball, then drizzle with olive oil.
Bake the meatballs for 20 minutes, stirring halfway through.
Remove meatballs from oven and top with remaining sauce.  Continue baking for 5 minutes.
Sprinkle with additional Parmesan cheese and chopped basil.
Serve alone or over pasta. Also great for making meatball subs.
Keywords: chicken Parmesan meatballs, meatballs, pasta, dinner, main dishes, meatball recipe, chicken meatballs
LOVE THIS RECIPE? PIN IT FOR LATER!