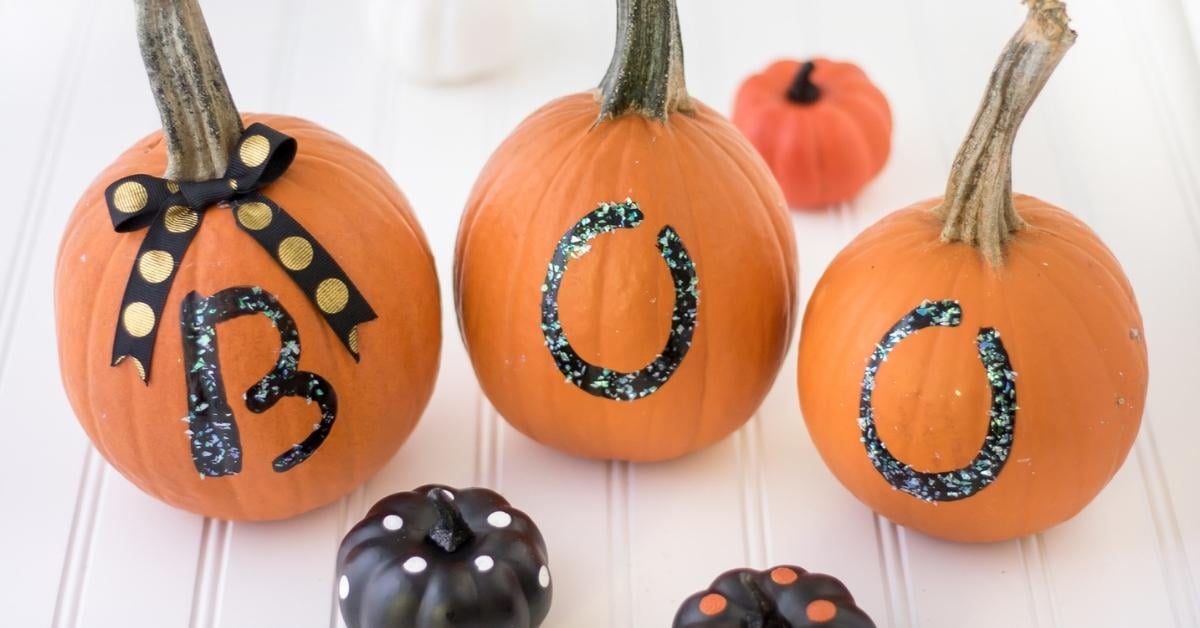 Here's an easy, fun Fall craft to make with your family: No Carve DIY Boo Pumpkins! Show the spirit of Halloween.. without as much mess!
When it comes to decorating for Halloween, there are the people who go all out with the skeletons, ghost projector lights, and a full-on cemetery in their front yard.
And then there are those who prefer something a bit less scary, and instead, opt for a more inviting atmosphere… like we do. 🙂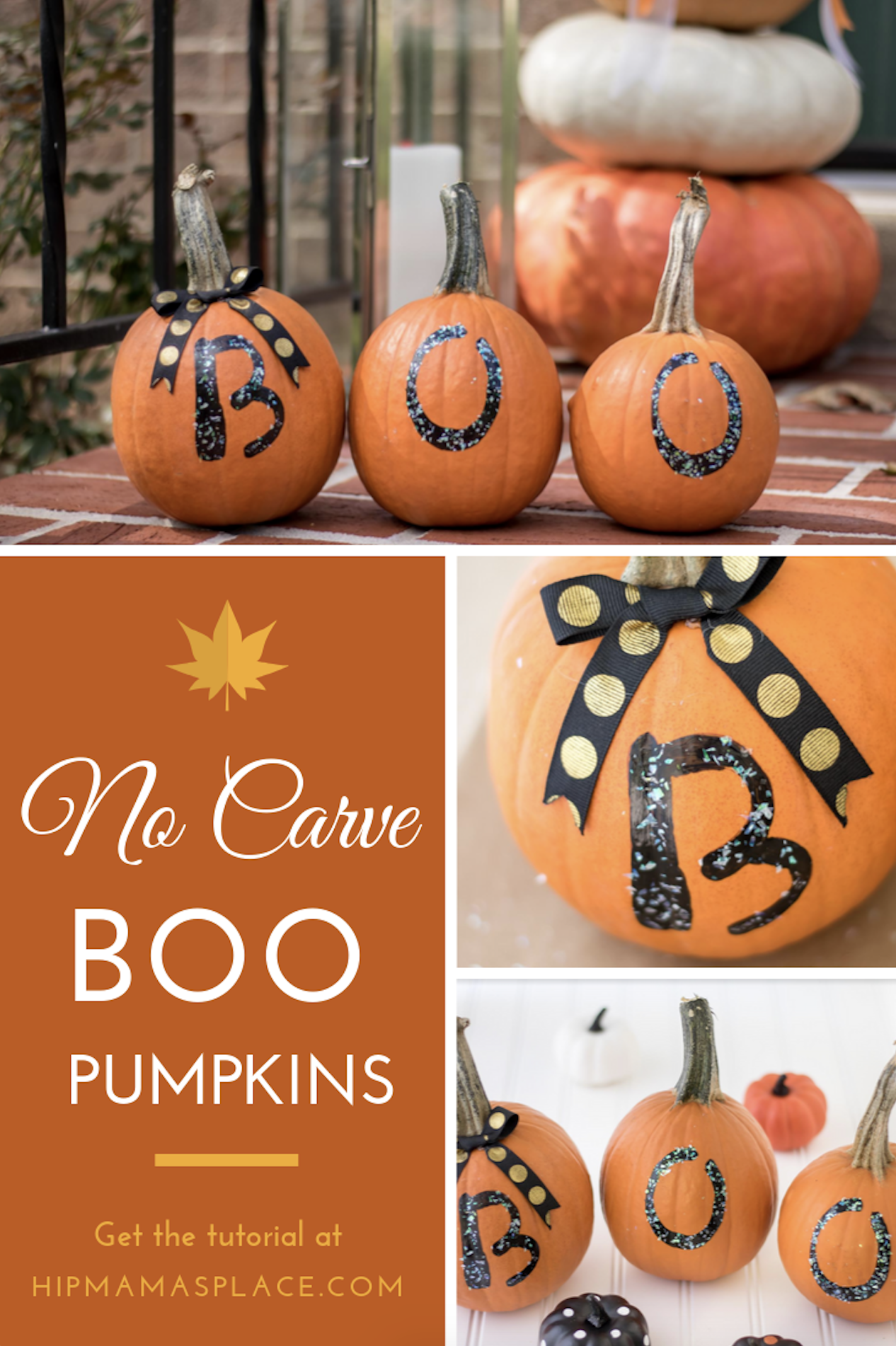 While some kids love getting messy with pumpkin carving, I'm a bit over the mess. We can get roasted pumpkins seeds in bulk, so I really have no reason to have a pumpkin rotting on my stoop for 3 weeks! Instead, I'll use pumpkins for this easy home decor idea: no carve DIY Boo Pumpkins!
So I have a few reasons that even those who love pumpkin carving would love this idea: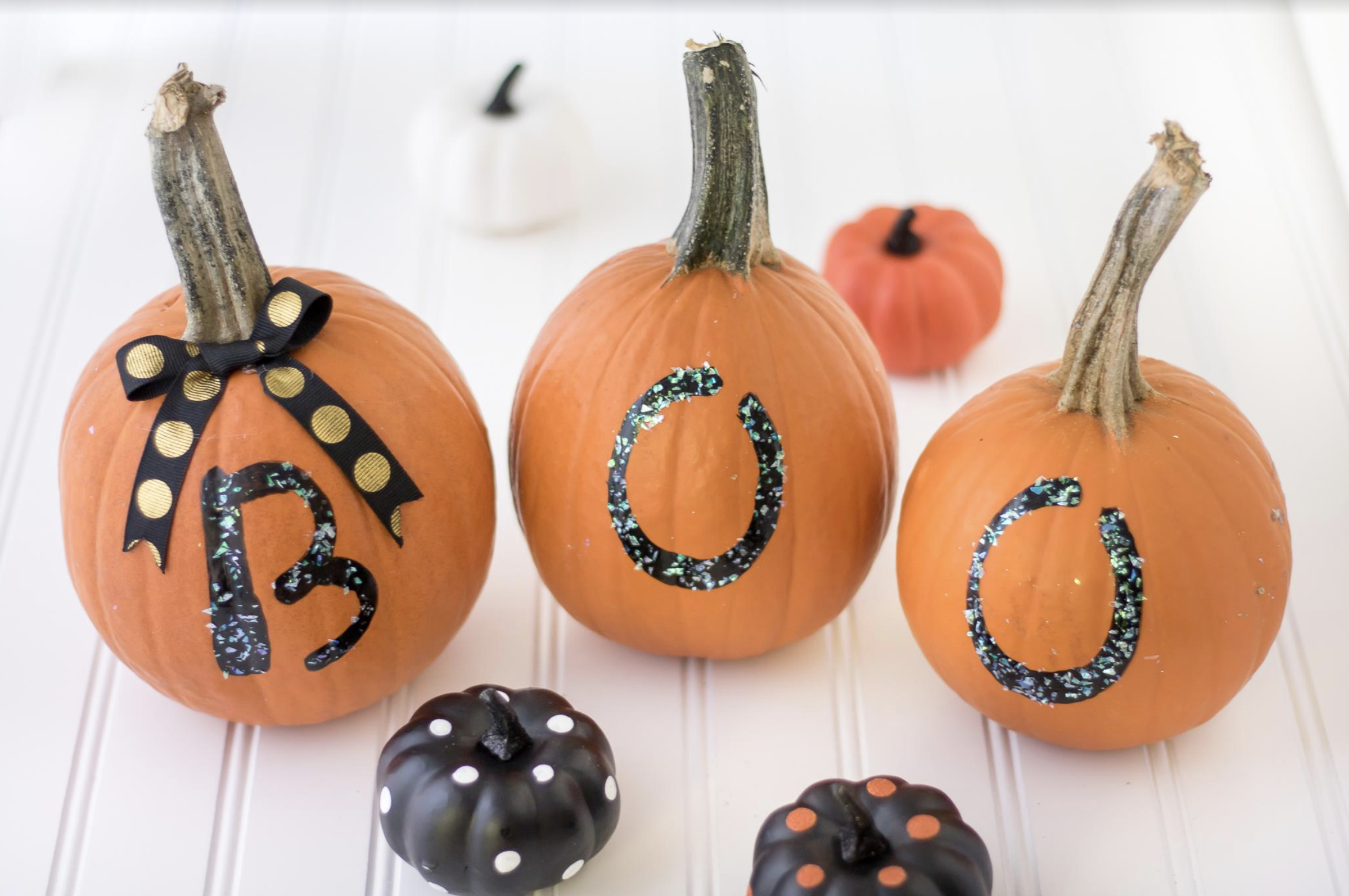 When kids have a

field trip to the pumpkin patch,

they come back with the little pumpkins. These do not make great jack-o-lanterns. For this reason, with just 3 of the mini pumpkins, you can still show your festive side.

They can be put out weeks before halloween and not rot!

These work for Fall decor as well, so you don't have to worry about them sticking around well into November. (Personal tip: Paint the back sides of them "FUN!" or with an outline of a "leaf" to make them a reversible option! Once Halloween is over, show the backside to those passing by!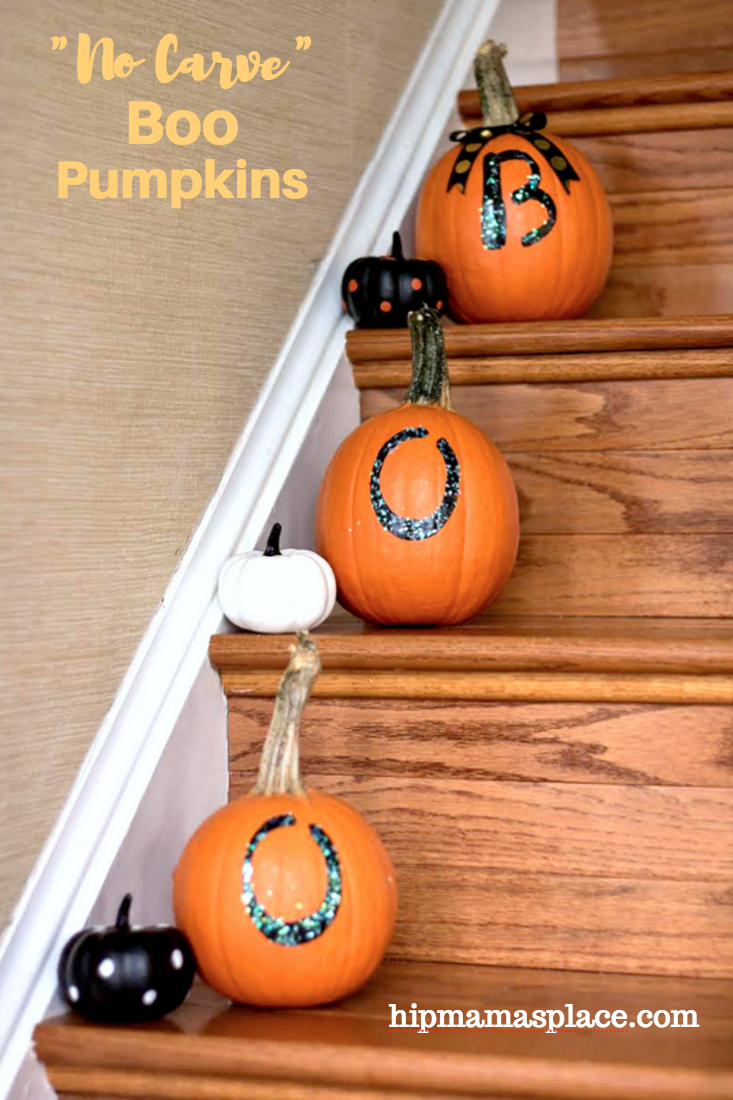 When it comes to decorating for Halloween, do what works best for you and your family. If making elaborate carvings to showcase your love for your favorite team isn't something that bring joy to you, then don't try to keep up with the Joneses! Do it like the Browns and try this "No Carve" Boo Pumpkins instead. And, if you end up at a Pumpkin Carving party, you can still choose to make the mess, just bring plenty of paper and realize that rotting pumpkins can attract pests, so clean up the pumpkins as soon as you can! 🙂
No Carve Boo Pumpkins
Materials used:
3 medium or large pumpkins
1 bottle of enamel gloss black paint
1 paint brush
stencil letters
glitter
ribbon
hot glue gun
Directions:
Wash the pumpkins and pat dry.
Stencil each letter on the pumpkin using a pen.
Paint the letter and sprinkle glitter over the wet paint.
Make a bow and glue it on one of the pumpkins, or add bows to each pumpkin whichever you prefer.
Allow to air dry before putting it outdoors.
Enjoy your Halloween, and be sure to take photos of the kids in their costumes as these adorable no carve boo pumpkins will make a great photo props for family portraits too!
Note: All images and content in this post are owned and copyrighted by Hip Mama's Place. Do not use without permission.
LOVE THIS DIY BOO PUMPKINS CRAFT TUTORIAL?