Learn how to make a milkshake! Here's the best and easiest milkshake recipe. Plus, get tons of milkshake flavor ideas! 
If you've been dying to learn how to make a milkshake with ice cream, you've found it here!
I love a cold, thick milkshake in the summer. Not only are milkshakes incredibly delicious, but they are also a summer icon. So, today I'm going to show you how to make a milkshake right at home!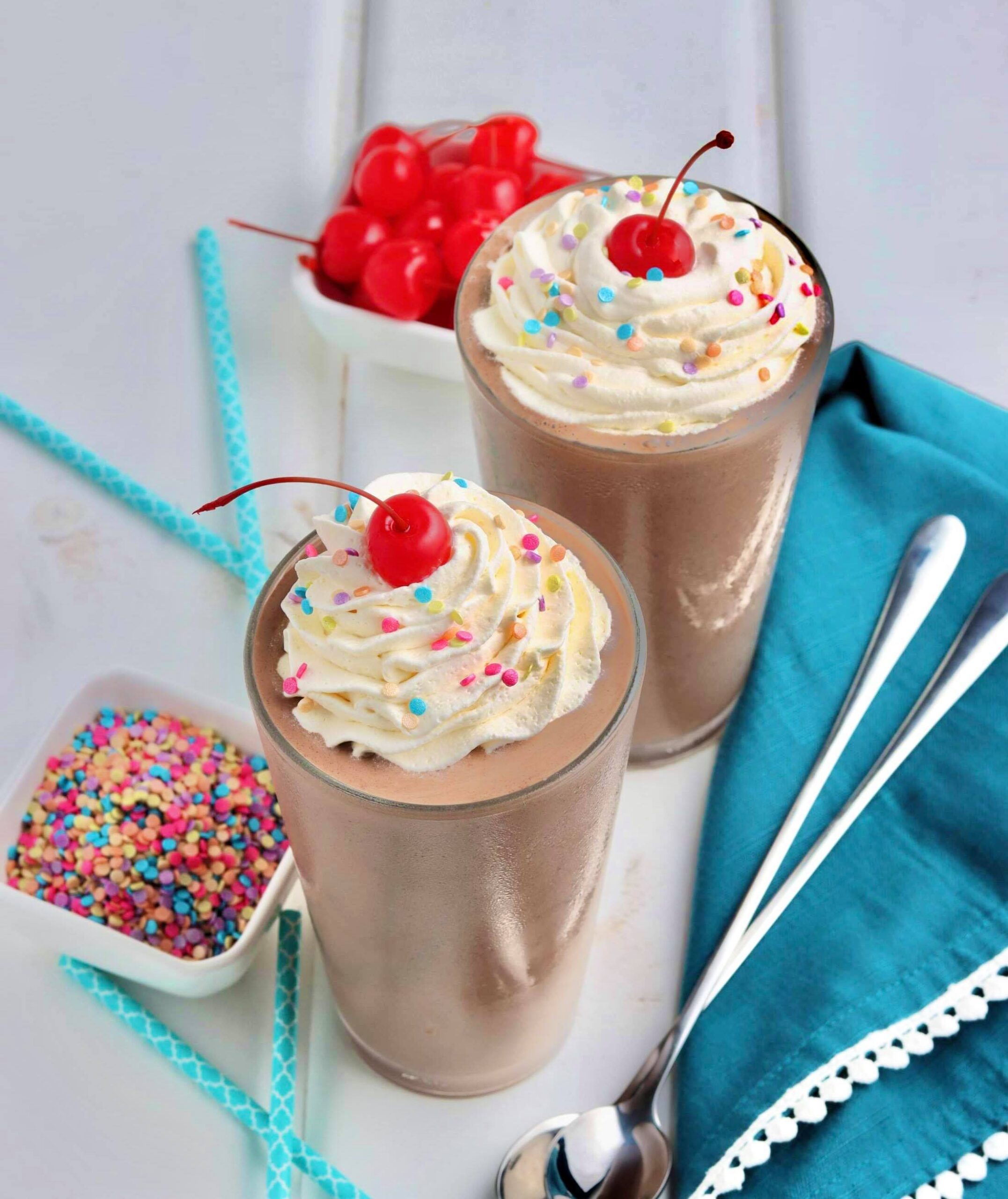 I bet a lot of you have fond memories of sipping milkshakes to cool down in the summer heat. But when was the last time you had a really great milkshake? If you have to think about it, it has probably been too long! It's time to learn how to make a homemade milkshake so you can treat yourself whenever you'd like.
You don't need to go to the ice cream parlor to get an amazing milkshake! My milkshake recipe is also super flexible. You can change the flavor, add some tasty mix-ins and really switch it up to suit your personal preferences. And the best part is that it is very, VERY easy to make the perfect milkshake. So let's get blending!
Ingredients in a Milkshake
A good homemade milkshake has very few ingredients. All you really need are ice cream, milk and flavored syrup, sauce or any mix-ins of your choice!
To make a thick milkshake, full of rich flavor, you don't want to add much more than these main ingredients. Some milkshake recipes add ice but that tends to water the milkshake down. Stick with the basic milk and ice cream and you will have a perfect thick milkshake.
Thinking of a different flavor milkshake? Here is how you can make a whole new shake:
Vanilla Milkshake– Use vanilla ice cream and milk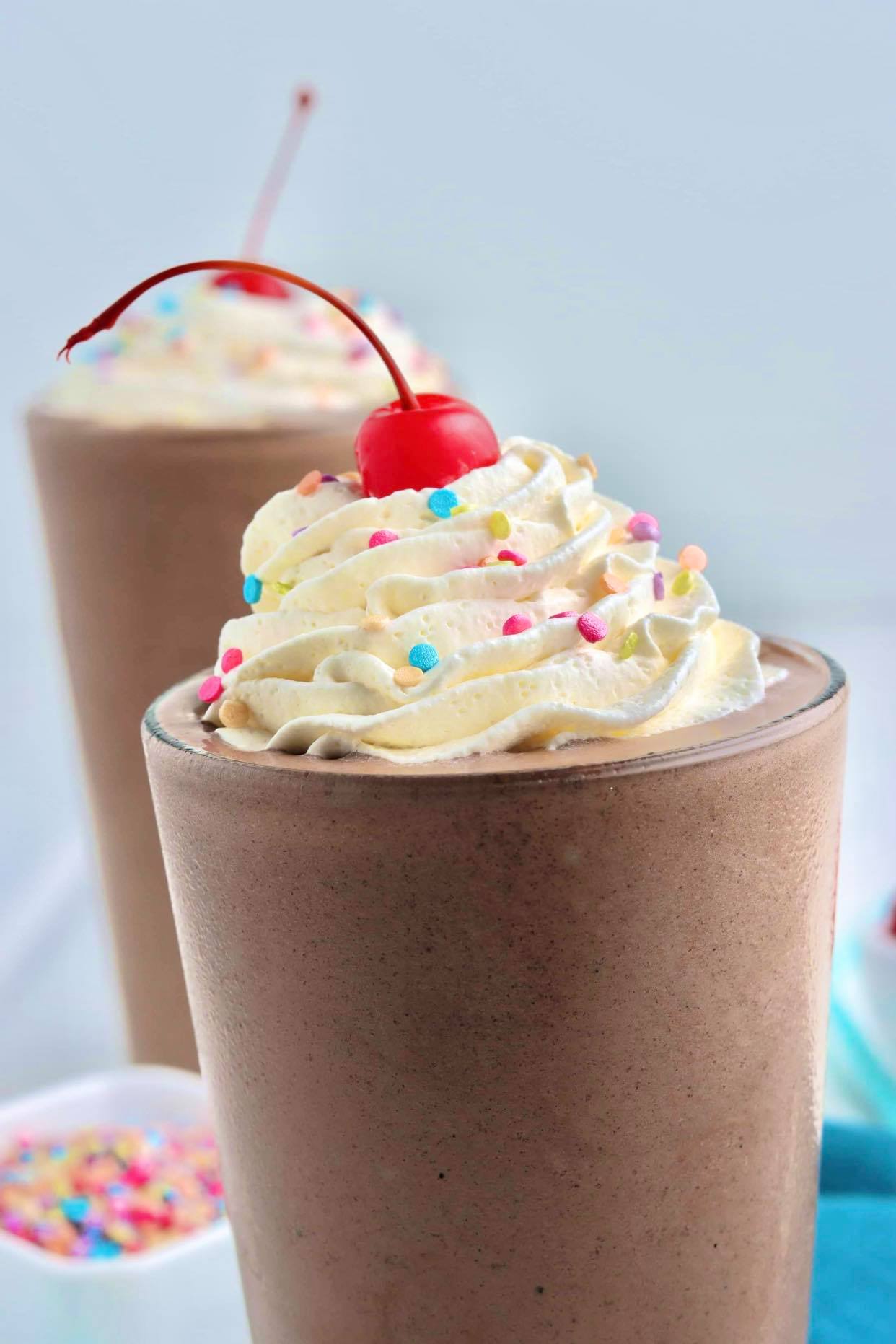 Chocolate Milkshake– Use vanilla ice cream, milk and chocolate syrup, just like in my recipe below
Strawberry Milkshake– Vanilla ice cream, milk plus fresh strawberries will blend into a perfect strawberry milkshake.
Raspberry Milkshake– Vanilla ice cream, milk and fresh raspberries
Caramel Milkshake– Vanilla ice cream, milk and caramel sauce
Vanilla ice cream is always a good ingredient to have on hand. It can be made into almost any kind of shake!
What Type of Milk to use in a Milkshake?
I like to use whole milk in my milkshake. Whole milk has more milk fat and is the creamiest milk option. You can opt to use 2% or even skim but, once again, the milkshake will be a little more watery. When you are treating yourself to a rich, creamy shake, why skimp on the milk? Whole milk is definitely the best option!
I also like whole milk because it is very drinkable. Sure, heavy cream or half and half would make a shake that is even creamier, but it is hard to drink a shake with THAT much fat added in. Whole milk is a nice middle ground between skim milk and heavy cream. It is creamy enough but no too watery. I definitely recommend whole milk for milkshakes!
How to Make a Milkshake
Making a milkshake is extremely simple. Once you have all your ingredients ready, here is what you need to do.
Scoop the ice cream directly into the blender.
Add the milk.
Blend on medium high speed for about 30 seconds. The milk and ice cream should blend together well and look thick, creamy and smooth.
Pour into a glass. You may need to use a spoon to scoop out the entire shake from the blender.
Top with your favorite milkshake toppings.
Add a straw or spoon and enjoy!
Milkshakes are so easy to make! It is almost dangerous how quickly you can whip up such a decadent, rich treat.