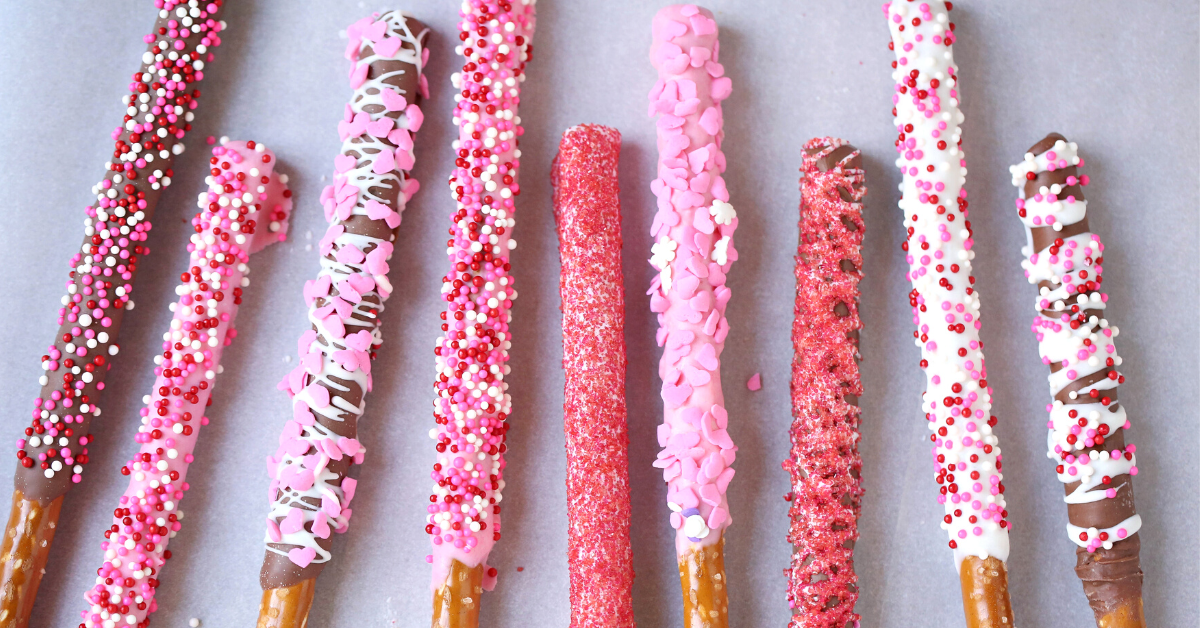 Here's the ultimate guide to making yummy Chocolate Covered Pretzels .. and they're super easy and fun to make too!
These yummy chocolate covered pretzel rods are super easy to make and share, and you and your kids will have a ton of fun making them! There is no baking, and very few rules. Grab your pretzel sticks or pretzel rods, choose your chocolate, choose your color, choose your sprinkles (or other toppings) and you're good to go!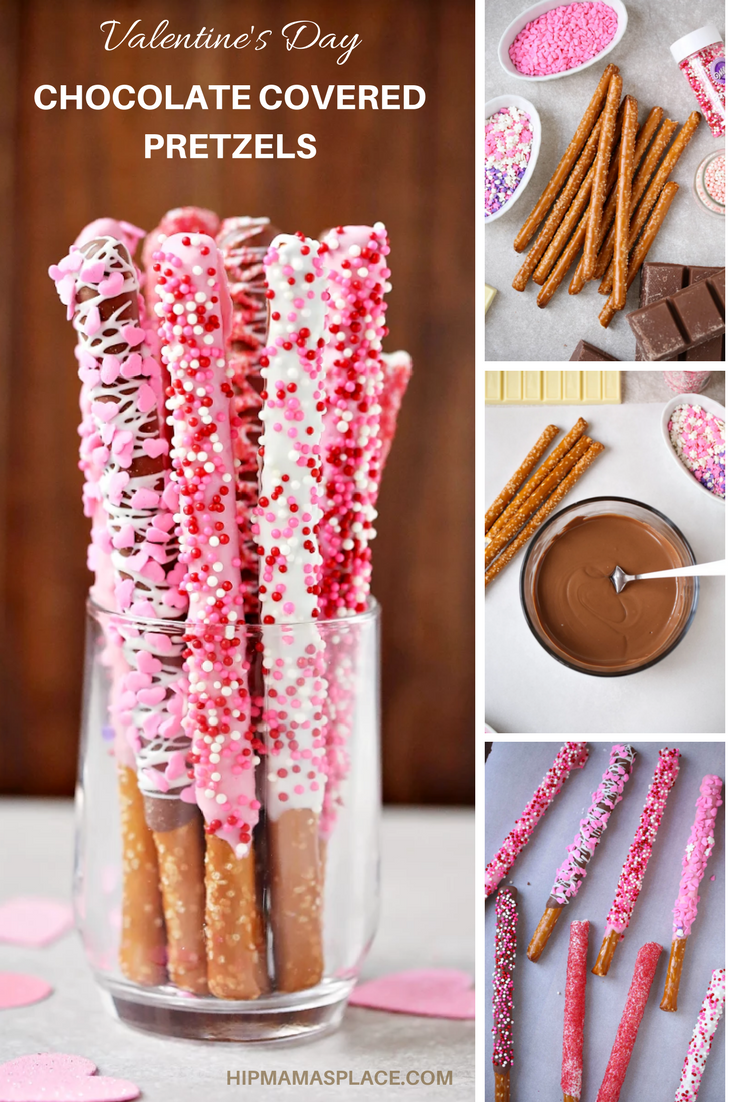 When it comes to dipping pretzels, it can be super easy to do. But to make them more presentable, there are a few tips.
Recommendations for Chocolate Covered Pretzels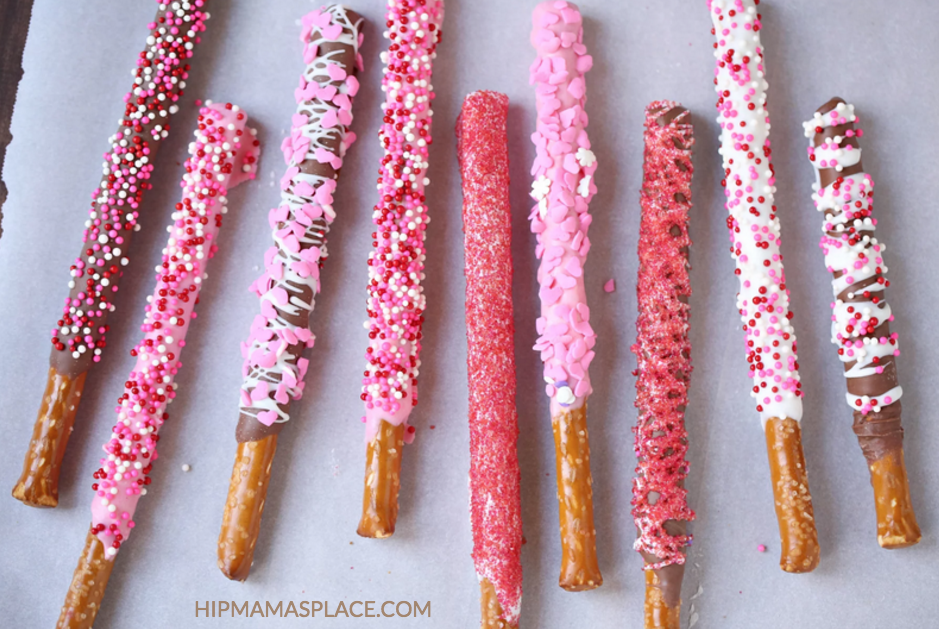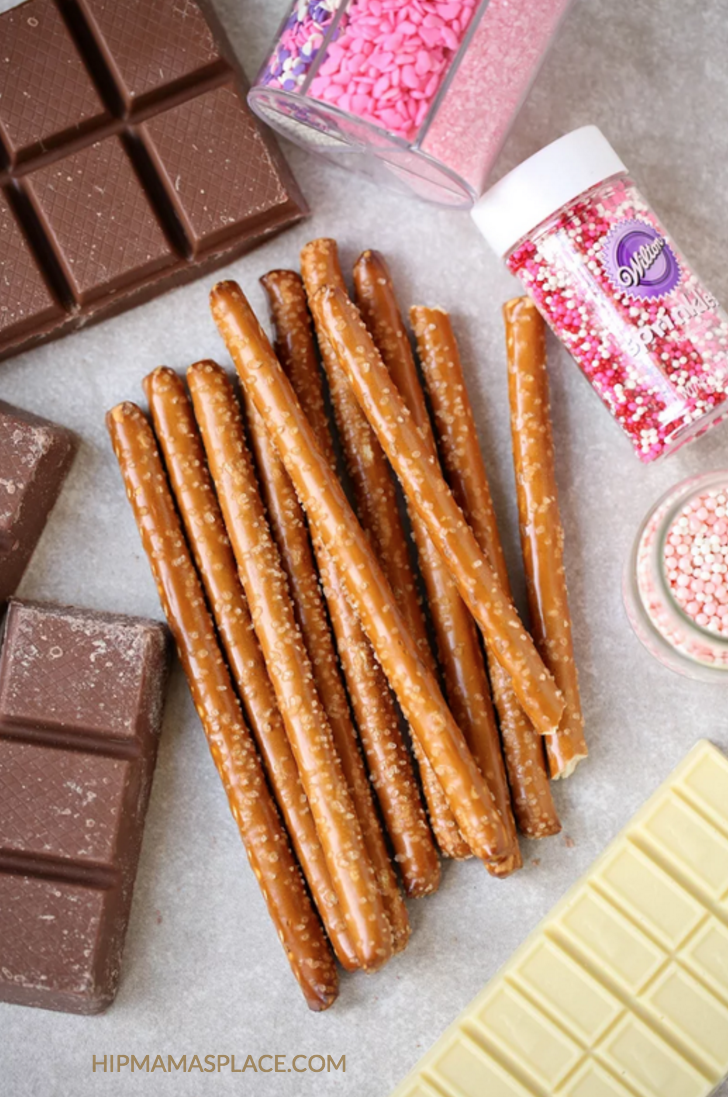 How to Make Chocolate Covered Pretzels – Methods, Tips and Tricks
For this chocolate covered pretzel rods recipe, I use the candy melts
and the regular dark chocolate from Wilton. I found them easy to find and work with. For sprinkles, I love the various colorful Wilton sprinkles as well, especially the Wilton Micro Hearts Sprinkle Mix
!
Melting the Chocolate and Candy Melts
Be sure to melt your chocolate according to the package directions. Two things to remember: do not overcook the chocolate or add water to it. Also, the key to coating the pretzel without the candy dripping everywhere is in the temperature of the candy: not too hot nor too cold. I usually cook mine for one minute in the microwave at 50% POWER, then stir. I found that doing this about 3 times, I get the right consistency I need before I can dip my pretzels into it.
For this chocolate covered pretzels recipe, you can use either one of these two methods to cover them with candy melts:
The Dip And Sprinkle Method
For this method, you only coat 4 to 5 pretzels at a time with the melted chocolate, then add sprinkles immediately. The reasoning for this is that the candy melts don't stay warm for long and they won't stick to the pretzels evenly. To add sprinkles, I put my sprinkle container into a larger bowl and spoon the sprinkles over the pretzel while twisting it around. This will help cool off the candy and so that it doesn't drip so much into the sprinkles. Some of the extra sprinkles will fall into the bowl, and you can use those sprinkles on the pretzels as well. Place the decorated pretzels on a wax or parchment paper lined cookie sheet.
The Drizzle Method
Place chocolate-covered pretzels on the wax paper lined cookie sheet and place in the refrigerator for about 10 minutes when the chocolate has already hardened. Melt the candy melts the same as you did with for the coating. Put melted candy into squeeze bottles or zip top bags with the tips cut off and drizzle the pretzels.
Choosing Your Chocolate
Using a baking chocolate for your chocolate covered pretzels can be beneficial because it tends to have the right amount of oil to sugar mixture to melt evenly. If you only have regular chocolate, it can work, but be sure to keep stirring and keep the chocolate warm enough so when you drizzle and turn, the chocolate stays evenly.
If you choose colored chocolate (and are not using food coloring in white chocolate), then ensure you keep the consistency by stirring and keeping the chocolate warm, as it tends to separate.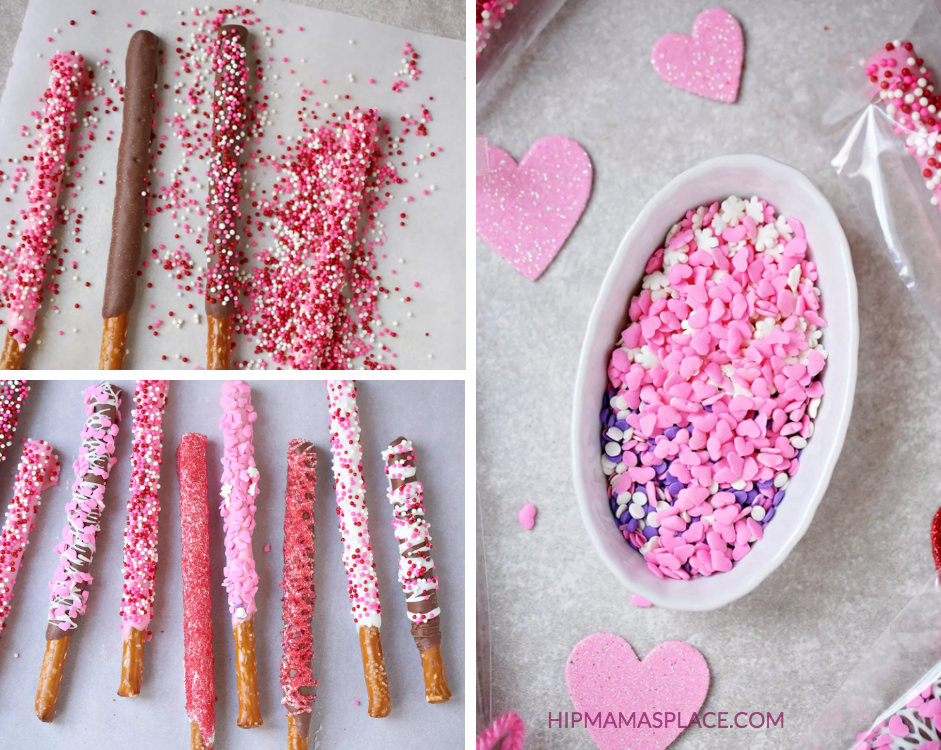 Choose your sprinkles, and while the chocolate is still hot you can sprinkle from the top down, rotate, and then go over again to get any missed spots. You can also put a plate of the finer sprinkles down and roll the pretzel in, but do so gently to keep the consistency even.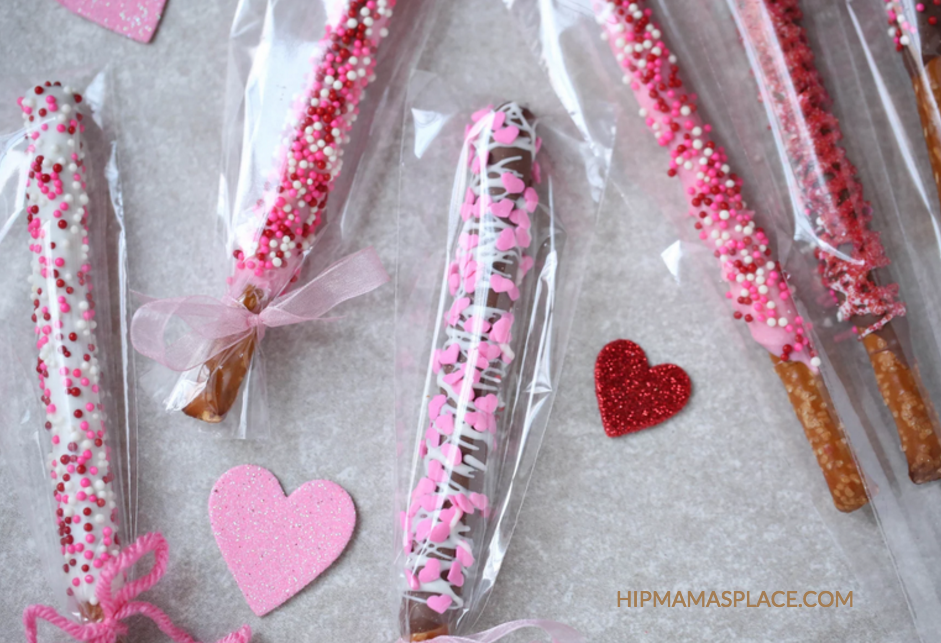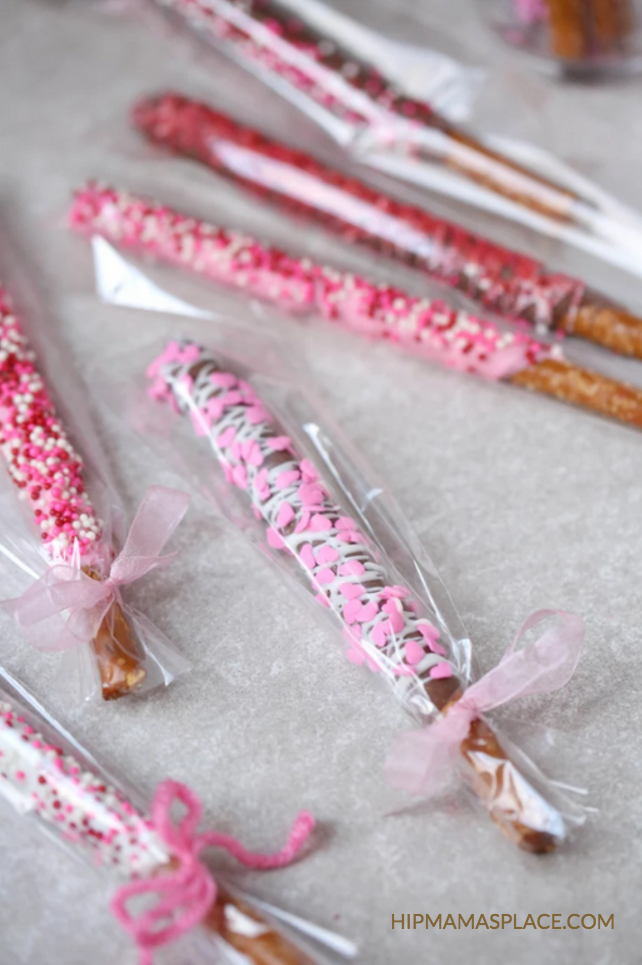 Pretzel sticks make a great gift or even a bake sale item if needed! Choose gluten free pretzels, or find some that are peanut free and you can match the chocolate to give to those with food allergies! You can definitely customize these chocolate dipped pretzels to be an "allergy friendly treat"! For packaging ideas or if you plan to give it as a gift, you can wrap the chocolate covered pretzel rods individually in clear cellophane bags like I did here, or put two or three pretzels in little baggies.
What do you think about these yummy chocolate covered pretzel rods?
More yummy desserts to try!
I hope you love this delicious chocolate covered pretzels recipe– be sure to give it a review below!
This post may contain affiliate links. Read my Disclosure Policy for more details. All texts and images on this post are original, owned and copyrighted by Hip Mama's Place. Do not use without permission.
Print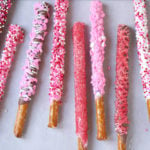 Chocolate Covered Valentine Pretzels
---
1

(16 oz) bag large pretzel rods

1

(16 oz) package candy melts
assorted sprinkles
---
Instructions
In a small mixing bowl, melt candy or other chocolate coating according to package directions.
Line two baking sheets with wax or parchment paper.
Working one pretzel at a time, dip your pretzel into your melted candy or other candy coating.
Tap pretzel gently on the side of the mixing bowl to shake off excess candy coating.
Sprinkle with sprinkles of choice.
Place on wax paper to allow to dry, about 30 minutes.
Repeat with remaining pretzels.
Store pretzels in a covered container.
This post originally published on Hip Mama's Place on February 2, 2017. Updated on January 09, 2023.