This easy, delicious, no churn caramel crunch pumpkin ice cream is a perfect dessert for any day- not just during pumpkin season!
I don't know if you've noticed but I love pumpkin. I love pumpkin and I adore fall! That is why both my blog and Instagram page are full of pumpkin and fall favorites right now. From apple cider, pumpkin casserole recipes to pumpkin trivia, I just can't resist anything that highlights this wonderful, refreshing season!
So, as you may have guessed, I am going to continue that trend with even more pumpkin goodness today! 🙂
Besides being pumpkin season, fall is also Thanksgiving season. While Thanksgiving usually means large family parties, an abundance of food and celebrating the people you love, this year may be a little different. Sure, the pandemic numbers are declining and we, as a country, are trying hard to return to life as "normal". But Thanksgiving is just a few weeks away and a large group gathering may still not be the best idea.
So how can we make Thanksgiving extra special? How can we stay positive and get excited about one of the most comforting holidays of the year? Well, we can make more delicious foods to enjoy with those who we are lucky enough to have near! It is time to get those creative juices flowing, get into the kitchen and make this fall, and this Thanksgiving, really incredible despite this year's challenges.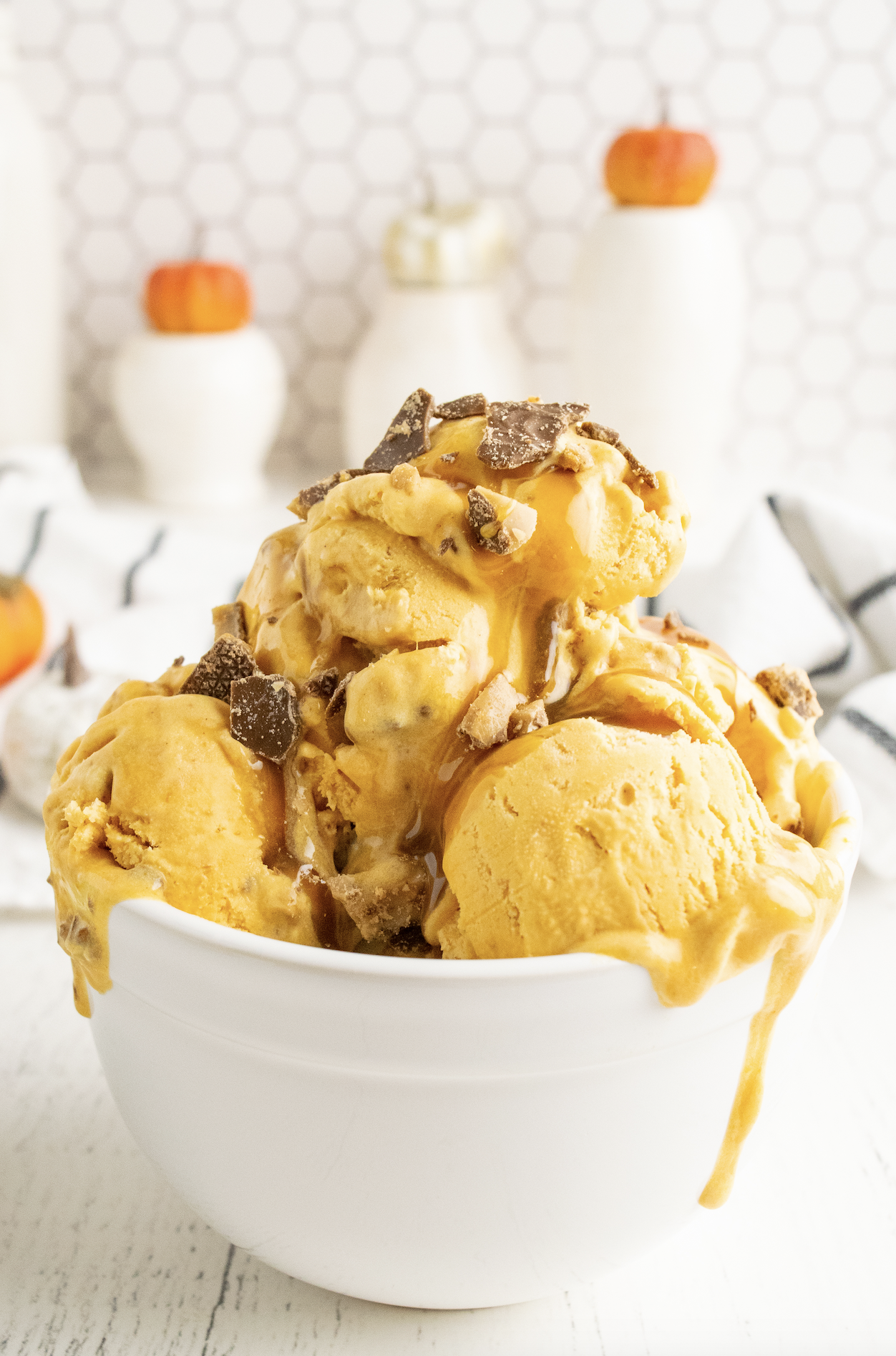 I decided that a new kind of dessert would be great for this year's Thanksgiving table. Of course, I have to make it, taste it and perfect it before Thanksgiving comes! And that is exactly what I did with this no churn pumpkin ice cream recipe. I took my favorite fall flavor (pumpkin) and favorite dessert (ice cream) and combined them to make a fantastic, new fall treat.
Of course, I also had to make my recipe a little more decadent (if it is going to be served on Thanksgiving, it needs to be really over the top!). That is how caramel crunch pumpkin ice cream was born. Sounds like something you need to try? You definitely should! You should probably "test it" a few times before Thanksgiving comes around. 🙂
HOW TO MAKE NO-CHURN CARAMEL CRUNCH PUMPKIN ICE CREAM
Making my pumpkin ice cream recipe is not hard at all. You don't even need an ice cream machine or fancy equipment- just a mixer and a bowl! To start making this easy no churn pumpkin ice cream, you will whip heavy cream to stiff peaks. This is how the ice cream gets to be light and fluffy rather than dense and icy. It is all about the air in the whipped cream!
The condensed milk, pumpkin puree, pumpkin pie spice and vanilla are mixed in a large bowl and then folded together with the whipped cream. To be honest, you could stop right there and enjoy this light, pumpkin mix with a big spoon! But we want ice cream! We want caramel! We want more decadence because in the year 2020, we deserve it!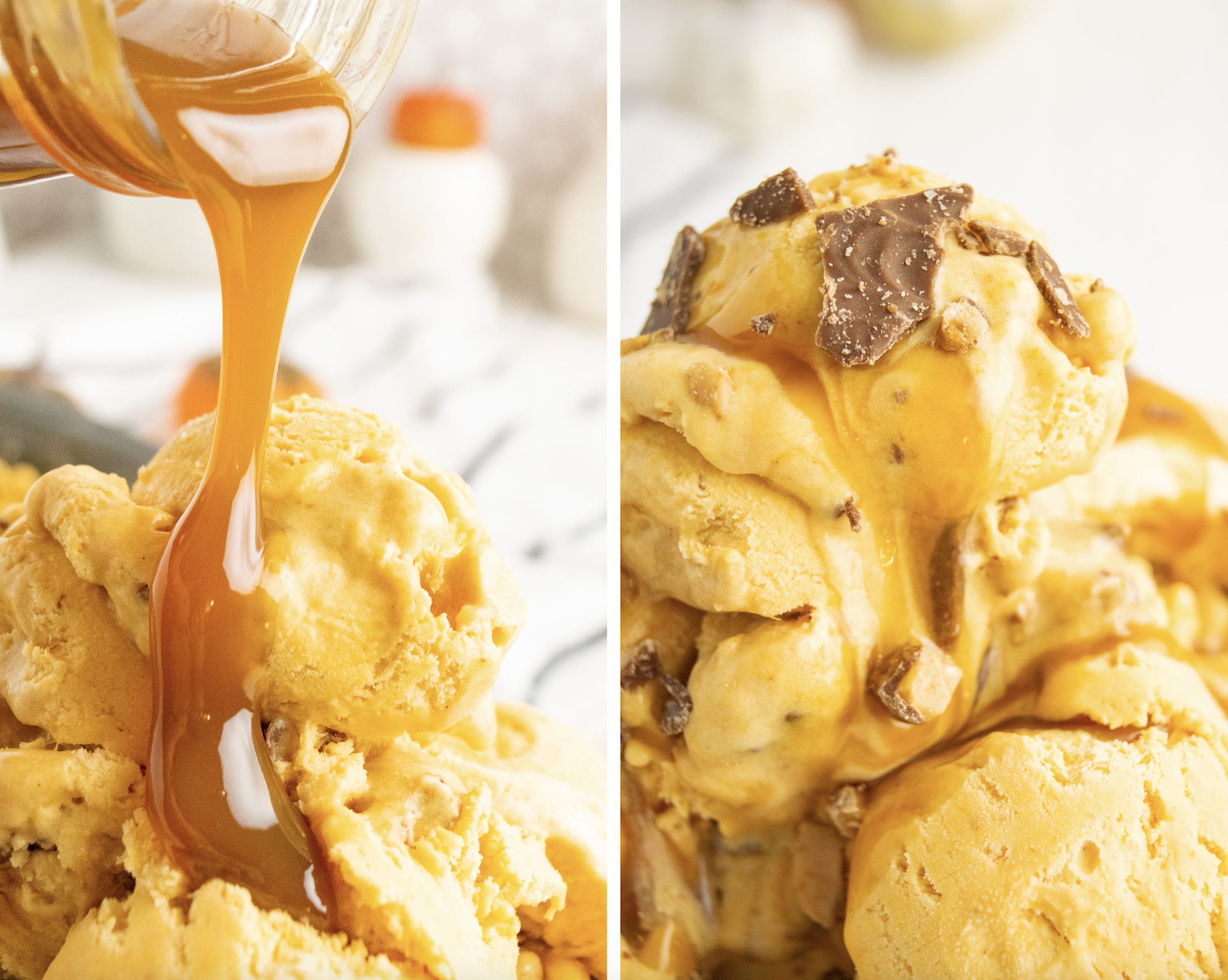 Half of the airy pumpkin mix is spread in a loaf pan and then swirled with caramel sauce. Crushed Heath Bar candies are sprinkled over the mix to give the ice cream that signature crunch. The rest of the pumpkin mix is spread across the top then we need more caramel and a few more crunchies. The pan goes into the freezer and chills until it is firm and has the beautiful, cold texture of ice cream. You may need to eat a few scoops to make sure it is perfectly frozen.
FREQUENTLY ASKED QUESTIONS WHEN MAKING THIS HOMEMADE PUMPKIN ICE CREAM:
Can I use Cool Whip instead of "heavy whipping cream"? No, this will not produce a creamy ice cream.
Can I make this in a plastic container? Yes, any airtight container you want to store it in, just remember that when things freeze they expand, make sure you have some room for stretching.
Can I use toffee bits instead of Heath Bar? Yes, I have a hard time finding toffee candy pieces, so I use a Heath Bar instead.
Can I use different Caramel Sauce? Yes, there are different varieties of caramel sauce, I prefer this one in ice cream because it is thicker and has a richer flavor.
How long can I keep this for? You can keep this ice cream in the freezer in an airtight container for up to one week. It will start to not taste as good after that (this ice cream does not have the preservatives that store-bought ice cream has)
Can I use lower fat dairy products in this recipe? You can, but I would not recommend it. This ice cream is creamy because of its fat content, if you were to use low fat or non-fat ingredients it would be very dry and crunchy from ice crystals instead of having the creamy ice cream consistency.
Why does my ice cream seem dry? The fats freeze more solid, if you let the ice cream sit on the counter for 5 -10 minutes before scooping and serving it makes it creamier.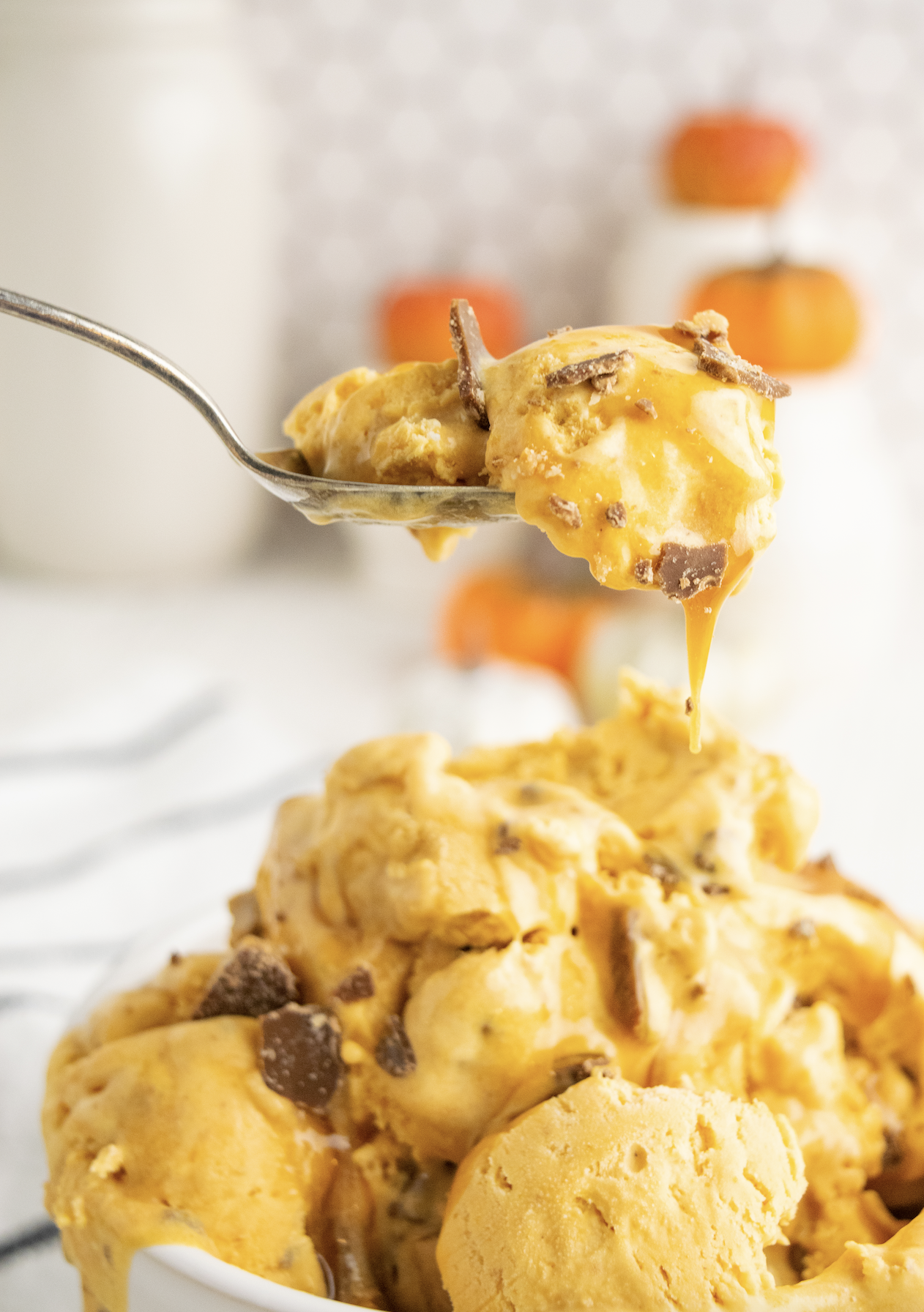 So, how amazing does this caramel pumpkin ice cream sound? While it is a perfect cool treat to match those cool fall nights, it is definitely elaborate enough to serve on Thanksgiving. I know I will be adding pumpkin ice cream to my Thanksgiving table this year. I may even try a scoop of it on top of a big slice of apple pie! Anything to make this fall and this holiday season a little bit better. If we can't be with all the family and friends that we love, at least we can indulge in amazing pumpkin desserts!
I highly recommend making this delicious pumpkin ice cream today. I know that today isn't a holiday but shouldn't you start getting ready now? And besides, you deserve a big bowl of caramel crunch pumpkin ice cream just for getting through 2020!
Let me know how much you love this fall recipe and if it will be gracing your Thanksgiving table.
I hope you enjoy this new pumpkin treat as much as my family and I did!
Print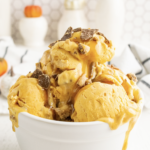 Caramel Crunch Pumpkin Ice Cream
---
Description
This easy, delicious, no-churn caramel crunch pumpkin ice cream is a perfect dessert for any day- not just during pumpkin season!
---
1 ¼ cups

heavy whipping cream

14 oz

can sweetened condensed milk

1 cup

pumpkin puree

1 teaspoon

pumpkin pie spice

1

12 oz jar caramel sauce (you will use

6 oz

)

2

Heath Bar candy bars, crushed

1 teaspoon

vanilla extract
---
Instructions
1) Using a hand mixer, whip the heavy whipping cream in a large bowl until stiff peaks form.
2) In a medium bowl combine sweetened condensed milk, pumpkin puree, pie spice, and vanilla extract. Use a whisk to mix well.
3) Add the pumpkin mixture to the whipped cream using a hand mixer on medium speed to combine well and mix completely.
4) Pour half of the ice cream mixture into a 9 x 5 loaf pan. Smooth out and make sure it is even.
5) Drizzle half of the caramel sauce( ¼ of the jar) over the ice cream and then use a knife to swirl it gently into the ice cream. Top with one crushed candy bar.
6) Pour the second half of the ice cream mixture on top and follow instructions for caramel and candy bar again.
7) Cover with plastic wrap or aluminum foil and place in the freezer for at least 6 hours.
Notes
Enjoy this with additional caramel and toffee candy bars, it is especially good as a topping for your favorite blondie brownie or with sugar cookies on top.
LOVE THIS RECIPE? PIN IT FOR LATER!
You Might Also Like…