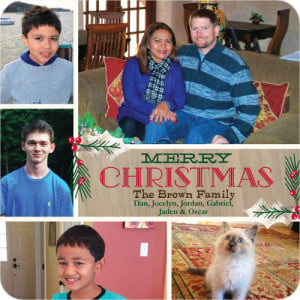 Hi! My name is Jocelyn Brown, Founder and Editor of Hip Mama's Place.
I'm a teacher by profession and have taught elementary school for six years before I decided to settle in as a stay at home mom to take care of my two little boys.
In early 2007, I stumbled upon a mom blog that inspired me so much to create my own blog, Hip Mama's Place. I've always loved writing so Hip Mama's Place became a great outlet for it. Hip Mama's Place was first a hobby… then, it became a fantastic way for me to share my product finds, various services, local activities and wonderful deals that I know parents like me appreciate knowing about! I love sharing and I know as a mom, I am constantly looking for ideas to entertain my family, to try new recipes or to find ways to make my everyday routine a lot easier and more fun! I wanted Hip Mama's Place to be a great resource for parents and more!
Needless to say, little did I know that Hip Mama's Place will become so much a part of my life!
In the years since I started Hip Mama's Place, I have created new friendships, have worked as a brand ambassador for many high quality brands such as Bosch, Wisk, Giant Food, Verizon Wireless, Coca-Cola and more! At Hip Mama's Place, you will also find many other ideas moms seek – home decorating, health, fitness and beauty tips, delicious recipes, money-saving tips and deals, and craft ideas that are simple and fun for the whole family!
So, why the name Hip Mama's Place?
I understand every blog's name has a story. Here's mine:
When I was a new mom back in 2005, I lived in the suburb of Dallas, Texas. Out of my desire to meet other moms in the area and to have more playdates for my kids, I decided to create my own local moms group. I'm a natural-born Filipino citizen and I really wanted to expand my group of Filipino-American moms at that time. Needless to say, the "DFW Fil-Am Hip Mamas" group was born- which stood for Dallas-Forth Worth Filipino-American Moms. I had so much fun with that group for almost three years until my family had to move to Virginia. I haven't told you (and in case you haven't noticed based on my posts on this blog), I love entertaining, organizing events, making crafts, baking and cooking, and going to fun places with other moms and kids. That group I created back then was a great outlet for that creative side of me, so to speak. We did all of those and more… 🙂
Fast forward to 2007 when I was deciding what to call my blog. I really loved the sound of "hip mamas" so I thought, 'well, I want it to be a place where moms can hang out, have fun, read interesting articles, and just share our own experiences and feelings.. so why not call my blog "Hip Mama's Place?". I loved it (and still do 'til now!) and it's got a catchy sound to it.. don't you agree?
And that, my friends, is how Hip Mama's Place came to be. 🙂
What I want Hip Mama's Place to be and how it is now
My goal has always been to make Hip Mama's Place not only a helpful site that brings moms the latest trends in mom, baby/kids and family-friendly products and services, but also offer helpful money-saving ideas, family-friendly events, fun giveaways for the whole family, giving back to the community and more!
I am married to my wonderful husband of 12 years and we live in Northern Virginia. We have sons in the age ranges 17 to 25 and we have two super adorable Siberian cats named Oscar and Zara. When I am not writing for Hip Mama's Place, I just hang out and travel with my husband and kids, or spend time with them and our furry friends in our quiet and beautiful Northern Virginia home.
If you have any questions about Hip Mama's Place or if you are a brand and would like to work with me, please send me an email at info@hipmamasplace.com.
Thank you for stopping by and visiting Hip Mama's Place! I really, really, really appreciate you!
Please follow or friend me on my social media pages listed below. I would love to hear from you! 🙂
Facebook: https://www.facebook.com/HipMamasPlace/
Twitter: https://twitter.com/HipMamasPlace
Instagram: https://www.instagram.com/hipmamasplace/
Pinterest: https://www.pinterest.com/hipmamasplace/
xoxo,
Jocelyn