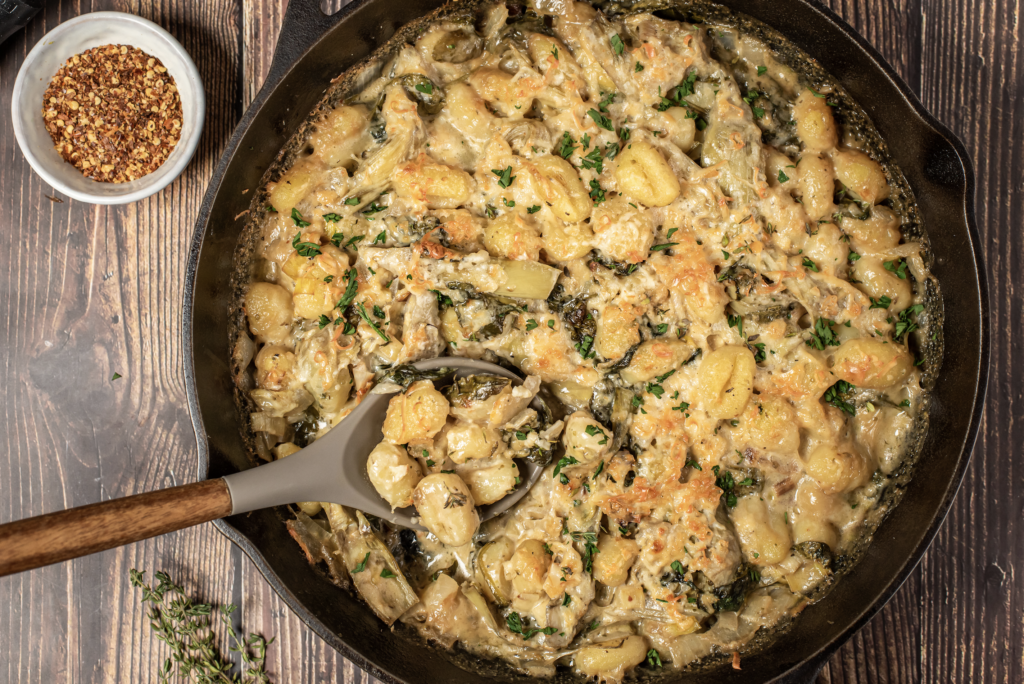 This delicious and easy oven baked gnocchi recipe in creamy spinach artichoke sauce is the perfect weeknight one-pan meal!
2021 is finally here! It's the moment we have all been waiting for. I know I have been counting down the days until I could but 2020 behind me and start fresh in a new year. While the pandemic has not yet disappeared, I am pushing forward with positivity and excitement about all that 2021 has in store for us.
I also want to say that I am so thankful for all of you who follow Hip Mama's Place and my adventures. It's because of you, my amazing readers that I'm able to stay so busy and still be smiling at the end of the day. You can count on me to always be here sharing my DIY projects, lifestyle tips and tricks and, of course, amazing recipes! We will craft and cook our way through 2021 together!
Speaking of amazing recipes, I already have a new, super tasty one to share with everyone – Oven Baked Gnocchi in creamy spinach artichoke sauce. This recipe is my new winter dinner obsession. I have already made it twice this year and we are only in the first week of January! But when a recipe is so flavorful and so easy to make, I have to make it again and again.
So.. let me tell you a little bit about this delicious baked pasta recipe and why you need to add it to your weekly dinner rotation right away.
The first thing I love about this spinach artichoke baked gnocchi recipe is that it is a true one pan meal. Everything is cooked in a single, oven safe skillet, which means you only need one dish from start to finish. You don't even need a pot to boil the gnocchi in- it bakes right in the gnocchi sauce later on! One pan meals mean less dishes, which means more time with family. This recipe is clearly a winner!
When I say that this is a one-pan meal, I also mean that it is a complete one pan meal. Sometimes, one pan meals are missing a vegetable or they are not so filling. But this baked gnocchi has it all! It has cheese, hearty starch, vegetables all tied together with a creamy, irresistible spinach artichoke sauce. Everything you need in a dinner all made in one pan! True recipe perfection.
The next reason why this easy gnocchi recipe is incredible is due to the flavor. There is just sooo much flavor in every single bite. This is not a boring gnocchi recipe at all. There are plenty of spices, a variety of cheese and even white wine to help bring the dish to life. It's absolutely a crave-worthy recipe, thanks to the perfect blend of ingredients!
INGREDIENTS AND TOOLS YOU NEED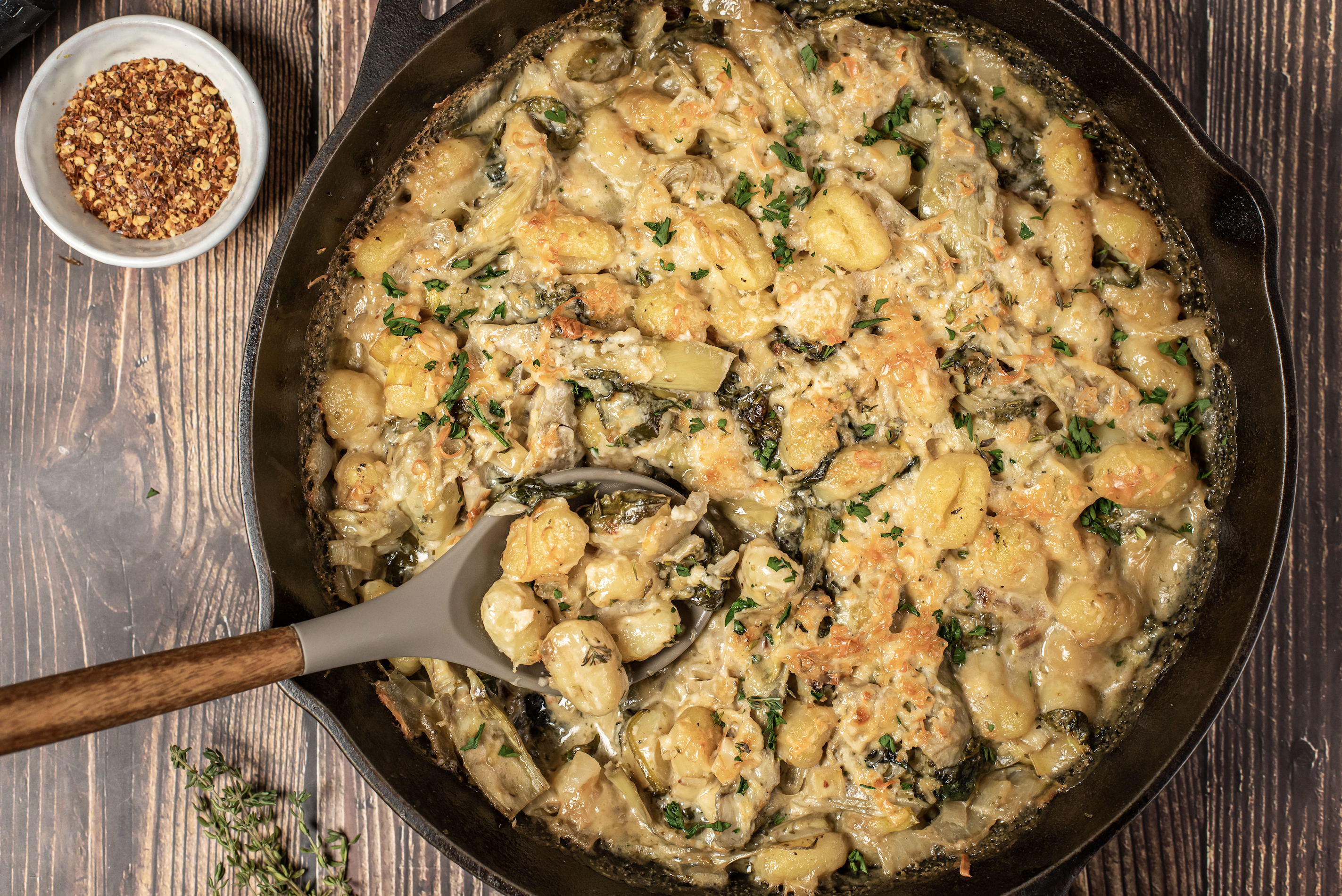 To complete the Oven Baked Gnocchi recipe, you will need the following ingredients and tools:
olive oil
onion
garlic
dried oregano
crushed red pepper flakes
dry white wine (like a Sauvignon Blanc or Pinot Grigio)
gnocchi (pre-made is fine, shelf-stable or refrigerated)
water
fresh baby spinach
a jar of marinated and quartered artichoke hearts
heavy whipping cream
grated parmesan or Romano cheese
Gruyere cheese
salt and pepper
fresh thyme or parsley for garnish
You will need the following supplies:
a large, oven-safe skillet (cast-iron works great)
sharp knife and cutting board
spatula or wooden spoon
cheese grater
HOW TO MAKE OVEN BAKED GNOCCHI
For this baked gnocchi recipe, you will need a package of shelf stable gnocchi. You can easily find it the pasta aisle of almost every grocery store. A little dry white wine adds another layer of flavor to the dish. I suggest using Sauvignon Blanc and then pouring yourself a glass to enjoy with the baked gnocchi once it has cooked. A crisp, cold wine pairs well with the creamy, spinach and artichoke pasta.. yesss!
Fresh baby spinach and canned artichoke hearts are the vegetables needed for the gnocchi recipe. The last think you will need is the cheeses and whipping cream that really make the gnocchi sauce what it is- gooey, cheesy and amazing.
I mentioned that this baked gnocchi recipe is a one pan meal but it is actually a one skillet meal. For one skillet meals, you will need a sturdy, oven safe skillet. I like to use a big cast iron skillet that can go straight from the stovetop and into the oven. Cast iron also heats very evenly so the baked pasta will cook perfectly.
FREQUENTLY ASKED QUESTIONS ABOUT MAKING THE PERFECT, EASY BAKED GNOCCHI
How do I store Baked Gnocchi with Spinach and Artichoke?
This baked gnocchi is best served right out of the oven. If you do happen to have leftovers, store in an air-tight container in the fridge for up to 3 days.
What substitutions can I make?
If you do not have white wine, you can substitute vegetable broth. Also, substitutions can be made for the cheeses. Romano cheese is a great alternative to parmesan as it is less expensive. However, it is a bit saltier so beware of that and adjust the addition of salt accordingly. Fontina or mozzarella can be used instead of the gruyere.
Can you buy gnocchi at the grocery store?
Yes, gnocchi is readily available in your grocer's pasta section. You may also find it in the refrigerated or freezer section. It is so easy to cook, you'll want to make it part of your dinner rotation if you haven't already.
Do you have to cook the gnocchi first?
The beauty of this baked pasta recipe is that you do not need to cook the gnocchi before adding to the dish. The water is added to the skillet with the gnocchi. It will cook on the stove for a few minutes, before finishing in the hot oven. This truly is a one-pot meal.
I think that we all deserve to have a few delicious, new, easy recipes in 2021. This should be a year of simplicity and enjoyment. This is exactly how I would describe this spinach artichoke baked gnocchi- simple, decadent and delicious. So grab your cast iron skillet and a pack of gnocchi and start cooking. Once you give this tasty easy gnocchi recipe a try, come back and let me know what you think!
I hope your 2021 is off to a great start and that you come back here for more recipe ideas and food inspiration all year long. See you soon!
Print
Oven Baked Gnocchi
---
Author:

Prep Time:

20 minutes

Cook Time:

20 minutes

Total Time:

40 minutes

Yield:

4

servings

1

x
Description
This delicious baked gnocchi recipe in creamy spinach artichoke sauce is the perfect weeknight one-pan meal that's so easy to put together!  
---
1 tablespoon olive oil
½ medium onion, diced
4 cloves garlic, minced
1 teaspoon dried oregano
½ teaspoon crushed red pepper flakes (more or less to taste)
⅓ cup dry white wine (Sauvignon Blanc or Pinot Grigio)
1 package shelf-stable gnocchi
1 cup water
2 cups (packed)fresh baby spinach
1 (12 ounce) jar marinated quartered artichoke hearts, drained (see notes)
¾ cup heavy whipping cream
⅓ cup grated parmesan or Romano cheese
½ cup shredded Gruyere cheese
salt and pepper to taste
fresh parsley or thyme for garnish optional
---
Instructions
Preheat oven to 400°F. Heat a large (10") oven-safe skillet over medium-high heat.
When hot, add olive oil and onions. Cook until onions are soft and translucent, about 3 minutes.
Add garlic, oregano, and red pepper flakes to the skillet. Stir, cooking until fragrant, about 1 minute.
Deglaze the pan with the wine. Stir in gnocchi, breaking it up with your spatula if stuck together. Add the water. Add salt and pepper to taste and cook on high for about 3 minutes, until gnocchi begins to soften.
Lower heat to medium-low. Add in the spinach, artichoke hearts, and cream. Stir and cook for another 2 – 3 minutes.
Sprinkle in the parmesan cheese and stir to incorporate. Turn off heat. Top with the gruyere cheese.
Bake in preheated oven for 18 – 22 minutes, or until cheese is bubbly and golden.
Garnish with fresh parsley or thyme and serve warm.
Notes
If the chunks of artichoke hearts are too big for your liking, you can chop them up further before adding.
You can also add in a bit of the marinade liquid from the artichoke hearts jar to the cream sauce to add a bit more flavor if desired.
Category:

Main dishes

Method:

Baked
Keywords: baked gnocchi, spinach artichoke, one skillet meals, one pan meals, gnocchi recipe, easy gnocchi recipe
LOVE THIS RECIPE? PIN HERE FOR LATER!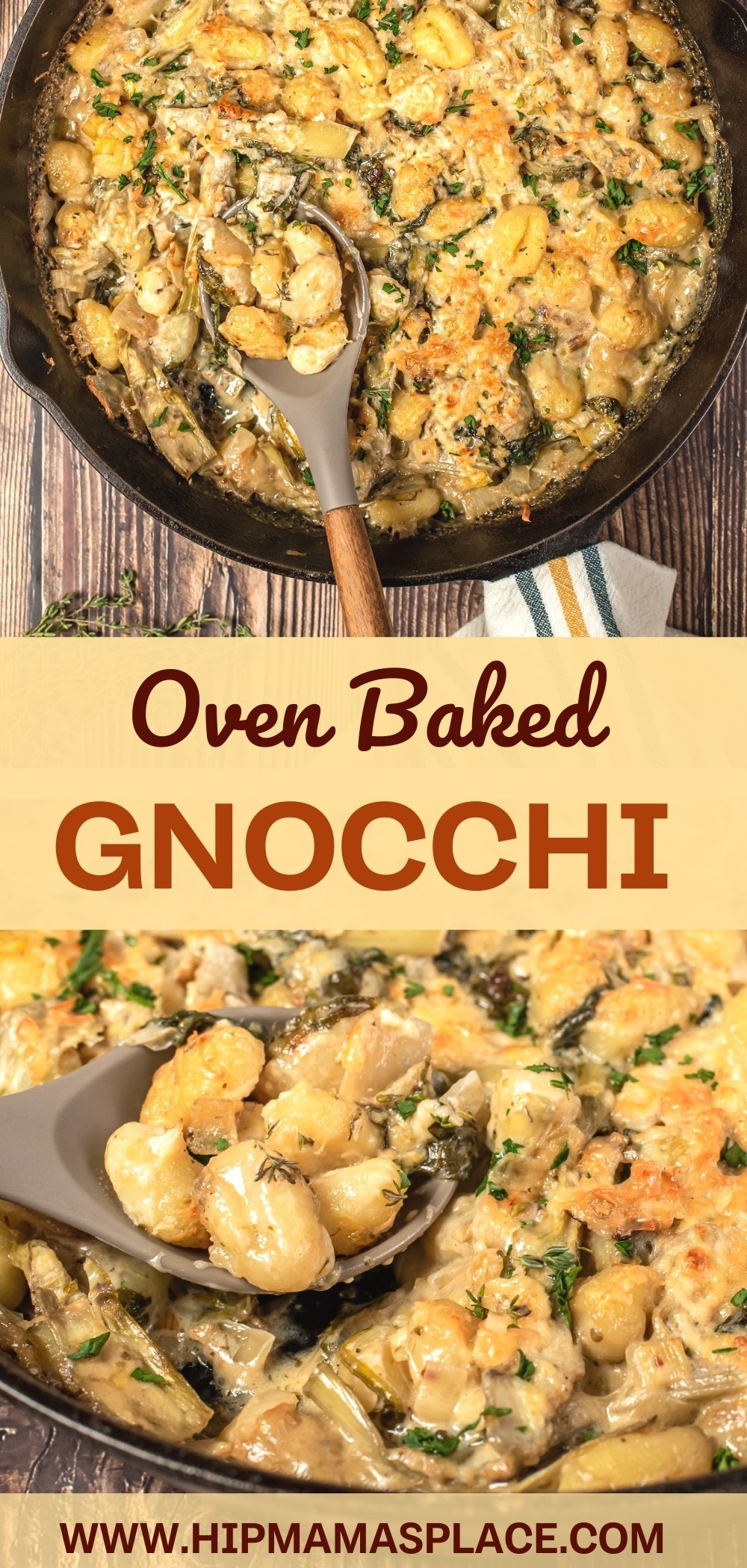 You Might Also Like…