This post is sponsored by Pasta Garofalo®. The opinions and text are all mine.
This creamy butternut squash pasta is packed with so much flavor! Tender roasted butternut squash, creamy rich homemade sauce, wilted spinach and smoked sausage make this butternut squash pasta recipe simply delicious everyone in your family will be asking for seconds before they clean their plates!
Fall is in the air. The warm days of Summer are over and even though the leaves have not totally changed their colors yet (at least, where we are), it's exciting to feel the crisp chill in the evening air.
Fall is also one of my favorite seasons of the year. I love all the smells and scents of cinnamon and pumpkin spice, the sight of apples and pumpkins being gathered and of course, the spectacular foliage!
Well, today I'm also excited to share with you a new recipe that's perfect for the cooling Fall weather: Creamy Butternut Squash Pasta with Spinach and Sausage.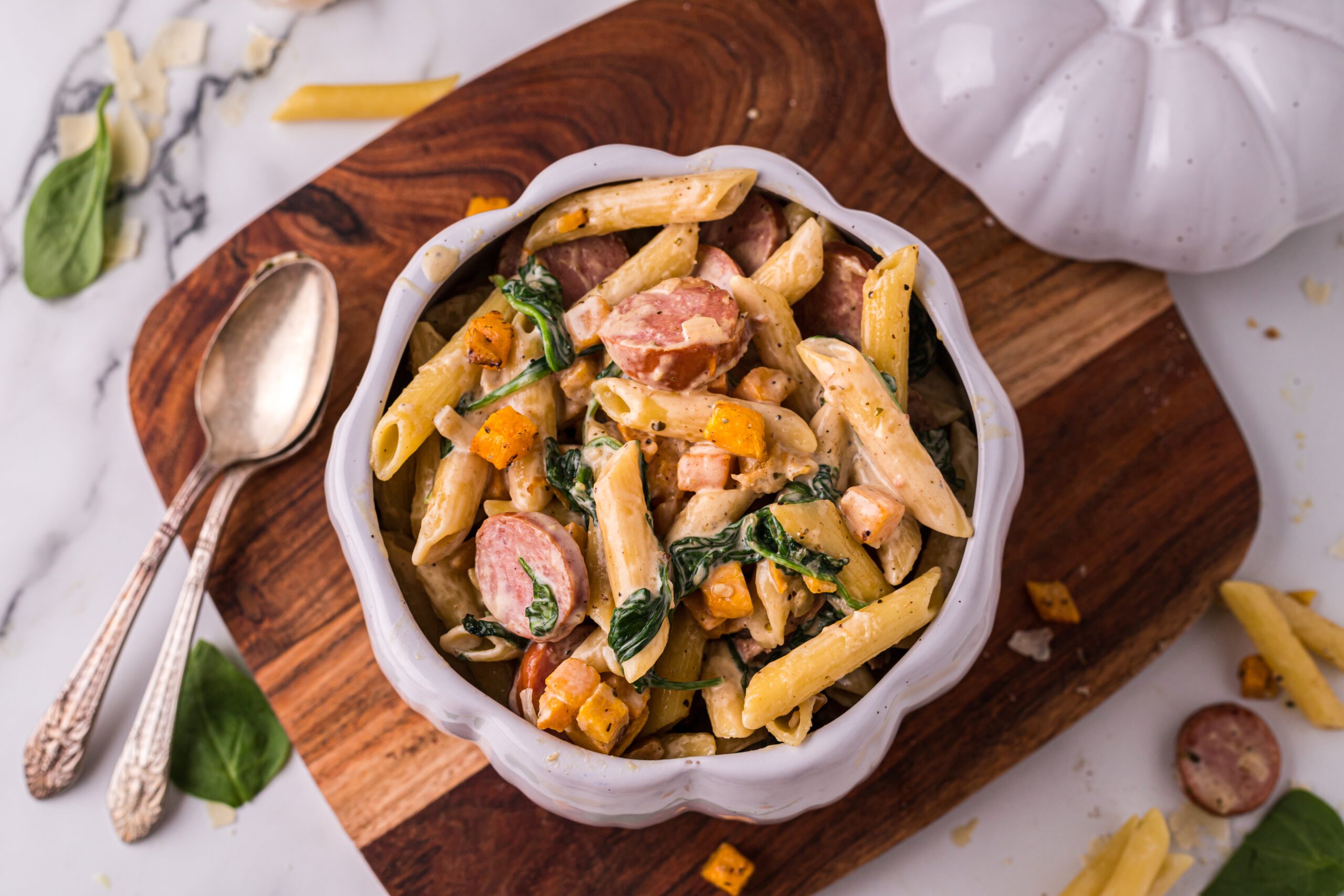 You guys, this pasta dish is truly one of a kind! It's packed with so much flavor bite after bite. Tender roasted butternut squash, creamy rich homemade sauce, wilted spinach and smoked sausage all come together to make this pasta dish simply delicious!



Pasta Garofalo
I'm also thrilled to have partnered with Pasta Garofalo® to make this delicious butternut squash pasta dish. Have you had a chance to try out their pastas yet?
Before I tell you more about this new pasta recipe, let me tell you why Pasta Garofalo is different from all the other brands.
First, they are made in Italy and have been around for over 200 years!
Secondly, they don't compromise on quality and they choose only superior quality semolina.
If you're looking for a premium quality, gourmet pasta to make your everyday meals special, look no further than the Pasta Garofalo brand. I know my pasta recipes taste so much better using their 100% highest quality durum wheat semolina pasta. Pasta Garofalo pastas really do elevate my pasta recipes to the next level!
How to Make Butternut Squash Pasta
Ingredients
This delicious recipe has a few key ingredients that I want to tell you a little about. Using high quality ingredients will really make your pasta a whole lot better!
Butternut Squash– Butternut squash has a wonderful, sweet and nutty taste. It is in season in the fall and winter which is why this dish is especially great to serve during the colder season. Roasted squash has a slightly caramel flavor that you will love.




Spinach– Spinach is full of vitamin A and C. It is also a great source of antioxidants, fiber and nutrients. Wilted spinach is a vibrant green color that makes your bowl of pasta especially pretty.
Pasta– Have you had a chance to try out Pasta Garofalo pastas yet? I used the Garofalo Penne Ziti Rigate for this recipe. This pasta has such great flavor and texture. Using a high-quality pasta like Garofalo is so important to making this dish perfect.
Smoked Sausage- Choose your favorite smoked sausage to use in the pasta dish. Chicken, pork, spicy or sweet- any type of ground sausage will work!
How to Roast Butternut Squash
Roasting butternut squash brings out the sweet flavor of the veggie and also makes it tender and soft. That creamy texture and caramel taste is exactly what you want! Here is how to roast butternut squash:
Toss the cubed squash together with olive oil, Italian seasoning, cumin, salt and pepper.
Spread the seasoned squash on a lined sheet tray making a single layer.
Roast in a preheated oven, flipping the squash halfway through so it browns evenly.
Easy enough, right?! Remember how simple it is to perfectly roast butternut squash next time you are looking for a quick, fall side dish.
How to Make Creamy Pasta Sauce
Cheesy, creamy homemade sauce is definitely my favorite part of this butternut squash pasta recipe. It makes the dish really exceptional and it's super easy to make, too!
Add chopped onion, garlic and chicken broth to a saute pan and simmer for 5 minutes.
Add the sausage and cook for 10 minutes. Break up the sausage as it cooks with a spatula or wooden spoon.
Remove the sausage from the pan and add the cream to the same pan.
Bring the cream to a simmer and stir in the cheese, melting it into the cream.
That is all you need to do to create a perfect, cheesy, savory sauce!
Making Creamy Butternut Squash Pasta Bowls
Once you have perfectly roasted squash and a rich, creamy homemade sauce, putting the pasta bowls together is super easy. Here is how it all comes together:
1. Cook the pasta according to the package directions. I like al dente pasta so I always use the lower cooking time.
2. Add the spinach to the warm cheese sauce and stir to let the spinach wilt.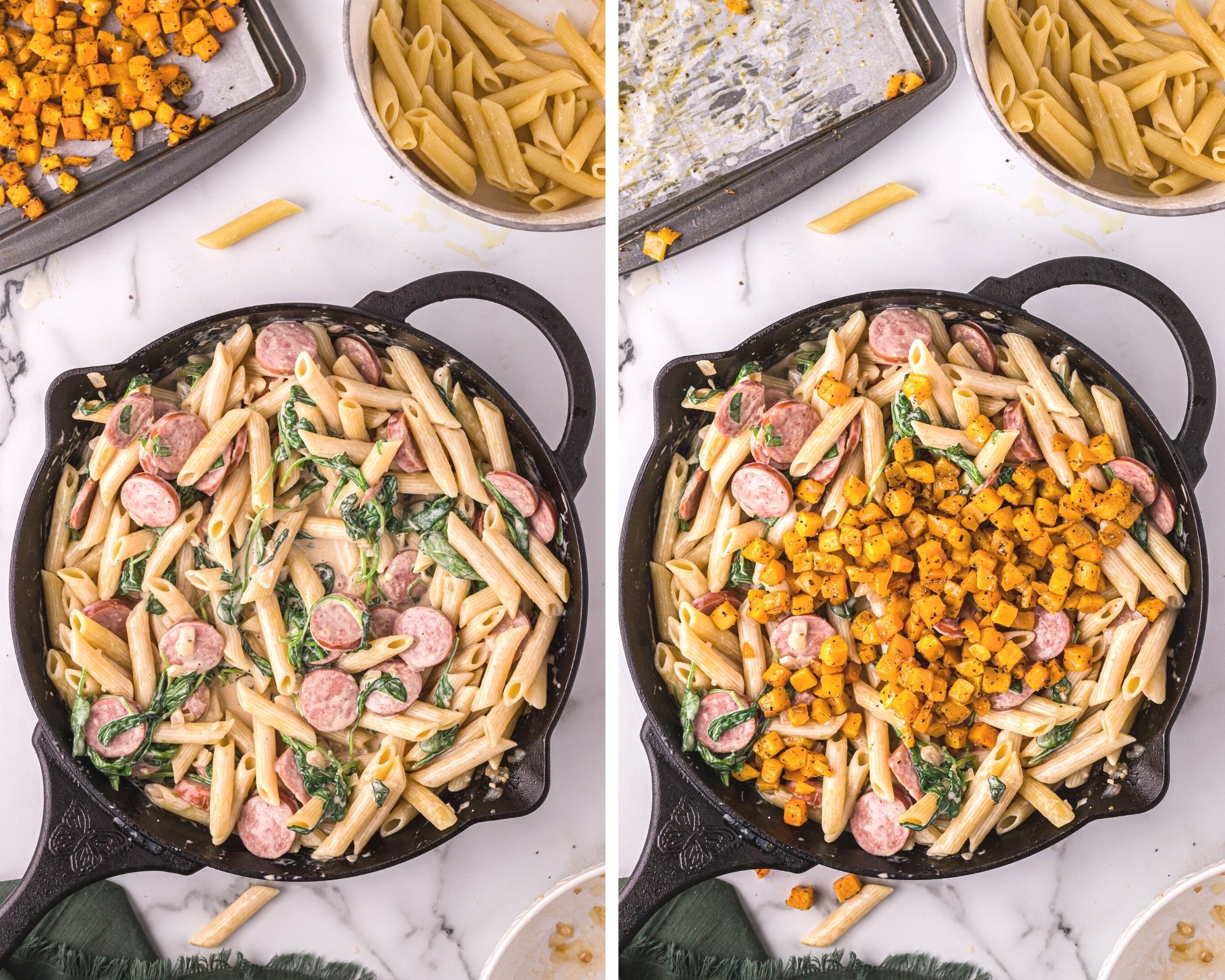 3. Add the onion and sausage mix back into the pasta sauce along with the roasted squash. Stir everything together.
4. Add the pasta to the sauce mix and toss. Divide the delicious pasta between bowls and enjoy warm!
Since this fall-flavored pasta is so easy, it makes a fantastic weekday dinner idea. It is simple, rich and something everyone in your family will love. How about serving it on your next Thanksgiving dinner?



Tips and Tricks for Making Butternut Squash Pasta
I always try to think of ways to make dinner time easier. Here are a few tricks I have found that make this recipe fast and tasty.
Use pre-cut squash– Look in the grocery store for peeled, chopped butternut squash. This will save you the hassle of cutting off the hard outside peel. You can usually find it in the produce section.
Try sweet and spicy sausage– Using two types of sausage adds a lot more flavor to the pasta. A little spice mixed with sweetness makes a nicely balanced pasta bowl!
Change the milk– Whole milk, heavy cream, almond milk or even oat milk all work in this recipe. A higher fat milk will make a creamier pasta. Almond milk makes a great dairy-free cream sauce.
Double and Freeze– Make an extra large batch of butternut squash pasta and freeze it. Next time you need a meal in a hurry, you will have a perfect pasta dish ready and waiting in the freezer!
Try different greens– I have made this recipe using kale in place of spinach and it is just as great. Almost any winter greens will work well.
Try this delicious, seasonal pasta recipe and let me know what you think. Share any tricks you might have too! I always love hearing how you made this dish your own!
For a dish that's packed with so much flavor, it will seem like you have been in the kitchen for hours preparing this delicious butternut squash and pasta dish. But surprisingly, you can make this dish in under an hour. It really is the perfect fall weeknight meal!
Let me know when you have made this recipe and please come back to this post to comment how it turn out. I'd love to know!
And please, please don't skimp on the pasta. Use only high-quality, premium pasta from Pasta Garofalo.
I get my Pasta Garofalo pastas from my local The Fresh Market, but they're also available at your nearest Ingles, Tops, Big Y, Rouses and Dave's Marketplace!
Print
Creamy Butternut Squash Pasta with Spinach and Sausage
---
Description
This creamy butternut squash pasta is packed with so much flavor! Tender roasted butternut squash, creamy rich homemade sauce, wilted spinach and smoked sausage make this butternut squash pasta recipe simply delicious
---
For the Roasted Butternut Squash:
3 cups butternut squash, cubed (1 medium butternut squash)
¼ cup olive oil
2 teaspoons Italian seasoning
1 teaspoon ground cumin
1 teaspoon pepper
½ teaspoon Salt
16 oz. Pasta Garofalo Penne Ziti Rigate (cooked and drained)
For the Cream Sauce:
½ cup onion, diced
2 garlic cloves, minced
1/3 cup vegetable or chicken broth
13 oz. Smoked sausage, sliced
1 ½ cups heavy whipping cream
1 cup shaved parmesan cheese
3 cups baby spinach
---
Instructions
Preheat oven to 375 degrees.
In a large bowl toss together cubed butternut squash, olive oil, Italian seasoning, ground cumin,  pepper, and salt.
Roast seasoned cubed on a parchment lined baking sheet in preheated oven for 30 minutes.
In a large skillet add in onions, minced garlic, and vegetable broth. Bring to a simmer over  medium heat for 5 minutes.
Add sausage to skillet and cook for 10 minutes. Once sausage is cooked remove onion and  sausage mix and place in a bowl.
In the same skillet add in heavy cream and whisk until sauce reaches a soft boil. Add in shaved  parmesan cheese and let sauce simmer until cheese has completely melted.
Add spinach, cooked sausage, roasted butternut squash, and pasta in with the cream sauce and stir until spinach has wilted.
Mix pasta together and serve.
LOVE THIS RECIPE? PIN IT FOR LATER!