If you're looking for fun fall family activities that won't cost a fortune, here are some ideas you and your family will enjoy!
Turning the calendar from summer to fall always brings a sense of excitement. This change in seasons means there are a variety of fall family fun that you can't do in the summer months. Fall is the perfect time to break out all the food, walking shoes, and outdoor activities that your family enjoys.
What's not to love about fall? The cooler temperatures, falling leaves, and golden glow that autumn brings lift the spirits and the energy level. Gone is the oppressive heat that made outdoors activities so challenging, and in its place is a gentler and more picturesque climate.
Ready to enjoy those cooler temperatures? If you're looking for fun fall family activities that won't cost a fortune, here are some ideas you and your family will enjoy!
Go Apple Picking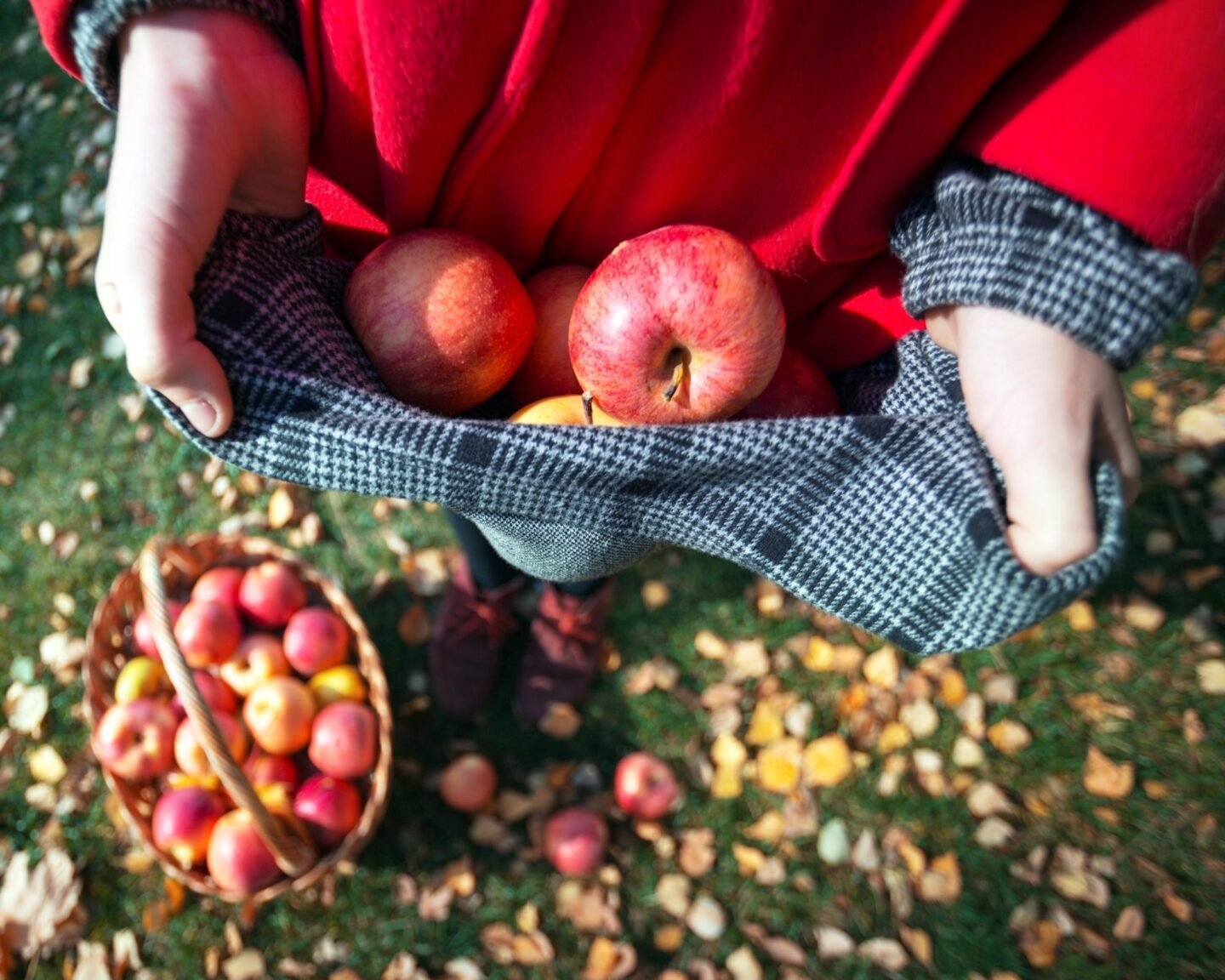 Do you have an apple orchard nearby where you can pay to pick apples? Apple picking is a fall tradition and brings out competitive spirits in all of us. Your family can compete in the apple picking Olympics by seeing who can pick the most. Plus, apples are a nutrient dense snack. If you're into a splurge, you can even use those apples to create an apple pie or old-fashioned apple butter.
Apple picking is good exercise too; you burn calories and activate your ab and core muscles as you reach for the apples. Apple picking season runs from late June to mid-November, so plan ahead.
Related: 21 Ways To Maximize End of Summer Family Fun
Carve a Pumpkin
Head to your local pumpkin patch and let each family member pick out a pumpkin of their choice. Then try out your artistic skills by letting everyone carve and decorate their own pumpkin. You can even use paint or glue items on a pumpkin to create unique pumpkin characters. Save the pumpkin seeds too, and roast them for a healthy snack. Pumpkins seeds are a nutrient dense snack that blows chips out of the water in terms of health benefits.
Plan the pumpkin carving a few weeks before Halloween, so you can line them up for trick or treaters to see on the big day. Think out of the box and create unique pumpkin characters, and give them funny names. It's an activity everyone in your family will enjoy. Or, if you'd rather opt for an easy, no carving required pumpkin project to make with the kids, try my No Carve DIY Boo Pumpkins.
Have a Fall Picnic in the Park
What better time to eat outdoors than in the fall? Find a local park with picnic tables and a view of the brilliant colors of autumn. Pack up a healthy lunch and enjoy it in the fresh air. Why not combine the picnic with a nature hike too, or you can take a long ride along back roads where the foliage is most brilliant. Enjoy!
Related: Tips for a Successful and Fun Fall Picnic
Scavenger Hunt
Scavenger hunts are stimulating physically and mentally for kids and adults of all ages. You'll get exercise and enjoy the challenge of finding a wide array of fall items. Find a suitable outdoor location and create a list of items to find. Give each member of your family the list and send them on their way. The first person to return with all the items is the winner. Be sure to include fun fall items like a pine cone, acorn, or a leaf of a certain color. Keep it fun and challenging!
Photograph the Fall Foliage
With smartphone photography, the whole family can take fall photos together. Gather the kids and the cameras, and head for a scenic area where you can photograph the fall together. Find rural areas to explore and photograph. Print the photographs on a high-quality printer and frame them so you'll have a record of your autumn excursions. Remember, fall only comes once a year, and it's gone before you know it. So, take lots of photos.You're creating memories!
Hiking in the Great Outdoors
Hiking is exercise, sunshine, and a chance to enjoy the beautiful foliage. It's something the whole family can do, even the dog, and it doesn't cost a penny. One of the beauties of nature is it's free. Find a nearby hiking trail with the help of an online site like Trails.com, and get ready to enjoy the fresh air. Make sure the whole family has appropriate shoes for hiking. Your ankles need extra support on trails.
The Bottom Line
Fall is the time of year when we anticipate cooler temperatures and less humidity. The leaves start to change colors as trees shed their colors as they prepare for winter, and it's one of the best times of year to stay active as a family. Take advantage of the many fun activities you can enjoy as a family this autumn, and do it without spending a fortune. After all, some of the best family memories are made doing simple things that won't break the bank.
What do you think of these ideas for fun fall family activities? Which ones are your favorite? Tell me what you love to do with your family during the fall season!