This post is brought to you by Morinaga Nutritional Foods, Inc., maker of Mori-Nu® Silken Tofu and The Motherhood. All opinions are my own.
Tofu is one of those foods that you either love or hate. Some say they don't like it because of its texture, or that it tastes weird. Personally, I like tofu and I've used it in a few of my recipes before. In fact, today, I'm sharing with you my latest recipe using tofu that I think you'll love!
I know some of you may not be familiar with tofu, so I just want to talk about it for a little bit before I tell you about my recipe.
I remember when I first encountered tofu. It was at a local Thai restaurant my husband and I used to frequent years ago. The first questions I had about tofu were: "What is it made of?" and "How is it made?" Well, if you've stumbled upon this post and you have the same initial questions about tofu, then it's your lucky day!
Tofu is a soybean made from the curds of soy milk. Just as milk is used as a base for making cheese, soy milk is the base for making tofu. To make the tofu, the soymilk gets coagulated to create curds. These curds are then pressed, compacted and cooled to shape into the gelatinous white blocks that become the tofu. If you're conscious about eating healthily, you must have seen tofu in many healthy recipes. That's because tofu is an excellent source of amino acids, iron, calcium and other micro-nutrients. What I love about tofu is that it's a very versatile ingredient that can be incorporated in a variety of recipes.
Recently, we had the opportunity to try a variety of Mori-Nu Silken Tofu products by Morinaga Nutritional Foods, Inc. I'm very selective with the tofu I get, so I like that Mori-Nu Silken Tofu is smoother and creamier with a slightly higher water content than dense, spongy tub tofu (or "momen" in Japanese). Mori-Nu Silken Tofu is also an excellent alternative to protein and is Kosher, non-GMO and gluten-free. Some varieties are organic as well.
Contrary to the common belief that tofu is only used for Asian-inspired dishes and soups, or that it is only for vegans or vegetarians, or that it doesn't tastes good, it's actually versatile, delicious, and affordable.
Since my husband and I have been more conscious about our eating in the last few months, I've been looking for healthier alternative ingredients that I can incorporate in my recipes. And what perfect timing! I found that Mori-Nu Silken Tofu products can be used in desserts, main dishes, appetizers and salad and as a substitute for dairy ingredients. You can use Mori-Nu Silken Tofu extra firm for stir-fry recipes, blend the firm or soft versions of Mori-Nu Silken Tofu for creamy and delicious smoothies, shakes, desserts, dips, and sauces, or crumble the firm tofu into eggless scrambles or pasta fillings.
I also like the that Mori-Nu Silken Tofu products are sold in unique aseptic package that protects fresh tofu from light and bacteria, allowing for a long shelf life without the need for refrigeration or use of preservatives. The packaging locks out light, oxygen and micro-organisms which lead to spoilage and allow for a long shelf life.
Mori-Nu Silken Tofu comes in 6 varieties: Soft, Firm, Extra Firm, Lite Firm, Organic Firm and Organic Nigari. It is one of the highest-qualities of silken tofu on the market, providing unmatched smoothness, creaminess and great taste.
Did I already pique your interest about Mori-Nu Silken Tofu? Then go visit http://www.morinu.com/to purchase their products online or go to the store locator to find your nearest retailer!
HONEY-SESAME TOFU VEGGIE STIR-FRY
Here's my easy, delicious and healthy recipe for Honey-Sesame Tofu Veggie Stir-Fry!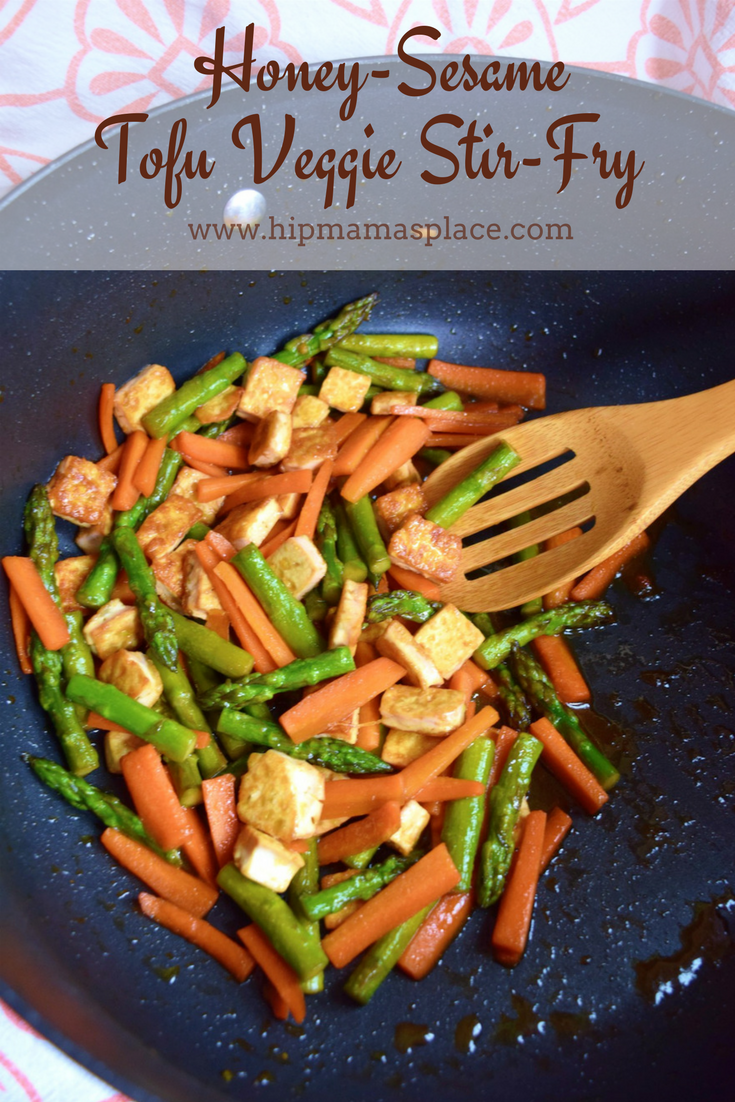 This dish is so full of flavor and is best served over brown rice, quinoa or noodles. Enjoy!
[amd-yrecipe-recipe:32]