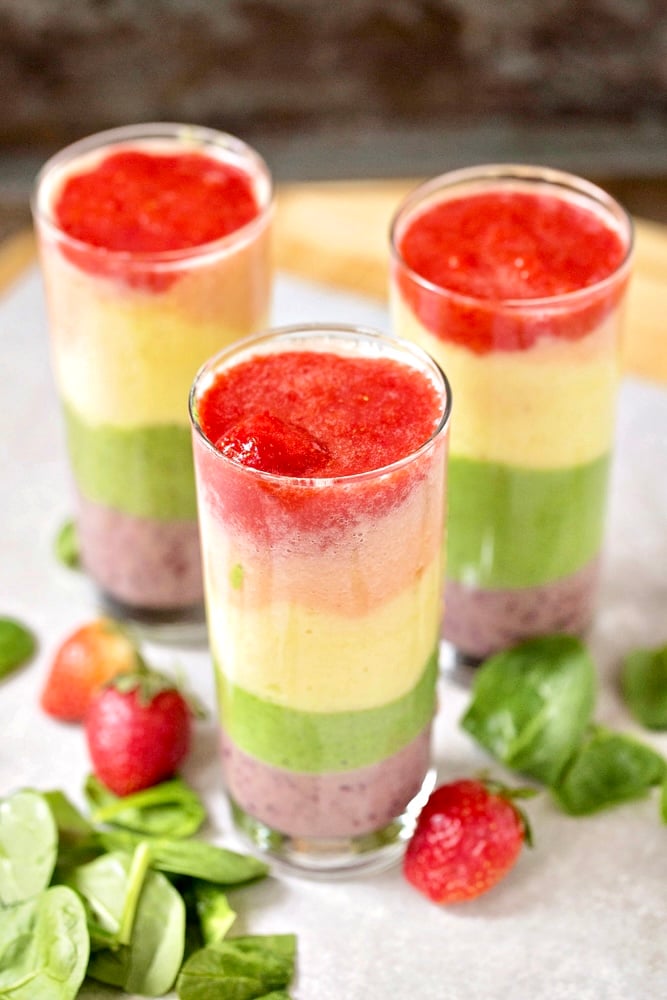 There's something about seeing a rainbow of colors: it cheers me up in an instant.
And in anticipation of Spring and St. Patrick's Day, I thought I would bring cheer to your day with this beautifully bright, colorful and refreshing five-layer rainbow smoothie recipe!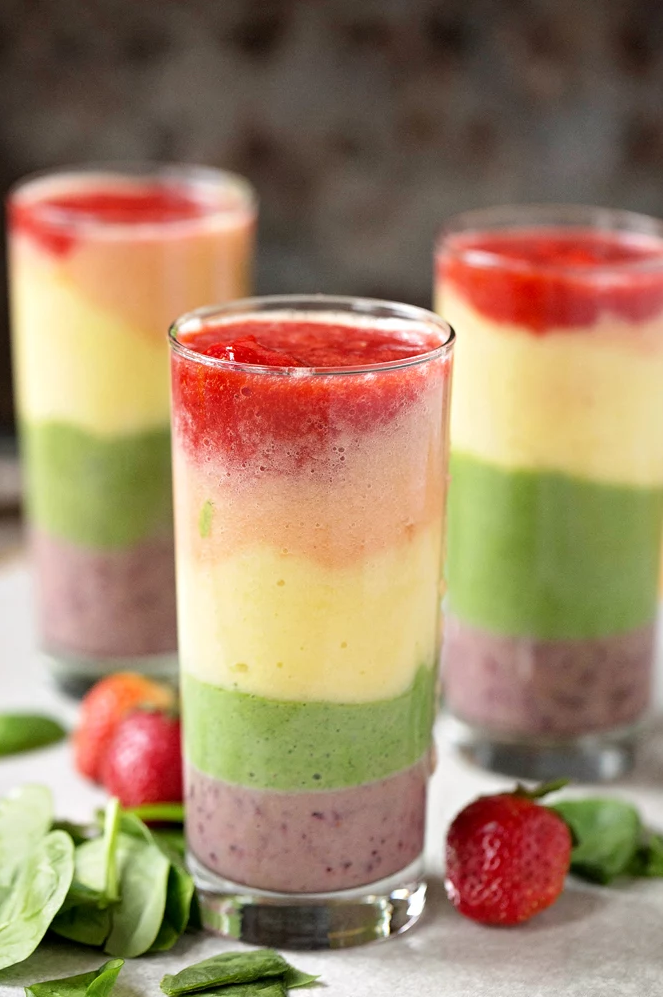 This rainbow smoothie recipe is delicious, refreshing and is perfect for breakfast, as a mid-day pick me up or even as an afternoon drink-snack!
How to Make Rainbow Smoothie
Okay.. so to make this rainbow fruit smoothie recipe, you will need quite a variety of fruits.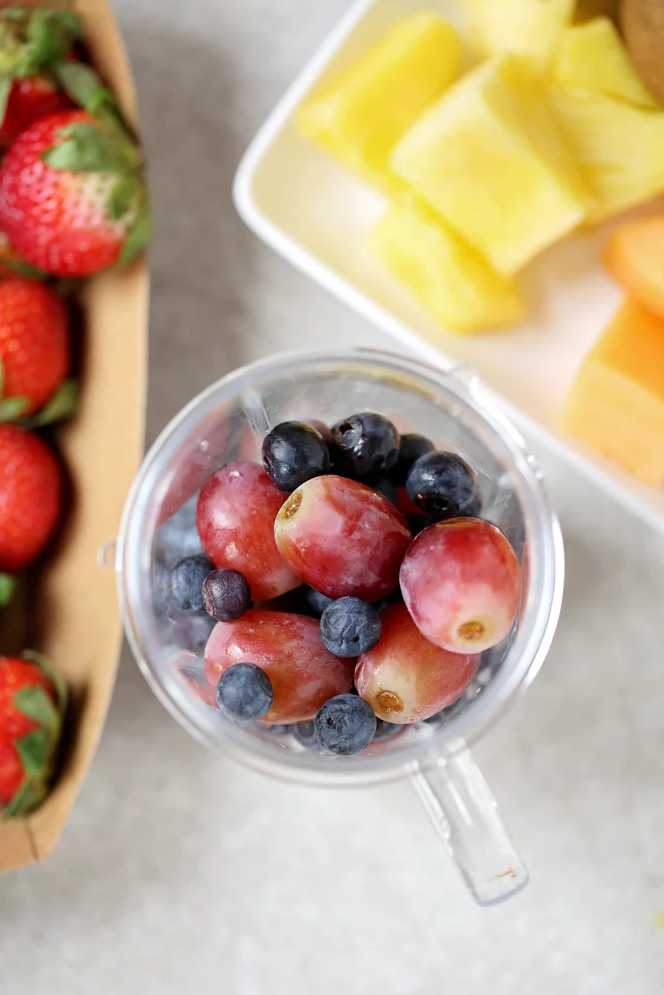 You can easily find these fruits in the frozen section of your grocery store. But if you like fresh (not canned or frozen bagged) fruits like I do, you can do that too. Just cut up the fruits, put them separately in Ziploc bags and freeze them for at least a day.
This rainbow smoothie is super simple to make: you basically just blend each layer and then stack the layers!
And about layering, you want to make sure that each smoothie isn't too liquid-y. If they are, the smoothies will blend together instead of appearing as separate layers when you put them in the glass. Also, when you start layering, use a spoon to make each layer look more even on top of each other. Also, the best way to keep the layers not mixing is to have each layer chill in the freezer every time between mixings. Also, if you notice a layer is too liquid, add a few pieces of ice to the blender and blend, which will make it firmer so that the layer on top can rest on it.
Print
Rainbow Smoothie
---
Red layer: 1 cup strawberries, blended thoroughly.
Orange layer: 1/2 cup cantaloup, 1/2 banana, and 1/3 cup Greek yogurt
Yellow layer: 1/2 cup pineapple and 1/2 cup banana.
Green layer: 2 whole kiwis, 1/3 cup fresh spinach, 1/4 cup apple juice.
Purple Layer: 1/2 cup fresh blueberries, 1/4 cup purple grapes, 1/3 cup apple juice.
---
Instructions
Blend purple layer, pour in a glass, and set in the freezer to chill for a minute.
Blend green layer, then pour on top of the purple, then set back in the freezer.
Blend yellow layer, pour on top of green, then chill in the freezer.
Blend orange layer, pour on top of yellow, then chill in the freezer.
Blend red layer, pour on top of orange, then chill in the freezer for about 5 minutes.
Serve and enjoy!
Notes
This recipe yielded 3 (one glass) servings.
So there you have it – a beautifully layered, refreshing Rainbow smoothie that will lift your spirits up too!
LOVE THIS RECIPE? PIN IT FOR LATER!