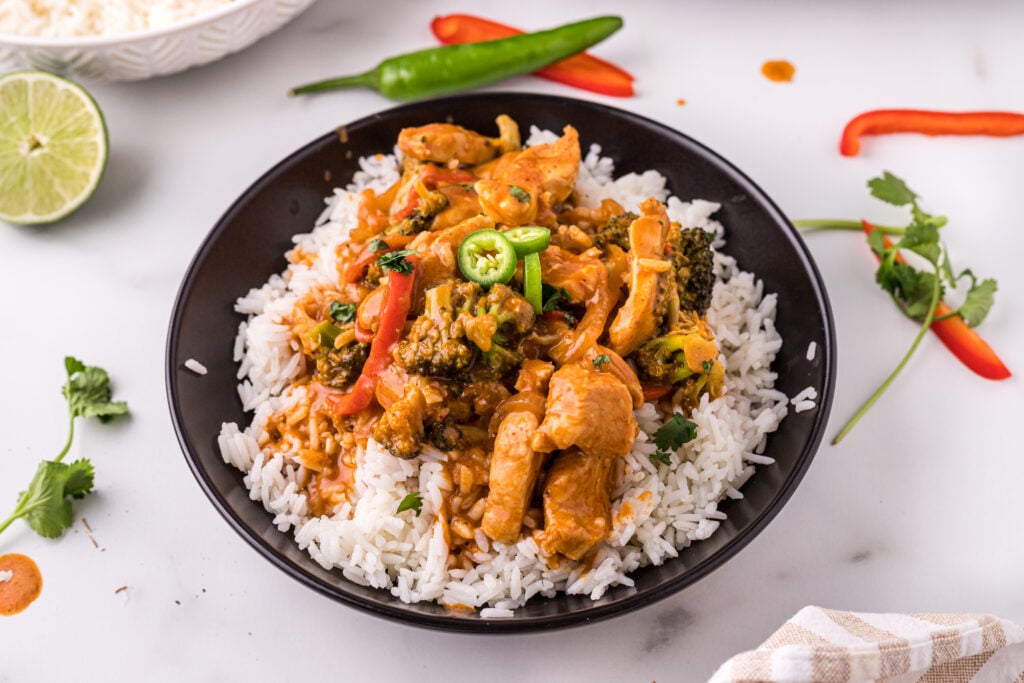 Thai Red Chicken Curry – a flavorful, fragrant one-pan dish with chicken and creamy red curry-spiced sauce ready in 30 minutes!
Happy Wednesday, my foodie readers! I'm so excited to share with you my newest recipe: Thai Red Curry Chicken!
You know, I'm a big believer that food should be fun. There are so many different kinds of foods out there that you could spend your lifetime trying them all and that's exactly what I plan to do!
I'm so grateful that my husband is with me on trying new cuisines and dishes from around the world. We are both adventurous when it comes to trying out new foods from different cultures. While I do my best to cook my family's tried and tested homemade recipes regularly, there are also those days when I just want take a break from the kitchen and order take out. We do have a list of a few local restaurants that we like and one of them is an authentic, family-owned Thai restaurant just a few blocks from our house.
Our local Thai restaurant is one of my family's favorite places to get good take out food. They have a full menu of authentic Thai dishes and we love trying different flavors every time we go. However, I can always count on the chicken curry to spice things up! Sure, new foods are exciting and interesting but having a go-to classic order is always nice.
Speaking of curry, did you know that today is National Curried Chicken Day?! I definitely intend to celebrate! It is also the perfect time for me to share my own recipe for Thai Red Chicken Curry. I have spent years perfecting this dish and know that you will love it.
What is Curry Powder?
Anytime you make a curry recipe, you will see "curry powder" listed in the ingredients. This spice is actually what makes the dish taste so incredible. It adds a rich, deep heat that I absolutely love!
Curry powder was actually first blended by the British as a way to evoke the flavor of Indian food. True Indian curry does not need curry powder to make the dish. The term "curry" actually just refers to how the dish is made with chopped meats and vegetables. Garam Masala is the spice that is most commonly used in authentic Indian curry. However, curry powder is so simple to use and really does add a rich taste. It is super common in curry recipes these days!
Curry powder is actually a mix of ground spices. It is usually made with ground turmeric, ginger and coriander. Curry powder may also have ground black pepper, garlic or cinnamon mixed in. Red curry powder is made with ground chili pepper and ground red pepper flakes. Yellow curry powder is a little more mild, with none of the hot chilis mixed in.
Ingredients and Tools for Making Thai Red Chicken Curry
One thing about all curry recipes is that they use a lot of ingredients. Every ingredient plays its part! Each one adds a rich, deep flavor that lends to the complexity and deliciousness of this dish.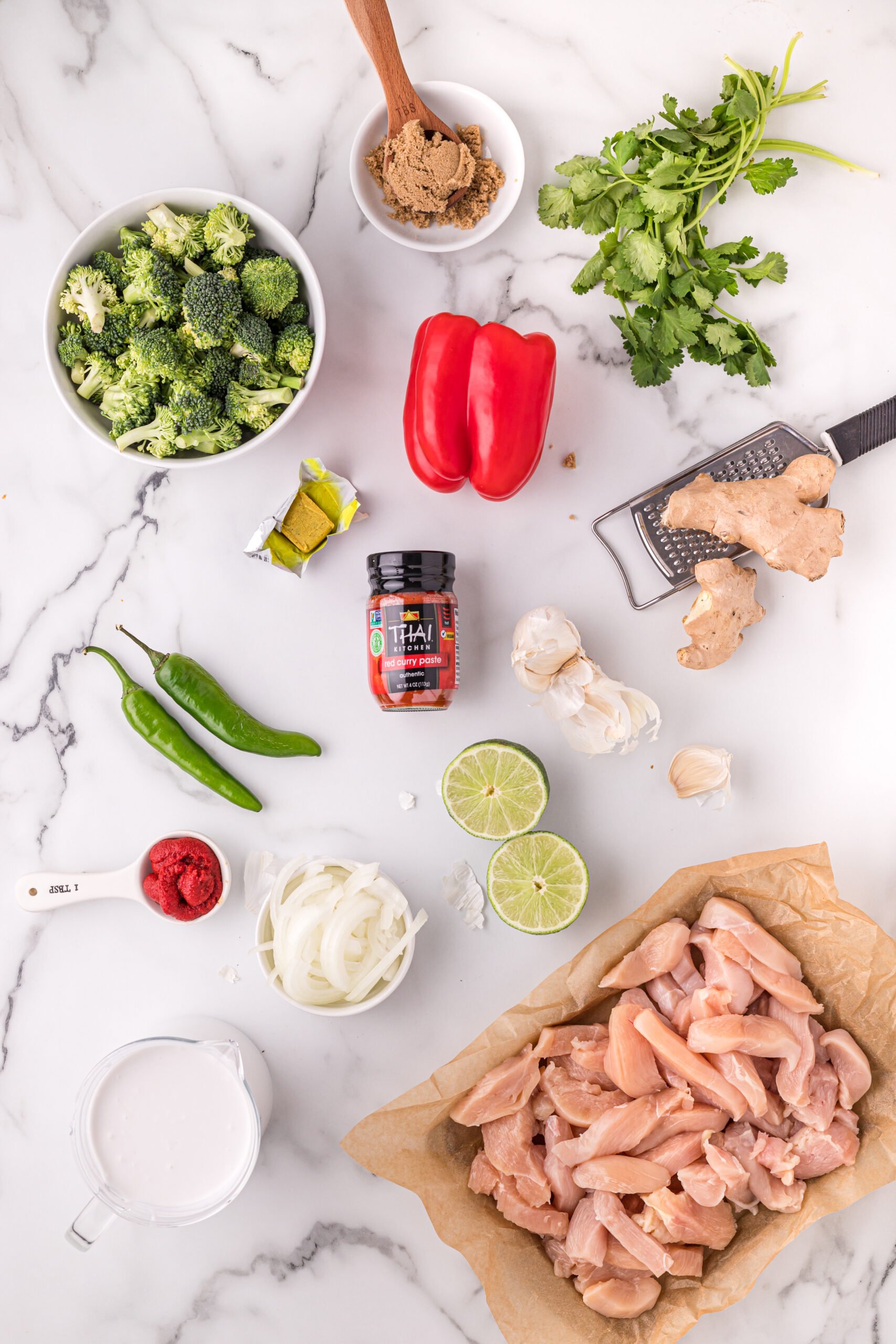 Here is what you will need to make my Thai red chicken curry recipe:
chicken breast- chicken breast cut into strips is the main meat of the recipe. You can't have chicken curry without chicken! Look for boneless, skinless chicken breasts which are easiest to cut and cook.
broccoli- I love having a little bit of green in my chili bowl. Broccoli is the perfect veggie for a classic chili
olive oil- A little olive oil is needed to sear the chicken and veggies
red pepper- Choose a pepper that is slightly spicy to give your curry a little bit of a kick.
onion- Onion adds a sweet bit to the curry
ginger- The strong flavor of ginger makes the curry more vibrant.
garlic- Garlic is a rich, delicious addition to curry
red curry paste- Red curry paste is how your curry will get its spice. You can find red curry paste in the International Foods section in almost every grocery store. It is made with red chilies, coriander, garlic, lemongrass, salt, and other spices. I like to use the Thai Kitchen brand.
brown sugar- Your curry needs a little sweetness to round out the spicy flavor!
tomato paste- Tomato paste makes the curry thick and flavorful
salt and pepper- Every recipe needs some salt and pepper!
chicken bouillon- Chicken bouillon increases the chicken taste in the recipe. You can also use chicken broth in place of the water and bouillon. I find the boullion cube adds more flavor than the chicken broth, though.
coconut cream and coconut milk- This red curry is spicy! A little bit of coconut cream and milk will make it sweeter and more mild.
lime- Fresh lime juice adds a lot of brightness to the recipe
cilantro- A sprinkle of cilantro is the perfect finishing touch.
Once you have all the ingredients you need, grab the kitchen tools to make the Thai red curry chicken recipe. A cast iron skillet, large spoon, cutting board, chef's knife, and measuring cup are all you need!
How to Make Thai Red Chicken Curry
There may be a lot of ingredients in this recipe but the steps to make the red chicken curry are actually quite simple. Take a quick look at how to make my Thai red curry and then you'll be ready to start cooking!
1. Saute the oil, pepper, onion, ginger and garlic together to soften the veggies.
2. Add the curry paste, brown sugar, tomato paste, salt and pepper. Stir the mix into a thick paste.
3. Add the chicken bouillon and water and stir to dissolve the bullion cube.
4. Add the coconut cream and coconut milk and stir again.
5. Add the chicken pieces and broccoli and let the mix simmer for 10 minutes.
6. Scoop the curry into bowls with rice and top with lime juice and fresh cilantro.
It is pretty surprising how simple this recipe is to put together. Yes, you need to measure quite a few ingredients but layering in all the different flavors and spices really makes this curry delicious.
Tips and Tricks for Making Thai Chicken Curry Recipe
I have made this red Thai chicken curry recipe lots of times and my family is truly hooked! After prepping this dish so often, I have come up with a few tips and tricks that will help you make this chicken curry perfectly. Take a look before you start cooking.
There are many types of red curry paste on the market and each brand is slightly different. I recommend starting with just 2 tablespoons of curry paste, making the whole recipe and tasting it. You can always mix in another scoop of curry paste if you think the final dish needs more heat.
Top the curry with some sliced serrano peppers to add more heat.
Use heavy cream or whole milk in place of coconut cream in a pinch. The curry will be a little less thick but still delicious.
Shake your can of coconut milk and coconut cream before opening. Coconut tends to separate in the can and giving it a good shake will bring it back together.
You can prep the curry sauce in advance but add the chicken and broccoli the day you'd like to serve it. I like to make the sauce one day, pour it back into a pot to heat and add the chicken then. This makes for very easy meal prep!
To store leftovers, use air-tight containers and store up to 3 days.
If you have any questions about this delicious recipe, leave them in the comments below. I am always happy to answer!
Delicious Thai Red Chicken Curry Recipe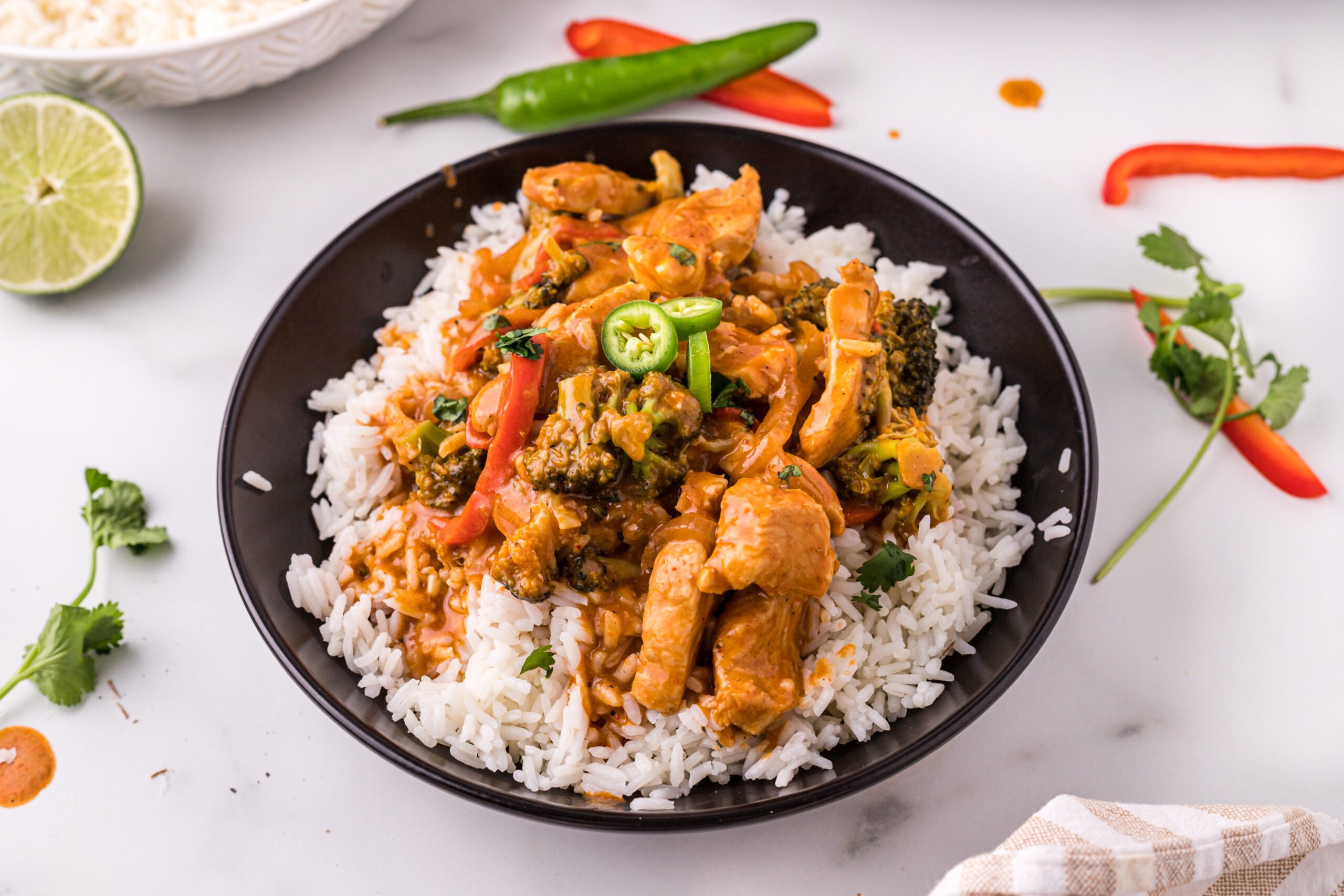 Are you ready to celebrate national curry day? I definitely am! This red curry is super simple to make and tastes just as good (if not better) than your local Thai restaurant's curry.
Once national curry day is over, what should we celebrate next? I'm always ready for a good food celebration!
Happy National Curried Chicken Day!
Print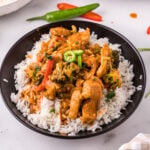 Thai Red Chicken Curry
---
Author:

Prep Time:

10

Cook Time:

20

Total Time:

30

Yield:

4

servings

1

x
Description
Thai Red Chicken Curry – a flavorful, fragrant one-pan dish with chicken and creamy red curry-spiced sauce ready in 30 minutes!
---
2–3 lbs. chicken breast, cut into ½ strips
2 cups broccoli florets
2 tablespoons olive oil
1 red pepper, thinly sliced
1 large white onion, thinly sliced
2 teaspoons ginger, freshly grated
2 teaspoons garlic, freshly grated
2–3 tablespoons red curry paste (based on preferred heat)
1 tablespoon brown sugar
1 tablespoon tomato paste
1 teaspoon salt
1 teaspoon black pepper
1 chicken bouillon cube
1 cup water
1 cup coconut cream
1 cup coconut milk
1 lime, freshly squeezed
1 tablespoon cilantro, chopped
1 serrano pepper, thinly sliced (optional for heat)
---
Instructions
In a large cast-iron skillet, sauté thinly sliced red pepper, thinly sliced onion, fresh ginger, and  fresh garlic, in olive oil over medium heat for 3 minutes.
Add in red curry paste, brown sugar, tomato paste, salt, and pepper. Stir together to create a  thick paste.
Next, add chicken bouillon cube and water. Let the sauce simmer until chicken bouillon has  dissolved.
Slowly, add coconut cream and milk. Stir until sauce is combined.
Add in chicken and broccoli florets. Let simmer for 10 minutes until the chicken has cooked.
Squeeze lime juice over and top with cilantro.
Serve over rice.
Keywords: Thai chicken curry, Thai red chicken curry, chicken curry, curry chicken, curried chicken, national curried chicken day
LOVE THIS RECIPE? PIN IT FOR LATER!