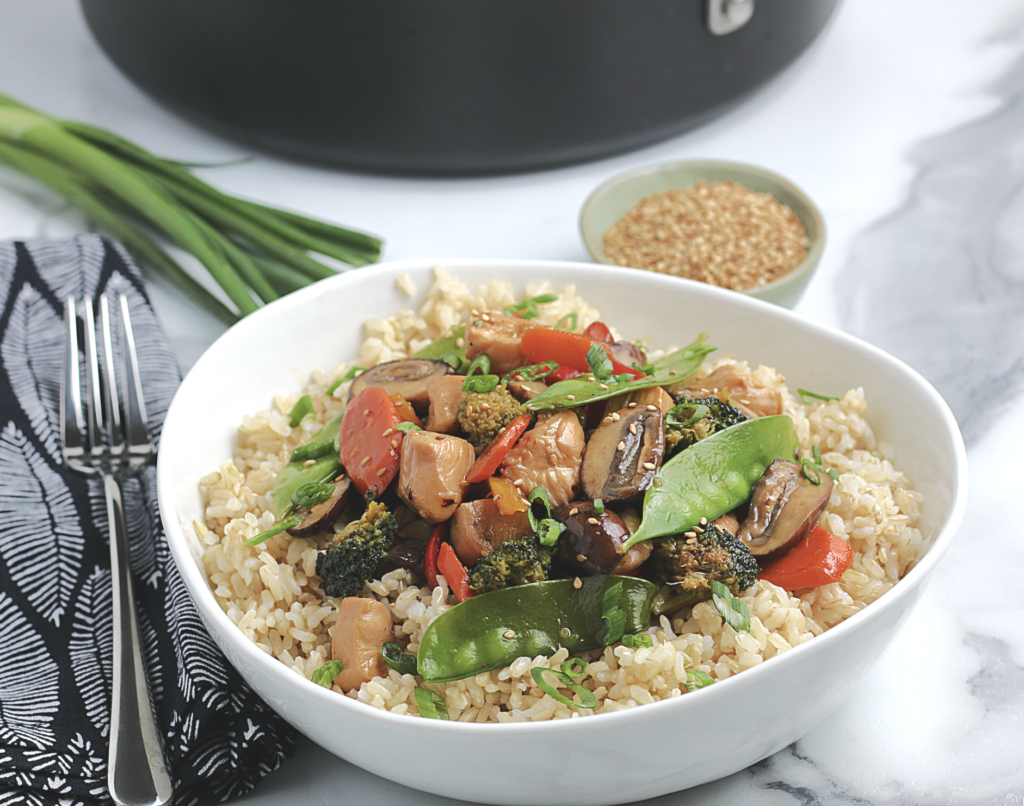 This Chicken Stir Fry recipe in sweet, savory sauce has full of healthy veggies and amazing flavor. It's a quick, delicious and healthy dinner that's sure to impress!
Weeknights in my house are always so busy. Between homework, kids extracurricular activities (via Zoom these days), and just keeping up with the constant housework, I rarely have any time to spare. That's why I love a good easy dinner recipe. Weeknight dinners have to be quick and easy to prepare. I know that I am not alone on this .. are your weeknights just as busy as mine?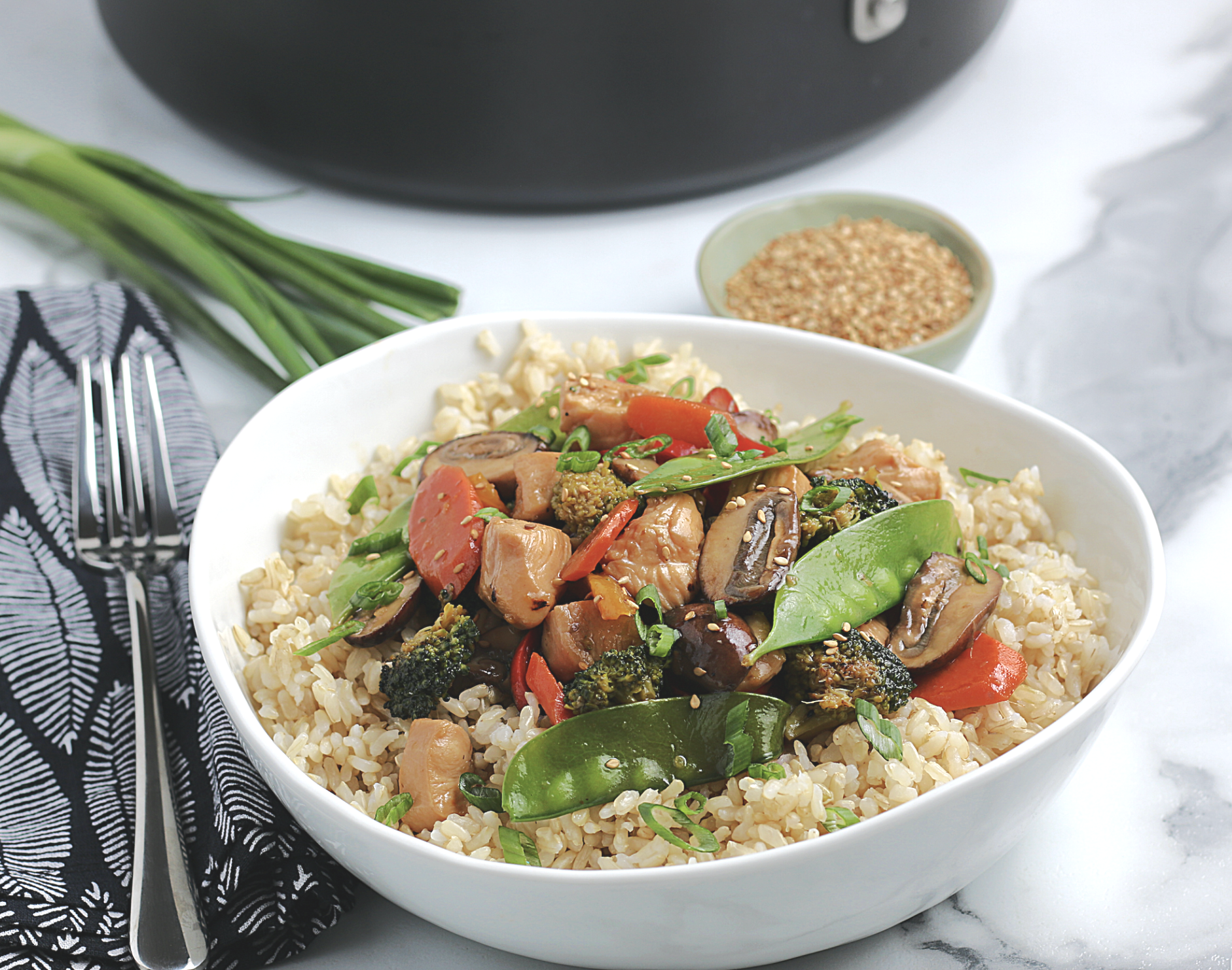 Of course, easy is not the only thing I look for in a dinner recipe. I also want my dinners to be healthy and full of fresh veggies. Oh, and it has to taste good. Quick, nutritious and tastes amazing are what I want for my family in a weeknight dinner. I know it can be a challenge to find a recipe that checks all my boxes! But guess what? This Chicken Stir Fry recipe does it! I make it all the time and one that I still look forward to serving (and eating, too).
When you first look at this recipe, you may be thinking, "that looks like a lot of ingredients" and well, it is. But don't let that deter you! It is not hard at all, I promise. Most of the ingredients in this simple chicken stir-fry are vegetables and you can prepare them all together in just a few minutes.
I like to start prepping my chicken stir fry recipe by gathering up the veggies and slicing them all at once. You can also just get the pre-sliced mushrooms and save yourself a step!
While I have the cutting board out, I cut the chicken breast into small bite sized pieces as well. I then whisk together the cornstarch, water, soy sauce, chicken broth, honey, ginger and sesame oil and add the chicken pieces to this marinade sauce. See, you have already prepped almost all of the ingredients and it probably only took about 5 minutes! Time to start cooking.
The chicken and marinade are cooked in a skillet until the chicken has browned and is no longer pink. Remove the chicken but keep the marinade and browned bits on the bottom of the pan as they will add flavor to the vegetables in the next step. The peppers, broccoli and carrots go into the skillet first as they are more firm and will take longer to cook. Once the first round of vegetables has cooked, the mushrooms and snow peas can be added in.
I like my chicken stir fry to have a good amount of sauce so I opt to add extra chicken broth. If you like a thicker sauce, skip the chicken broth at the end or just add a splash. Of course, if you want more sauce, then add extra broth.
Next, add the chicken back to the skillet; toss everything together and your stir fry is ready to serve!
You can definitely eat this chicken stir fry dish as is – no extras needed! It has so many vegetables and a lot of chicken so it will definitely be enough food to fill you up. I do often serve it over a bed of rice or with some noodles. To save even more time, get the rice that you can cook in the microwave. It's super easy and makes for a perfect, simple weeknight side dish!
Sprinkle some sesame seeds or a few fresh chopped green onions (or both!) on top of your finished Chicken Stir Fry recipe. Your family will be very impressed when they sit down to eat and see this incredible dinner in front of them. When did you have time to make such an elaborate meal? Did you secretly order take out? What is the special occasion for such an amazing dinner? It's just a quick, delicious and healthy weeknight dinner that is sure to impress. Enjoy!
MORE TASTY CHICKEN RECIPES TO TRY!
I hope you like my recipe for Chicken Stir Fry – be sure to give it a review below!
This post may contain affiliate links. Hip Mama's Place is a participant in the Amazon Services LLC Associates Program, an affiliate advertising program designed to provide a way for websites to earn advertising revenues by advertising and linking to Amazon.com and other retailers- at zero cost to you. You can learn more about our Privacy and Disclosure Policies HERE.
Print
Chicken Stir Fry Recipe
---
Author:

Prep Time:

15 minutes

Cook Time:

25 minutes

Total Time:

40 minutes

Yield:

4

-

6

servings

1

x
Description
This Chicken Stir Fry recipe in sweet, savory sauce has full of healthy veggies and amazing flavor. It's a quick, delicious and healthy dinner that's sure to impress!
---
1 tablespoon

cornstarch

1 tablespoon

water

¼ cup

soy sauce

¼ cup

chicken broth

2 tablespoons

honey or light brown sugar

1 tablespoon

minced fresh ginger or

¼ teaspoon

ground ginger

½ teaspoon

sesame oil

1

pound boneless skinless chicken breasts or thighs

2 tablespoons

canola or vegetable oil

½

red pepper, sliced thinly

½

yellow pepper, sliced thinly

2 cups

broccoli florets

1

bag (6 oz) snow peas

1

large (1 cup) carrot, sliced thinly on diagonal

1

package (8 oz) baby bella mushrooms, cleaned and sliced

½

–

1

cup chicken broth
Serve with:
rice, brown or white
sesame seeds
green onions
---
Instructions
In a small bowl, whisk cornstarch and water together until smooth
Add soy sauce, ¼ cup chicken broth, honey, ginger and sesame oil and whisk until well combined
Cut chicken into bite size pieces and add to marinade
Let chicken set while cutting vegetables
Cut peppers, broccoli, mushrooms and carrots, set aside
To a large skillet, add 1 tablespoon oil and heat to medium high
Add chicken and marinade, cook 5-7 minutes or until chicken is no longer pink
Remove chicken from pan and transfer to bowl
Add remaining tablespoon oil to skillet
Cook peppers, broccoli and carrots over medium high heat 5-7 minutes or until they begin to turn soft
Add mushrooms and snow peas to pan and cook 3-5 minutes or until all vegetables are soft
Add chicken broth and cooking. Note: the amount will depend on how thick you want your stir fry
Continue cooking until broth is reduced
Add chicken mixture back to pan and continue cooking 3-5 minutes or until liquid is reduced to consistency you like
Serve immediately with rice and garnish with green onions and sesame seeds if desired
Keywords: stir fry, chicken stir fry, chicken dinner, chicken recipe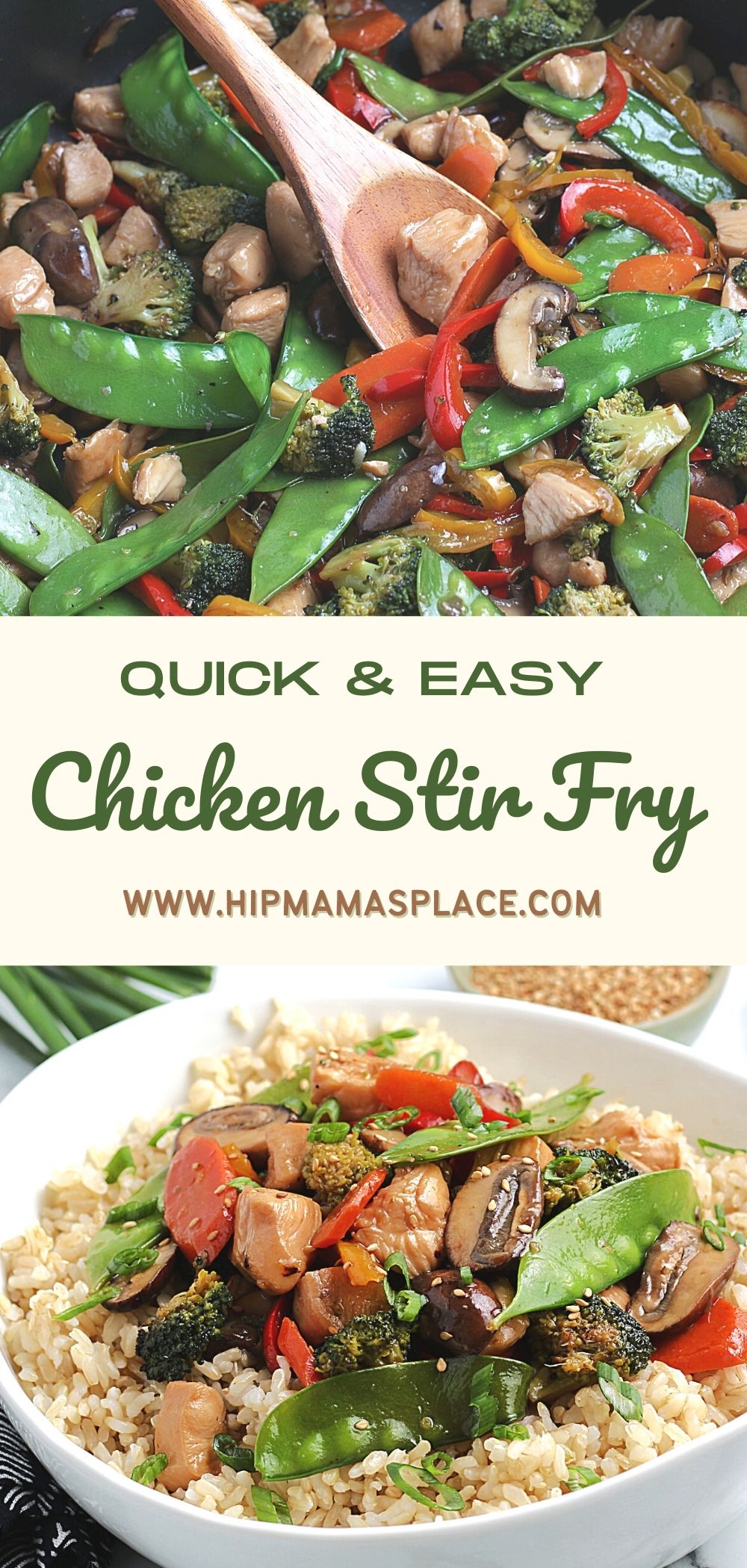 You Might Also Like…