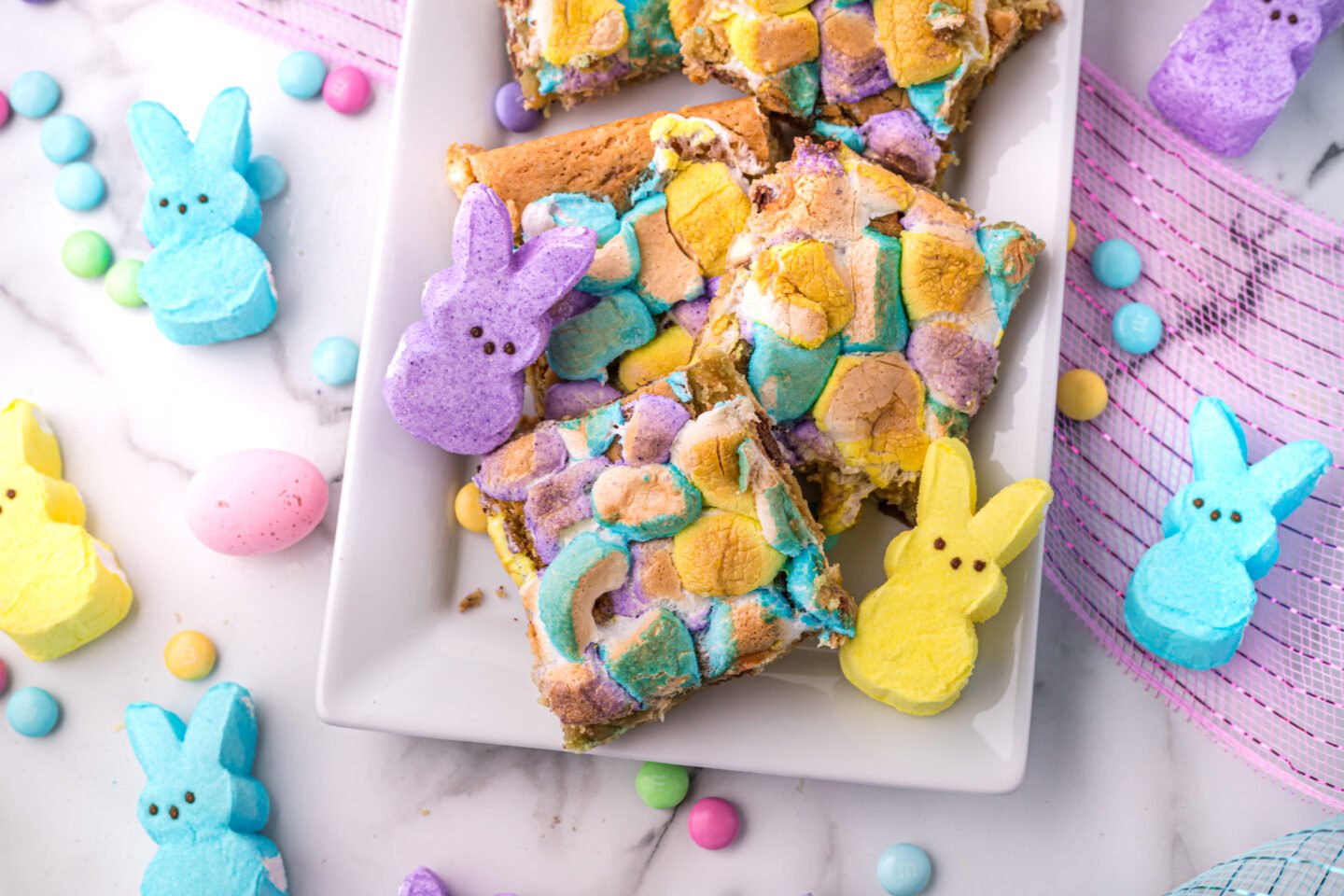 Chewy, gooey and delicious, these Easter Peeps Blondies are made with M&M's milk chocolate candies, white chocolate chips and Peeps marshmallows.. a fun and perfect Easter treat for everyone!
Who is ready for the Easter bunny to come?!? I sure am!
I absolutely love Easter and all of the fun activities and delicious food that comes with it. From helping little kids doing egg hunts to decorating my house in pastel colors, I really get into Easter.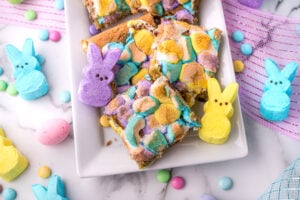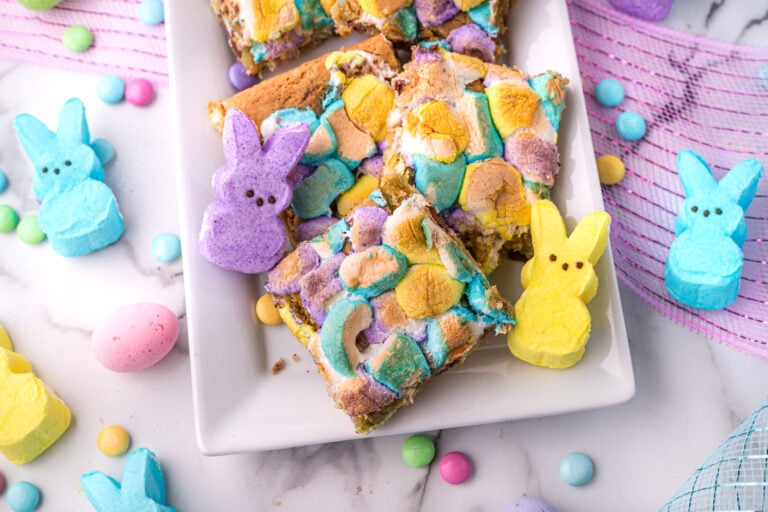 One thing I really love about Easter is all the yummy Easter sweets I can make. There are so many ways to infuse a little Easter into your everyday baking routine and easily make fun, festive treats. These Easter blondies are the perfect example of a classic recipe turned Easter with just a few tweaks. They are pretty, delicious and something you have probably made before. We have all whipped up a batch of blondies in the past! So you already know how to make these delicious bars and I will show you how to add a little flair and make the Easter bunny proud.
What You'll Need to Make Peeps Blondies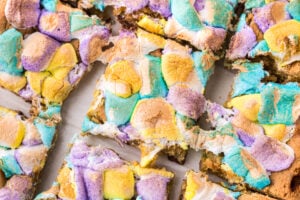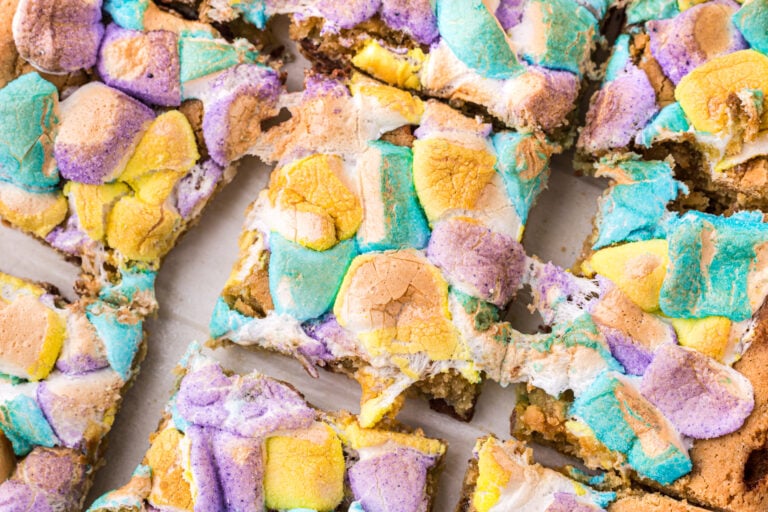 Kitchen Tools:
Before you head to the grocery store to grab the ingredients you need to make Easter Peeps Blondies, be sure you have all the kitchen tools required in this recipe. You will need a 9×13 casserole dish, some parchment paper, two medium sized mixing bowls and an electric mixer. A stand mixer with a paddle attachment will work, too.


Ingredients:
Now it is time to take a trip down the Easter aisle at the grocery store. Here is what goes into my pretty Easter Peeps blondies: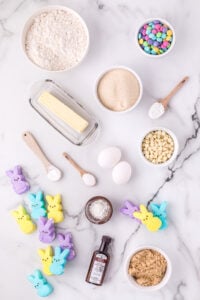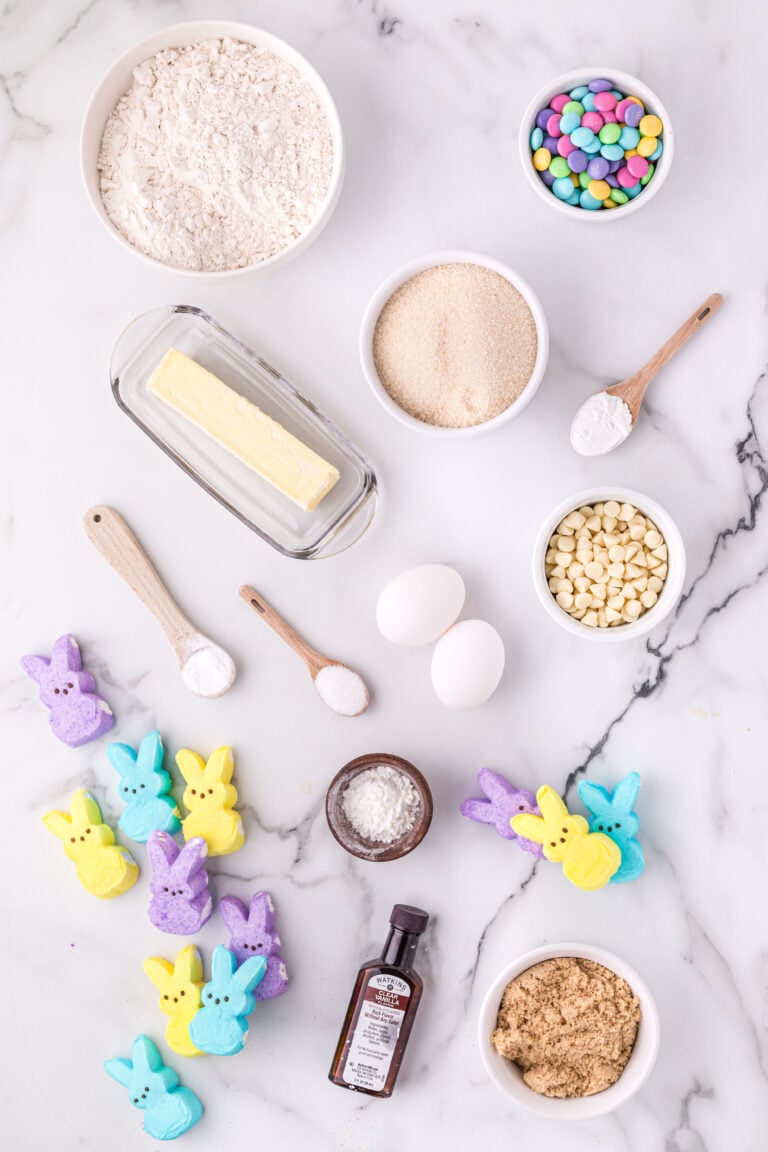 butter – I use unsalted butter in all of my baking recipes. Make sure the butter is room temperature and slightly soft. This will help it blend easily into the batter.
sugar – regular white, granulated sugar is the perfect sweetener.
brown sugar – light brown sugar is perfect for blondies. It has a subtle molasses flavor and keeps the blondies moist as they bake.
eggs – Use room temperature eggs as they will mix into the other batter ingredients best.
vanilla extract – A little vanilla gives the blondies a rich, sweet flavor
flour – regular all purpose flour is all you need!
cornstarch – cornstarch helps keep the blondies chewy and soft.
baking powder and baking soda – These are important as they help the blondies rise as they bake.
salt – A little salt enhances the flavor of the blondies
m&ms – spring colored M&M's milk chocolate candies are perfect for adding color and chocolate flavor.
white chocolate chips – These are essential in any blondie recipe!
Peeps – There is nothing more iconic and Easter-y than Peeps! Get them in all colors to ensure your blondies are colorful! Peeps are essentially marshmallows and marshmallows in blondies sounds fantastic.
Many of these ingredients are common baking supplies and you may have them at home already. It is all those little Easter candy additions that make this recipe so special. Stock up on Peeps because you are going to be making these Easter blondies quite a few times- they are addictive!
How to Make Easter Peeps Blondies
Making this Peeps blondies dessert is just as easy as making blondies any other day. Anyone can transform blondies into Easter Peeps blondies when you have the right ingredients and directions. So, let me tell you how to make them so you can get baking!
1. Preheat your oven to 350 degrees and like a casserole dish with parchment paper.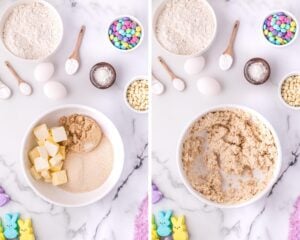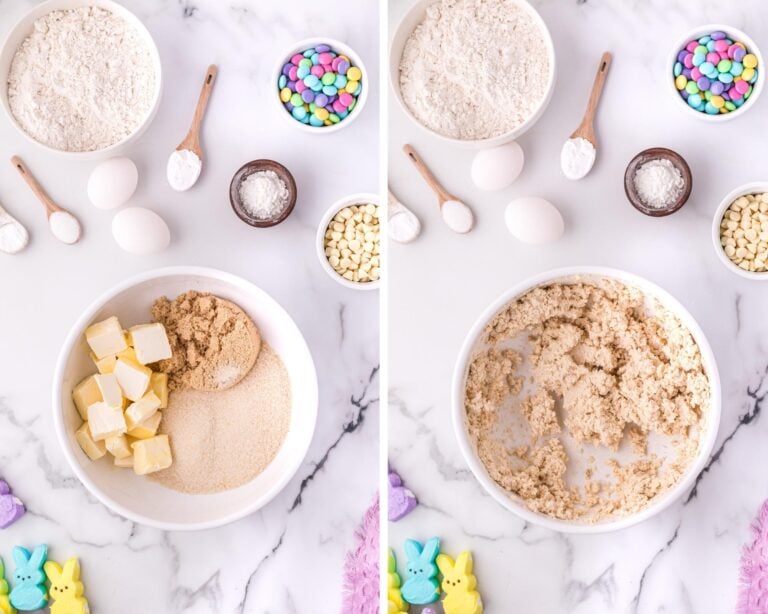 2. Cream the butter and sugars until fluffy.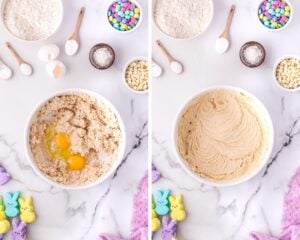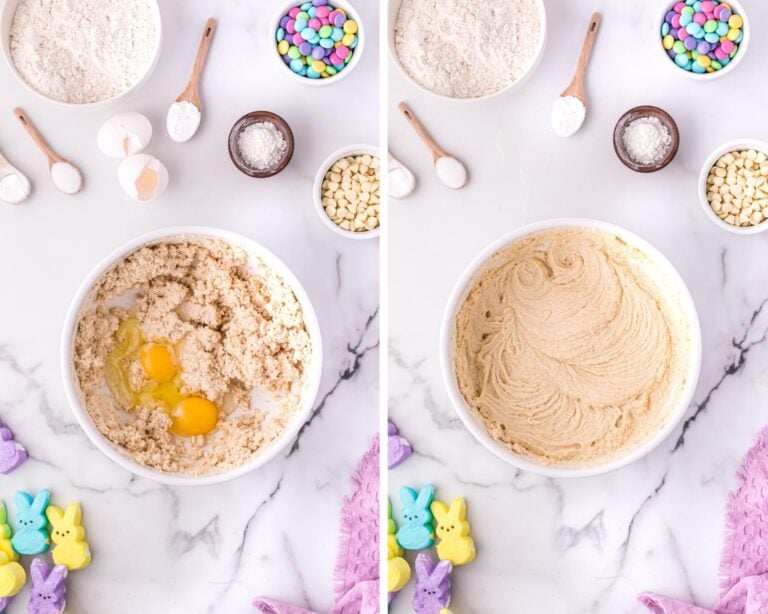 3. Add the eggs and vanilla and mix well.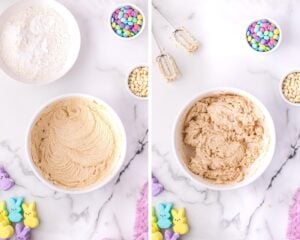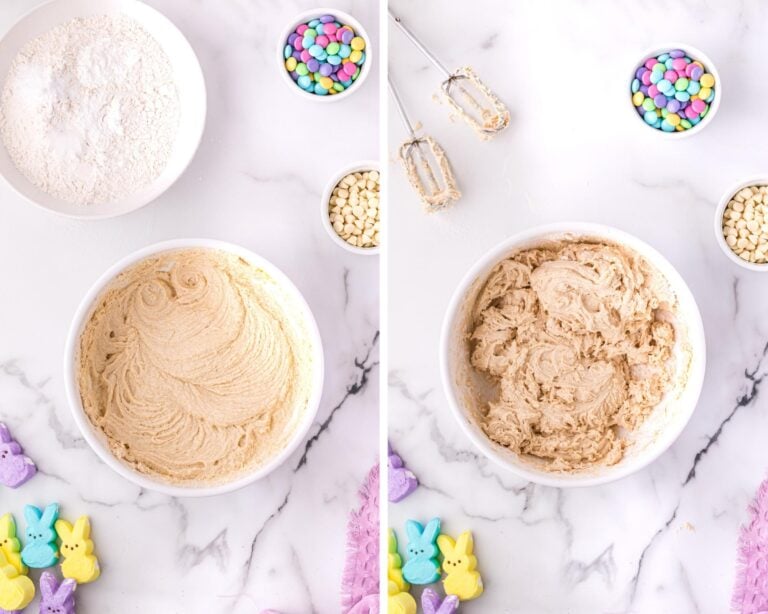 4. Mix all the dry ingredients in a bowl and then add them to the batter mix. Blend well!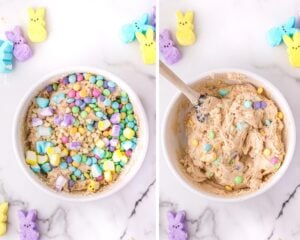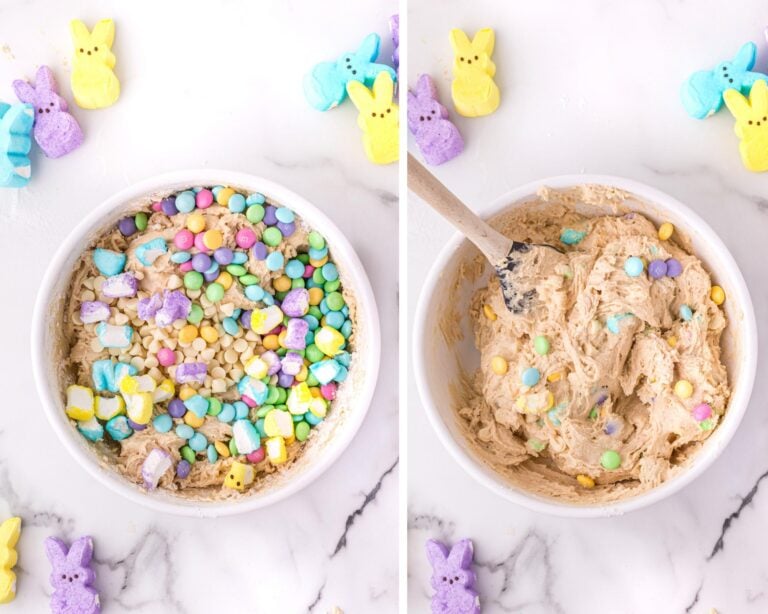 5. Cut four of the the peeps into pieces. Fold in the white chocolate chips, m&m's and cut Peeps.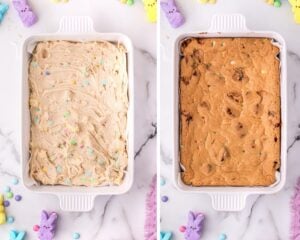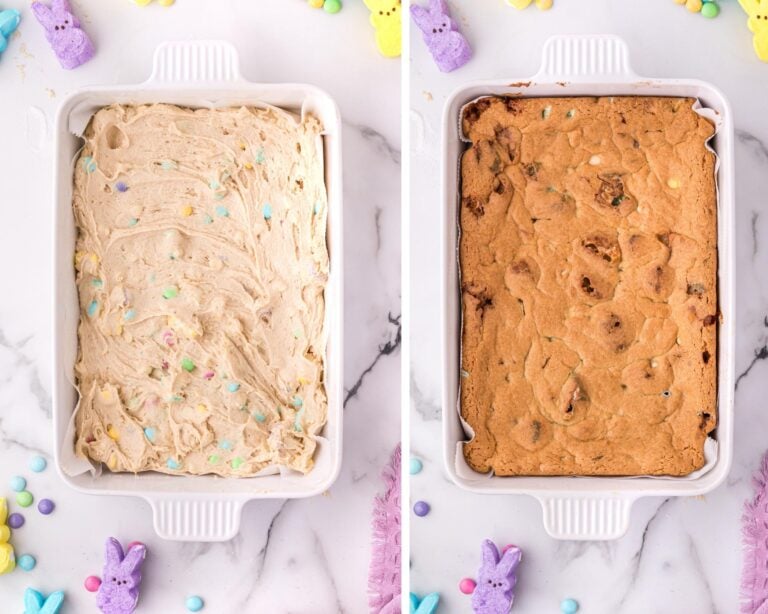 6. Spread the batter in the casserole dish and bake for 30 minutes.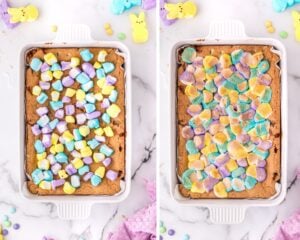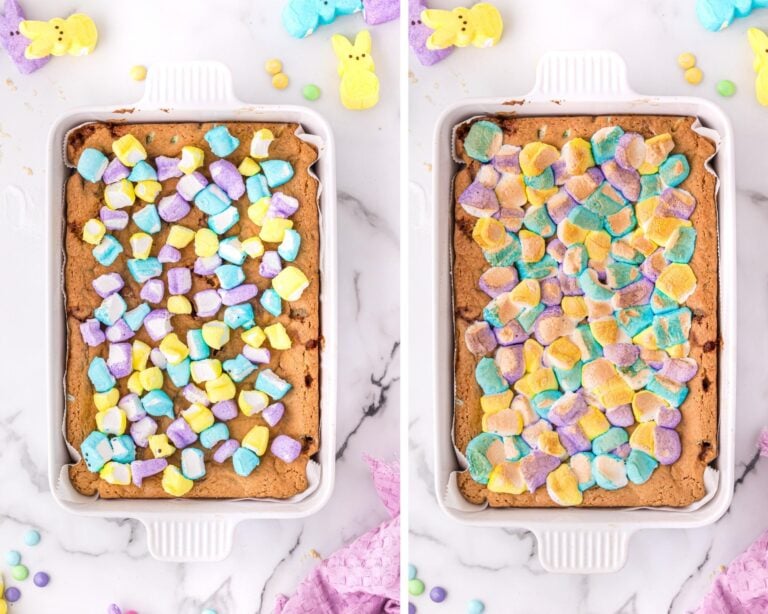 7. Cut the remaining peeps into pieces and, after 30 minutes of baking, sprinkle them over the blondies.
8. Bake for another 5 minutes to melt the peeps on top of the blondies.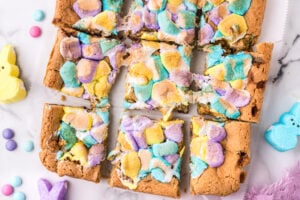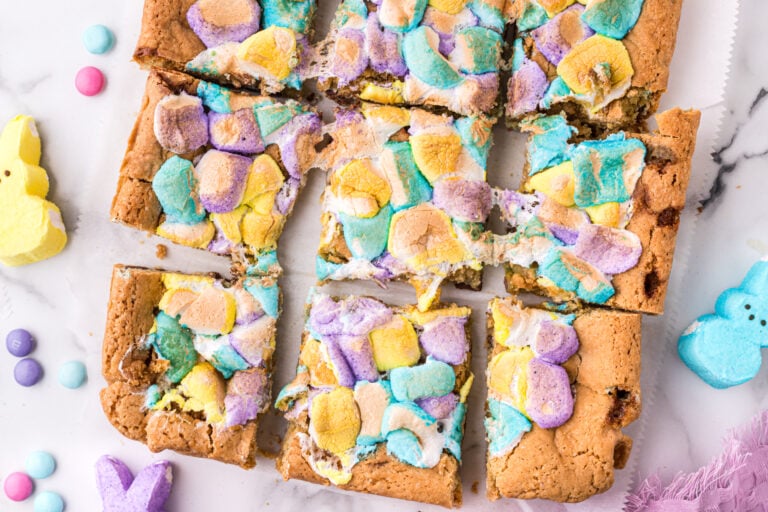 9. Cool the blondies then slice and enjoy!
Easter blondies are just as easy as classic blondies, right? This is such a perfect, fun recipe that will help you celebrate Easter in a delicious way!


Tips and Tricks for Making The BEST Easter Peeps Blondies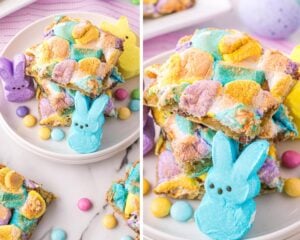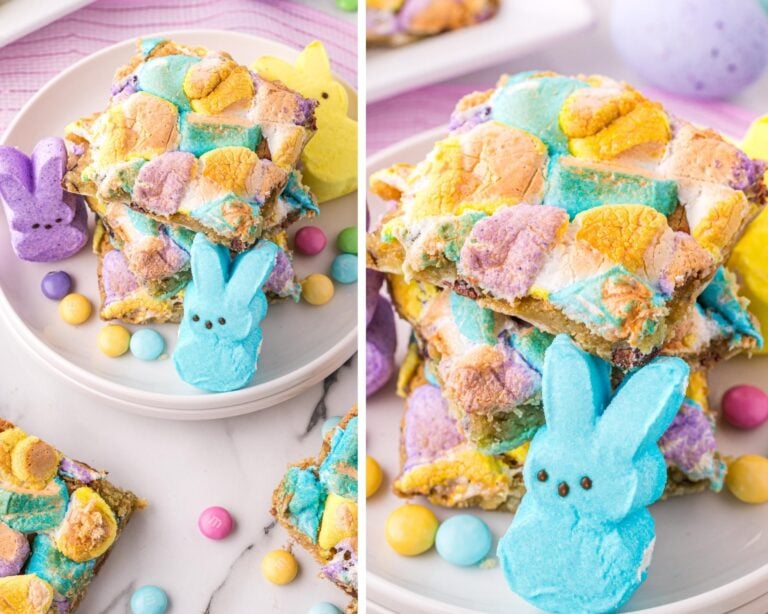 Get ready to hop into Easter baking with tips and tricks that will take your Peeps Blondies from good to great! While using colorful Peeps and Easter-colored M&M's can make your blondies look festive, there are other secrets to perfecting them. But fear not, as I'm here to share my favorite tips to help you create a delicious and delightful treat that will have everyone asking for seconds. So let's put on our bunny ears and start with some fun and engaging Easter Peeps Blondies baking tips!
Line your casserole dish with parchment paper. Before adding your blondie batter to the dish, line it with parchment paper. This will make removing the blondies from the dish easier and slicing them neatly. It also prevents the blondies from sticking to the dish and breaking apart.
Be precise with your measurements. Baking is a science, and even slight deviations in your measurements can affect the final product. Use measuring cups and spoons to ensure accuracy.
Use a mixer to combine the ingredients. While you can make blondies by hand, using an electric mixer (such as a stand or hand mixer) will make the process faster and ensure your batter is well combined.
Don't overmix the batter. While it's important to fully incorporate all of your ingredients, overmixing can cause your blondies to be tough or dry. Once all of the ingredients are combined, stop mixing.
Be gentle with the Peeps. While Peeps are a fun addition to Easter Peeps Blondies, they can also be delicate. Be gentle when handling them, and carefully sprinkle them on top of the blondies to avoid crushing them.
Let the blondies cool completely before cutting. While it can be tempting to dig into your blondies immediately, it's essential to let them cool completely (at least an hour) before slicing. This will ensure that they hold their shape and don't fall apart.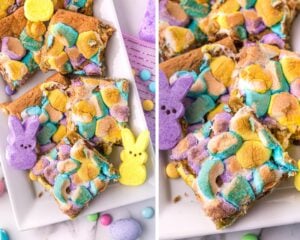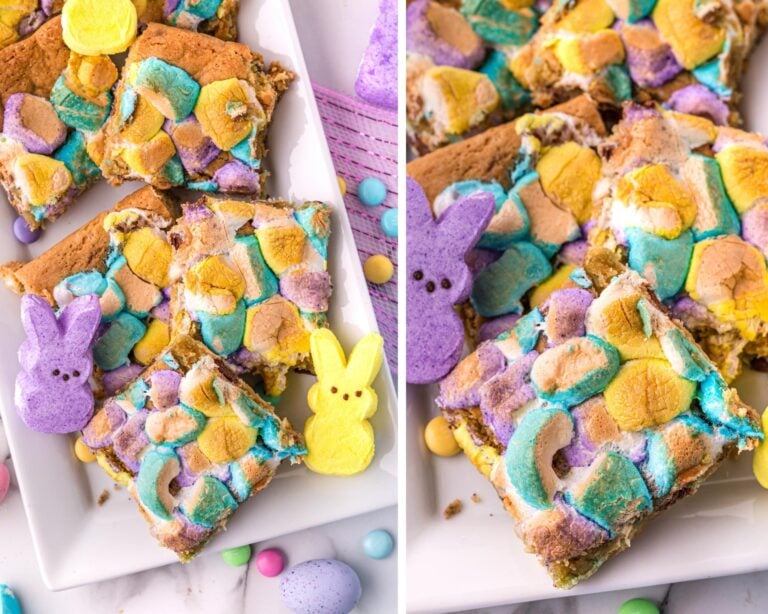 Variations:
Adding Flavorful Twists to Your Blondies
When it comes to making Easter Peeps Blondies, there are plenty of variations you can try to add your own unique touch. Here are some suggestions:
Have all of your ingredients at room temperature. This helps the batter blend perfectly without separating or breaking.
Use cornstarch in your blondie recipe. Cornstarch is key to making the blondies chewy. It blocks gluten from forming as the blondies bake, keeping them soft and tender. Take advantage of the cornstarch!
Use your favorite Easter candy to make these blondies. For example, try chopping some chocolate Reese's eggs and stirring them into the batter for a peanut butter blondie. Mini Cadbury chocolate eggs are great in place of M&M's. So many pastel candies to choose from!
Make thicker blondies by baking in a 9×9 pan. Remember that you will have to bake the blondies for about 10 minutes longer. Loosely cover the pan with foil, so the top doesn't get too brown as the blondies bake longer.
Try different flavor variations, such as:

Chocolate Chip Blondies: Add 1 cup of chocolate chips to the batter before baking. For an even richer flavor, use dark chocolate chips.
Caramel Blondies: Mix 1/2 cup of caramel sauce with the batter before baking. Drizzle extra caramel sauce on top of the baked blondies before serving.
Nutty Blondies: Mix 1/2 cup of chopped nuts (such as walnuts, pecans, or almonds) into the batter before baking. Sprinkle extra chopped nuts on top of the baked blondies before serving.



Serving and Storing: How to Present and Preserve Your Easter Peeps Blondies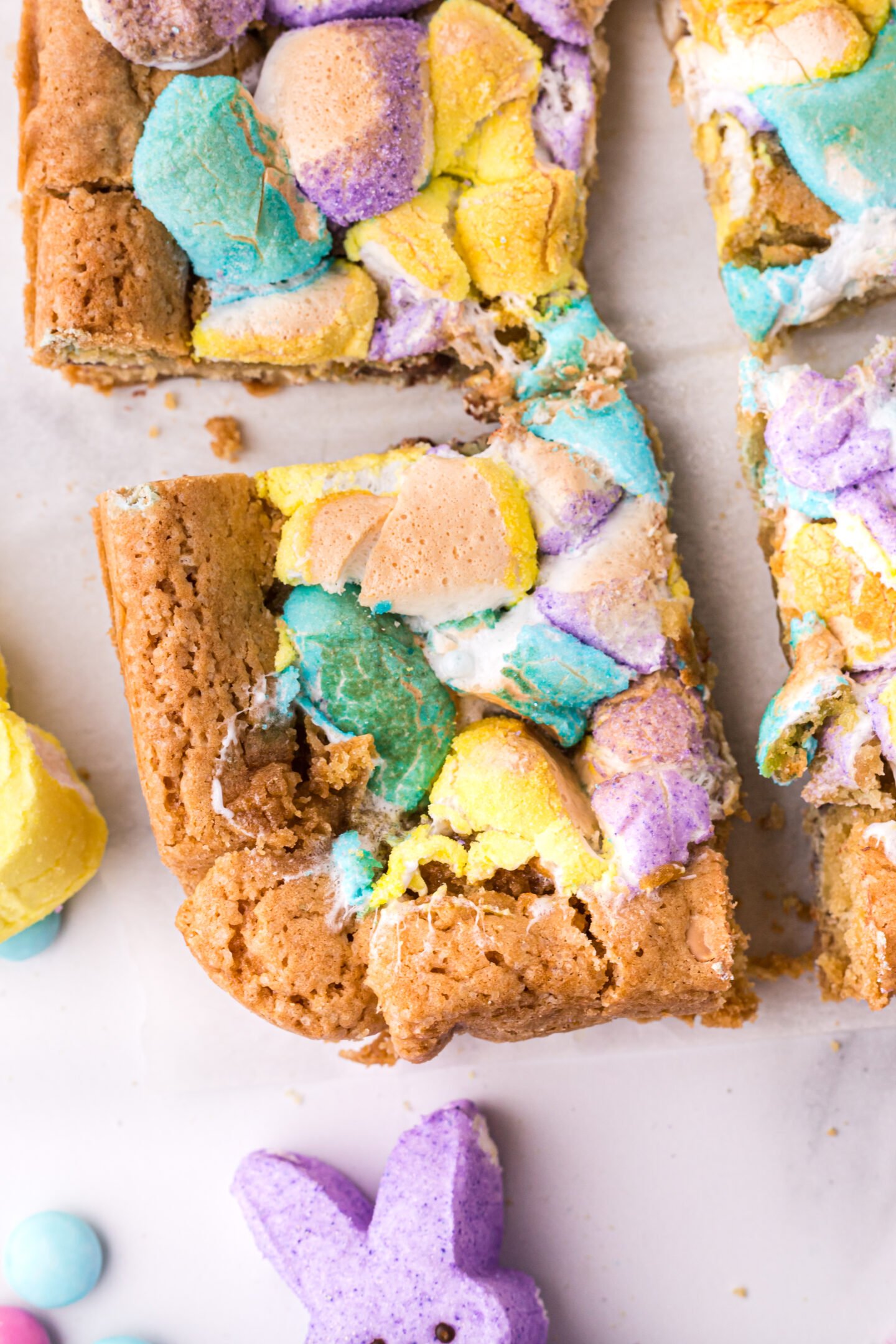 Once your Easter Peeps Blondies are baked and cooled, it's time to serve them up. Here are some tips for presenting and storing them:
Be sure to mix the colors as you sprinkle the Peeps on top of the blondies. You want the colors to be spaced all over the blondies evenly. This will make for a beautiful presentation that will impress your guests.
Allow the blondies to cool for 10-15 minutes before slicing and serving. This will help them hold their shape better.
If you have leftovers, place them in an airtight container and keep them at room temperature for up to 3 days. You can also store them in the refrigerator for up to a week. Just be aware that the Peeps may become sticky or gooey after refrigeration.
Get ready to add some extra sweetness to your Easter celebration with these fantastic Easter Peeps Blondies! This recipe has become a family favorite and a highlight of our Easter dessert table. Not only are they easy to make, but they're also lovely to look at – you won't be able to resist taking a bite! Plus, with the added bonus of experimenting with your favorite Easter candies, you can create unique and delicious variations that will make your taste buds dance with joy. So what are you waiting for? Gather ingredients, put on your apron, and prepare to bake the best Easter Peeps Blondies ever!
Happy Easter and happy baking!
MORE DELICIOUS EASTER DESSERTS TO TRY!
I hope you like this easy Easter Peeps Blondies recipe– be sure to give it a review below!
This post may contain affiliate links. Hip Mama's Place is a participant in the Amazon Services LLC Associates Program, an affiliate advertising program designed to provide a way for websites to earn advertising revenues by advertising and linking to Amazon.com and other retailers- at zero cost to you. You can learn more about our Privacy and Disclosure Policies HERE.


Print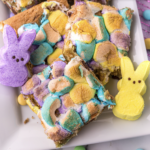 Easter Peeps Blondies
---
Author:

Prep Time:

20 minutes

Cook Time:

35 minutes

Total Time:

55 minutes
Description
These Easter Peeps Blondies are chewy, gooey and delicious made with M&M's candies, white chocolate chips and Peeps marshmallows.. a perfect Easter treat for everyone!
---
1 cup unsalted butter, room temperature 
1 cup granulated sugar 
1/2 cup brown sugar, firmly packed 
2 eggs, room temperature 
2 teaspoons vanilla extract 
2 cups all-purpose flour 
2 teaspoons cornstarch 
1 teaspoon baking powder 
1 teaspoon baking soda 
1 teaspoon salt 
1 cup spring M&M's 
1/2 cup white chocolate chips 
3 packages Peeps, yellow, blue, and purple 
---
Instructions
Preheat oven to 350 degrees. Line a 9×13 casserole dish with parchment paper and set it aside.

In a mixing bowl, cream together unsalted butter, granulated sugar, and brown sugar with an  electric mixer.
Add in eggs and vanilla extract, cream ingredients are combined.
In a separate mixing bowl, whisk together, flour, cornstarch, baking powder, baking soda, and  salt.
Mix dry ingredients into wet until combined.
Fold in white chocolate chips, M&M's, and 4 Peeps, cut up into pieces.
Pour batter into the baking dish and spread batter out evenly.
Bake in preheated oven for 30 minutes.
While blondies are baking cut remaining peeps into smaller pieces.
Remove blondies from the oven after 30 minutes, place Peeps on top of blondies and add back  in the oven for 5 minutes or until Peeps have melted.
Remove blondies from the oven and allow to cool for 15 minutes before serving.
LOVE THIS RECIPE? PIN IT HERE!