Chewy, gooey and delicious, these Easter Peeps Blondies are made with M&M's milk chocolate candies, white chocolate chips and Peeps marshmallows.. a fun and perfect Easter treat for everyone!
Who is ready for the Easter bunny to come?!? I sure am!
I absolutely love Easter and all of the fun activities and delicious food that comes with it. From helping little kids doing egg hunts to decorating my house in pastel colors, I really get into Easter.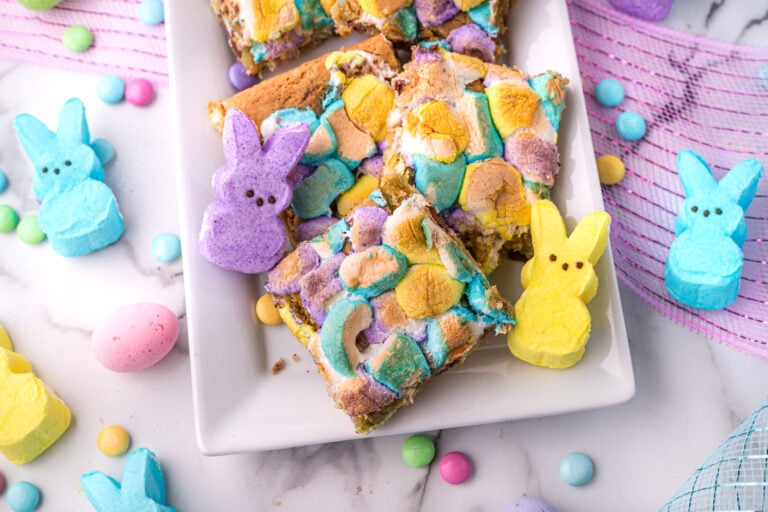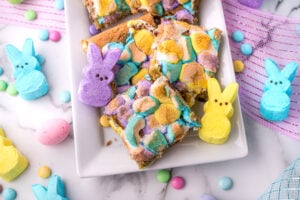 One thing I really love about Easter is all the yummy Easter sweets I can make. There are so many ways to infuse a little Easter into your everyday baking routine and easily make fun, festive treats. These Easter blondies are the perfect example of a classic recipe turned Easter with just a few tweaks. They are pretty, delicious and something you have probably made before. We have all whipped up a batch of blondies in the past! So you already know how to make these delicious bars and I will show you how to add a little flair and make the Easter bunny proud.
What You'll Need to Make Peeps Blondies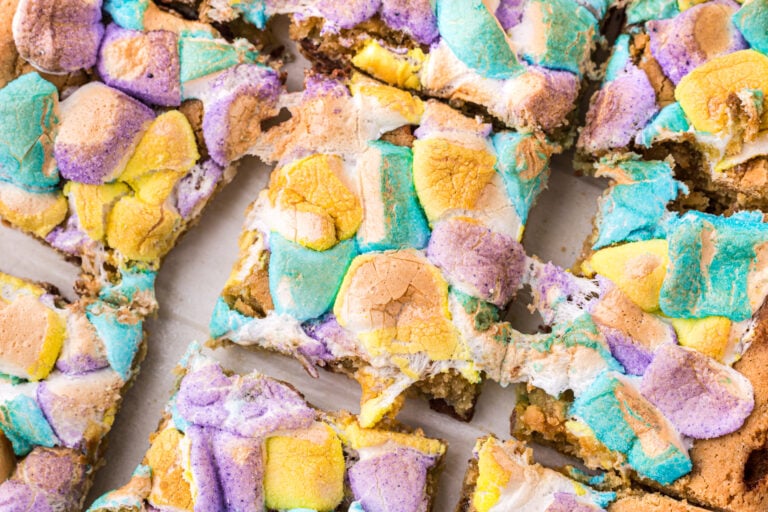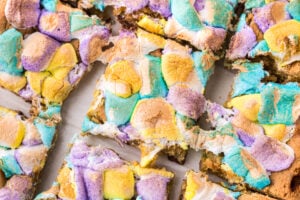 Kitchen Tools:
Before you head to the grocery store to grab the ingredients you need to make Easter Peeps Blondies, be sure you have all the kitchen tools required in this recipe. You will need a 9×13 casserole dish, some parchment paper, two medium sized mixing bowls and an electric mixer. A stand mixer with a paddle attachment will work, too.
Ingredients:
Now it is time to take a trip down the Easter aisle at the grocery store. Here is what goes into my pretty Easter Peeps blondies: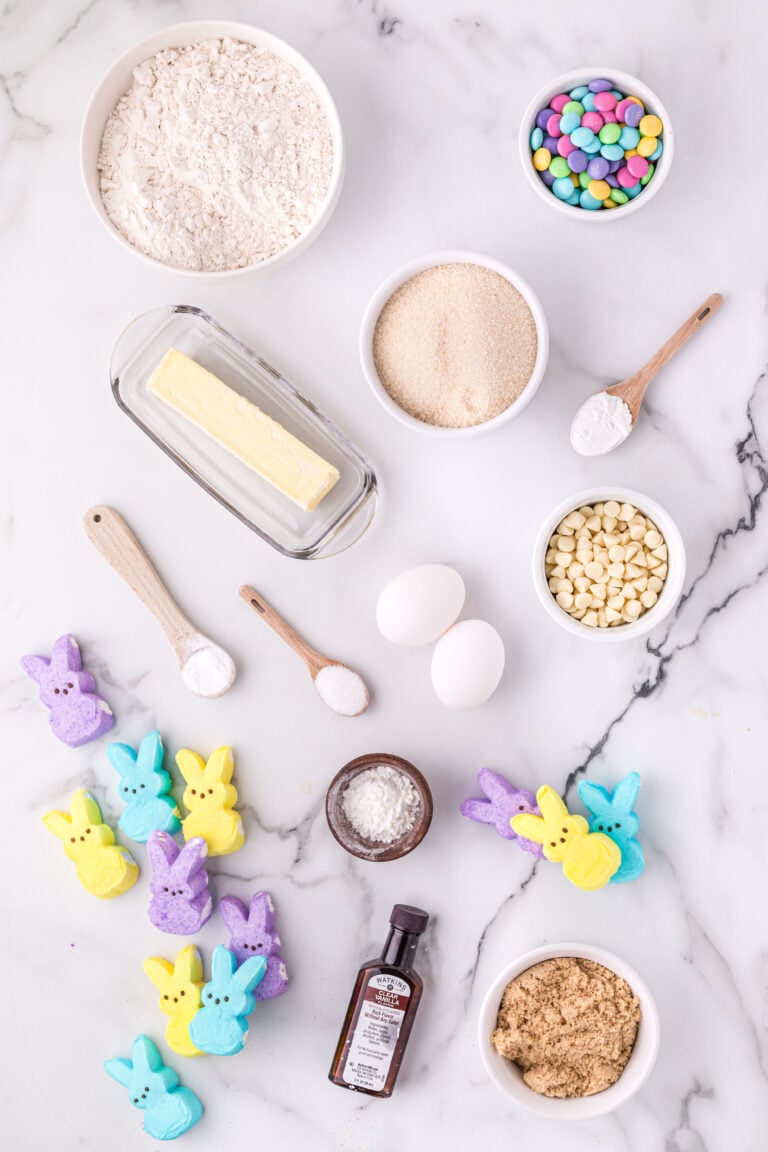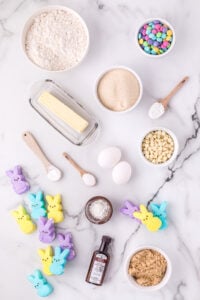 butter – I use unsalted butter in all of my baking recipes. Make sure the butter is room temperature and slightly soft. This will help it blend easily into the batter.
sugar – regular white, granulated sugar is the perfect sweetener.
brown sugar – light brown sugar is perfect for blondies. It has a subtle molasses flavor and keeps the blondies moist as they bake.
eggs – Use room temperature eggs as they will mix into the other batter ingredients best.
vanilla extract – A little vanilla gives the blondies a rich, sweet flavor
flour – regular all purpose flour is all you need!
cornstarch – cornstarch helps keep the blondies chewy and soft.
baking powder and baking soda – These are important as they help the blondies rise as they bake.
salt – A little salt enhances the flavor of the blondies
M&M's – spring colored M&M's milk chocolate candies are perfect for adding color and chocolate flavor.
white chocolate chips – These are essential in any blondie recipe!
Peeps – There is nothing more iconic and Easter-y than Peeps! Get them in all colors to ensure your blondies are colorful! Peeps are essentially marshmallows and marshmallows in blondies sounds fantastic.
Many of these ingredients are common baking supplies and you may have them at home already. It is all those little Easter candy additions that make this recipe so special. Stock up on Peeps because you are going to be making these Easter blondies quite a few times- they are addictive!
How to Make Easter Peeps Blondies
Making this Peeps blondies dessert is just as easy as making blondies any other day. Anyone can transform blondies into Easter Peeps blondies when you have the right ingredients and directions. So, let me tell you how to make them so you can get baking!
1. Preheat your oven to 350 degrees and like a casserole dish with parchment.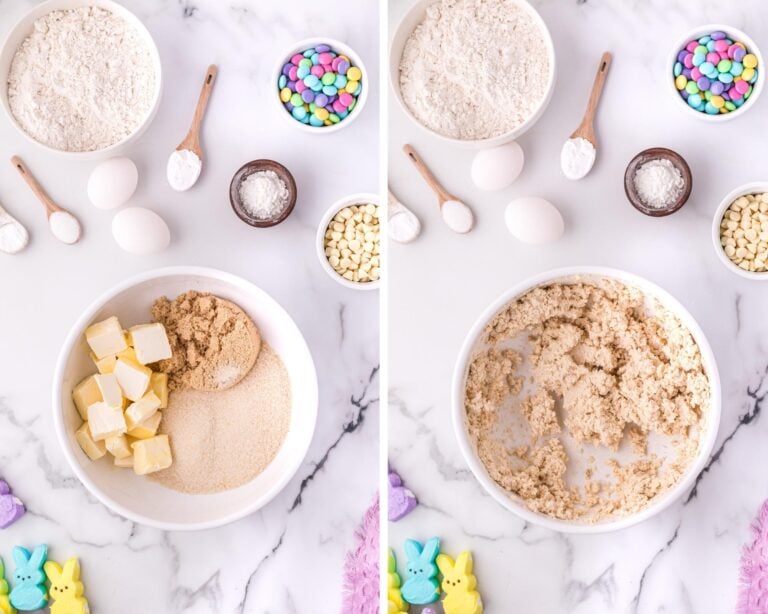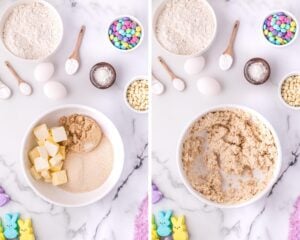 2. Cream the butter and sugars until fluffy.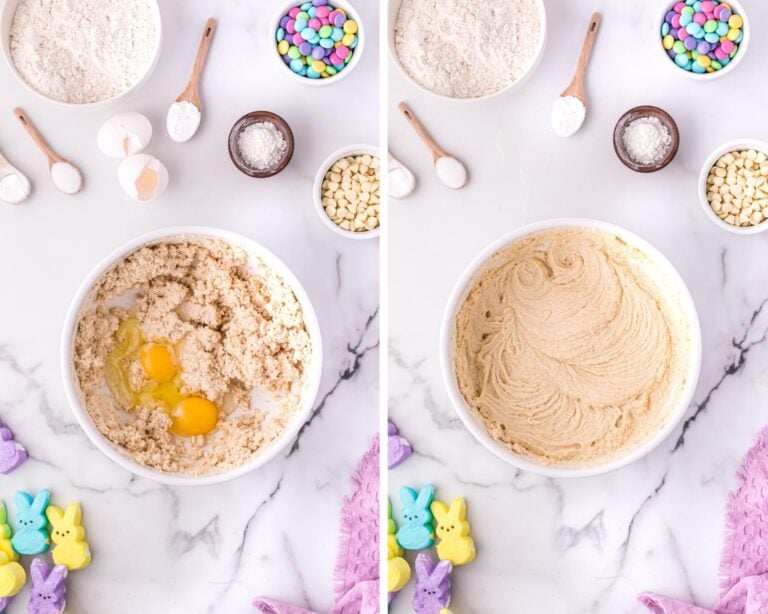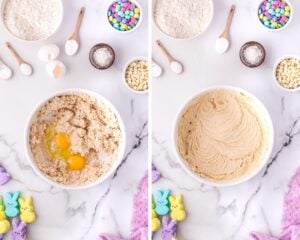 3. Add the eggs and vanilla and mix well.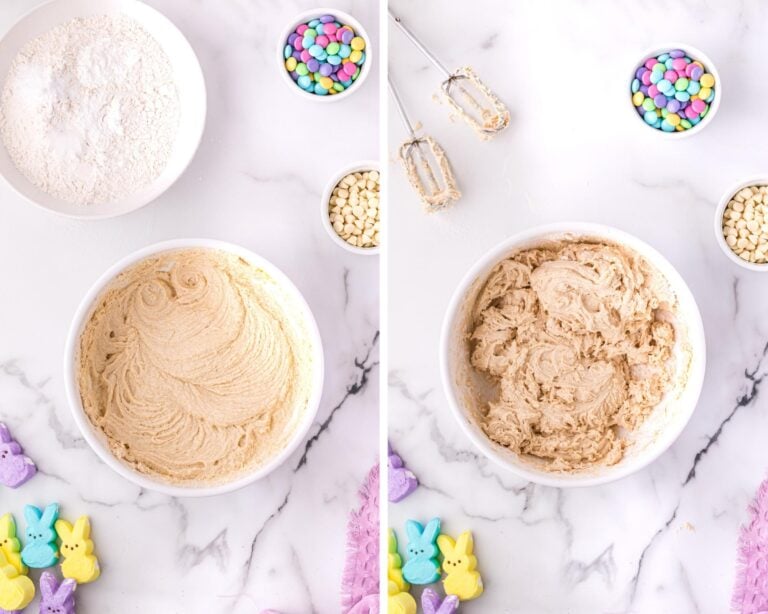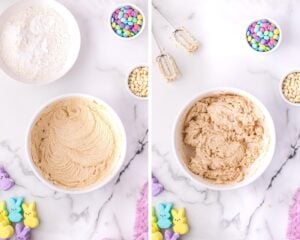 4. Mix all the dry ingredients in a bowl and then add them to the batter mix. Blend well!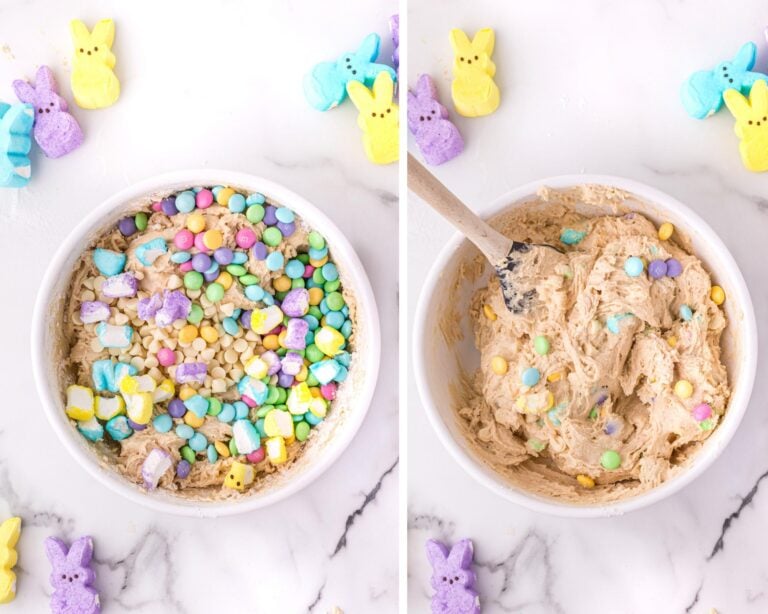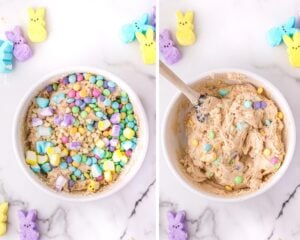 5. Cut four of the the peeps into pieces. Fold in the white chocolate chips, m&m's and cut Peeps.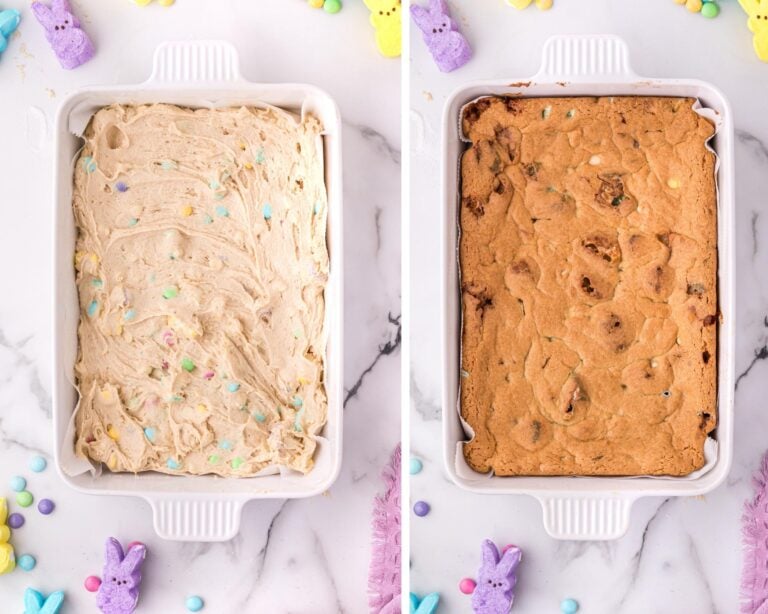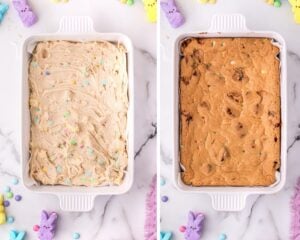 6. Spread the batter in the casserole dish and bake for 30 minutes.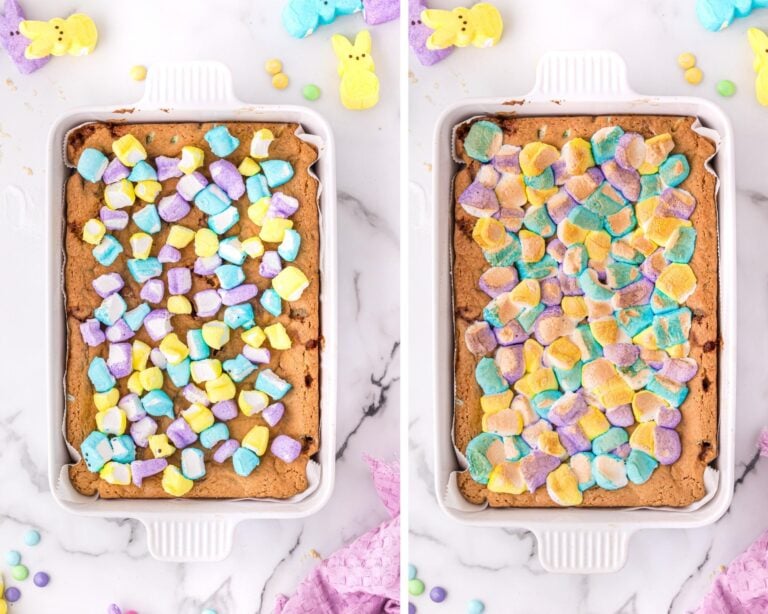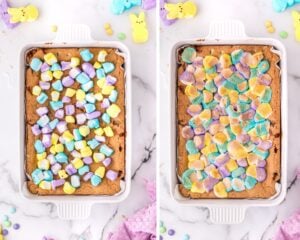 7. Cut the remaining peeps into pieces and, after 30 minutes of baking, sprinkle them over the blondies.
8. Bake for another 5 minutes to melt the peeps on top of the blondies.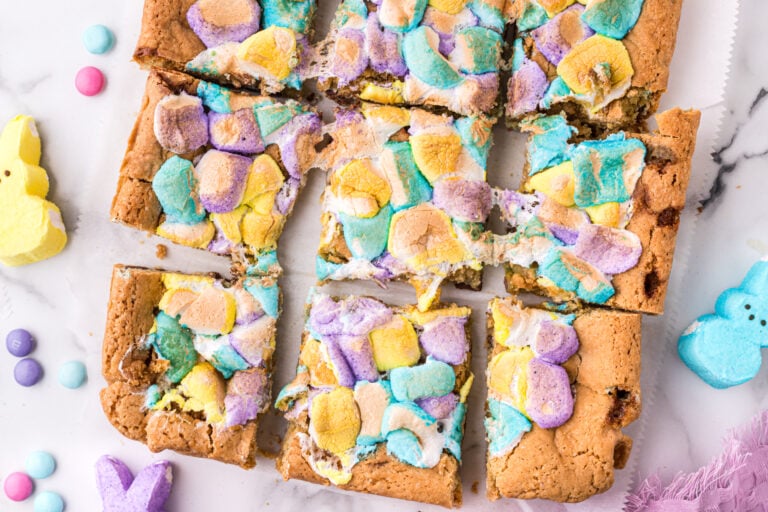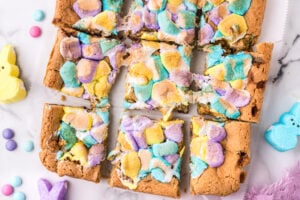 9. Cool the blondies then slice and enjoy!
Easter blondies are just as easy as classic blondies, right? This is such a perfect, fun recipe that will help you celebrate Easter in a delicious way!
Tips and Tricks for Making The BEST Easter Peeps Blondies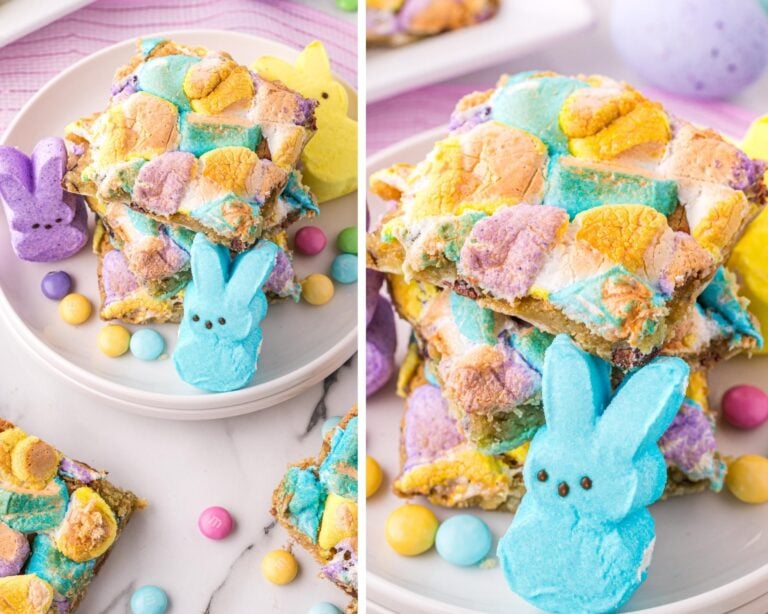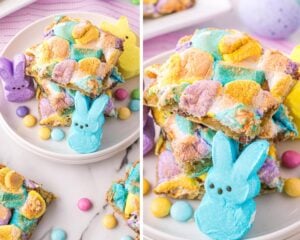 Using Peeps and easter colored M&M's are just a few of the tricks to making perfect Easter blondies. I have a few more pointers, too! Take a look at these tips before you start baking.
Have all of the ingredients at room temperature. This helps the batter blend perfectly without separating or breaking.
Cornstarch is key to making the blondies chewy. Cornstarch blocks gluten from forming as the blondies bake, keeping them soft and tender, Don't skip the cornstarch!
Use any of your favorite easter candy to make these blondies. Try chopping some chocolate Reese's eggs and stirring them into the batter for a peanut butter blondie. Mini Cadbury chocolate eggs are great in place of M&M's. So many pastel candies to choose from!
Make a thicker blondie by baking in a 9×9 pan. You will have to bake the blondies for about 10 minutes longer. Loosely cover the pan with foil so the top doesn't get too brown as the blondies bake longer.
Be sure to mix up the colors as you sprinkle the Peeps on top of the blondies. You want the colors to be spaced all over the blondies evenly.
It is hard to wait but be sure to let the blondies cool for about 10-15 minutes before slicing and serving. They will hold their shape better when allowed to cool a little bit.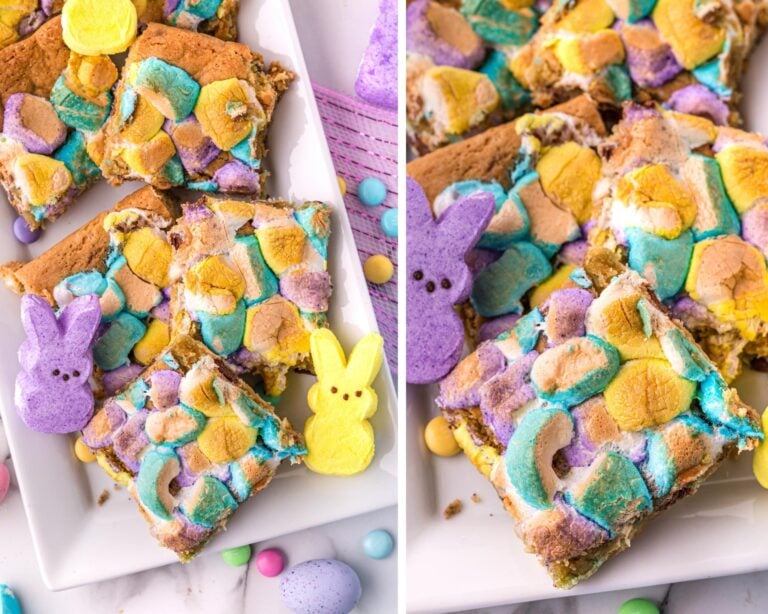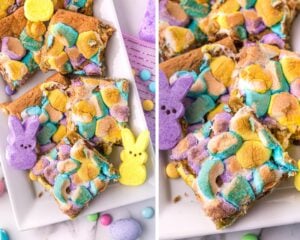 These Easter blondies have become one of my family's favorite Easter treats. I also love making them! They are easy and so pretty! It is also a fun recipe to play around with, adding your favorite Easter candy to the batter to make it unique and tasty. Get creative and have fun with these Easter Peeps blondies! Make them for your dessert table this Easter or Spring season!
Enjoy and Happy Easter!
Print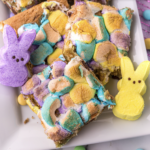 Easter Peeps Blondies
---
Author:

Prep Time:

20 minutes

Cook Time:

35 minutes

Total Time:

55 minutes
Description
These Easter Peeps Blondies are chewy, gooey and delicious made with M&M's candies, white chocolate chips and Peeps marshmallows.. a perfect Easter treat for everyone!
---
1 cup unsalted butter, room temperature 
1 cup granulated sugar 
1/2 cup brown sugar, firmly packed 
2 eggs, room temperature 
2 teaspoons vanilla extract 
2 cups all-purpose flour 
2 teaspoons cornstarch 
1 teaspoon baking powder 
1 teaspoon baking soda 
1 teaspoon salt 
1 cup spring M&M's 
1/2 cup white chocolate chips 
3 packages Peeps, yellow, blue, and purple 
---
Instructions
Preheat oven to 350 degrees. Line a 9×13 casserole dish with parchment paper and set it aside.

In a mixing bowl, cream together unsalted butter, granulated sugar, and brown sugar with an  electric mixer.
Add in eggs and vanilla extract, cream ingredients are combined.
In a separate mixing bowl, whisk together, flour, cornstarch, baking powder, baking soda, and  salt.
Mix dry ingredients into wet until combined.
Fold in white chocolate chips, M&M's, and 4 Peeps, cut up into pieces.
Pour batter into the baking dish and spread batter out evenly.
Bake in preheated oven for 30 minutes.
While blondies are baking cut remaining peeps into smaller pieces.
Remove blondies from the oven after 30 minutes, place Peeps on top of blondies and add back  in the oven for 5 minutes or until Peeps have melted.
Remove blondies from the oven and allow to cool for 15 minutes before serving.
LOVE THIS RECIPE? PI IT FOR LATER!