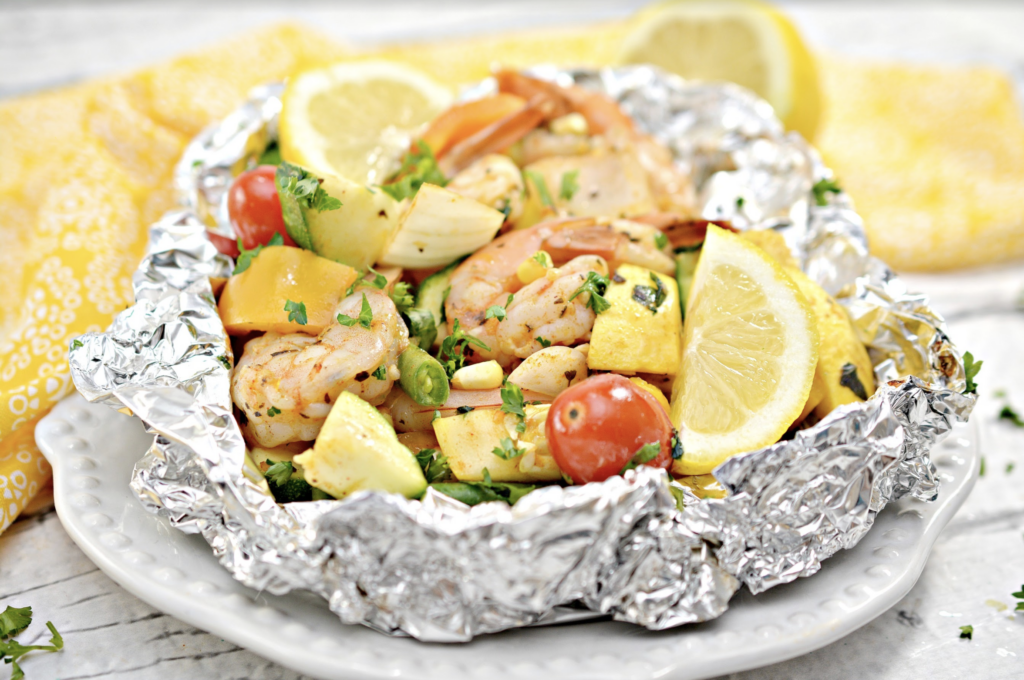 You'll taste summer in every bite of this flavorful Shrimp and Veggie Foil Packs recipe! They're so easy to make and make perfect addition to a weeknight dinner or your next summer cookout!
A complete, nutritious meal with perfectly seasoned, juicy shrimp and fresh veggies all wrapped in one convenient packet provides all of your guests with their own individual serving, so no sharing is needed – so perfect for these COVID times!
The summer of 2020 has certainly been a different one. With many businesses still closed and classic summertime activities postponed, many of us are celebrating many summer days in our own backyards. Luckily, barbecues are still something we can all enjoy!
We have recently been spending some days around the grill with our immediate family members and a few close friends. While social distancing rules still apply, that doesn't mean we can't all enjoy a summer of swimming, eating and laughing together while being 6 feet apart!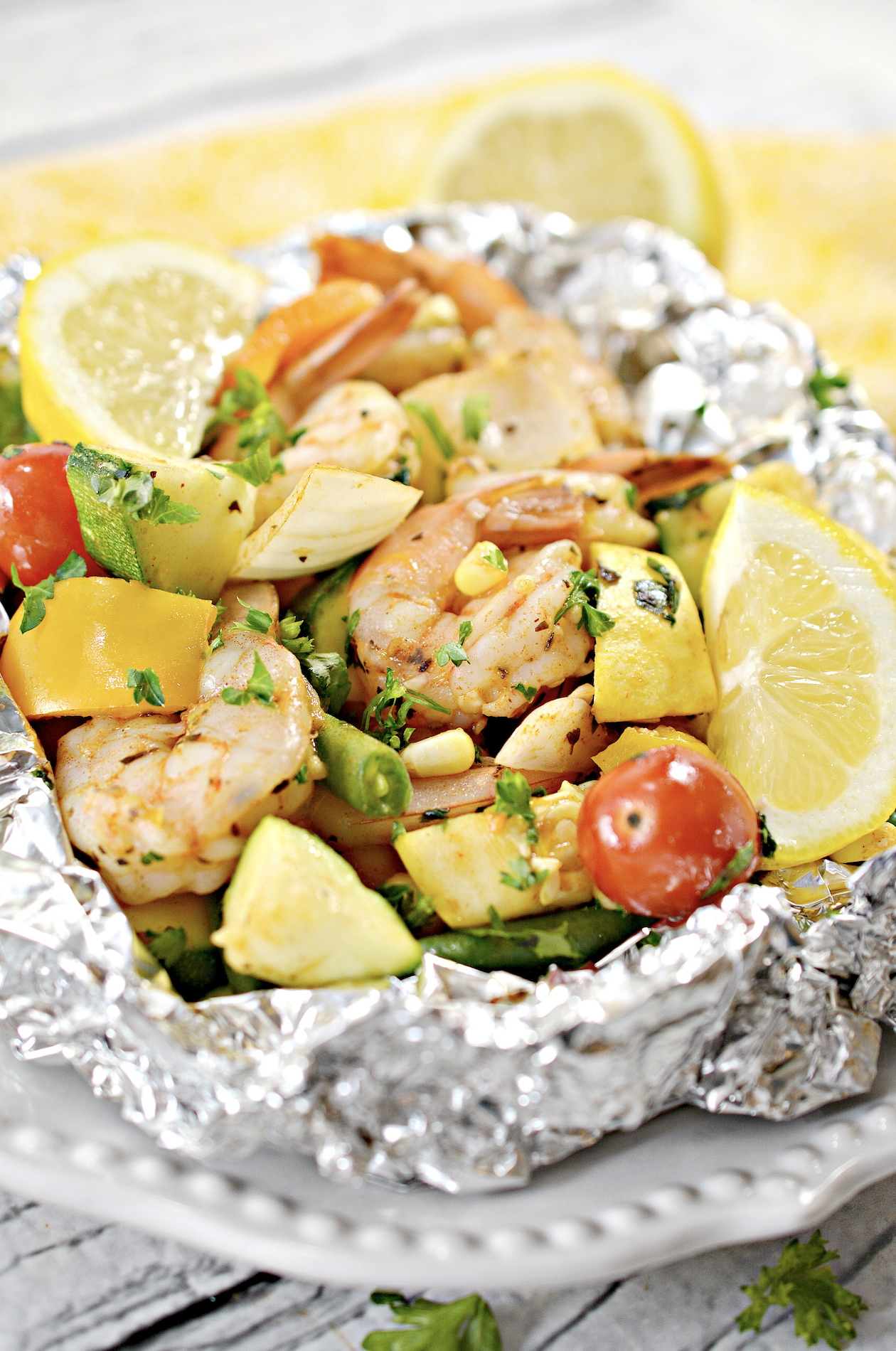 Summertime Shrimp Recipe
Shrimp has always been one of my favorite things to toss on the grill. It cooks incredibly quickly and is easy to eat outside at a picnic table. I have made shrimp skewers, shrimp smoked on the grill and even shrimp burgers. However, my new favorite shrimp dish to make is definitely shrimp and veggie foil packets. It is the perfect meal to make for a summer cookout for so many reasons.


First, it is a complete meal, veggies and protein all wrapped in one convenient packet. That little foil packet also provides all of your guests with their own individual serving- no sharing needed (perfect for these COVID times!). This recipe can also be made ahead of time, stored in the fridge until you are ready to cook. And clean up? There is almost no clean up at all! Just toss the packets in the trash when you're done and go back to enjoying the company of the people you love. Sounds pretty amazing, right? So how do you make such a great dish? Let me explain…
Shrimp and Veggie Foil Packs Ingredients
Making shrimp and veggie foil packets is so simple that even the most novice chef could put them together with great success. The first think that you will need is high quality ingredients. Here is what you will need:
Large white shrimp
Fresh summer veggies like zucchini, summer squash, green beans, corn, cherry tomatoes, bell peppers and onion
Fresh parsley and fresh basil
Dried paprika, oregano, cumin
Garlic
Olive oil
Salt and pepper
Lemon wedges
Many of the ingredients used in this recipe are in season during the summer so be sure to check your local farm stands- you should be able to find almost all of these veggies and fresh herbs! That farm-fresh taste will shine through and add lots of flavor to the dish. You can taste summer in every bite!
How to Make Shrimp and Veggie Foil Packs
Once you have gotten your ingredients together, you are ready to whip up this awesome dish! The whole process will only take you about 15 minutes to put together and then another 15 minutes to cook. Less time in the kitchen means more time to spend outside with your family (we are all tired of being stuck inside these days).
If you are planning on cooking the foil packets right away, start by preheating your oven to 425 degrees F. You can also make these packets on the grill, enabling you to be outside the whole time you cook! Turn your grill on high if you want to use this method. If you are simply prepping the packets to cook later on, keep the oven or grill off until you are ready to cook.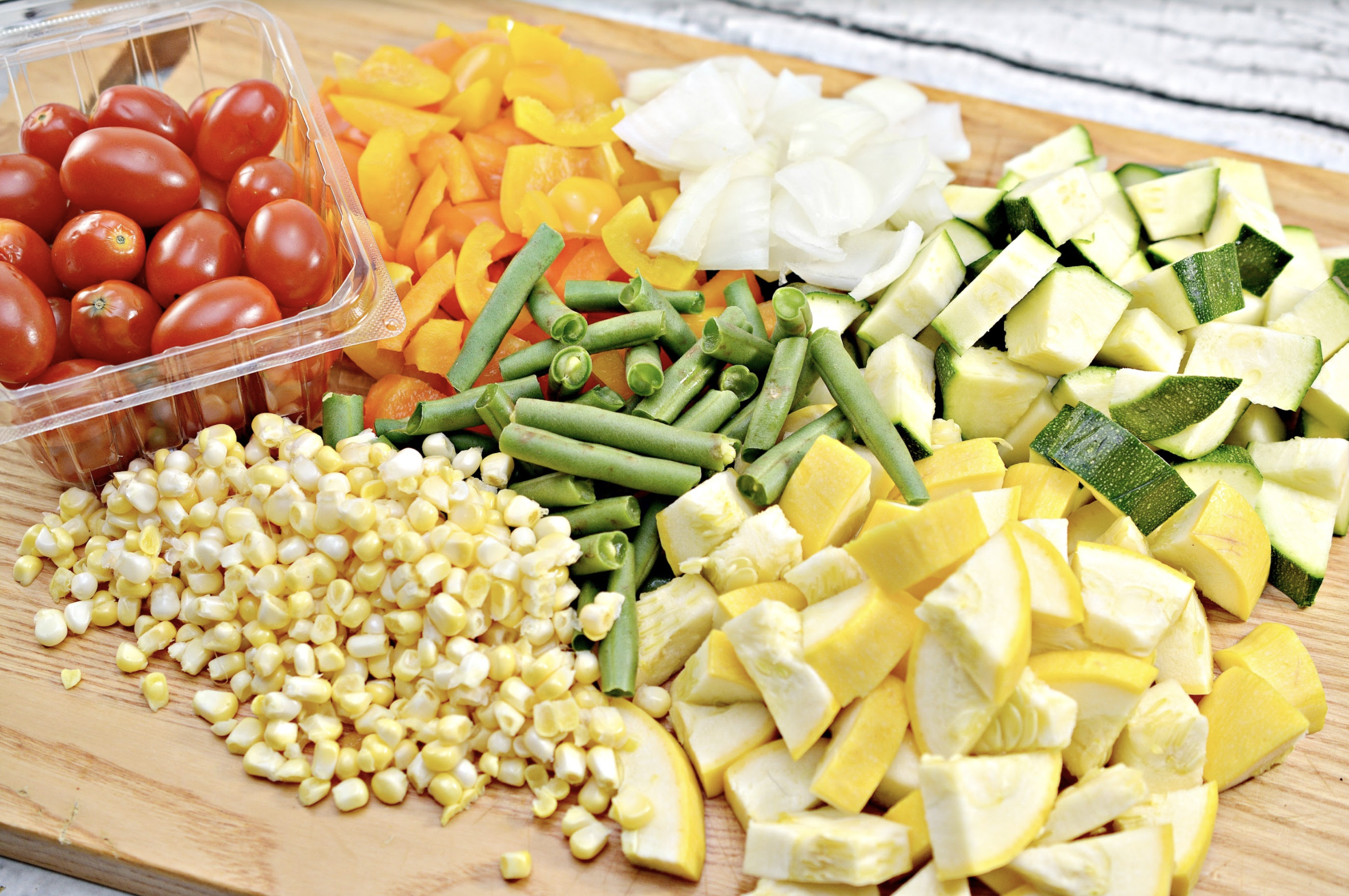 Chop all of the veggies in the recipe. One trick to remember when you are cooking lots of veggies at once is to try to cut them all about the same size. This will ensure that they all cook evenly inside the foil packets. I like to keep all the veggies about an inch in size. This means the squash is chopped into one inch slices, the bell peppers are cut into one inch strips and the green beans are made to be bite sized, inch long pieces. Of course, you don't need to get out a ruler! Just chop by eye but aim to have similarly sized veggies that will easily fit into your mouth in one bite!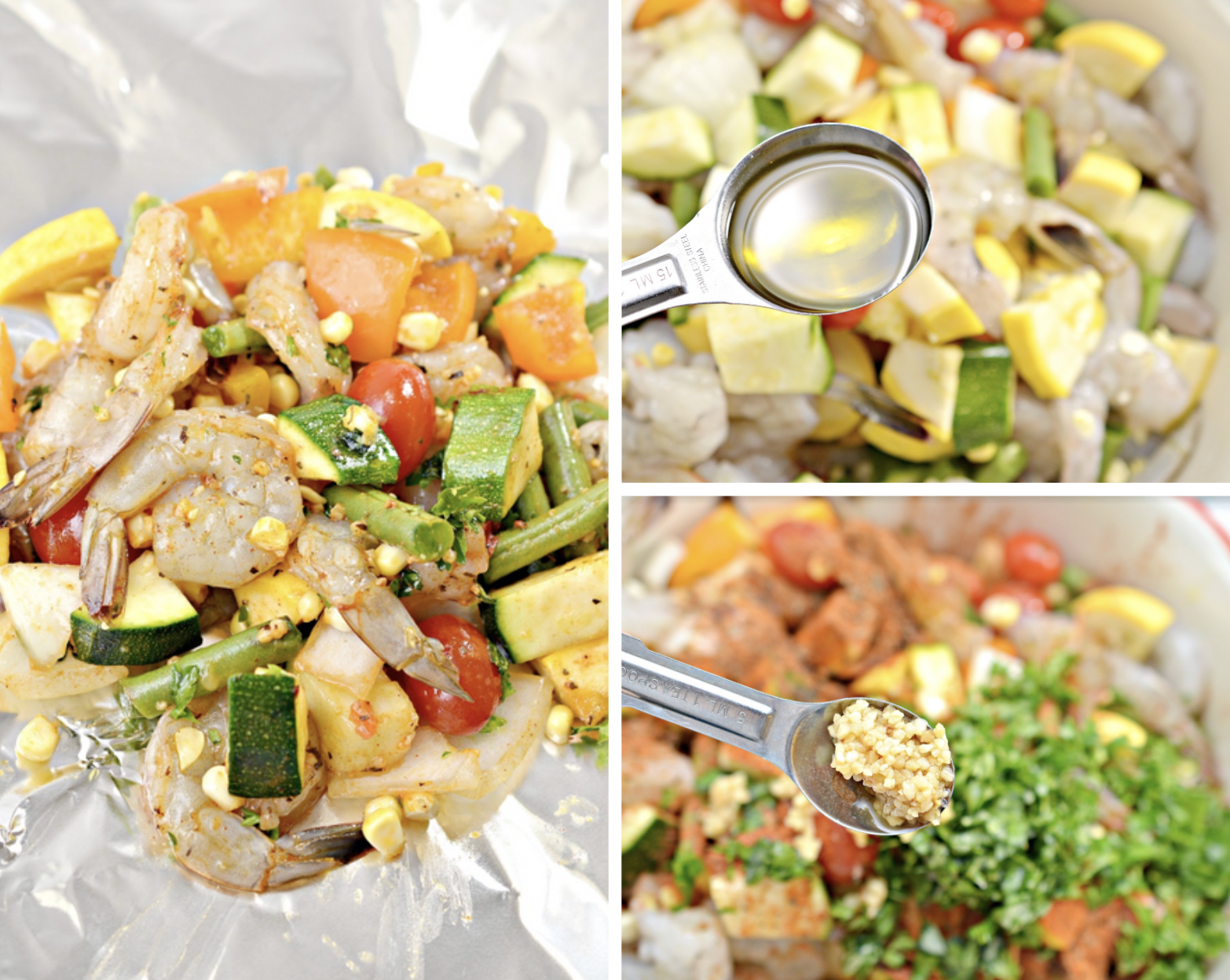 Once the veggies are prepped, place them in a large bowl along with the shrimp. I used extra large shrimp for this recipe as it cooks to perfection in about the same amount of time as this blend of summer veggies.
Measure the dried spices in a small bowl and mix them together. This will ensure the spices are evenly blended and will mix into the recipe nicely. It is an extra step but it is well worth it when every bite of the meal is equally seasoned.


Add the olive oil and dried spice mix to the veggie and shrimp bowl along with the basil, garlic and just 2 tablespoons of the fresh parsley. Toss everything together well, making sure to coat all the veggies and shrimp evenly in the oil and herbs. I like to use my hands for this step so I can really make sure the veggies are covered in the oil and spices- something about using your hands makes everything blend better!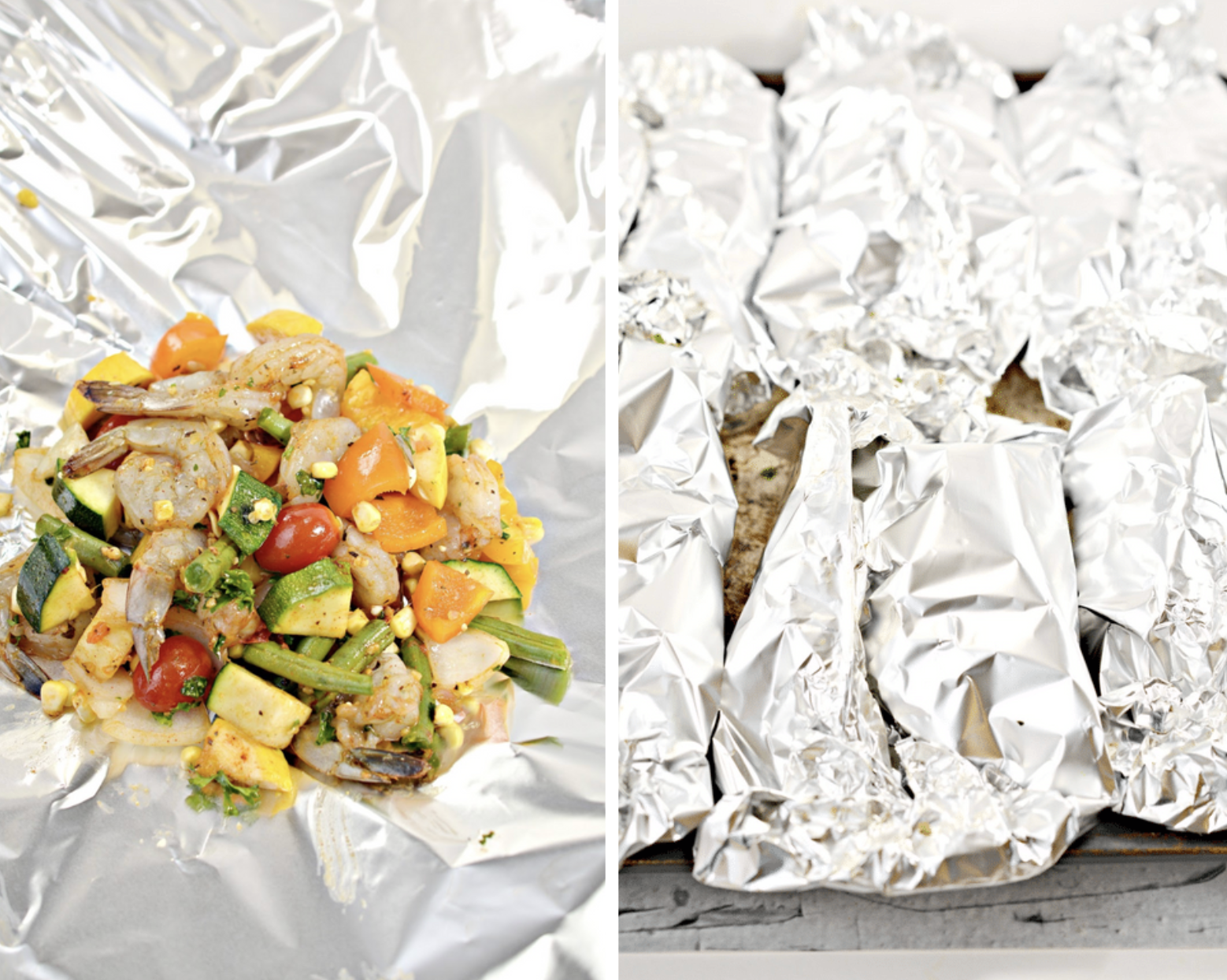 Next, the shrimp and veggie mix is divided evenly between pieces of foil and then wrapped, enclosing the mix in a neat foil packet. Be sure to get a little of everything in each packet so that everyone gets the same great ingredients. However, if you have any picky eaters who don't like corn or squash, this is a great time to carefully customize each foil pack- the things we moms do to make everyone happy!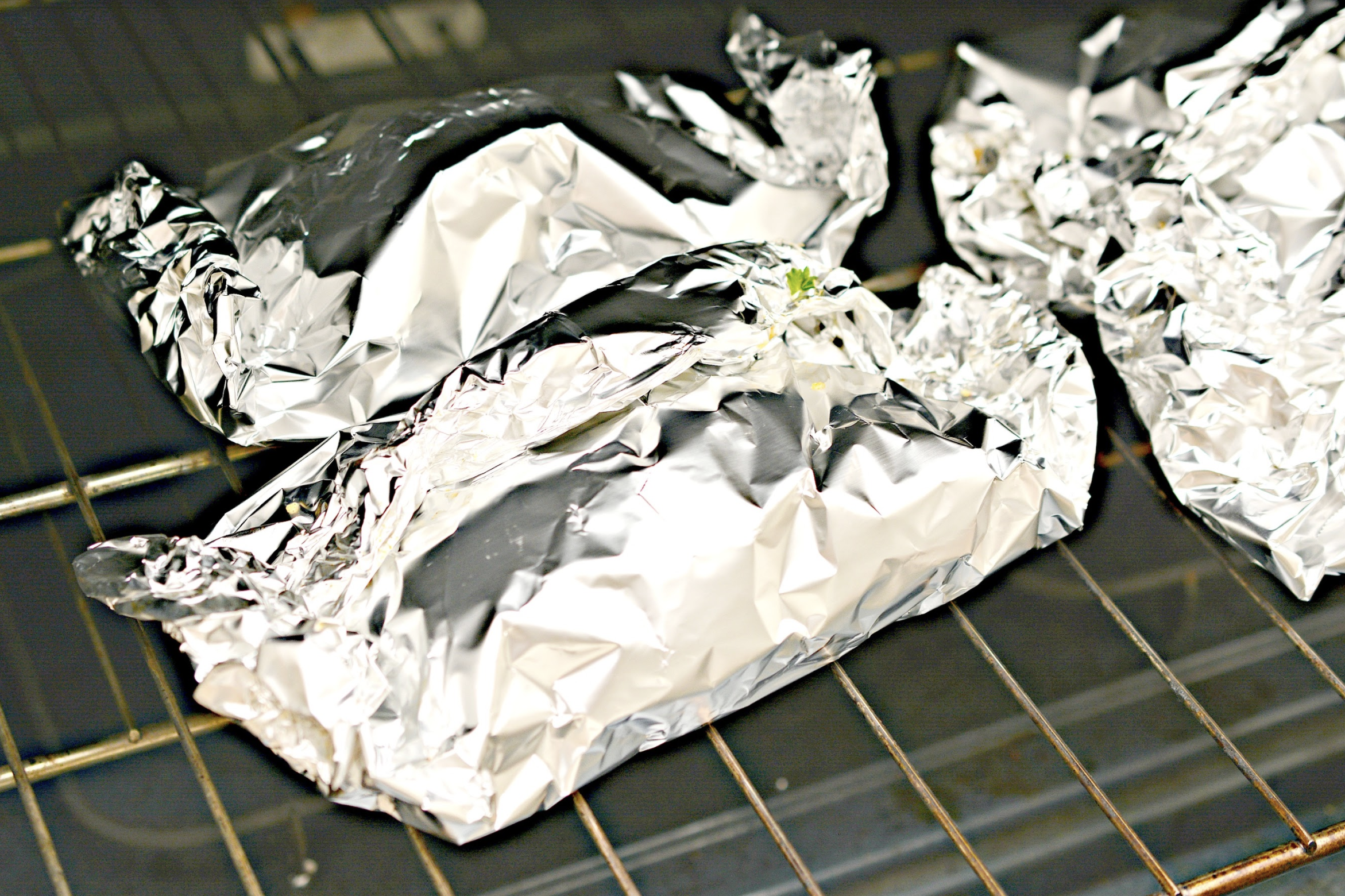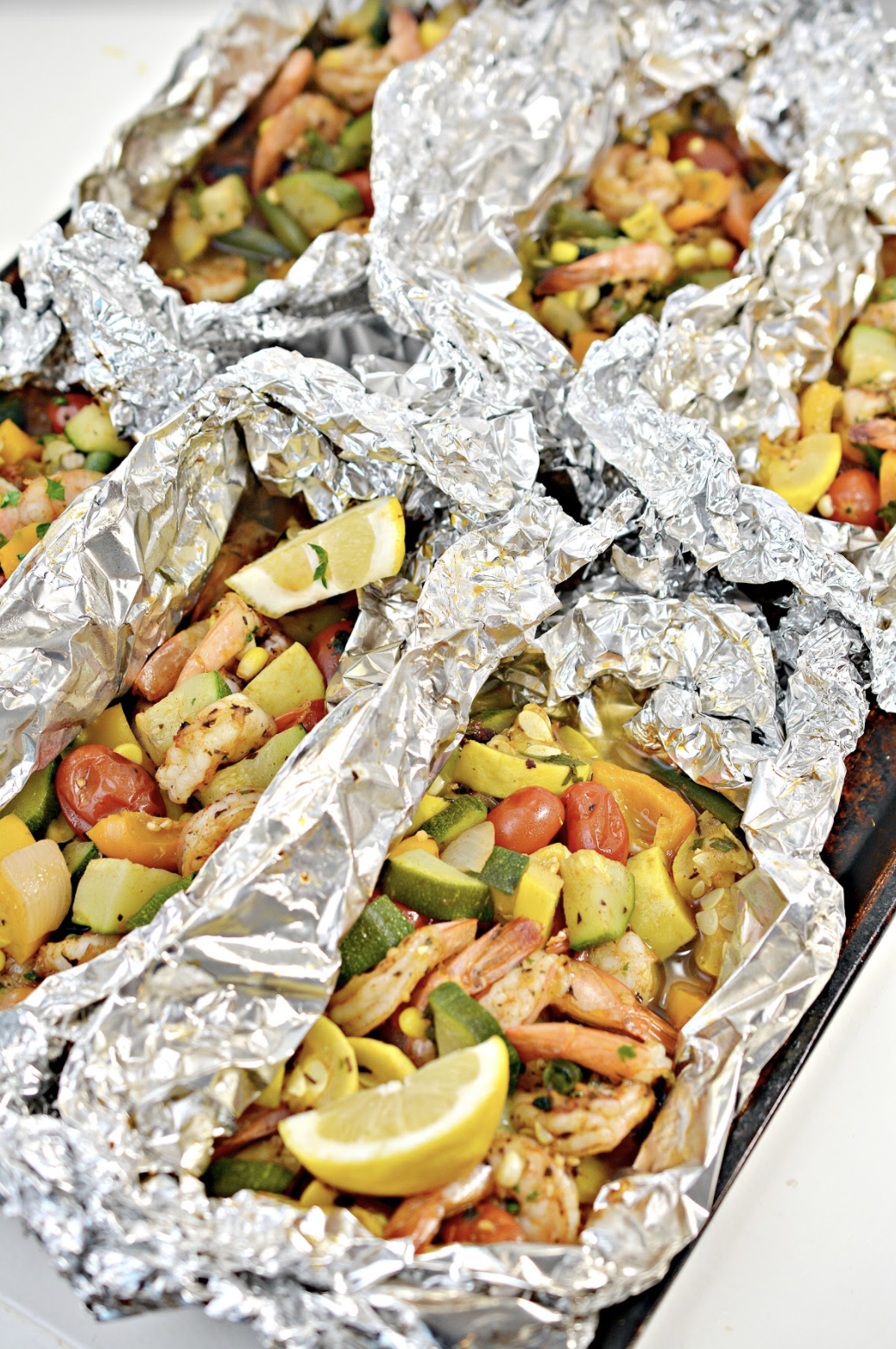 The only thing left now is to cook! Place the foil packs right into the hot oven or preheated grill and you are done. Once the shrimp is nice and pink and the veggies are tender, the meal is ready to serve. I like to place the foil packs right on top paper plates which are perfect for outdoor eating and quick clean up.
Fresh Is Best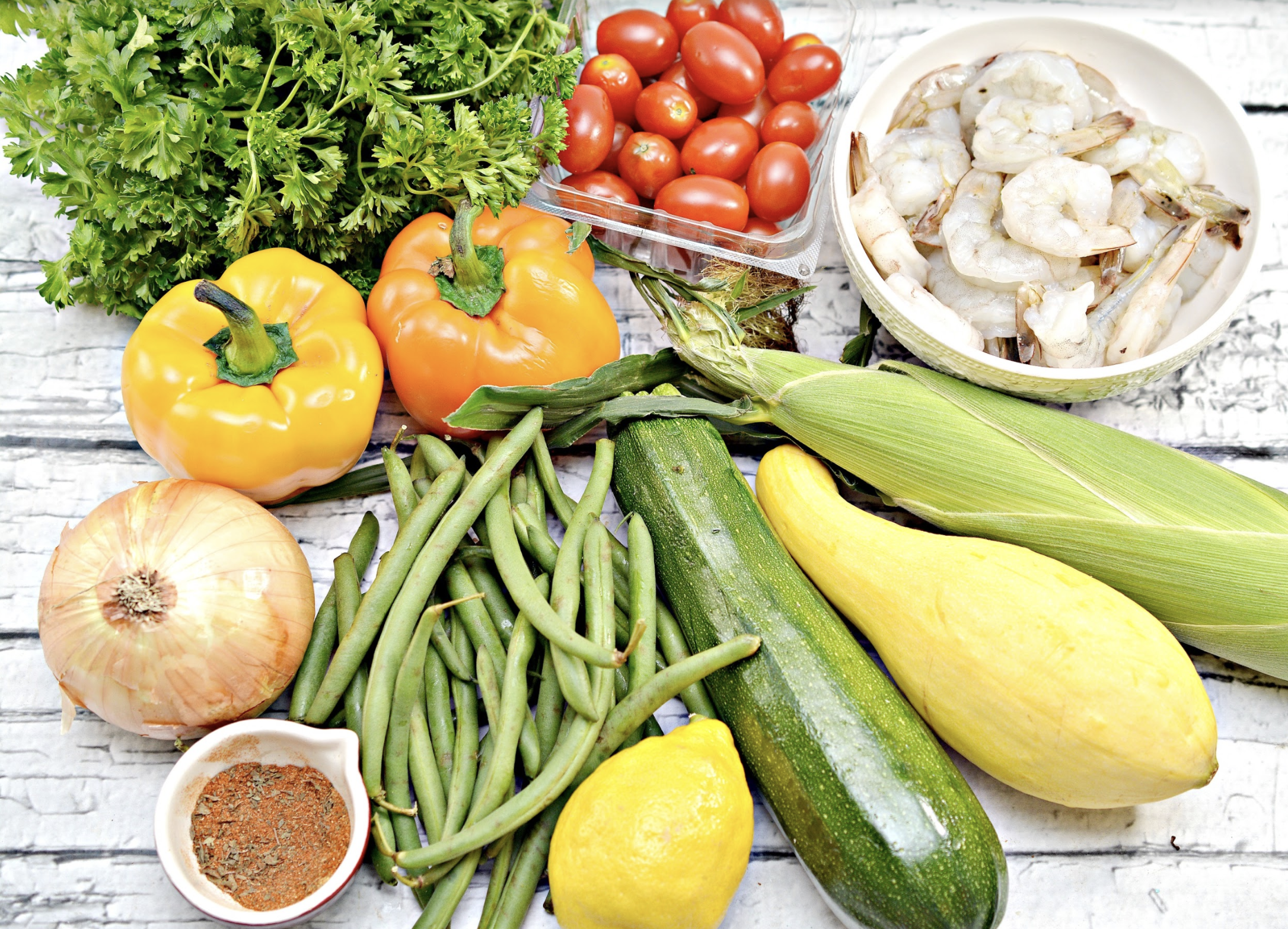 I just want to touch on the importance of using fresh veggies again as I believe this is what takes the recipe from good to great. When you use veggies that are in season, they are at their peak flavor. The sugars in the veggies have yet to turn to starches (something that happens as veggies age) so they are naturally sweet. They also have the best texture possible and most are crisp yet juicy. Bite into a freshly picked bell pepper and you will instantly see what I am talking about- soooo much more flavor than a mid-winter, grocery store pepper!
The best way to find incredible produce is to look for a farm stand near you. If there are none nearby, look for veggies in the grocery store that are labeled "local" or have come from a state nearby (the sticker on the veggies will tell you where they are from). The closer the veggies were grown, the better! Less travel time to the market means more flavor for your recipe.
Plan a Backyard BBQ Today!
Hopefully, you are now dying to make these amazing shrimp and veggie foil packs- I know I am. So head to your local farm stand, pick some veggies from your backyard victory garden and grab some extra large shrimp from the fish market and you will be ready to go! Gather a few of your family members and enjoy this meal together. The foil packets are ideal for keeping everything separate while also bring us together. Enjoy!
MORE DELICIOUS DINNER RECIPES TO TRY!
I hope you like my recipe for shrimp and veggie foil packets – be sure to give it a review below! Also don't forget to follow Hip Mama's Place on Facebook, Instagram, Pinterest, and Twitter!
This post may contain affiliate links. Hip Mama's Place is a participant in the Amazon Services LLC Associates Program, an affiliate advertising program designed to provide a way for websites to earn advertising revenues by advertising and linking to Amazon.com and other retailers- at zero cost to you. You can learn more about our Privacy and Disclosure Policies HERE.
Print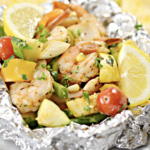 Shrimp and Veggie Foil Packs
---
Author:

Prep Time:

15 minutes

Cook Time:

15 minutes

Total Time:

30 minutes

Yield:

6

servings

1

x
Description
You'll taste summer in every bite of this flavorful Shrimp and Veggie Foil Packs recipe!  They're so easy to make and makes a perfect addition to a weeknight dinner or your next summer cookout! 
---
2 lb. large raw shrimp, peeled and deveined 
1 large zucchini, chopped
1 large yellow squash, chopped
1 ½ cups green beans, cut in bite sized pieces
1 Fresh ear of corn with the kernels cut off
2 cups whole cherry tomatoes
½ medium onion cut into chunks 
1 orange bell pepper cut into bite sized pieces
1 yellow bell pepper cut into bite sized pieces
3 tbsp. fresh chopped parsley divided
2 tbsp. fresh chopped basil
1 tsp. paprika
1 tsp. oregano
½ tsp. cumin
---
Instructions
Preheat the oven to 425 degrees.
Chop or cut the vegetables as specified in the ingredients' list.
Place the vegetables and shrimp into a large mixing bowl.
Add the olive oil, seasonings, 2 Tbsp. of the chopped parsley, the basil and minced garlic.
Toss the ingredients well to combine.
Place 6 large sheets of aluminum foil on a table, and place an even amount of the shrimp and vegetable mixture into the center of each one.
Fold the edges of each piece of aluminum foil up lengthwise in the center, and fold down a few times to secure. Fold the edges of each piece of aluminum foil up to form a complete closed packet.
Place the packets into the oven, and bake for 15-20 minutes, or until the vegetables are tender to your liking and the shrimp is cooked through.
Open the packets carefully as steam will escape. Serve sprinkled with parsley and squeeze fresh lemon juice on top.
Enjoy!