Labor Day is just right around the corner. Are you planning a gathering and need help with appetizers that are easy to prepare and that need only a few ingredients?

Triscuit has shared this hassle-free appetizer to us: Roasted Cherry Tomato Triscuit Cups, created by the awesome Martha Stewart. Enjoy! 🙂
Roasted Cherry Tomato Triscuit Cups
Ingredients:
24 Triscuit Rosemary and Olive Oil Crackers (from one 9 ounce box)
1 tablespoon extra virgin olive oil
3 tablespoons freshly grated Parmesan cheese
Roasted Cherry Tomatoes (recipe follows)
24 tiny sprigs fresh thyme, optional for serving
1.

Preheat oven to 400°. Fill a 9-by-13-inch pan halfway with warm water. Add Triscuit Crackers in 2 batches and soak, turning twice until just soft, about 2 minutes, no more than 3 minutes. Oil two 12 cup (or one 24 cup) mini muffin tins and press a softened Triscuit into each cup, pressing and molding any cracks together. Sprinkle each with cheese. Bake until firm and slightly more golden, about 25 minutes.
2.

Fill each cup with a roasted cherry tomato, and drizzle a little sauce over top of each one. Serve garnished with thyme, if desired. Serve immediately.
Roasted Cherry Tomato Sauce
Total Time: 1 hour 45 minutes
Ingredients:
24 cherry tomatoes, (from 10.5 ounce package)
1 ½ teaspoon balsamic vinegar
1 teaspoon fresh thyme leaves
1.

Preheat oven to 325º. Arrange tomatoes and garlic in a non-reactive 9×5- inch baking dish (loaf pan). Whisk together olive oil, vinegar, thyme, sugar, and salt. Drizzle over tomatoes and garlic.
2. Bake until tomatoes are wilted and caramelized, about 40-45 minutes. Let cool. Store cooled tomatoes and juices in an airtight container in refrigerator for up to 5 days.
*Hip Mama's Place Disclosure: "My reviews and opinions are 100% my own. Triscuit sent me promotional products necessary to facilitate this post".


Don't miss out on the latest fab deals, cool freebies, fun giveaways, delicious recipes, DIY inspirations and more! Subscribe to the Hip Mama's Place email newsletter, Hip Mama's Place feed reader, or simply "Like" Hip Mama's Place on Facebook and/or follow Hip Mama's Place on Twitter!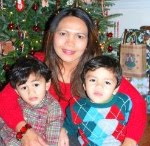 About the Author: Jocelyn Cañasa-Brown is a working mom of two boys and is a recognized blogger and mom influencer in the Washington, DC area. In her spare time, she designs and creates her own handmade jewelry, maintains her jewelry store on Etsy and is an active moms group organizer and leader both online and offline. Hip Mama's Place was nominated for Parents 2011 Best All-Around Mom Blog and named one of the Highest Rated Blogs and Sites on Nickelodeon ParentsConnect for the Washington, DC area. Follow Jocelyn on Twitter, Facebook and Pinterest.