This Hocus Pocus Fudge – white chocolate fudge recipe – is the perfect treat to whip up for Halloween this year! It's made simply with a white chocolate fudge base recipe, then adding all the favorite Halloween colors to make these into fun Hocus Pocus-themed sweet treats!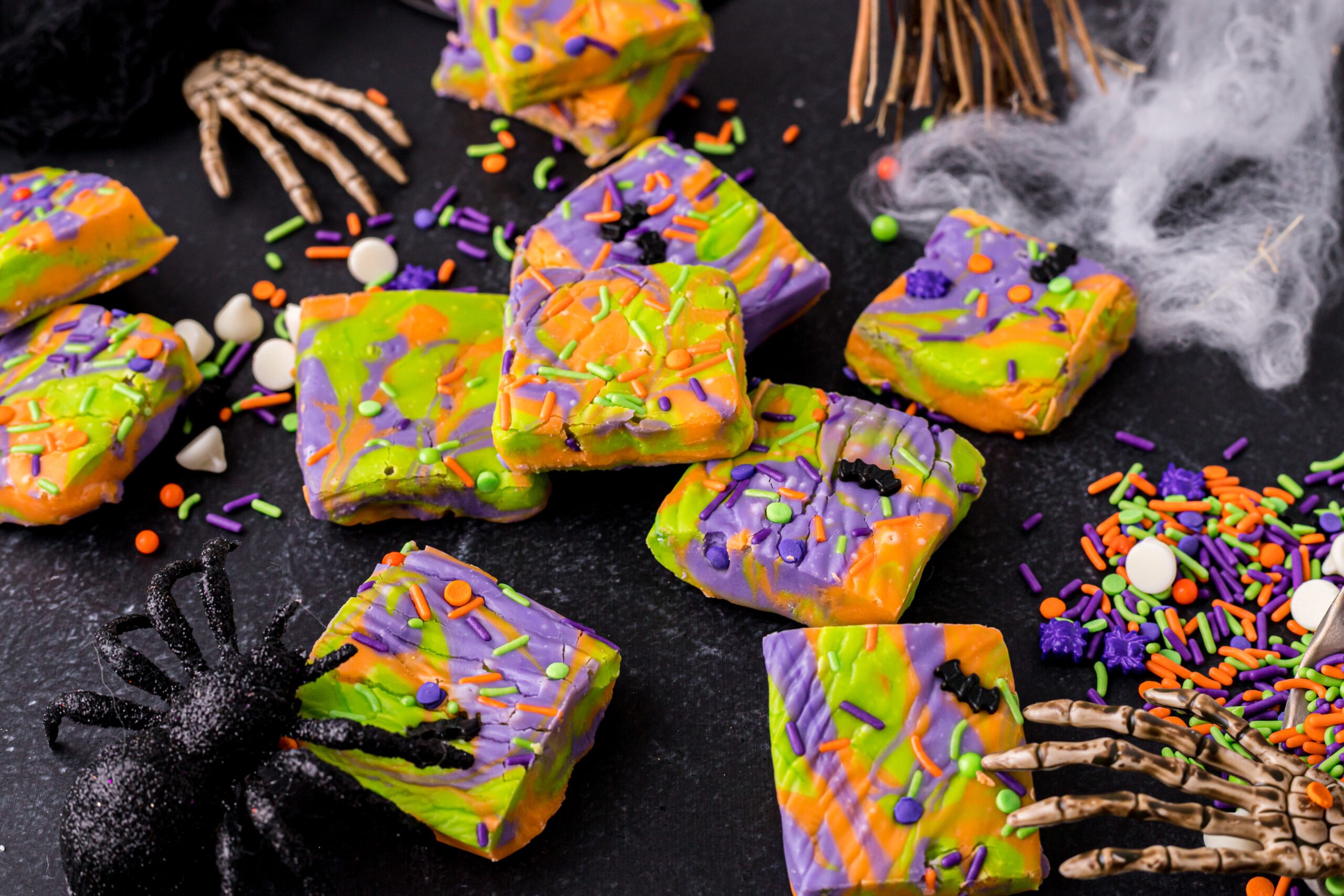 Halloween is fast approaching and I'm so excited to show you my new recipe for Hocus Pocus fudge! I love getting into the spooky spirit by baking and cooking fun, themed treats. Not only does my family love to eat tasty Halloween desserts but my kids also like helping me make them. I love recipes that bring us together in the kitchen and also help us celebrate upcoming holidays. It doesn't get any better than that!
This past weekend, I made Hocus Pocus fudge bars with my kids. I've been seeing a lot of hocus pocus themed-crafts and hocus pocus treats so I really wanted to try to make my own. If you've been following me on my Instagram page, you know I love all the fun bright colors for every holiday and for every season and those Halloween colors are hard for me to resist!




Fudge is sometimes labeled as a holiday dessert for Christmas but I thought, why not make it for Halloween? This fun Hocus Pocus Fudge recipe is the perfect treat to whip up for Halloween this year. This recipe I created was incredibly easy to make but looks like a dessert that came right out of a magazine. It's simply made with a simple white chocolate fudge recipe, and then adding all our favorite Halloween colors to make them the perfect sweet treats for this Halloween season!
The bright colors in this white chocolate fudge are fantastic and perfect for Halloween. My husband and kids devoured the fudge, leaving only a tiny square for me. Not only does it look picture perfect but it tastes amazing too! This hocus pocus fudge recipe was truly amazing. Let me tell you all about it!
Ingredients for making Hocus Pocus Fudge
To make Hocus Pocus fudge, you really only need a few basic ingredients. Here is what goes into my white chocolate fudge recipe:
white chocolate chips
sweetened condensed milk
butter
vanilla extract
green, purple, and orange food coloring
It doesn't take much to make a tasty sweetened condensed milk fudge recipe! But the results are going to be great. I promise!



How to Make Easy White Chocolate Fudge
Making my easy chocolate fudge only takes a matter of minutes. Even if you are baking with kids, it will still only take about 30 minutes to put this fudge together. Here is how it is made:
1. Mix the white chocolate chips, sweetened condensed milk, butter and vanilla together in a bowl over a double boiler. Stir until the white chocolate chips are melted.
2. Divide the melted chocolate fudge mix between three bowls.
3. Add different color food coloring to each bowl and stir well. Adjust your colors if needed. I like them extra bright to fit the Hocus Pocus theme!
4. Pour all three colors of fudge into one 8×8 pan. Swirl them together to make a fun design.
5. Add Halloween sprinkles if you'd like then refrigerate the fudge for four hours.
6. Slice and enjoy the tasty Hocus Pocus treats!
The hardest part of this white chocolate fudge recipe is definitely the waiting. I want to eat the spooky, Halloween themed fudge right away! Waiting for it to set is almost impossible but, I must say, it's worth the wait! The creamy texture of the chilled fudge is delicious. It also slices so nicely once it is cold.



Tips and Tricks for making White Chocolate Fudge
This homemade, Halloween-themed white chocolate fudge recipe is quite simple but there are a few tips and tricks I want to share. Hopefully these little extra tricks will help you make perfect white chocolate fudge on the very first try.
Melting the chocolate over a double boiler takes about 10 minutes. Be patient and do not turn up the heat or you risk burning the chocolate. Keep the heat low and stir occasionally.
Once the fudge is completely set, you can slice it and store it in an airtight container for up to two weeks. Make a big batch now and serve it on Halloween!
Evaporated milk and sweetened condensed milk are two very different things. Be sure to use sweetened condensed milk to make this fudge.
Resist the urge to put the fudge in the freezer to set faster. This will change the texture of the chocolate fudge and it will not be as creamy.
I like to use gel food coloring to dye my white fudge recipe. Gel food coloring has less water and the colors are more vibrant.
If you are baking with kids, have them stir the food coloring into the chocolate, pour the dyed chocolate fudge into the pan and add the sprinkles. These simple tasks are perfect for little hands.
Making Hocus Pocus fudge is such a fun way to get into the Halloween spirit. This Halloween-themed white chocolate fudge recipe is so easy to make and will look super cool on a Halloween buffet. I know you are now planning on making this tasty hocus pocus treats, but what other Halloween plans do you have? The spooky holiday is right around the corner!
Print
Hocus Pocus Fudge – Easy White Chocolate Fudge Recipe
---
Author:

Prep Time:

30 minutes

Cook Time:

4 hours chill time

Total Time:

4 hours (chill time included) and 30 minutes

Yield:

16 slices
Description
These super fun and tasty Hocus Pocus Fudge bars are made simply using an easy white chocolate fudge recipe then added with all your favorite Halloween colors!
---
3 cups white chocolate chips 
1 (14oz.) can sweetened condensed milk 
2 tablespoons unsalted butter 
1 tablespoon vanilla extract 
2 drops green food coloring 
2 drops purple food coloring 
2 drops orange food coloring
Halloween sprinkles
---
Instructions
Line an 8×8 pan with wax paper or aluminum foil.
In a medium saucepan over low to medium heat stir together white chocolate chips, sweetened  condensed milk, butter, and vanilla extract. Stir continuously until chips have completely  melted.
Remove from stovetop and pour fudge into three separate bowls.
Add food coloring drops to each bowl and stir.
Pour all three bowls of colored fudge into the lined 8×8 pan.
Place fudge into the refrigerator to cool and set for 3-4 hours.
Keywords: white chocolate fudge, hocus pocus fudge, chocolate fudge, chocolate fudge recipe, Halloween treats, hocus pocus treats