Easy Loaded Mashed Potato Casserole is your new favorite dish for any occasion. Try this creamy and delicious loaded mashed potato casserole recipe made with cheese, bacon, sour cream and parsley!
Thanksgiving is only a few days away and I start thinking a lot about family traditions around this time. I think about the food my family looks forward to, the places we tend to visit around the holidays and the fact that I am so glad we get to all be together, even if it is just for a day. I truly love every aspect of my family's Thanksgiving.
I also like to think about what other people do on Thanksgiving. While we all might gather around a turkey, every family has their own spin on all the other holiday foods and activities. Lots of people go around the table and say what they are thankful for. Some families reenact the first Thanksgiving dinner. Others are happy just to sit down with a big plate of cranberry sauce and stuffing. It is wonderful how unique each family's Thanksgiving can be.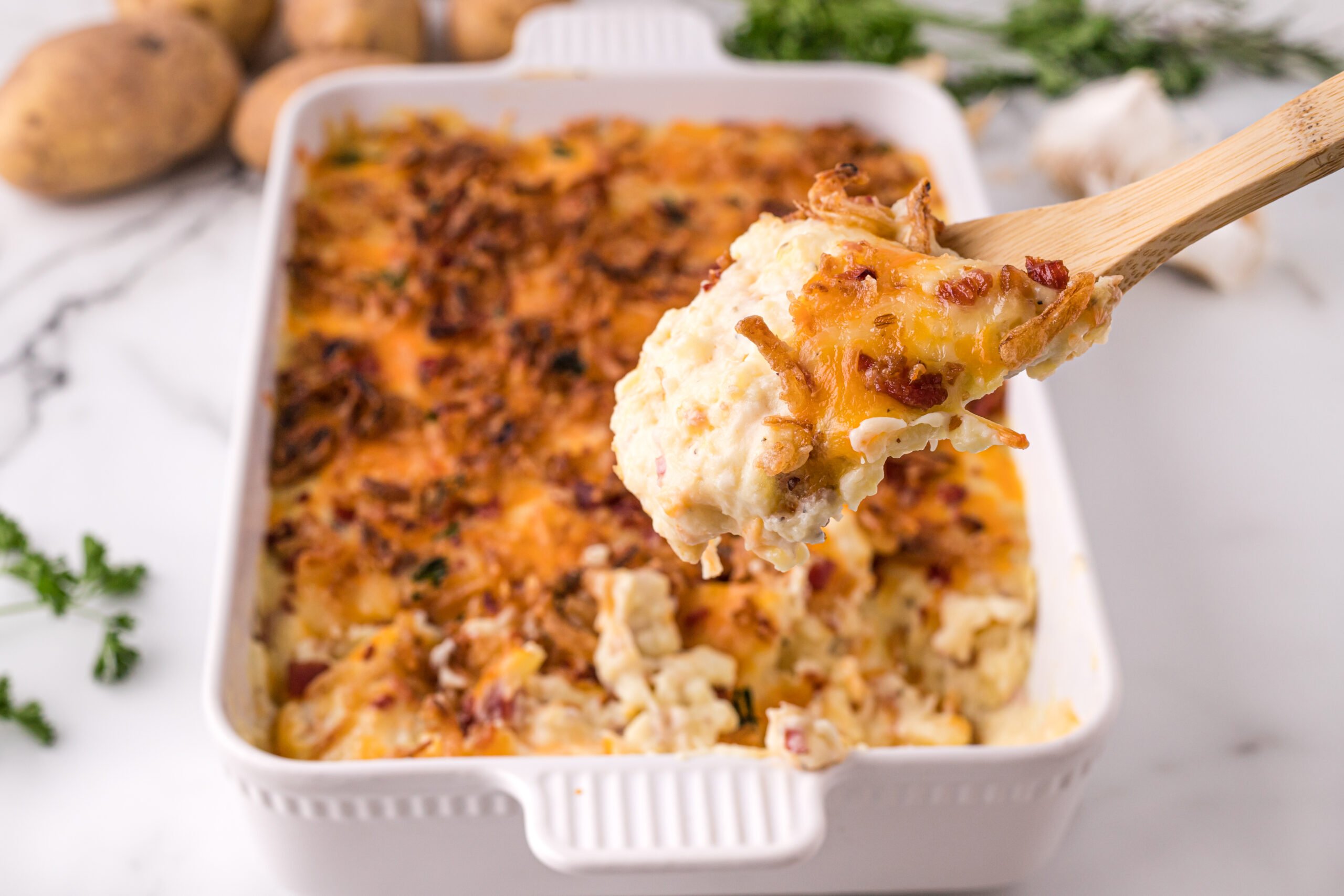 Since my family is a big foodie family, we always get excited about the food. I plan what recipes to make weeks in advance. I do love to cook! Of course, I have to make all my family's favorites because, without the loaded mashed potato casserole and oven roasted turkey with homemade turkey gravy, it just doesn't feel like Thanksgiving.



Best Loaded Mashed Potato Casserole Recipe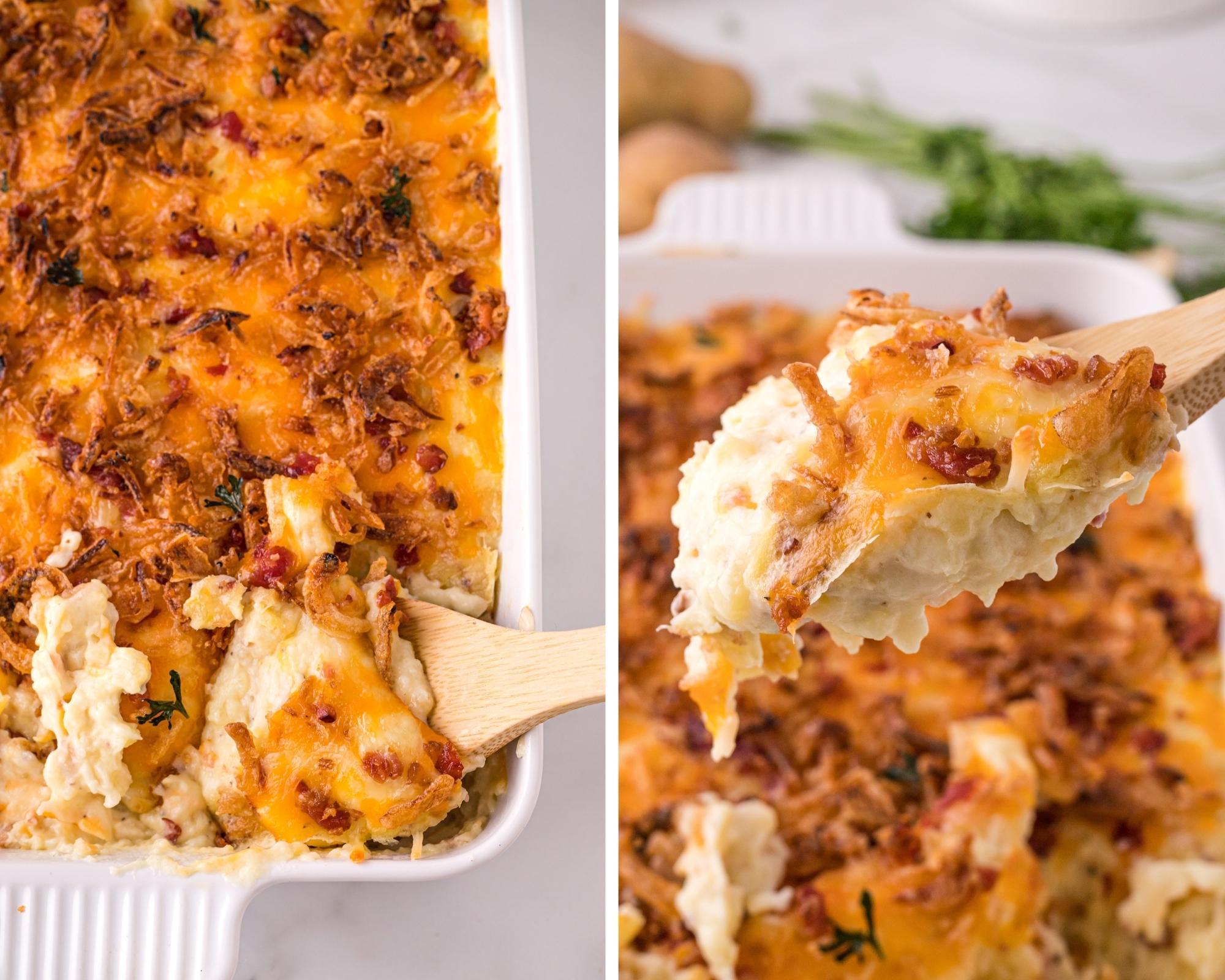 Want the best loaded mashed potato casserole recipe? You found it! I'm so excited to share my recipe with you! It truly is the perfect Thanksgiving side dish that my family is crazy about. This isn't just any boring mashed potato recipe- they are seriously loaded with flavor!
Here's what goes into my best loaded mashed potato casserole recipe: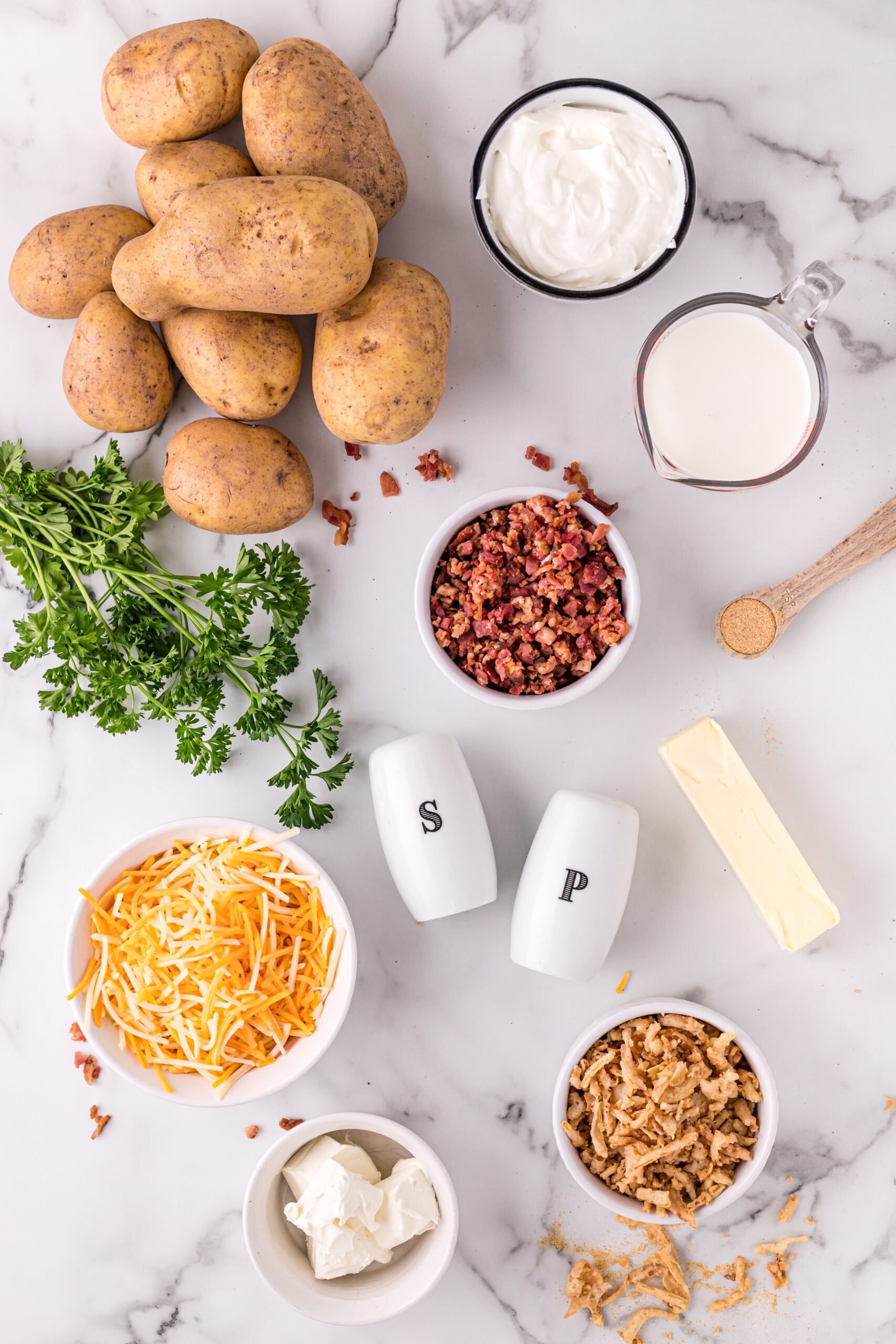 potatoes

– I like to use russet potatoes which are nice and starchy. They cook and mash well.

milk

– Whole milk is best and adds the most flavor.

butter

– Lots of butter makes this dish very decadent- it is a holiday, after all!

sour cream and cream cheese

– Sour cream and cream cheese gives the potatoes a nice tang

cheddar cheese

– Cheese adds a yummy, salty taste.

bacon

– You can't go wrong with crispy, salty bacon!

garlic powder and pepper

– You don't need too many seasonings to make these potatoes perfect. Garlic powder and pepper add the perfect amount of spice.

French fried onions

– Crispy fried onions are a Thanksgiving must!
All of these ingredients are reminiscent of classic loaded baked potatoes. I have just switched it up a little and turned your favorite baked potatoes into an easy, family friendly casserole. It really may be everyone's new favorite Thanksgiving dish.



How to Make Easy Loaded Mashed Potato Casserole
Making my loaded potato casserole recipe does take a little bit of time. However, it is not very hard to make, you just need to play in the kitchen for a little bit. Thanksgiving is all about cooking and baking!
Here is a quick look at how you make my yummy and loaded baked mashed potato casserole: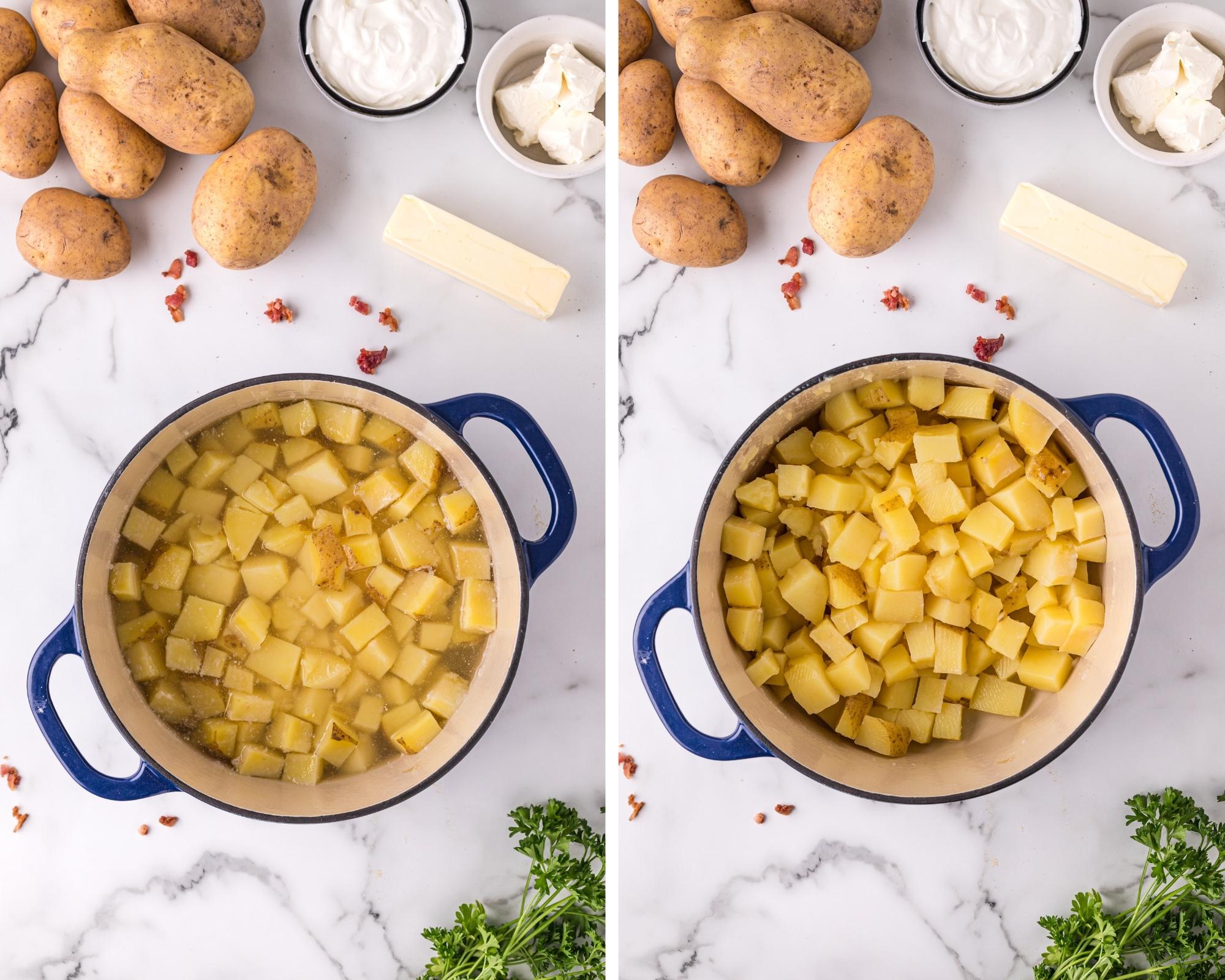 1. Boil the chopped potatoes until they are fork tender. Drain and discard the water.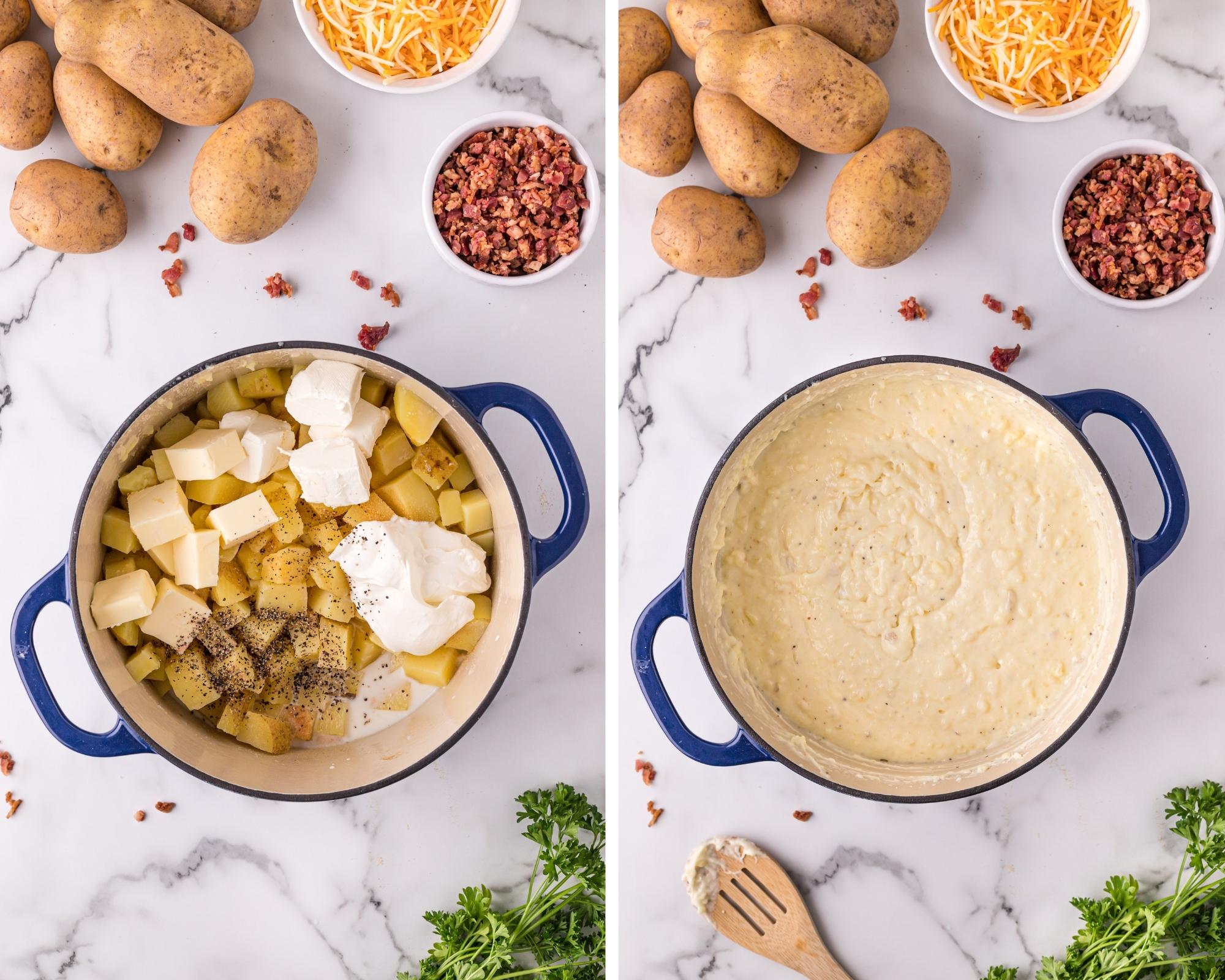 2. Place the cooked potatoes in a large bowl and add the milk, butter, sour cream, and cream cheese to the bowl. Smash all of the ingredients together, making the potatoes as smooth as possible. The butter, sour cream and cream cheese will melt right into the warm potatoes.
3. Add the cheese, bacon, garlic and pepper and mix well.
4. Spread the mashed potato mix in a casserole dish and then top with more cheese, bacon crumbles and the French fried onions. Add a little parsley for an even fancier dish.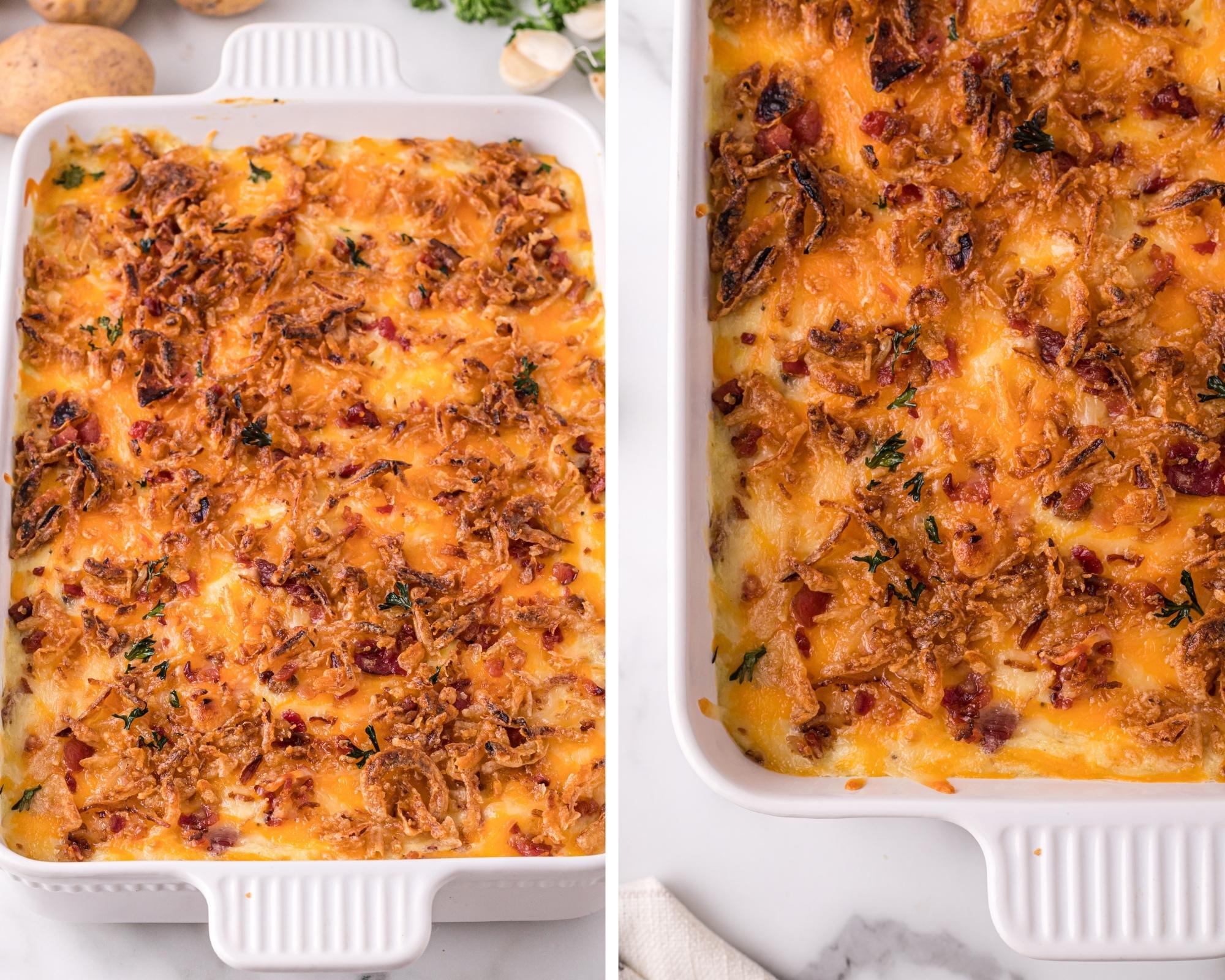 5. Bake the casserole until the cheese on top is melted and starts to brown.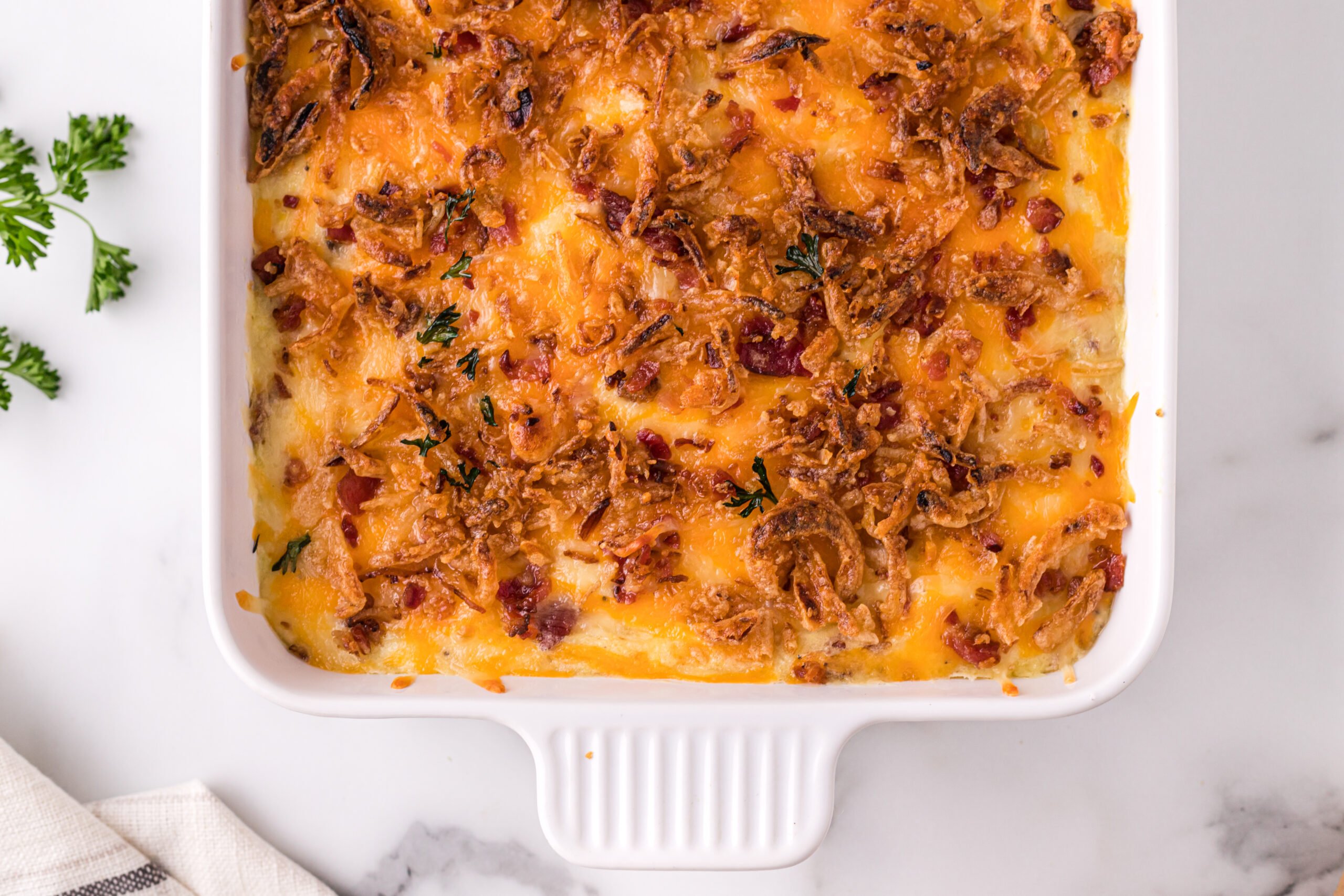 6. Serve the casserole straight out of the oven!
How easy is this recipe? It really is a show stopper that won't take too much effort. Anything easy at Thanksgiving is a recipe we need!



Tips and Tricks for Making Loaded Mashed Potato Casserole
I have made this loaded baked mashed potato casserole many times. Like I mentioned before, it is one of my family's favorite Thanksgiving dishes – a classic in our home! Over the years, I have found a few tips and tricks that work well. Take a look before you start making your own best loaded mashed potato casserole recipe!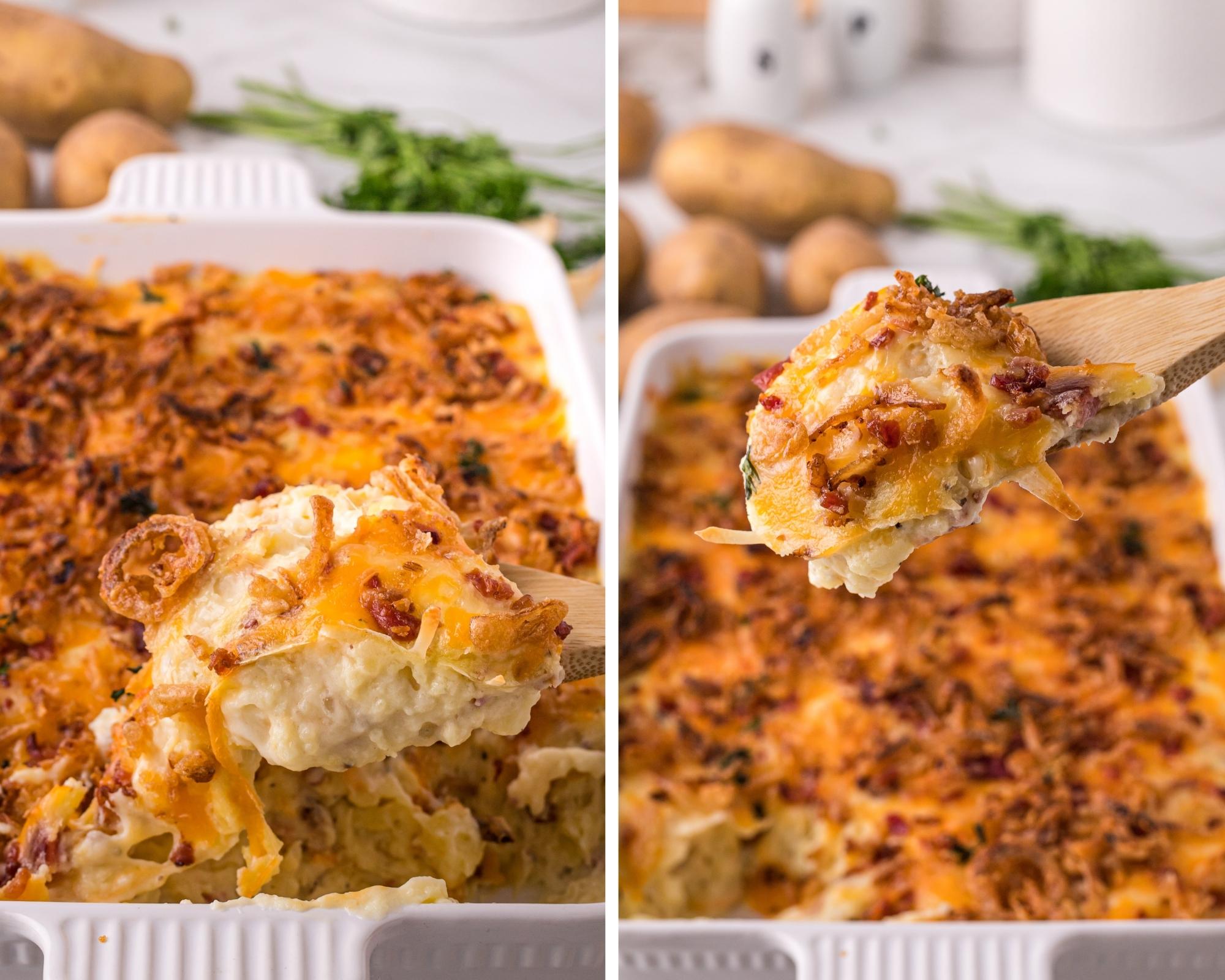 Skip the homemade mashed potatoes and use pre-made, packaged mashed potatoes. Heat the potatoes and them add all the rest of the ingredients as directed in the recipe. This is a great shortcut and will still give you an incredible dish.
Make the whole casserole in advance, layering the potatoes in the pan and topping them with cheese and bacon (hold off on the onions for now). Cover the casserole dish and put it in the fridge for 3-4 days. Unwrap the dish, add the onions and bake on Thanksgiving!
Skip the french fried onions and add extra bacon, chopped green onions or even crumbled potato chips. I also love topping the casserole with a sprinkle of breadcrumbs to give it a simple crunch.
Add the cooked potatoes to a stand mixer with a paddle attachment to mash them well. This will ensure your potatoes are perfectly smooth.
Use heavy cream in place of milk for a very decadent dish.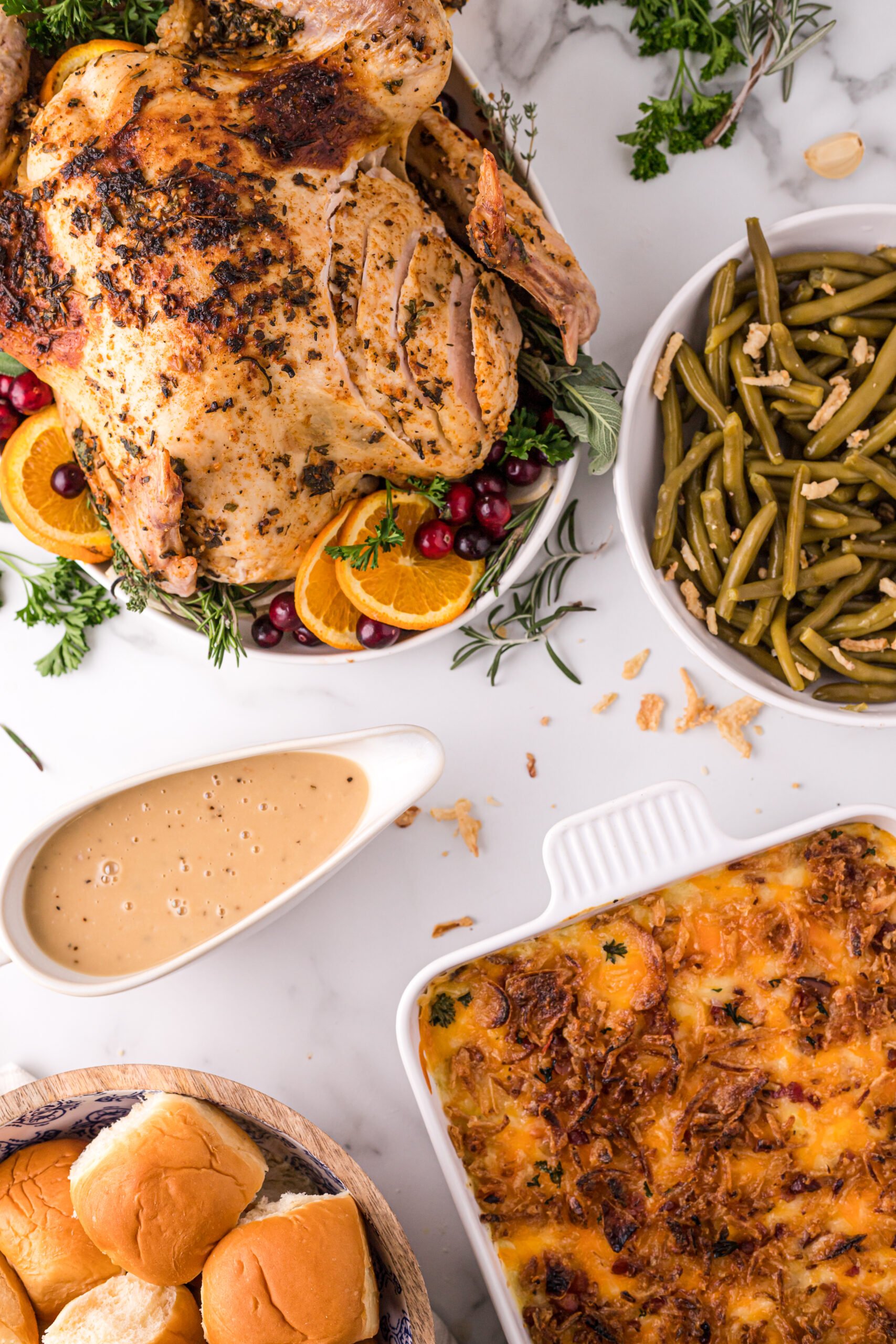 Let me know if you have any other great tips and trick for loaded mashed potato casserole. While my family loves this recipe exactly as it is written, I am always looking for fun new twists on a classic dish! As much as I love new recipes and modern foods, I also love how traditional Thanksgiving is. There is nothing better than a perfectly roasted turkey, some loaded mashed potatoes and a delicious, creamy turkey gravy. Good food and family is what I look forward to at Thanksgiving.
Give this recipe a try and let me know what you think. Enjoy!
Try these other delicious recipes!
I hope you like this loaded baked mashed potato casserole recipe– be sure to give it a review below!
Print
Easy Loaded Mashed Potato Casserole
---
Author:

Prep Time:

20 minutes

Cook Time:

40 minutes

Total Time:

60 minutes

Yield:

8 cups

1

x
Description
Easy Loaded Mashed Potato Casserole is your new favorite dish for any occasion.  Try this creamy and delicious loaded mashed potato casserole recipe made with cheese, bacon, sour cream and parsley!
---
3 lbs. (about 5–6 cups) Potatoes, peeled and diced into ½" cubes 
1 cup milk 
½ cup butter, room temperature 
½ cup sour cream 
4 oz. cream cheese 
2 cups cheddar cheese, shredded 
1 cup bacon, cooked and crumbled 
2 teaspoon garlic powder 
1 teaspoon pepper
1 cup French fried onions 
Toppings 
1 cup cheddar cheese, shredded 
½ cup bacon, cooked and crumbled 
1 tablespoon parsley, chopped 
---
Instructions
Add cubed potatoes in a large pot or a Dutch oven. Fill with water until the potatoes are covered. Add a tablespoon of salt and bring water to a boil over medium-high heat.
Boil potatoes under tender, where you can easily stick a fork through. Drain and return potatoes  to pot.
Preheat oven to 350 degrees.
Add milk, butter, sour cream, and cream cheese to potatoes and mix with an electric mixer until  smooth and creamy.
Fold in cheddar cheese, bacon, garlic powder, and pepper. Add more pepper to your liking.
Pour mash potato into a 9×13 casserole dish.
Sprinkle with cheddar cheese, bacon crumbles, and French fried onions. Top with parsley and  bake in preheated oven for 30 minutes.
If casserole starts browning place a piece of foil over dish and bake for an additional 10 minutes.
Remove from oven and serve.
Keywords: loaded mashed potatoes, mashed potatoes casserole