This roasted turkey recipe is easy to make and so flavorful! Homemade garlic herb butter makes this turkey recipe absolutely delicious!
It's that time of year again when we are all thinking about turkey. I know I have been planning my Thanksgiving meal for weeks! I do love cooking so Thanksgiving is a time for me to use all my favorite recipes and feed my family some amazing food.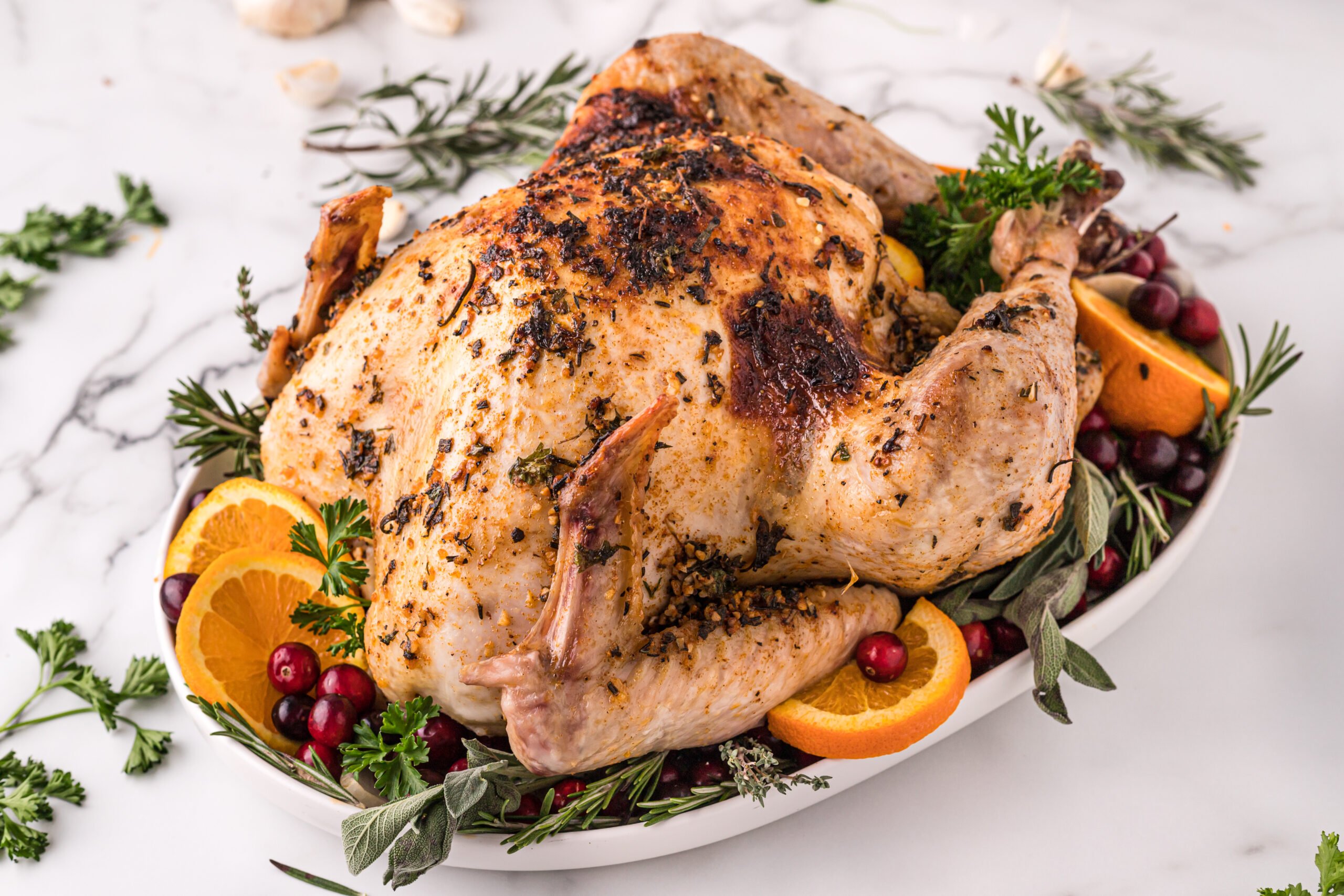 Many people are intimidated by the idea of cooking a big Thanksgiving dinner. I can definitely help anyone who feels this way! Cooking is my specialty and I have lots of Thanksgiving tips and tricks to share. Let's start with this easy roasted turkey recipe!
Easy Oven Roasted Turkey Recipe
There are so many different ways to make a Thanksgiving turkey. You can dry roast it, cook it in the microwave and even deep fry a turkey. I must admit that I love a perfect, juicy, classic oven roasted turkey. With all the new ways to cook a "fancy" turkey for the holidays, I still believe that the traditional way is best.
Why You'll Love It
Time-tested recipe. This is the best way to make Thanksgiving turkey.
Citrus flavors. The combination of orange and cranberry are unbeatable.
Juicy Turkey. This recipe gives you a juicy turkey every time.
Easy to Follow. This is the perfect recipe for your first time making Thanksgiving dinner.
Tools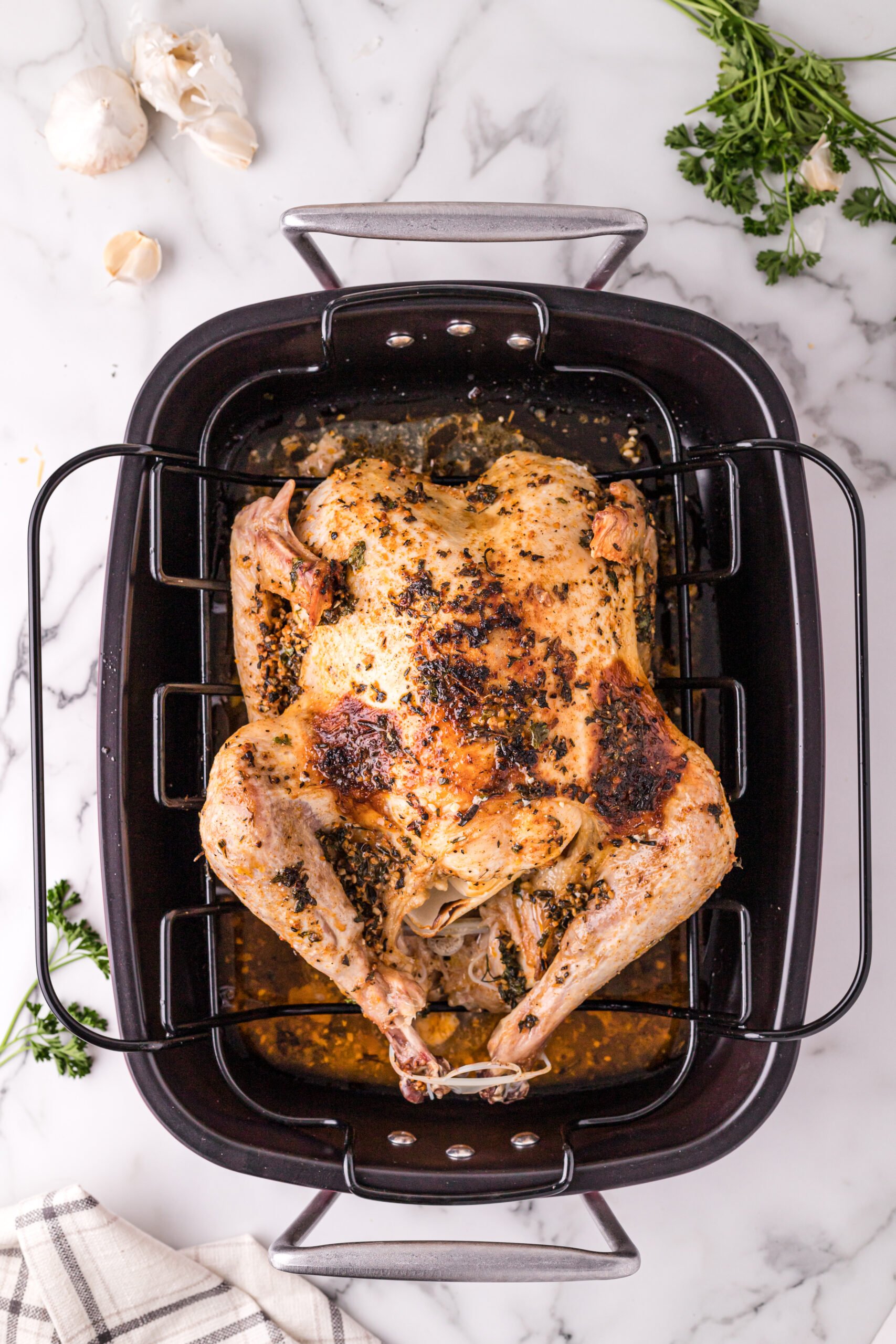 My oven roasted turkey recipe is something anyone can make. Here are the tools you will need to make the best thanksgiving turkey ever.
roasting pan with a metal rack
foil
meat thermometer
pastry brush
paper towel
measuring cup
measuring spoons
You will also need a sharp knife and cutting board to chop the herbs and spices. These simple cooking tools will help you make the best roasted turkey possible!
Ingredients
Thanksgiving food can be quite over the top. Many of us go crazy trying to put our own "new" twist on the holiday meal. But why change anything when simple, real ingredients taste so good?
My roasted turkey recipe relies on fresh herbs and spices. Here are the ingredients you will need to make this tasty garlic herb butter roasted turkey!
thawed turkey– This recipe is great for a 9 to 12 pound turkey. It needs to be completely thawed to roast correctly.
onion– Chopped onion adds so much flavor to the turkey.
butter– Butter makes the turkey rich and decadent. It is a holiday, after all!
turkey broth or water– adding liquid to the roasting pan will help keep the turkey moist as it roasts.
garlic– Extra garlic adds extra flavor!
sage, rosemary, thyme, parsley, paprika, salt, pepper– This is my favorite blend of fall spices.
As you can see, there is nothing too fancy about the ingredients for this Thanksgiving turkey. They are classic, delicious and easy to find in every grocery store. The perfect Thanksgiving turkey is going to be so easy to make!
How to Roast a Turkey in the Oven
Once you have all your tools and ingredients together, it is time to make this amazing oven roasted turkey recipe! I promise you, it is not hard at all! If you have ever wondered how to season a turkey, I will tell you all about it now!
Here's my easy step by step instructions on how to make the perfect Thanksgiving roasted turkey!
1. Make sure your turkey is completely thawed and then pat the skin dry with paper towel. A dry turkey will roast better.
2. Place the dried turkey on the roasting rack inside the roasting pan.
3. Mix the melted butter and garlic together then stir in the herbs.
4. Spoon about half of the herbed butter into the cavity of the turkey and add the chopped onion to the cavity as well. Stuffing the turkey with aromatics will flavor the turkey from the inside out as it cooks.
5. Spread the remaining herbed butter over the entire outside of the turkey. Use your hands or use a pastry brush to coat the turkey well.
6. Add the water or turkey broth to the bottom of the roasting pan.
7. Loosely cover the turkey with foil. This will prevent it from drying out and keep the meat nice and moist.
8. Roast the turkey until the internal temperature is 170 degrees F on a meat thermometer. This is about 14 minutes per pound of turkey. So, a 10 pound turkey will need to roast for 140 minutes or 2 hours and 20 minutes.
9. In the last 45 minutes of roasting time, remove the foil so the turkey skin can get brown and crispy.
10. Let the turkey rest before carving and then enjoy!
Seems pretty straightforward, right? It is! Just follow the recipe step by step and you will be able to make the best Thanksgiving turkey ever.
Tips and Tricks
I am all about sharing my cooking secrets and helping you make the perfect Thanksgiving meal! Here are a few tips and tricks I have picked up after making many, many Thanksgiving turkeys.
Check the turkey cavity and make sure you pull everything out. Some turkey manufacturers will shove seasoning mixes or packets of herbs inside the turkey cavity. Take them out!! You don't want to cook the plastic wrapped seasoning mixes by accident.
Be sure to stuff the turkey cavity with the onion, butter and herbs. Seasonings roast really well and add a wonderful taste to every bite of turkey.
Make sure the turkey is completely dry before you rub it with the herbed butter. The butter will not stick to a wet turkey and the seasonings will slide right off.
Let the turkey sit in salt water overnight before you cook it. This brine will absorb into the turkey and keep it moist when cooking it the next day.
Turkeys take a while to thaw. Be sure to move it out of your fridge and into your freezer at least two days before Thanksgiving. Set a reminder in your phone!
If you do not have a roasting rack, make a few balls of aluminum foil and stick them under the turkey in a deep pan. As long as the turkey is not sitting on the bottom of the pan, you will have success!
Do you have a great turkey roasting tip? Leave it in the comments below! I'm always interested to hear new Thanksgiving tips and tricks.
How To Store Cooked Turkey
Store leftover cooked turkey in an airtight container. Keep it in the refrigerator for up to three days.
Thanksgiving cooking shouldn't be stressful or hard. You should be excited to make amazing food for your family and friends. This fool-proof roasted turkey recipe is classic, moist and very flavorful. It will be a big hit on your Thanksgiving table this year. Give the recipe a try, snap a picture and send it my way! I love to see the beautiful food everyone makes on this tasty holiday.
To make this oven roasted turkey even tastier, make some homemade turkey gravy to go with it it too! And then, for the perfect Thanksgiving turkey side dish, try my loaded mashed potato casserole recipe!
Happy Thanksgiving!
Try these other delicious recipes!
I hope you like this oven roasted turkey recipe– be sure to give it a review below!
Also don't forget to follow Hip Mama's Place on Facebook, Instagram, Pinterest, and Twitter!
Print
Garlic Herb Butter Roasted Turkey Recipe
---
Author:

Cook Time:

3 hours

Total Time:

5 hours
Description
This roasted turkey recipe is easy to make and so flavorful! Homemade garlic herb butter makes this turkey recipe absolutely delicious!
---
9–12 lbs. Turkey, thawed completely 
1 large onion, cut into quarters  
2 cups butter, salt or unsalted, room temperature  
1 cup turkey broth or water 
¼ cup garlic, minced 
1 tablespoon sage, freshly chopped 
1 tablespoon rosemary, freshly chopped 
1 tablespoon thyme, freshly chopped 
1 tablespoon parsley, freshly chopped 
1 tablespoon paprika
1 tablespoon salt 
2 teaspoons black pepper 
Garnish (all optional) 
Orange slices 
Cranberries 
Extra fresh herbs 
---
Instructions
Preheat oven to 325 degrees. 

Remove all the packaging and neck from the turkey. Pat turkey completely dry with paper  towels. 

Place turkey on rack from the roasting pan. 

In a mixing bowl add 1 cup of butter and garlic. Mix together until combined.

Add chopped herbs to garlic butter and stir. 

Place 1 cup of butter into the turkey cavity and quartered onion. 

Rub herbed butter all over the turkey, making sure the whole turkey is covered. 

Pour turkey broth or water into the bottom of the roasting pan. Add remaining butter in pan as  well. 

Cover pan with foil and place in the oven. Cook until internal temp reached 170 degrees.

For cooking time depending on how big your turkey is, the rule is to cook 14 minutes per pound.

Remove foil from turkey the last 45 minutes to make sure the skin gets nice and golden brown.

Remove turkey from the oven and let it rest 30 minutes before carving. 
Keywords: roasted turkey, Thanksgiving turkey, turkey recipe, oven roasted turkey