Who doesn't like enjoying a creamy, comforting and classic American casserole dish any day? I'm talking about Tuna Noodle Casserole! My recipe is simple, quick and delicious and an all-time favorite dish in my house!
As a super busy mom, I am always on the lookout for easy, quick meals. I do love cooking and spending time in the kitchen but, as a business owner, mom and wife, I just don't always have the time! Simple, tasty meals that take under 10 minutes to put together can be a lifesaver. Do you feel the same way?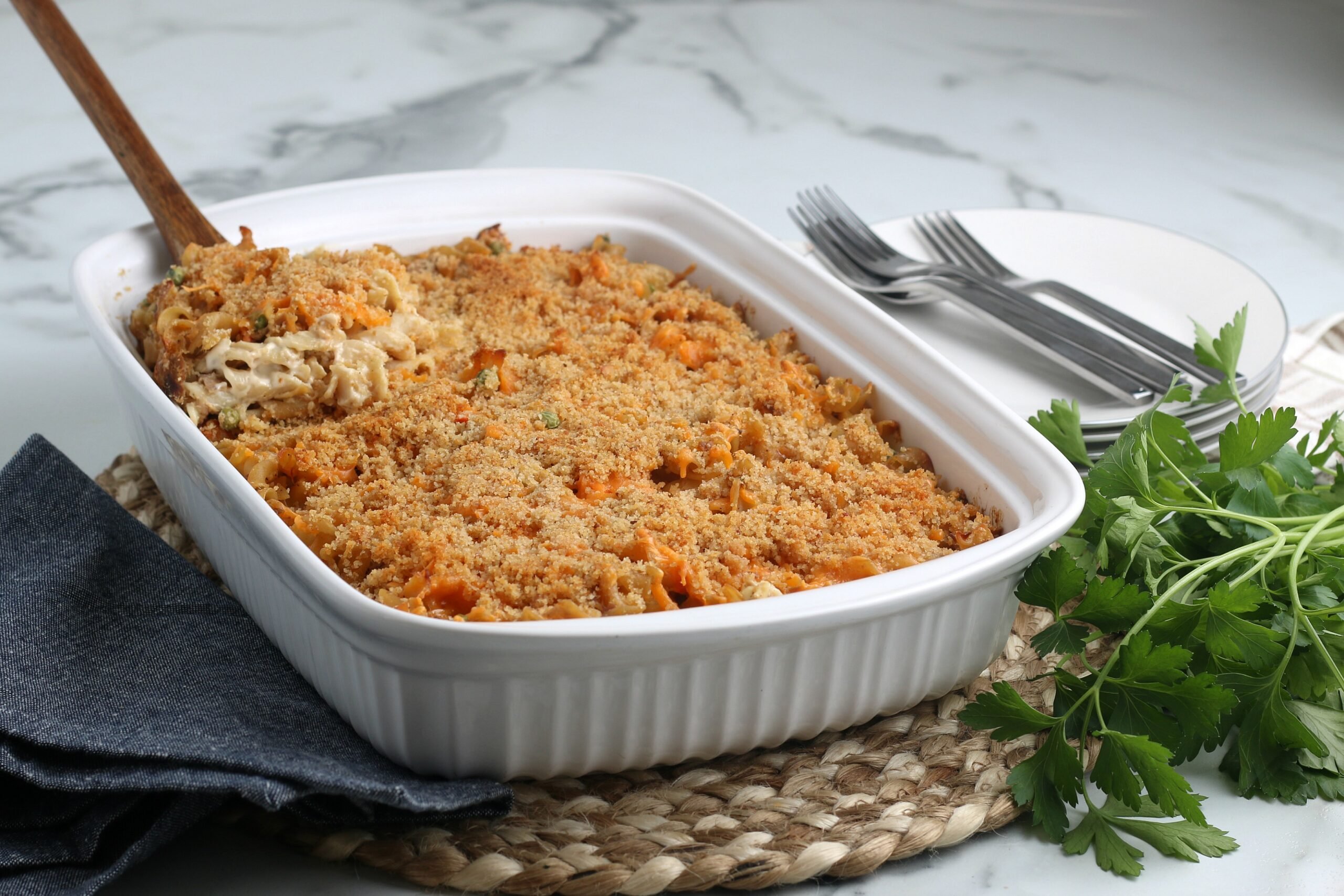 On busy nights, tuna noodle casserole is one of my go-to meals. It's such a classic dish that is also incredibly easy to make!
Tuna casserole is a creamy pasta dish that is loaded with healthy tuna and has the perfect crunchy topping. It's a one pan meal that you can whip up in less than ten minutes. It also feeds a lot of people, or, in my home, a few very hungry boys! The best part is that everyone loves it. My whole family agrees that this is one of my best dinner recipes!
Intrigued? Want to make this magical meal for your family too? Then keep reading!
Ingredients in Tuna Noodle Casserole
Tuna noodle casserole is made with a few simple ingredients. A few things from the canned section of the grocery store, a few spices, a pack of noodles and some cheese is all you need. Most of the ingredients you can keep on hand, stored in your pantry, ready to go!
Here is what you will need to make my tuna noodles casserole:
egg noodles

– I love the rich taste of egg noodles and think they are the perfect size for a baked noodle dish. They also cook quickly so you can get the casserole in the oven nice and fast!

cream of celery soup

– Cream of celery soup adds a lot of rich flavor to the casserole It is earthy and a little bit sweet.

tuna in water

– Tuna in water is healthier than tuna in oil. It also is not greasy like oil tuna. I feel like it tastes much fresher and more tender.

frozen peas and carrots

– Peas and carrots are classic tuna noodle casserole veggies. You can skip them if you'd like or stick with just peas or just carrots. So whatever your family likes!

milk

– I use whole milk to make the casserole sauce nice and hearty but any kind of milk will work!

mayonnaise

– Try lite mayo which has the same taste as real mayonnaise but a few less calories. This casserole is already plenty rich!

salt, pepper and garlic powder

– These are my perfect, go-to spices. I always have them on hand and they bring out the best flavors in this dish.

cheddar cheese

– Cheddar cheese melts into the creamy casserole sauce and also on top of the casserole, adding flavor and making the casserole look irresistable.

bread crumbs

– A crunchy breadcrumb topping may just be the best part of this dish. It adds the perfect texture and buttery taste.

butter

– I use melted butter to make the breadcrumb topping. Salted or unsalted butter will work!
None of these ingredients should be too hard to find and none of them are overly expensive. Not only is this casserole tasty and fast, but it is also economical. Are you seeing why I love it so much yet?
How to Make Tuna Noodle Casserole
When I said that this recipe takes less than ten minutes to put together, I wasn't kidding. It is so lightning fast and literally anyone can make it without a problem. To top it off, the clean up is pretty easy too!
Here's what you need to do:
1. Bring a pot of water to boil over high heat. While you're waiting for the water to boil, preheat your oven to 350 degrees F and get out your 9×13 baking pan and a large mixing bowl and spoon.
2. Cook the egg noodles in the water according to the package directions.
3. While the egg noodles are cooking, stir the cream of celery soup, drained tuna, peas, carrots, milk, mayonnaise, spices and 1 cup of cheese together in a large bowl.
4. Add the cooked noodles to the bowl and stir everything well.
5. Pour the mix into the 9×13 baking pan.
6. Sprinkle the remaining 1 cup of cheese over the casserole.
7. Melt the butter in a microwave safe bowl and then mix the breadcrumbs into the butter. Sprinkle the mix over the casserole evenly.
8. Bake the casserole in the preheated oven for about 40-45 minutes or until it is bubbling around the edges and the top is golden brown.
Yes, the casserole does cook for a while but, during that time, you can completely clean up the dishes, take a shower, and even have time to sit down to watch a quick show! Moms are all about multi tasking, right?
How to store tuna noodle casserole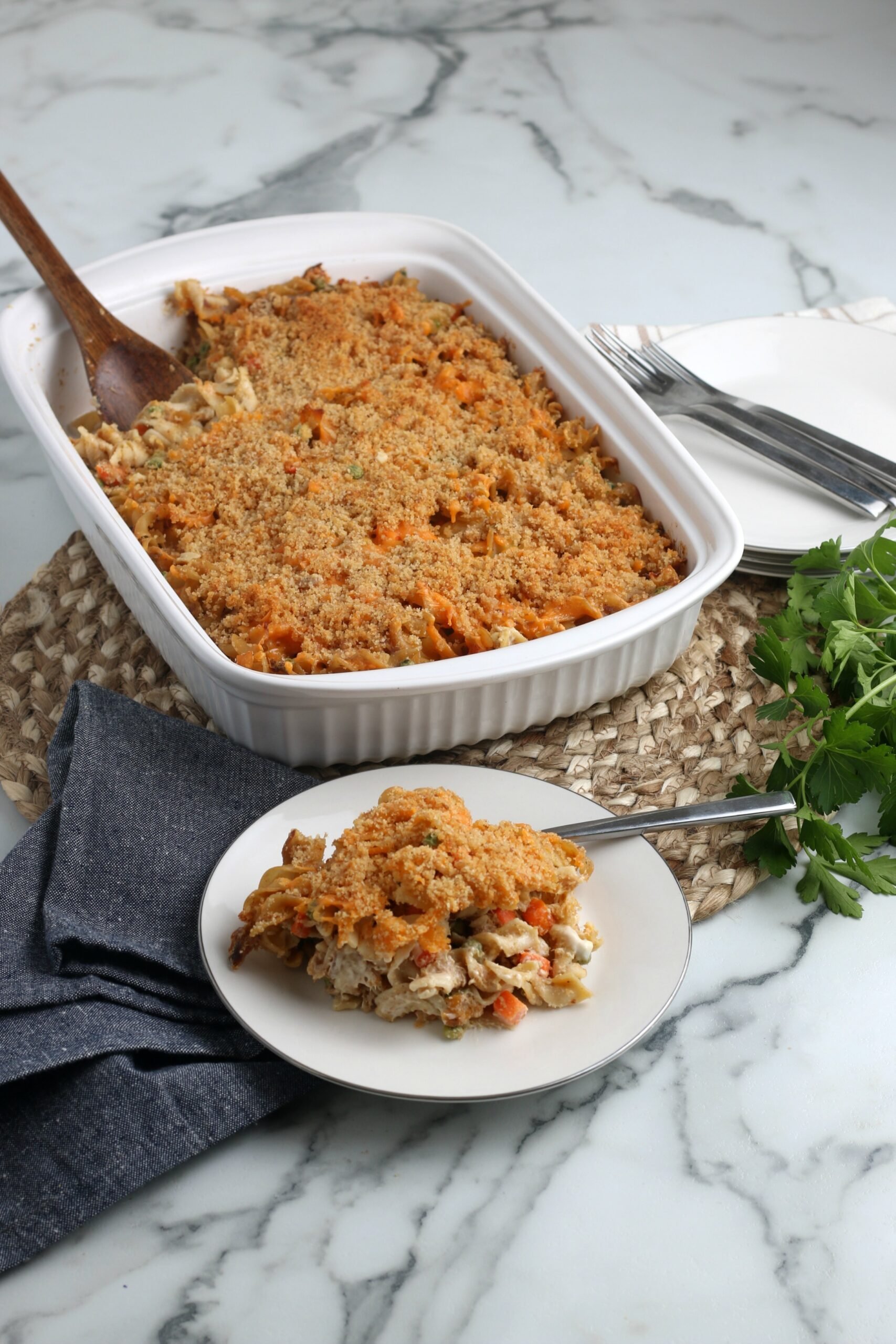 I mentioned before that this recipe does make a good amount of casserole. While my big family eats almost the whole dish, we often have leftovers. You can store the tuna casserole, wrapped tightly, in the fridge for about 4-5 days.
Tuna noodle casserole also freezes and thaws wonderfully. You can bake the casserole completely, let it cool then wrap it tightly with plastic wrap to freeze. Freeze it for about 2 months this way, thawing it overnight in the fridge when you are ready to use it.
You can also freeze the sauce mix, mixing everything in that big bowl except the noodles. Freeze this sauce mix, thaw it any time you'd like and then toss it with the noodles and cook it fresh later on. The sauce and veggie mix will keep in the freezer for up to three months. Such easy meal prep!
Variations of Tuna Noodle Casserole
I have made this tuna noodle casserole recipe so many times and switched it up in quite a few ways. Here are a few of my favorite variations that you may want to try.
Use gluten free noodles and almond flour instead of breadcrumbs for a GF version.

Skip the peas and carrots and have a plain casserole

Use shredded rotisserie chicken in place of tuna

Use cream of mushroom soup for a whole new flavor

Divide the casserole into large ramekins to bake individual casseroles (extra fancy!)
Let me know if you come up with any great variations for this recipe. I seriously make this dish so frequently that I am always trying to think of new little tweaks. Of course, the classic tuna noodle casserole is always fantastic just the way it is…
If you are a super busy mom like me, then I know you are going to really appreciate this recipe. It is quick, yummy recipes like this that can really save a hectic day. Tuna noodles casserole has been bringing families together for decades and now this classic recipe can make your family smile too! Enjoy.
*This post may contain affiliate links. Read our Disclosure Policy for more details.
Try these other delicious casserole recipes!
I hope you love this recipe for tuna noodle casserole – be sure to give it a review below!
Print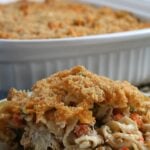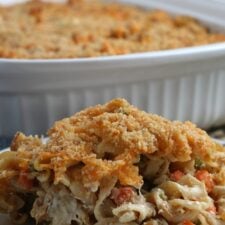 Tuna Noodle Casserole
---
Author:

Prep Time:

5-10 minutes

Cook Time:

40-45 minutes

Total Time:

0 minute

Yield:

5

-

6

servings

1

x
1

(12 oz) bag

  e

gg noodles, uncooked

1

(10.5 oz) can cream of celery soup or

1 ¼ cup

homemade

1

(12 oz) can light tuna in water, drained

1

bag (12 oz) frozen peas and carrots, rinsed ** see notes

⅓ cup

milk

¼ cup

mayonnaise

 

1 teaspoon

salt

1 teaspoon

garlic powder

½ teaspoon

black pepper

2 cups

sharp cheddar cheese, shredded, divided
For the Crumb Topping:
½ cup

bread crumbs

2 tablespoons

unsalted butter, melted
---
Instructions
Preheat oven to 350 degrees F
In a large pot boil noodles according to package directions to al dente

 

In a large bowl mix together soup, tuna, peas and carrots, milk, mayonnaise, 1 cup cheese, and seasonings until well combined
Fold in cooked noodles and mix until well combined
Pour mixture into a 13×9 baking dish
In a small microwavable safe bowl melt 2 tablespoons of butter and combine with bread crumbs
Sprinkle 1 cup cheese on top of casserole
Sprinkle bread crumb mixture on top of casserole

 

Bake for about 40-45 minutes or until golden brown and bubbly
Store leftovers in refrigerator

 
Notes
Peas and carrots are optional and can be omitted. But if you want to add peas, use frozen peas only.