This easy Turkey Gravy Recipe made with turkey drippings will become your go to gravy this holiday season! It's rich and packed with flavor perfect over roasted turkey.
I think I finally have my Thanksgiving menu completed. How is yours coming along? Do you know what you are going to serve this year?
I love planning my family's Thanksgiving meal. I always have the classics like oven roasted garlic herb butter turkey and loaded mashed potato casserole. But I also like to add in a few new and exciting dishes. I play around with cranberry sauce, stuffing ingredients and always test out a new pie or two. I like Thanksgiving to be traditional but fun!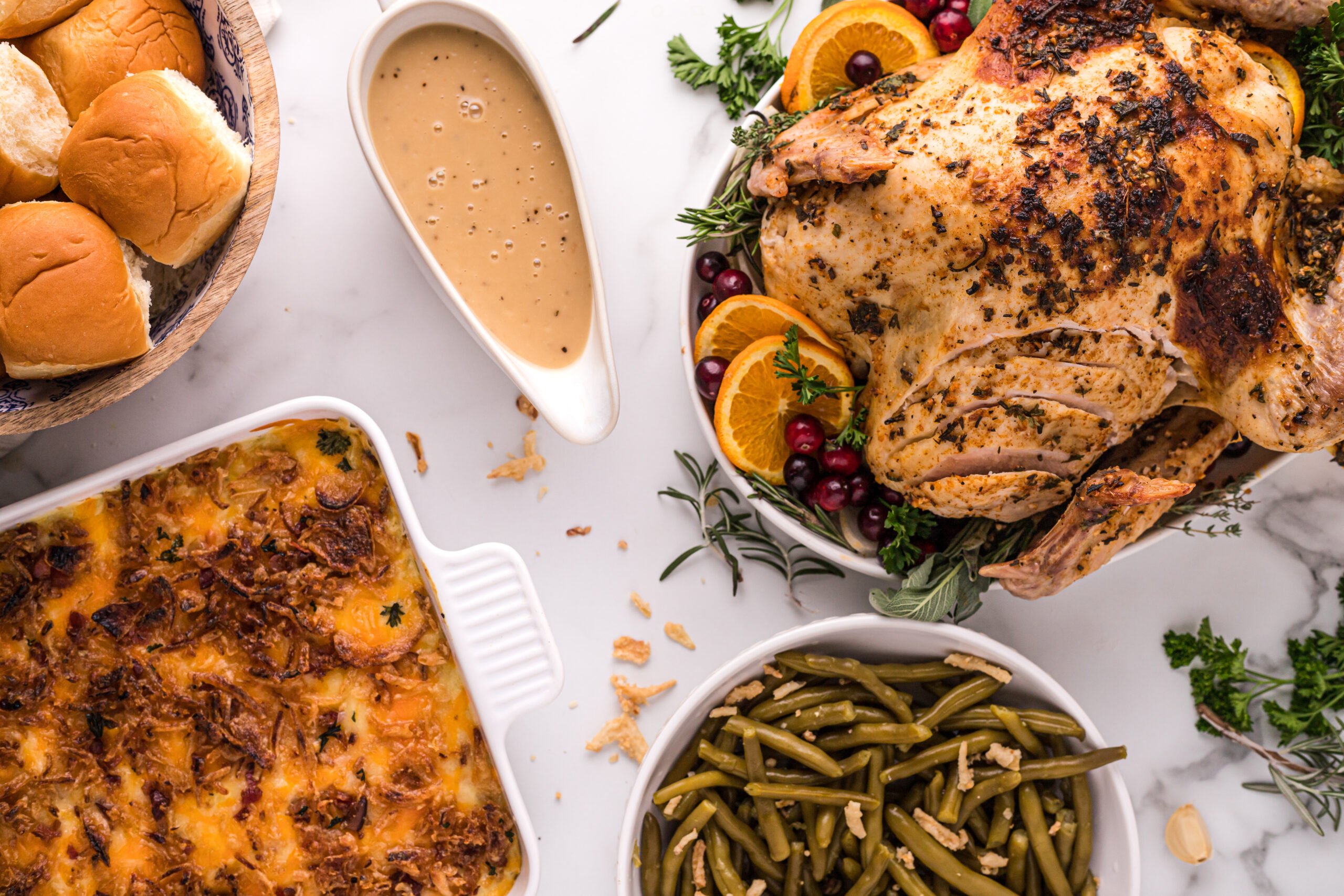 One thing that I believe has to be on every Thanksgiving table is a perfect and yet, easy turkey gravy. Making a delicious gravy is actually very easy. You just need the right ingredients and you will have a tasty sauce that you can pour over everything on your Thanksgiving plate. I love gravy on turkey, mashed potatoes, biscuits, stuffing….It goes with all of the food!
Take a look at my easy turkey gravy recipe and get ready to make a delicious Thanksgiving gravy everyone will adore. The gravy really is what ties the whole meal together!
How to Make Easy Turkey Gravy
I am a firm believer in the fact that easy and simple recipes are best. This turkey gravy recipe is proof that you don't need a ton of spices or to spend hours in the kitchen to make something amazing. Here are the only ingredients you need to make Thanksgiving turkey gravy: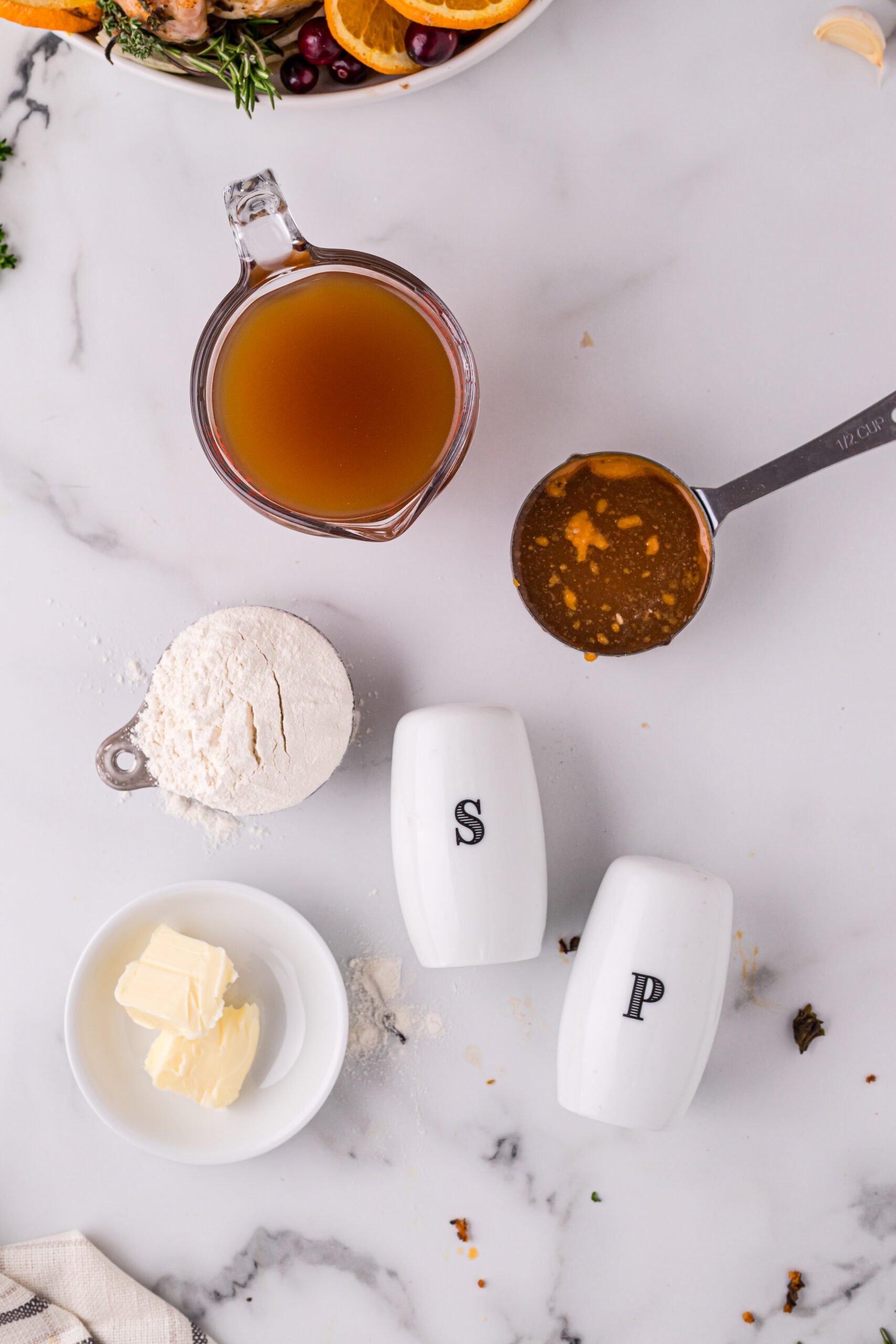 turkey drippings– The drippings from my oven roasted garlic turkey already have so much flavor and seasonings that you don't even need to add spices to this turkey gravy recipe. The drippings are already perfectly seasoned!
flour– Flour helps thicken the gravy
butter– Melted butter whisked with flour makes a roux to thicken the gravy perfectly. Butter also adds a nice creamy texture to the turkey gravy recipe.
salt & pepper- A little salt and pepper always bring out the flavors in any dish
turkey broth– Extra turkey broth will help bulk up the gravy, giving you extra sauce for all your yummy Thanksgiving foods.
With all the Thanksgiving prep you are doing, I bet you already have a lot of these ingredients on hand! They are pretty standard Thanksgiving necessities.
Easy Turkey Gravy Recipe (No Drippings)
If you plan to buy a pre-roasted turkey, you may not have any pan drippings to use for the gravy. That is no problem at all! Simple replace the turkey drippings in this recipe with extra turkey broth. I would also recommend adding:
½ teaspoon garlic powder
¼ teaspoon fresh chopped thyme
¼ teaspoon fresh chopped sage
These extra seasonings will make up for the lack of drippings which usually contain all the flavor. Skipping the drippings is perfectly fine and your easy turkey gravy will still be amazing.
How to Make Easy Turkey Gravy
If you do have the turkey drippings on hand, you can follow my easy homemade turkey gravy recipe exactly as it is written. Here is what you will need to do: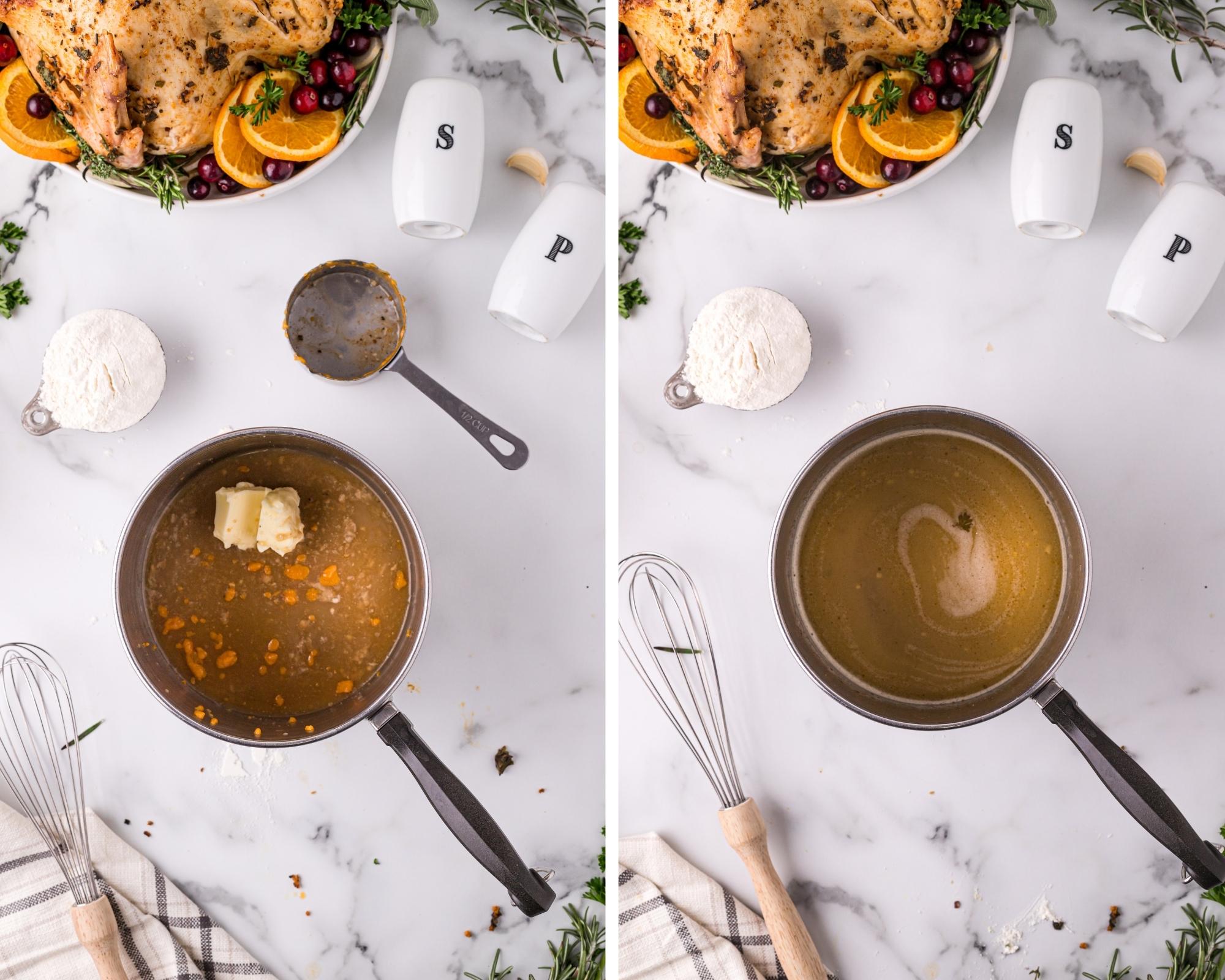 1. Add the turkey drippings, flour, butter, salt and pepper to a saucepan and heat over medium heat.
2. Whisk the mix well so there are no clumps of flour in the bottom of the pan.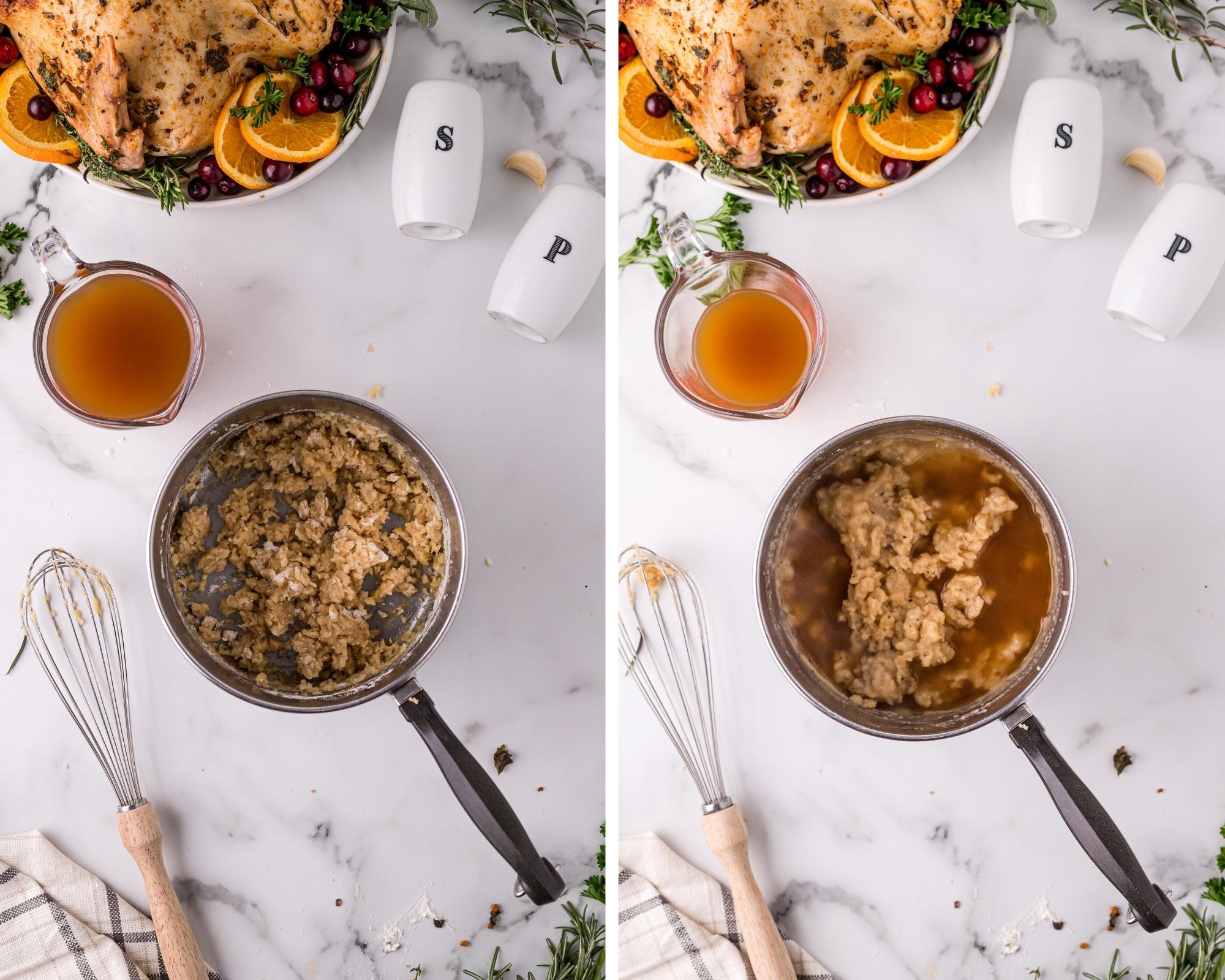 3. Once the mix is simmering, whisk in the turkey broth.
4. Continue to whisk the gravy over medium heat until it thickens. This will take about 3-5 minutes.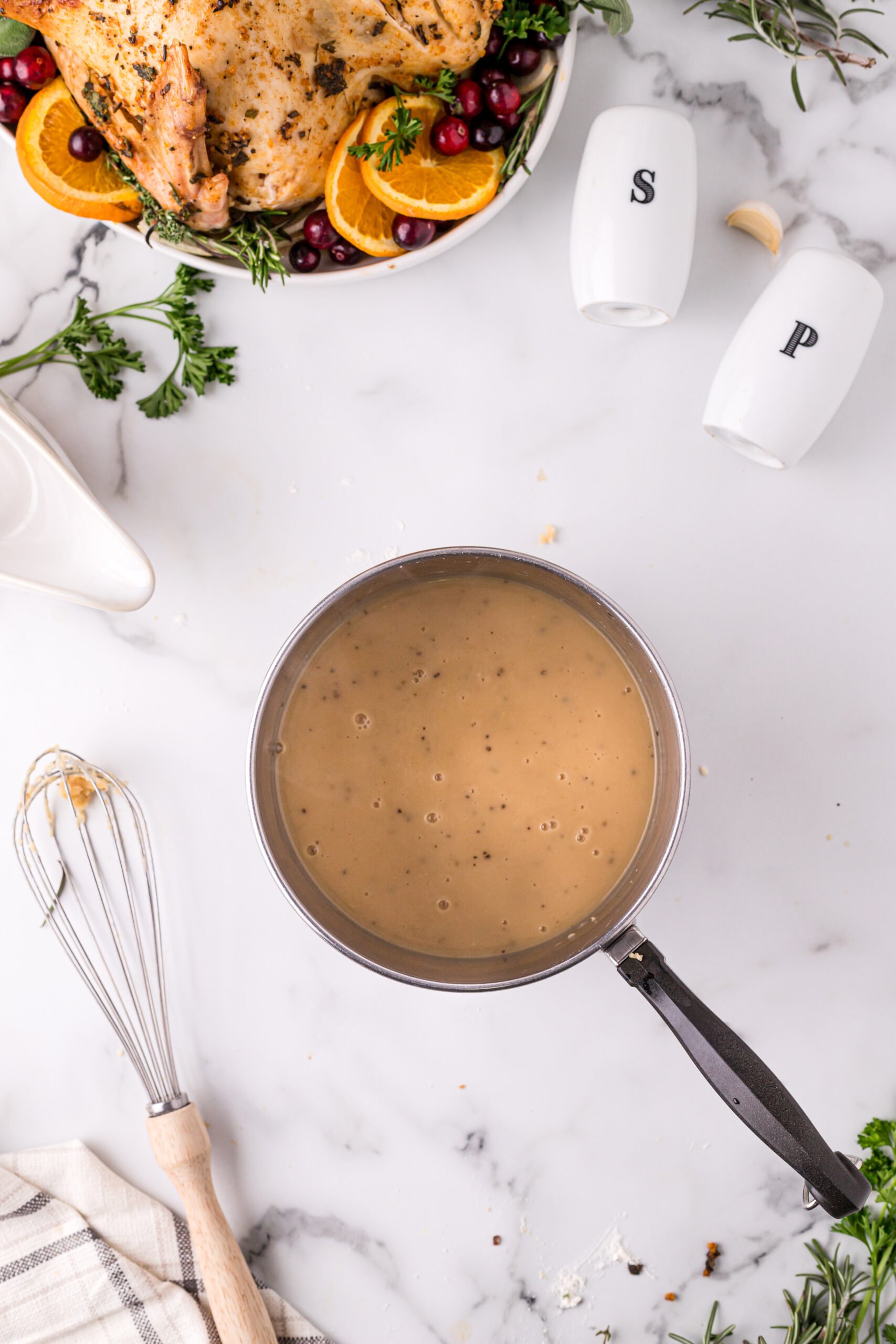 5. Enjoy while the gravy is warm!
This delicious turkey gravy recipe is so simple that it only takes about 8 minutes to make. It may be the easiest thing you cook for Thanksgiving! I love making Thanksgiving dinner as easy and tasty as possible.
Tips and Tricks for Making the Perfect and Easy Homemade Turkey Gravy
I love sharing tips and tricks that make my recipes even easier. I have made this easy homemade turkey gravy countless of times so I have a few little secrets I want to share that make it truly perfect.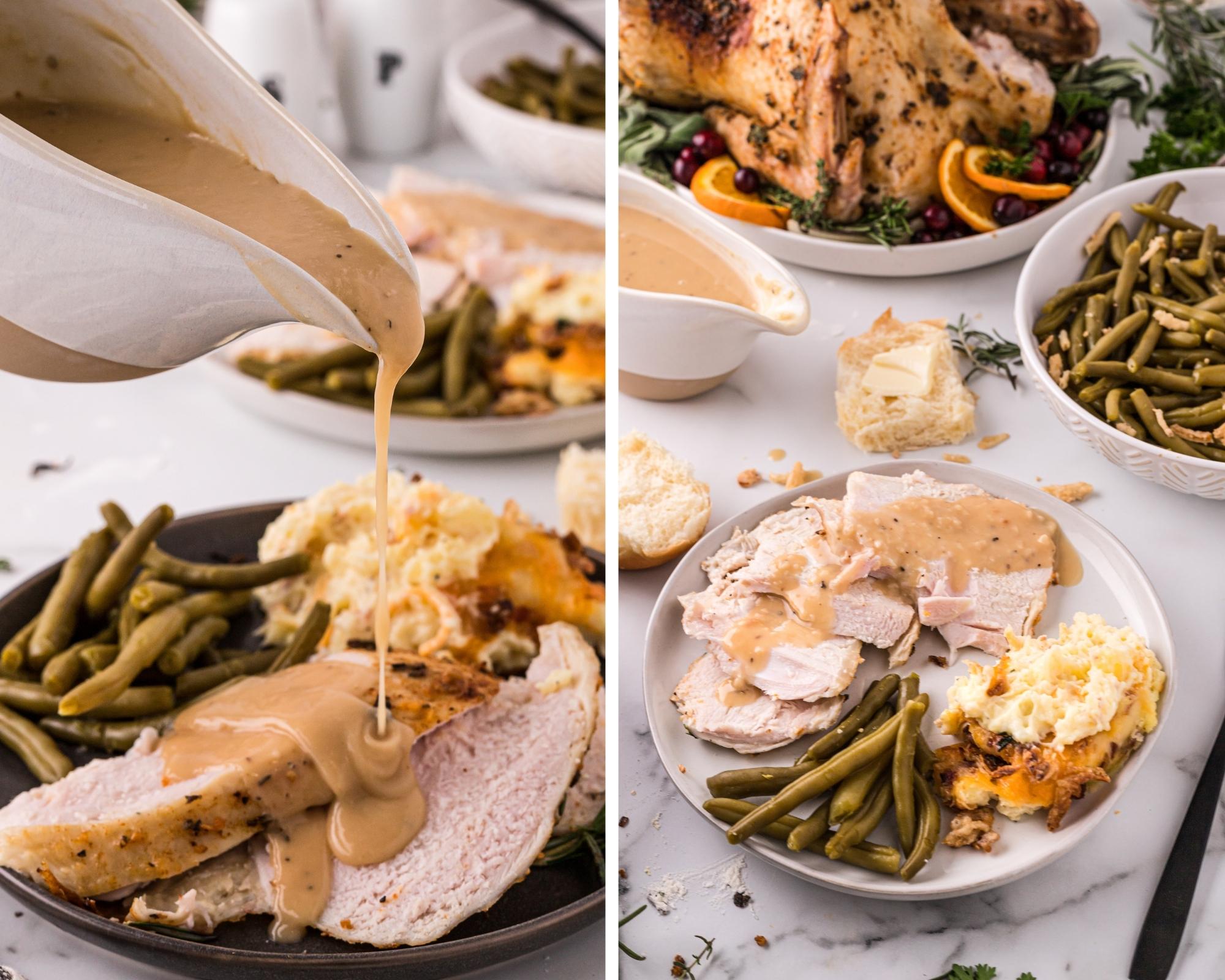 Make the turkey gravy ahead of time (skip the drippings if you have to!). The turkey gravy reheats perfectly and will stay fresh in the fridge for 3-4 days. This is one less thing you have to do on Thanksgiving day!
Melt the butter in the saucepan first then whisk in the flour. Add everything else afterward. This will help prevent the flour from clumping and make a very smooth gravy.
If your gravy has little flour clumps, don't be worried! Simply pour it through a fine mesh sieve and discard any clumps. Even professional chefs get flour lumps in their gravy sometimes!
Chicken broth or vegetable broth can be used in place of turkey broth but the turkey flavor won't be quite as strong.
Pan drippings often have pieces of seasonings or even bits of turkey. If you want a perfectly smooth gravy, simply strain it through a mesh sieve once it is done cooking. This will remove any pieces from the pan drippings.
Double the recipe- you will be glad you did! There can never be too much gravy on Thanksgiving!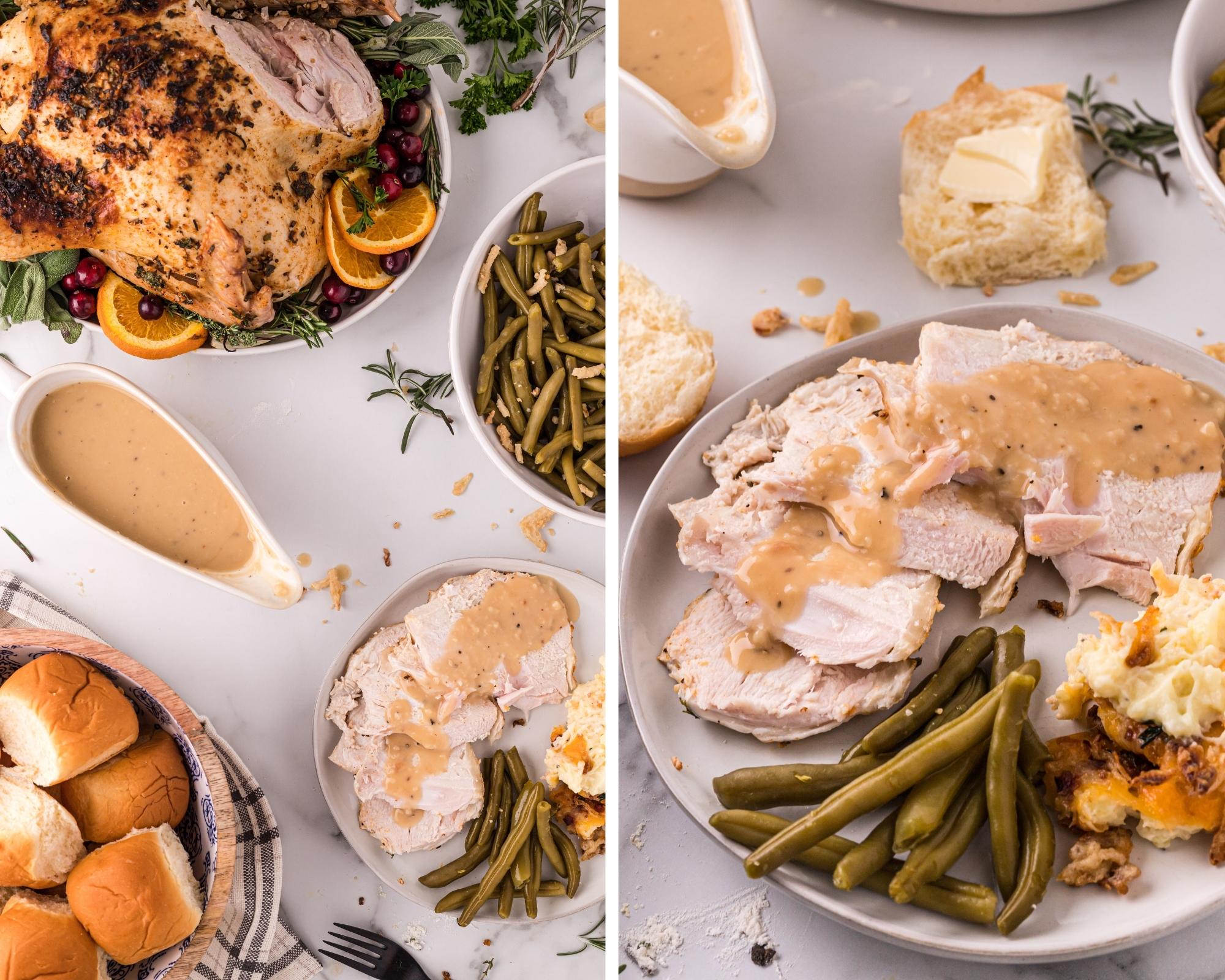 If you have any turkey gravy recipe secrets, please share them! Anything that will make Thanksgiving dinner taste better and easier to cook is a trick I want to learn.
A good turkey gravy on Thanksgiving is so important. You can really taste the difference between a homemade turkey gravy and one bought in the store. This easy turkey gravy recipe is a great reason to not ever buy gravy at the store again!
Make your Thanksgiving extra special this year with the best turkey gravy recipe there is. Everyone in my family agrees this one is the best! Let me know how much your family loves it, too.
Happy Thanksgiving!
Print
Easy Turkey Gravy Recipe
---
Description
This easy Turkey Gravy Recipe made with turkey drippings will become your go to gravy this holiday season! It is rich and packed with flavor perfect over roast turkey.
---
½ cup turkey drippings
1/3 cup all-purpose flour
2 tablespoon butter
½ teaspoon salt
1 teaspoon black pepper
2 cups turkey broth
---
Instructions
In a saucepan add in drippings, all-purpose flour, butter, salt, and black pepper. Whisk over low medium heat, for 3 minutes.
Slowly add in broth and continue to whisk. Stir until you have reached a smooth and creamy  consistency.
Turn off heat and stir occasionally until you are ready to use.
You Might Also Like…