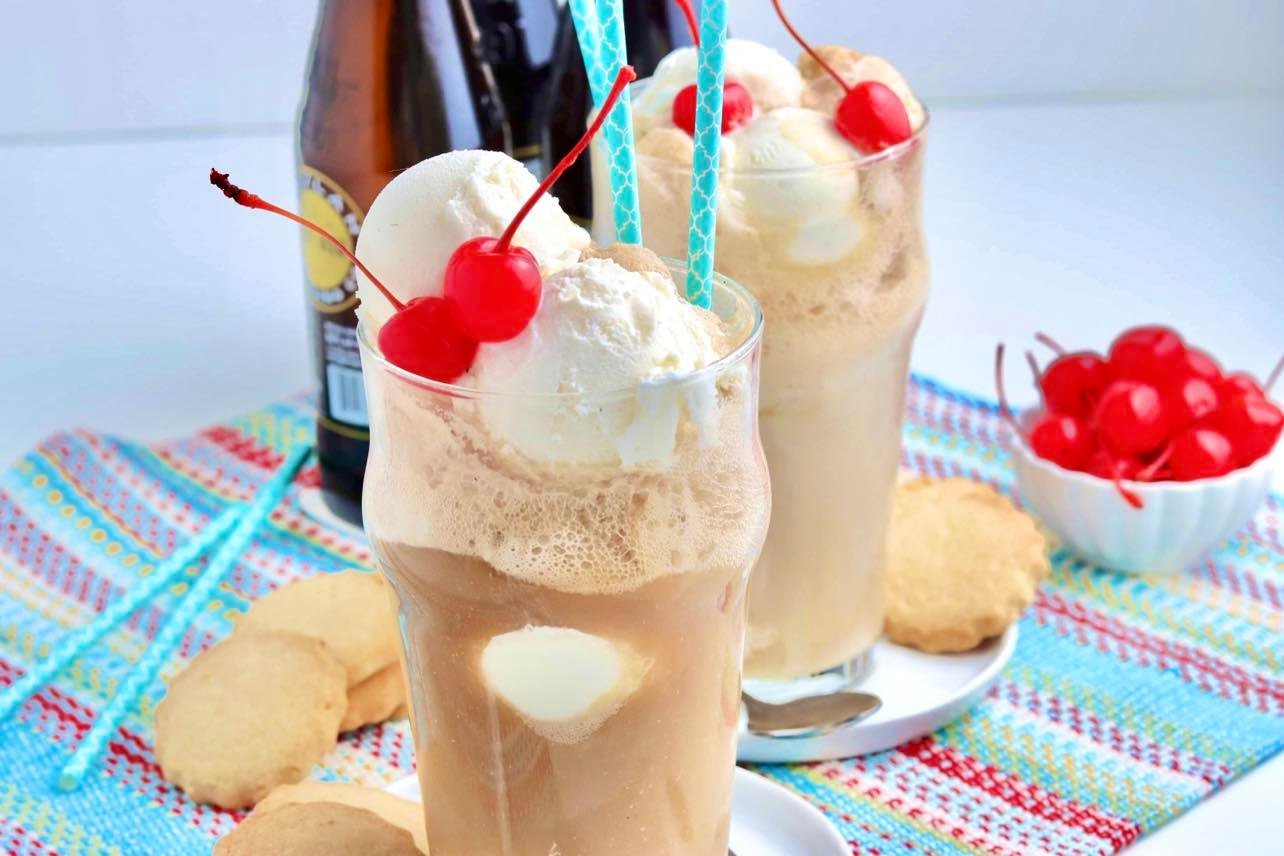 Root beer float – a classic and everyone's favorite summertime drink made with chilled, bubbly root beer, creamy vanilla ice cream and then topped with a few maraschino cherries. This root beer float recipe is quick to make and ready in just a few minutes!
I remember drinking root beer floats every summer when I was a kid. Now, as an adult, I still crave a perfect root beer float. The bubbly, creamy root beer and the thick, rich ice cream is the perfect combination. It's like a dessert in a glass! Aren't you craving one right now?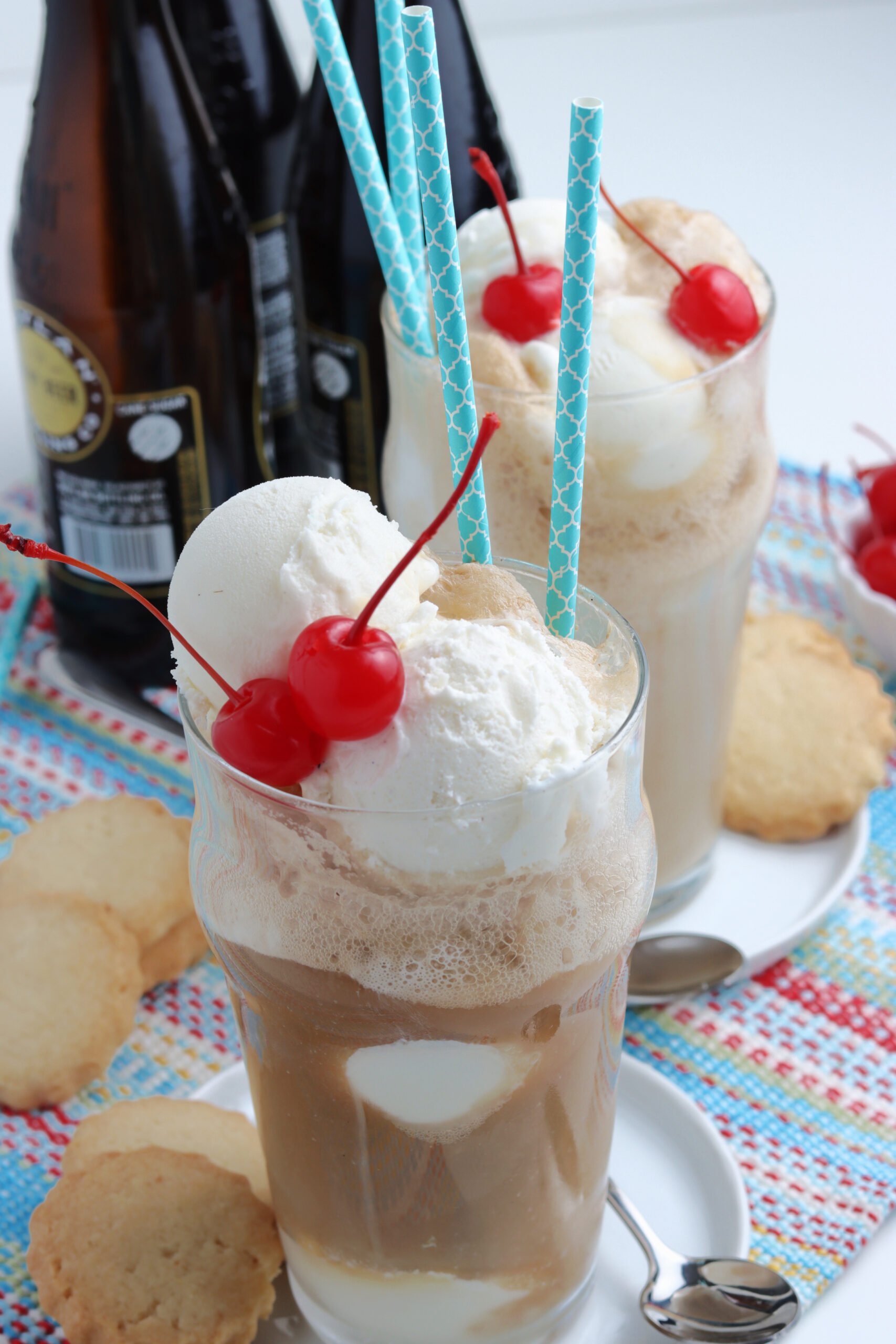 If you're looking to get a piece of your summer childhood back, then you're in the right place! That's because today, I'm going to show you how to make a root beer float. Guys, this recipe for root beer float is super easy to make and tastes amazing!
Read all my tips and tricks to help you make this perfect, yummy drink that's perfect for cooling off on these hot summer days! I have made quite a few of these root beer floats this summer and I still can't get enough! I might go make one right now to sip while I write! 😉
What is a Root Beer Float?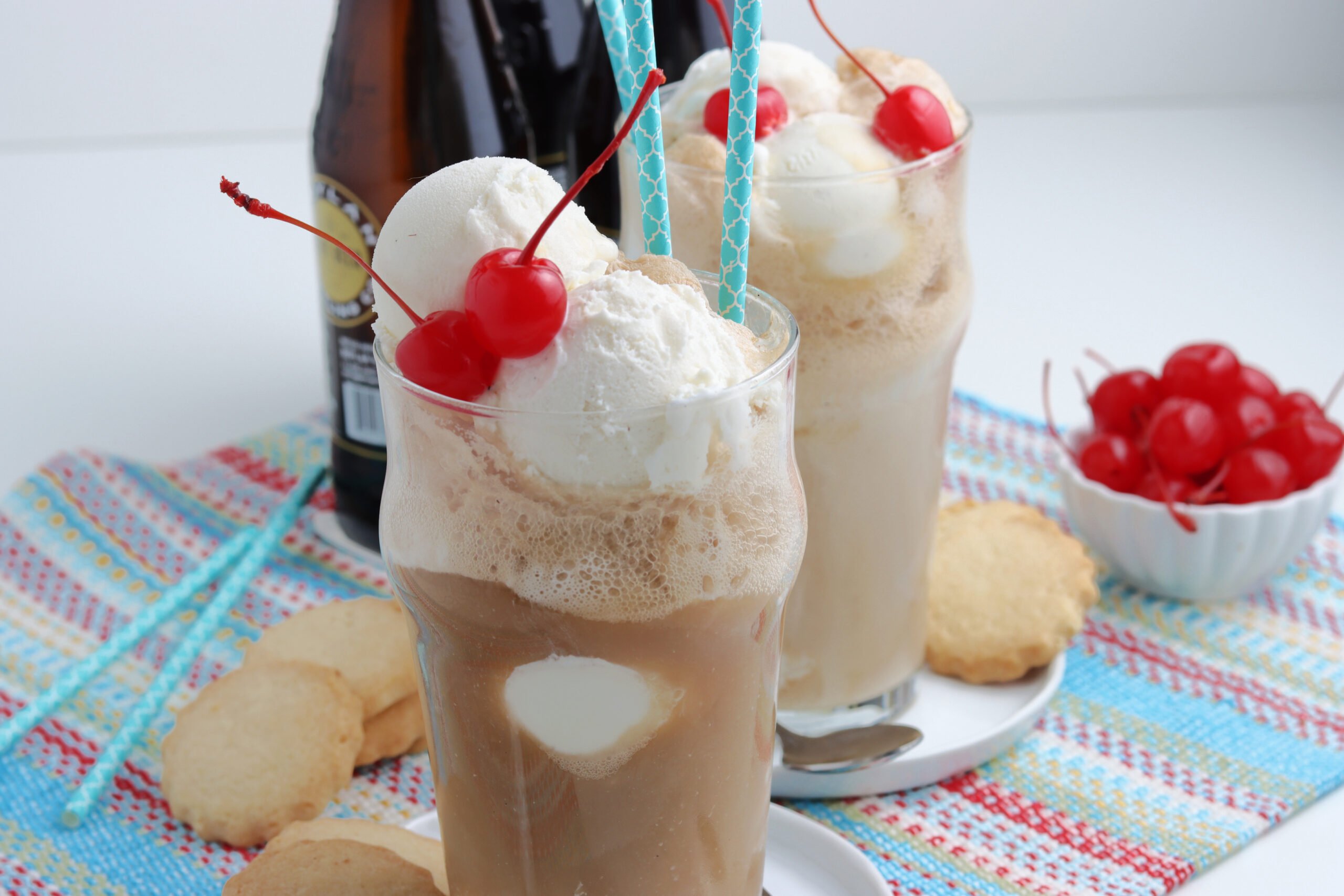 The root beer float was first created in 1893 by a Colorado gold mine owner named Frank J. Wisner. On a cold winter's night, Wisner added a scoop of vanilla ice cream to his root beer to make a delicious dessert. He loved it so much that he tried serving it in his soda shop the next day. It was a huge hit! He named the drink "Black Cow Mountain" after the nearby Cow Mountain but local children started calling the drink "black cow".
Root beer floats have been popular now for over a century. It is such a classic, simple drink that everyone should know how to make one. I can definitely help with that!
Ingredients You Need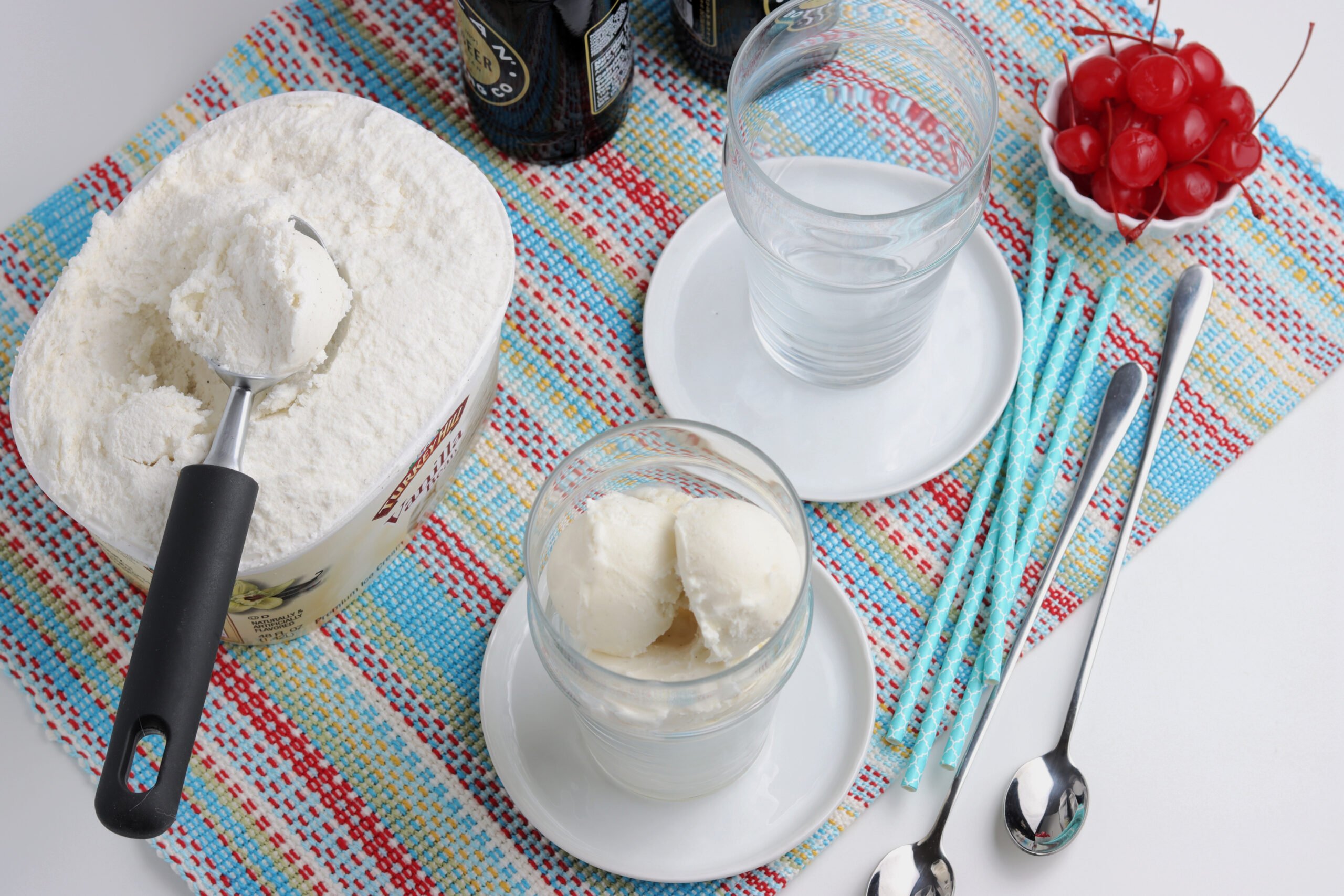 Root beer float only requires two simple ingredients: Root beer and vanilla ice cream.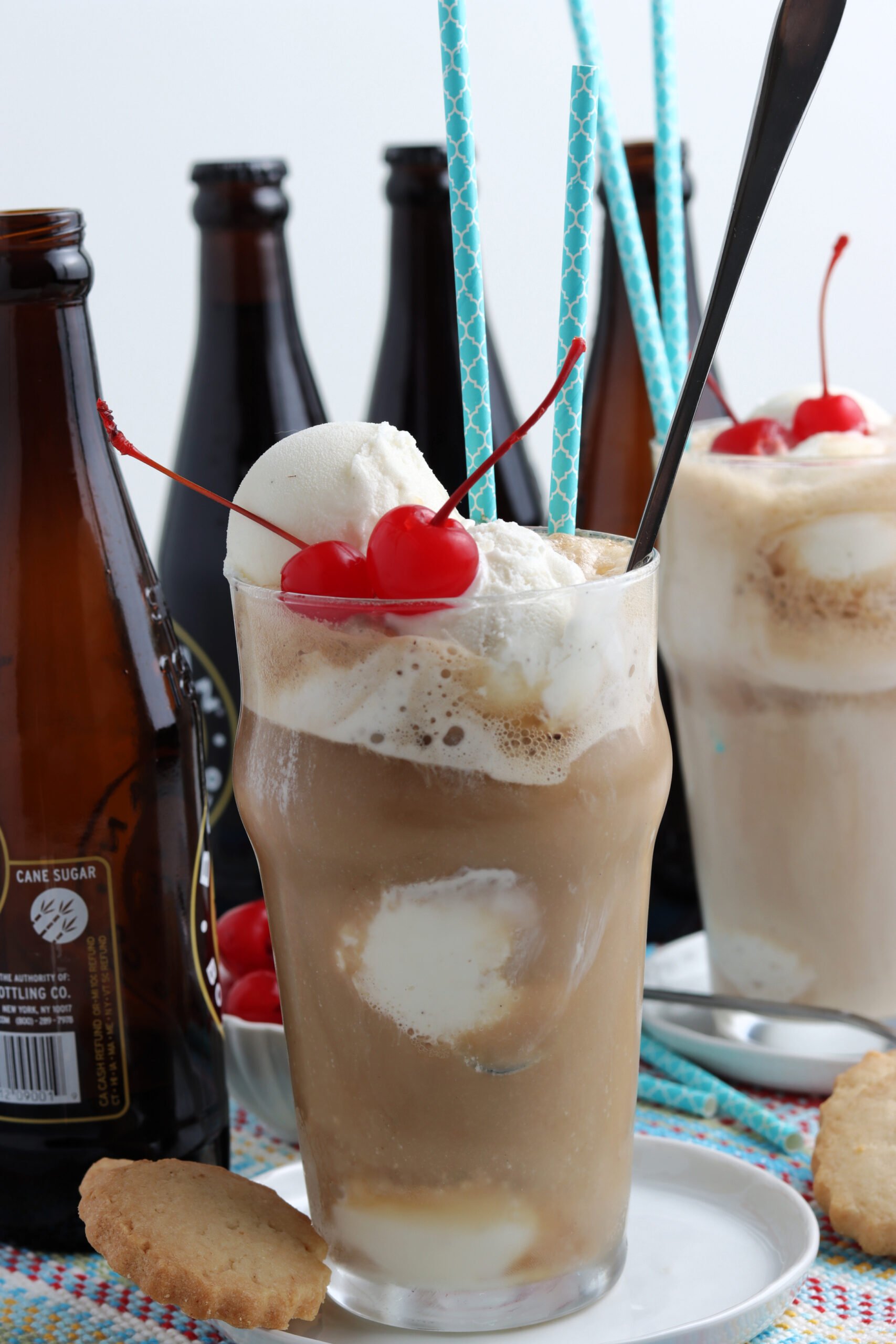 Since the ingredients are so simple, you want to be sure to use the highest quality ingredients possible. Splurge on the best root beer and grab the best brands. My favorite root beer brands are:

A&W

Barq's

Stewart's

IBC

Bulldog

Red Arrow



Definitely go for the richest ice cream. I like to use vanilla bean ice cream that has extra specks of vanilla. Not only does it look pretty – it has more flavor too!
How to Make a Root Beer Float
There is nothing easier than making a root beer float. It takes only a few minutes to put together and then you can sip and savor it for as long as you'd like!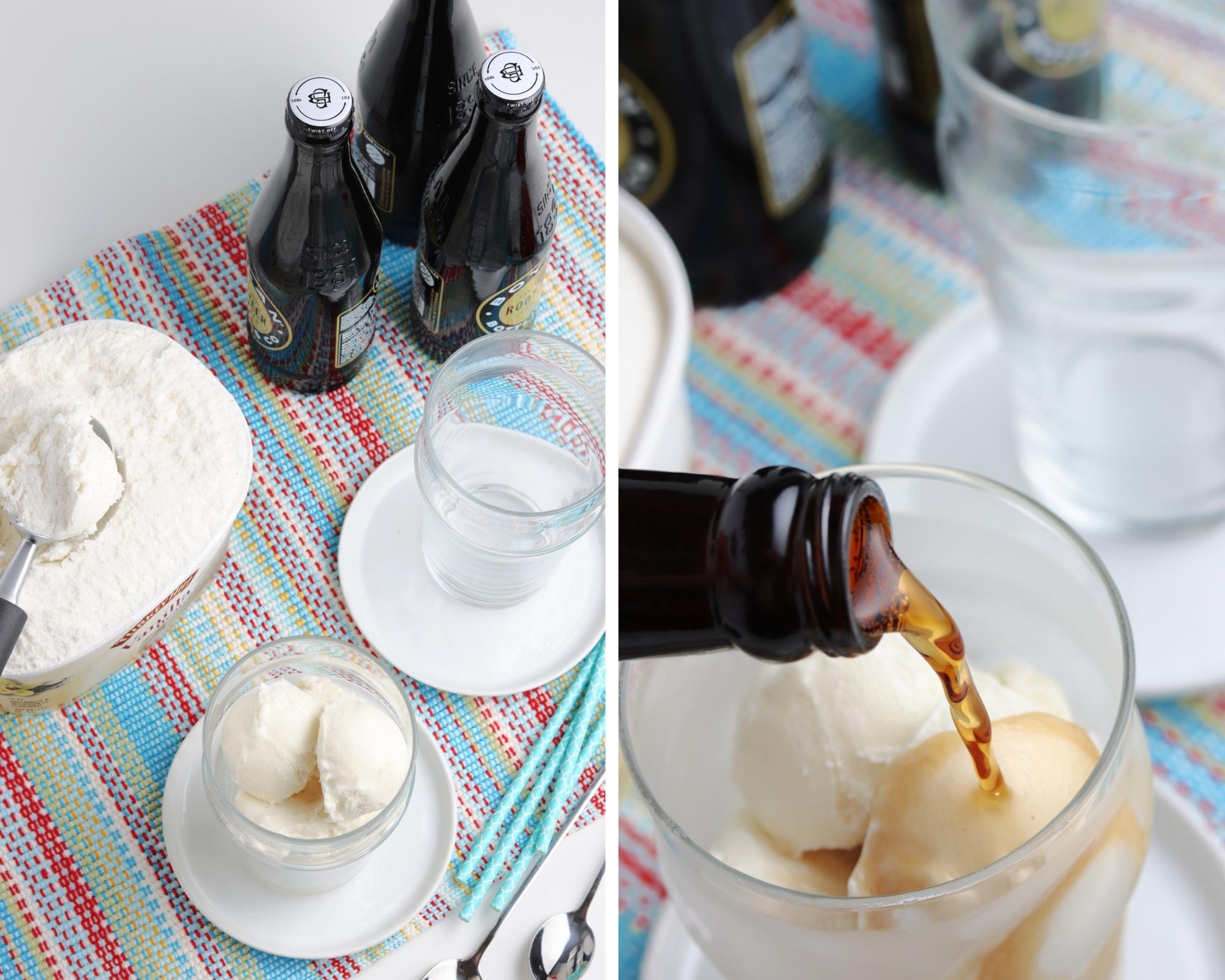 1. Add the vanilla ice cream to a tall, chilled glass.
2. Slowly pour the root beer over the ice cream until the glass if full.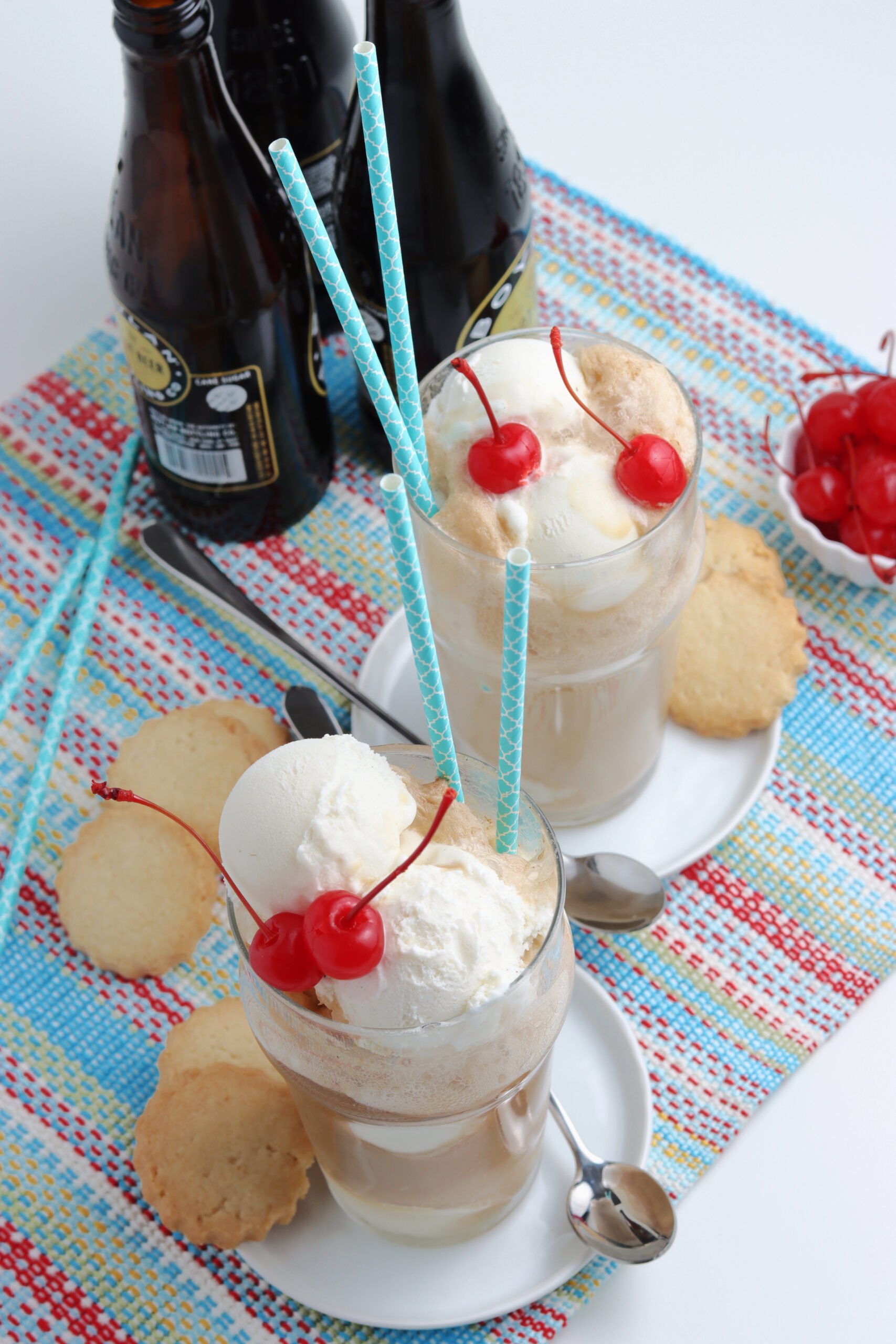 3. Add whipped cream, a cherry, or a fun straw then enjoy!
These yummy, fun floats are so easy, anyone can make them! Even my son is hooked on making them. He has one every night for dessert! Such a lucky kid…
Tips and Tricks for Making the Best Root Beer Float
I have been drinking root beer floats my whole life so I've gathered a few of my best tips and tricks to help you make the perfect root beer floats every time.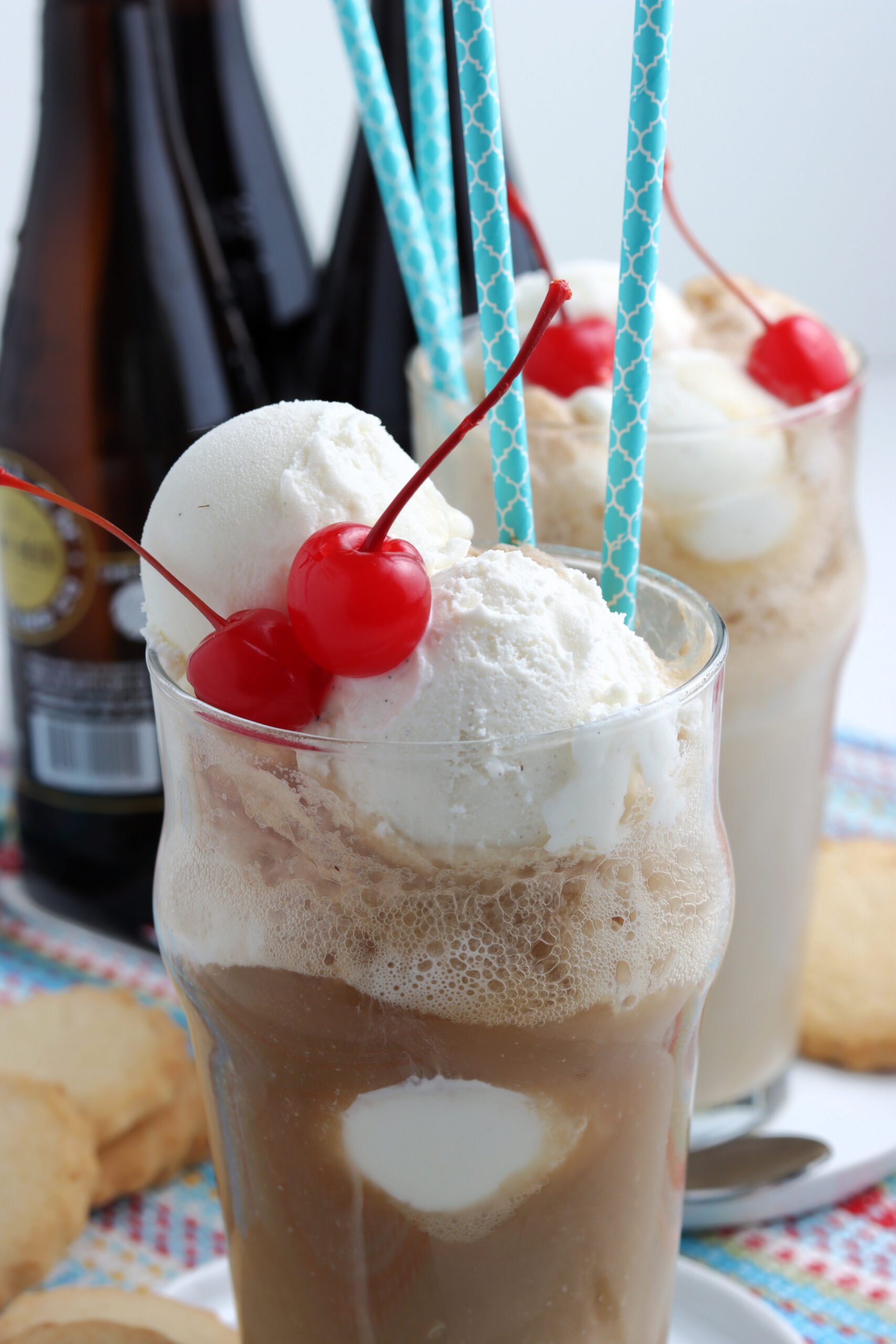 Be sure to use a tall glass or a large beer stein. These will fit more ice cream and more root beer. Trust me, you want MORE.

Put your glass in the freezer for about 30 minutes to make it frosty and cold.

High quality ingredients are key! You will taste the difference.

When adding the root beer to the glass, be sure to pour on an angle. Tip the glass toward the root beer as you pour. This will reduce fizz and prevent the drink from overflowing.

Serve the floats with spoons instead of straws. This makes it feel even more like a dessert.

Make the floats and then pop them back in the freezer for about 20 minutes. The floats will come out super creamy and thick float and you will definitely need to eat with a spoon.
Root Beer Floats Recipe Variations
There are a few ways to switch up my recipe for root bear float and make this classic drink a little more unique. Give these variations a try and let me know what you think!
Add a shot of bourbon or Rum Chata to the glass to make an alcoholic, adult root beer float.

Drizzle some chocolate syrup around the glass before adding the ice cream and root beer to make a chocolate version. Chocolate root beer floats are now actually called "black cows" which I never knew!

Add ½ teaspoon of vanilla to the glass to make a very vanilla root beer float.

Place all the ingredients in a blender along with 1 cup of ice. Puree until the ice is smooth and then serve. This makes a slushy float that is quite refreshing.
You can't go wrong with these classic summer floats but adding a little twist is even more exciting!
I think that you need a root beer float. It is a summer time classic and it will bring childhood nostalgia in every sip. Make my root beer float recipe now and act like a kid again. We all deserve an easy summer treat like this. Enjoy!
*This post may contain affiliate links. Read our Disclosure Policy for more details.
Try these other easy summertime dessert and drink recipes!
I hope you love this recipe for root beer float – be sure to give it a review below!
Print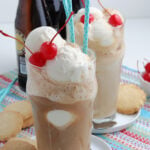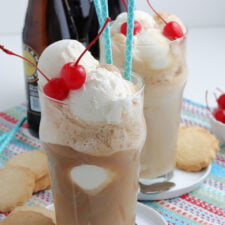 Root Beer Float
---
Author:

Prep Time:

5 minutes

Total Time:

5 minutes

Yield:

2

-

4

servings

1

x
vanilla ice cream
Root Beer
Toppings:
Maraschino cherries 
---
Instructions
To make the float frosty, place glasses or mugs in the freezer about 30 minutes before serving.

Add several scoops of ice cream to glass.

Pour root beer over ice cream.

Add maraschino cherries on top, or any topping you like.

Serve immediately!