Here's an easy tutorial on how to make a milkshake. I'm showing you how to make the best and easiest milkshake recipe you can make at home + milkshake flavor ideas!
If you've been dying to the best homemade milkshake recipe, you've found it here!
I love a cold, thick milkshake in the summer. Not only are milkshakes incredibly delicious, but they are also a summer icon. So, today I'm going to show you how to make your own milkshakes at home!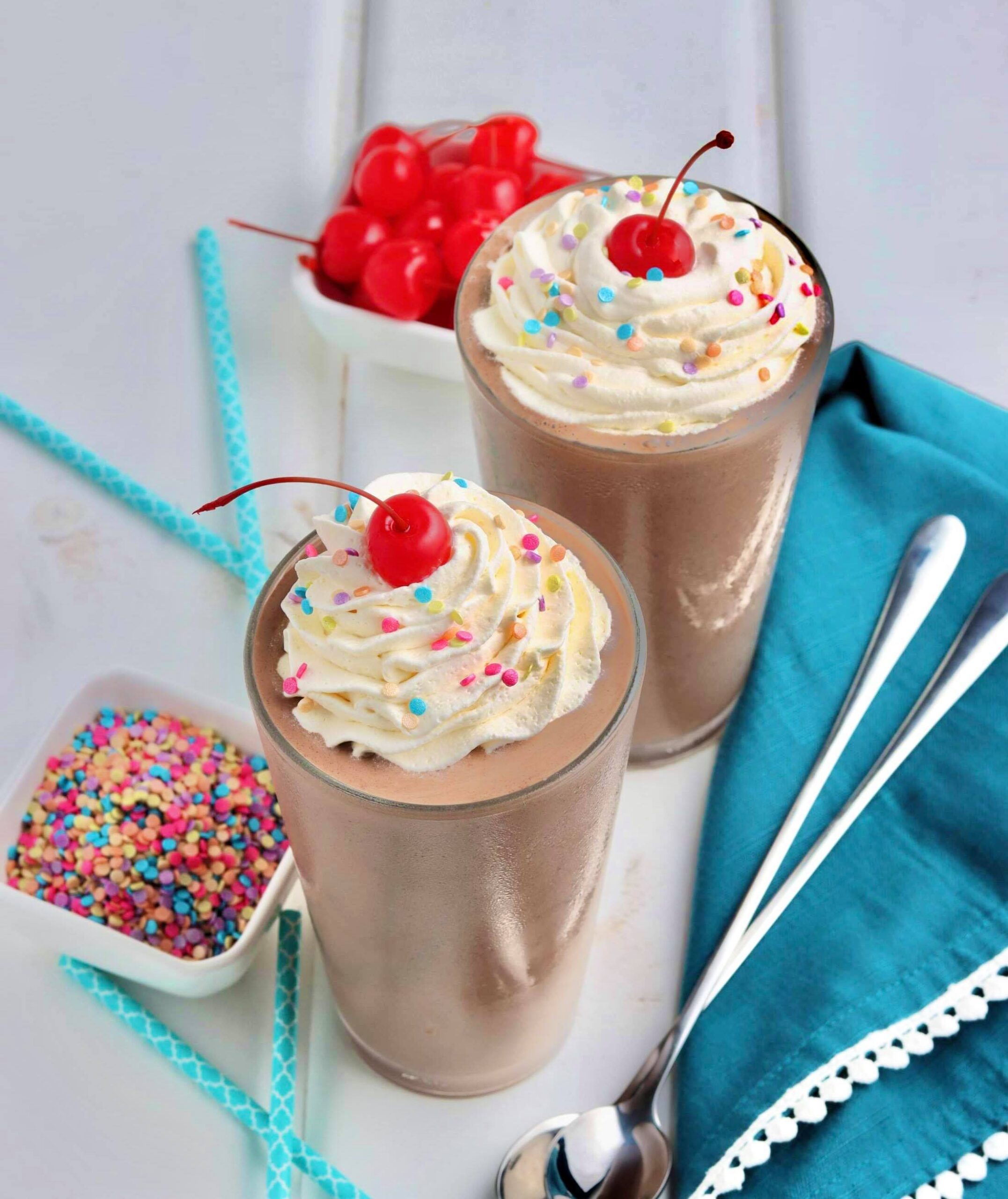 I bet a lot of you have fond memories of sipping milkshakes to cool down in the summer heat. But when was the last time you had a really great milkshake? If you have to think about it, it has probably been too long! It's time to learn homemade milkshake so you can treat yourself whenever you'd like.
You don't need to go to the ice cream parlor to get an amazing milkshake! My milkshake recipe is also super flexible. You can change the flavor, add some tasty mix-ins and really switch it up to suit your personal preferences. And the best part is that it is very, VERY easy to make the perfect milkshake. So let's get blending!
Milkshake Ingredients
A good homemade milkshake has very few ingredients. All you really need are ice cream, milk and flavored syrup, sauce or any mix-ins of your choice!
To make a thick milkshake, full of rich flavor, you don't want to add much more than these main ingredients. Some milkshake recipes add ice but that tends to water the milkshake down. Stick with the basic milk and ice cream and you will have a perfect thick milkshake.



Thinking of a different flavor milkshake? Here is how you can make a whole new milkshake:
Vanilla Milkshake– Use vanilla ice cream and milk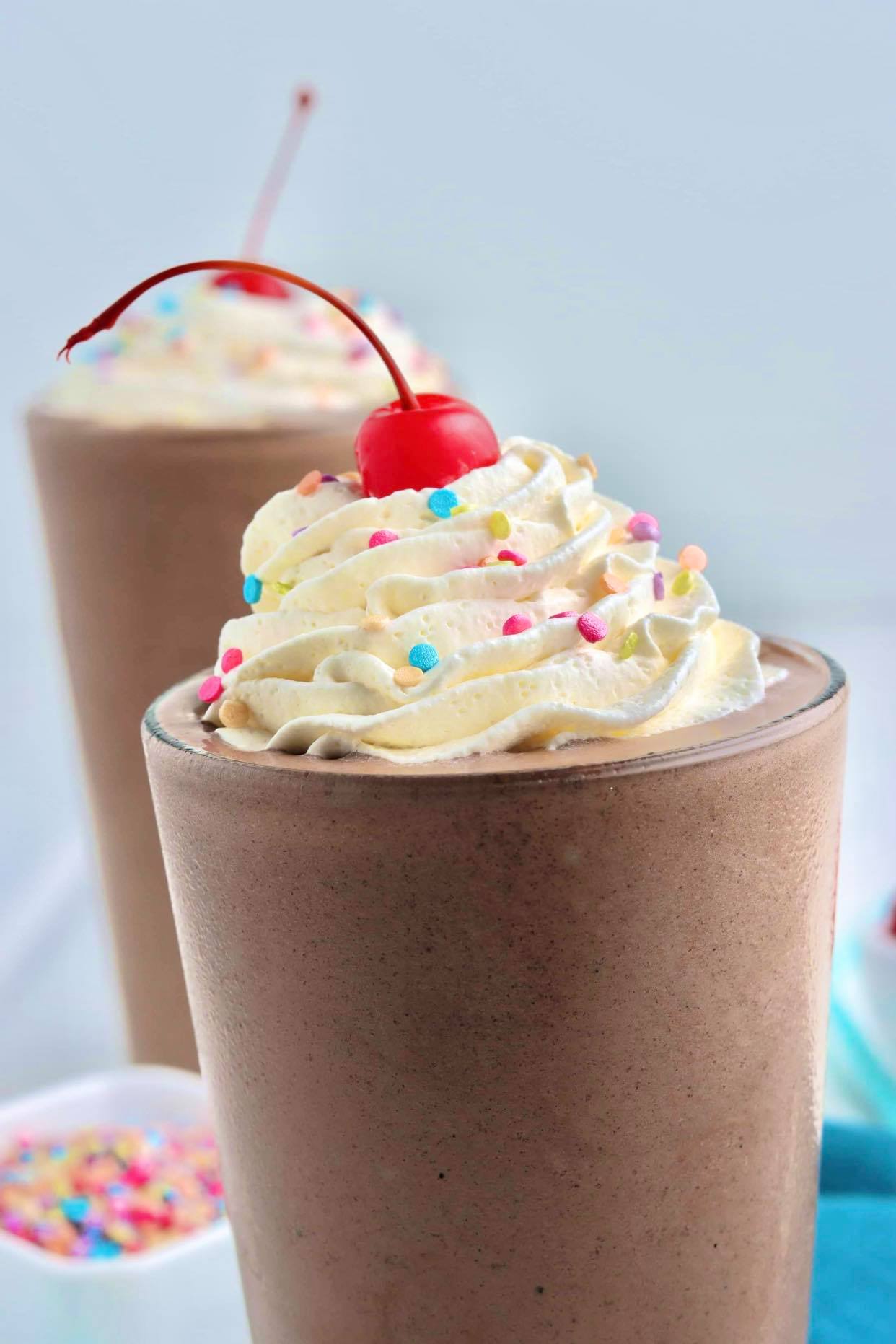 Chocolate Milkshake– Use vanilla ice cream, milk and chocolate syrup, just like in my recipe below
Strawberry Milkshake– Vanilla ice cream, milk plus fresh strawberries will blend into a perfect strawberry milkshake.
Raspberry Milkshake– Vanilla ice cream, milk and fresh raspberries
Caramel Milkshake– Vanilla ice cream, milk and caramel sauce
Vanilla ice cream is always a good ingredient to have on hand. It can be made into almost any kind of shake!
What Type of Milk to use in a Milkshake?
I like to use whole milk in my milkshake. Whole milk has more milk fat and is the creamiest milk option. You can opt to use 2% or even skim but, once again, the milkshake will be a little more watery. When you are treating yourself to a rich, creamy shake, why skimp on the milk? Whole milk is definitely the best option!
I also like whole milk because it is very drinkable. Sure, heavy cream or half and half would make a shake that is even creamier, but it is hard to drink a shake with THAT much fat added in. Whole milk is a nice middle ground between skim milk and heavy cream. It is creamy enough but no too watery. I definitely recommend whole milk for milkshakes!
Homemade Milkshake: Step by Step Guide
Making a milkshake is extremely simple. Once you have all your ingredients ready, here is what you need to do.
Scoop the ice cream directly into the blender.
Add the milk.
Blend on medium high speed for about 30 seconds. The milk and ice cream should blend together well and look thick, creamy and smooth.
Pour into a glass. You may need to use a spoon to scoop out the entire shake from the blender.
Top with your favorite milkshake toppings.
Add a straw or spoon and enjoy!



Milkshakes are so easy to make! It is almost dangerous how quickly you can whip up such a decadent, rich treat.
Best Toppings to Make a Homemade Milkshake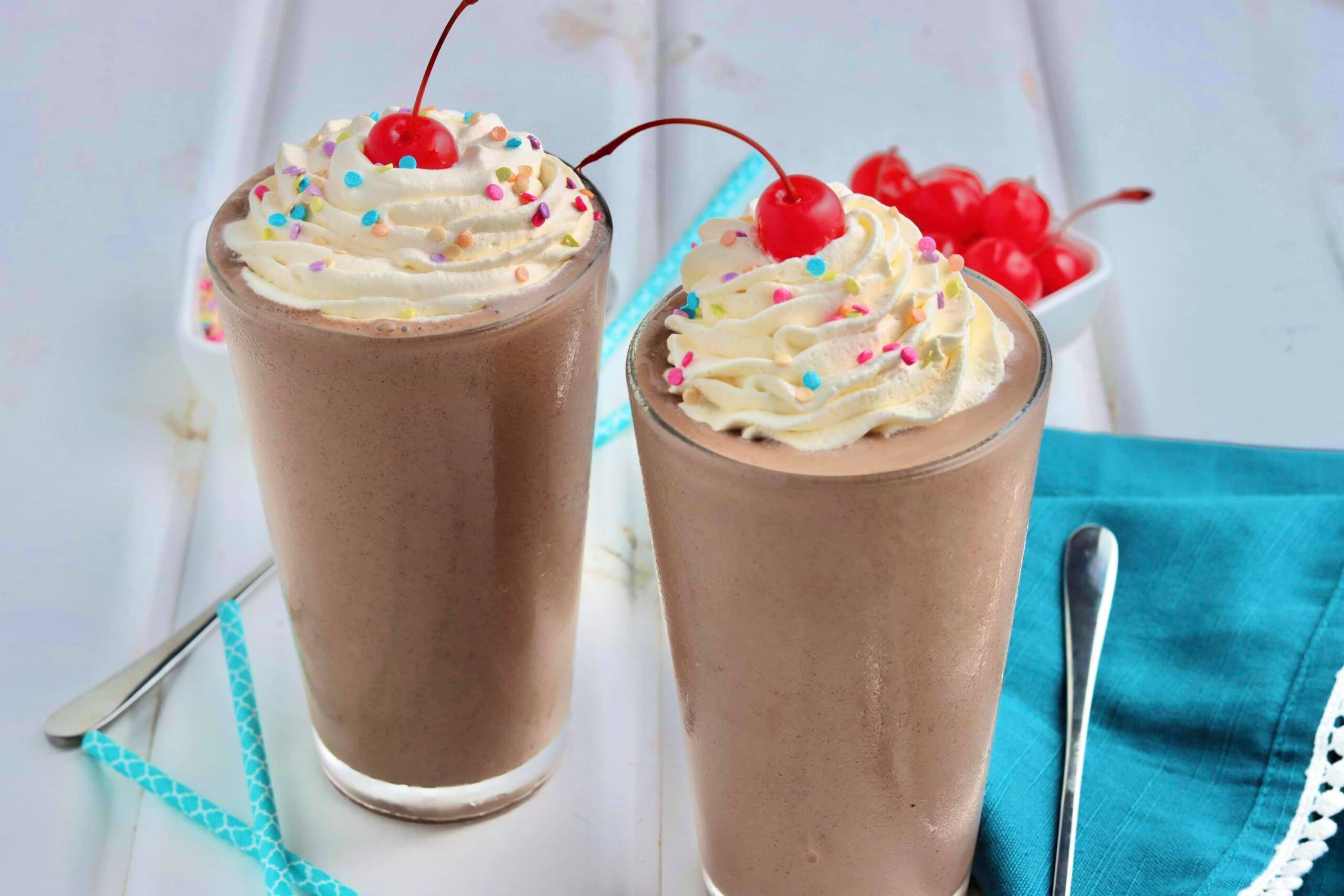 Once you have blended your milkshake ingredients, you will want to add some picture-perfect toppings. Here are my favorite milkshake toppings:
whipped cream
maraschino cherries
sprinkles
chopped nuts
caramel sauce
chocolate sauce
fresh fruit slices
Adding a topping to your milkshake takes it from being a homemade milkshake to something worthy of a fancy ice cream parlor. Don't be afraid to go overboard with the toppings!
Milkshake Flavor Ideas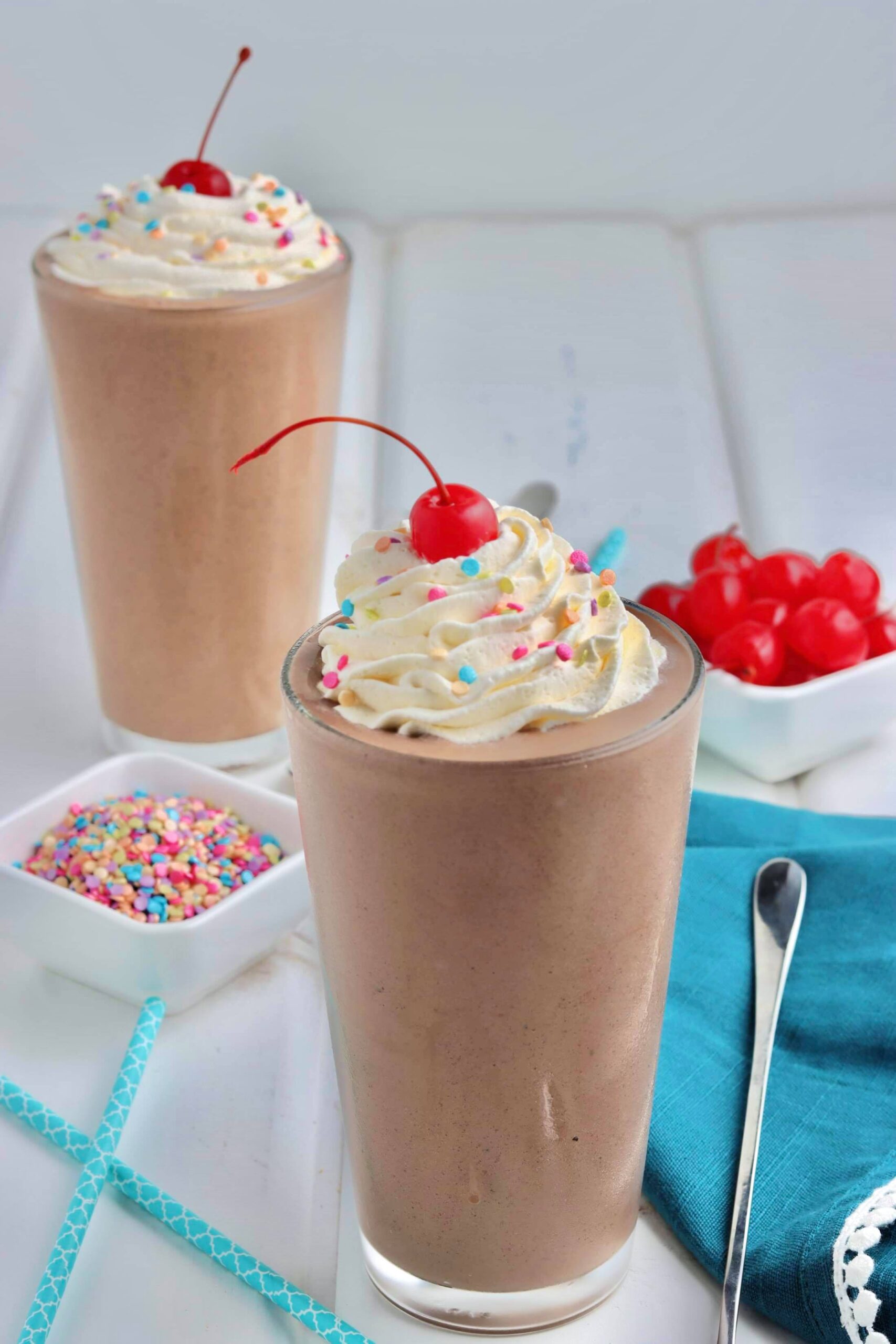 My easy homemade chocolate milkshake recipe is the perfect base to use for other milkshake flavors you want to make. Here are a few ways to tweak the recipe and make a really exciting, adventurous milkshake.
Cookies and Cream– Add about ½ cup chopped oreos to the blender and skip the chocolate sauce in the recipe.
Triple Chocolate– Use chocolate ice cream in place of vanilla and then blend in about ¼ cup mini chocolate chips as well.
Mint Chocolate Cookie– Add 3 mint oreos to the blender and puree until smooth.
Caramel Crunch– Add two tablespoons of caramel sauce and ¼ cup sliced almonds and blend.
Summer Berry– Toss a few strawberries, blueberries, raspberries and blackberries into the blender- any seasonal berry will do!
Chocolate Covered Banana– Toss a whole, ripe banana in the blender along with the ingredients in my chocolate milkshake recipe.
Mocha Frappe– Use coffee ice cream in place of vanilla but be sure to keep the chocolate sauce!
Peaches and Cream– Peel and slice one ripe peach then add it to the blender. Skip the chocolate sauce.
Now that you know how to make a milkshake, you can get creative with your homemade milkshake flavors! Think about your favorites from the ice cream shop and try to mimic them at home. I bet you can come pretty close to creating milkshakes as good as the pros!



FAQ's
Still have questions about making the perfect milkshake? Hopefully I can answer some of those questions here.
How do you make a milkshake thick?
To make a thicker shake, add more ice cream or just use less milk. Be sure to buy thick, creamy, home-style ice cream too.
Can you make a milkshake without a blender?
You can use a food processor or even a hand whisk to make a milkshake. Anything that will blend the milk into the ice cream well will work!
Can I make milkshakes in advance?
Milkshakes are best when made and enjoyed right away. I don't recommend making them in advance. Luckily, a good milkshake only take a few minutes to make!
Easy Homemade Milkshakes
I know that my family and I are having one of the best summers ever! And with a perfect homemade milkshake in my hand, it is definitely going to be the best!
I hope you get to enjoy a few great shakes this summer too using my easy homemade milkshake recipe. Enjoy!
*This post may contain affiliate links. Read our Disclosure Policy for more details.
Try these other delicious summer drinks!
I hope you love this recipe and tutorial for how to make a milkshake – be sure to give it a review below!
Print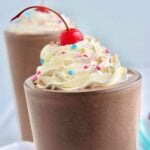 Easy Homemade Chocolate Milkshake
---
Author:

Prep Time:

5 minutes

Total Time:

5 minutes

Yield:

2

servings

1

x
Description
This quick and easy homemade chocolate milkshake recipe is the perfect base to use for other milkshake flavors you want to make!
---
2 cups

chocolate ice cream, or your favorite flavor 

½ cup

whole milk 

1 tablespoon

chocolate syrup 
For toppings:
whipped cream

sprinkles

maraschino cherries 
---
Instructions
Add ice cream to blender

Pour in chocolate syrup and milk

Blend until well combined

Serve immediately with whip cream, sprinkles and a cherry if you like