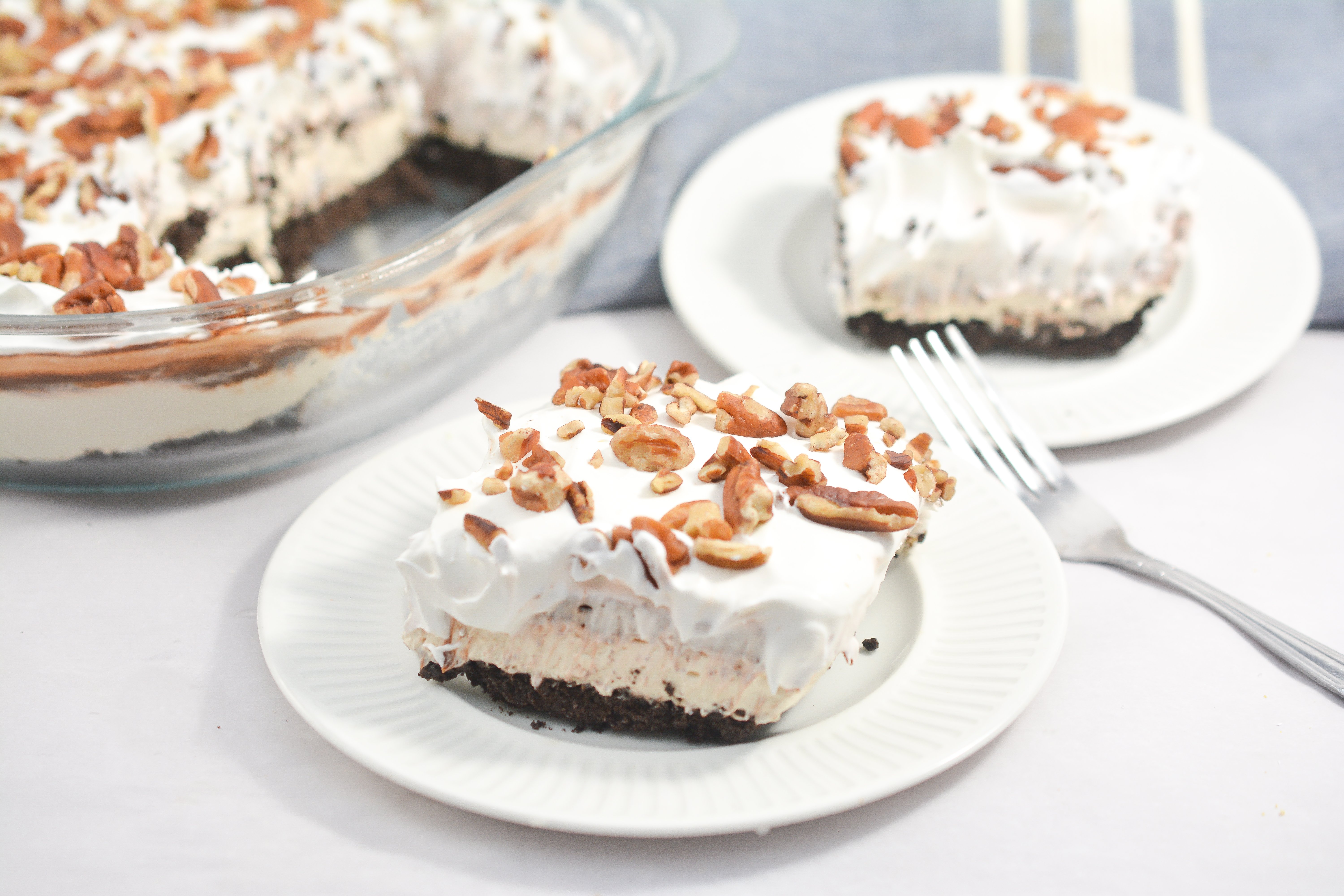 This delightful, easy to make and No-Bake Mocha Icebox Cake recipe is absolutely delicious! Made with Oreo cookie crust, this dream dessert is layered with a mocha cheesecake and a chocolate pudding, all topped off with Cool Whip and chopped pecans for garnish.
I love making desserts all year long. You probably already knew that about me! Summer is no exception. A fresh, summer dessert just can't be beat. Yet, cooking in the summer is a little different in my house. I try not to use the oven much as it makes the whole kitchen so hot. I also try to use ingredients that are in season or those that are delicious served cold. A cool refreshing dessert is something that we all need at the end of a hot summer's day!
Lately, my kids have been obsessed with Oreos. Anything Oreo flavored is sure to be a hit. I am personally a huge fan of ice box cakes. They are an amazing frozen treat that I make all summer long. So I thought, why not combine the two household loves and make an icebox cake that uses Oreo cookies! It sounds like a total summer hit. And so my No-Bake Mocha Icebox Cake was born.
But, what is an icebox cake? You may ask.
Icebox cakes are a no bake layer cake that are served frozen. You can call an ice box cake a lush dessert, a chocolate lasagna, or even a dream dessert. No matter the name, it sure is delicious!
Ingredients for Mocha Icebox Cake
So, what do you need to make my amazing no bake mocha icebox cake?
Here are the ingredients needed to make my chocolate mocha icebox cake:
brewed coffee- I use The Original Donut Shop (TODS) k-cups with my Keurig to make the perfect fresh coffee
Oreos- Classic Oreos will work perfectly
butter- Make sure it is ice and soft
powdered sugar- The main sweetener of the cake
cream cheese- Make sure this is soft, too, to prevent lumps in the batter
Cool Whip- This will give the cake a light, fluffy texture
milk- Any kind of milk will work. I like whole milk but nut milks will work too. This is used to make the pudding
instant chocolate pudding- The richer the chocolate pudding, the better!
chopped pecans- These are optional but I love the added nut crunch.
You probably have a lot of those ingredients on hand already! Why not give this recipe a try right away?
How to Make No-Bake Mocha Ice Box Cake
Putting together my mocha chocolate icebox cake is very easy. Just a few quick steps and you will have the cake in the freezer, setting up for dessert time later in the day.
Here's what you need to do:
1. Blend the Oreos into crumbs using a food processor or blender.
2. Mix the cookie crumbs with the butter to make the cake crust. Press the Oreo mix into the bottom of a greased baking pan, making a thin cookie crust.
3. Blend the softened cream cheese, powdered sugar and cooled, brewed coffee until smooth.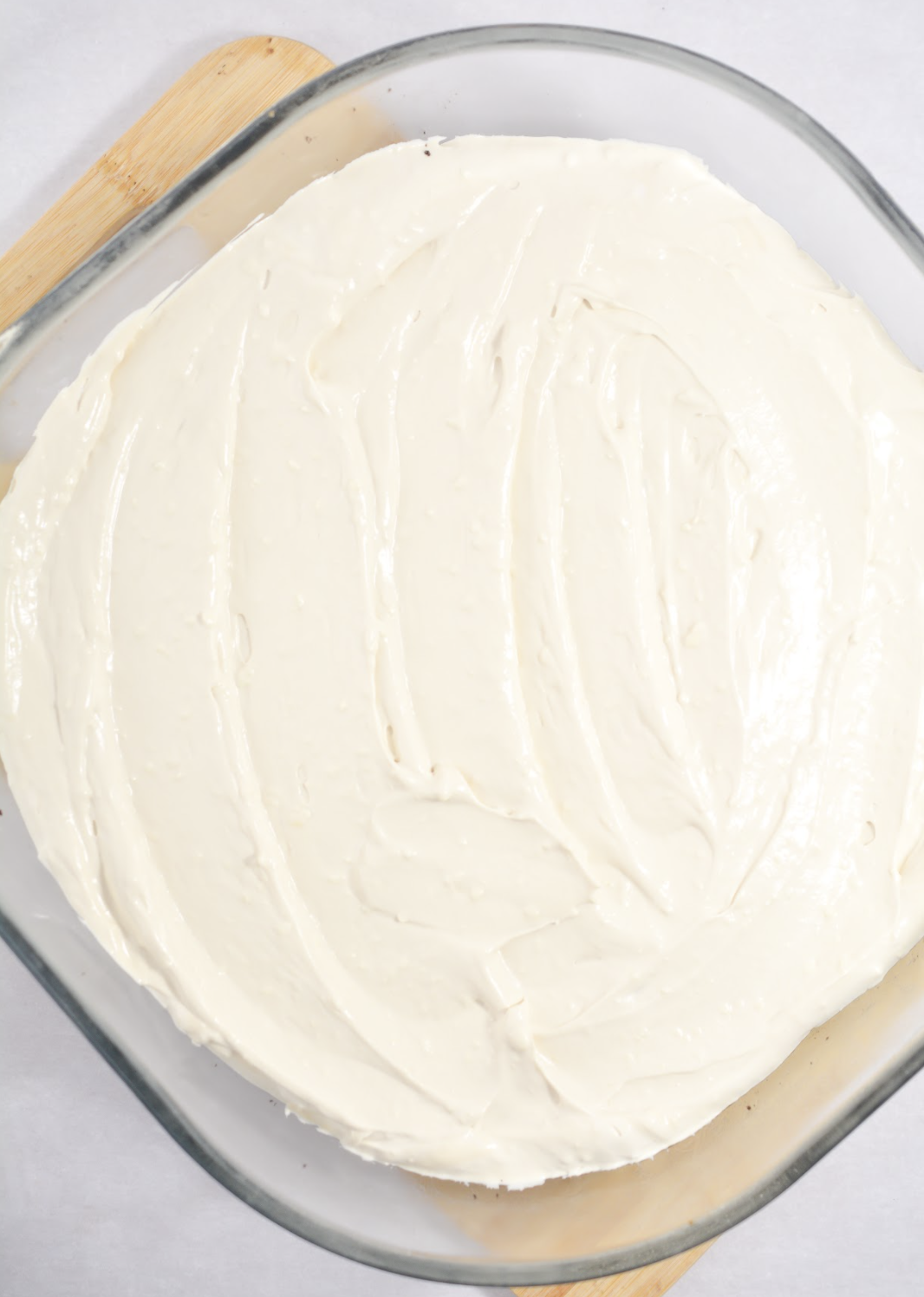 4. Mix in a cup of the Cool Whip topping then spread the coffee, cream cheese mix over the Oreo crust, making the coffee layer of the icebox cake.
5. Whisk the milk and pudding mix together to make chocolate pudding. Pour the pudding over the coffee layer in the cake pan.
6. Spread the remaining Cool Whip over the chocolate pudding and sprinkle with pecans.
7. Let the cake chill in the freezer for at least 4 hours then slice and serve!
Seems pretty easy, right? All you really need to do is layer each component of the cake into the pan and freeze! All those tasty layers makes it clear why icebox cakes are often called dream desserts. This is definitely a summer dessert that I can dream about!
Tips and Tricks for Making Chocolate Mocha Icebox Cake
Here are a few quick tips and tricks that I want to share before you start putting together this tasty mocha chocolate icebox cake recipe. Hopefully these will help you dessert come out perfectly!
Make sure the cream cheese is very soft. Beat the cream cheese and powdered sugar together first then slowly stream in the coffee. This will really help prevent lumps.
If you have the time, place the icebox cake in the freezer for an hour in between layers. That means spread the mocha layer in the pan and freeze. Add the pudding layer and then freeze. This will help keep the layers defined and make it easier to spread each layer of filling on top of the last.
I use my Keurig to make fresh coffee just for this recipe. However, you can use day old coffee or even espresso for a stronger flavor. Use decaf coffee if needed.
Try using white chocolate pudding for a brighter dessert
Graham cracker crumbs will also work for the crust if you want less chocolate.
My no bake mocha icebox cake is perfect for summer parties or just to serve your family as a special treat. My kids definitely went crazy for the Oreo crust and ice cream-like mocha filling. Give this icebox cake recipe a try and let me know what you think. I hope it becomes one of your favorite easy, no-oven-required desserts this summer! Enjoy.
Print
No-Bake Mocha Icebox Cake
---
Author:

Prep Time:

20-25 minutes

Cook Time:

0 minutes

Total Time:

59 minute

Yield:

12

servings

1

x
Description
You'll love this heavenly No-Bake Mocha Icebox Cake recipe! It's so delicious, quick and easy to make and best of all, no baking is required!
---
¼ cup brewed coffee
20 Oreo cookies
3 tbsp. unsalted butter, softened
¼ cup powdered sugar
8 oz. tub cream cheese, softened
1 container of Cool Whip, divided
1 cup milk
1 box instant chocolate pudding mix
⅓ cup chopped pecans
---
Instructions
Place the Oreos into a blender or food processor, and pulse until they are crumbs. 

In a mixing bowl, stir together the cookie crumbs and the butter with the tines of a fork until well combined. 

Press the crumb mixture into the bottom of a well greased 9×9 baking dish to form a crust. 

In a mixing bowl, blend together the cream cheese, powdered sugar and brewed coffee until smooth. 

Mix in 1 cup of the Cool Whip topping, and spread the mixture over the crust in the baking dish. 

In a bowl, whisk together the pudding mix and 1 cup of milk until thickened. 

Spread the pudding mixture over the cream cheese layer in the baking dish. 

Smooth the remaining Cool Whip on top of the chocolate pudding layer, and sprinkle the pecans on top. 

Chill for at least 4 hours before slicing to serve.
LOVE THIS RECIPE? PIN IT FOR LATER!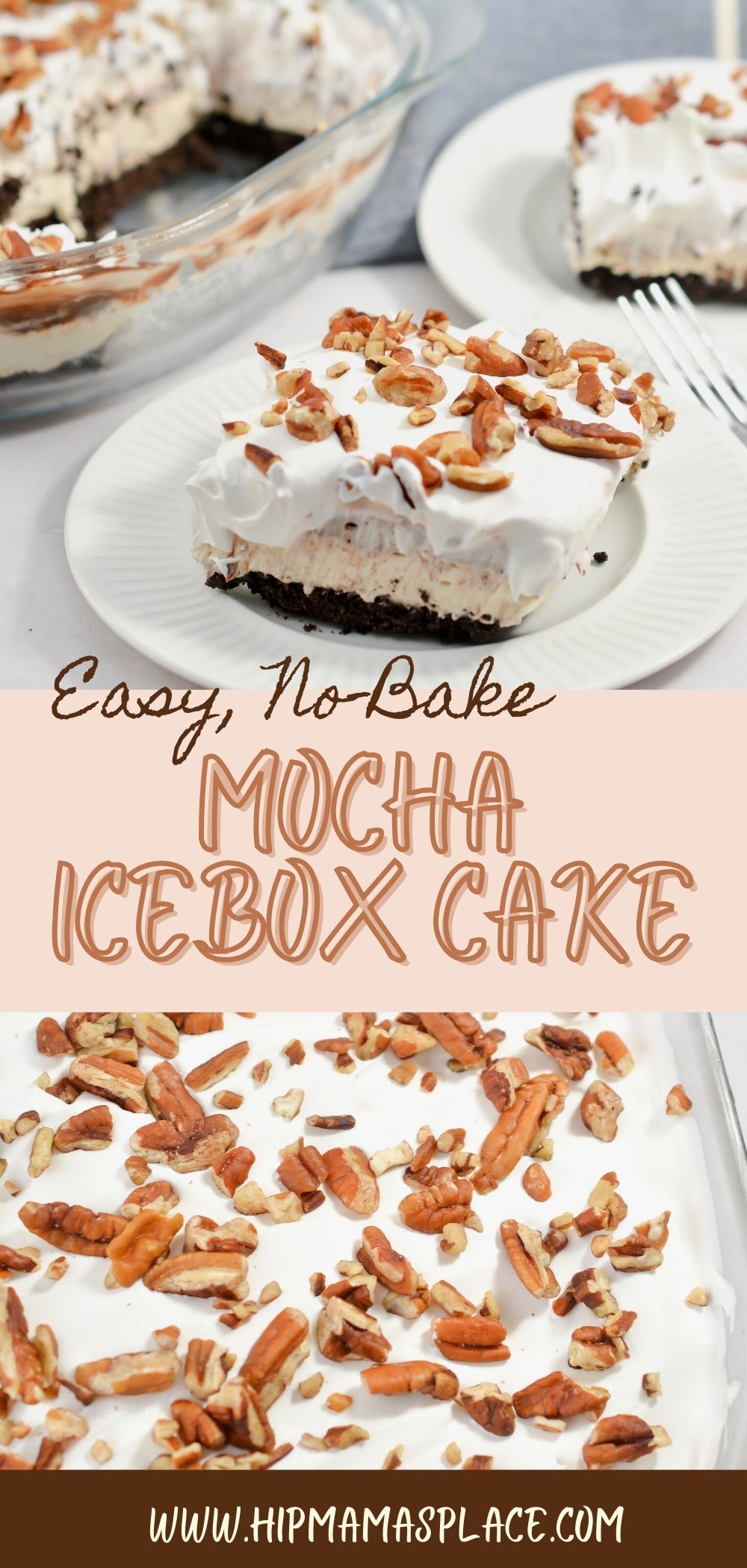 You Might Also Like…