I love oatmeal for breakfast. I top them with my favorite fruits and natural honey and I'm good to go for the morning! But as a busy mom and wife, days can be hectic and I'm in a hurry to head out the door. So a quick breakfast to grab like the new Emerald® Breakfast on the go!™ is just perfect!


If you haven't tasted Emerald® Breakfast on the go!™ yet, you have got to try it! Conveniently packed in small pouches, Breakfast on the go! is packed with the natural energy of Emerald Nuts mixed with the wholesome goodness of crunchy granola clusters and dried fruits to start your busy day! With 3 grams of dietary fiver and 3-4 grams of protein, Emerald® Breakfast on the go!™ provides the benefits of oatmeal, but in an easy to carry pouch for when you are on the go! Personally, I find this a great and simple way to stick to my New Year's resolution to keep the extra weight off – by eating whole grains in a convenient, pre-portioned pouch.
Emerald® Breakfast on the go!™ Nut & Granola mixes are available in these flavors: Berry Nut Blend, Breakfast Nut Blend and S'mores Nut Blend. Also, try the new Oatmeal Nut Blends in three distinct flavors including Maple & Brown Sugar, Apples & Cinnamon, and Blueberries & Crème. You can find these products in the convenient breakfast aisle of your local grocery store and food retailers.
Right now, you can try the Emerald® Breakfast on the go! and save money with this coupon for $1.00 off on any (1) Emerald Breakfast on the go product, or just click the coupon below to print your pre-clipped coupon!


And, like the other Breakfast on the go!™ flavors, the new flavors are also part of the Labels for Education® program – a program that awards free educational equipment to schools in exchange for proofs of purchase from eligible products like Breakfast on the go!™, which are worth 5 to 10 points! For more details on how you can help your school through this program, visit: www.labelsforeducation.com
*Hip Mama's Place Disclosure: "My reviews and opinions are 100% my own. Emerald® Breakfast on the go! provided me product samples necessary to facilitate this review".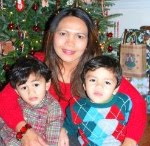 About the Author: Jocelyn Cañasa-Brown is a working mom of two boys and is a recognized blogger and mom influencer in the Washington, DC area. In her spare time, she designs and creates her own handmade jewelry, maintains her jewelry store on Etsy and is an active moms group organizer and leader both online and offline. Hip Mama's Place was nominated for Parents 2011 Best All-Around Mom Blog and named one of the Highest Rated Blogs and Sites on Nickelodeon ParentsConnect for the Washington, DC area. Follow Jocelyn on Twitter and/or Facebook.