Get ready to indulge in 28 wickedly delightful, fun Halloween treats that are sweeter than a haunted house full of candy. From gory cupcakes to eerie ice cream sandwiches, these spine-tingling sweets will make your taste buds scream with joy. Trick or treat yourself to a ghoulishly good time with these irresistible Halloween recipes!
Nothing says Halloween Party like some fun Halloween treats! What's better than irresistibly fun Halloween treats? Easy Halloween treats!
Lucky for you, I have included a huge list of some of the best TikTok-viral-worthy Halloween desserts that will have your kids or guests asking for seconds and thirds.
In this post you will find an assortment of fun Halloween treats including Halloween Donuts, Monster Popcorn Balls, Halloween Monster Ice Cream Sandwiches, and so much more.
Get ready to drool over these spooky sweet treats for Halloween!
28 Irresistibly Fun Halloween Treats
1. Monster Popcorn Balls for Halloween
Perfect for Halloween, these Monster Popcorn Balls are a delightful and spooky-cute treat that will please trick-or-treaters of all ages!
While retaining their classic taste, this recipe adds a touch of Halloween charm. The vibrant colors and playful candy eyes make them ideal for your Halloween parties.
They are easy to make! All you need is popped popcorn, mini marshmallows, sugar, butter, salt, vanilla, food coloring, and candy eyeballs!
2. Red Velvet Halloween Cupcakes
Fans of slasher movies will love Red Velvet Halloween Cupcakes. The red velvet sponge cake and creamy cream cheese frosting is elevated by a delightfully gruesome blood-red syrup.
Serve this gruesome Halloween dessert recipe by making red velvet cupcakes and then combining golden syrup and red food coloring to make faux blood for the topping!
3. Spooky Halloween Monster Ice Cream Sandwiches
These simple and eerie Halloween Monster Ice Cream Sandwiches, featuring sugar cookie dough, make for the ideal treat to share with trick-or-treaters or enjoy at your upcoming Halloween gathering!
Make them easily with only a few ingredients: ready to bake sugar cookie dough, Halloween sprinkles, candy eyes, and vanilla ice cream.




4. Easy Halloween Chocolate Covered Strawberries
Indulge in these eerie Halloween Chocolate Covered Strawberries, a delightful dessert or treat with a festive twist that's sure to please everyone! Who can resist the allure of chocolate-dipped strawberries? With just three ingredients, they are incredibly simple to prepare.
Easily make these spooky chocolate covered strawberries with white chocolate, strawberries, candy eyes, and chocolate chips.
5. Halloween Muddy Buddies Snack Mix
You're sure to adore this Halloween Muddy Buddies snack mix recipe, also known as Puppy Chow!
It's an absolute treat and an essential for the Halloween season, offering a delightful combination of salty, sweet, chewy, and crunchy textures. Plus, you can customize it by adding your favorite Halloween candies to satisfy your taste buds!
Make this recipe using Rice Chex Cereal, chocolate chips, peanut butter, butter, and powdered sugar. Then comes the mix-ins; chocolate chips, orange and black candies, candy eyes, and candy corn!
6. Halloween Dirt Worm Cups
This Halloween Dirt Worm Cups recipe promises a lot of fun for your upcoming Halloween gathering or any holiday-themed after-school treat!
Portion it into individual cups to create a simple and delightful dessert perfect for school events or neighborhood Halloween parties, especially for the little ones.
Make this recipe using cold milk, chocolate instant pudding, whipped topping, Oreos, and gummy worms.




7. Spiderweb Cheesecake
Crafting this delightful and creamy no-bake Spiderweb Cheesecake is both effortless and enjoyable, making it an excellent choice for your upcoming Halloween gathering!
It comes together using Oreos, butter, cream cheese, sugar, lemon juice, heavy cream, vanilla, and chocolate chips. So simple and oh so delicious!
8. Halloween Candy Bark with Oreos
An incredibly simple Halloween White Chocolate Bark recipe featuring Oreo cookies and an abundance of Halloween candies! Ideal for a delightfully eerie treat for children or a festive Halloween get-together!
Easily make this recipe using Oreo cookies, white candy melts, food coloring, and Halloween sprinkles/candies.
9. Air Fryer Halloween Donuts
Prepare eerie Air Fryer Halloween Donuts using classic biscuits, vibrant icing, and candy eyes for a frightfully enjoyable celebration! These treats are ideal for adding a spooky touch to your festivities.
Put them together using homestyle biscuit dough, butter, icing, candy eyes, and whole milk. Make them even spookier with some fake vampire teeth!
10. Hocus Pocus Fudge
Prepare a delightful Halloween treat with this Hocus Pocus Fudge, a white chocolate fudge recipe that's perfect for this spooky season! Start with a basic white chocolate fudge base and add your favorite Halloween colors to transform them into playful Hocus Pocus-themed sweets.
Make this yummy Halloween fudge with white chocolate chips and food coloring to get the spooky Hocus Pocus vibe!




11. Halloween Twinkie Mummies
This recipe truly embodies the spirit of Halloween festivities: Halloween Twinkie Mummies. Utilizing Twinkies as the foundation eliminates the need for baking a cake, which not only saves a lot of time but also ensures uniform size for all your mummy treats.
Make this recipe using Twinkies, candy melts, candy eyeballs, and straws.
12. Vampire Blood Drink
Now, who can resist this spooky fun drink when it graces your Halloween table? This Vampire Blood Drink might seem complicated to make, but all it is is a classic cherry limeade recipe dressed up for Halloween! All you need is Sprite, grenadine, cherries, black sugar, and top it off with some cotton candy.
This fizzy Halloween drink is so tasty, refreshing and the spooky-ness will add a bootiful look in your Halloween spread.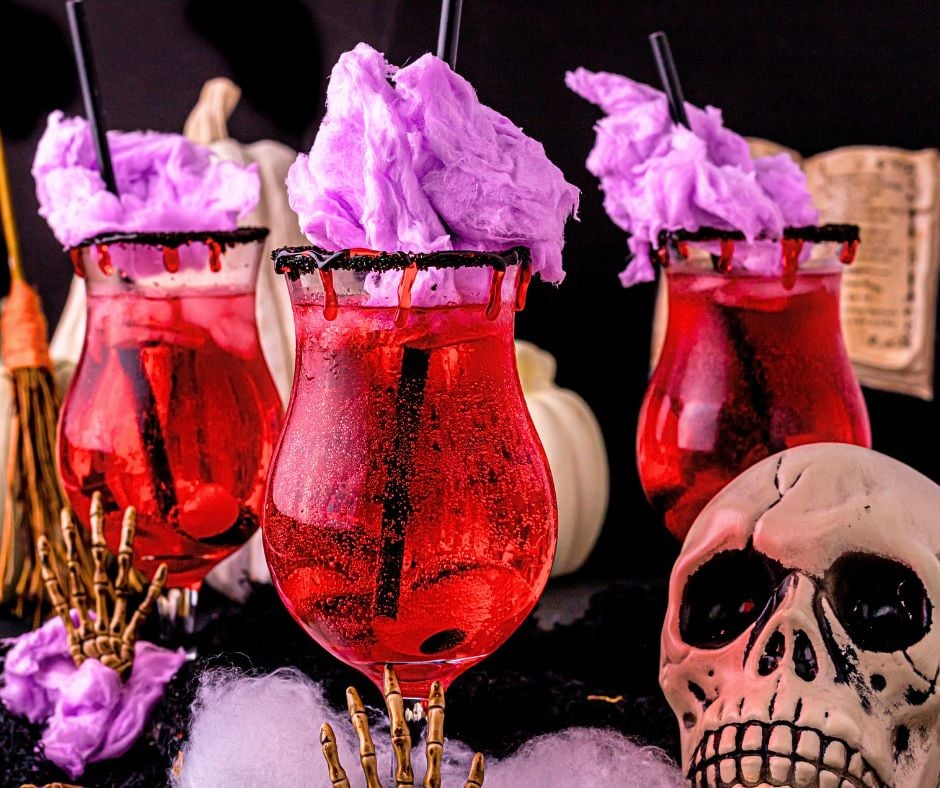 13. Easy Brownies 3 Ways
Get your Halloween baking on with these festive and cute brownies dressed up three ways! These Halloween Brownies can be made with boxed or homemade brownie mix, with white chocolate chips, sprinkles and black frosting.
You'll be wowing your guests with these super fun and tasty brownies!
14. Frankenstein Halloween Pretzel Rods
Chocolate-dipped Frankenstein Pretzel Rods make for an ideal no-bake treat to celebrate the eerie season. You'll only require a handful of straightforward ingredients to whip up these delectable Halloween sweets, combining the best of sweet and salty flavors.
Make these Frankenstein pretzels using pretzel rods, candy melts, paramount crystals, chocolate chips, candy eyeballs, and sprinkles.
15. Meringue Ghosts
If you're in search of a straightforward Halloween dessert recipe that everyone will love, then these Meringue Ghosts are exactly what you need! This easy recipe requires just five ingredients and yields fun ghostly treats that are an absolute delight!
Use five simple ingredients to make these adorable ghosties: egg whites, cream of tartar, sugar, vanilla extract, and food coloring!
16. Hocus Pocus Potion Float
Indulge in the enchantment of this Hocus Pocus Potion Float, a delightfully spooky Halloween ice cream float!
It features a scoop of rainbow sherbet, crowned with grape soda, and adorned with gummy worms, making it the ultimate choice for a festive party beverage!
Make the potion using grape soda, rainbow sherbet, and gummy worms.
17. Apple Monsters
Making these green Apple Monsters is a quick and somewhat healthy Halloween snack option. With only six ingredients, they come together in no time, making them an excellent choice for a party or as a spooky dessert for the kids.
Make this yummy kid-approved Halloween snack using green apples, peanut butter, almonds, watermelon, and candy eyes.
18. Halloween Marshmallow Ghosts
These handcrafted ghost-shaped marshmallows are bound to bring joy to both the kids this Halloween season! Whether you're indulging in a steaming cup of hot cocoa, crafting eerie s'mores, or simply seeking to master the art of marshmallow creation, this recipe post has all your needs taken care of!
Make these tasty Halloween Marshmallow Ghosts treats using a few ingredients, like corn syrup, egg whites, and sugar, to make your own marshmallows!
19. Frankenstein Halloween Rice Krispies
These Frankenstein Halloween Rice Krispies make for an ideal last-minute addition to your Halloween dessert station. They are quick, straightforward, and crafted from a handful of readily available store-bought ingredients.
Simply make your rice crispy treats, chop them into rectangles, and then dip into colored candy melts for the Halloween Frankenstein's to come together!
20. Halloween Cakesicles
These Halloween Cakesicles offer a delightful and adorable Halloween treat! They're ideal for adding a touch of spooktacular fun to your party.
These adorable Halloween cakesicles come together like cake pops but are much spookier than the ones you can get from Starbucks!
21. DIY Caramel Apple Bar
Accompanied by an array of enjoyable toppings, this create-your-own Caramel Apple Bar serves as the ultimate dessert for Halloween festivities or any Fall-themed gathering that everyone can enjoy!
All you need for this recipe are your apples, dippings, and toppings. I suggest melted caramel bites and melted chocolate chips for dipping and then Halloween-themed candies for toppings!
22. Candy Corn Cake
A three-layered cake featuring vibrant colors is soaked in sweetened condensed milk, topped with a yummy cream cheese frosting, and decorated with a rainbow of candy corn. It's essentially the Halloween cake you've always wished for!
This yummy Halloween Candy Corn Cake comes together with a box of traditional cake mix, food coloring, and candy corn!
23. Halloween Snickers Mummy Treats
Crafting these Halloween Snickers Mummies is easy and requires only a handful of ingredients that are easy to come by.
These fun mummy-inspired desserts are sure to win over the hearts of the kids, making them a fun dessert choice for your Halloween party spread.
Make this easy Halloween treat recipe using Snickers, crescent rolls, and candy eyes!
24. Halloween Gingerbread House
Make a charmingly eerie Halloween Gingerbread House using a readily available, pre-made kit. Explore various ways to incorporate a variety of candies, infuse your own imaginative pieces, and experiment with fresh design concepts using Halloween treats and royal icing.
Make this Halloween gingerbread house using a premade kit, along with some ingredients to make up the icing for decorating, and then Halloween candies and sprinkles.

25. Peanut Butter Cup Halloween Spider Cookies
Peanut Butter Cup Spider Cookies offer a delightful Halloween treat for children. These charming cookies feature soft and chewy peanut butter cookies as the base, adorned with adorable peanut butter cup spiders sporting chocolate legs and candy eyes.
Make this easy and spooky Halloween dessert recipe using your typical sugar cookie ingredients paired with mini Reese's cups and melted chocolate chips.
26. Monster Eyes Truffles
Eerie and fun, these Monster Eye Truffles are sure to be a massive success at your Halloween parties!
This easy Halloween truffle recipe comes together with some white baking chocolate, heavy cream, butter, candy eyes, and food coloring.
27. Witches Brew Spumoni Trifle
The Witches Brew Spumoni Trifle is an ideal treat to bring to your Halloween potluck. This spooky dessert is made up of layers of cake, pistachio pudding, whipped cream, and cherry almond cream cheese, then topped with with mint eyeballs, fizzy bubbles, and jello worms – making it a delightful and eerie addition to your Halloween festivities!
Make this recipe with a few ingredients like chocolate cake, pistachio instant pudding, and cherry pie filling.
28. Pumpkin Pudding with Chocolate Spider Webs
Delicious and creamy Pumpkin Pudding boasts rich spiced pumpkin taste, offering a lighter alternative to traditional pumpkin pie. You can choose to add a chocolate spider web on top for a playful touch, but it's entirely optional.
This recipe comes together with a few ingredients like pumpkin puree, cinnamon, and nutmeg. Then to make the spider webs, just combine melted chocolate chips and cocoa butter!
I hope you've found some deliciously spooky fun Halloween treats to try out this season. Happy Halloween! Keep the fun going – here are more spooky season treats for kids and adults!
LOVE THIS POST? PIN IT HERE!