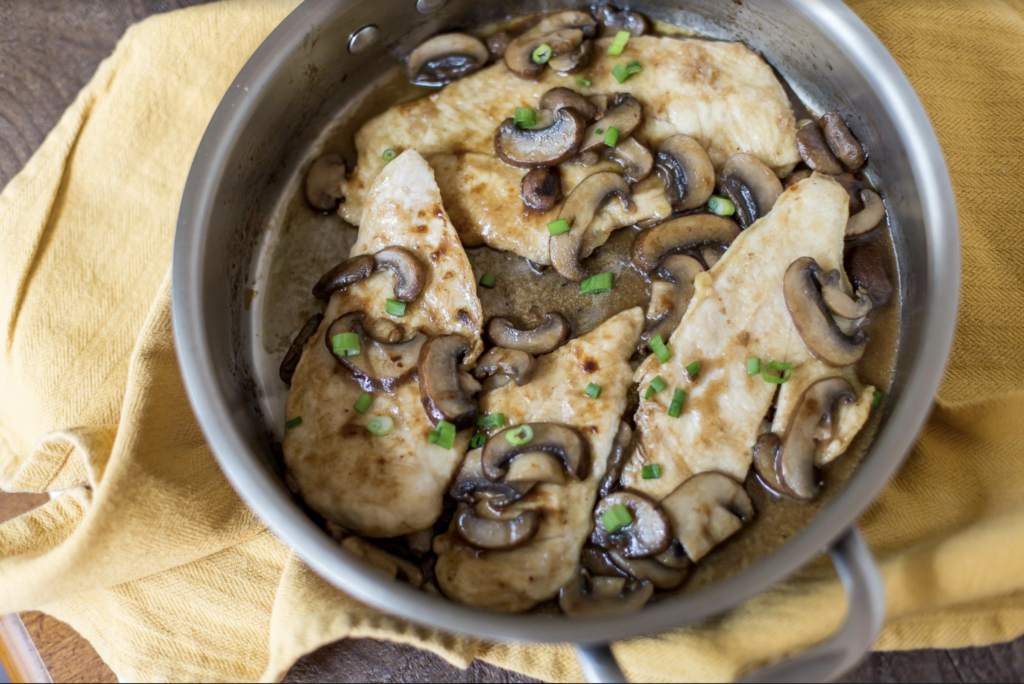 This post contain affiliate links. Read my Disclosure Policy for more details.
Love chicken marsala but don't want the extra calories? Then try this lightened up chicken marsala, adapted from Skinnytaste.
In the new year, we all make promises or resolutions or just simply decide to do better. Eating better is something that isn't entirely measurable, but one thing that is measurable is something like, "I will make dinner using whole foods at home at least 3-4 days per week."
To help make this pleasurable and tasty, I recommend being inventive or utilizing tried and true recipes from cookbooks. Recently, I've been getting my recipes from The Skinnytaste Cookbook: Light on Calories, Big on Flavor
which aligns with my goal!
I love cooking, but I also do need inspiration sometimes. The Skinnytaste Cookbook Light on Calories, Big on Flavor Cookbook has a nice selection of recipes and almost all of them are based on whole food recipes.



About this cookbook:
The Skinnytaste Cookbook: Light on Calories, Big on Flavor
by Gina Homolka, has 150 amazing recipes with around 100 great pictures (I didn't count but I'd say most recipes have a photo) to show what you're supposed to be making! It includes both all-time family favorites as well as some all new recipes that allow you to have your favorite meals, but without all of the calories. This cookbook is written by a popular blogger whose readers definitely enjoy good recipes along with the commentary! She has a registered dietitian as a coauthor of the book, which helps me know they've been verified as wholesome. The goal is to enjoy your meals, the taste and variety without excess calories.
Recipes I've tried from Skinnytaste Light on Calories Cookbook
One of the best ways to know if a cookbook is good is to try their recipes. I tried a handful now and so far, so good. I recommend the following recipes from The Skinnytaste Cookbook
:
Make-ahead Western Omelette Muffins
Greek-a-licious Egg White Omelet
Winter Potato, Kale, and Sausage Frittata
Loaded "Nacho" Potato Skins
Noodle-Less Zucchini Lasagna
Mahi Mahi Fish Tacos
Whole food recipes the entire family enjoys
The recipes are really easy to follow and manageable for a busy family. While a few recipes are for the more adventurous palate, most can be made for the average family. While some kids (and adults) are pickier than others, I believe if you offer good, wholesome food options as the norm, your family will love them in the long run. (Plus it is healthier!)



Lightened Up Chicken Marsala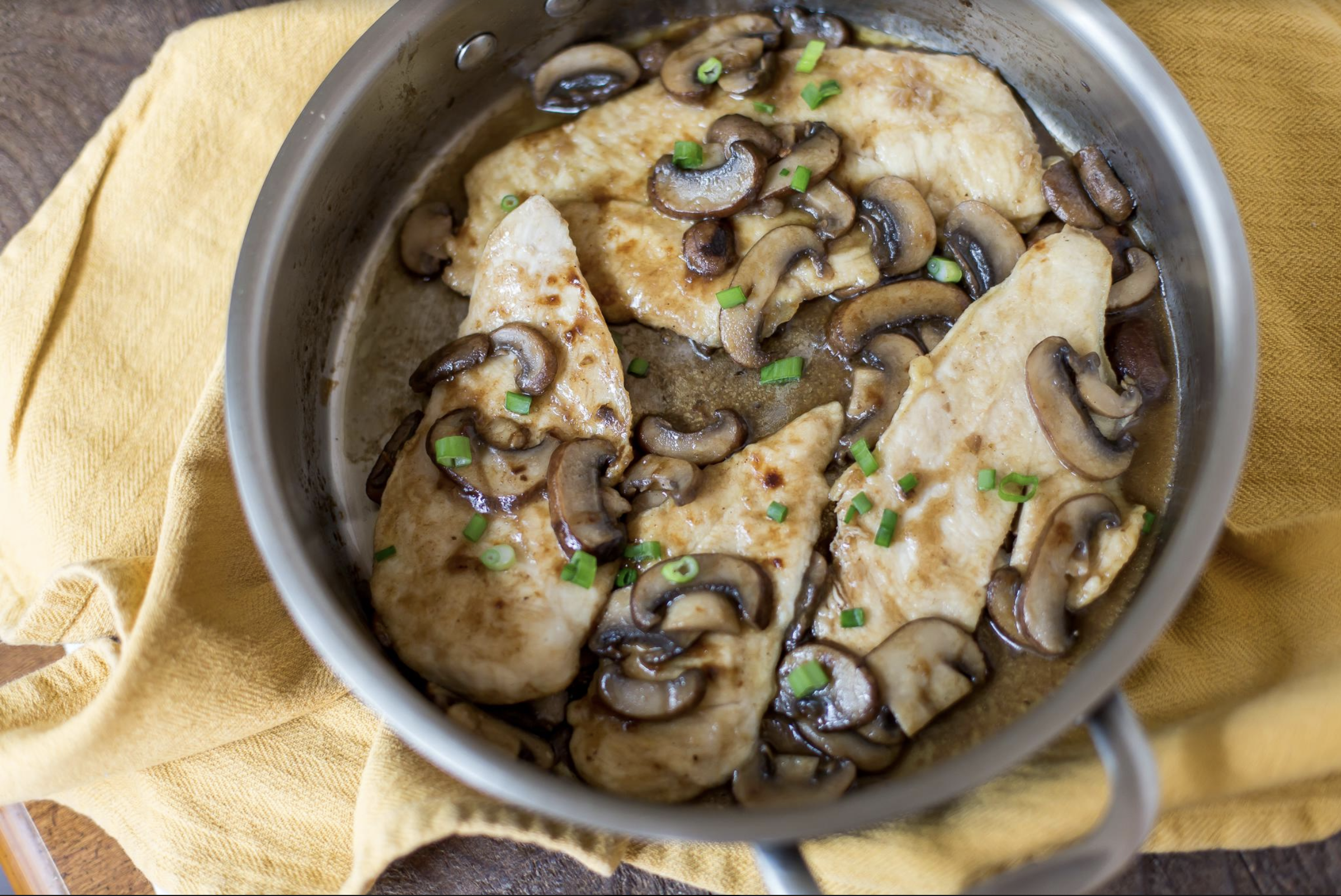 I'm sharing the recipe for lightened up chicken marsala with you from this cookbook because, in all honesty, I know it is well received by my whole family. We all love this recipe!
This recipe is fun and something familiar. But compared to other dishes it is fewer calories and less fat. Of course we all need some fat in our diets to absorb fat soluble vitamins, we also don't need excess of anything (except love, right?). A relative is what I'd call "mushroom avoider" but I convinced them to give shiitake mushrooms a try. I think many of us have the slimy mushroom texture fear. But mushrooms come in such a variety, that we should try new things! When harvested, stored and cooked right, mushrooms are great!
This Chicken Marsala recipe is a great new addition to our recipe rotation. Which of these recipes will you try?
Try these other delicious chicken recipes!
I hope you like this lightened up chicken marsala recipe– be sure to give it a review below!
Print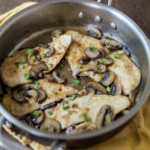 Chicken Marsala (from the Skinnytaste Light Cookbook)
---
Description
Love chicken marsala but don't want the extra calories? Then try this lightened up chicken marsala, adapted from Skinnytaste.
---
2

large, boneless, skinless chicken breasts
Kosher salt
freshly ground black pepper

1/4 cup

ad 1 tsp. all-purpose flour

1 tablespoon

unsalted butter

2 teaspoons

olive oil

3

garlic cloves, minced

1/4 cup

finely chopped shallots

8 ounces

sliced cremini mushrooms

3 ounces

sliced shiitake mushrooms

1/3 cup

Marsala wine

1/2 cup

chicken broth

2 tablespoons

chopped fresh parsley
---
Instructions
Preheat the oven to 200 degrees.
Slice the chicken breasts in half horizontally to make 4 cutlets.
Put each cutlet between two sheets of plastic wrap and lightly pound them until they are about 1/4 inch thick. Season with 1/2 teaspoon salt and a pinch of black pepper.
Place an 18-inch long length of wax paper on the counter. Put the flour in a shallow bowl and lightly dredge the chicken pieces in the flour, shaking off any excess. Put the chicken on the wax paper, reserve the 1 teaspoon remaining flour to use later.
Heat a large nonstick skillet over medium-high heat. Add the 1/2 Tbsp butter and tsp of the olive oil to the pan and swirl the pan until the butter has melted. Add the chicken and cook until slightly golden on both sides. Transfer to baking dish and place in the oven to keep warm.
Add the remaining butter and olive oil to the pan. Cook the garlic and shallots until soft and golden. Next, add the mushrooms, season with salt and pepper and cook until soft. Sprinkle the reserve flour and cook for 30 seconds. Add the wine, broth and parsley. Cook scraping up and browned bits from the bottom of the pan, about 2 minutes.
Return the chicken to the skillet with the mushrooms, reduce heat and simmer in the sauce for about 5 minutes.
Serve with mushrooms on top, with a salad with rice.