Hey… football season is coming up and if you're anything like me, you're already trying to find new ideas for tasty game day snacks. I know I'm a little ahead of the game but being prepared is how you score! See that football reference right there? 🙂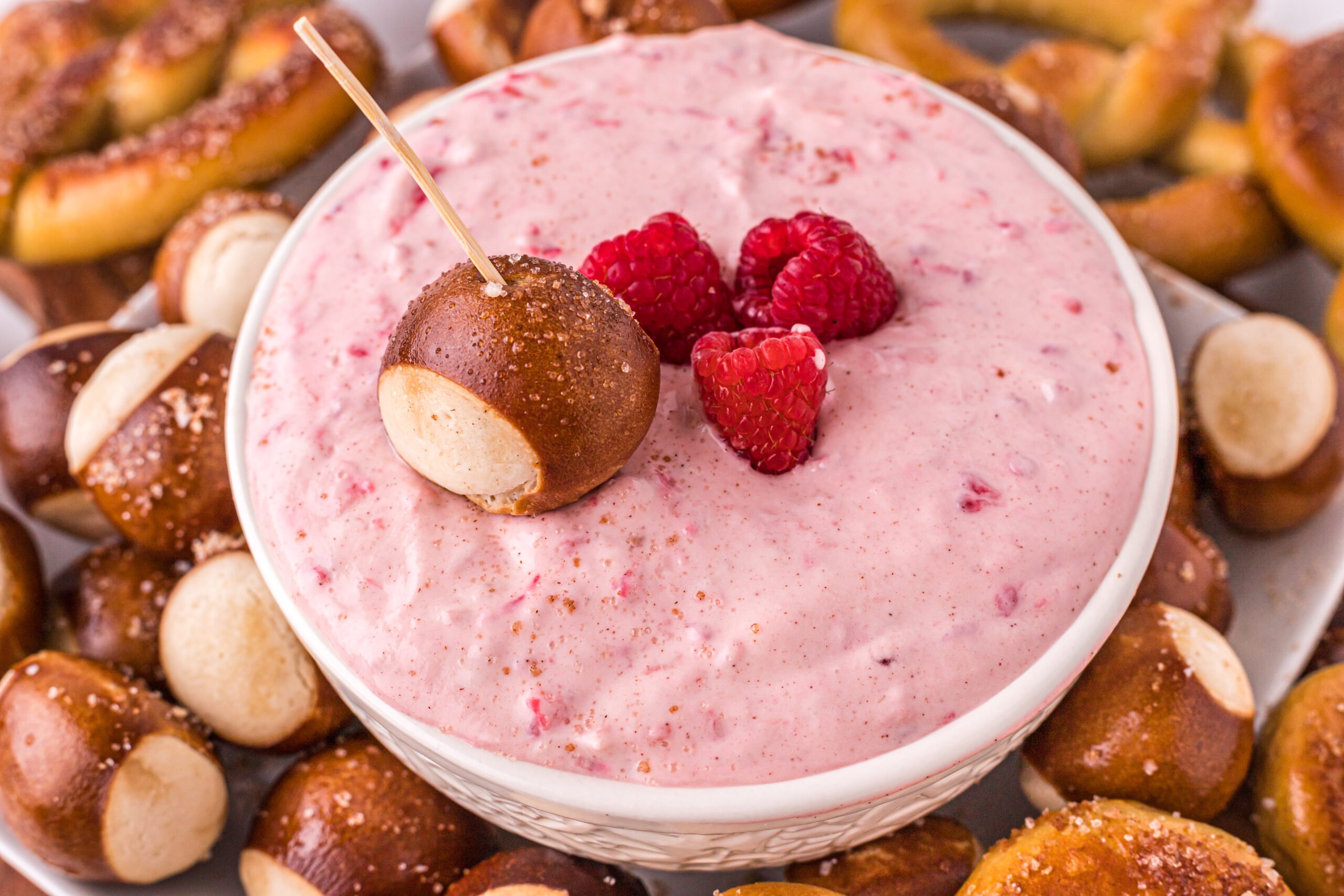 I'm a big fan of dips during football games. There is something easy and fun about snacking all game long. I especially like dips that pair well with various other foods. A dip that goes with tortilla chips, veggies and pretzels is a total winner!
This year, I wanted to make a sweeter, fruit dip option for game day. While salty, savory dips are always good, sometimes my family and I want something a little more dessert-like. It's also nice to have a sweet treat to celebrate when your team gets a nice touchdown.
What's in Raspberry Cream Cheese Dip?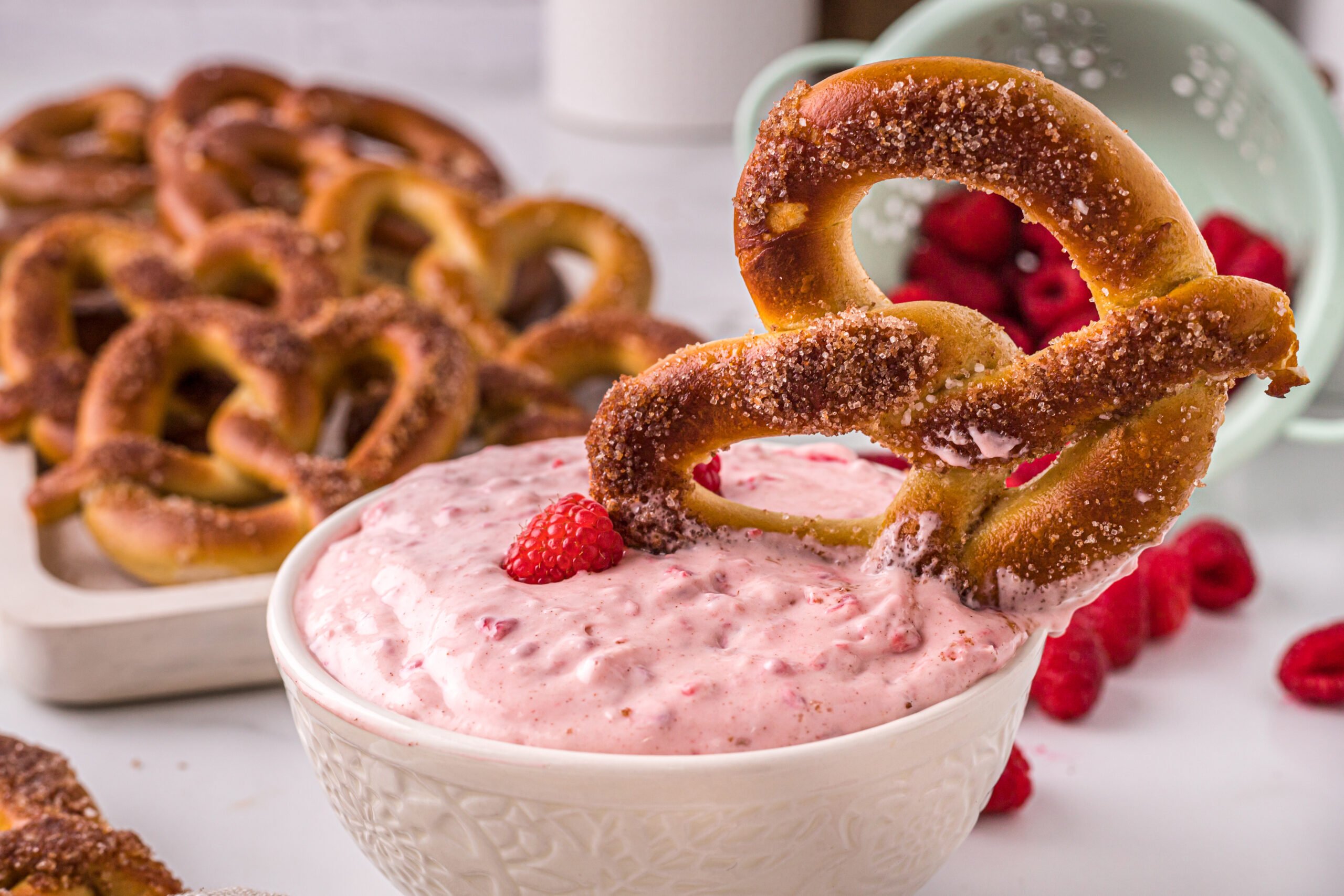 You all know that I like easy, flavor packed recipes best. Recipes hat only take a few minutes to put together are my go-to's. This raspberry cream cheese dip is so simple yet so incredibly delicious that I know it is going to be something I make again and again.
Here are the only ingredients you need to make this amazing raspberry cream cheese dip: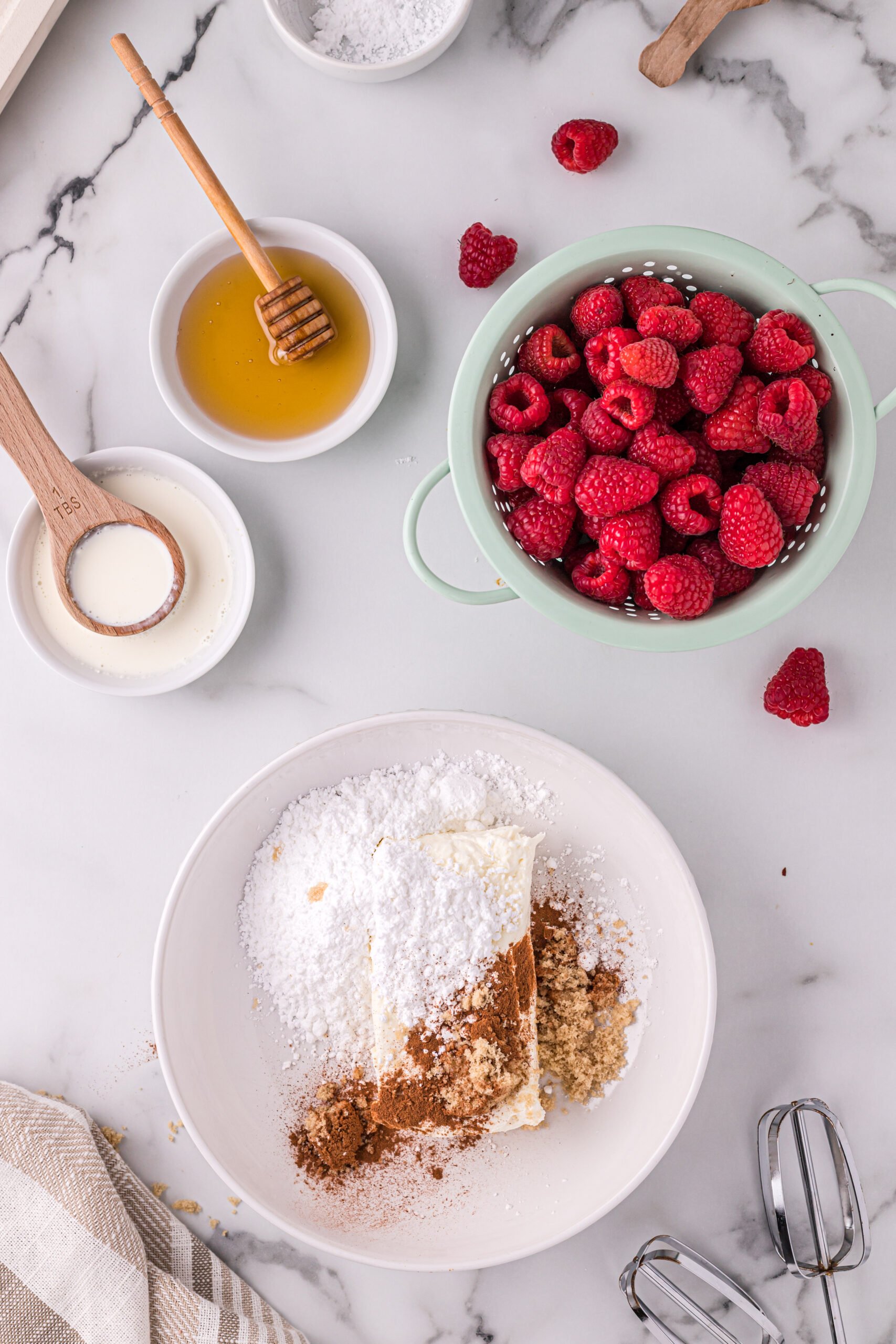 cream cheese- Make sure it is soft so there are no lumps!
heavy Cream- Gives the dip its smooth texture. Milk will work too but the heavy cream does help to thicken the dip as well.
powdered sugar- This blends right into the cream cheese, dissolving quickly
brown Sugar- To add a rich, molasses flavor
cinnamon- This helps bring some fall-flavor into the summery dip
honey- Adds another layer of natural sweetness
raspberries- I use fresh raspberries but thawed, frozen raspberries will work as well. Try using other berries as well to create new fruit dip flavors. Blueberry dip sounds delicious!
Once you have all of these ingredients on hand you are ready to make some raspberry dipping sauce. Let me tell you a little bit more about how to put this tasty fruit dip together.
How to Make Raspberry Cream Cheese Dip
Are you ready to mix up some fruit dip? That is really all you need to do- mix! Making this creamy pretzel dip couldn't be any easier.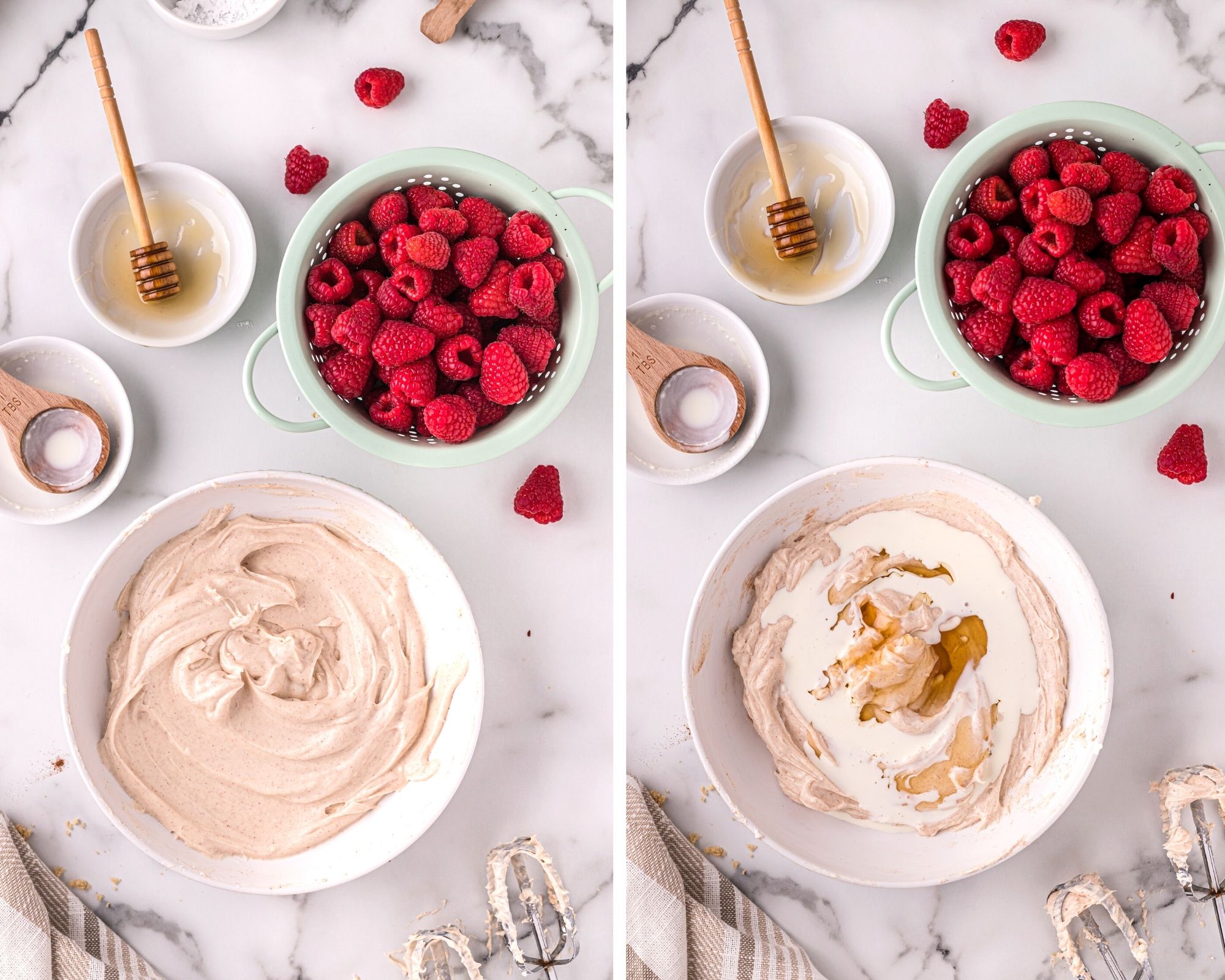 1. Beat the cream cheese, powdered sugar, brown sugar and cinnamon together until nice and smooth.
2. Add the heavy cream and honey and beat again.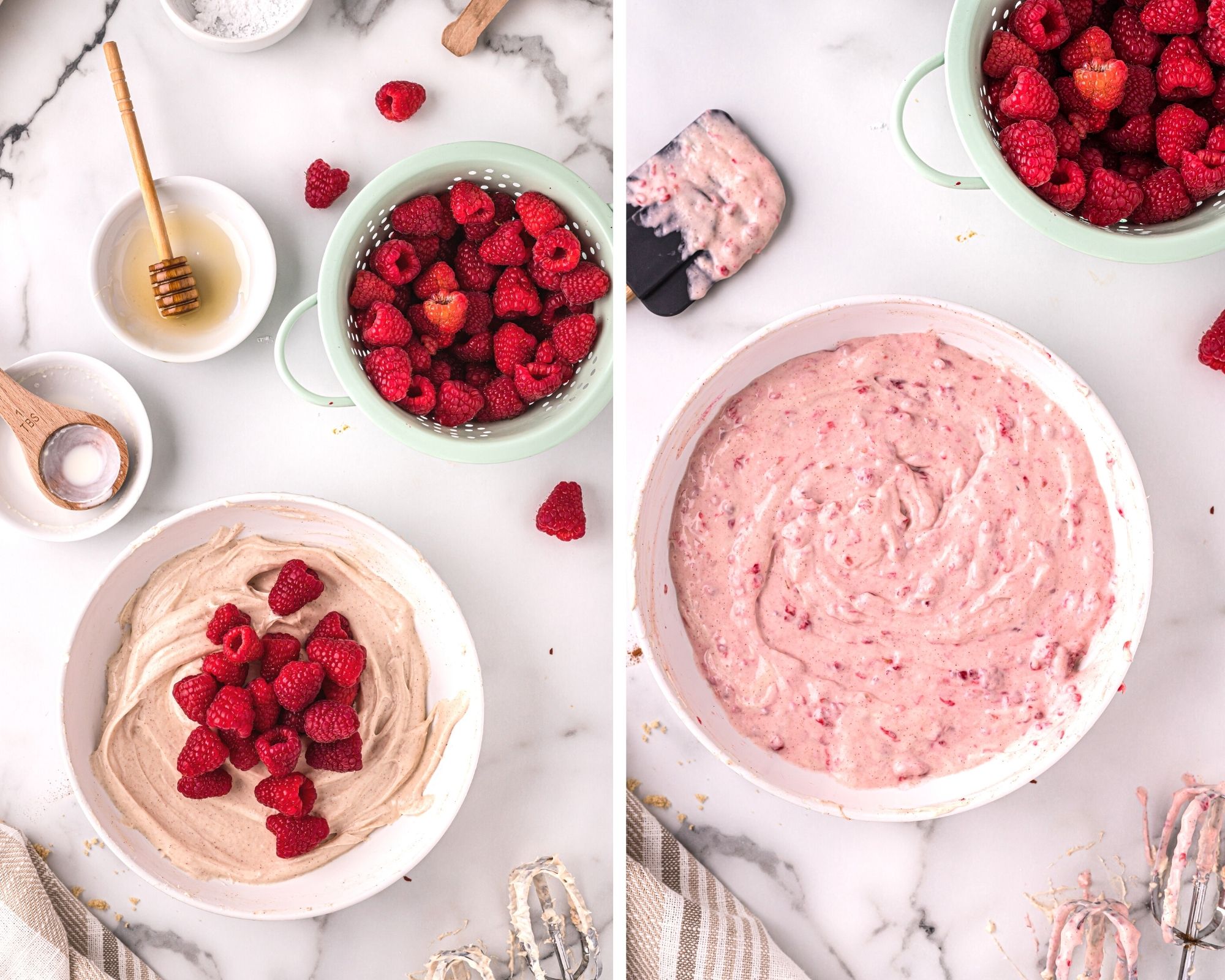 3. Mix in the raspberries and chill the fruit dip.
As the dip sits in the fridge, it will start to get a little more firm. The cream cheese and heavy cream both set in the cold fridge, giving the dip that perfect, dip-able texture. Then it's time to eat!
My cream cheese and raspberry dip will stay fresh in the fridge for about 3-4 days. Make the fruit dip in advance, cover the dip well and store it in an airtight container. This is a great way to get ahead on your game day cooking!
What to Serve with Cream Cheese and Raspberry Dip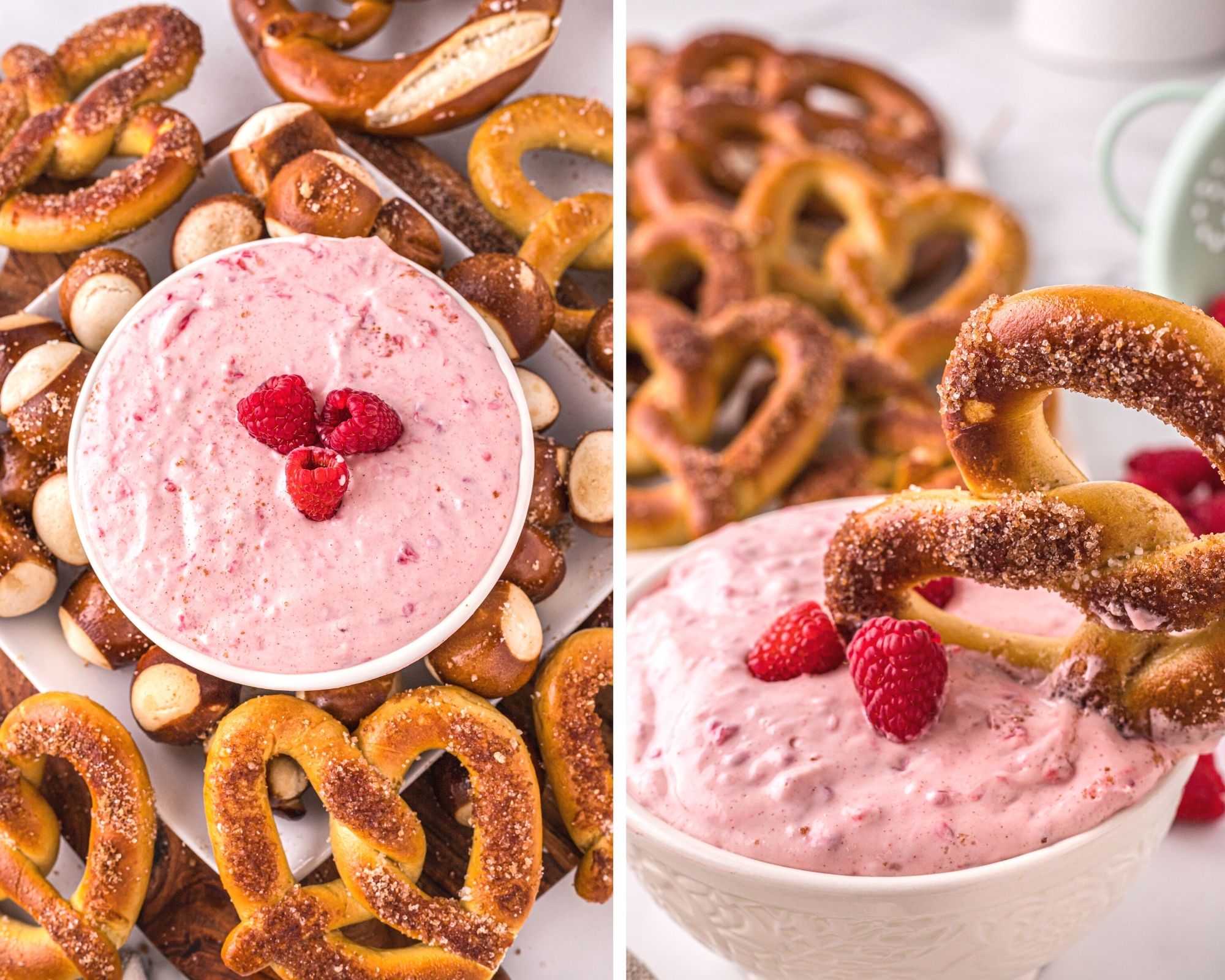 So many things go well with fruit dips. I love soft pretzels dipped in raspberry cream cheese dip and fresh apple slices add a nice, crunchy texture. Here are a few ideas you can use to make a deluxe dessert board, perfect for football season snacking.
Graham crackers
sliced fruits
soft or hard pretzels
small cookies
vanilla wafers
Oreos
rolled wafer cookies
whole strawberries
I must say that almost everything tastes great when dunked in raspberry cream cheese dip. Fruit dip just adds the perfect amount of sweetness. What are you going to put on the plate next to your raspberry cream cheese dip? I'm always looking for new ideas!
Frequent Asked Questions for Making Raspberry Cream Cheese Dip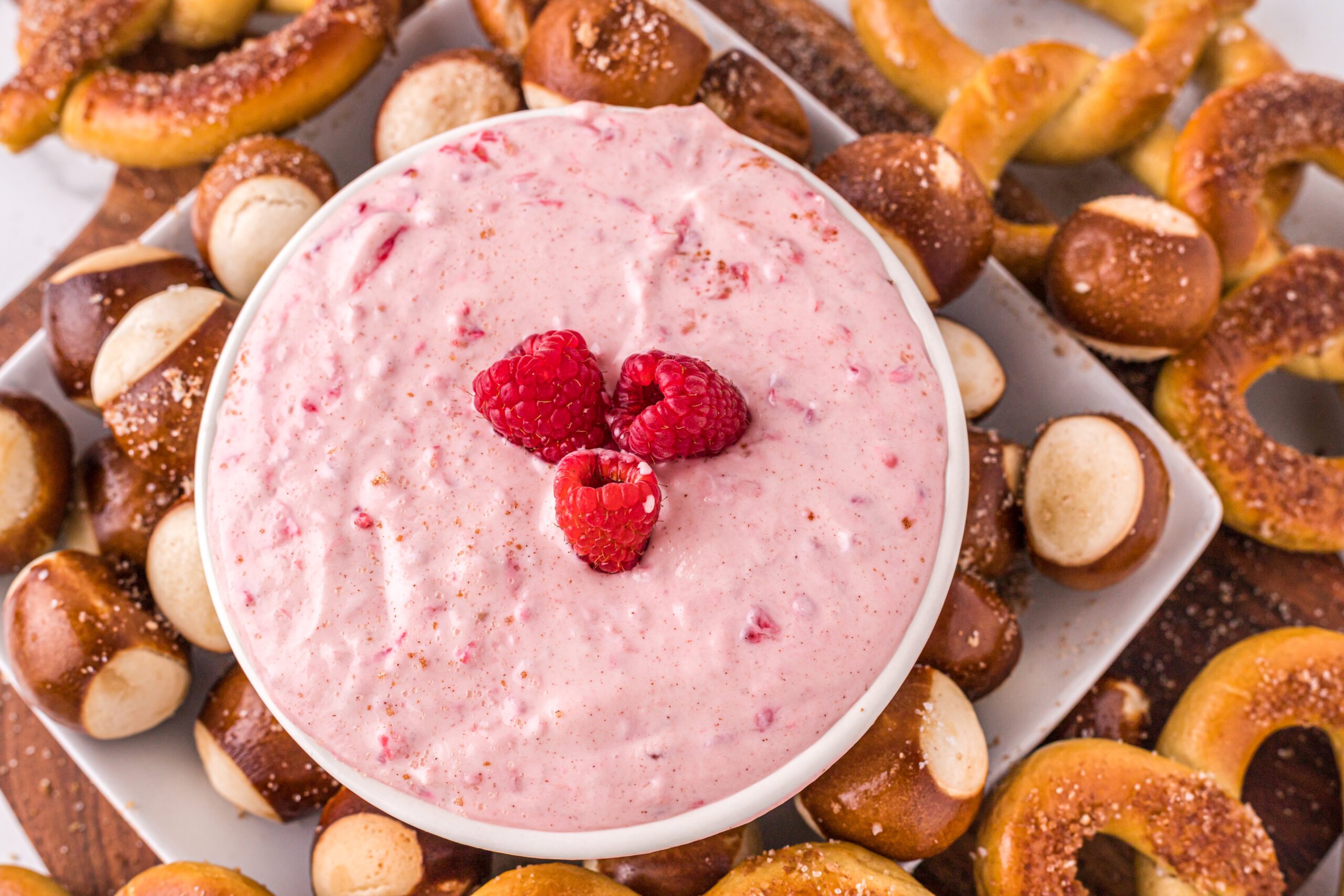 1. Could I use milk instead of heavy whipping cream? Yes, I will say the heavy cream does thicken the dip though.
2. Could I use frozen raspberries instead? Sure, I would puree them first so you will have a smoother consistency.
3. Could I make this ahead of time? Yes, you can make a day or two ahead of time and just set out when you are ready to serve.
4. What other fruit could I use instead of raspberries? You could use any type of berries, such as; blackberries, strawberries, or blueberries.
I'm super excited to serve this dessert-like fruit dip this football season! It's so easy to whip up during halftime and it's the perfect way to end a big game. Give this delicious raspberry cream cheese dip recipe a try and let me know what you think. Enjoy!
Print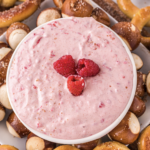 Raspberry Cream Cheese Dip
---
Description
Needing a new fruit dip to serve your guest? This raspberry cream cheese dip is the perfect dip that can be paired with fresh fruit, bagels and even pretzels. Made with fresh  raspberries, this dip is perfect for all seasons and is super easy to make for any occasion!
---
8-ounce cream cheese, softened
1/3 cup confectioners' sugar
1 tablespoon brown sugar
1 teaspoon cinnamon
3 tablespoons heavy whipping cream
2 tablespoons honey
1 cup raspberries
---
Instructions
In a mixing bowl add cream cheese, confectioner sugar, brown sugar, and cinnamon. Cream  together with a hand-held electric mixture.
Add in heavy whipping cream and honey and continue to mix.
Add in raspberries and mix on low for 10 seconds or until all berries are gently mixed into the  cream cheese mixture.
Place raspberry cream cheese in refrigerator for 20 minutes if serving immediately.
Keywords: raspberry cream cheese dip, dips, game day snack, game day food, easy recipes, appetizers, dip recipes
You Might Also Like…