Get my recipe for this delicious, quick and easy Baked Ranch Chicken made with my homemade ranch seasoning mix and paired with Green Giant® Veggie Fries®!
This post is sponsored by The National Frozen & Refrigerated Foods Association (NFRA). All opinions are my own. For more inspiration during #FrozenFoodMonth, be sure to check out delicious ideas from NFRA at EasyHomeMeals.com #MFFM2021
Who here needs to eat more veggies? I know I do. I always try to add at least one vegetable to every meal and sometimes this can be quite the challenge.
It's hard to get everyone in my family to eat and enjoy every vegetable I serve so sometimes, I just have to be a little more creative. A sprinkle of cheese on top of asparagus, add some honey to the roasted carrots to make them sweeter… I have a whole mess of tricks to try to make vegetables more appealing.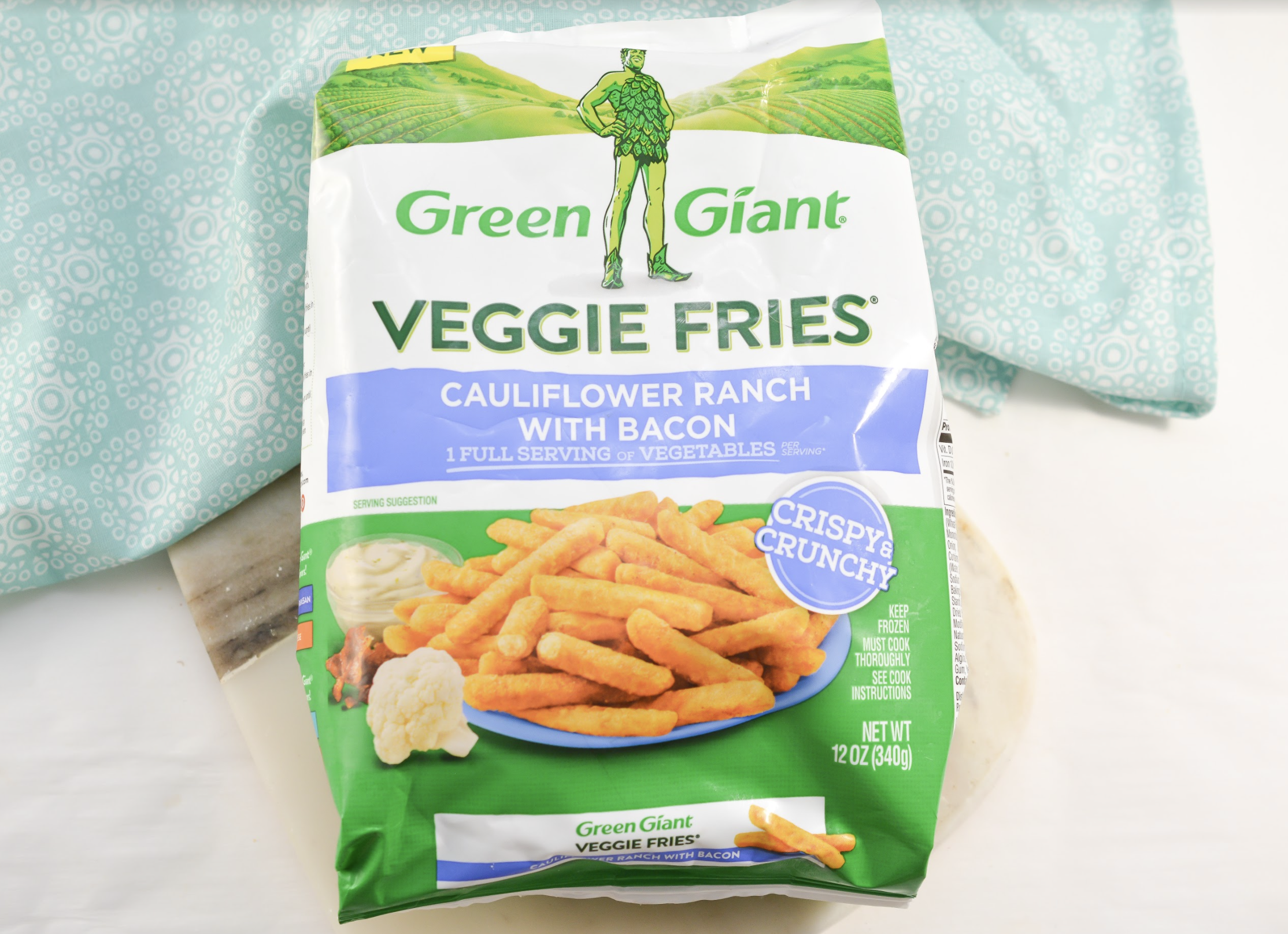 However, I just discovered the new Green Giant® Veggie Fries® and I am in love. They are my new favorite way to add a delicious vegetable to every dinner plate and, the best part, everyone in my whole family devours them! They are just so good.
I have always been a big fan of Green Giant® products. I make the Simply Steam™ veggie bags quite often since they are a quick way to prepare vegetables. My family also loves the Green Giant® cauliflower pizza crust which also has vegetables hidden inside the dough. So, I was super excited when I saw the new Green Giant® Veggie Fries® in the freezer aisle. I have really come to rely on Green Giant for all my frozen vegetable needs and these veggie fries looked like a perfect way to give my family vegetables in a whole new, tasty way.
The Green Giant® Veggie Fries® are made with real vegetables. In fact, one serving of fries is also a full serving of vegetables. You can eat them as a delicious snack, a crisp and crunchy appetizer or as a side dish to almost any meal. There are actually three different kinds of veggie fries to choose from, each with it's own unique taste and flavors. I tried the cauliflower ranch with bacon fries first, but the Green Giant® Veggie Fries®-Zucchini Garlic & Parmesan and Green Giant® Veggie Fries®-Broccoli & Cheese are already in my freezer for later. I couldn't choose just one kind with those amazing flavor options!
EASY BAKED RANCH CHICKEN RECIPE
I found that the cauliflower ranch with bacon veggie fries were the perfect side dish for my baked ranch chicken recipe. The chicken is marinated in a Greek yogurt, ranch seasoning mix and then baked for 25 minutes. It is a very quick recipe to put together and, when you serve it alongside the Green Giant® Veggie Fries®, you have a complete meal in just a matter of minutes! In fact, the veggie fries can go right into the oven at the same time as the chicken. Both trays can cook at the same time, saving you even more time in the kitchen!
My whole family loves the herby ranch flavor so between the chicken and the fries, they get their fill of ranch with this meal. The first time I served this dish, there was not one bite left on anyone's plate- a total dinner winner! Cleanup was also minimal and let me just say that veggie fries and chicken are going to be one of our new, go-to dinners from now on.
Anytime I find a way to make my family love vegetables, I am truly happy. I'm excited to keep pairing all the different kinds of Green Giant® Veggie Fries® with my favorite recipes and, as I said before, I already have a few more bags of fries in my freezer, ready to go! I highly recommend trying Green Giant® Veggie Fries® and adding them to your next meal.
Let me know which flavor of Green Giant® Veggie Fries® you choose first and what you served with them. I know this is a new product you will all love. You can also go here for valuable coupons to save you money!
*GIVEAWAY!
Thanks to Green Giant®, three (3) of you, my loyal Hip Mama's Place readers, will each win Green Giant® coupons worth up to $59.90!
This giveaway is open only to addresses within the 50 U.S. states.
To enter the giveaway and for the full details, go to the Hip Mama's Place Facebook page!
Print
Easy Baked Ranch Chicken
---
Author:

Prep Time:

10 minutes

Cook Time:

25 minutes

Total Time:

35 minutes

Yield:

4

servings

1

x
2 large boneless skinless chicken breasts cut in half
1 cup non-fat Greek yogurt
1 serving of ranch seasoning mix (see recipe below)
3 tbsp. fresh chopped parsley
2 tsp. dill weed dried
1 tsp. chives dried
2 tsp. onion powder
2 tsp. garlic powder
salt and pepper to taste
For the Ranch Seasoning
Serving: 1
Ingredients:
3 tbsp. fresh chopped parsley
2 tsp. dill weed dried
1 tsp. chives dried
2 tsp. onion powder
2 tsp. garlic powder
salt and pepper to taste
Instructions:
Mix together all of the ingredients for the seasoning in a bowl, and use to season your choice of meat as needed. 
---
Instructions
Preheat the oven to 450 degrees. 

Mix together all of the ingredients for the Ranch seasoning mix. 

Place the chicken breasts into a Ziploc bag. 

Add the Greek yogurt and seasoning mix to the Ziploc bag with the chicken. 

Seal the bag and toss the ingredients well to coat the chicken completely. 

Place the chicken into the bottom of a 9×13 baking dish and bake for 20-25 minutes, or until the chicken has reached an internal temperature of 165 degrees.
You Might Also Like…