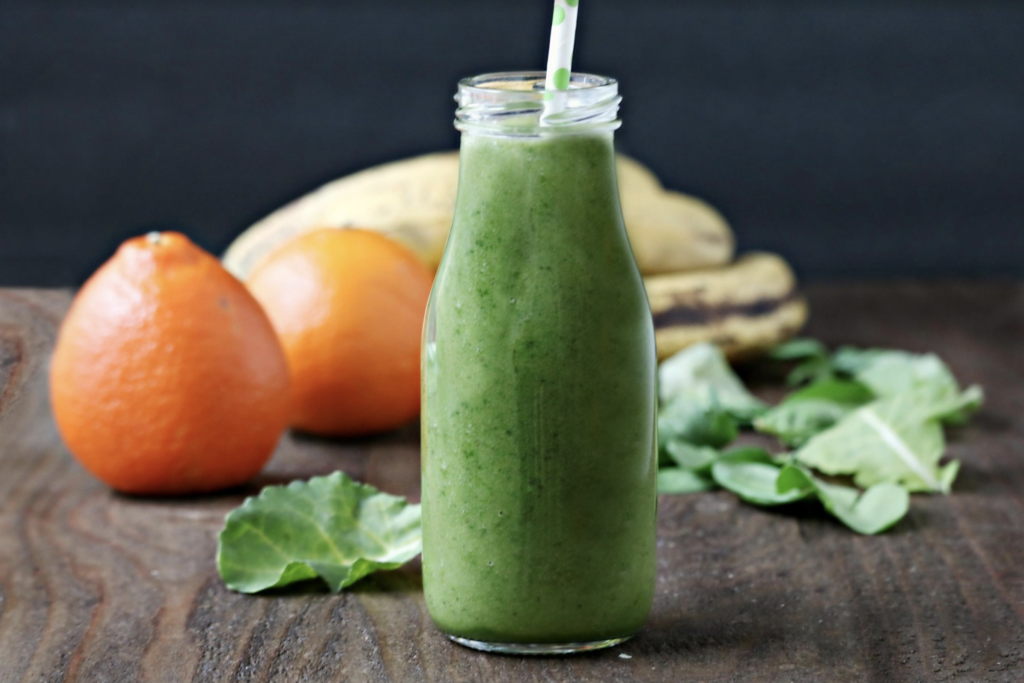 Easy, healthy and delicious, this green smoothie recipe is a great way to add healthy vegetables and fruits in your diet!
Green smoothies seem to be everywhere these days. But buying a bottle a day can put a damper on your wallet.
Today, I'm sharing with you one of my favorite homemade recipes for green smoothie that's both simple and inexpensive. Why pay $8 a pop on a green smoothie bottle at the store when you can make it fresh at home?
EASY GREEN SMOOTHIE RECIPE
I have been making my own healthy green smoothie recipes at home for the past few years. Green smoothies are a delicious way to add green vegetables to your diet and to lose weight. According to the U.S. Department of Agriculture's MyPlate food guide, *fruits and vegetables provide you with vital nutrients such as dietary fiber, potassium, folate (folic acid), vitamin A, vitamin C, vitamin E that are important for your health. A well-balanced diet rich in fruits and vegetables provides many health benefits, such as reducing the risk of certain chronic diseases.
So today, I'm excited to bring you one of my favorite healthy green smoothie recipes. This recipe only requires four healthy ingredients – oranges, banana, kale or spinach and honey! This is so delicious and tastes nothing like veggies, plus, it's a great way to get a good jump start on your mornings – and one of the ways I simplify my life! 🙂
Green 'Wake Me Up ' Smoothie
LOVE THIS RECIPE? PIN IT FOR LATER!
Print
Green 'Wake Me Up' Smoothie
---
Juice from

2

Tangelos or Oranges

1

banana, frozen is best

1

small handful of baby kale/spinach leaves
drizzle of honey, if desired
ice cubes according to your taste
---
Instructions
Put everything in a blender and blend until smooth.
Pour into a glass and enjoy right away!
*Reference: FoodPyramid.com/MyPlate