Once you make this Easy Homemade Hot Chocolate Mix, you'll be ditching the store bought ones! This makes the best hot chocolate drink in the Fall and winter time!
My family absolutely loves hot cocoa. The moment it starts to get cold outside, we start sipping on delicious cups of hot chocolate to help keep us warm.
I especially love cocoa because it is a treat that everyone in the whole family can enjoy. Are you a hot chocolate family too?
As you may know, I love to cook and bake. Making foods from scratch is my specialty and something I love to do. I truly believe that foods that are homemade taste better and are better for you. This is even true with hot cocoa! Why buy powdered hot chocolate mix when you can make it yourself?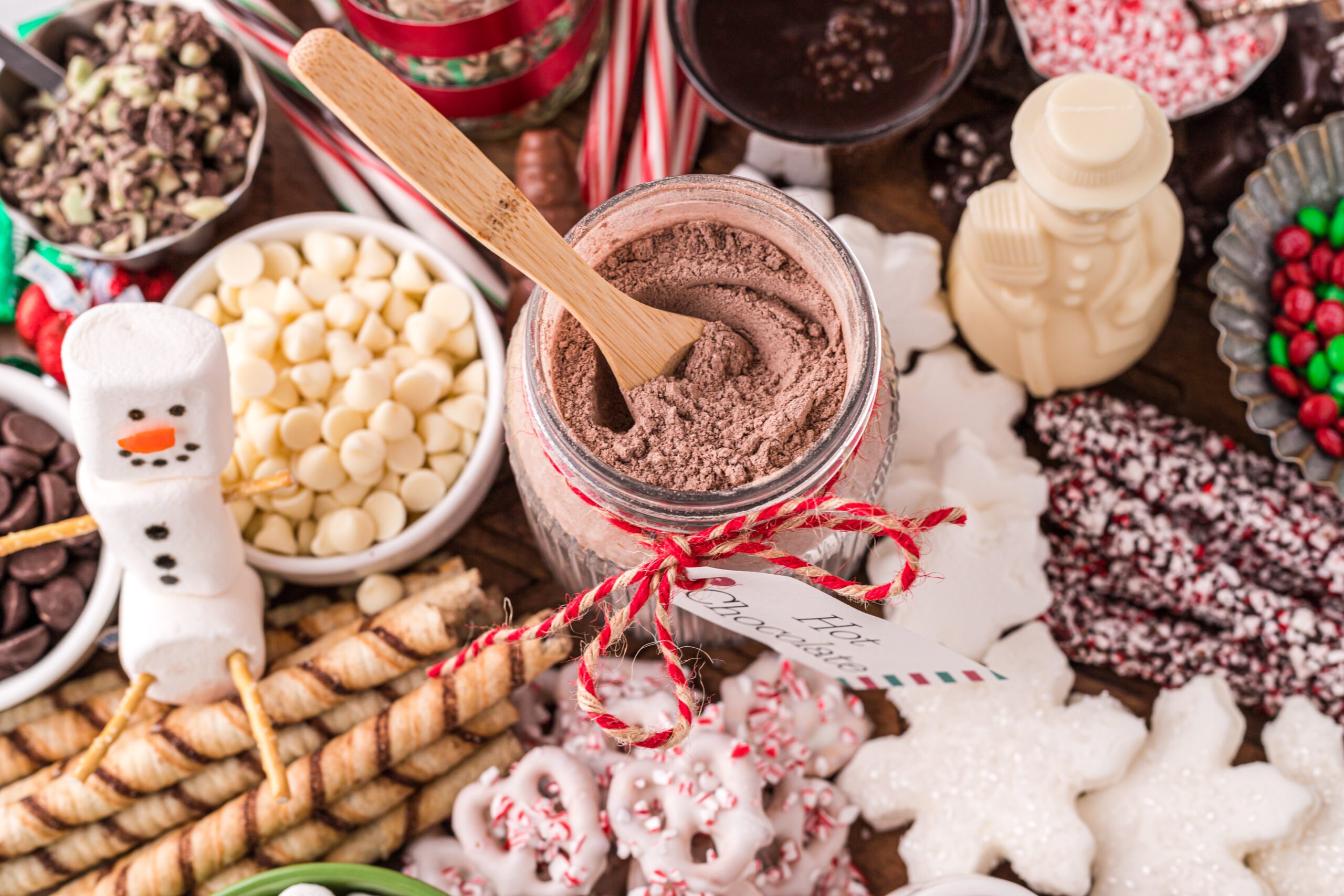 Why Y0u'll Love It
I make a big batch of my homemade hot chocolate mix and store it in my pantry so my kids can easily grab it and mix up a cup of their favorite winter drink. Nothing is more impressive or fun than a beautiful hot chocolate board with my homemade hot chocolate mix!
Ingredients
I have made this homemade hot chocolate mix recipe so many times and it's incredibly easy. You probably already have all of the ingredients you need to get started! Here is what I use to make my hot chocolate mix: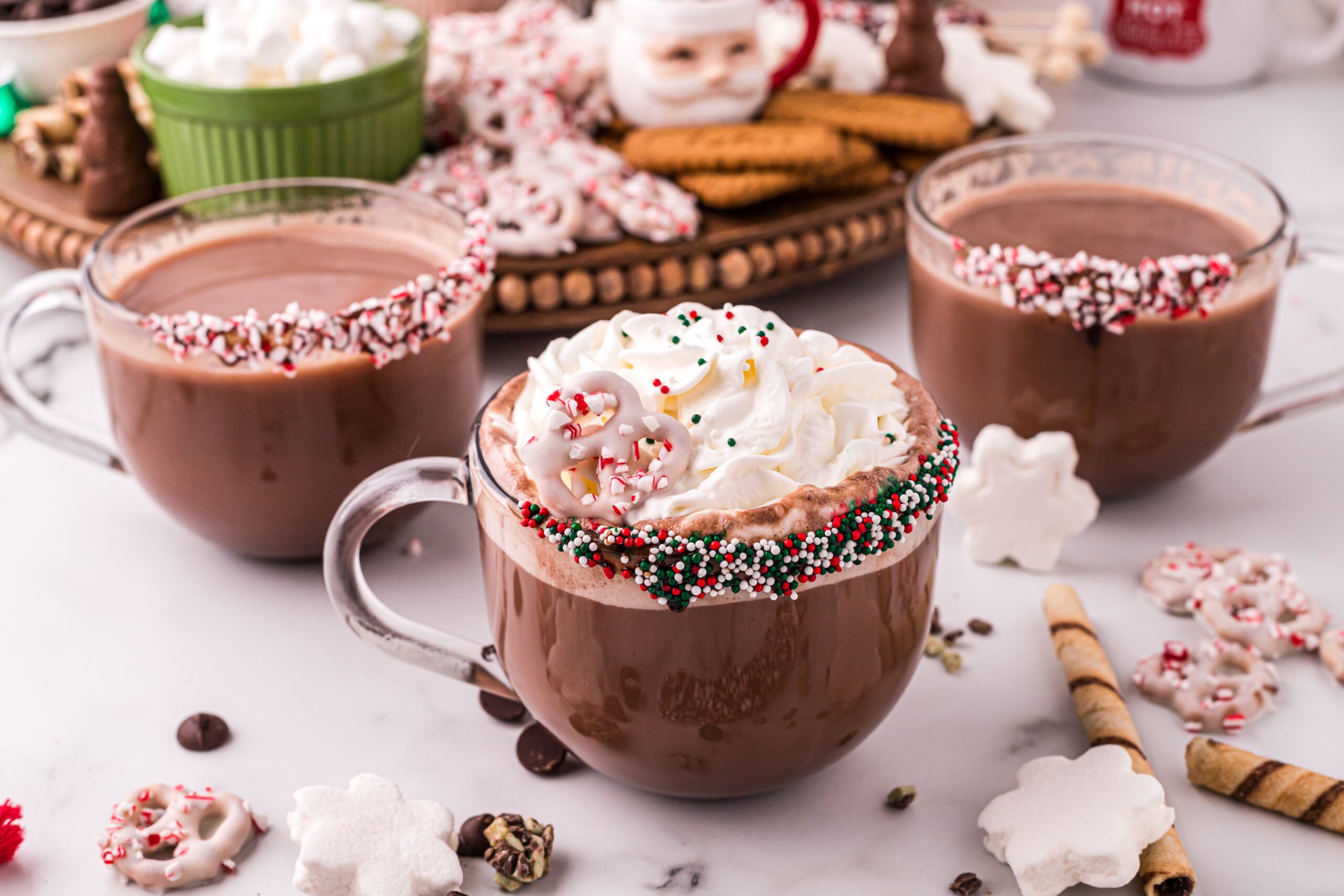 These simple dry ingredients can be mixed together ahead of time and stored in your pantry. Mix them together and keep them in an airtight container, ready to use anytime a hot chocolate craving hits. I keep my homemade hot cocoa mix in a big glass jar with an airtight lid and a scoop right inside for easy measuring.
How To Make It
Once you have the ingredients you need to make the hot chocolate mix from scratch, you can simply whisk the dry ingredients together. The powdered mix will be enough to make about 4 servings of hot cocoa. I strongly recommend doubling or even tripling the dry hot cocoa mix recipe so you can have some on hand. Keep a ⅓ cup scooper with the dry mix as this is the perfect amount of homemade hot cocoa powder for an individual mug of cocoa.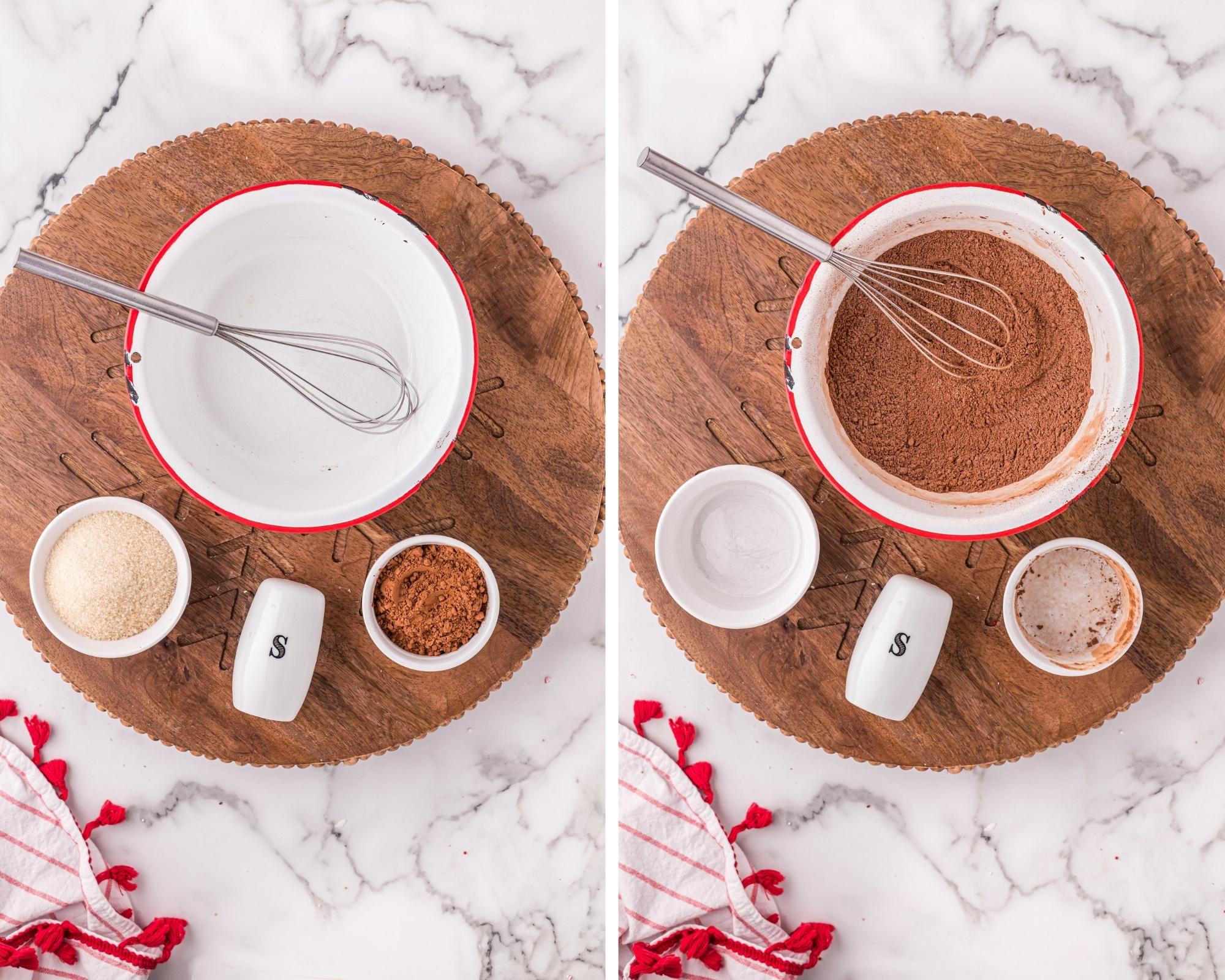 Here is a quick look at how to mix up a big batch of hot cocoa using my homemade hot chocolate recipe:
Whisk the cocoa powder, sugar and salt together in a bowl.
Bring ½ cup of water to a boil then whisk in the cocoa powder mix. The mix will be very thick but stir until there are no lumps.
Slowly whisk in the milk and half and half.
Bring the mix to a simmer then remove from the heat.
Add vanilla extract or peppermint extract if you'd like a little extra flavor.
Pour the warm hot cocoa into mugs and enjoy!
I like to make the hot cocoa completely and then pour it into a crock pot set on "warm". Put the big pot of cocoa on a dessert bar or next to a hot chocolate board for the perfect party set up. A homemade hot chocolate bar is something everyone will love!
Tips
Making the perfect mug of hot chocolate is not difficult but I do have a few tips and trick I want to share with you. Hopefully these little pieces of info will help you make the best cocoa of your life.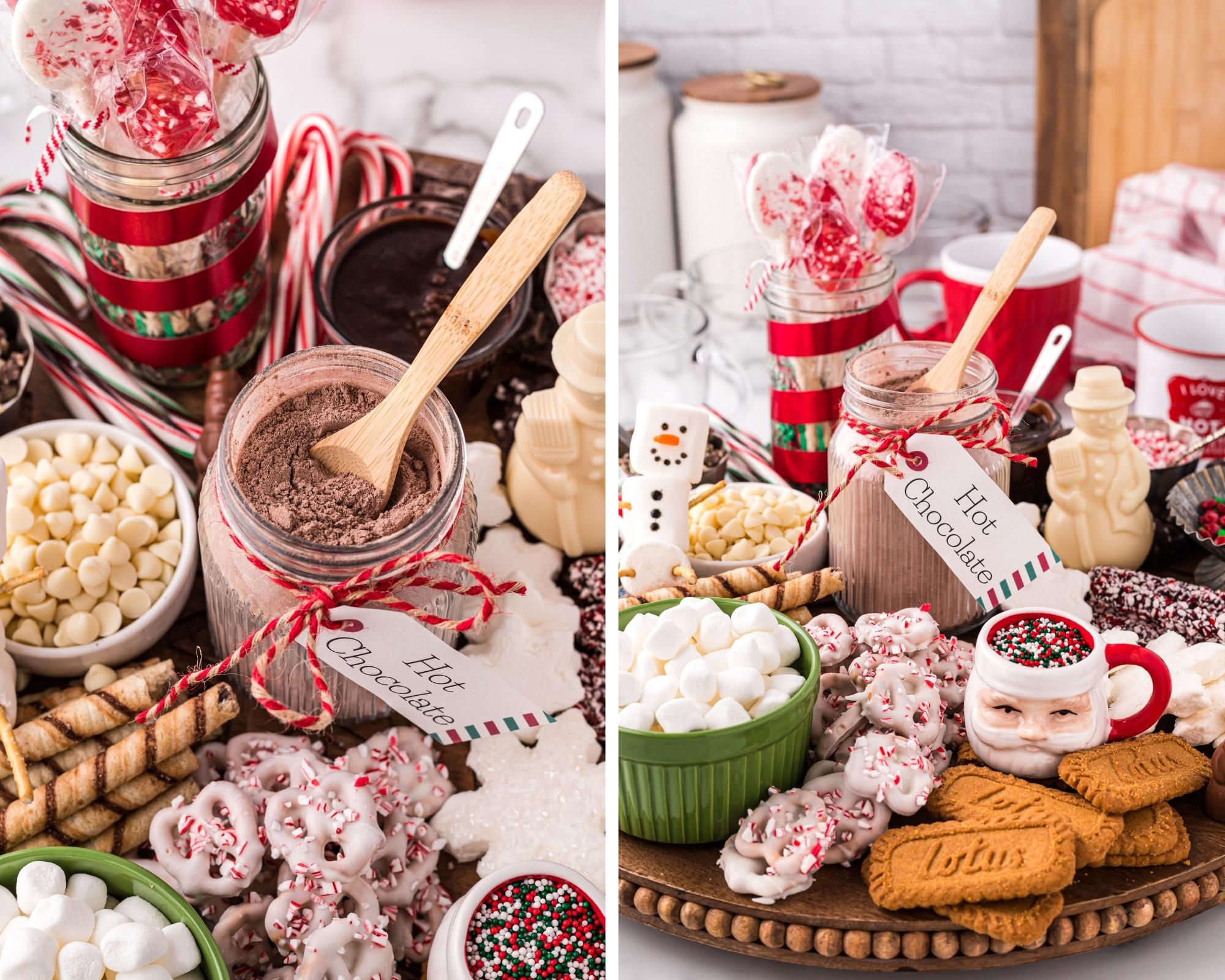 If you have any hot cocoa making tips to share, please leave them in the comments below! I am always looking for new ways to make my family's favorite Christmas drink even tastier.
Christmas Hot Chocolate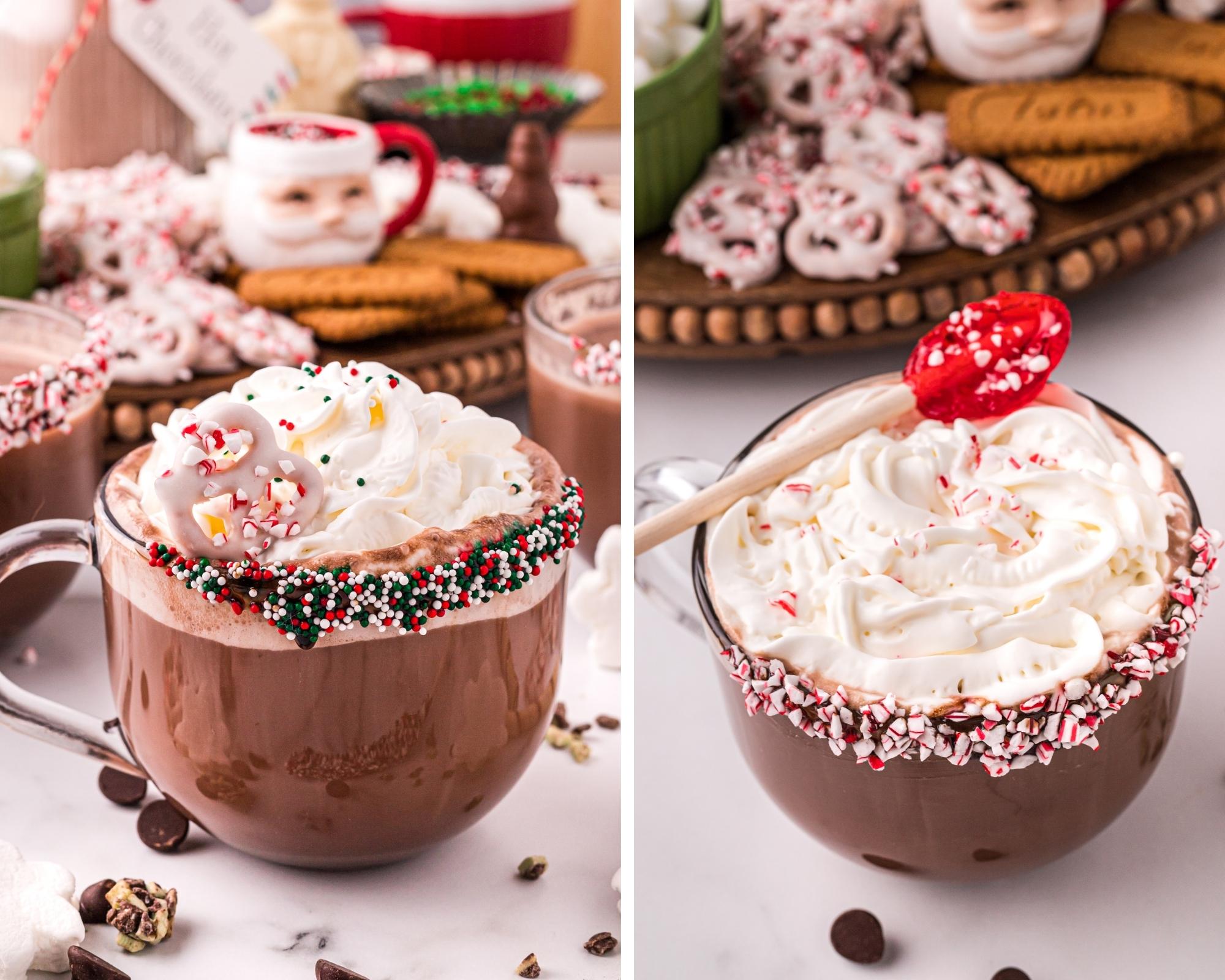 Homemade hot cocoa is not only the perfect thing to make for your family this winter, but it is also a fantastic gift to give at Christmas. Pack little jars of this homemade hot chocolate mix, make a pretty instruction tag and add a bow to the top of the jar to create a wonderful gift. And if you're anything like me, make a big batch of this awesome homemade hot chocolate mix for your DIY hot chocolate charcuterie board at your holiday party or to mix a batch of hot chocolate for a holiday hot cocoa bar.
Making foods, desserts and drinks from scratch is a labor of love but it is one with a big impact. You can really taste the difference in homemade hot chocolate mix when compared to store bought mixes.
So, give this easy homemade hot chocolate mix recipe a try and I know you will be hooked! We have a long winter ahead of us and a warm mug of homemade hot chocolate will help get you through the colder days!
Enjoy!
*This post may contain affiliate links. Read our Disclosure Policy for more details.
More Holiday Treats
Try these other delicious holiday treats!
I hope you like my homemade hot chocolate mix recipe – be sure to give it a review below!
Also don't forget to follow Hip Mama's Place on Facebook, Instagram, Pinterest, and Twitter!
Print
Homemade Hot Chocolate Mix
---
For the hot chocolate mix: 
1⁄2 cup unsweetened cocoa powder
1 cup granulated sugar
1⁄2 teaspoon salt
For the hot chocolate:
5 cups milk
1⁄2 cup half and half
1⁄2 cup water
peppermint extract (optional)
vanilla extract (optional)
---
Instructions
In a mixing bowl whisk together cocoa powder, sugar, and salt until throughly combined.
Store in an airtight container.
To make hot chocolate, in a large sauce pan bring water to a boil. Turn down heat to low.
Add in the hot chocolate mix and whisk.
Slowly add in milk and half and half.
Remove saucepan from heat and add in peppermint or vanilla extract if you like.
LOVE THIS POST? PIN IT HERE!