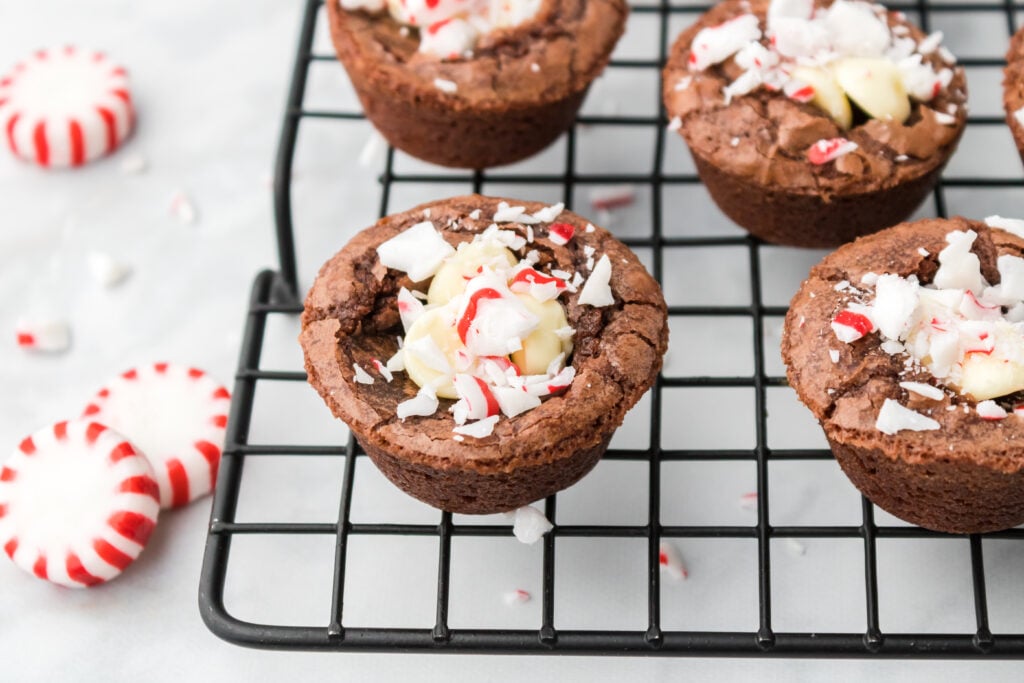 These delicious, quick and easy peppermint brownie bites are a holiday treat you can't resist! This brownie bites recipe is always a hit in our house and it will be in yours too!
The holiday season is really starting to sink in. My days are getting busier and busier and my house is feeling more and more like Christmas every day! While it can feel a little hectic, I really do love this time of year. All the baking projects and crafts, Christmas movies and family get-togethers all put a smile on my face. What makes you smile the most at Christmastime?
So many people will agree that Christmas baking is a tradition that they love. I definitely do! In fact, I often have to decide which of my favorite Christmas desserts to make and which to skip- I have too many that I love! However, these easy peppermint brownie bites I always make every single year. This is not a recipe to ever skip! They are so simple and so full of chocolate peppermint taste that I crave them all year long.
I want to share this delicious Christmas brownie recipe with all of you so you can put it on your Christmas baking lists too! Everyone needs a reliable and easy Christmas dessert recipe on hand this time of year!
Tools and Ingredients for Peppermint Brownie Bites Recipe
To make these delicious and festive peppermint brownie bites, you will need a well greased mini muffin tin. This is the secret to making brownie bites rather than full sized brownies. The peppermint brownie recipe will bake in the mini muffin pan rather than a square baking pan. Small, perfectly sized brownie bites will pop right out of the tin and into your mouth- no cutting needed!
You will also need a large bowl and rubber spatula to make the brownie recipe. Those are the only tools required to make these little brownie bites. I told you it would be easy!
As for ingredients needed to make the peppermint brownies, you will need the following:
1 box fudge brownie mix
2 eggs
3 tbsp water
⅓ cup vegetable oil
¼ cup white chocolate chips
¼ cup crushed peppermint candies
Boxed fudge brownie mix is my little secret to making this easy Christmas dessert. No one will ever know that you used a boxed mix rather than make the brownies completely from scratch (which you can also do if that's your preference). The yummy taste of the chocolate and vibrant peppermint is all your friends and family will think about as they bite into these delicious peppermint fudge brownie bites!
How to Make Peppermint Brownie Bites
Once you have everything you need for the brownie bites recipe, putting the ingredients together will take you just a few minutes. You will have the brownie bites baking in the oven in no time! Here is what you need to do:
1. Grease your mini muffin tin well with baking spray.
2. Mix the boxed brownie mix, eggs, water, and oil together in a bowl until the batter is smooth.
3. Scoop the brownie batter into the mini muffin cups, filling them about 90% of the way to the top.
4. Bake the mini brownies for about 10 minutes or until a toothpick comes out clean from the center of each brownie.
5. Take the tray out of the oven and immediately indent the center of each mini brownie using the handle of a wooden spoon.
6. Press about 3 white chocolate chips in each indentation and sprinkle some crushed peppermint candies into each indent as well.
7. Let the brownies cool (if you can resist!) and then pop them out of the tray.
8. Enjoy!
From start to finish, this easy Christmas dessert recipe takes me about 15 to 20 minutes to make. I do the dishes while the brownies are in the oven so once they are baked, all that is left to do is eat!
Tips and Tricks for Making the Perfect and Easy Peppermint Brownie Bites
Peppermint brownie bites are a Christmas dessert that I really do make every year. Since they are a frequent recipe in my home, I have a few tips and tricks to help you make them perfectly. Take a look at these little secrets before you start baking.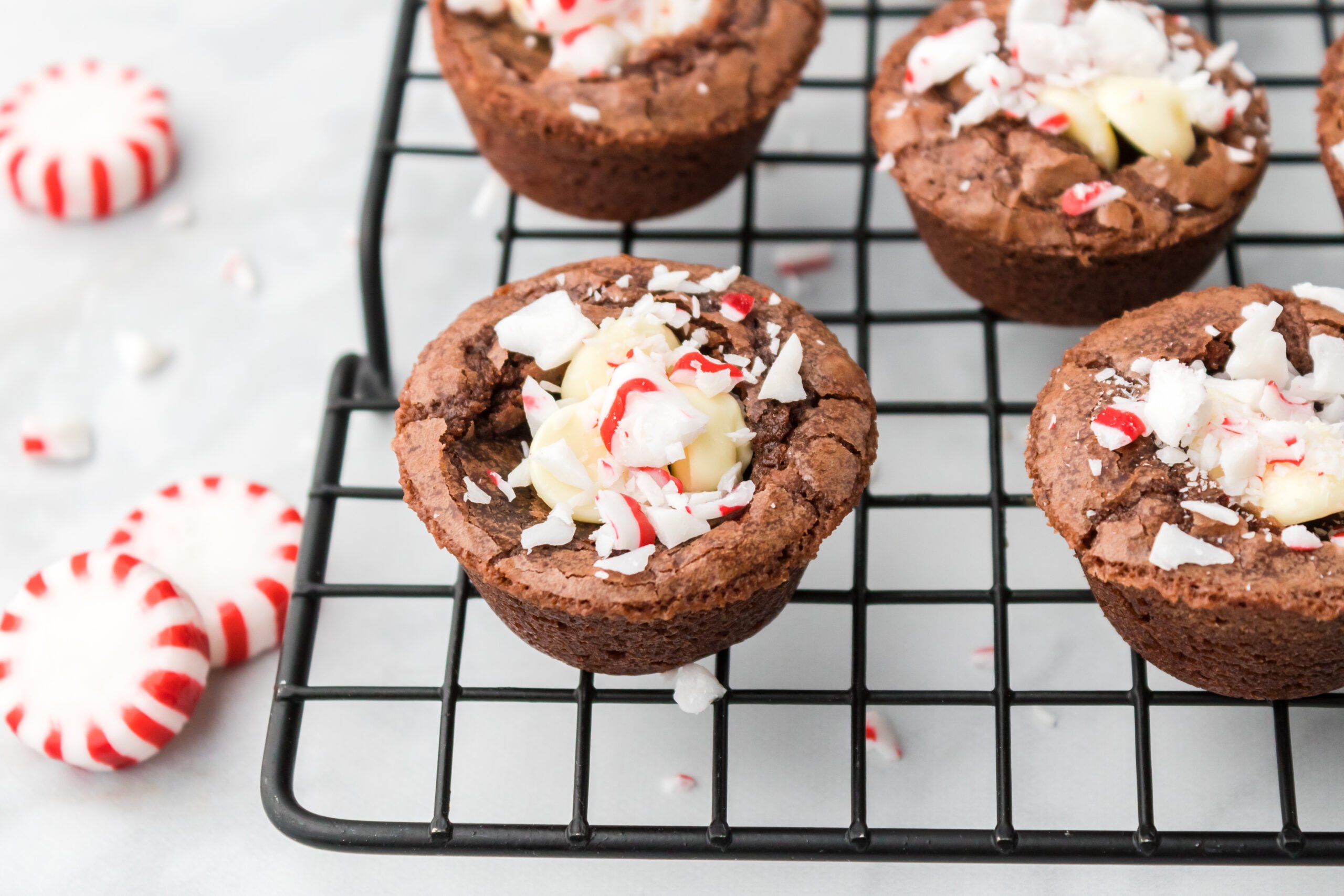 Spray the muffin tin well so the brownies pop out of the tray easily. Be sure to grease all the little corners!
Bake the brownies in paper muffin cups to have a neat looking, very "dessert bar friendly" treat. These will be perfect for Christmas bake sales or on a buffet table at a Christmas party.
Use dark chocolate whips in place of white chocolate chips for a richer taste.
Place a few candy canes on a cutting board, cover them with a kitchen towel and then smash them with a rolling pin or meat tenderizer. This is the cleanest and best way to crush peppermint candies that I have found.
Use fudge boxed brownie mix which is usually thicker and richer.
Add the white chocolate chips to the warm brownies and let the chips melt a little before sprinkling on the peppermint. This will ensure the peppermints stick really well to the brownies as they will adhere to the gooey chocolate.
Once you make these peppermint fudge brownie bites, I am sure you will have a few tips and tricks of your own! Don't forget to share them with me! I am always looking for ways to make Christmas baking more fun and also easier!
All this talking about peppermint brownies has really made me crave this perfect Christmas treat. I think I might go make a batch right now! You should give these easy Christmas treats a try too. They are festive, simple and a real show stopper. You will love them! Please tag me on Instagram if you decide to try this recipe!
Merry Christmas everyone!
This post may contain affiliate links. Read my Disclosure Policy for more details.
Print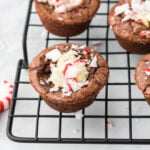 Easy Peppermint Brownie Bites
---
Description
These peppermint brownie bites make for a delicious holiday treat you just can't resist! Try this easy brownie bites today!
---
---
Instructions
1. Preheat oven to 350 degrees. Grease 24-well mini muffin tin. 
2. In large mixing bowl, combine brownie mix, egg, oil, and water. Mix until just combined.  
3. Fill muffin wells 90% full.  Bake for 10 minutes or until brownies are cooked. 
4. Check doneness by inserting a toothpick in the center of brownies.  When the toothpick comes out clean, they're done! 
5. Remove from oven and immediately make an indentation in each brownie with the back of a spoon or handle of wooden spoon. 
6. Place 2-3 white chocolate chips in the center and top with a sprinkle of crushed peppermint.
7. Allow to cool for 5 minutes before removing from pan. Place on cooling rack. 
LIKE THIS RECIPE? PIN IT FOR LATER!

You Might Also Like…