Soft, chewy and delicious, these Peanut Butter Christmas Cookies are just the right salty-sweet cookies you'll love! The perfectly baked peanut butter cookies are then partly dipped in chocolate then topped with sprinkles which make for fun and festive holiday sweet treats!
Holiday baking is in full swing in my home and I couldn't be more excited. Decorating and baking for the holidays always make my heart and soul feel happy. There is just something about the ability to create Christmas magic that I just love. I like to put on some Christmas music, tie on my snowflake apron and start baking!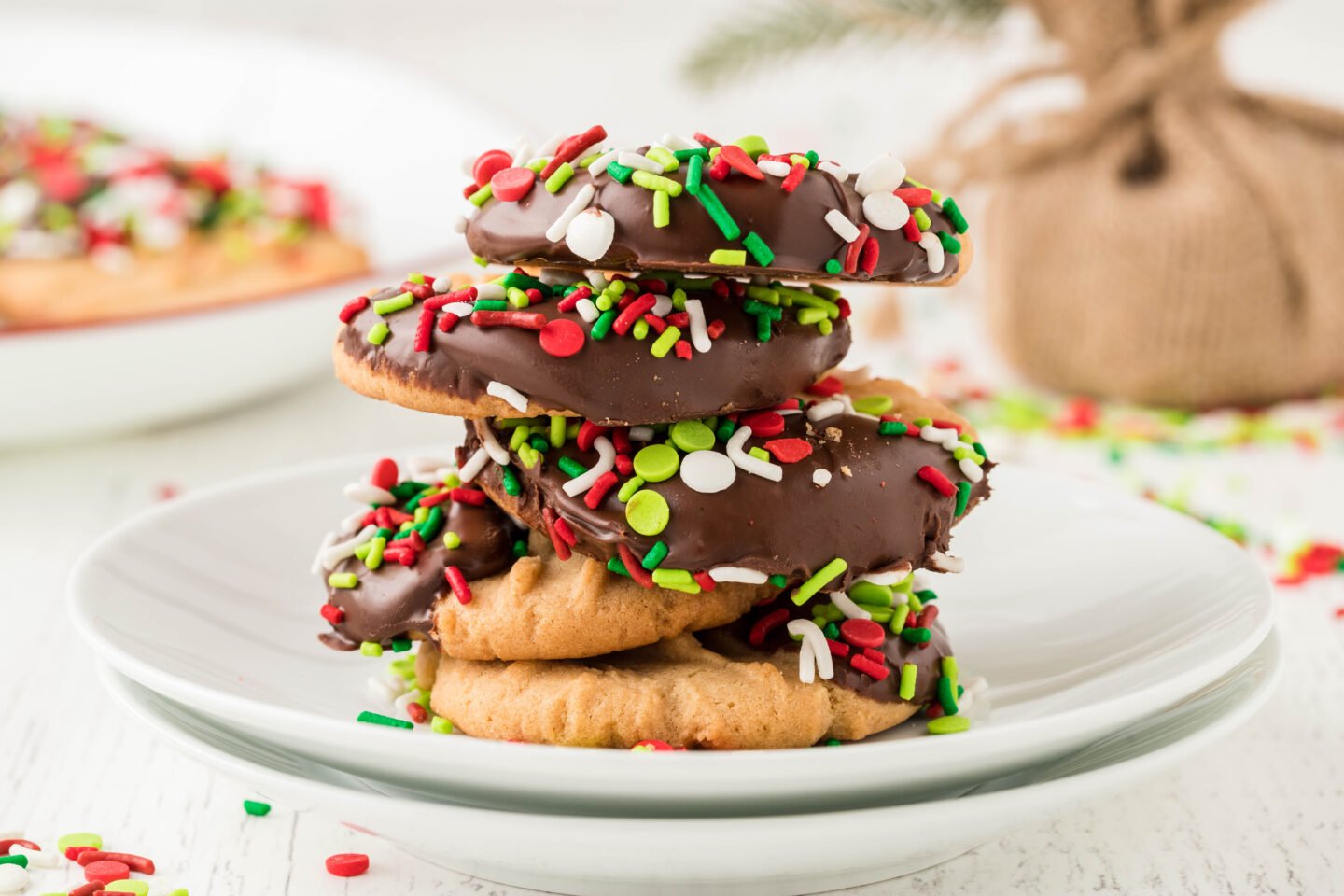 I recently made these peanut butter Christmas cookies and instantly fell in love with this recipe. Everyone in my family loves peanut butter cookies and these cookies are essentially the best peanut butter cookies all dressed up for the holidays.
Soft, melt in your mouth cookies are dipped in luxurious chocolate and then topped with festive sprinkles. They really are perfect!
If you are a peanut butter cookie lover, you absolutely must try this recipe for peanut butter Christmas cookies right away.
Ingredients for Peanut Butter Christmas Cookies
To make peanut butter Christmas cookies, you only need basic cookie ingredients. Nothing too crazy here! You may even have everything you need in your pantry already.
Here is a quick look at what ingredients to grab: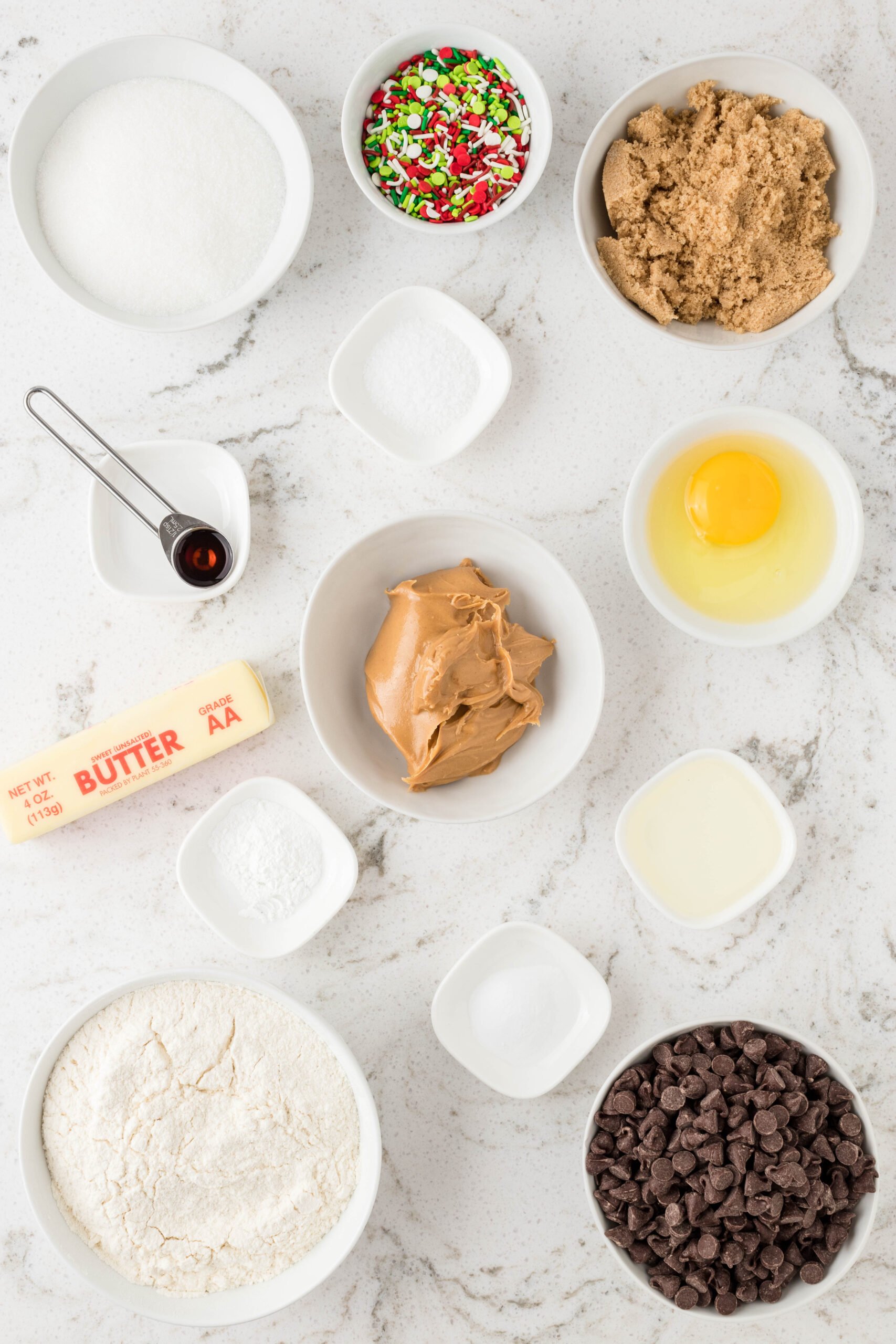 Butter

– I always like to use unsalted butter when I bake. Room temperature butter is also best as it is perfectly soft and will blend right into the cookie batter.

Peanut Butter

– Smooth, creamy peanut butter is what you want. Any brand will do! I like to use Skippy peanut butter which I find has the best taste and is no-stir so the texture is perfect right when you open the jar.

Granulated Sugar and Light Brown Sugar

– A mix of sugars make the cookies perfectly sweet and adds a bit of rich molasses flavor.

Egg

– I always use large eggs for baking.

Vanilla Extract

– Try to use real vanilla extract instead of imitation vanilla. The flavor is definitely different and real vanilla extract will make your cookies taste incredible.

Flour

– Always sift your flour before mixing it into the cookie batter so that any lumps are removed. You want smooth, beautiful batter!

Baking powder and baking soda

– Both of these ingredients will help leaven your cookies, making them chewy and thick.

Salt

– A little bit of salt enhances the taste of the cookies.

Chocolate Chips

– I like semi sweet chocolate chips but milk chocolate or dark chocolate will work as well.

Vegetable Oil

– A little oil will make the chocolate a little thinner, letting it coat the cookies perfectly.

Holiday Sprinkles-

You need holiday sprinkles to make these peanut butter cookies extra festive!
How to Make Christmas Peanut Butter Cookies
These chocolate dipped peanut butter cookies may be one of the easiest Christmas cookies you make. Here is how to make my amazing old fashioned peanut butter cookies in just a few simple steps:
1. Preheat your oven to 375 degrees F and line a baking tray with parchment paper.
2. Whisk the flour, baking powder, baking soda and salt together in a medium bowl.
3. In a separate bowl, beat the butter, brown sugar and granulated sugar together until light and fluffy. Don't forget to scrape down the sides of the bowl to really blend in all the butter!
4. Add the egg and vanilla to the creamed butter and stir until smooth.
5. Add the dry ingredients to the bowl and stir in slowly until a smooth, thick cookie dough forms.
6. Scoop the cookie dough into one tablespoon sized balls and place them on the parchment lined tray. Use a fork to pat them flat.
7. Bake the cookies for about 10 minutes. The edges of the cookies should be golden brown.
8. Let the cookies cool while you melt the chocolate chips and vegetable oil together in a small bowl.
9. Dip each cookie halfway in the melted chocolate then place the dipped cookies on a clean piece of parchment and sprinkle with the holiday sprinkles.
10. Let the chocolate cool for about an hour. Then, enjoy!
Tips and Tricks for Making Peanut Butter Christmas Cookies
I have a few peanut butter cookie tricks that I want to share. Take a look at these tricks before you bake to ensure your peanut butter Christmas cookies are perfect.
Use room temperature eggs when baking. Room temperature eggs blend into the cookie batter easily and more evenly, making your cookie dough perfect.

Use all brown sugar in place of white sugar for a softer cookie.

Make ¼ cup sized cookie dough scoops to create jumbo peanut butter cookies. These are great for wrapping individually and giving as a gift. Big peanut butter cookies will take about 12-14 minutes to bake.
How to Store Peanut Butter Cookies
Once your cookies are baked and cooled, you can store them in an airtight container and keep them at room temperature. The cookies will keep for about a week before they start to dry out.
You can make the cookie dough, scoop the dough and flatten it with a fork then freeze the unbaked dough. Frozen cookie dough will keep in the freezer for up to three months. When you need to make fresh Christmas cookies, place the frozen dough on a parchment lined tray and bake! The cookies will need about 2 more minutes to bake since the dough is cold but they will be amazing. I love this little trick to help me prep my cookie doughs in advance and have fresh holiday cookies all season long.
Perfect Chocolate Dipped Peanut Butter Cookies
Chocolate peanut butter Christmas cookies are definitely one of my family's new holiday favorite treats. I honestly can't want to make (and eat!) more of them! I hope that you give this Christmas peanut butter cookies recipe a try and add it to your holiday baking list soon. All peanut butter cookie lovers are sure to enjoy them. Happy holidays!
MORE FESTIVE SWEET TREATS TO TRY!
I hope you like this recipe for Peanut Butter Christmas Cookies– be sure to give it a review below!
This post may contain affiliate links. Hip Mama's Place is a participant in the Amazon Services LLC Associates Program, an affiliate advertising program designed to provide a way for websites to earn advertising revenues by advertising and linking to Amazon.com and other retailers- at zero cost to you. You can learn more about our Privacy and Disclosure Policies HERE.
Print
Peanut Butter Christmas Cookies
---
Description
Soft, chewy and delicious, these Peanut Butter Christmas Cookies are just the right salty-sweet cookies you and your family will love! 
---
½ cup unsalted butter, room temperature 
½ cup creamy peanut butter 
½ cup granulated sugar
½ cup light brown sugar
1 egg, room temperature
½ teaspoon pure vanilla extract
1 ¼ cups all-purpose flour, sifted
½ teaspoon baking powder
½ teaspoon baking soda
½ teaspoon kosher salt
2 cup semi-sweet chocolate chips
2 teaspoon vegetable oil
3 tablespoons holiday sprinkles
---
Instructions
Prepare a large baking sheet with parchment paper and preheat the oven to 375°F.

 

In a medium mixing bowl, whisk 1 ¼ cups sifted all-purpose flour, ½ teaspoon baking powder, ½ teaspoon baking soda, and ½ teaspoon kosher salt until combined.
Using a hand mixer and a large mixing bowl, cream ½ cup room temperature unsalted butter and ½ cup creamy peanut butter. Add ½ cup granulated sugar and ½ cup brown sugar and continue to cream. Next, add 1 egg and ½ teaspoon of pure vanilla extract and continue to mix until the dough is fluffy. Now slowly add the contents of the dry ingredient bowl and mix until combined. Be sure to scrape down the sides again.
Using a 1-tablespoon cookie scoop, make a cookie ball and place them on the prepared cookie sheet.

 

Using a fork, gently press them flat, keeping the round shape intact. Bake for 10 – 12 minutes. Remove from the oven, place on a cooling rack, and allow to cool until completely cool.
Using a small mixing bowl, melt 2 cups of semi-sweet chocolate chips in the microwave, beginning for 1 minute, then for 30-second increments until the chocolate has melted completely. Stir between each interval.
Dip each cookie halfway in the melted chocolate. Set each dipped cookie on parchment paper and sprinkle with your favorite holiday sprinkles. Allow chocolate-dipped cookies to set for 1 hour.

 

Serve and ENJOY!
LOVE THIS RECIPE? SHARE THE LOVE & PIN IT HERE!