A match made in dessert heaven! Enjoy a delicious combination of mint chocolate chip brownies and M&Ms in these mint chocolate chip brookies! Perfect for birthdays, holidays (like St. Patrick's Day!), or any special occasion!
St. Patrick's Day is right around the corner and I am already starting to celebrate. My green decorations are up, I have my corned beef meal planned and I am just starting to bake all of my favorite St. Patrick's day treats. You may be surprised by how many amazing St. Patrick's day dessert recipes are out there. Of course, I have to try them all and then put my special twist on every recipe, making it even better and more festive… and that's just exactly what I did with this St. Paddy's day dessert recipe: Mint Chocolate Chip Brookies!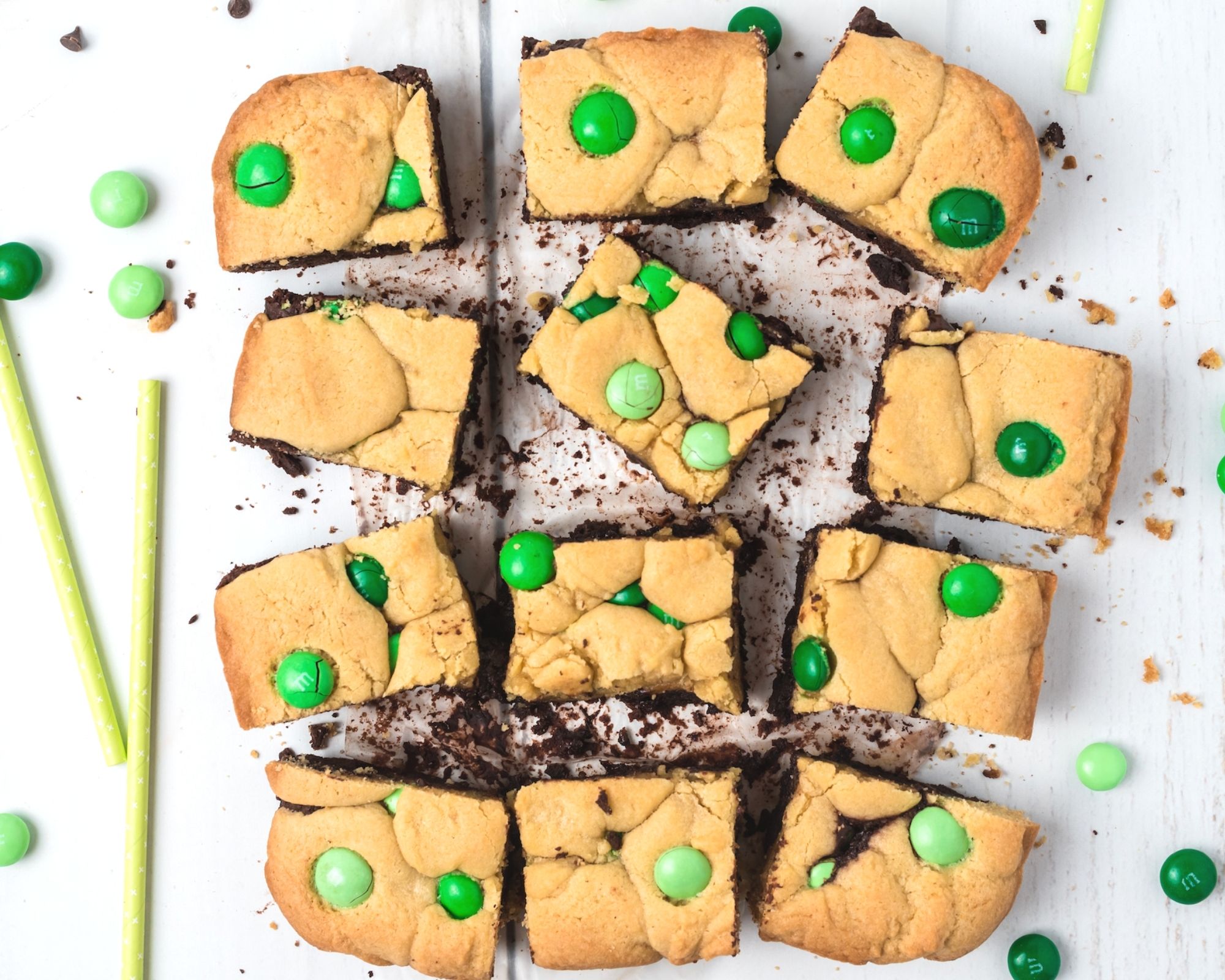 But first… have you ever heard of a brookie or brookies before? It's a combination of two classic desserts- a brownie and a cookie. You no longer have to decide which to have because you can have both! A brookie is essentially a two-layer dessert. A layer of brownie is topped with a big layer of cookie and then baked together to create the ultimate treat. Sounds pretty incredible, right?! It is!
Mint is also a St. Patrick's day dessert signature flavor that tastes amazing with chocolate. The vibrant green color of the M&M's looks fantastic next to the dark chocolate brownie and the mint taste adds a refreshing, delicious twist.
So.. if you're looking for the ultimate St. Patrick's Day dessert, you will have to try my Mint Chocolate Chip Brookies recipe!
How to Make Mint Chocolate Chip Brookies
Start by making the brownie layer of the dessert just as you would make any brownie batter. The coconut oil, cocoa powder and salt are combined and then the sugars, vanilla and egg are mixed in.
Add the flour and chocolate chips and then the first part of your St. Paddy's day brookies is done!
Spread the brownie batter across the bottom of a greased 8×10 pan and then dot it with green mint M&M's.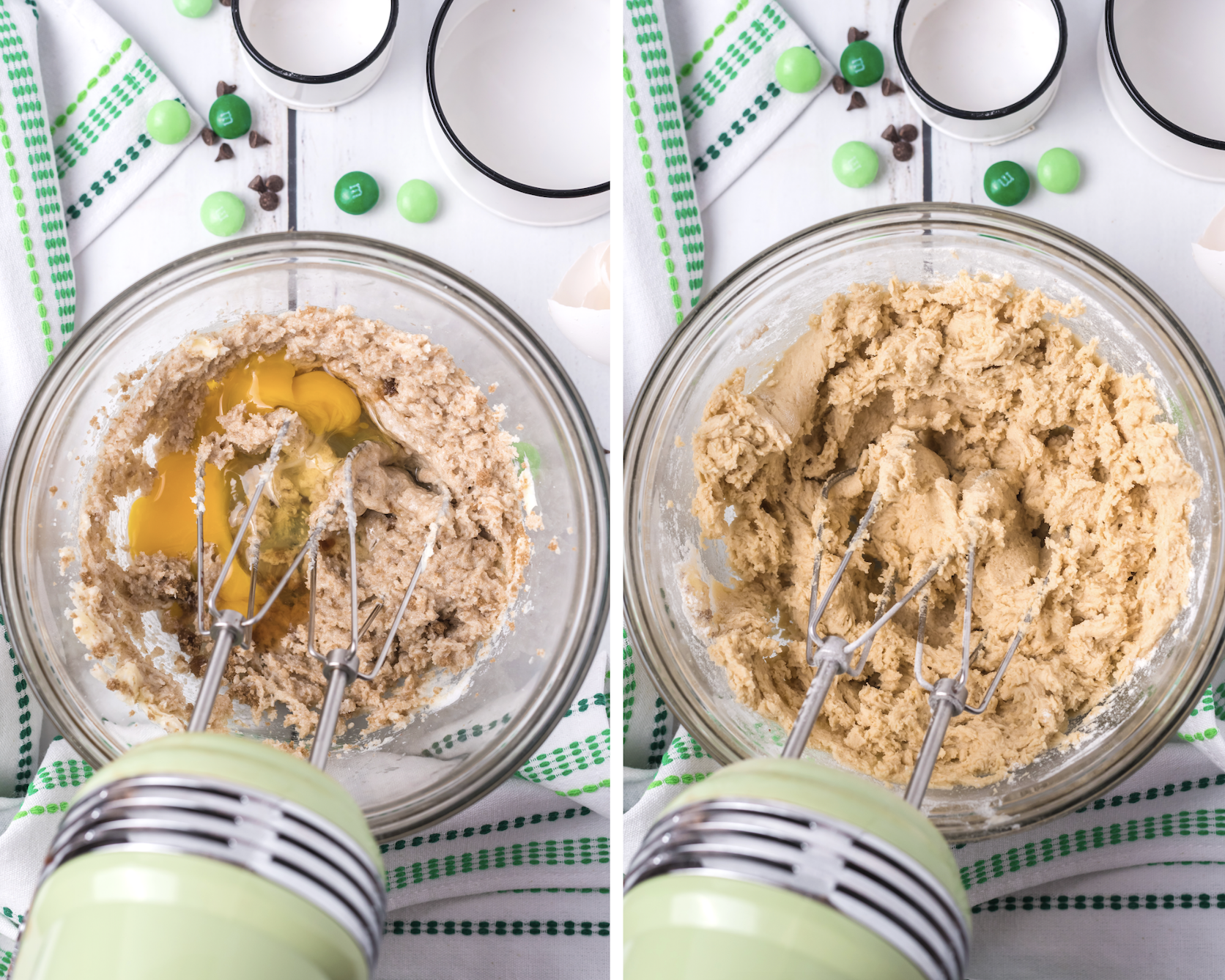 Next comes the cookie part of the St. Paddy's Day brookies. To make the cookie dough, the butter and sugars and beat together until fluffy. Then the vanilla and egg are mixed in followed by the dry ingredients. It's a pretty straightforward cookie dough recipe but it is very delicious .. I promise!
To add the cookie dough to the pan, I like grab pieces of dough using my hands and place them across the brownie layer. You want to layer the cookie dough across the brownie batter evenly but I like to place the dough around the M&M's so you can get a peak of the sweets hiding below the cookie layer. I also like to leave a little bit of the brownie showing through the cookie layer. It makes the dessert look a little more interesting and also shows off those festive St. Patrick's day colors! You can also sprinkle more green M&M's on top of the cookie dough layer to add even more celebratory chocolate décor.
Once your cookie and brownie layers are made, the mint chocolate chip brookie is ready to bake! It takes about 25-30 minutes to bake this decadent St. Paddy's dessert.
Let the brookies cool slightly then cut it into squares and serve! I guarantee everyone in your house will love this dessert. How could you ever say no to a cookie and a brownie put together?!
Give my St. Paddy's Day brookies a try and let me know what you think! Keep this dessert in mind for other holidays too. Simply swap out the colored mint M&M's and you can make mint chocolate chip brookies for any occasion!
Enjoy! 🙂
MORE DELICIOUS DESSERTS TO TRY!
I hope you like this mint chocolate chip brookies recipe– be sure to give it a review below!
This post may contain affiliate links. Hip Mama's Place is a participant in the Amazon Services LLC Associates Program, an affiliate advertising program designed to provide a way for websites to earn advertising revenues by advertising and linking to Amazon.com and other retailers- at zero cost to you. You can learn more about our Privacy and Disclosure Policies HERE.
Print
Mint Chocolate Chip Brookies
---
Author:

Yield:

12 servings
Description
This dessert combines moist brownies with a chewy cookie for a fun twist on two favorites! The M&Ms add a rich, dark chocolate flavor and the delicious taste of mint.
---
For the Brownie Layer
1/2

 

cup

 

coconut oil, melted

1/2

 

cup

 

cocoa powder

1/4

 

tsp

 

salt

1/4

 

cup

 

white sugar

1/4

 

cup

 

dark brown sugar

1/2

 

tsp

 

vanilla

2

 

large eggs, room temperature

3/4

 

cup

 

all-purpose flour

1/2

 

cup

 

semi-sweet chocolate chips

1/4

 

cup

 

dark chocolate mint M&Ms candy
---
Instructions
Preheat the oven to 350°F.

Spray an 8 x 10″ baking dish with nonstick cooking spray, and line one side with parchment paper so you can remove the brownies more easily when they're done. Set aside.
Add the coconut oil, cocoa powder, and salt, and whisk to combine. A hand mixer works best for this.

Add the white sugar, brown sugar, vanilla, and eggs, and whisk to combine.

Stir in the flour until just combined.

Stir in the chocolate chips.

Pour the brownie batter into your prepared dish and sprinkle the M&M's all over the top.
Add the butter, white sugar, and brown sugar to a bowl and mix until combined. 

 Add the vanilla and egg and mix until combined.
Add the flour, baking powder, baking soda, and salt, and stir to combine.
Using your hands, place balls of the cookie dough all over the top of the brownie batter and gently press it in. Continue doing this until you've used all of the dough. Try not to completely cover the brownie batter. I like to work around the M&M's, so there are still bits of brownie and M&M's showing through the top after it's baked.
You can add a few more M&M's to the top, if desired.
Place in the center oven, and bake for 25 to 30 minutes or until a toothpick inserted comes out clean. If the toothpick goes through a melted chocolate chip, it will look like uncooked batter, so I like to check for doneness in a few different places around the center. Mine were done at 25 minutes.
Enjoy!
Notes
As with any brownie or cookie recipe, be sure to not overbake it or it can be dry. Start checking for doneness after about 22 minutes. 

We used the dark chocolate mint M&Ms for this St. Patrick's Day treat, but you could use any color or flavor of M&M's you like!

If making these for St. Patrick's Day, you can pick up a few inexpensive decorations at your local dollar or craft store for an extra festive presentation.

The coconut oil will give these a very slight coconut flavor. If you're opposed to that, you can substitute the coconut oil with melted butter.
LOVE THIS RECIPE? PIN IT FOR LATER!