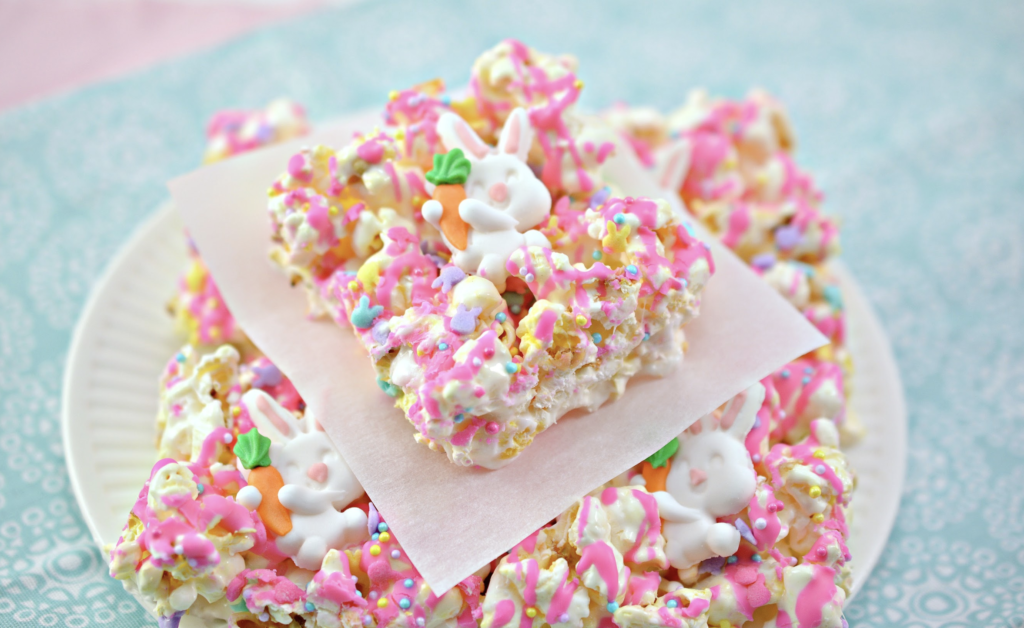 These ooey gooey Easter Bunny Marshmallow Popcorn Bars are simple and fun to make and put a festive spin on the traditional rice krispie treats!
Treasured traditions are what keep a family together. Easter is a perfect time to celebrate the joy of family, the beginning of spring and make lasting memories that build on your traditions.
In my home, we have many traditions and Easter is one of my favorite times of the year when we observe some of those traditions. With cute little bunnies, the traditional Easter basket, Easter egg coloring and cooking, I can't help but love it. As a mother of all boys, I have to keep things interesting. We all know that growing boys love to eat. And man, do they love to eat! So I always try and have an Easter feast for the family which usually includes ham, deviled eggs, homemade mashed potatoes, casseroles, and sweet treats.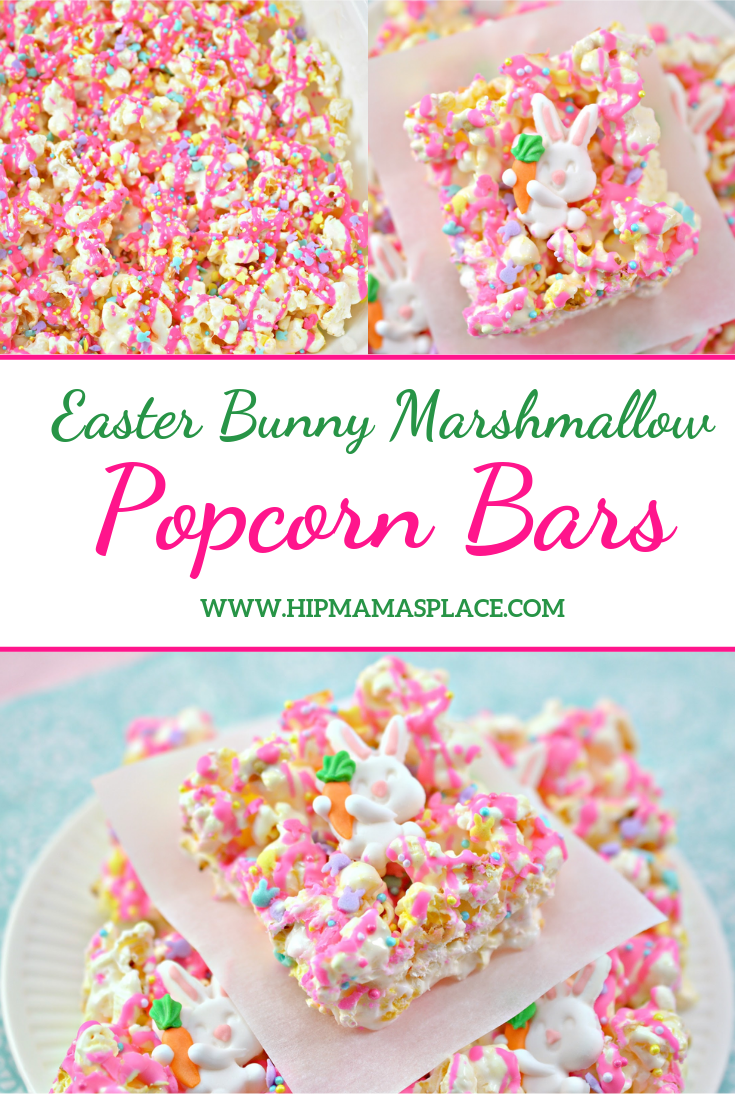 Each year, I also try to find a new Easter sweet treat to make. I like to dabble in new recipes every now and then and no matter how old the kids get, they just love sweet treats!
This year, I got a recipe for rice krispie treats bars from a friend and I thought it was perfect to make for Easter. It sounded really yummy but I wanted to give it my own twist and used popcorn instead instead of the rice krispies. Let's face it, we all love popcorn… and who doesn't like marshmallows?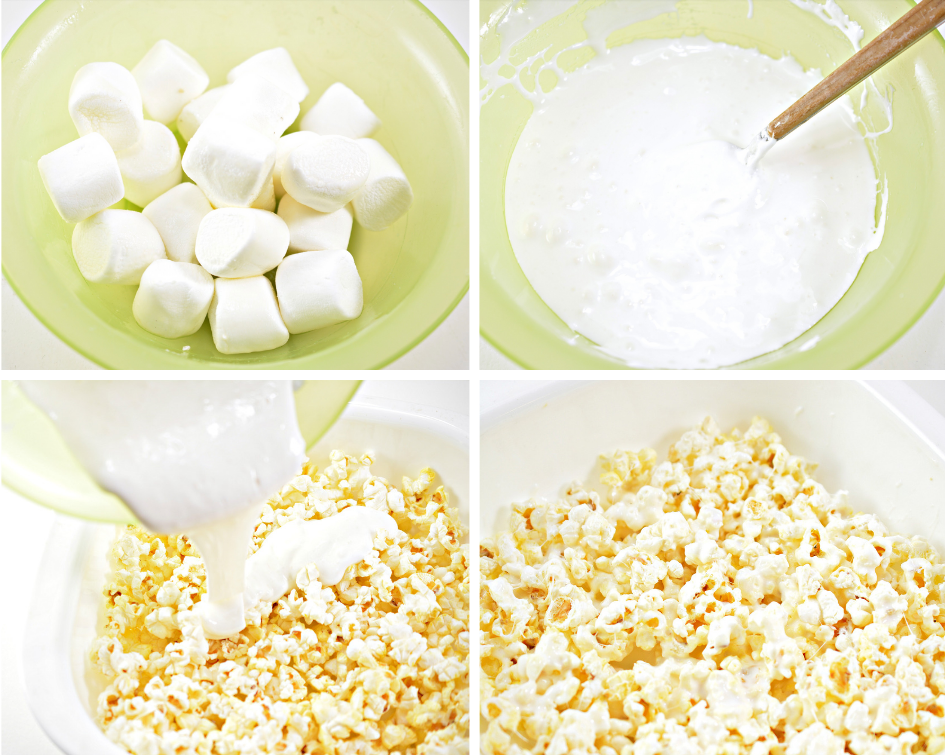 Popcorn + melted marshmallows = a match made in heaven!
This Easter Bunny Marshmallow Popcorn Bars recipe is super easy to make too and only took me about 10 minutes total to prepare and make. Don't be fooled by the recipe instructions (it looks long) but really, it's really simple and quick to make!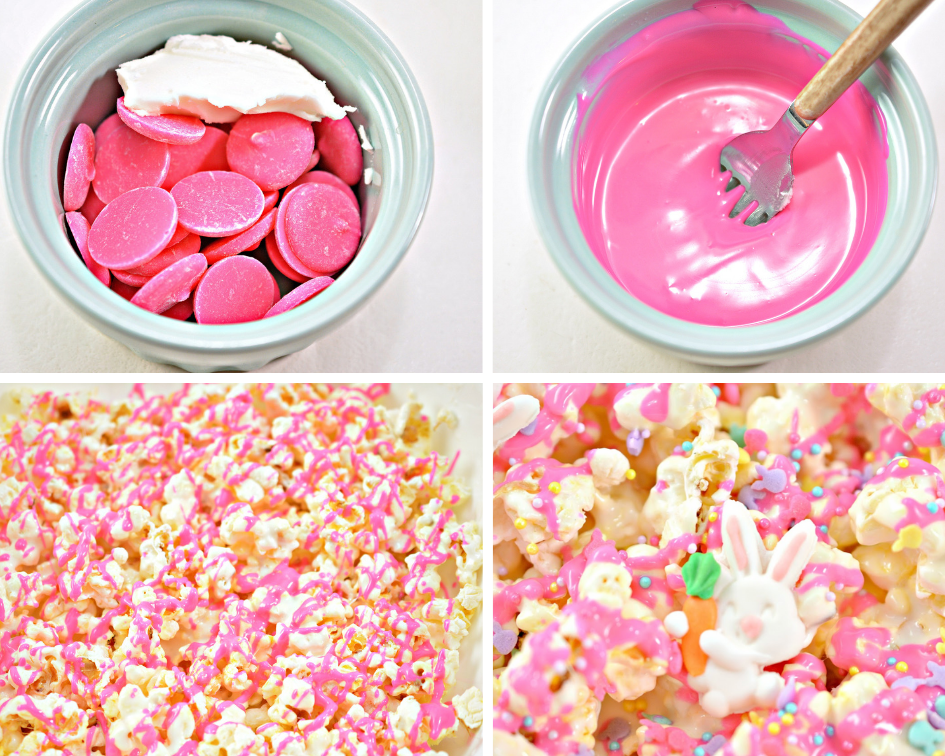 I also love how colorful and festive it turned out!
I bought most of my ingredients at my local grocery store but if you shop on Amazon, they have a similar cute Easter and spring themed icing decorations and sprinkles like this Easter Bunny with Carrot Royal Icing, Spring Medley Sprinkles
and Pink Candy Melts
.
These popcorn bars are best eaten the same day they are made while the popcorn is still fresh and crunchy. If you want to store leftovers, use an airtight container and store for up to 3 days, although I don't guarantee the popcorn will stay crunchy.
If you like getting the whole family involved in making sweet treats around the kitchen, this is one great way to do that. The kids will enjoy making these sweet, ooey gooey sweet treats and will make for a great bonding time with the family!
These delicious and festive popcorn dessert bars will wow your guests at your next Easter or spring-themed get together or party! Planning a movie night at home anytime soon? These popcorn bars are perfect as movie night munchies too!
I hope you enjoy these Easter Bunny Marshmallow Popcorn Bars as much as we do! Come back to this post and comment after you've made this recipe yourself. I would love to see your own creation! 🙂
Print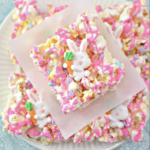 Easter Bunny Marshmallow Popcorn Bars
---
Author:

Prep Time:

5 minutes

Cook Time:

5 minutes

Total Time:

10 minutes
Description
These ooey gooey Easter Bunny Marshmallow Popcorn Bars are simple and fun to make and put a festive spin on the traditional rice krispie treats!
---
20

regular sized marshmallows

1 tbsp

Butter

5

c. Popped popcorn

Hot pink candy melts

1 tsp

. Vegetable shortening or coconut oil

Easter themed sprinkles

Easter themed icing decorations
---
Instructions
Melt 1 tbsp of butter in a microwave safe bowl.

Place 20 regular sized marshmallows into the bowl with the butter, and mix to coat well.

Microwave at 30 second intervals, stirring each time the microwave stops until the marshmallows are completely melted and smooth.

Place 5 cups of popped popcorn into a greased 9×9 baking dish.

Pour the melted marshmallow mixture over the popcorn, and stir to coat well.

Press the coated popcorn into a flat even layer in the baking dish.

Place a ¼ cup of candy melts and 1 tsp of vegetable shortening or coconut oil into a microwave safe bowl.

Microwave at 30 second intervals until the candy melts are completely melted, and the mixture is smooth when stirred.

Dip a fork into the candy melt mixture, and create a drizzle over the top of the popcorn in the baking dish.

Sprinkle on some Easter themed sprinkles over the candy drizzle.

Press an Easter themed icing decoration in the center of what will be 9 different treat squares.

Place the mixture in the fridge for at least 30 minutes to set and harden a bit.

Cut the mixture into 9 even squares and serve!
Notes
You can vary the theme of these marshmallow popcorn bars by decorating them with different colored sprinkles and candy melts like orange and black for Halloween, or red, white and green for Christmas and so on.
Keywords: popcorn bars, marshmallow popcorn, marshmallow popcorn bars, Easter bunny treats, Easter treats, sweet treats
More Easter Family Traditions
Along with this super fun recipe, I thought I'd share these fun games that you can incorporate into your Easter family traditions:
1. Egg Relay Race: What's more fun than a little family competition. Divide your family up into teams. Make them balance an egg on a spoon while walking to a point and back. First team to get all their players done wins! My team always wins!
2. Crack the Shell: This game is perfect for boys because well, boys will be boys. Each person gets a hard-boiled egg and pairs with another. They have to each smash their eggs together. The person with the unbroken shell keeps going.
3. Roll an Egg: Roll a hard-boiled egg down a hill and see which one can go the farthest without breaking. The boys still haven't grasped the whole slow and steady wins the race.
So what do you think about this Easter Bunny Marshmallow Popcorn Bars recipe? Will you be making these with your kids this Easter? What traditions do you and your family have for Easter? Share them in the comments below!
This post originally published on Hip Mama's Place on March 27, 2019. Updated, March 28, 2022.
This post may contain affiliate links. Read my Disclosure Policy to learn more.
You Might Also Like: