This Halloween snack board is so easy to put together and is a perfect starter guide to help you decide what to put in your own snack board. There's no right or wrong way to assemble a themed snack board. You can totally get creative with it!
Halloween is getting closer and I'm so excited to share with you my guide for how to make a Halloween snack board!
So… how are you celebrating the spooky season?
If you have been following me on my blog and my Instagram page for a while, you all know that my most favorite way to get into the holiday spirit is through sharing delicious recipes .. no matter what the holiday is! But, I must say, my top favorite Halloween-themed recipe I've made so far is my Monster Popcorn Balls, which, I'm including in my Halloween snack board idea here today!
Halloween snack boards are the perfect way to celebrate Halloween. My teen boys are past their trick or treating days or getting dressed up for Halloween .. but hey, we still get excited about Halloween food and all the fun decorations.
I love making snack boards for any occasion (check out my Game Day Pretzel Snack Board) and this Halloween snack board is perfect while we watch Halloween movies. I definitely plan to make it on Halloween night!
We can hand out candies to trick or treaters while enjoying our own special treat.
What You Need to Make a Halloween Snack Board
Snack boards are super flexible which is just another reason why I love them. You can use your favorite cheeses, snack foods and sweet to customize your board. For this post, I'm showing you how make a Halloween snack board to help you make the perfect snack board. I add my own Halloween popcorn balls recipe which adds a gourmet but fun twist!
Here is what you need to make a Halloween snack board:
salty snacks: Having some salty snacks on the board is always a plus. While Halloween may be all about the sweets, you may crave some saltiness after all that sugar. I add pretzels to my snack board which is the ultimate salty snack.
candy and sweets: Halloween is a candy holiday so I loaded my snack board up with Halloween-themed candies. Candy corn gummies and pumpkin corn is a must-have. Gummy eyeballs, Frankenstein Reeses and gummy worms are great to scatter around as well. If you find some fun looking candy, add it to the board! I also just discovered bone-shaped candies that I will be adding to my next Halloween snack board.
cookies: Having a few larger cookies is good for balancing out the candy loaded board. Your local grocery store will likely have Halloween sugar cookies that you can grab or you can make your own. Halloween Oreos are a fun, easy addition as well. Some say Oreos are vegan. But hey, don't quote me on that. Do your own research. But, I must admit, Oreos are classic cookies that everyone enjoys!
Halloween Popcorn Balls: I make my Halloween candy board extra special by adding Halloween-themed monster popcorn balls to my tray. I make these delicious, sweet and salty snacks all the time and they are definitely fun to turn into a Halloween-themed treat. Talk about a Halloween snack board to the next level! Now, I want you to AGREE WITH ME on this. Just kidding.
How to Make a Halloween Snack Board – Easy Halloween Snack Board
There is no right or wrong way to make a snack board. I will give you a few tips and tell you all about how I make my snack board but don't be afraid to get creative. See what Halloween treats you can find in the store and what snack catch your eye. You can always incorporate small Halloween-themed props/elements like plastic spider rings or mini pumpkins as well!
Everyone's snack board will be different but here's a guide to help you get started.
Assess how many people will be eating your snack board. This will help you decide how many snacks to buy and what size board or tray you will need. You can use a wooden cutting board, a baking sheet tray or even a fancy marble slab.

Make the Monster Popcorn Balls first. You can make them a few days ahead of time and keep them wrapped in plastic wrap until you are ready to assemble your board.

Head to the grocery store and check out the Halloween aisle (every store has one!). See what snacks you can find. Go for a good mix of salty and sweet. Grab snacks for adults and kids if you are having a mixed party.

Consider what little bowls you may need for dips or small candies. Don't worry about making the bowls match- a variety of sizes and heights is best! It makes your board look more interesting.

Don't forget about toothpicks, serving spoons or mini forks. Practical tools are needed for a snack board too!

Lay out all the snacks you have and assess your options. Put the things that need to go into bowls in the little bowls first then place them around the board sporadically. Then start building!

I like to put the larger items on the snack board first and then add the smaller snacks to fill in any gaps. Keep colors in mind, making sure you don't have a lot of the same color in one spot. Make sure you pile the snacks nice and high, you want your board to be as full as possible!

Don't forget the plates! Look for small, festive Halloween plates to place next to your board.
There are no rules to making a snack board. That is just another reason why this Halloween snack board idea is so great!
Halloween Snack Board Ideas + Tips and Variations
I have some helpful tips to share with you when making themed snack boards like my Halloween Snack Board. I also have a few alterations and variations you may want to try!
Consider adding some meats and cheeses to make it a true charcuterie board.

Fresh veggies are a nice healthy option that can balance out a board full of candy. Orange carrots are great to go with the theme!

Make chocolate-covered pretzels to add fun and colors to the snack board. Here's my chocolate covered pretzels recipe to get you started. Just use orange, black, purple and green coloring to match to the Halloween theme!
Grab a bag of gummy eyeballs and add them to everything. When you have mini candy eyeballs stuck on all the snack on your board, it makes it extra spooky.
Look for black and green foods. It is easy to find orange treats but black and green are a little trickier. Black licorice, Halloween Oreos and green olives are all good options.

Make the Halloween snack board just a few hours before you are ready to serve it. Fresh is best when it comes to snack boards and I promise that it won't take too long to put together.

You can find fun unique holiday themed candy at discount stores like Marshalls, TJ Maxx, and Ross.
Omit any candy that the kids might not like and add all their favorites.
Make your own iced sugar cookies or you can buy some fun pre-made ones at stores like Walmart,
Target, and Dollar General.
Add fun Halloween themed serving bowls to bring in the theme. I purchased both at Marshalls so they will not let me link them.
My Halloween snack board is the perfect way to celebrate the spooky holiday this year. It is a great way to get all the sweet and salty Halloween snacks you crave without having to go trick or treating! Give this recipe a try and don't forget to snap a picture! Snack boards look just as good as they taste. Enjoy and Happy Halloween!
*This post may contain affiliate links. Read our Disclosure Policy for more details.
Try these other delicious Halloween recipes!
I hope you like this Halloween Snack Board idea – be sure to give it a review below!
Print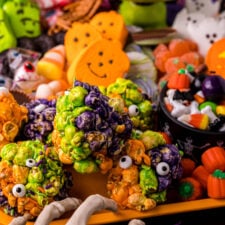 Halloween Snack Board
---
Description
This easy Halloween snack board is a perfect starter guide to help you decide what to put in your own snack board. Get creative with it!
---
---
Instructions
Place large tray on table.
Start by adding candy to the dishes.
Fill in with popcorn balls, Halloween peeps, iced sugar cookies, and all the remaining sweet, sugared candy.
LOVE THIS HALLOWEEN SNACK BOARD IDEA? PIN IT HERE!