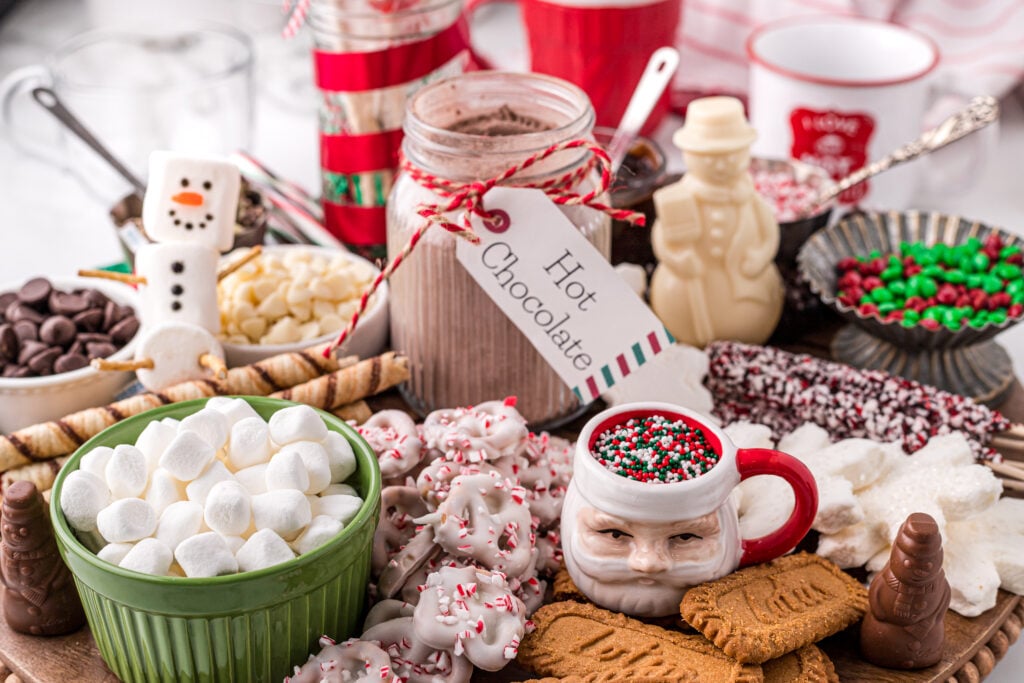 This Hot Chocolate Charcuterie Board is so fun to make and is a true holiday show-stopper! Filled with all the sweet toppings and homemade hot chocolate mix as a centerpiece, this hot chocolate board is a fun new way to serve hot chocolate at your next holiday gathering!
Christmas is just five days away and I have been very busy checking things off my Christmas to-do list. I still have cookies to bake, presents to wrap and Christmas dinner menus to finalize. Even though it may feel a little hectic, I'm still so excited for the big holiday! When Christmas day comes and everything is perfect for my family, all my efforts are worth it.
I definitely have a lot of classic recipes that I make each Christmas but I always love to try new traditions and festive ideas. Last year, I made a very fancy Christmas charcuterie board which was all the rage at the time. While charcuterie boards are still very popular, I discovered a new kind of board that I will definitely be preparing this Christmas- the hot chocolate board.
Let me tell you all about it!
What is a Hot Chocolate Board?
A hot chocolate board is essentially a giant, beautiful display of hot chocolate mix-ins that you use to create the ultimate mug of cocoa. Anything that you can think of to add to a cup of hot chocolate should be included on this board. From crushed peppermints to milk chocolate chips, chocolate syrup to caramel bites, you should add it all! Give your friends and family everything they need to make an over the top cup of Christmas cocoa.
How to Make the BEST Hot Chocolate Charcuterie Board
My fun and festive hot chocolate charcuterie board has a huge list of candies and all the sweet toppings perfect for making hot chocolate drink. I also use my own homemade hot chocolate mix as the centerpiece to the board. You can choose to buy your favorite cocoa mix but having a homemade version makes the hot chocolate board even more special!
In addition to thinking about what toppings will taste good with cocoa, I also consider what will look great on the hot chocolate board. Fun, festive marshmallows are a great holiday addition. Candy canes stick with the Christmas theme and are perfect for making peppermint hot cocoa. Chocolate-dipped pretzel rods can be used to stir the hot chocolate and the long shape looks good among the smaller ingredients on the hot chocolate board.
My fun and festive hot chocolate charcuterie board includes:
mini marshmallows
crushed peppermint candies
caramel bites
snowflake-shaped marshmallows
Hershey's kisses
Andes mints
chocolate chips (milk, dark and white)
chocolate syrup
Christmas sprinkles
chocolate-dipped pretzels
mini M&Ms
chocolate creme wafers
holiday-shaped chocolates
How to Build a Beautiful Hot Chocolate Charcuterie Board
1. Grab a large tray or board.
2. Start in the center where you want your centerpiece.
3. Add small bowls and start filling in all the spaces with all the goodies until the board is completely full.
Tips and Suggestions for making the BEST Hot Chocolate Board
If you want to add alcohol to your hot chocolate charcuterie board, put them in shot glasses if you're serving it at an adult gathering.
For smaller items like sprinkles, crushed peppermint, or mints, I suggest adding them to a smaller bowl so your guests can take what they want with a spoonful.
Try dipping the rip of the mug into chocolate syrup or even caramel and then sprinkles or crushed peppermint.
I have always had luck at Target, Marshalls, or even Home Goods to find fun festive items to add to the hot chocolate boards.
If you don't want to make your own hot chocolate mix or you don't have time to make your own, store bought hot chocolate mix is just fine.
Get creative and see what kind of fun add-ins you can find. Every hot chocolate board is different but that is just another thing that makes them so fun to put together!
Christmas Dessert Board
You can make this hot cocoa board ahead of time, laying out all the toppings and cocoa ingredients on the board, then wrapping it tightly until you are ready to serve it. I am planning on putting my hot chocolate board next to a slow cooker full of cocoa and mugs. My family can ladle the cocoa into a cup and then choose from the beautiful display of toppings! I am really curious to see what everyone creates and which toppings are the family favorite.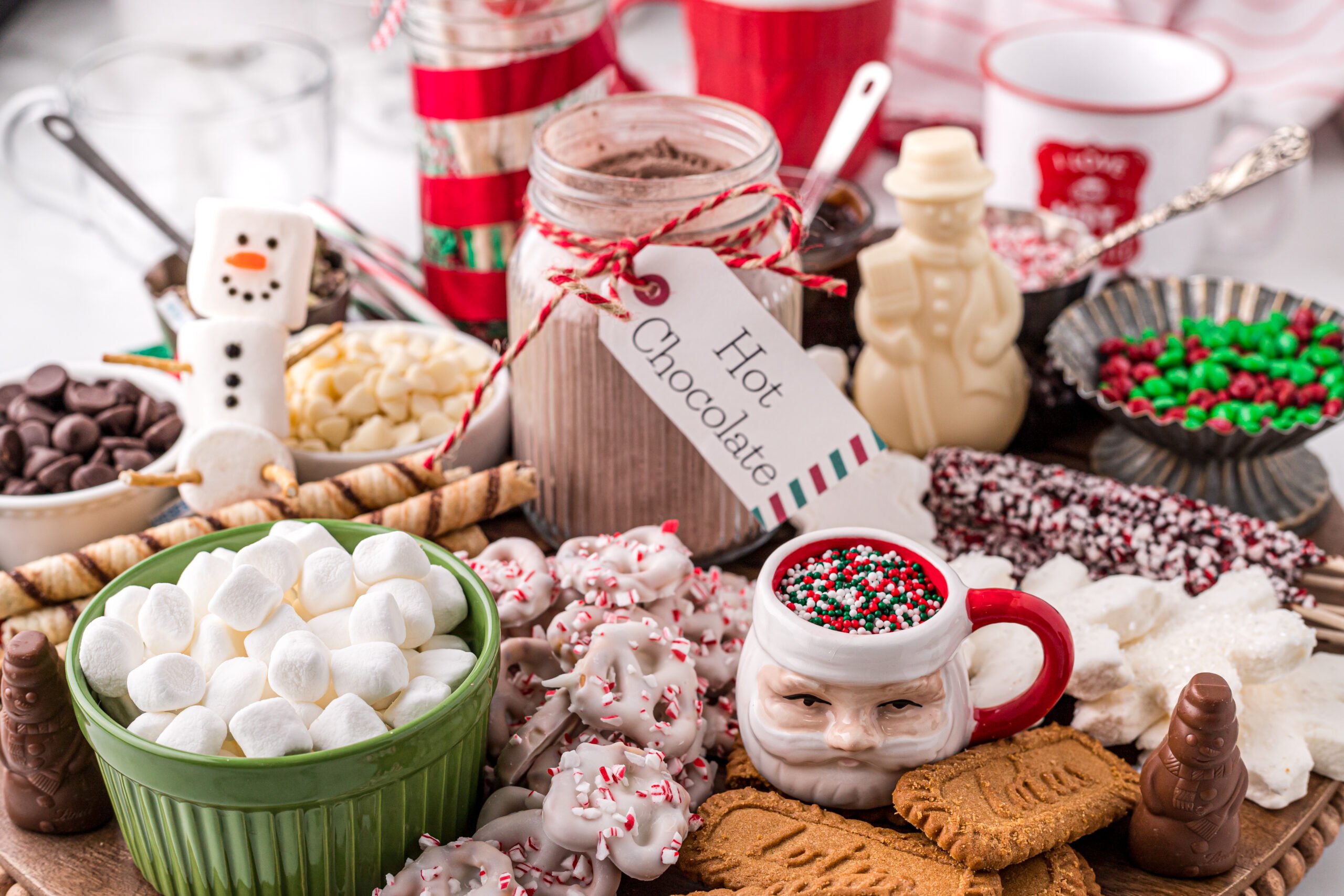 A hot chocolate board will look fantastic on your Christmas dessert table. It is such a fun, new way to serve a traditional Christmas drink. I can already imagine my family bonding over cocoa toppings and sipping deluxe hot chocolates while we watch a Christmas movie.
Try making a hot chocolate board this season and I guarantee you will not be disappointed. I know we are all busy doing last minute Christmas tasks but making a hot chocolate board is something you need to add to your list. It is fun to make and a true holiday show-stopper. This is also a new Christmas tradition you can start with your family every year!
Enjoy and Merry Christmas!
This post originally published on Hip Mama's Place on December 20, 2021. Updated, December 01, 2022.
LIKE THIS POST? PIN IT FOR LATER!