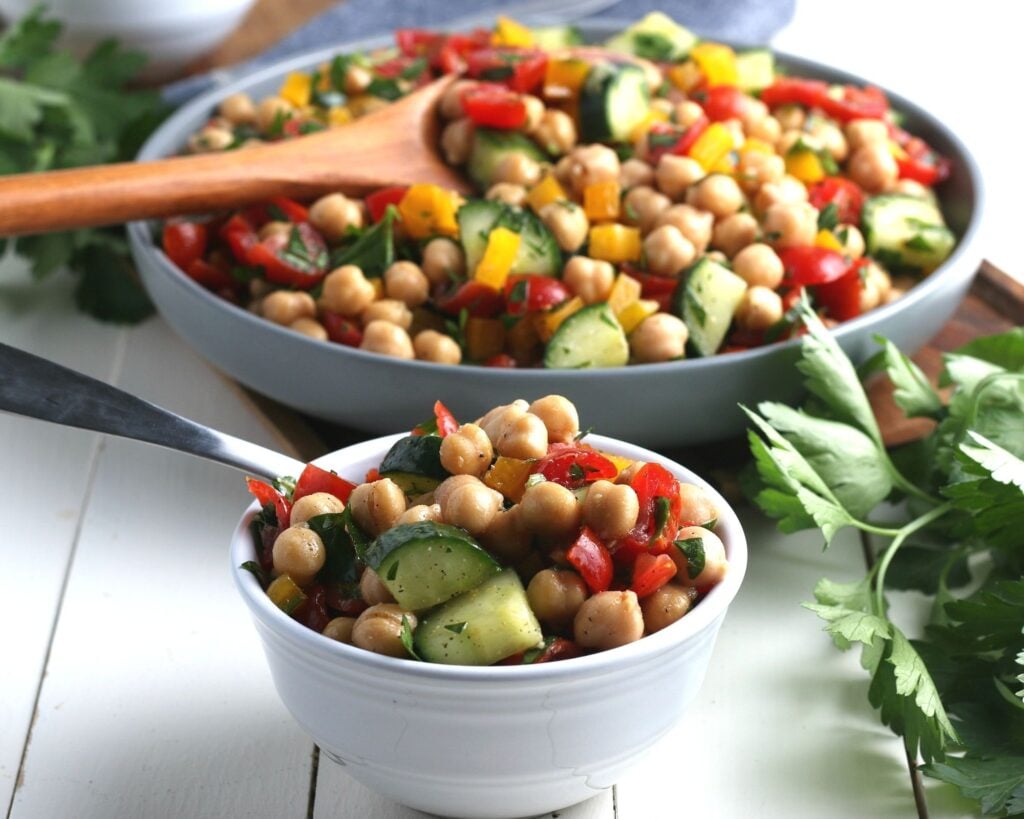 This tasty, easy chickpea salad recipe with lemon and parsley is so quick to put together! It makes a perfectly healthy side dish for your next BBQ cookout or a nice addition to any lunch or dinner this summer – or any time of the year!
I love having cookouts in the summer. It's so nice to cook outside – in the fresh air rather than in a hot kitchen. I also love having family and friends over to eat outside. There is nothing quite as enjoyable as a summer evening dinner out in the warm, open air.
I have a lot of great grill recipes that I use all summer. From juicy burgers to marinated chicken, I have plenty of main course ideas. But when it comes to "cookout worthy" side dishes, I sometimes need to get a little creative. I get tired of the same old green lettuce salad and crave something new and exciting. The perfect cookout meal needs the perfect side dish!
The Amazing Chickpeas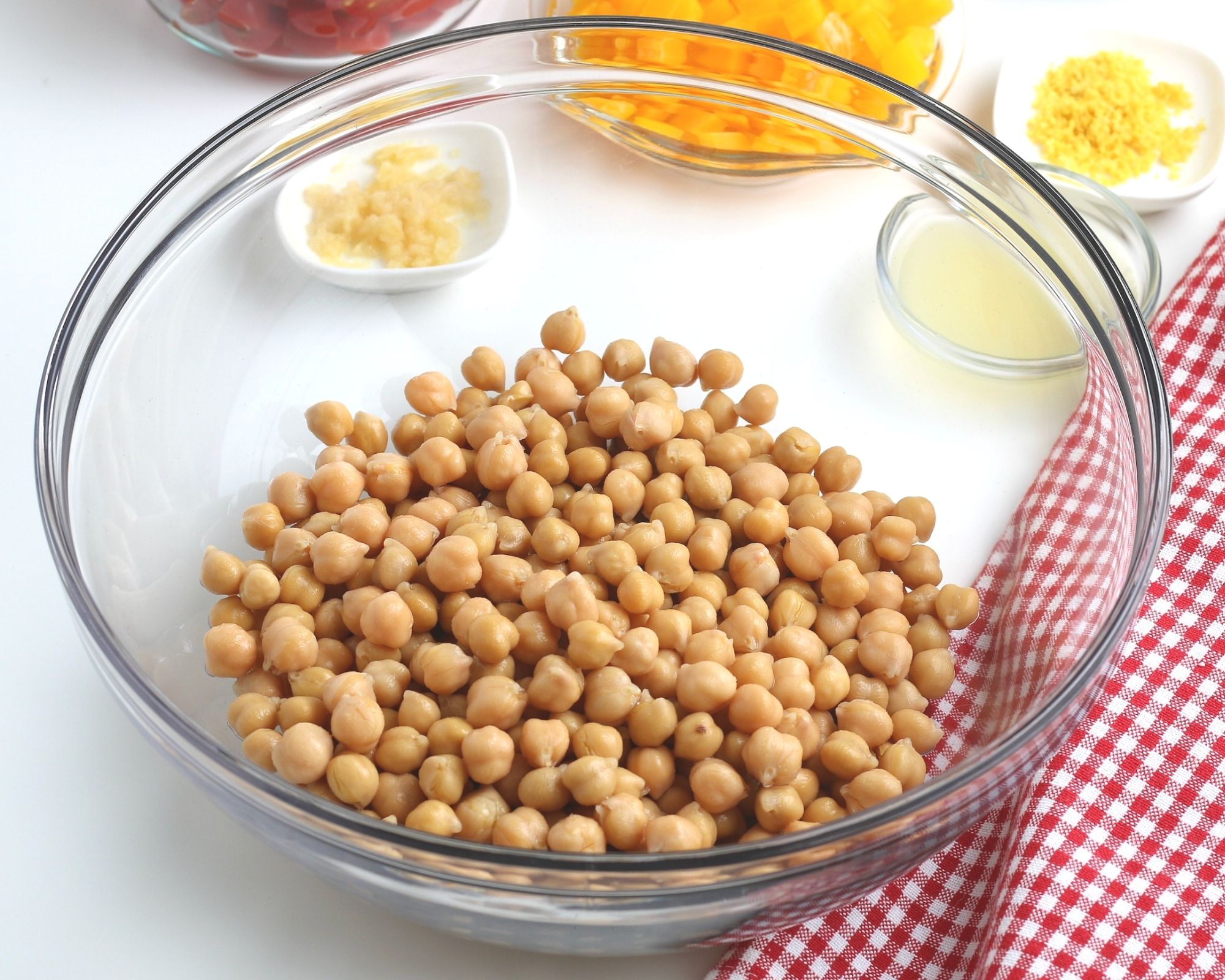 I got into eating chickpeas recently and adding them to my list of favorite salad recipes, like my Penne Pasta Salad with Green Beans and Tomatoes, Spring Salad with Strawberry Balsamic Dressing and my Sweet Corn and Bean Quinoa Salad . Once you hear all about the benefits of chickpeas, I think you will want to add them to everything too!
Here are some interesting facts about chickpeas that are worth sharing!
Chickpeas are small, peach colored legumes that are part of the pea family.
They have a very subtle, nutty flavor.
Chickpeas are super easy to use, especially when you buy them canned. All you need to do is drain the chickpeas, give them a good rinse and they are ready to eat or cook with!
You can buy dry chickpeas, soak and boil them. However, the canned version is much more convenient and just as nutritionally beneficial.
Health Benefits of Chickpeas
Chickpeas are incredibly healthy. They are full of plant-based protein and fiber. Chickpeas are rich in B vitamins which play a vital role in maintaining energy levels and promoting cell health. Iron, zinc and phosphorous are also found in chickpeas. The little miracle legume can help control your blood sugar as well. I think chickpeas are a pretty powerful ingredient!
Easy Chickpea Salad
I wanted to make a summery chickpea salad recipe that would go with all of my cookout foods. In addition to using chickpeas, I also wanted to make an easy chickpea salad that required no cooking.
Here are the ingredients I chose to go into my healthy chickpea salad mix:
For the chickpeas veggie salad
Chickpeas: I used canned chickpeas (also called garbanzo beans) since they are very easy to use and taste great. You can find them in your local grocery store near the canned beans.
Parsley: Parsley reminds me of summer and gives the chickpea salad recipe and Italian flair. Use fresh basil or even cilantro.
English Cucumber: I like English cucumbers because they have a thinner skin. You don't even need to peel the cucumber, just chop and add to the salad bowl!
Grape Tomatoes: Grape tomatoes are sweet and very summery. You can easily find grape tomatoes in the produce section or, if you're very lucky, right in your backyard garden!
Bell Pepper: Bell pepper adds a nice crunch to the healthy chickpea salad. They also have a brilliant, red color that is gorgeous on your plate.
For the salad dressing
Olive Oil: Use extra virgin olive oil which has a smoother flavor
Garlic: Fresh minced garlic will add a little spice and some serious flavor to the salad
Lemon Juice and Zest: Fresh squeezed lemon juice and zest brightens the salad and gives it a nice zing.
Cumin: Cumin gives the salad a smoky, slightly spicy flavor.
Salt and pepper: These ingredients help bring out the flavor of the salad and should be added to taste.
How To Make Chickpea Salad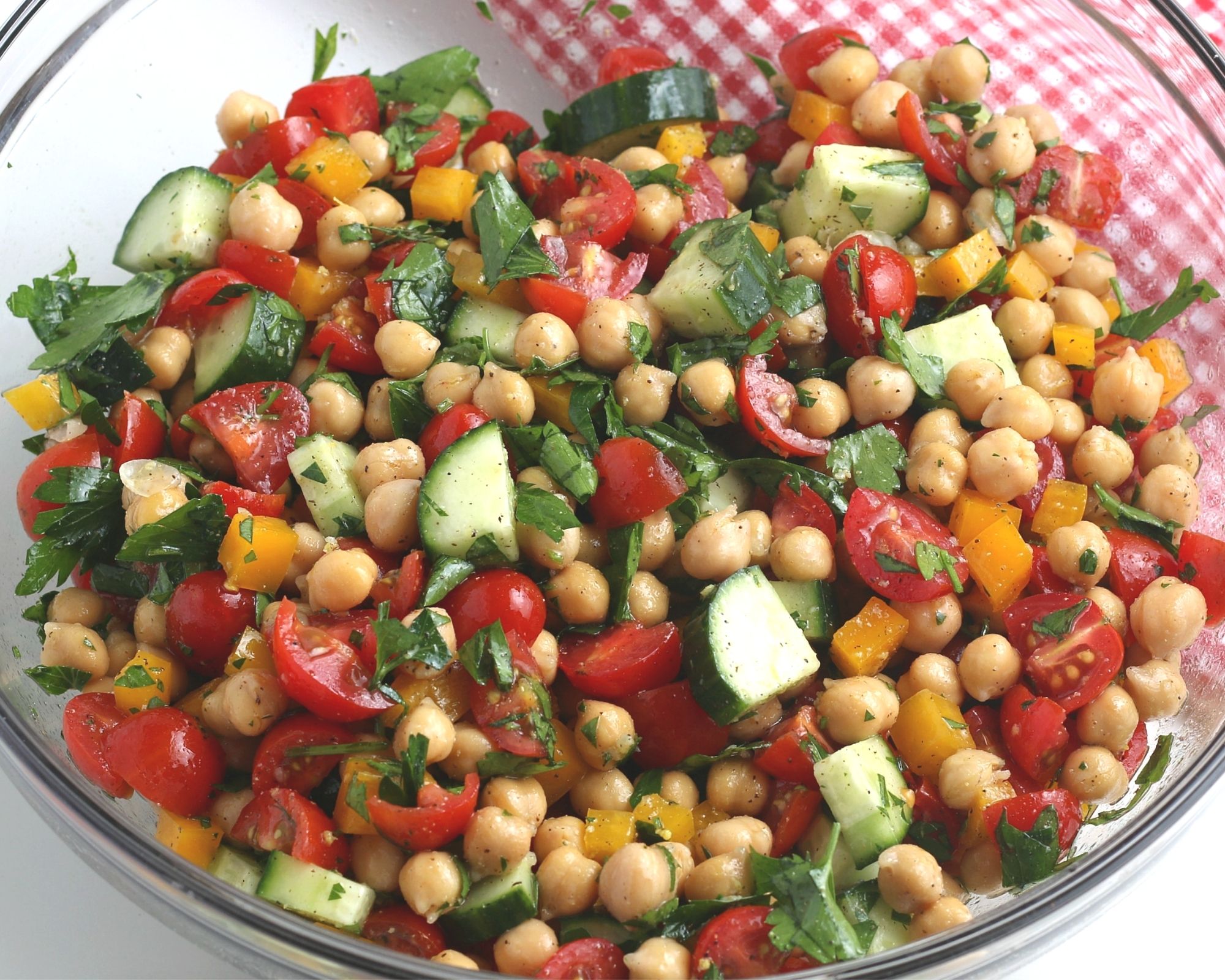 Putting together this delicious chickpea salad recipe is so simple, it only requires a few steps! You can make the whole side dish in under 30 minutes – giving you more time to focus on the food on your grill and extra time to socialize with your cookout guests!
Here is what you need to do:
Whisk the garlic, olive oil, lemon juice, cumin and salt and pepper in a small bowl. Set the dressing aside.
Add the remaining ingredients to a large bowl and toss everything together.
Add he whisked dressing to the veggie bowl and toss, coating the salad evenly in the dressing.
That's it! The salad is ready to serve or ready to chill in the fridge until cookout time.
Chickpea Salad Dressing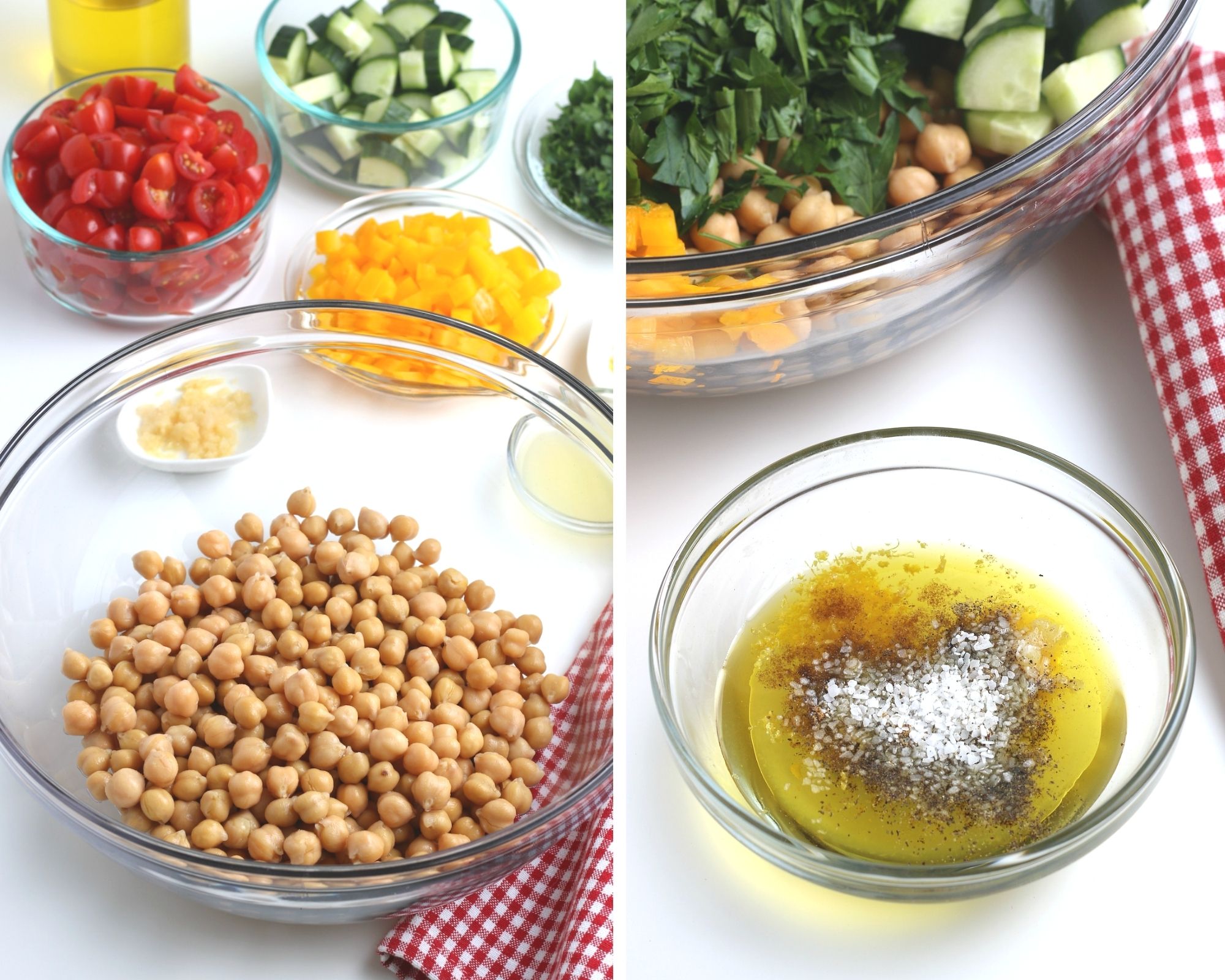 The salad dressing for my easy chickpea salad recipe is very simple and straightforward. Olive oil, lemon juice, lemon zest, cumin, garlic, salt and pepper are simply mixed together and the dressing is ready. You can whisk the dressing together or put the ingredients into a mason jar and give them a good shake. Here are a few alterations you can make to the dressing to make it suit your tastes even more:
Blend the ingredients together with an avocado to make a healthy, creamy dressing.
Add a tablespoon of balsamic vinegar in place of the lemon juice.
Skip the cumin and add Italian seasoning instead
Blend in some soft gorgonzola cheese to make a decadent, salty dressing
Use white wine vinegar in place of lemon juice
This easy vegan chickpea salad is so versatile that it goes well with many different kinds of dressing. Switch the dressing anytime you make this easy chickpea salad and you'll never grow tired of this delicious side dish!



Chickpea Salad Recipe FAQ's
Here are a few quick questions and answers to help make this easy healthy chickpea salad even easier to make. If you still have questions about my delicious chickpea salad recipe, feel free to leave a comment below and I will be happy to answer them!
How do I store chickpea salad?
Wrap the bowl tightly or store the salad in an airtight container with a lid. Keep the salad refrigerated until you are ready to enjoy it!
How long does chickpea salad stay fresh?
Chickpea salad can be stores in the fridge for up to 5 days. The salad will actually benefit from marinating in the dressing for a few days, giving it a stronger flavor.
What veggies can I add to this chickpea salad?
If you want even more veggies in your salad, try adding avocado, sliced onions, sliced jalapenos, or even fresh sliced peaches. Any summer veggie will go well in this salad so get creative!
How big is a serving of chickpea salad?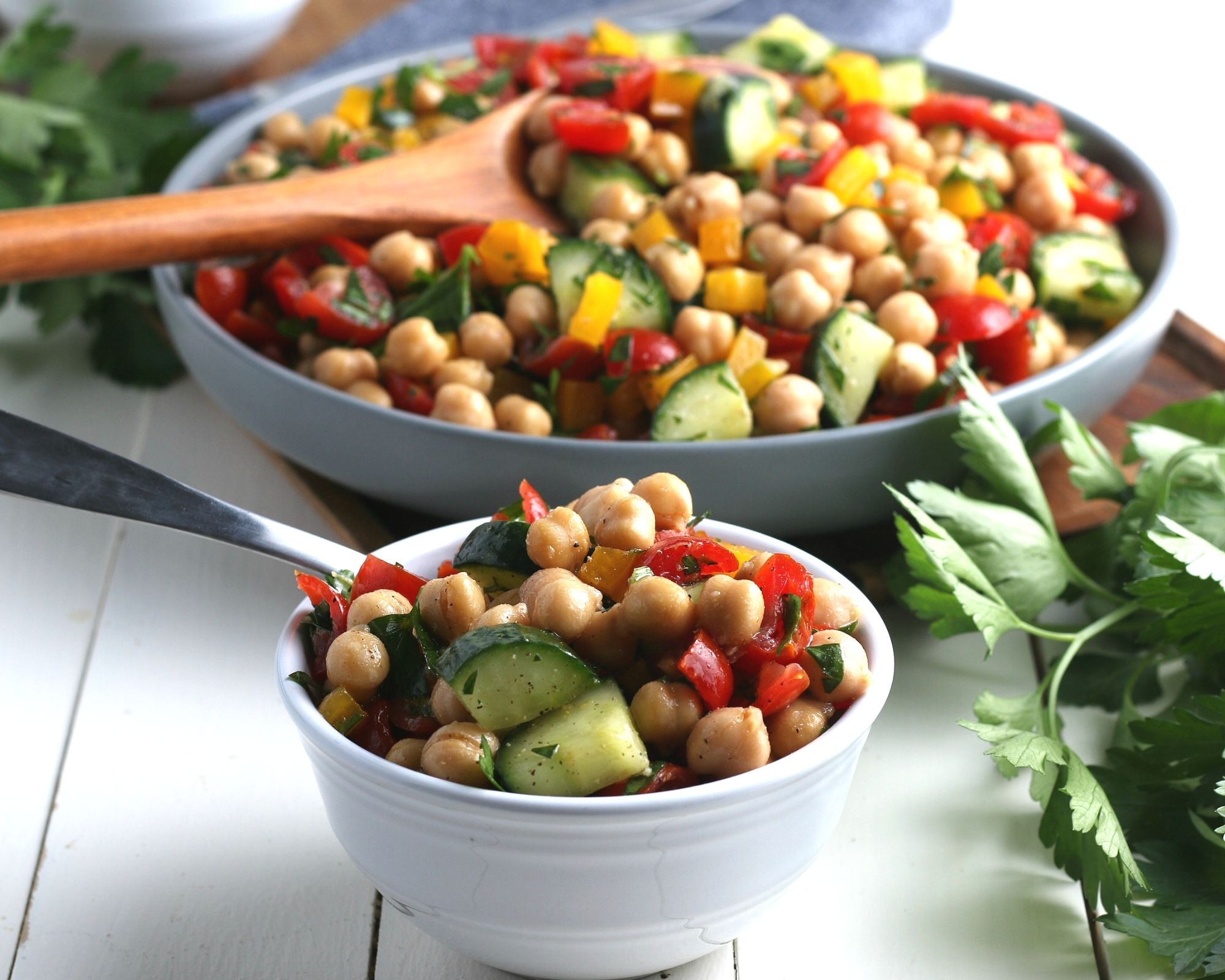 One serving of this salad is about 1 ½ cups. This size may vary based on how large you chop your cucumbers and tomatoes but it is a good estimate for portion control.
I am definitely hooked on chickpeas and love this fresh, simple summer salad that features this healthy, tasty ingredient. I know it will be a favorite of yours as well. It really is the perfect summer side dish!
Give my tasty, easy vegan chickpea salad recipe a try and let me know what you think. Enjoy!
MORE DELICIOUS SALADS TO TRY!
I hope you like this easy chickpea salad recipe– be sure to give it a review below!
Print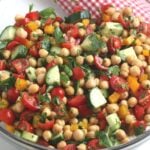 Easy Chickpea Salad
---
Author:

Prep Time:

20 minutes

Cook Time:

1 hour chill time

Total Time:

1 hour, 20 minutes

Yield:

4

servings

1

x
Description
This easy chickpea salad recipe with lemon and parsley is so quick to put together and makes a perfect healthy side dish for your next BBQ cookout or a nice addition to any lunch or dinner any time of the year – not only in the summer!
---
2

(15.5 oz) cans chickpeas, rinsed and drained

1 cup

flat-leaf parsley. chopped

1 cup

English cucumber, quartered and sliced

2 cups

grape tomatoes, quartered

⅔ cup

bell pepper, diced

3 tablespoons

olive oil

2

cloves garlic, minced or pressed

2 tablespoons

lemon juice
Zest of

1

lemon

¼ teaspoon

cumin

½ teaspoon

kosher salt

½ teaspoon

fresh ground black pepper
---
Instructions
In a large bowl, add the chickpeas, parsley, cucumber, tomatoes, and bell peppers.
In a small bowl, make the salad dressing by whisking together the olive oil, lemon juice, lemon zest, cumin, garlic, salt, and pepper.
Add the salad dressing to the chickpea and veggie and toss gently to coat.
Chill the chickpea salad for an hour before serving.