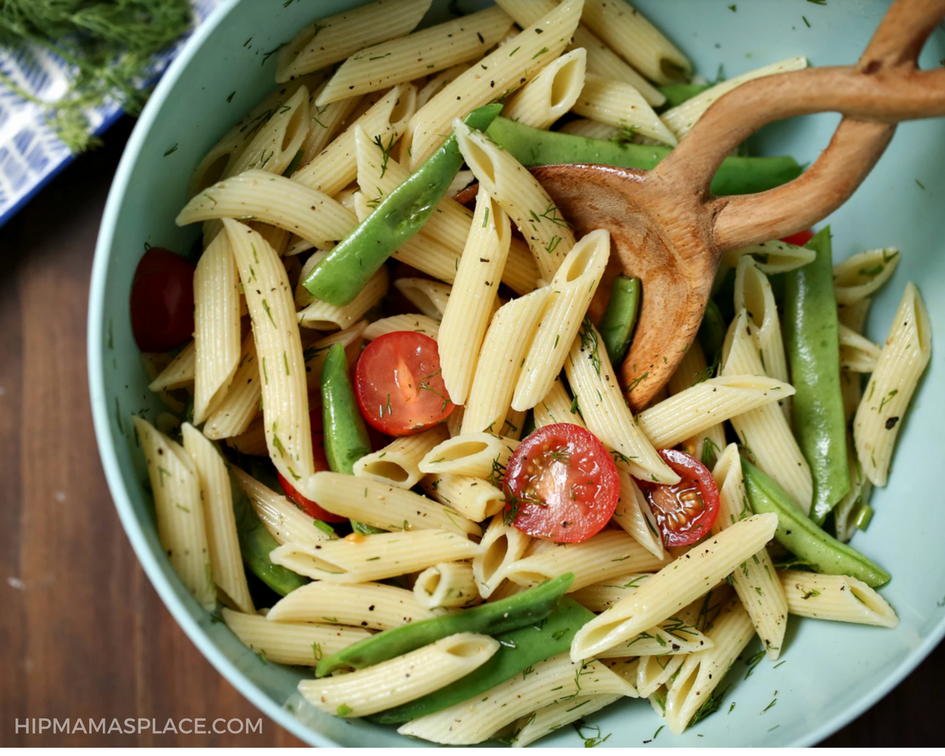 Looking for the perfect spring or summer pasta salad? Try making this delicious Penne Pasta Salad with Green Beans and Tomatoes your whole family will love!
Pasta may be a comfort food for many, but it can also be a light dish perfect for spring and summer. As we are enjoying spring now and summer will be here before we know it, we can also look at discovering new, delicious recipes … like my Penne Pasta Salad with Green Beans and Tomatoes!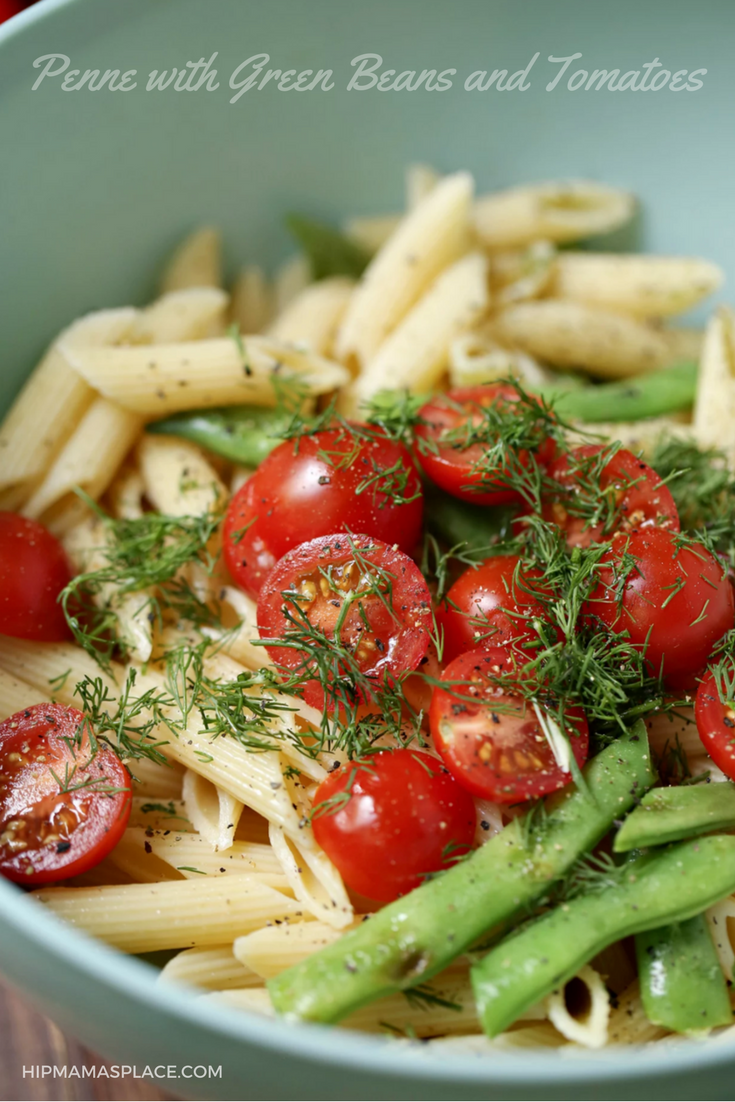 I like to use vegetables in the main dish and not just as a side. Not only are vegetables great on a nice pasta (and not just slathered in sauce), they also bring a fresh effect to the meal.
While grape or cherry tomatoes will work, mini heirloom tomatoes in a variety of colors can also work if you can find them. In fact when you slice those heirloom tomatoes, save some seeds to keep your fun meals all summer long. Plus, you'll be able to save a ton of money on tomatoes!



The fresh green beans are great. I don't recommend canned French style as they won't be the right texture for this dish.
I have tried a few other oil/acid dressings on this pasta "salad" dish. The lemon brings just enough zing to the dish that it really completed the taste. When serving as a main dish, I like having depth of flavors.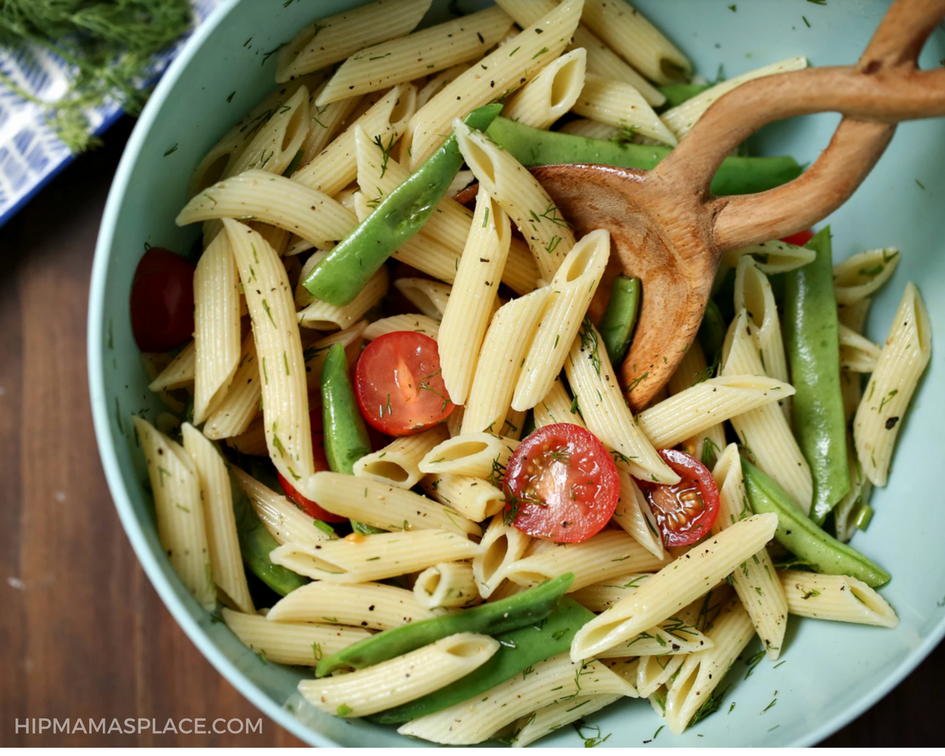 Adding the fresh dill completes this earthy pasta salad recipe while still giving a wholesome and filling meal for even growing boys. You can also use fresh dill, basil, mint, or parsley. For pasta, you can also try using whole wheat.



When you're looking for a great meal, don't overlook the obvious. Pasta can be overdone, but only if you don't mix it up. Add this Penne Pasta Salad with Green Beans and Tomatoes to your next menu plan and you'll sure to please your entire family!
Print
Penne with Green Beans and Tomatoes
---
Prep Time:

15 minutes

Cook Time:

20 minutes

Total Time:

35 minutes
Description
For the Lemon-Shallot Vinaigrette:
Ingredients:
1/2 teaspoon finely grated lemon zest plus 2 tablespoons fresh lemon juice
2 tablespoons minced shallots
1 1/4 teaspoons Dijon mustard
1 1/4 teaspoons white wine vinegar
1 small garlic clove, minced
1/3 cup extra-virgin olive oil
Salt and freshly ground pepper
How To Make:
In a blender, combine the lemon zest and juice, shallots, mustard, vinegar and garlic and puree until smooth. With the machine on, slowly add the olive oil until emulsified. Pour the vinaigrette into a bowl and season with salt and pepper.
---
1

(16-oz.) package whole wheat penne pasta

1

(8-oz.) package thin green beans, cut into 1 1/2-inch pieces

1 pt

. grape tomatoes, halved

3/4 cup

Lemon-Shallot Vinaigrette

1/4 cup

chopped fresh dill
---
Instructions
Cook pasta according to package directions, adding green beans to boiling water during last 2 minutes of cooking time; drain.
Rinse pasta mixture under cold running water until cool; drain.
Toss together pasta mixture, tomatoes, and vinaigrette.
Cover and chill up to 24 hours, if desired.
Stir in dill, and add salt and pepper to taste, just before serving.
What do you think about this Penne Pasta Salad with Green Beans and Tomatoes recipe? Tell me in the comments!
LOVE THIS RECIPE? PIN IT FOR LATER!