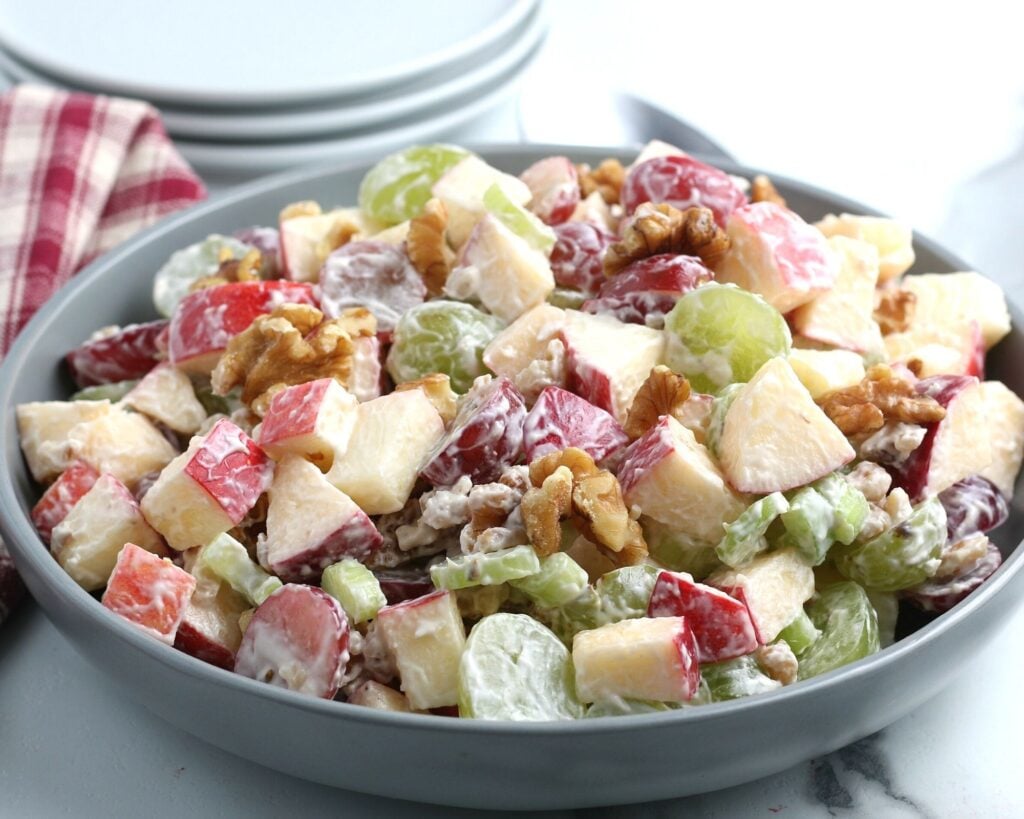 My version of the Classic Waldorf Salad made with celery, apples, juicy grapes and toasted walnuts with a creamy, lemony dressing. It's crunchy, refreshing and is great for lunch or brunch any time of the year!
Have you ever tried a Waldorf salad? A friend had introduced me to it last year and I've been hooked! I can definitely see why this salad has remained popular for decades. It is savory and sweet, healthy but a tiny bit sinful. If you have never tried a Waldorf salad, you definitely should!
What is a Waldorf Salad?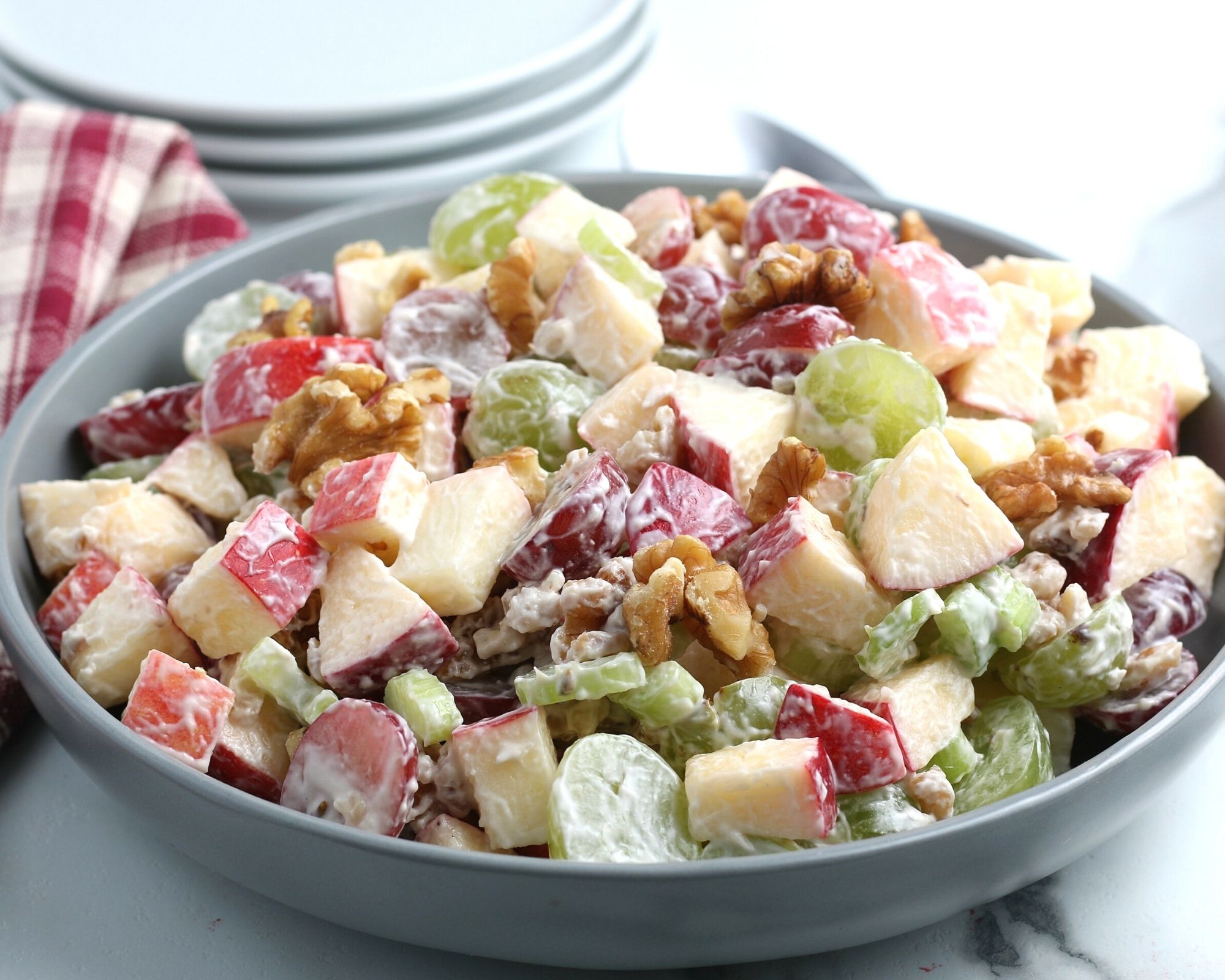 The Waldorf salad recipe was first created in 1896 at the Waldorf-Astoria hotel in New York City. It was made for a charity ball that honored St. Mary's Hospital for Children. The salad was such a huge hit that it went on to be a signature dish of the hotel.
You may be wondering by now what exactly is in a Waldorf salad that makes it so incredible. The traditional salad is made with apples, celery, walnuts, grapes and a mayonnaise dressing. The fruity mix is served on a bed of lettuce and enjoyed cold. The warm taste of the walnuts makes it a delicious fall salad but the bright grapes and juicy celery make it perfect for spring and summer, too. It is a real year round refreshing salad!



Perfect Waldorf Salad Recipe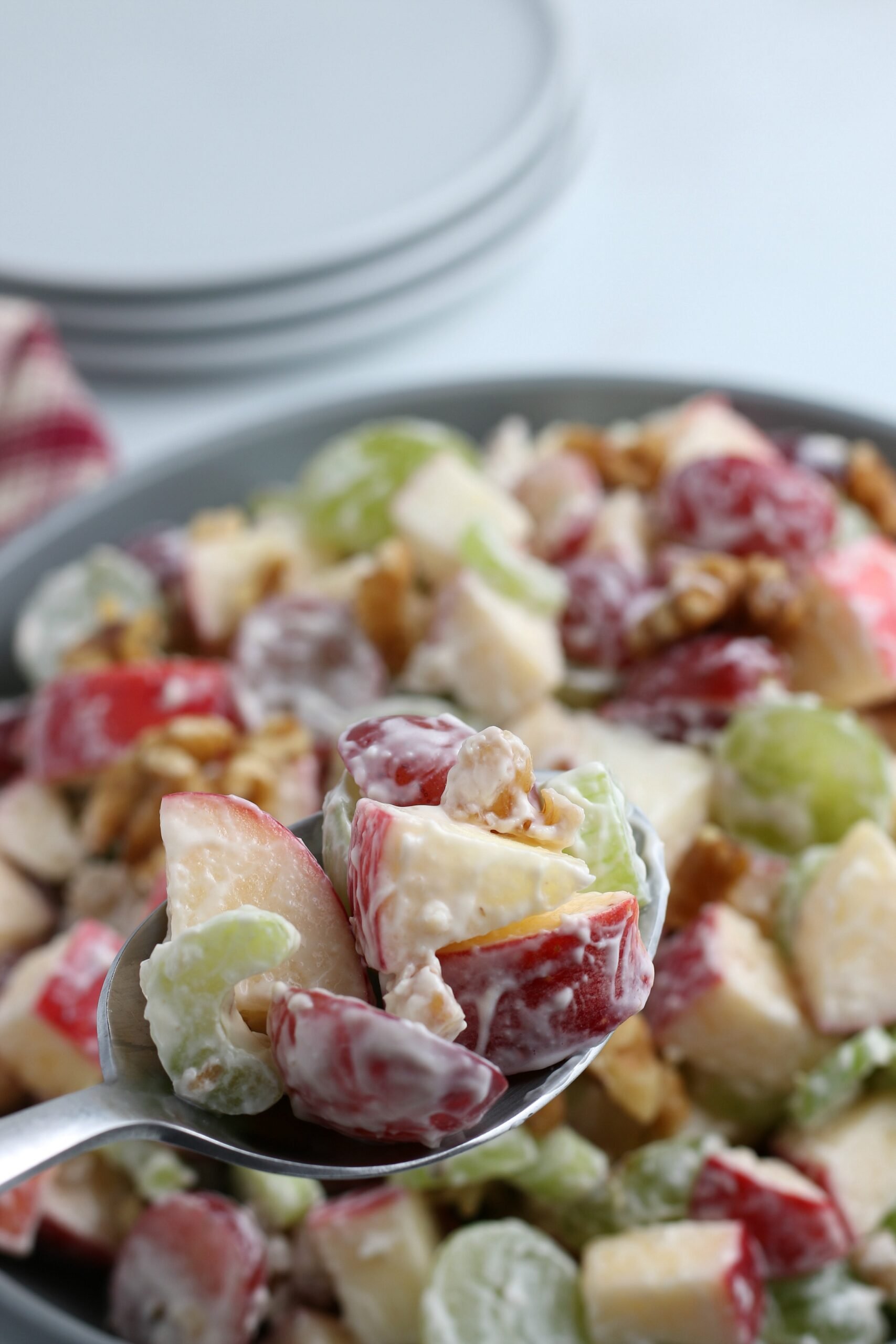 A true Waldorf salad should have the classic ingredients but many chefs put their own twist on the salad, keeping it on trend over a century later. I am a pretty big fan of making Waldorf salad the exact way it was originally made. Do you love a classic, too?? Of course, I do add a little bit of my personality into my Waldorf salad recipe and I promise you are going to love it. My Waldorf salad recipe is creamy, crunchy, sweet and tangy. It is everything you could want in a salad so let's get right into all the details so you can start eating!
Ingredients for Waldorf Salad
Ready to go shopping? Here is what you will need to grab at the grocery store so you can make a Waldorf salad ASAP!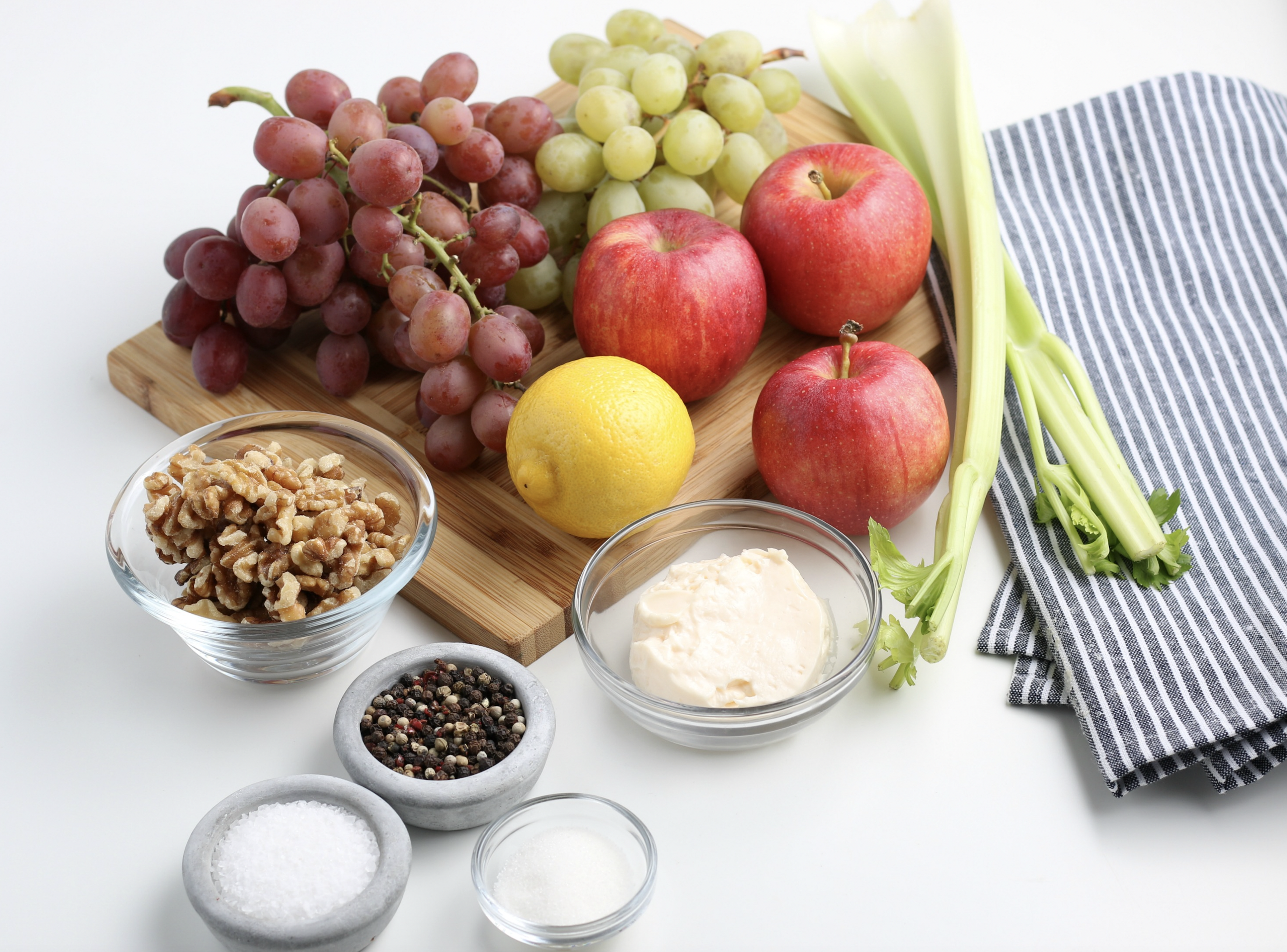 mayonnaise or yogurt– Waldorf salads are classically made with mayonnaise. I love the creamy, rich taste of mayonnaise but Greek yogurt is a fantastic, lower fat substitute. Both mayonnaise, lite mayonnaise or plain Greek yogurt will work!
sugar– A little sugar helps sweeten the dressing. You can choose to skip this but I really think it makes the salad more irresistible and also more authentic. The original Waldorf salad definitely had sugar!
lemon– A little lemon juice brightens up the dressing and adds a nice tangy. This is especially good for a summer Waldorf salad.
red and green grapes– I like to use both color grapes to make the salad look extra pretty. Red grapes are also a little sweeter than green grapes so you get a nice balance of sweet and tangy fruit.
apples– I like gala apples because of their perfect crunch. Any apple will work but make sure it is a slightly tart, crunchy variety.
celery– Some chopped celery gives the salad more crunchy texture and that subtle, grassy taste.
walnuts- Walnuts not only add some healthy fats to the salad, but they also add a warm, nutty taste. That flavor goes so well with the sweet, tart fruit.
salt and pepper– A little salt and pepper are always a good way to finish off a salad!
As you can see, my recipe skips that classic bed of lettuce and really focuses on the Waldorf mix. I like the salad better without lettuce but that's personal preference.
How to Make a Waldorf Salad
Now that you have the ingredients you need, it is time to start cooking! Well, you don't actually have to cook at all to make a Waldorf salad, you just need to mix! You will need a measuring cup, a large mixing bowl, a paring knife and a cutting board to make the salad. A big spoon or rubber spatula will work to mix it all together.
My recipe for Waldorf salad is so easy and I'm showing it to you step-by-step here: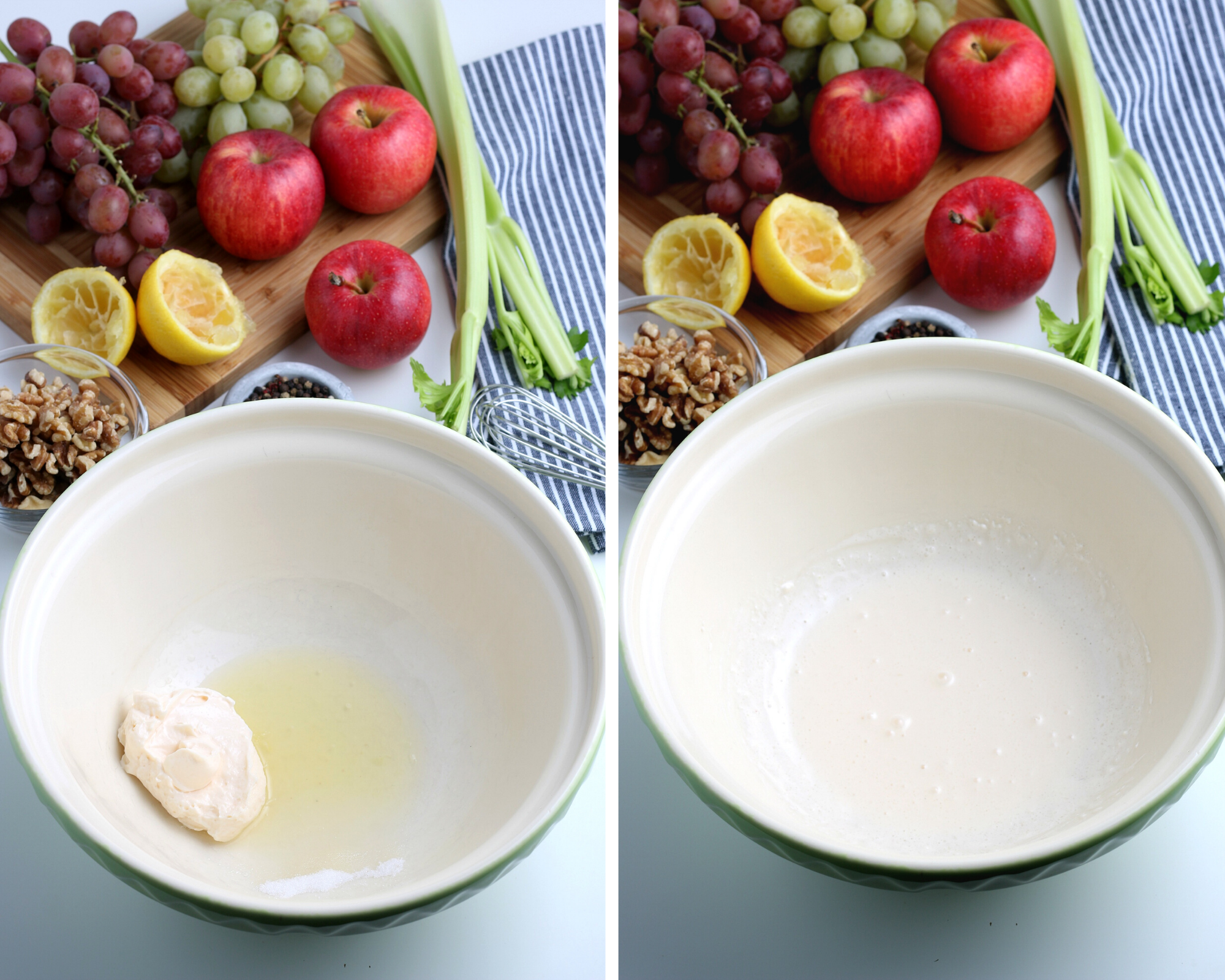 1. Add the mayonnaise, sugar and lemon juice to the large bowl and whisk together.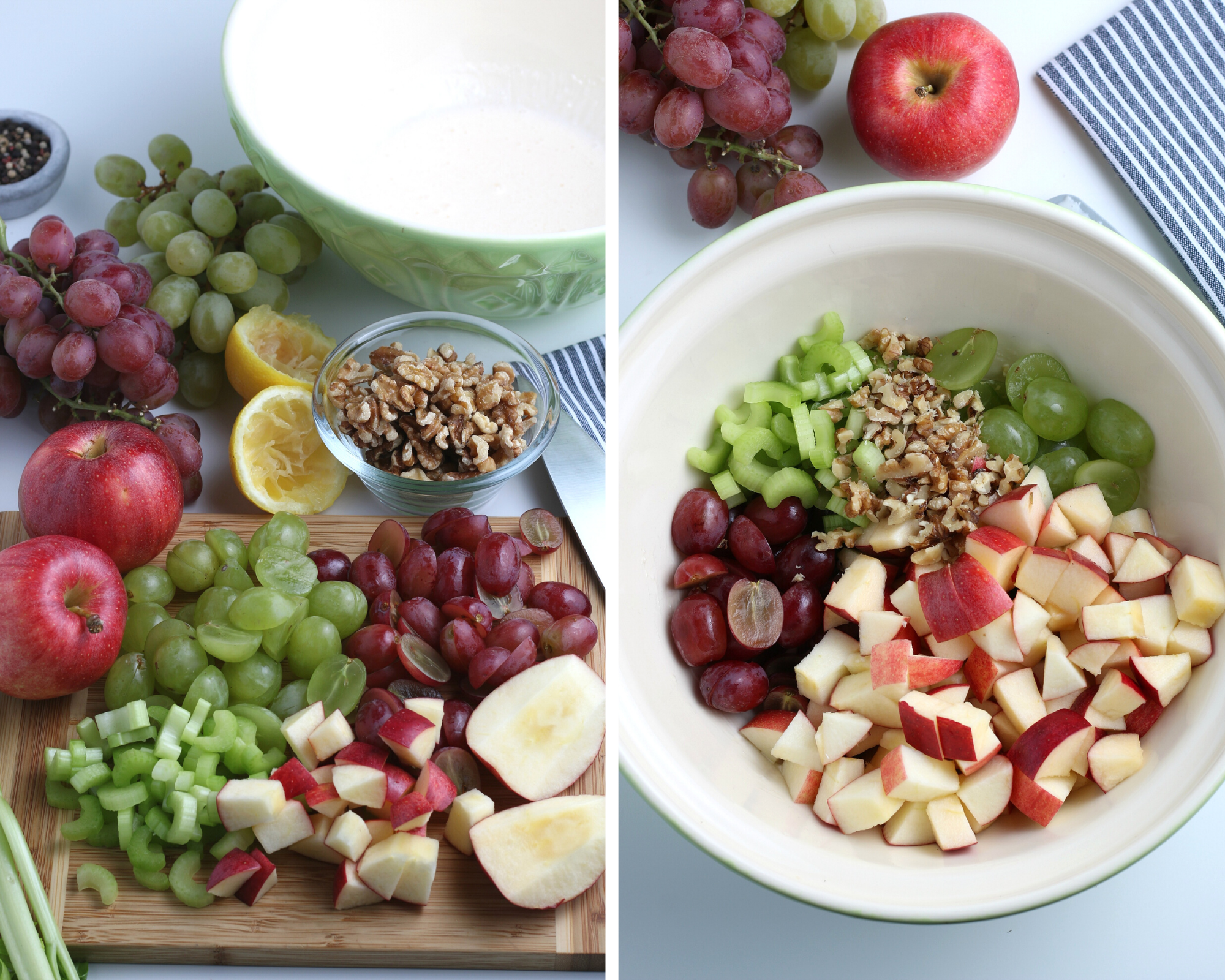 2. Add the halved grapes, chopped apple, celery and chopped walnuts to the bowl and mix everything together. Add a little salt and pepper and toss again.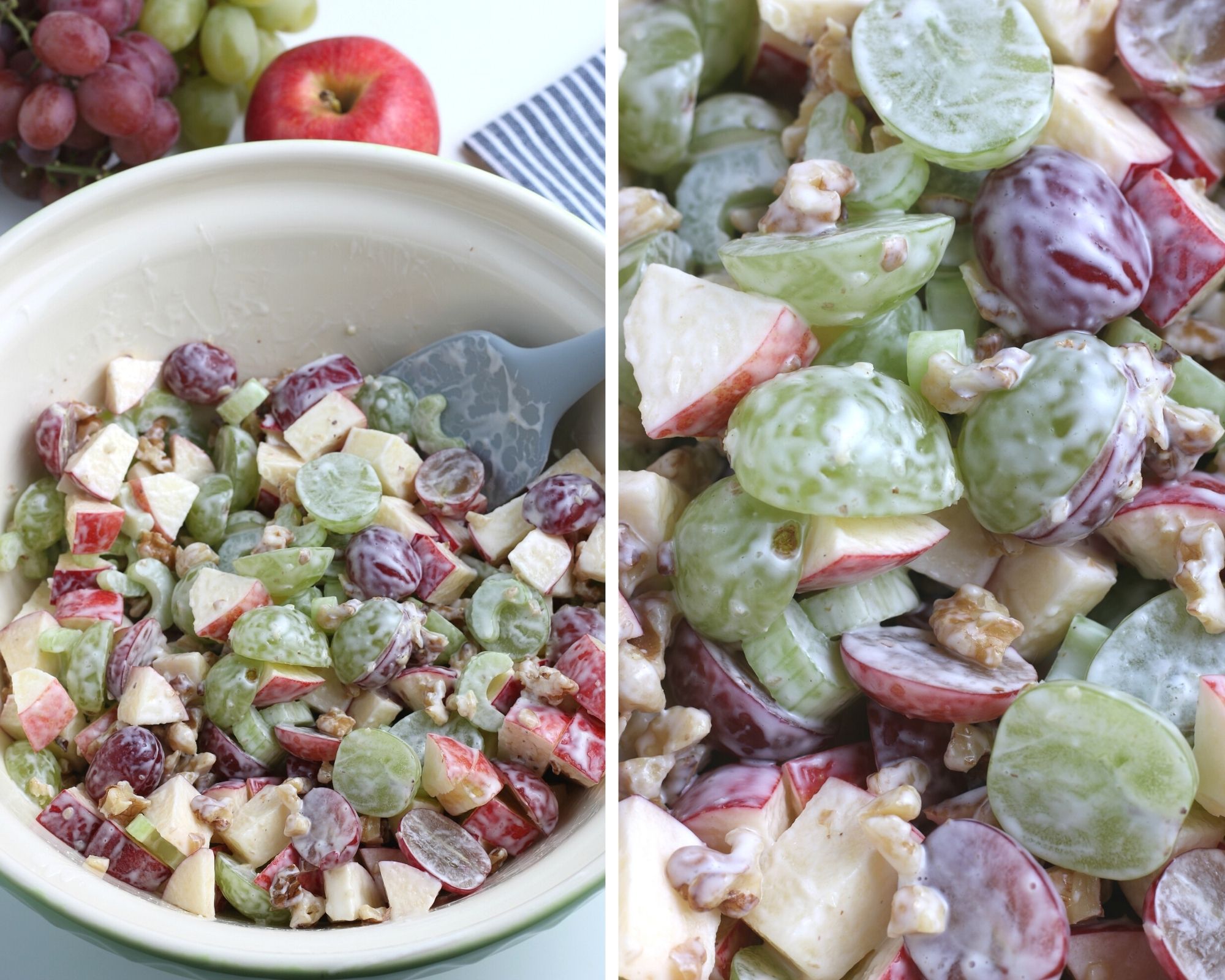 3. Chill the salad until you are ready to eat!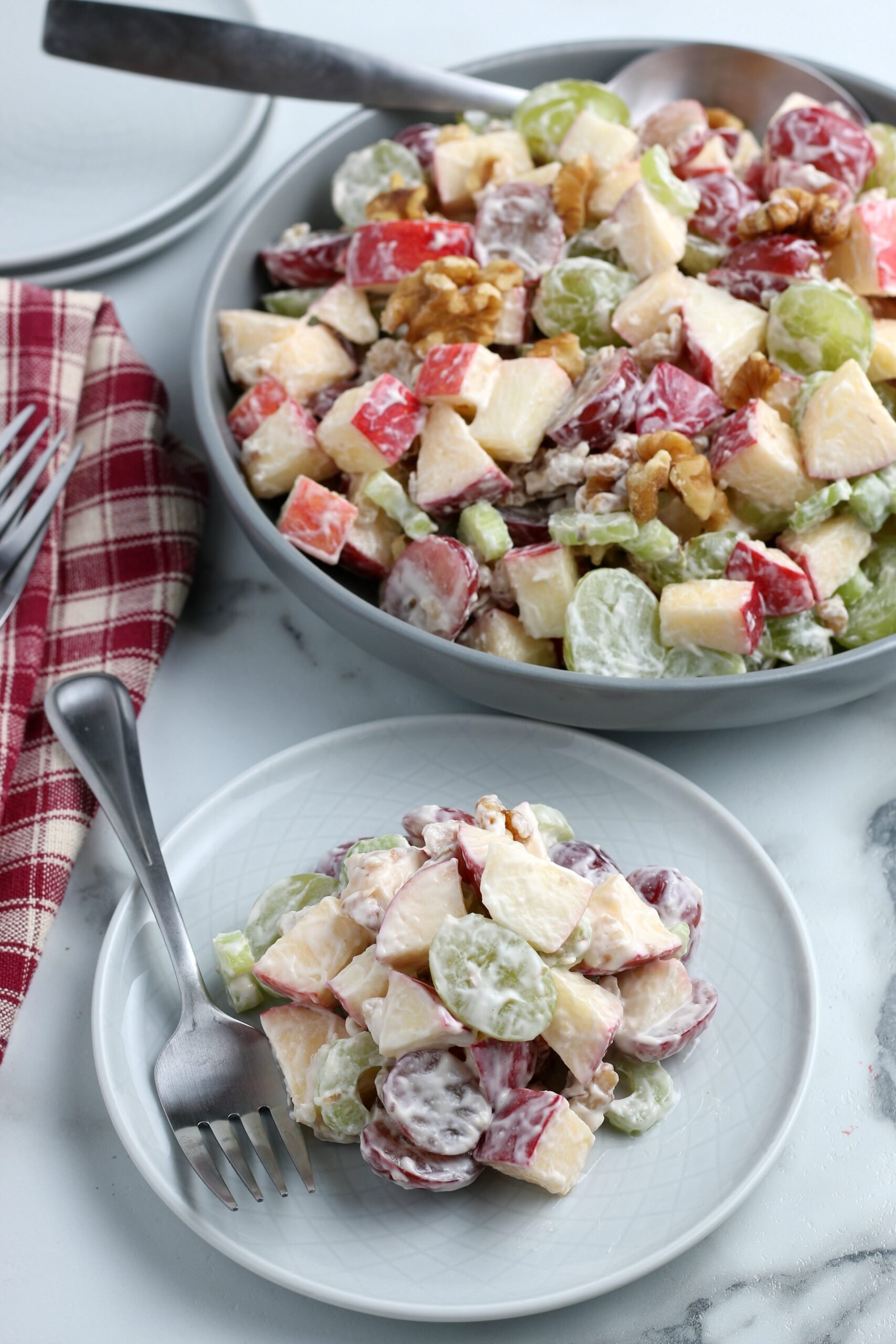 It is amazing how easy and quick it is to make a Waldorf salad! It only takes about five, maybe ten minutes to make a nice big salad that is healthy, exciting and also a true classic dish. I can't believe it took me so long to discover this salad. I always thought a Waldorf salad was something over the top fancy, out of my culinary abilities. Turns out, it is insanely easy to make and so, so tasty!
I am going to be serving Waldorf salad at all my parties and get-togethers this summer. You should give it a try too! See what a century worth of culinary hype is all about. Enjoy!
Print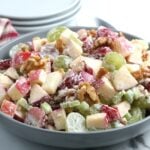 Waldorf Salad
---
Description
Our version of the Classic Waldorf Salad made with celery, apples, juicy grapes and toasted walnuts with a creamy, lemony dressing. It's crunchy, refreshing and is great for lunch or brunch any time of the year!
---
¼ cup

mayonnaise or plain yogurt

 

2 teaspoons

granulated sugar
Juice of

1

lemon

 

2

large or

3

small apples, like Gala

 

1 cup

red grapes, halved

1 cup

green grapes, halved

2

stalks celery, thinly sliced

½ cup

chopped toasted walnuts, plus for more garnish if desired
salt and freshly ground black pepper, to taste
---
Instructions
In a large bowl, whisk together mayonnaise, sugar and lemon juice
Add grapes, apples, celery and chopped walnuts
Stir to combine well
Season with salt and pepper
Top with more walnuts, if desired
Chill until ready to serve
Store leftovers in refrigerator
LIKE THIS RECIPE? PIN IT HERE!