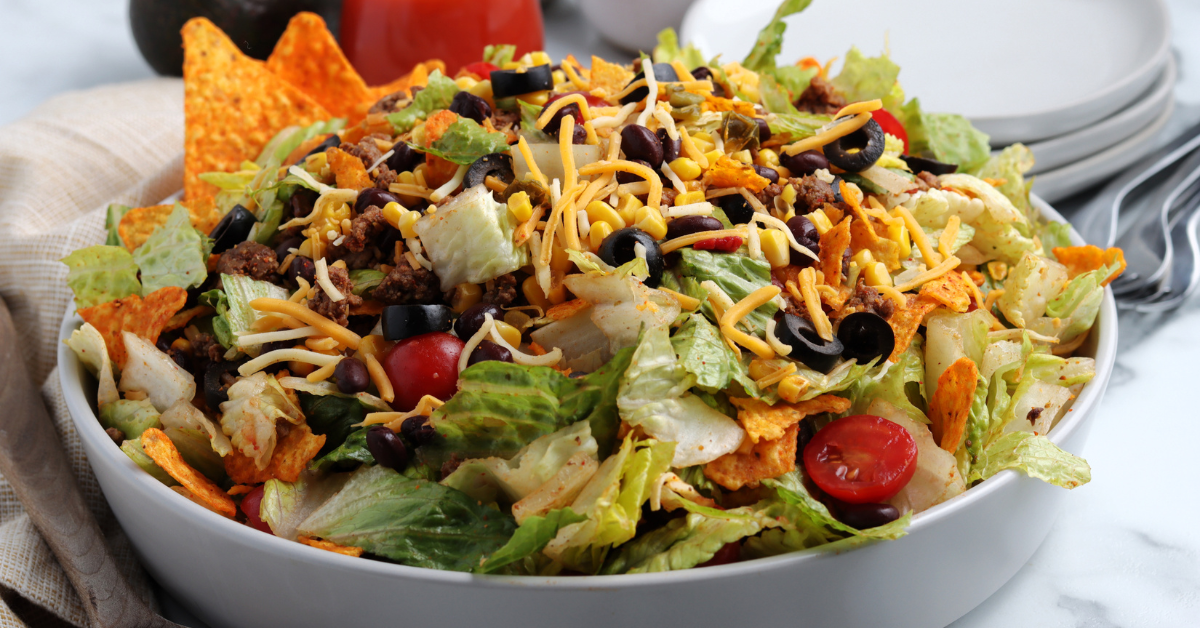 This easy and delicious Dorito Taco Salad recipe is made with ground beef with taco seasoning, black beans, fiesta corn, nacho cheese Doritos chips and more! It's a crowd pleaser and makes for a great summertime salad.
I'm always looking for new recipes to try and lately, I've been loving dorito taco salad. I found a recipe of it on one of my favorite online magazines and instantly added it to my weekly menu. I tried making it once and my family and I were completely sold! It was different, interesting and very tasty.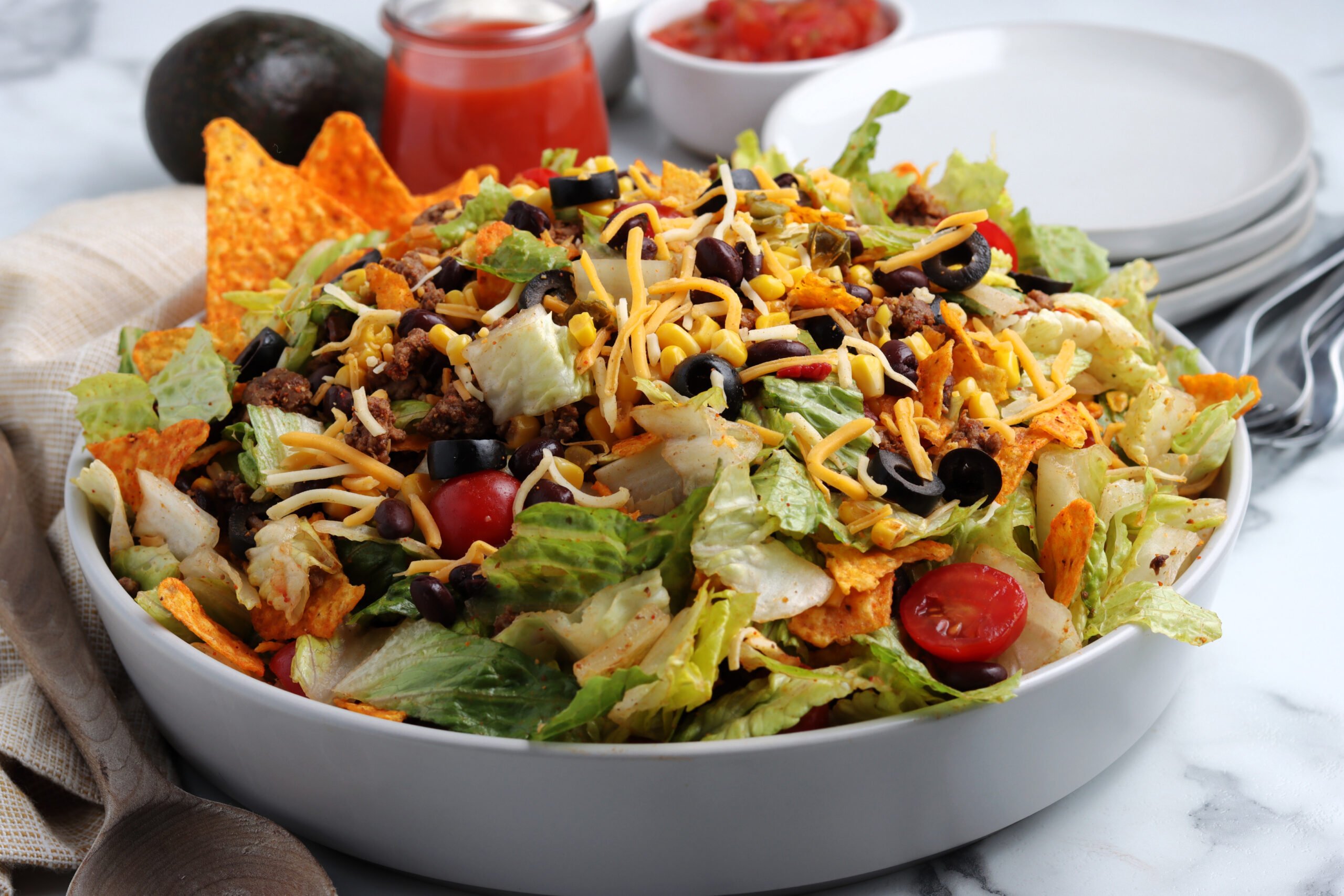 I've made it so many times and overtime, I've put a few of my own twists on the recipe and wanted to share it with you. I think you are going to love it just as much as I do! It is definitely a great salad to make all summer long.
What is Dorito Taco Salad?
My dorito taco salad has a delicious Mexican flair but with extra nacho cheesy-ness added in. It has lots of healthy ingredients like corn, tomatoes, beans and lettuce. However, it also has a few splurge-worthy ingredients too!
Doritos are not something I eat often but I did crumble some extra into my salad and you should too. Go crazy! It will just make you love this salad more and I promise it won't ruin your summer bikini body.



Ingredients for Dorito Taco Salad
I love salads that have lots of ingredients. The more things mixed in the bowl, the more flavorful the salad is. I also like recipes that are flexible. While there are a few ingredients in this taco salad with doritos recipe that I would definitely recommend keeping, many others can be added to suit your personal tastes.
Here is a quick look at what goes into my Dorito taco salad recipe: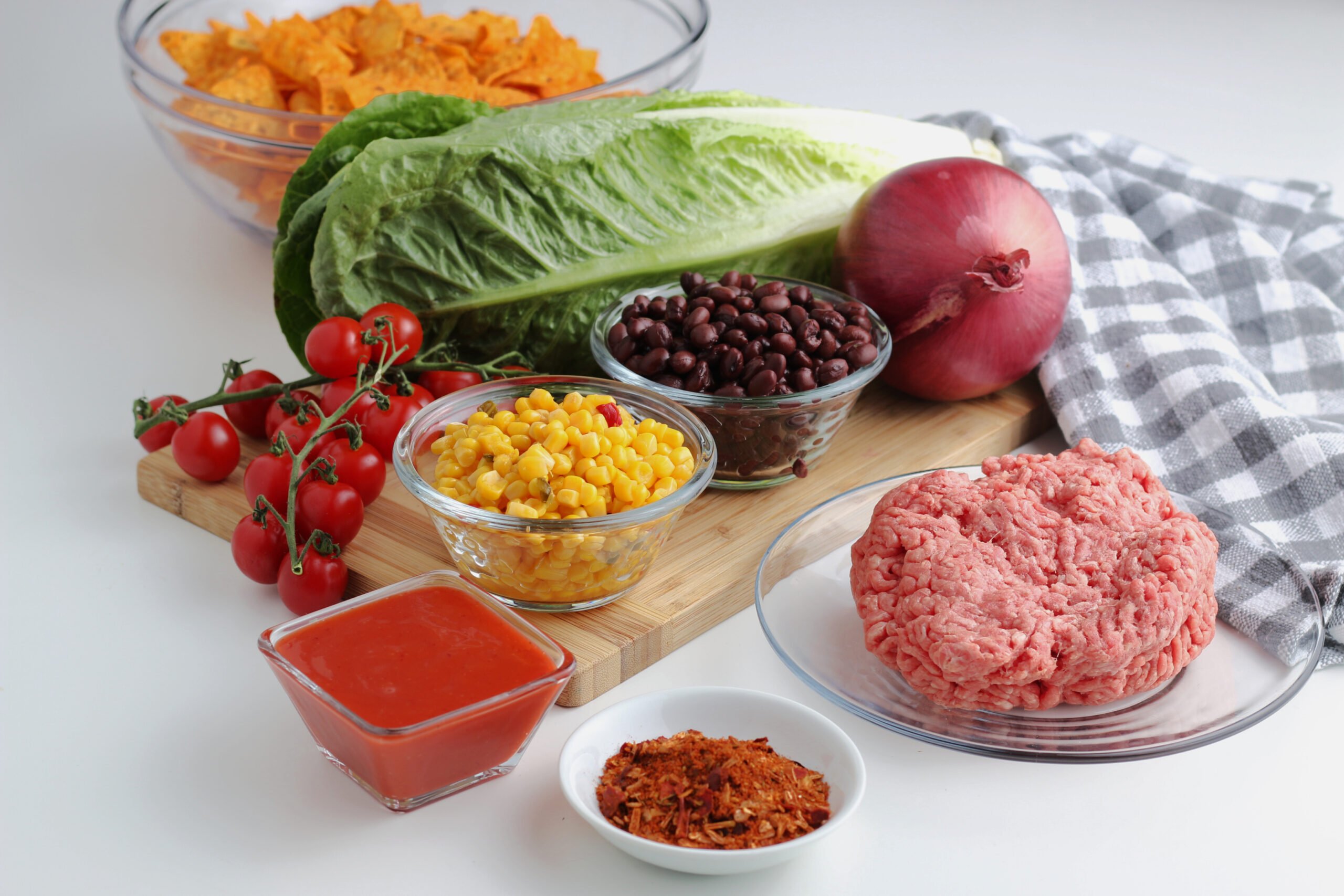 ground beef

– Ground beef is what makes this salad a complete, filling meal. You can also use ground chicken or ground turkey if you want a leaner meat.

taco seasoning

– A simple packet of taco seasoning will give the ground beef the perfect flavor. It is so easy, too, to just add in the pre-mixed seasoning.

Romaine Lettuce

– Shredded romaine is the bulk of the salad. I love romaine because it is crunchy and also refreshing in the hot summer heat.

cherry tomatoes

– Some halved cherry tomatoes are the perfect addition to the taco salad.

Doritos

– Crunchy nacho Doritos are what makes this salad unique. The cheesy taste is delicious with the savory beef and the chips add a great crunch to the salad.

Catalina salad dressing

– Catalina salad dressing is a tomato based dressing that is almost like a tomato sauce. It is a little bit sweet but has a zippy tomato taste with some mild spices as well.
In addition to these main ingredients, you can also add in some black beans, red onion, fiesta canned corn, olives avocado or even a sprinkle of cheddar cheese. I also like to make the bowl a little bit fancy by adding some lime wedges as a garnish.



Dorito Taco Salad Recipe
Once you have all the ingredients you need, putting the salad together is pretty easy. You will need a large skillet, a spatula, a chef's knife, a cutting board and a large bowl. Here is what you need to do to make this salad come to life: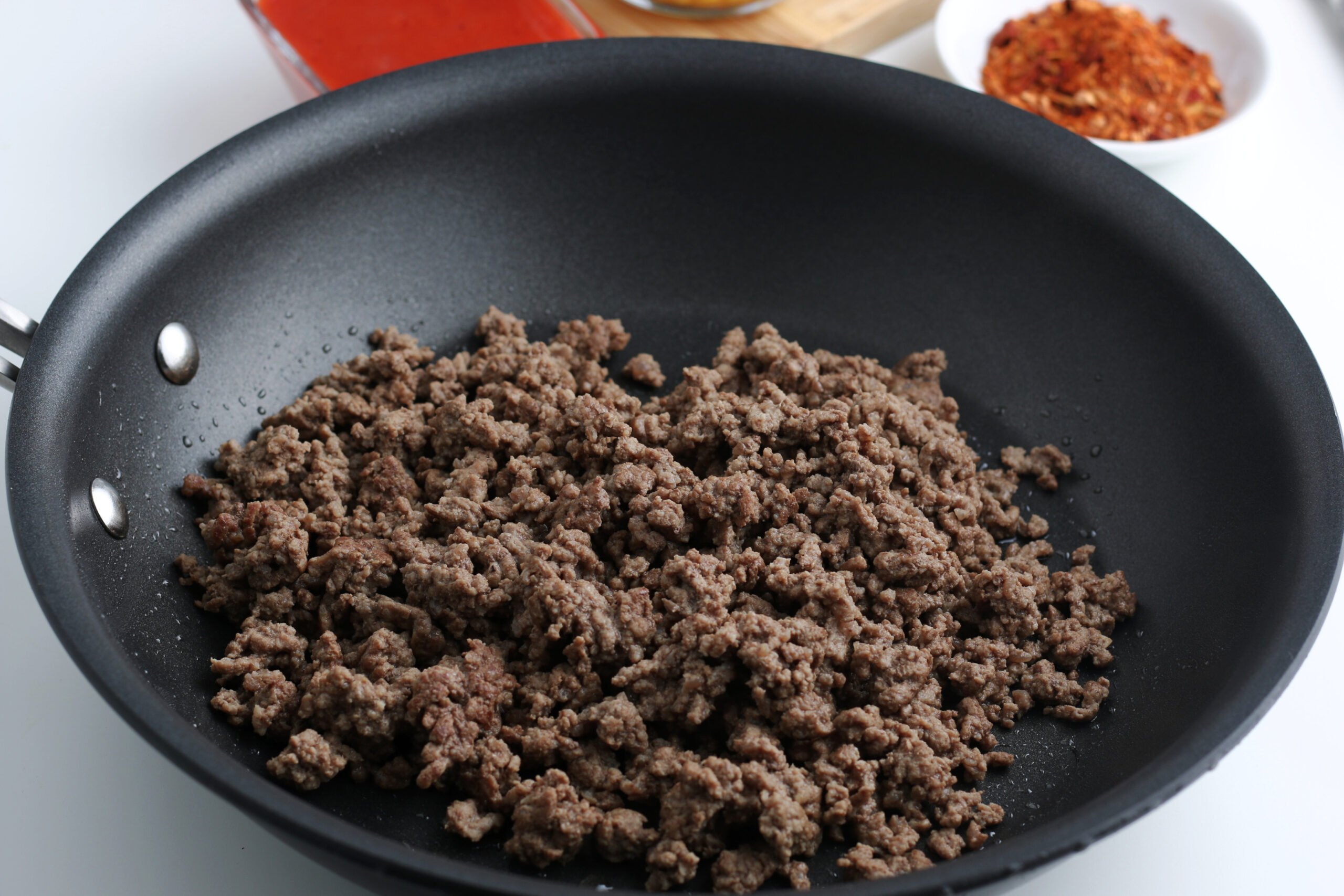 Cook the ground beef in a large skillet, breaking it up with a spatula into small pieces as it cooks.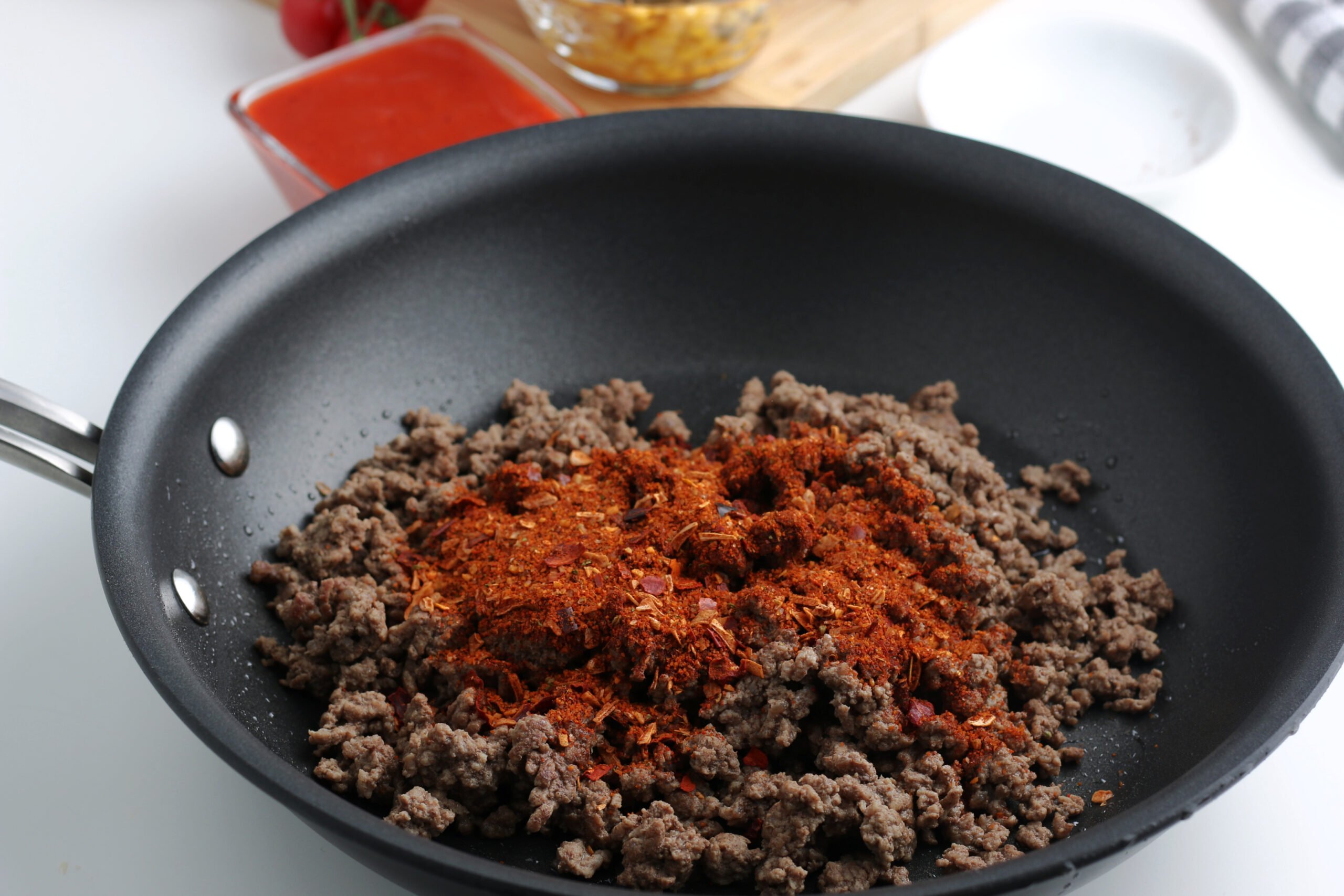 Add the taco seasoning packet to the skillet along with some water. Once the sauce is thick, remove the pan from the heat and set the seasoned meat aside.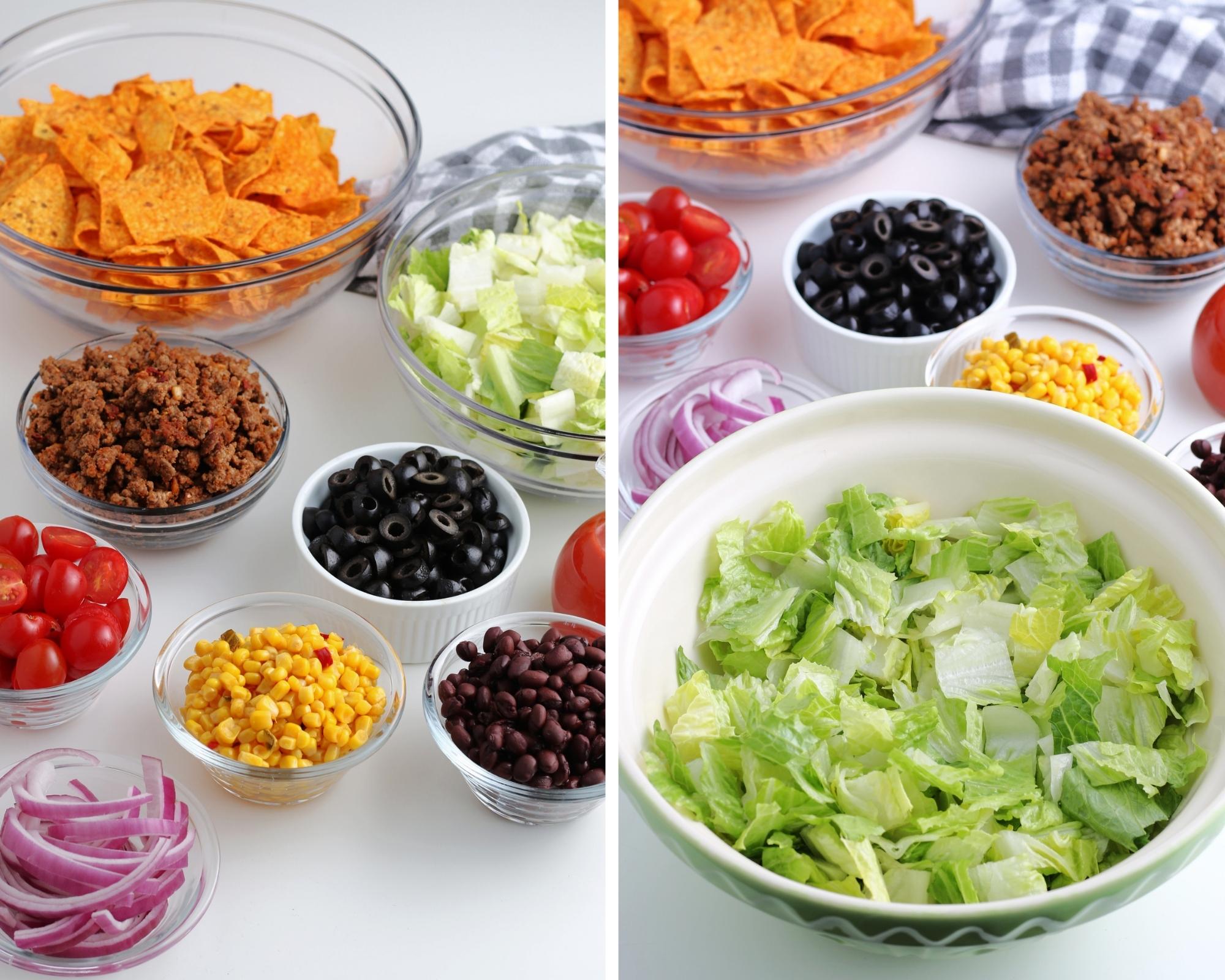 Cut the lettuce and tomatoes and add them to a large bowl. Add any extra taco-style ingredients you'd like at this time too.
Add the salad dressing to the bowl and toss together.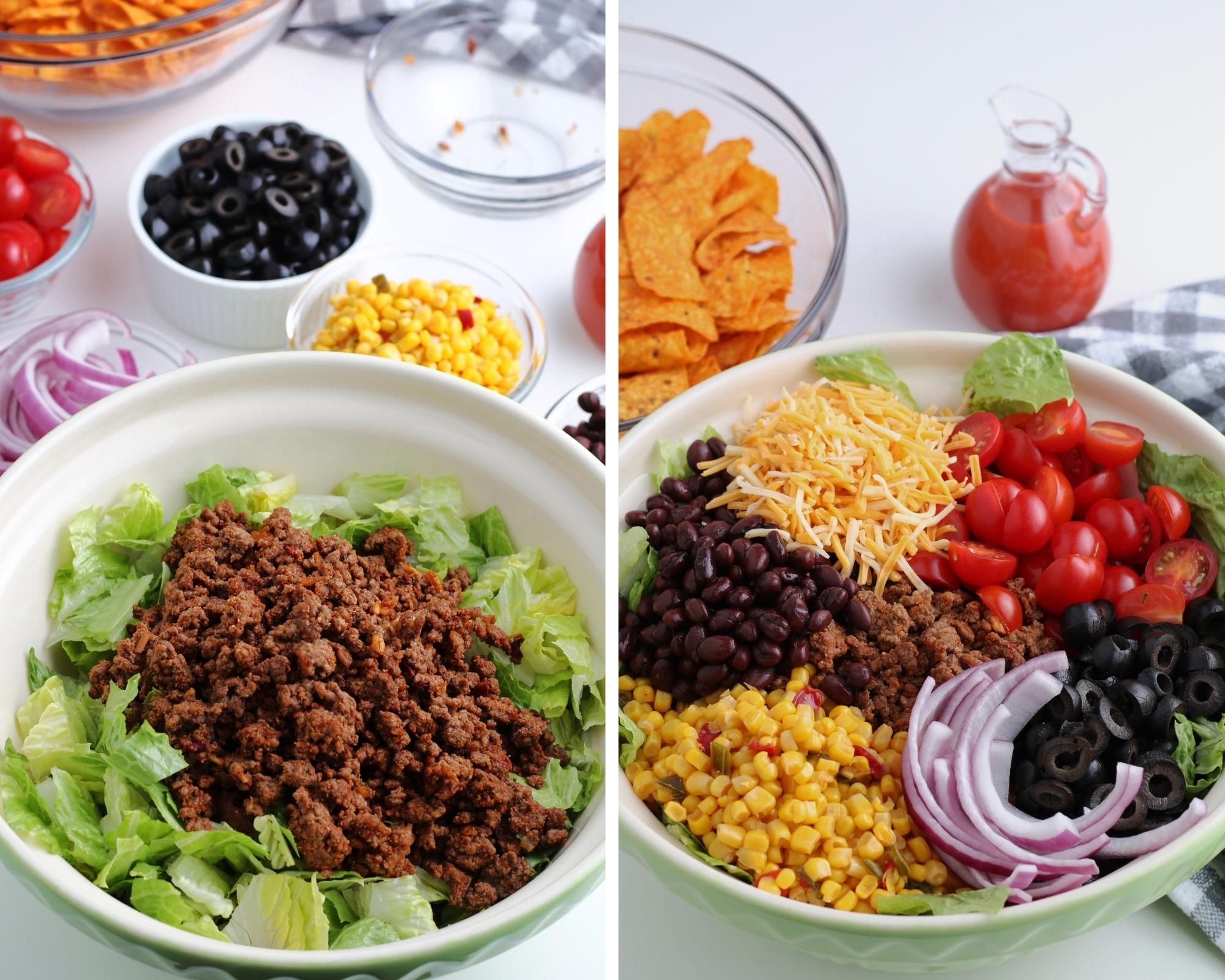 Divide the salad between about 8 bowls and top each with the cooked beef, doritos and any other garnishes you'd like.
Enjoy the salads right away while the chips are nice and crispy. You really want that crunch along with the fresh cooked beef. It's absolutely irresistible!



What to Serve with Dorito Taco Salad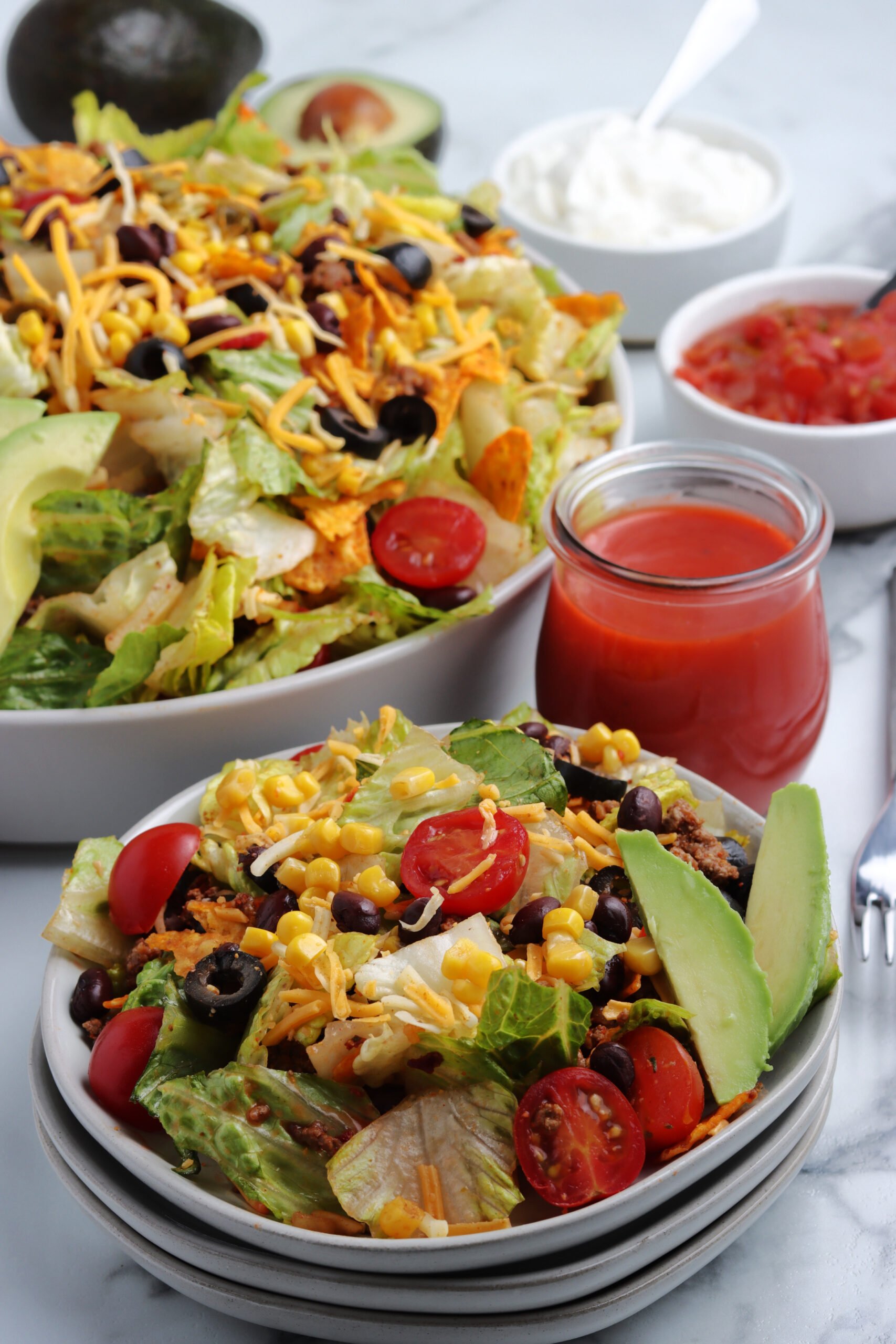 Dorito taco salad is hearty enough to be a full meal on its own. If you want to serve it as a lunch or dinner, just divide the salad into 4 larger bowls. If you want the salad to be more of an appetizer or side dish, you can try serving it with any other Mexican themed foods. It's perfect with tacos, burritos or enchiladas. I made a tasty black bean soup to go with the Dorito salad just the other night and it was perfect! Keep those Mexican seasoning in mind when you consider what to serve with Dorito taco salad and you can't go wrong!
If you have been looking for a new salad recipe or just want to try something really different and flavorful, this is the recipe for you. I know that you will love the tomatoey dressing with the fresh lettuce, savory beef and crunchy, cheesy chips. It is quite the combo! Give it a try and let me know what you think. Enjoy!
*This post may contain affiliate links. Read our Disclosure Policy for more details.
More delicious salad recipes to try!
I hope you love this taco salad with doritos recipe – be sure to give it a review below!
Print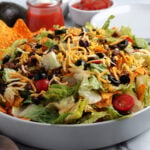 Dorito Taco Salad
---
Description
This easy and delicious Dorito Taco Salad recipe is made with ground beef with taco seasoning, black beans, fiesta corn, nacho cheese Doritos chips and more! It's a crowd pleaser and makes for a great summertime salad.
---
Ingredients
1 pound lean ground beef 
2 tablespoons or 1 packet taco seasoning 
½ cup water
1 large heart romaine lettuce
1 pint cherry tomatoes or 2 medium size tomatoes 
1 bag (9.75 oz) Doritos nacho cheese chips  (see notes) 
1 bottle Catalina Dressing
Optional additional ingredients
1 (16 oz) bag cheddar cheese or your favorite
1 can (15 oz) beans – black or pinto, drained and rinsed 
1 small red onion, sliced 
1 can fiesta corn, drained well
1 can black olives, drained and sliced
1–2 avocado 
Serving, optional 
green onions, sliced
lime wedges 
salsa
Pico de Gallo 
guacamole 
sour cream 
cilantro 
---
Instructions
Cook ground beef in a skillet over medium heat until no pink remains, drain
Return to skillet and add water and taco seasoning
Stir and heat through
Clean and cut lettuce and tomatoes

 

Add to a large bowl

 

Add any additional ingredients you like
Stir gently to combine
Serve with chips and any additional serving ingredients you like
Store in refrigerator in airtight container

 
Notes
Be sure to serve chips on a side if you plan on having leftovers. The chips will get soggy.