This tart, sweet and delicious Lemon Raspberry Bread is perfect as a summertime dessert or lunchtime snack. Studded with fresh raspberries and bright lemon flavors, this loaf will easily become one of your favorite sweet treats!
Looking for the BEST recipe for lemon raspberry bread? You found it!
How's your summer so far? Have you gone on any exciting trips, visited with friends, relaxed by the water? My family and I have done it all and I have been loving every second! I just love the busy but low key mood of summer I'm not ready for it to end just yet!
You may have guessed that one of my favorite parts of summer is the food. I can't resist all the fresh produce, the bright, bold flavors and the way it all brings my family together at the table!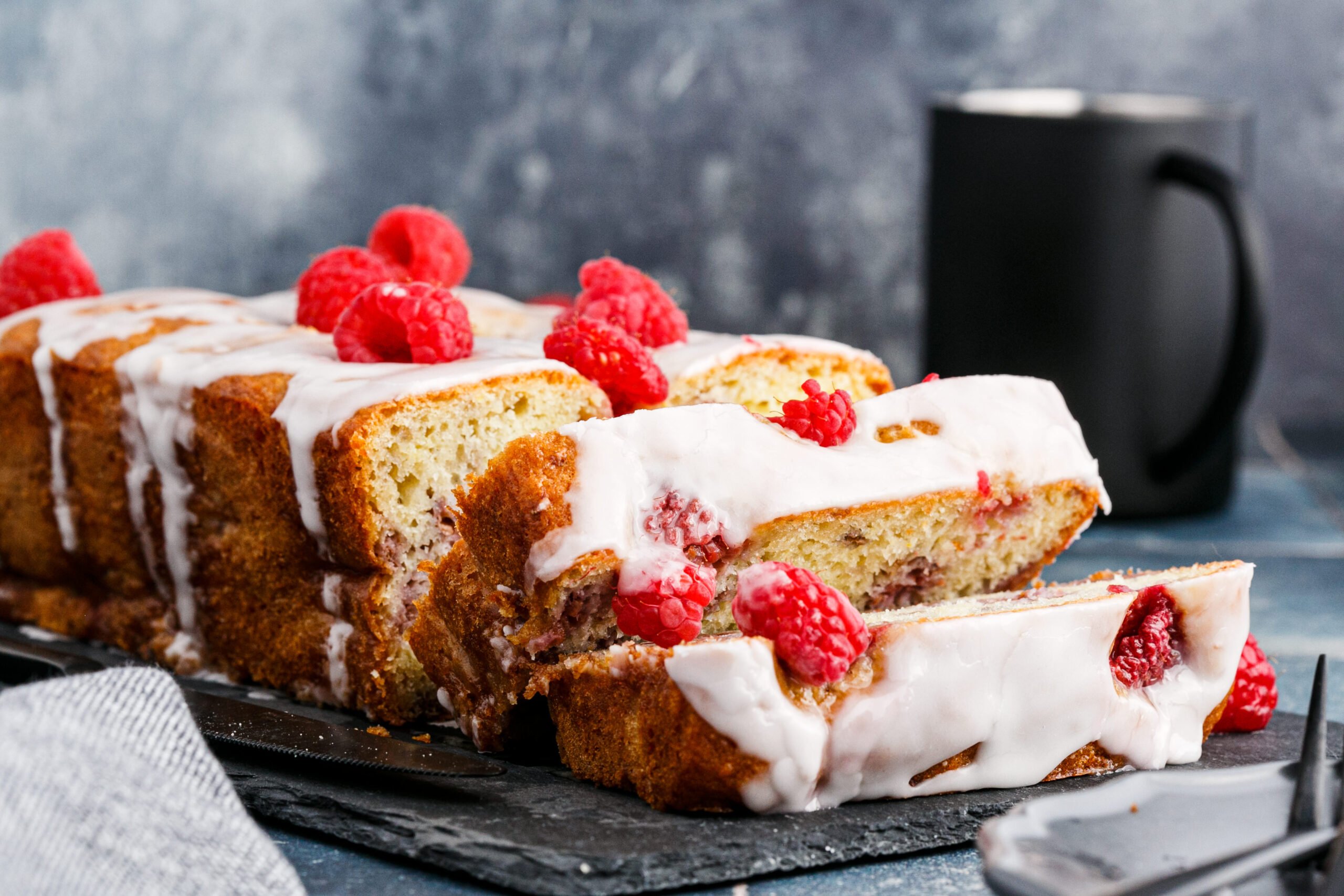 So what am I cooking these days? Lemon raspberry bread! Just like my lemon blueberry bread recipe, it has quickly become one of our family's favorite summertime desserts! Thanks to the sweet, fruity taste of the fresh raspberries paired with the tangy flavors of lemon.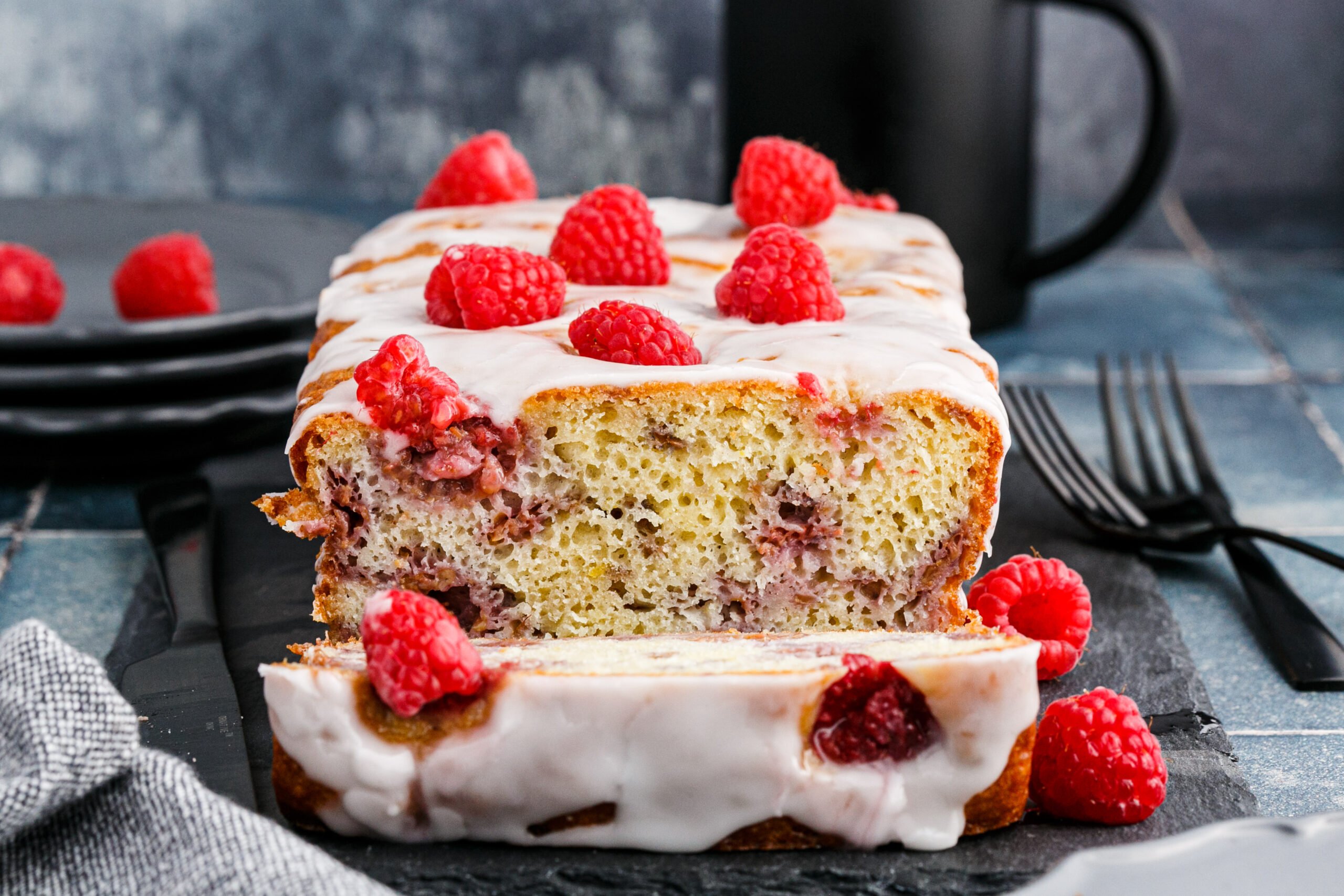 Raspberries and lemon just scream of summer and I can't get enough of it. Little secret- while this lemon raspberry bread may be sweet enough to be dessert, I have been sneaking a slice for breakfast almost every morning. Summer is all about enjoying life, right?!
Let me tell you all about how to make this delicious lemon raspberry bread so you can add it to your summer routine, too.
Ingredients for Lemon Raspberry Bread
Here is a quick look at the ingredients you will need to make my lemon raspberry bread. You should be able to find everything in your local grocery store. You may even have a lot of it in your pantry already!
all-purpose flour

– Flour will give the bread its structure. Regular all purpose flour has the best texture for quick breads like this.

baking powder and baking soda

– These two ingredients will help the bread rise, making it light and fluffy.

fresh raspberries

– fresh raspberries are key to this recipe. Fresh berries will work much better than frozen berries in this bread. Be sure to pick over your berries before tossing them into the batter, removing any stems in the container.

sugar

– This is a sweet bread so a little sugar is necessary!

Greek yogurt

– Greek yogurt adds a bold, tangy taste to the lemon raspberry bread. It also helps the bread stay moist and tender. I like using Greek yogurt thanks to it's thick consistency. You can use regular, plain yogurt but you should reduce the amount to ⅓ cup to make up for the more watery texture.

salted butter

– Butter will make the bread taste rich and creamy. There is no salt in this recipe so it is one of the few times I use salted butter to bake!

lemon juice and lemon zest

– You should be able to get enough zest and juice from one medium sized lemon. Zest the lemon first then slice it in half to squeeze the juice. Fresh lemon is by far more flavorful than bottled juice and you want as much lemony taste as possible!

eggs

– Just two eggs will bind the bread together, making it easy to slice and rich.

icing sugar

– Icing sugar and powdered sugar are the same thing. I use powdered sugar to make a beautiful glaze to cover the bread. This is what turns this raspberry lemon bread into a dessert!
Got all of these ingredients at home? That means you are destined to start baking! Keep reading to see how easy it is to make lemon raspberry bread.
How to Make Raspberry Lemon Bread
I love quick breads because they are, well, quick! It is so easy to make a sweet bread like this lemon raspberry loaf. You really only need about 5 minutes to whip up the perfect batter.
Here is what you need to do:
1. Line a loaf pan with parchment paper and spray it with non stick spray. This will make the bread super easy to lift right out of the pan once it has baked.
2. Preheat your oven to 325 degrees F.
3. Whisk together the flour, baking powder and baking soda. Whisking the dries will prevent any baking soda or powder clumps.
4. Toss the raspberries in a little flour. This helps the berries remain evenly distributed in the bread as it bakes rather than sinking to the bottom. A little baker's trick!
5. Beat the sugar, melted butter, vanilla, yogurt, lemon juice and lemon zest together. The mix will all come together and look like a thin custard.
6. Add the eggs and mix again.
7. Add the dry ingredients and beat until a smooth batter forms.
8. Add the floured raspberries and stir in with a spoon or spatula. Just stir them in once or twice, mixing them into the batter but not causing them to break.
9. Pour the bread into the prepared pan and bake!
10. While the raspberry lemon loaf bakes, whisk together the lemon juice and powdered sugar to make an icing.
11. Pour the icing over the bread once it has cooled and dot the top with a few extra raspberries.
12. Slice and serve!
Is your mouth watering just thinking about this bread? Mine definitely is! Good thing I have a nice slice of raspberry lemon bread right beside me. Oh man is it good!
Tips and Tricks for the BEST Lemon Raspberry Bread
I always like to share my baking tips and tricks with you. I want you to make my recipes perfectly! Take a quick look at these little tips before you start baking. They will help you bake the perfect raspberry lemon bread, I promise!
Make sure the loaf is completely cool before adding the glaze. If it is too warm, the glaze will become very runny and melt off of the bread.

Swap out all purpose flour for gluten free All purpose flour to make a perfect GF lemon raspberry bread.

Store the bread at room temperature for up to three days. You can also wrap it and store it in the fridge for up to a week.

Skip the glaze and wrap the bread tightly and freeze it for up to three months. Thaw it at room temperature for about an hour when you are ready to enjoy it! Add the glaze after it has thawed and the bread will taste as good as the day it was baked!

Use half blueberries and half raspberries to make a very summery berry bread.
If you love summer baking as much as I do (and also summer eating!), then you should definitely give this lemon raspberry bread recipe a try. It is very easy to make and bakes into a beautiful, delicious bread. It is perfect for breakfast, perfect for dessert and makes a fantastic hot afternoon snack. Give it a try and let me know what you think!
Now, back to enjoying the summer sunshine with my own slice of raspberry bread. It doesn't get any better than this! Enjoy!
*This post may contain affiliate links. Read our Disclosure Policy for more details.
Try these other delicious dessert recipes!
I hope you love this lemon raspberry bread recipe – be sure to give it a review below!
Print
The BEST Lemon Raspberry Bread
---
Author:

Prep Time:

5 minutes

Cook Time:

65 minutes

Total Time:

1 hour, 10 minutes

Yield:

1

loaf

1

x
Description
This tart and sweet Lemon Raspberry Bread is perfect as a summer dessert or lunchtime snack. Studded with fresh raspberries and bright lemon flavors, this loaf will easily become one of your favorites! 
---
1 1/3 cup all-purpose flour, plus 1 tablespoon divided
1 teaspoon baking powder 
1 teaspoon baking soda
2 cups fresh raspberries, rinsed, plus more for topping (optional)
½ cup granulated sugar
½ cup vanilla Greek yogurt 
½ cup salted butter, melted 
2 tablespoons lemon juice, freshly squeezed (from 1 large lemon)
2 tablespoons lemon zest (approx. 1 large lemon)
2 large eggs, room temperature
Glaze: (optional)
1 cup of icing sugar 
4 tablespoons lemon juice (depending on desired thickness)
---
Instructions
1. Line an 9×5 loaf pan with parchment paper leaving the sides longer for a quicker way to remove the loaf later, and spray uncovered areas with non-stick spray (you can also spray the full pan with non-stick spray first, it will help keep the parchment tighter).
2. Preheat the oven to 325F.
3. In a small bowl whisk 1 1/3 cup flour, baking powder and baking soda. Set aside.
4. In another small mix together rinsed raspberries and 1 tablespoon of flour until combined and set aside. If topping the loaf with raspberries, set aside an additional 10-12.
5. On the lowest setting of a stand mixer, with the paddle attachment beat sugar, vanilla Greek yogurt, melted salted butter, lemon juice and zest until it is well mixed and looks like a custard.
6. Add in both eggs and mix for about 60 seconds, still on low.
7. With the mixer on the lowest setting, add in the dry ingredients for another 60 seconds.
8. With a spatula add in your raspberries to evenly distribute.
9. Pour the loaf mixture into the pan and bake for about 45 minutes, or until a toothpick comes out moist from the center, with a few bits.
10. Cool the loaf pan on a wire rack for 15 minutes removing the loaf to cool completely.
11. Once your loaf is cool, start your glaze (optional) by whisking icing sugar and lemon juice until you have reached the desired consistency.
12. Slice the loaf and enjoy!
Keywords: bread, loaf bread, lemon raspberry bread, desserts, raspberry lemon bread
LOVE THIS LEMON RASPBERRY BREAD RECIPE? PIN IT HERE!