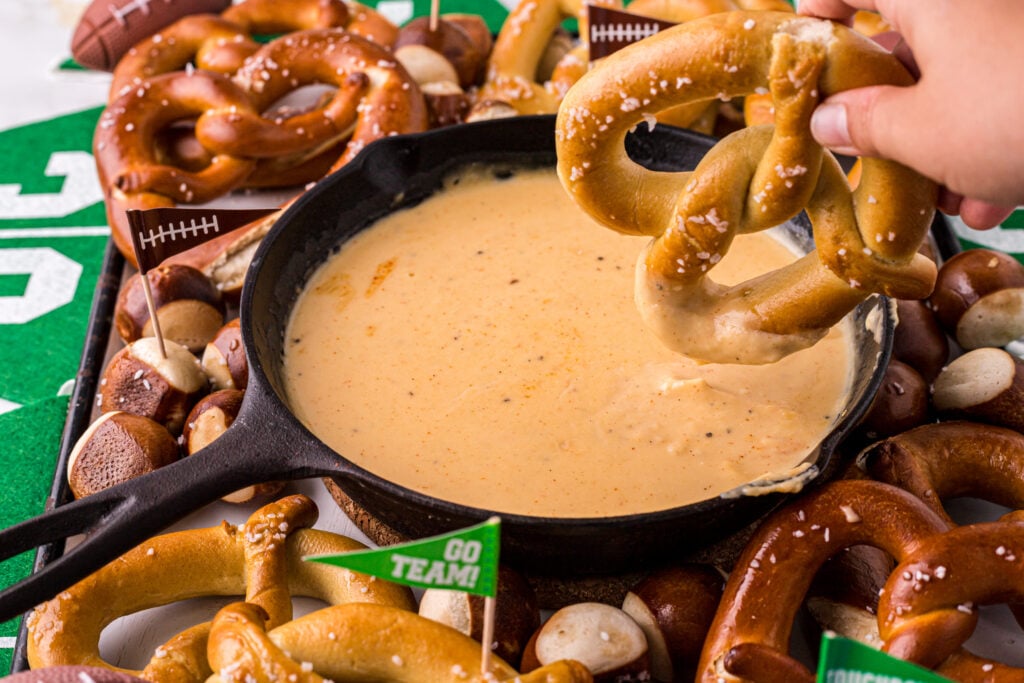 This easy beer cheese dip is the perfect appetizer for your next get together or party. You can serve it hot or cold and is totally customizable with your favorite beer and cheese combination!
Who is ready to make incredibly delicious and easy beer cheese dip? I definitely am! It's such an easy cheesy appetizer to make when hosting family or friends.
This beer cheese dip can be customized to be spicy, tangy or sweet so it will please almost everyone's taste buds. It's a total winner and you will be winning too if you serve this recipe at your next party! I love making this beer cheese dip when I'm hosting football game parties, but really, it's the perfect flavorful dip that can be served year round!
What You'll Need to Make Easy Beer Cheese Dip
My recipe for beer cheese pretzel dip is made with simple ingredients. Each ingredient adds its own flavor and texture to the dish.
Let me tell you all about what goes into my beer cheese dip that makes it totally fantastic!




butter – Butter makes the dip creamy and smooth.
flour – Flour helps thicken the cheese dip
garlic and onion powder– Garlic and onion powder add a lot of flavor to the dish. Both also bring out the flavors in the cheese and beer.
paprika – Paprika gives the dip a subtle, smokey taste
cayenne pepper – Cayenne adds a nice kick of heat to the dip. If you prefer a beer cheese dip with no spice, simply skip the cayenne.
milk– Milk helps thin the cheese, making it dippable!
beer – You will really taste the beer in this dip so be sure to use a beer you love. I like a lighter beer so it doesn't overpower the whole dip. I still want to be able to taste the salty cheese!
Dijon mustard – Dijon mustard has a tangy, spicy zing that is delicious with cheese and beer.
cheddar cheese – Cheddar cheese is salty and sharp. It melts beautifully into the dip and is tasty with the beer.
Monterey Jack cheese – Monterey Jack cheese is mild and buttery. It is a perfect cheese to melt for a dip
Putting all of these tasty ingredients together is super simple, too. Let me tell you all about how to make beer cheddar cheese dip and you will see how simple it is.
How to Make Easy Beer Cheese Dip
When I am getting ready for a party or even having just a few people over, I always have a million things on my to-do list. I love that this cheese dip recipe can be made from start to finish in under 15 minutes. Quick, tasty, homemade recipes are always the best!
Here is how I make my beer cheese dip recipe:
1. Melt the butter in a saucepan over medium heat and whisk in the flour. This mix is called a roux and it is what will thicken the milk and beer.
2. Slowly add the milk, whisking constantly to blend the roux into the milk evenly- you don't want any clumps!




3. Whisk in the beer and then continue to whisk the mix while it heats. It will start to get thicker as it gets hotter. Soon it will be smooth and creamy!
4. Add all the spices and cheese to the pot and whisk to melt the cheese completely.
5. Serve the dip while it is nice and hot!
I know that everyone will be able to make this incredible, homemade beer cheese dip. All you need to do is measure, heat and whisk!
Tips and Tricks for Making the Best Beer Cheese Dip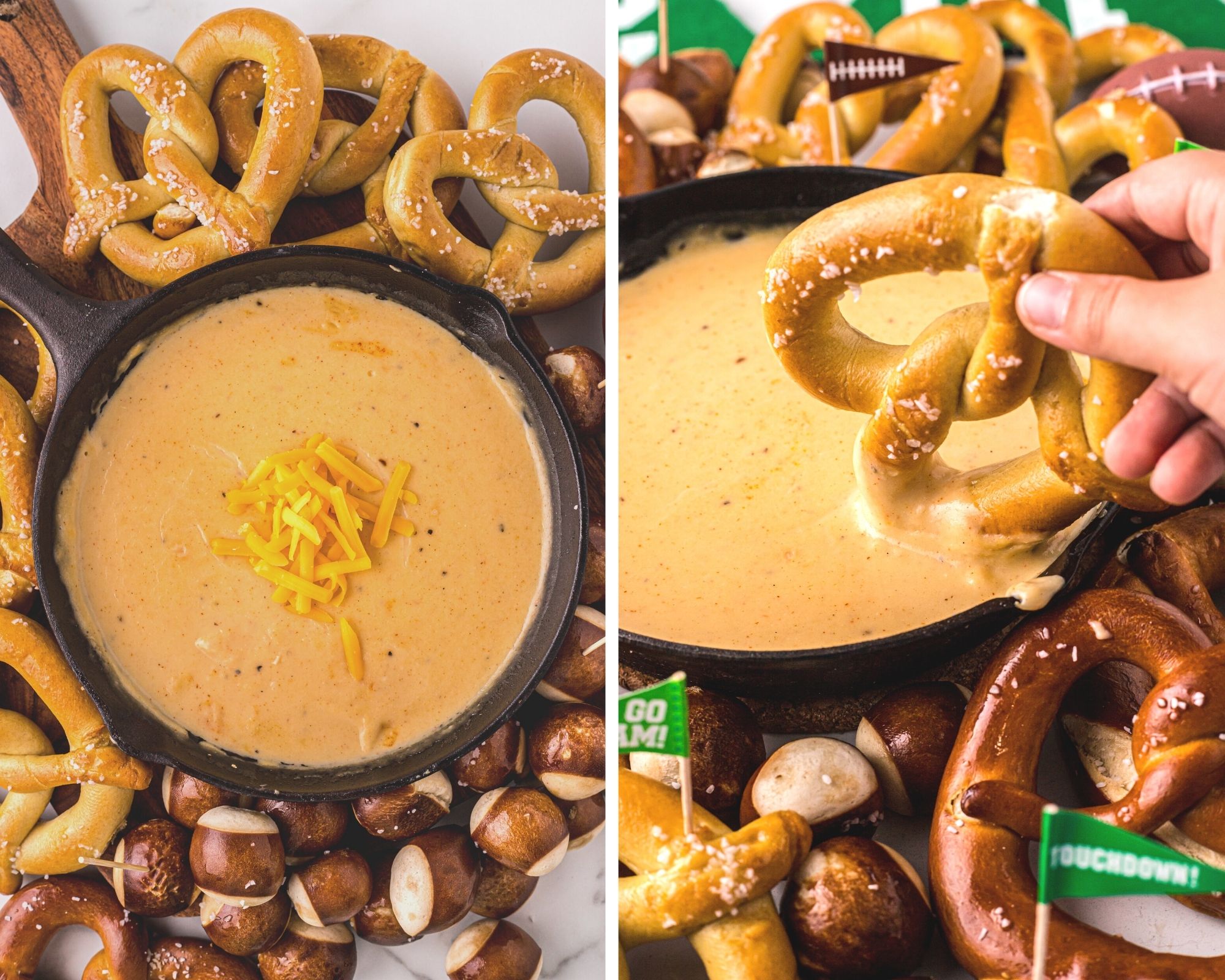 After making my beer cheese dip recipe so many times, I've found a few tips and tricks to make it even easier. Take a look at these little secrets before you start blending up your own dip.
Freshly grated cheese is always best. Pre-shredded cheese often has a coating on the cheese that prevents it from melting perfectly. Shredding your own cheese will ensure the dip is nice and smooth.
If your dip looks too thick, whisk in ¼ cup of milk. Continue to add milk, ¼ cup at a time, until it is the dip consistency you desire.
Make the dip in advance and store it in the fridge. When you are ready to serve, reheat the dip in the microwave or put it back in the saucepan to heat. Whisk the dip well to heat it evenly and make it perfectly smooth once again.
If you make this tasty beer and cheese dip and discover a new trick that you'd like to share, please let me know! I'm always interested to hear how you make my recipes even better.



What to Eat With Beer Cheese Dip

Another reason I adore this dip is the fact that it pairs well with pretty much everything. Here are my favorite things to serve with beer and cheese dip: cubed bread, tortilla chips, soft pretzels, breadsticks, celery sticks, broccoli florets, baby carrots, cooked baby potatoes, apple slices and grapes.
The possibilities are really endless. I could go on and on! What's your favorite food to dip into beer and cheese dip?
Beer Cheese Dip Variations
I love my beer cheese dip recipe exactly as it is written. However, I do sometimes like to tweak it a little, making a whole new dip! Here are a few of my favorite ways to switch up this recipe.
Change the cheese- Gruyere, gouda and mozzarella all work great. I recommend keeping cheddar cheese and swapping out the Monterey jack. Cheddar is a good "base" cheese for the dip.
Add cayenne for spice – This is a happy medium dip for the whole family but if you are wanting more of a spice, you can add more cayenne to this dip.
Add chopped jalapeno- Fresh chopped jalapeno or canned jalapeno will both add a nice heat to the dip.
Add some spice- Add ½ teaspoon of red pepper flakes for an easy, spicy dip.
Use different beer- Mix in an IPA, a pale ale or even an Oktoberfest beer. You will definitely taste the difference!
Feel free to play around with the spices, cheeses and beers to make the dip perfect for your taste buds. We all love different flavors but we will all go crazy for this beer and cheese dip!
You should give beer cheese dip recipe a try. Beer and cheese dip is tasty, easy and a crowd pleaser. Let me know what you think! Enjoy.
Try these other delicious dip recipes!
I hope you like this recipe for beer cheese pretzel dip – be sure to give it a review below!
Print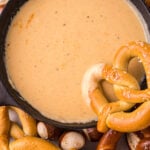 Easy Beer Cheese Dip
---
Author:

Prep Time:

5 minutes

Cook Time:

10 minutes

Total Time:

15 minutes

Yield:

3 cups

1

x
Description
This easy Beer Cheese Dip is the perfect cheesy appetizer for your next get together or party. It's quick to make and ready in 15 minutes!
---
3 tablespoons butter 
2 tablespoons flour 
½ teaspoon garlic powder 
½ teaspoon onion powder 
½ teaspoon paprika 
¼ teaspoon cayenne pepper 
1 cup milk 
1 cup (light) beer 
2 teaspoon Dijon mustard 
1 cup cheddar cheese, freshly shredded 
1 cup Monterey Jack cheese, freshly shredded
---
Instructions
In a saucepan or small cast iron skillet over medium heat, melt butter. Add in flour and whisk for  3 minutes. 

Next add in milk and whisk until thickened. Slowly, add in beer, whisk until flour mixture is  smooth and creamy. 

Reduce heat to low, stir in spices, Dijon mustard and shredded cheese. 

Continue to stir until ready to serve.
Keywords: beer cheese dip, cheese dip, appetizer, cheesy appetizer, beer cheese dip recipe, easy beer cheese dip
LOVE THIS RECIPE? PIN IT FOR LATER!