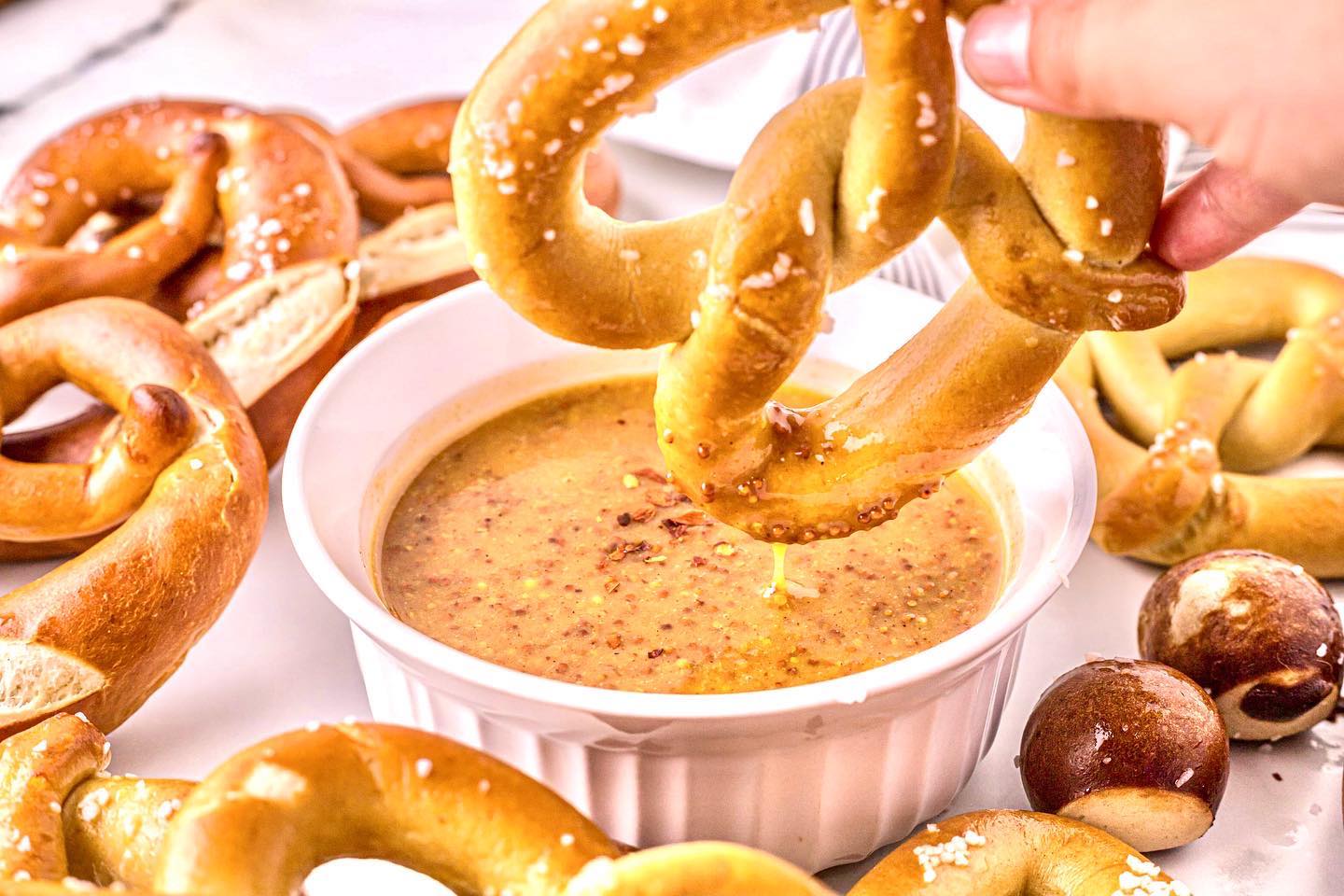 This spicy honey mustard sauce is the perfect dipping sauce to dunk all your pretzels into. You only need 5 ingredients, it's so easy to make and ready in 20 minutes!
Dipping sauces are one of my favorite ways to make an every-day meal fun and exciting. A good dipping sauce can liven up a plain chicken dish and make veggies taste delicious. My family loves when I serve homemade sauces, especially this spicy honey mustard dip. They actually ask for it so often that I have gotten into the habit of always having a container ready to go in the fridge. We really do use it on everything!
Delicious Spicy Honey Mustard Sauce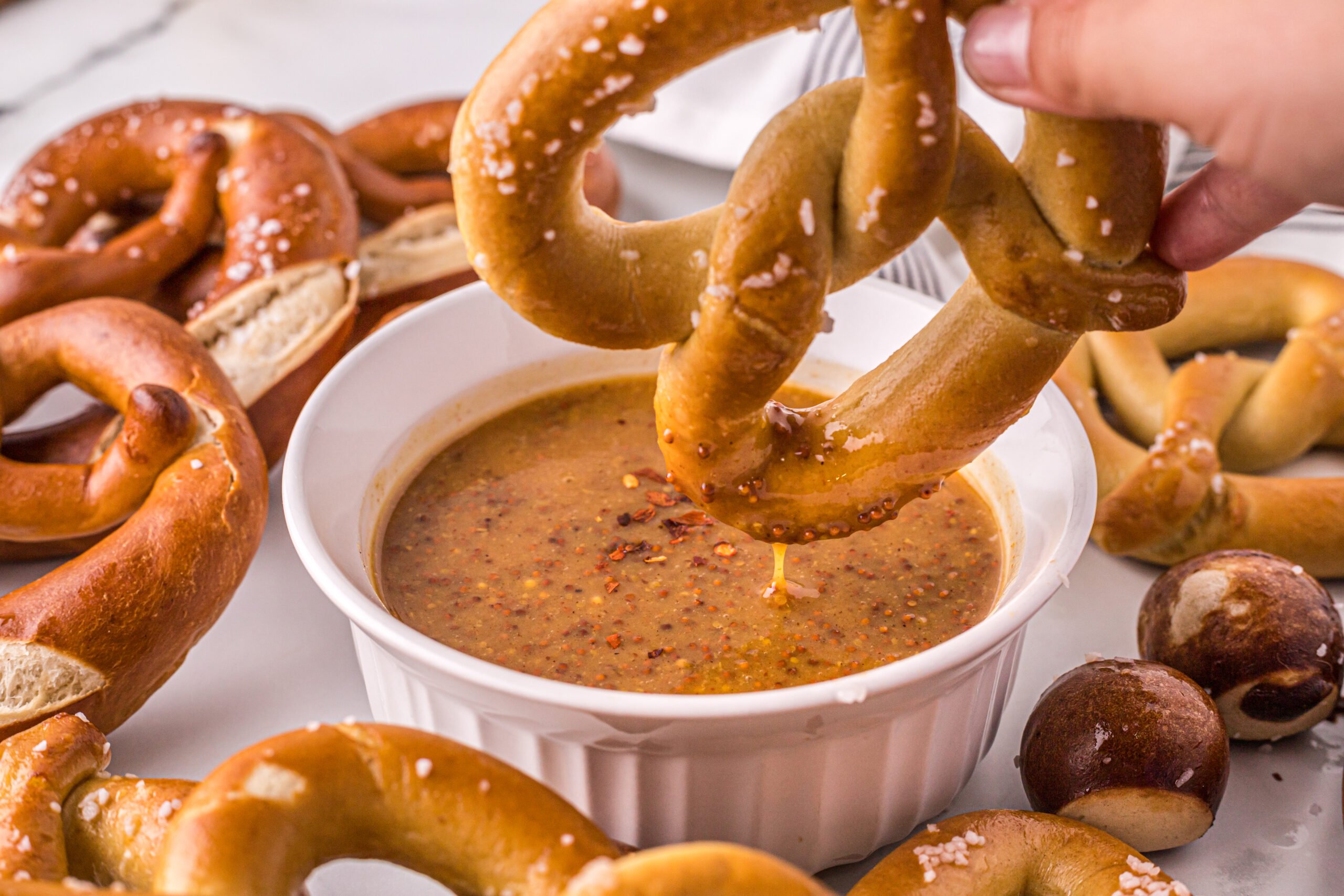 My spicy honey mustard recipe is very easy to make and is such a multi purpose sauce. It is the perfect combination of sweet and tangy with just a hint of spice. It can be used as a dipping sauce for fried chicken, soft pretzels or served with some crudite veggies. You can even add a little water to thin the sauce and use it as a salad dressing.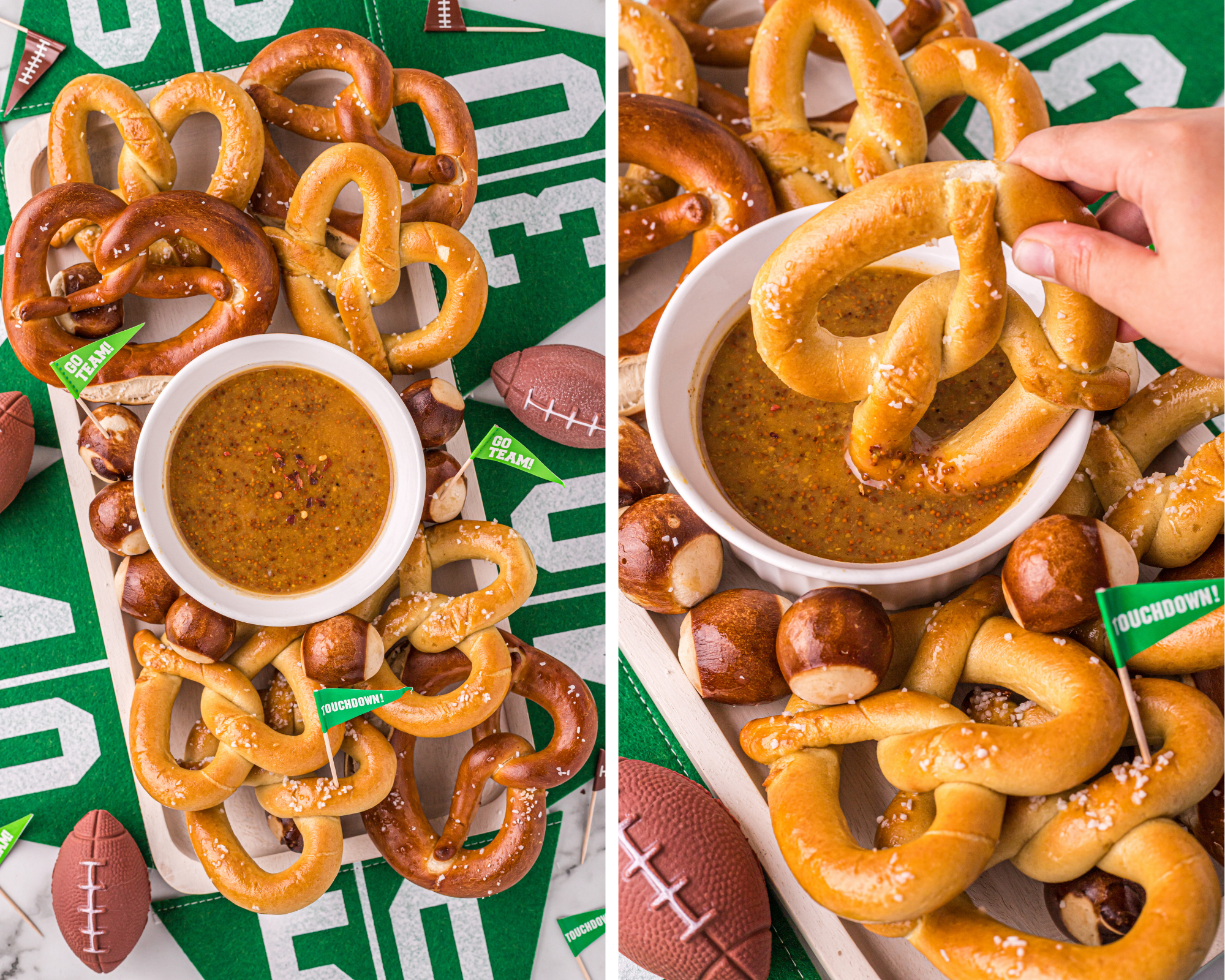 My homemade honey mustard may just be my all time favorite condiment and I plan to serve it up all summer long! It was great at my Fourth of July BBQ drizzled on top of fresh grilled hot dogs and I plan to have it on the buffet table for my end of summer party. I'll also be serving it on baseball game nights to my husband and his friends. Don't you love recipes like this that just work for every occasion?
Ingredients in Spicy Honey Mustard Dipping Sauce
You only need 5 simple ingredients to make my homemade spicy honey mustard. That's it! I bet you already have most of them in your pantry right now. You can start making dip in no time!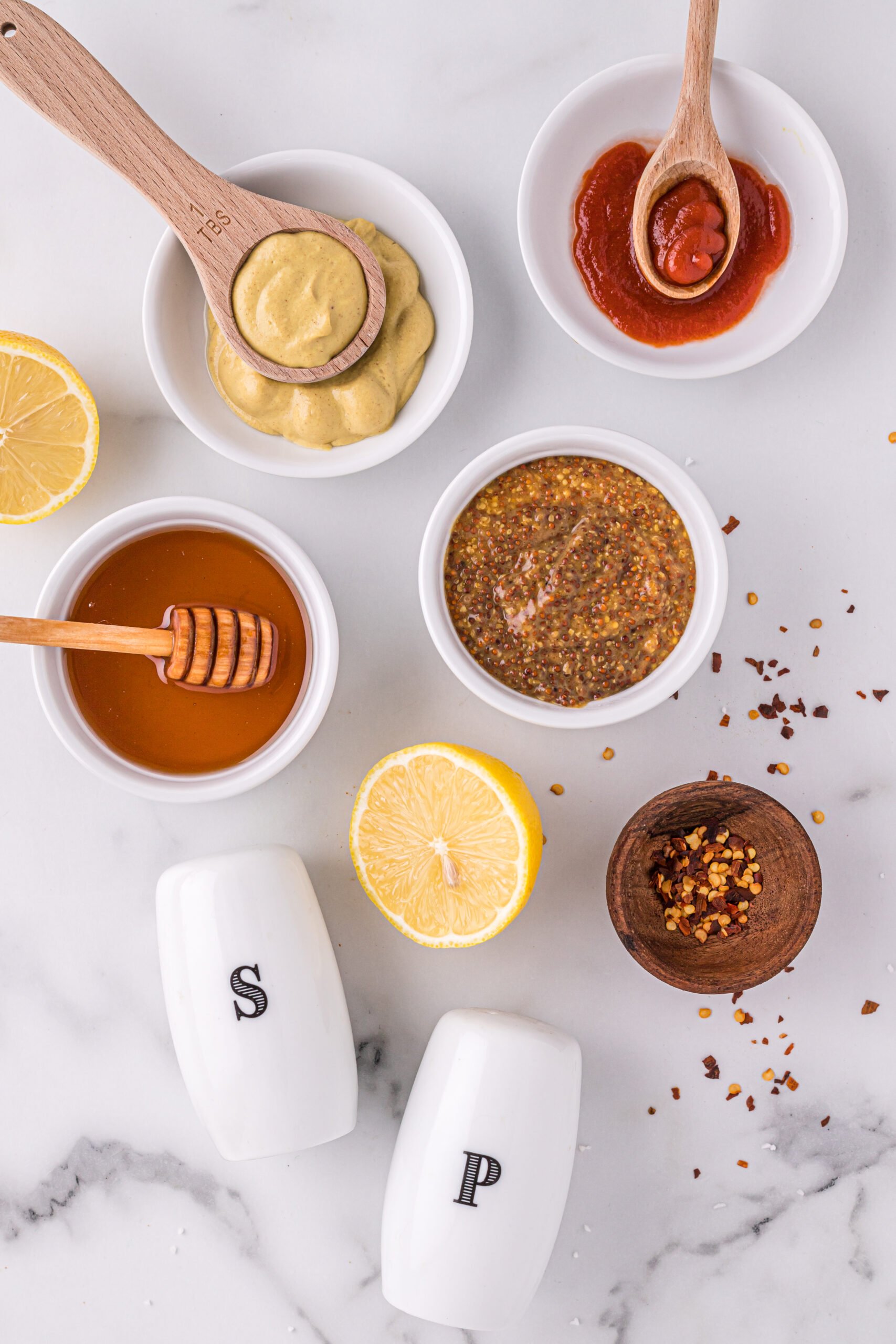 You will need:
stone ground mustard- Stone ground mustard is made with brown mustard seeds. It has a more mild taste but a coarse texture that makes this dip hearty and thick.

honey- Honey sweetens the dip in a natural, rich way.

Dijon mustard- Dijon mustard is smooth, salty and has a complex tangy taste. It adds a sharp, powerful taste to the dip.

sriracha- A little sriracha sauce adds heat to the dipping sauce. You can adjust the amount of sriracha to suit your taste but I like the heat so I tend to add a little extra!

lemon juice- Lemon juice brightens the flavor of the dip and also helps make it the perfect consistency.
Was I right? Do you have all these ingredients already? Then let's start making dip!
How to Make Spicy Honey Mustard Dipping Sauce
It won't take me long to explain how to make this spicy honey mustard dipping sauce. In fact, it will probably take me longer to type this than to actually make the recipe!
Here's what you need to do: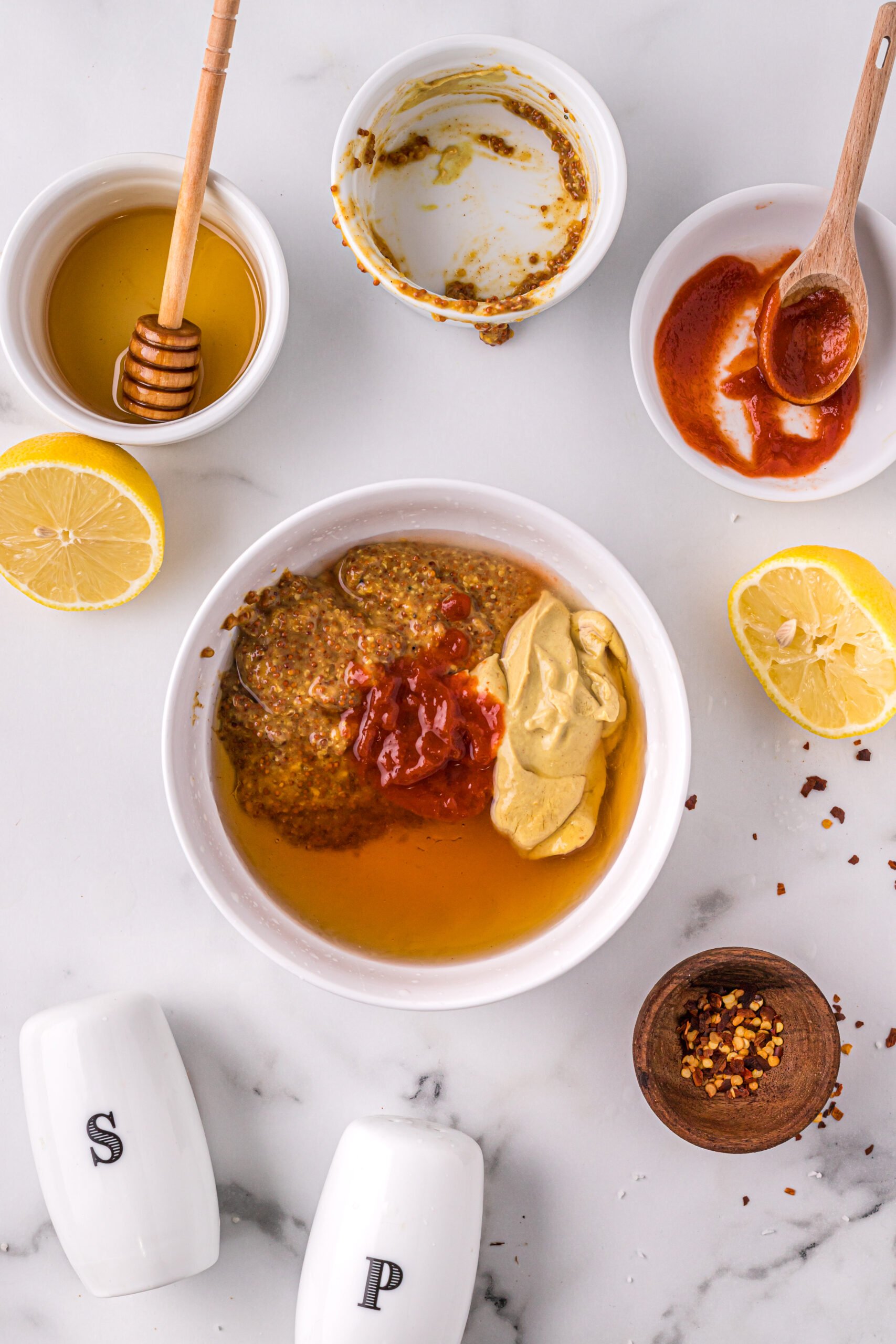 1. Add all the ingredients to a medium sized bowl.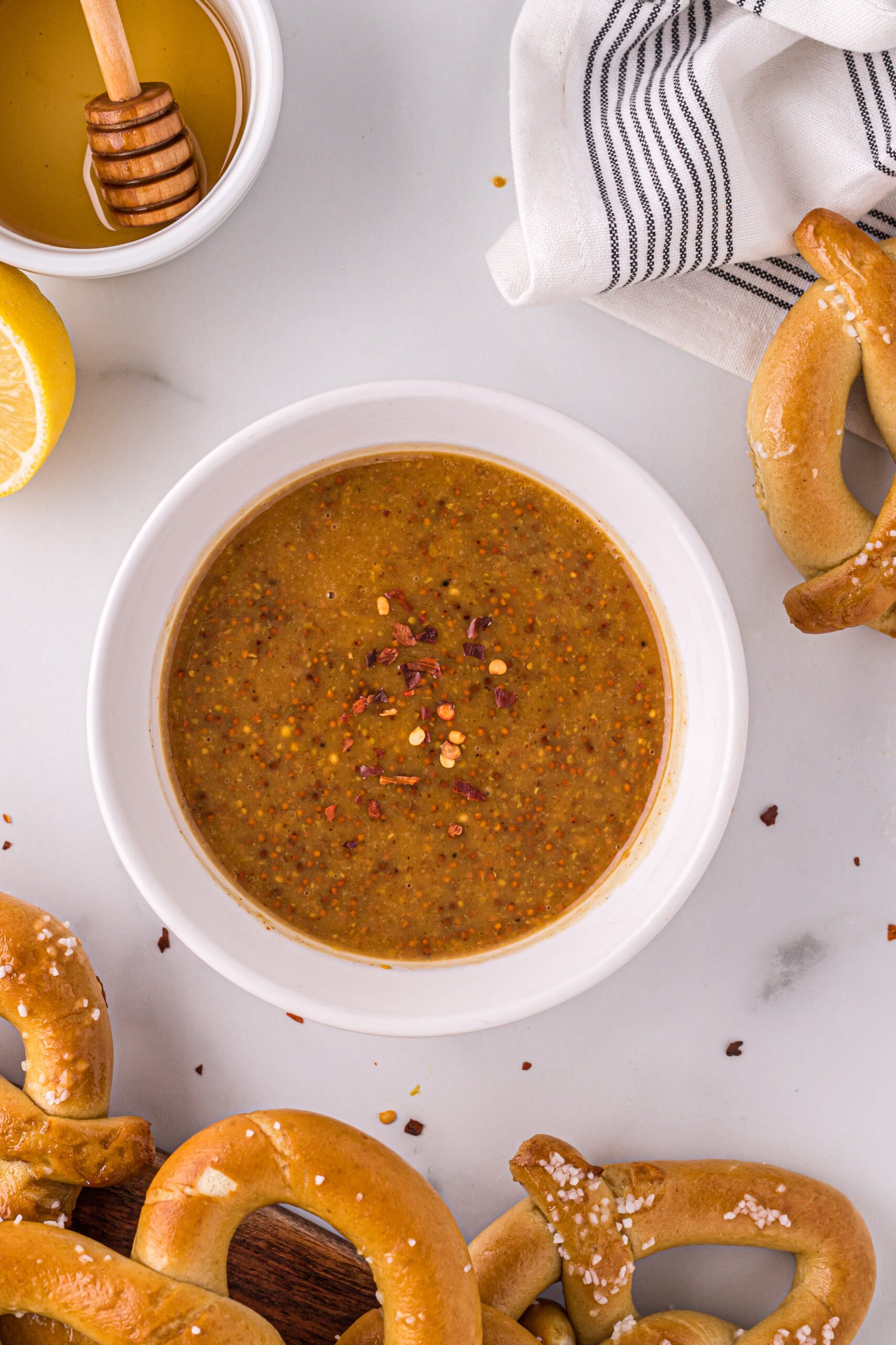 2. Stir.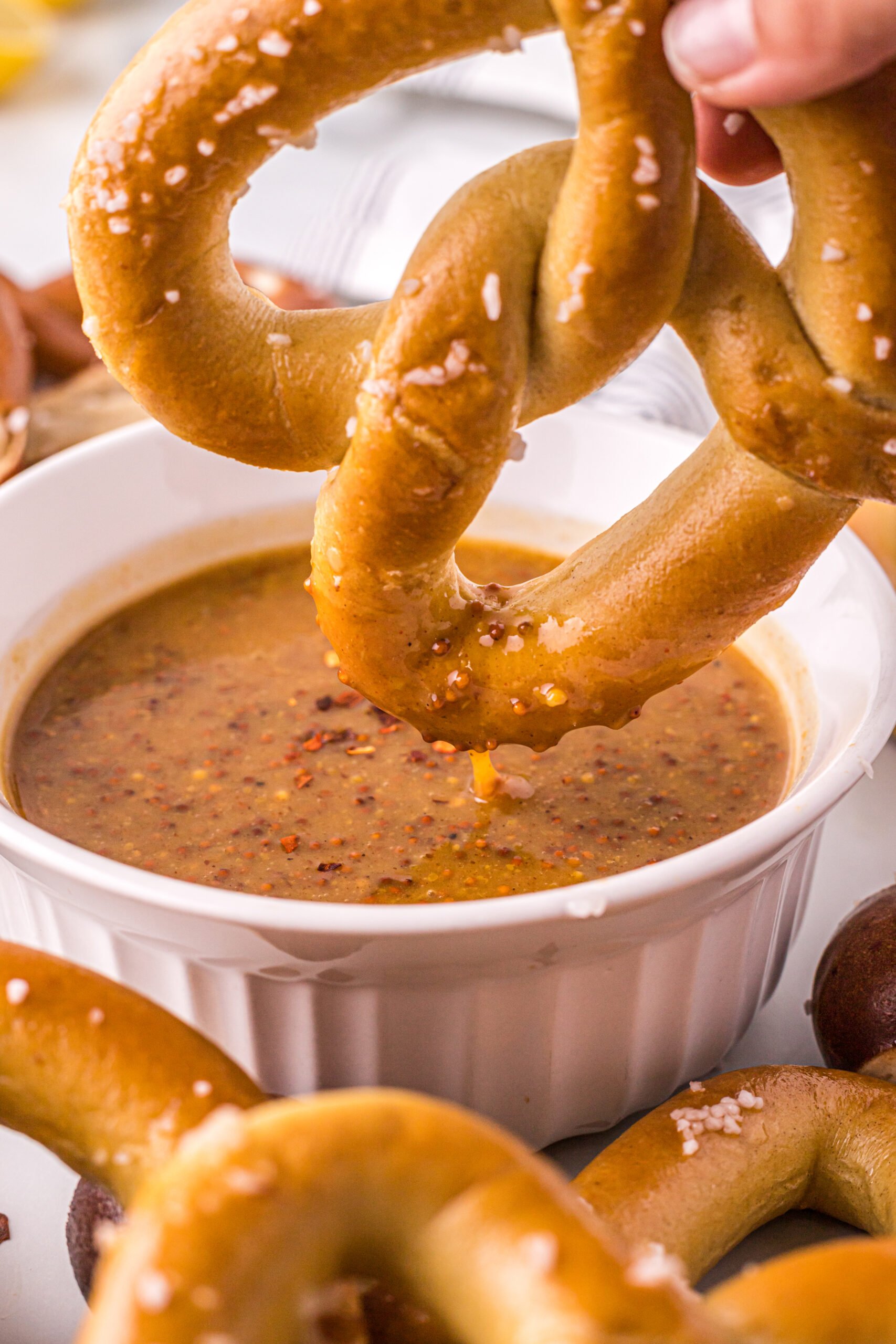 3. Enjoy!
I do like to let my dip chill in the fridge for about 30 minutes. I like it best served cold! But it really is ready to eat immediately after stirring. No need to wait and you might not be able to resist dipping into it right away.
Substitutions and Variations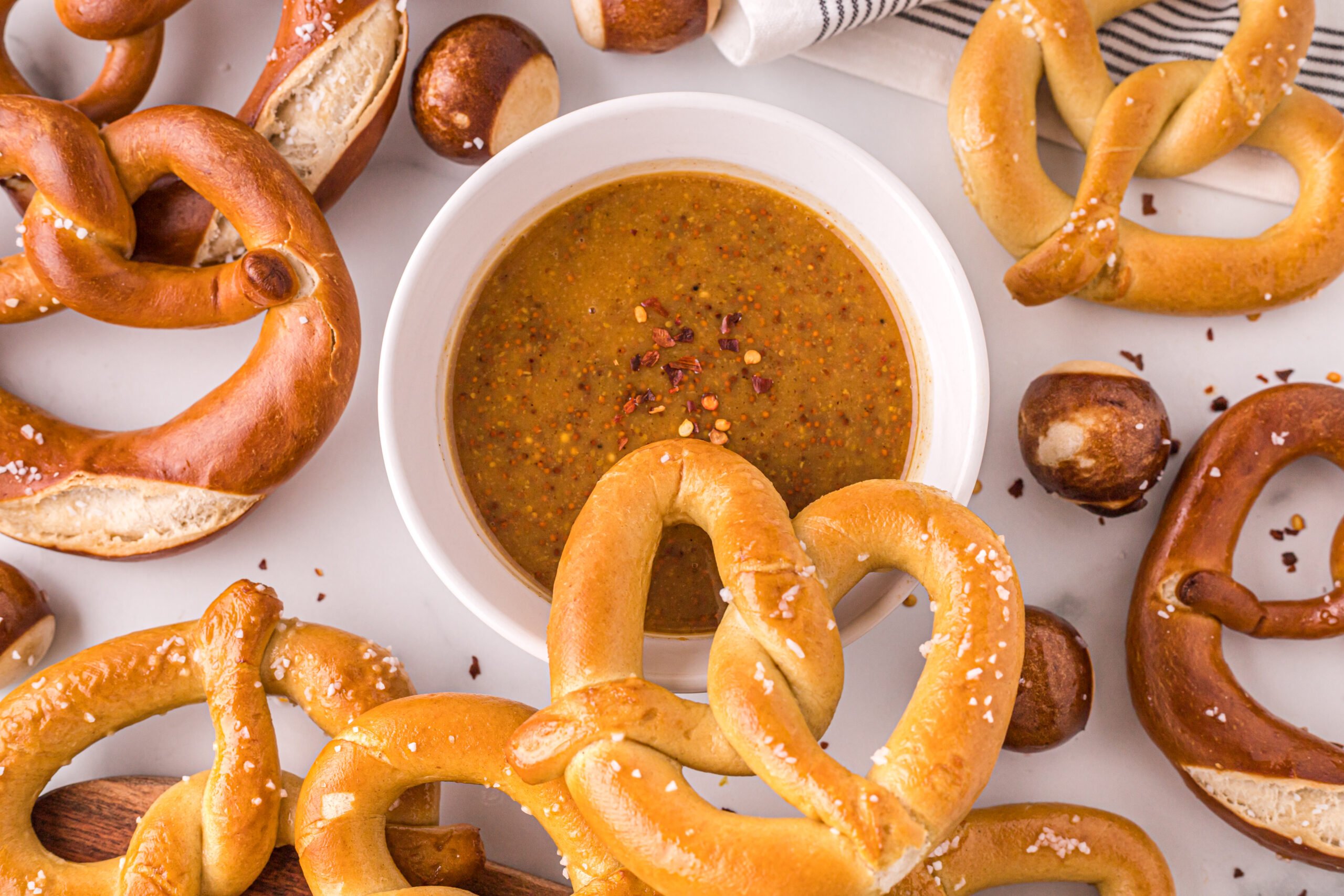 This spicy honey mustard sauce recipe is simple and straightforward but there is always room for improvement. Here are a few variations you may want to try:
Add 2 tbsp of mayonnaise for a richer sauce

Add 2 tbsp apple cider vinegar to turn this recipe into a salad dressing

Use yellow mustard in place of Dijon for a whole new flavor

Use ¼ tsp red pepper flakes in place of sriracha for a different kind of heat
Let me know if you think of any interesting variations that I need to try! I love hearing what you come up with.
How to Store Spicy Honey Mustard Sauce
Once you mix up your honey mustard pretzel dip, it should be stored in the fridge. You can keep the spicy mustard dipping sauce for up to two weeks in the fridge if stored in an airtight container. I like it served chilled so you can grab it right from the fridge and enjoy!
Serving Suggestions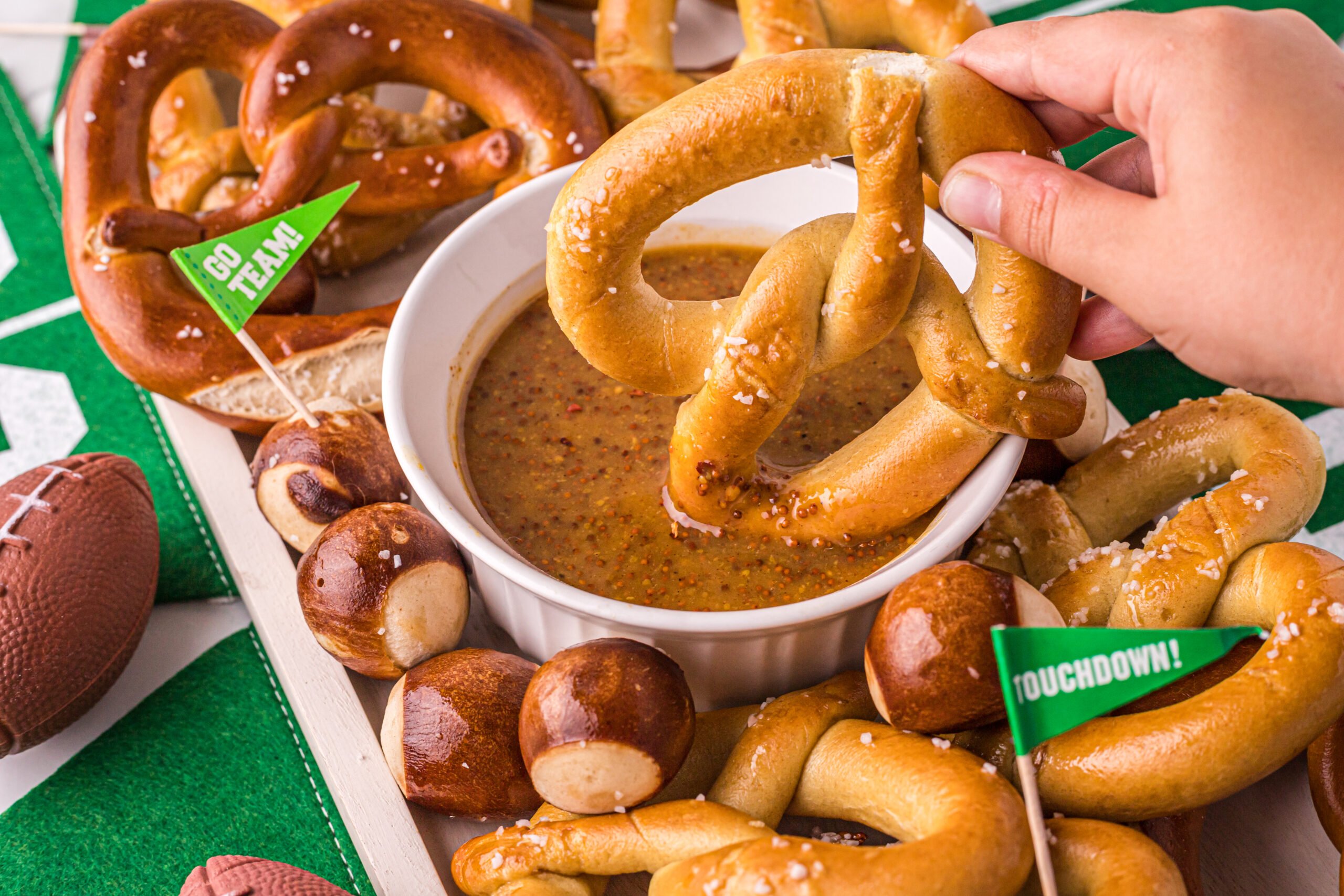 There are quite a few ways to enjoy my saucy dijon mustard recipe. Here are my favorite ways to serve this dipping sauce:
Serve it with soft pretzels as a honey mustard pretzel dip.

Spread it on a sandwich

Serve it with crispy chicken strips

Use it as a spicy salad dressing

Drizzle it over a hot dog or hamburger

Place a bowl next to some tortilla chips as a new kind of chip dip.
The possibilities are endless! How do you like to serve your spicy mustard dipping sauce?
FAQ's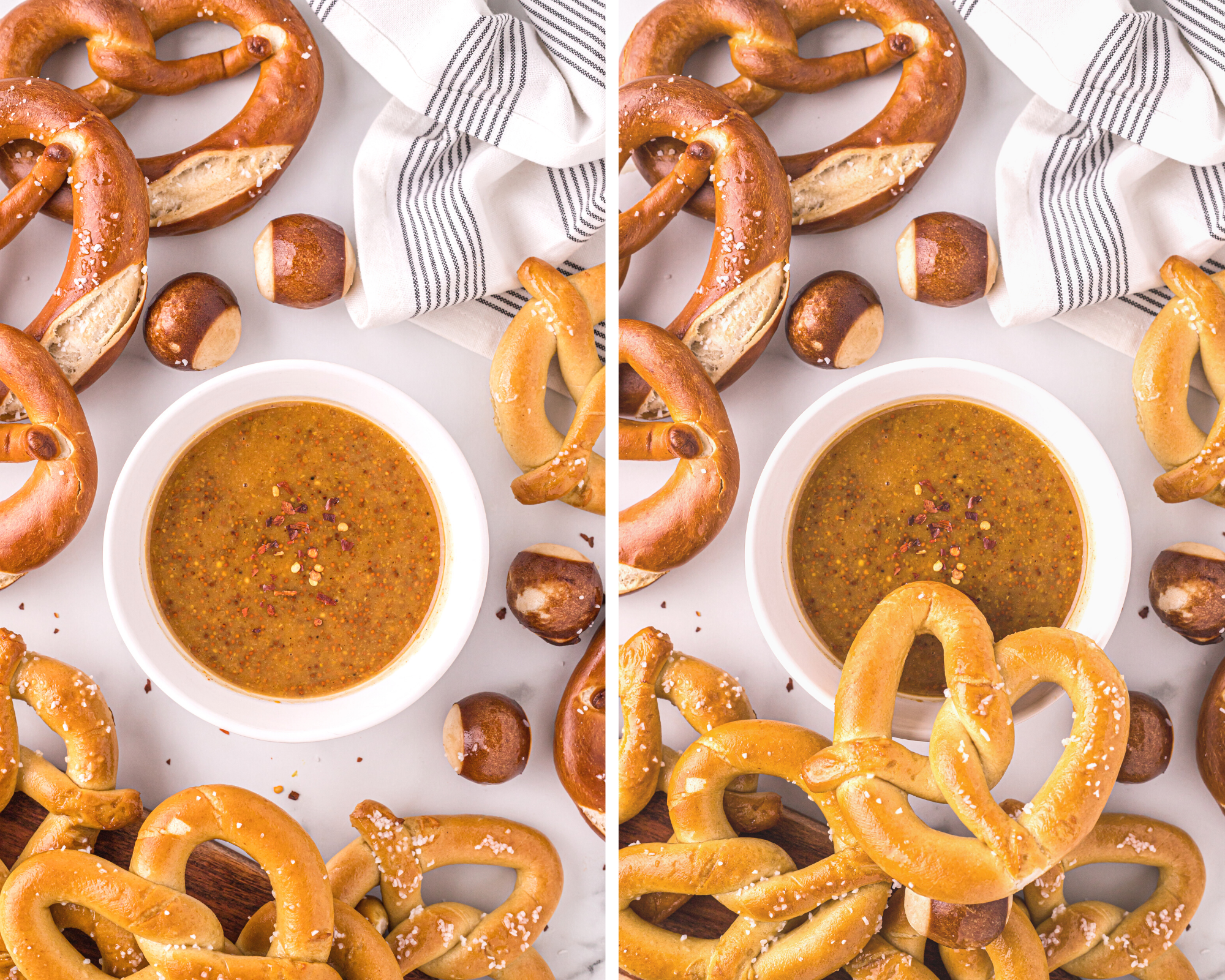 Before you get started, take a look at these frequently asked questions and answers. They will help you create the perfect honey mustard pretzel dip.
What can I serve this dip with?
We use this dip for mainly soft pretzels but you can dip veggies, chicken bites, or even ham and cheese sandwiches into it. See my ideas above for even more ways to enjoy this honey mustard dipping sauce!
Can I make this ahead of time?
Yes! This dip will keep in the fridge for up to two weeks. In fact, the flavors will grow stronger as they sit and mingle.
Do I need to use both mustards in this recipe?
For this recipe I would recommend it. The combination of the two mustards gives a great taste and texture. You will love it!
If you are looking for a perfect honey mustard pretzel dip or just a way to make chicken night at your house more exciting, then this is the recipe you need to try! It's easy, fast and packed with a zesty heat that everyone will enjoy!
Try these other delicious dips and sauce recipes!
I hope you love this recipe for spicy honey mustard dipping sauce – be sure to give it a review below!
Print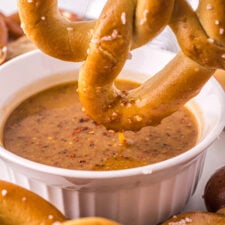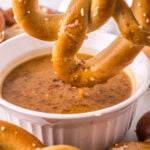 Spicy Honey Mustard Dipping Sauce
---
Author:

Prep Time:

20 minutes

Cook Time:

0 minutes

Total Time:

20 minutes

Yield:

2 cups

1

x
Description
This spicy honey mustard sauce is the perfect dipping sauce to dunk all your pretzels into. You only need 5 ingredients, so easy to make and ready in 20 minutes! 
---
½ cup stone-ground mustard 
½ cup honey 
3 tablespoons Dijon mustard 
2 teaspoon sriracha (1 teaspoon if you do not like a lot of heat) 
1 teaspoon lemon juice 
---
Instructions
In a large mixing bowl, whisk all ingredients together. 

Let dip chill for 20 minutes or overnight if serving the next day.
LOVE THIS SPICY HONEY MUSTARD DIPPING SAUCE RECIPE? PIN IT HERE!