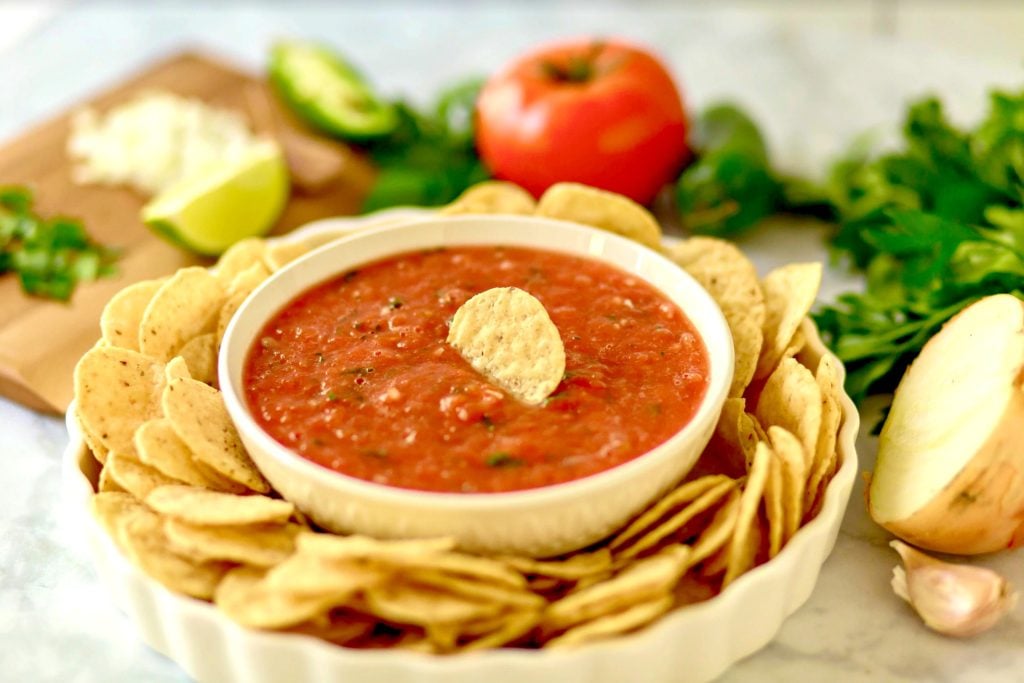 You don't need an excuse to get together with your family and friends and host a party. But if you love football, it's the perfect time to do just that. After all, a football party is not just enjoying a good game, it's also the perfect time to enjoy better company and of course, great food!
This shop has been compensated by Collective Bias, Inc. and The Coca-Cola Company. All opinions are mine alone. #HomeGatingHacks #CollectiveBias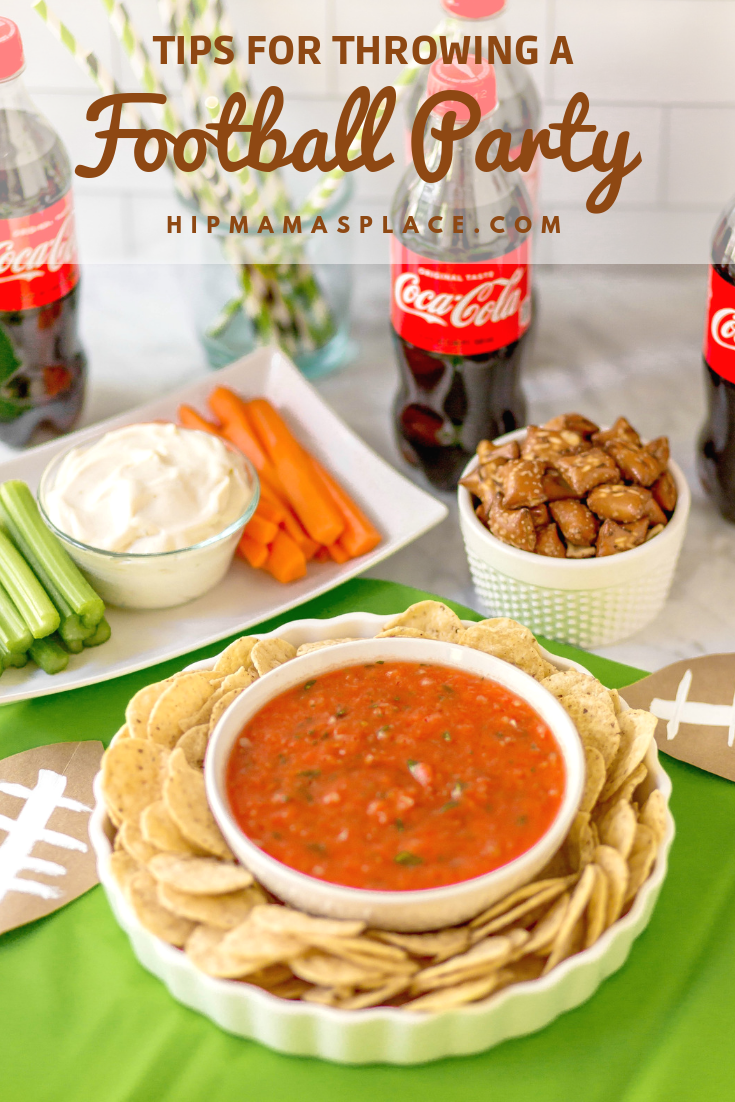 Here are 5 quick tips for throwing a fun yet, stress-free football party. Plus, I'm sharing with you my super quick 5 minute homemade salsa recipe that's awesome to have for your next game day party!
1. It's okay to let your guests bring something to the party.
Try not to take on the whole party by yourself and cause unnecessary stress. It's okay to ask your friends to bring along something like an appetizer, dessert, or even their favorite beverage.
2. Don't be afraid to ask for help.
No matter what size your party is going to be, make it a team effort and don't be afraid to enlist help from friends or family members.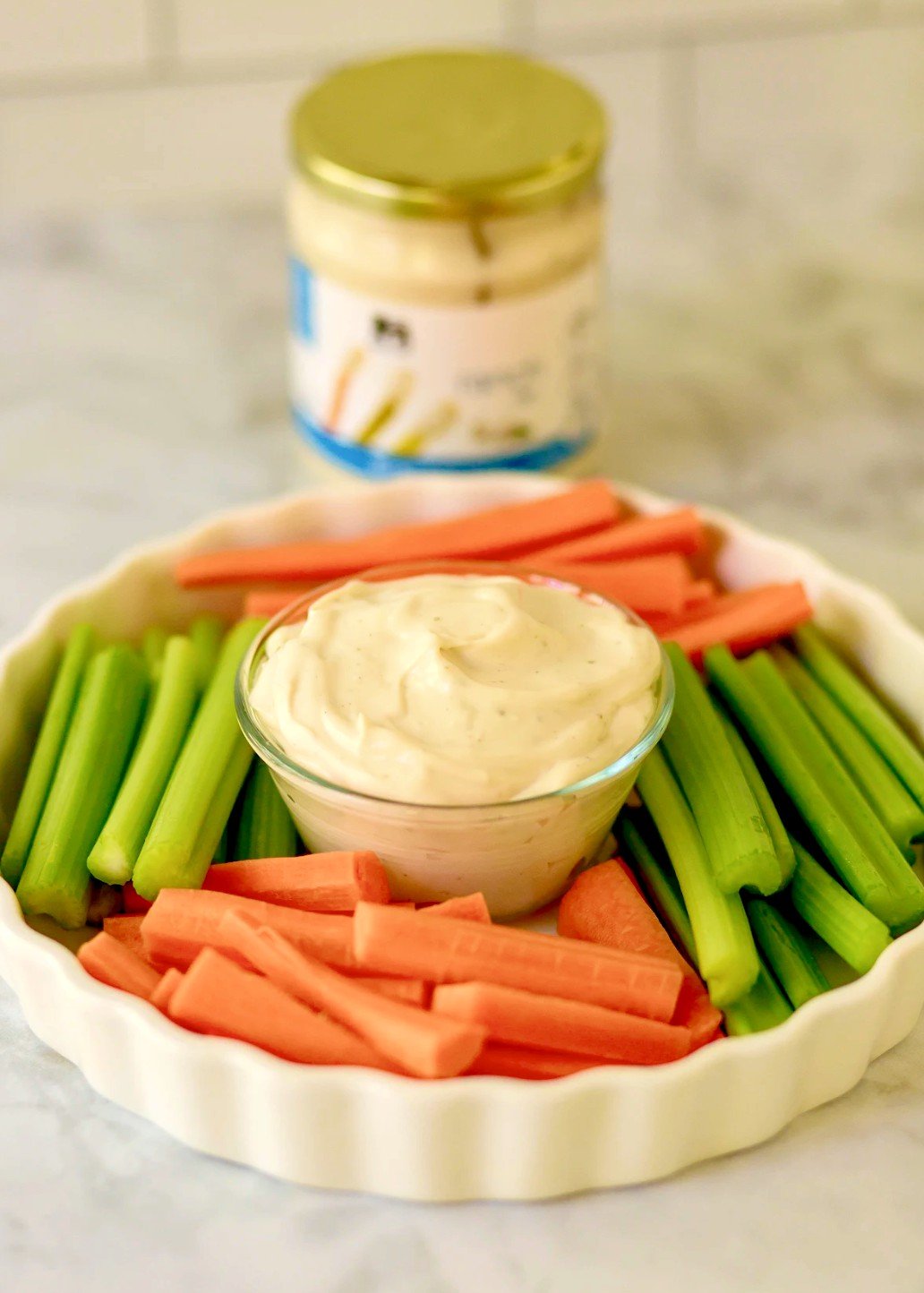 For instance, you can have someone pick up the party décor, drinks or simple appetizers or have one or two people decorate the designated party area while you and someone else take care of the other party details.
3. Keep your party spread simple and cozy.
Give your football party a cozy, welcoming feel with simple decorations. Use items you already have, such as a basket to hold disposable utensils, and solid color or plaid blanket as a tablecloth. This will give your party the feel of an outdoor tailgate!
4. Set up a game day party snack and drinks station.
Putting together your own game time snack station is as easy as pulling together a few football-themed decors that are readily available at any craft store, and have simple, easy to serve snacks like our favorite 5-minute homemade salsa and tortilla chips, peanut butter-filled pretzels, and cut up veggies with ranch dip.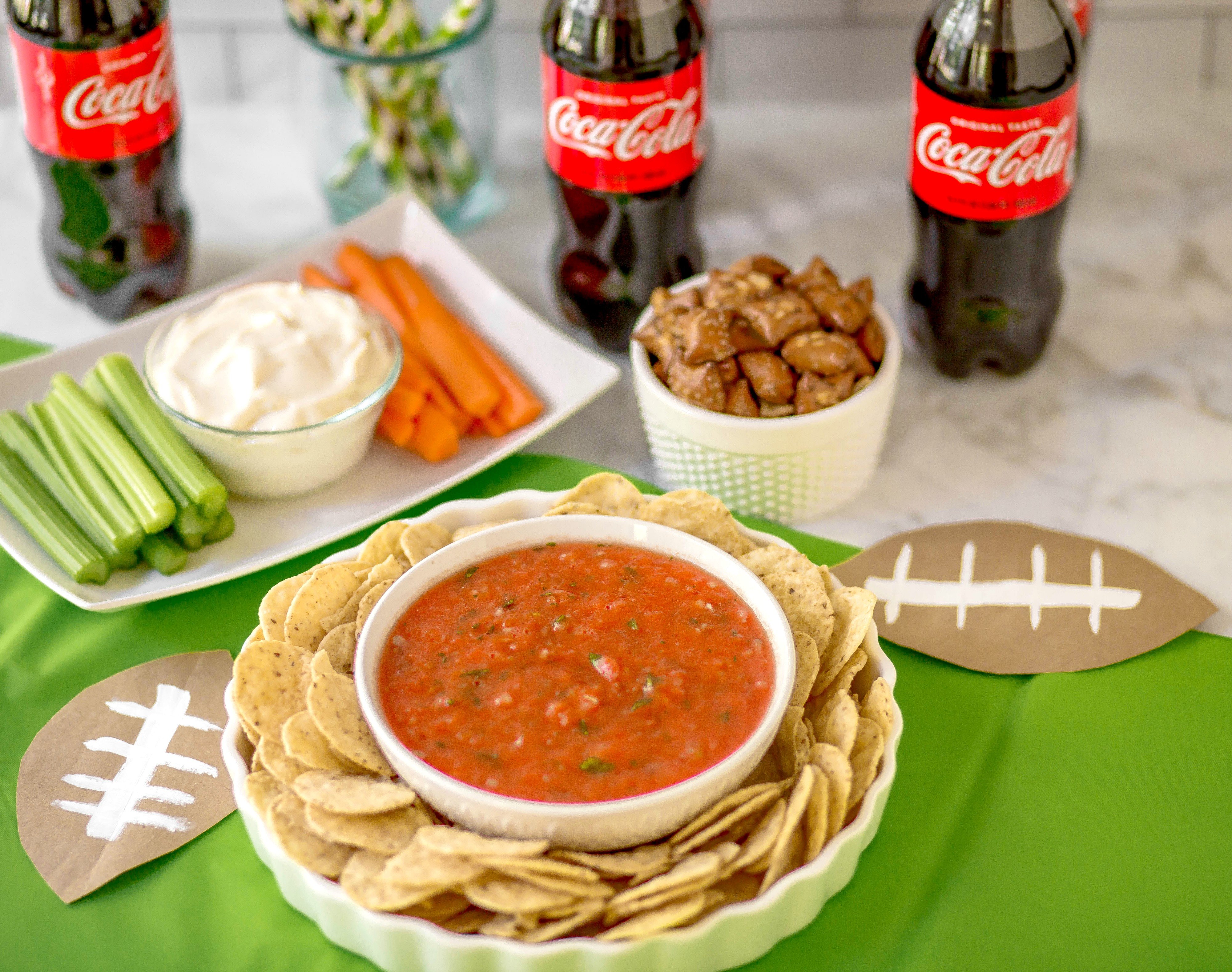 Of course, what's a game day party without Coca-Cola? They're always refreshing and go well with any game day party food and snacks. Add the colorful Coca-Cola half-liter bottles to your party spread too, and you'll have a festive, fun snack station that will wow your guests!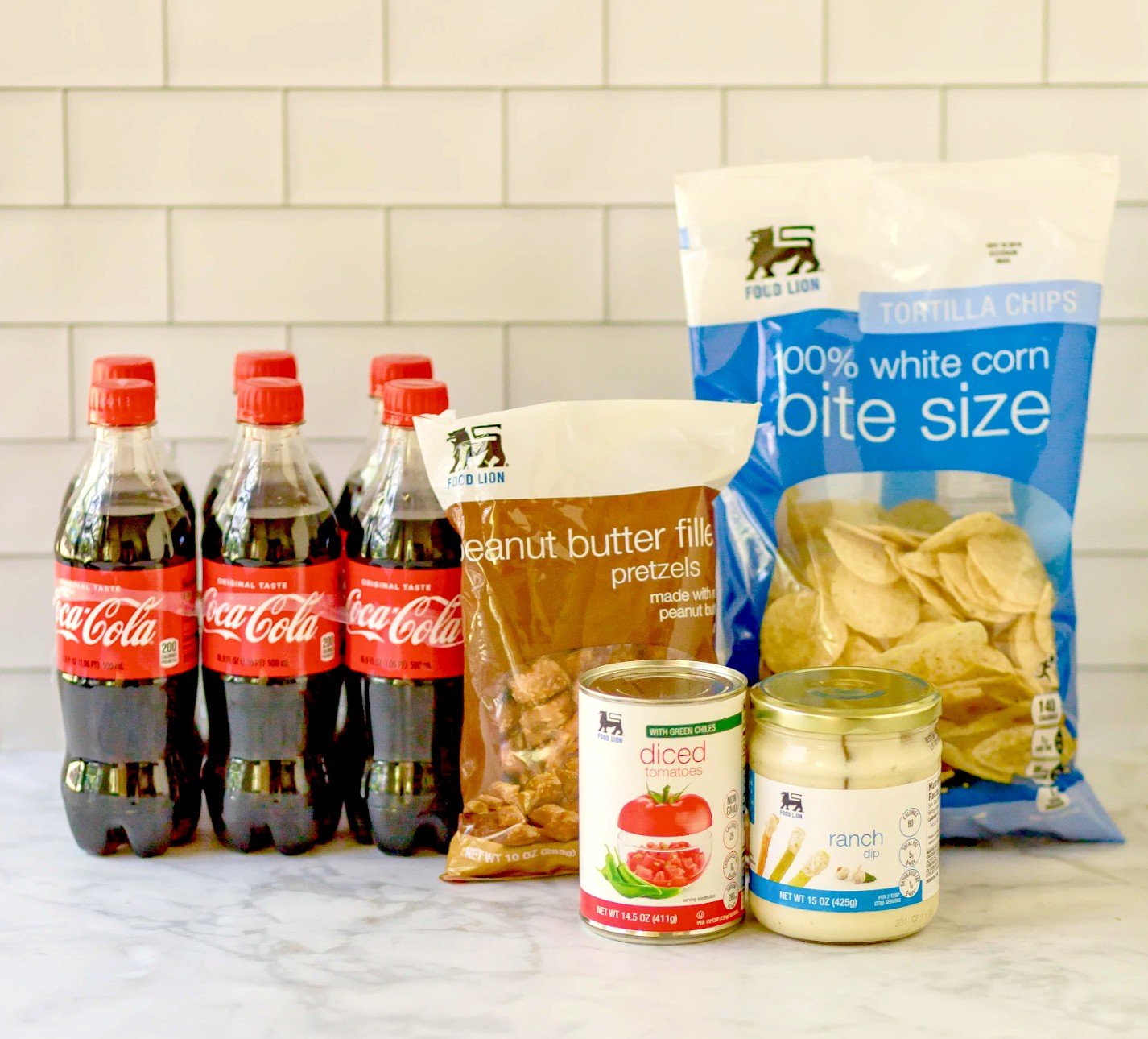 We always get party snacks and drinks from our local Food Lion. Not only do they have great prices on everything food and grocery items, I can also save more money by using my Food Lion MVP card! If you're a frequent shopper at Food Lion and you're not signed up for the Food Lion MVP Card yet, you're missing out on great rewards and savings!
Sign up: Get signed up for the MVP Card here.
Activate: Activate your personalized monthly offers by visiting your Shop & Earn offer page through the Food Lion Mobile App or on foodlion.com. Offers begin tracking as soon as you visit (so visit early!).
Shop: Start shopping and scan your MVP Card with each purchase. Track your progress towards your rewards by visiting the Shop & Earn offer page. You have until the end of the current month to earn your rewards. Earned rewards are added to your MVP Wallet.
Redeem: Earned rewards are automatically redeemed on your next purchase by simply scanning your MVP Card. You'll have until the end of the following month to redeem your earned rewards. Check your MVP Wallet for your rewards balance.
And my last tip is…
5. Make it festive with decorations.
There are a bazillion ideas online on how to make your party fun and festive with decorations. Use your favorite team to inspire the color scheme or go with a simple football green, brown and white. If you're on a budget, or if you simply don't have the time to get party decorations, get creative! At the last football party I hosted at home with a few friends, I just cut out football-shaped pieces from a leftover kraft paper I had, then used white markers to draw vertical and horizontal lines on top of them to resemble a football. You can even use brown paper bags you had lying around if you don't have kraft paper.
So, let's talk for a minute about my own homemade salsa recipe.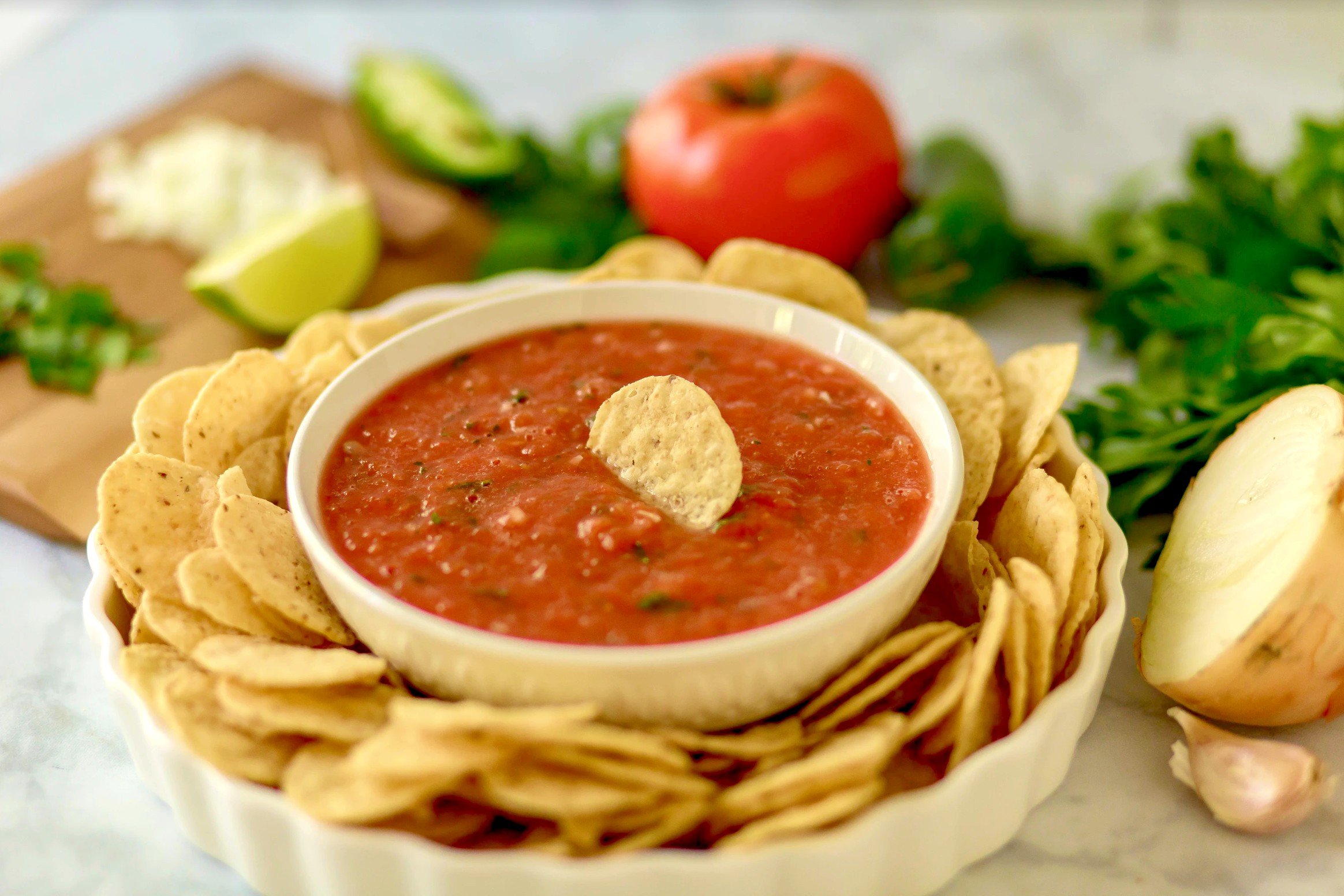 Since I wanted a mild salsa with just a little bit of kick to it, I used a can of the Food Lion Diced Tomatoes with Green Chiles. Friends, if you're looking for a flavorful, mild salsa to serve on your next party or get together, this recipe is an excellent choice. I love this salsa because not only it is easy to make, it also requires simple ingredients. The combination of diced tomatoes with green chiles, garlic, and lime juice make for a classic, delicious salsa!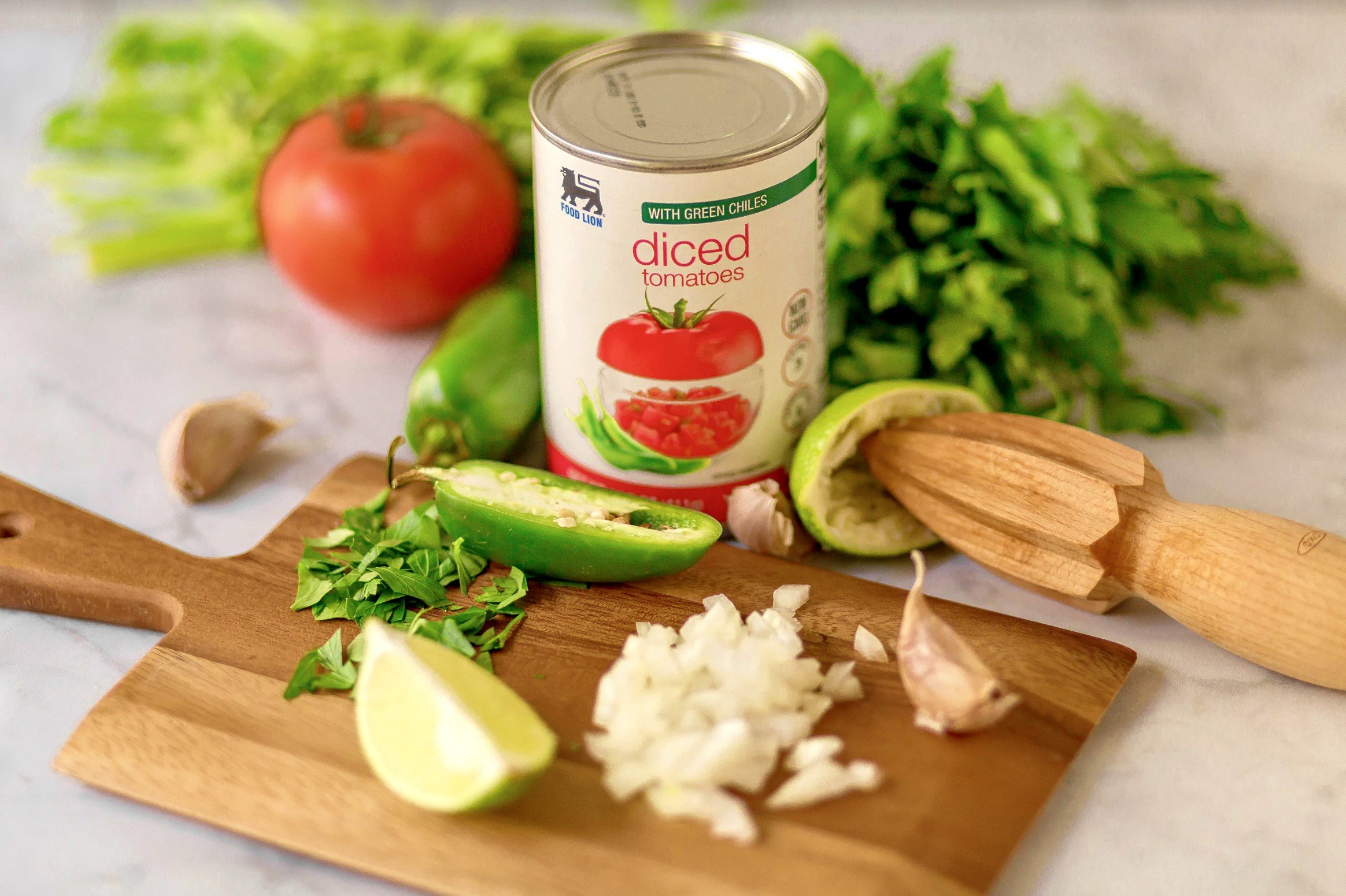 This salsa goes great with tortilla chips, as an accompaniment to any Mexican food like tacos and burritos as well as grilled meats like chicken, steaks, fish fillets and and even tastes wonderful as a topping for scrambled eggs the next morning (that is if we have leftovers, because they usually get devoured quickly)!
Print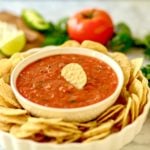 5 Minute Homemade Salsa
---
1

(14.5 oz.) can Food Lion diced tomatoes with green chilies

1/4 cup

roughly chopped white onion

1/2 cup

roughly chopped cilantro

1

garlic clove

1/2

jalapeno, seeds + stem removed

1

lime, juiced

1/2 tsp

. kosher salt

1/4 tsp

. ground cumin
---
Instructions
Add all of the ingredients into a high-powered blender or food processor and pulse until evenly blended.
Taste the salsa and based on personal preference, adjust as necessary.
Transfer into a storage container with a lid and refrigerate for at least an hour to allow the flavors to blend.
Serve with tortilla chips and enjoy!




Here's hoping you can use these ideas to host your amazing football party this season! While you're at it, try making my homemade salsa and let me know how it turns.For all your party food and snacks, stop by your nearest Food Lion and don't forget to grab some Coca-Cola for everyone too!
What do you think about these tips for throwing a football party? Would you try to make my homemade salsa? Tell me in the comments!
LIKE THIS RECIPE? PIN IT HERE!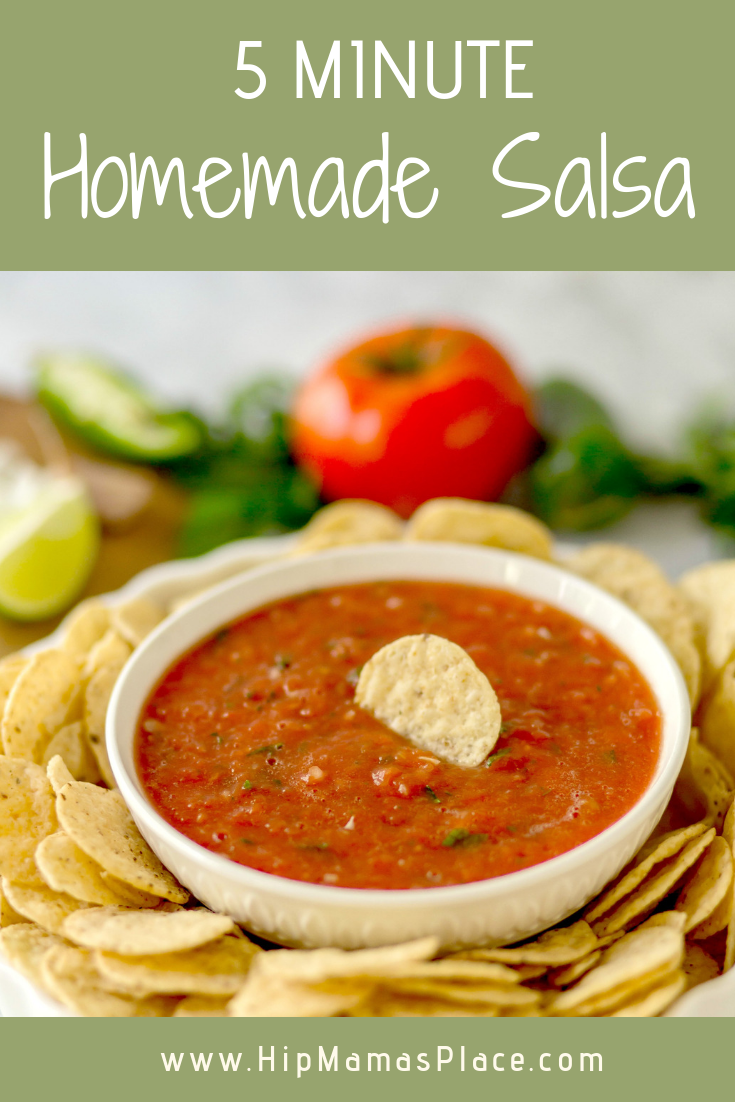 You Might Also Like…