Delicious and easy to make, these Red Velvet Crinkle Cookies are a little crispy on the outside and chewy on the inside. These heart-shaped red velvet cookies make them the perfect and festive treats for Valentine's Day!
A wonderful day, my friends!
I can tell you, this week has just been unusually busy in our household. So I've been taking days here and there off of blogging.
But this past weekend, I made our favorite red velvet crinkle cookies, so here I'm back. I guess I can't help but share these with you all.. these are just perfect for Valentine's Day! 🙂
I made these cookies last Christmas but this time, I put a little Valentine's Day touch and used heart-shaped cookie cutters and they turned out super cute! These cookies are a hit all the time, especially the kids. They're nice and crispy on the outside, but super chewy on the inside!
Red Velvet Crinkle Cookies Recipe
My friends, making these red velvet crinkle cookies is super easy! I'm not really one for cake or cookie mixes for baking my cookies (although you could use that too) so I made my own red velvet cake mix from scratch – flour, cocoa powder, sugar and all. Then I rolled and sprinkled my cookie dough in powdered sugar to give them the crinkle affect, then I cut them with my heart shaped cookie cutters just before baking.
There's nothing like red velvet crinkle cookies from scratch! We all enjoy these cookies anytime and every time!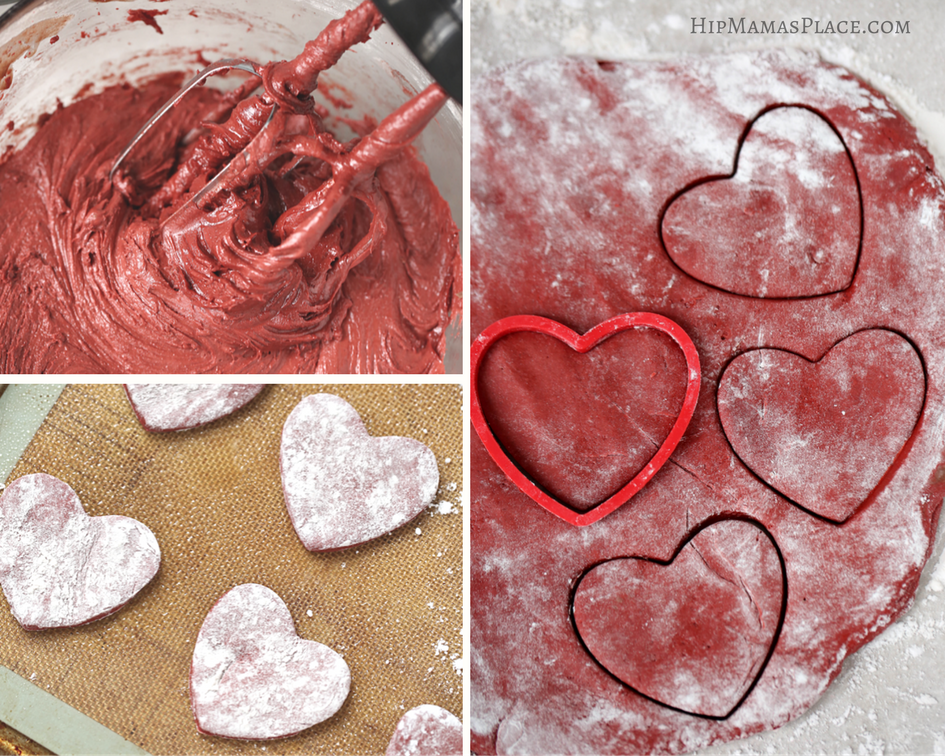 Thinking of a sweet treat for your Valentine sweetheart? Make a batch of these yummy and easy to make red velvet crinkle cookies! These are great to give away to friends and family this Valentines' Day too!
Print
Red Velvet Crinkle Cookies
---
2 cups

flour

¼ cup

cocoa powder

1 tsp

baking powder

1/3 cup

vegetable oil

1 cup

sugar

2

eggs

1 tsp

vanilla extract

1

–

2

tsp red food coloring (to your desired red)
powdered sugar for dusting
---
Instructions
Preheat oven to 375 F degrees. Line 2 baking sheets with parchment paper and set aside.
Mix flour, cocoa powder, and baking powder together in a large bowl.
In a separate bowl, beat oil, eggs, vanilla and sugar. Add to dry mixture bowl, then add the red fool coloring.
Mix together with an electric mixer until evenly blended.
Dust a mixture of flour and powdered sugar onto a clean, dry surface.
Dust your hands with flour (mixture will be sticky) and grab a large handful of dough/batter. Roll it in your dough/sugar, then press out to make a ½ inch thick sheet.
Cut out hearts, then transfer to baking sheet. Repeat these steps until sheet is full. Sprinkle each cookie lightly with more powdered sugar.
Bake at 350 degrees for 15 minutes, checking after ten to make sure they don't burn.
They will be ready when they start to crack.
The cookies will spread in the oven. Let cool on the baking sheet for a couple minutes then transfer to wire rack to finish cooling completely.
This post originally published on February 7, 2017. Updated: February 2, 2021.
LOVE THIS RECIPE? PIN IT FOR LATER!