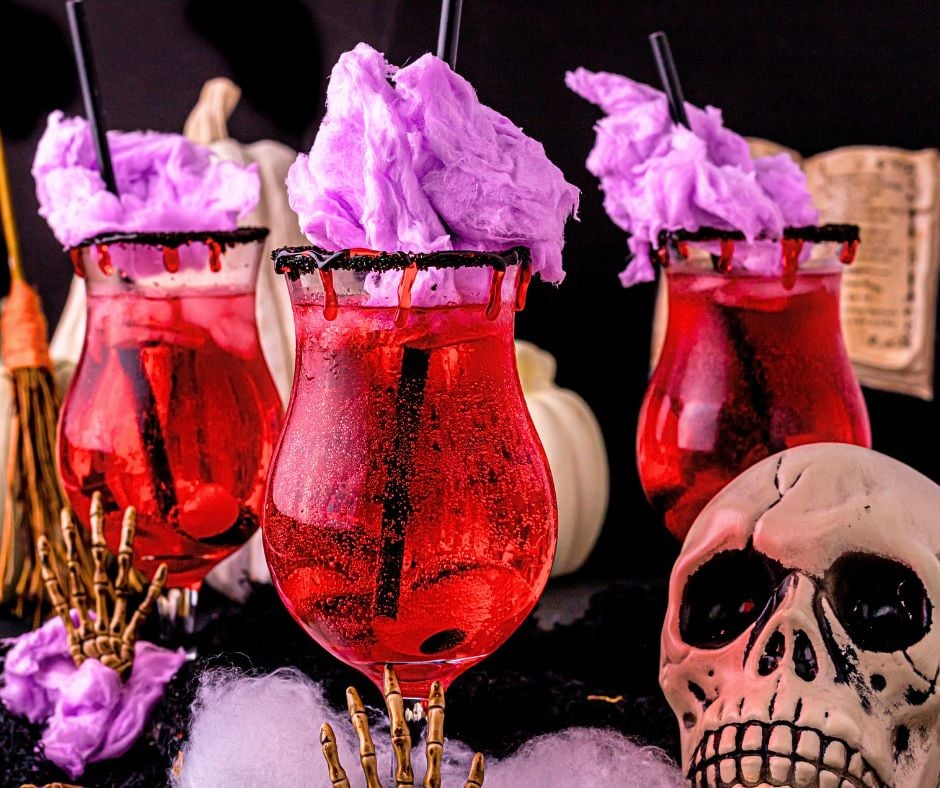 Looking for a cool and a bit scary drink for your Halloween party? Well, check out this Vampire Blood Drink! It's a fun and spooky drink that everyone in the family will enjoy. We're taking regular cherry limeade and giving it a Halloween twist. All you need is Sprite, grenadine, cherries, black sugar, and top it off with some cotton candy. This drink is so tasty and spooky, it'll make you do a double take!
Halloween is all about the candy. Candy has always been the main attraction of the holiday and that probably will never change. But, along with the candy, comes the need for spooky decorations. It wouldn't be Halloween without skeletons, ghosts and graveyards filling the neighborhood! I like to decorate inside my house as well as outside, creating a creepy atmosphere for my family to tiptoe around. In the month of October, everything is Halloween, right down to my favorite halloween drink recipes. After all, it wouldn't feel like Halloween if I wasn't enjoying my candy with a side of Vampire Blood drink, right?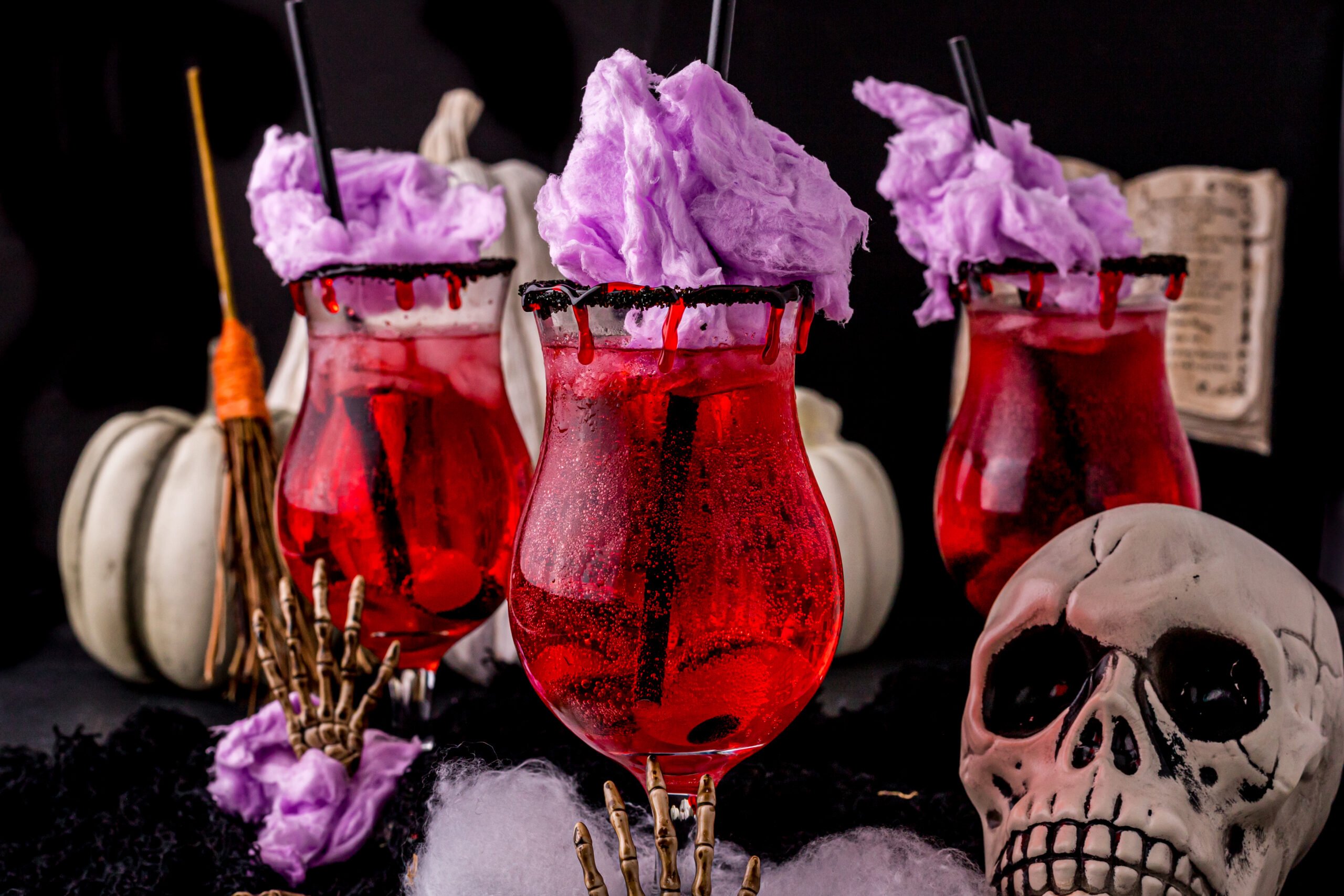 I'm a firm believer that Halloween doesn't have to be just about candy. There are so many fun foods and drinks that you can make to celebrate. One of my favorite traditions is to set up a whole buffet of themed foods inside my house. Friends and neighbors can stop by while trick or treating with their kids and grab a glass of kid friendly, cherry limeade Vampire blood or a piece of Hocus Pocus fudge. I take full advantage of the chance to put out a Halloween food display!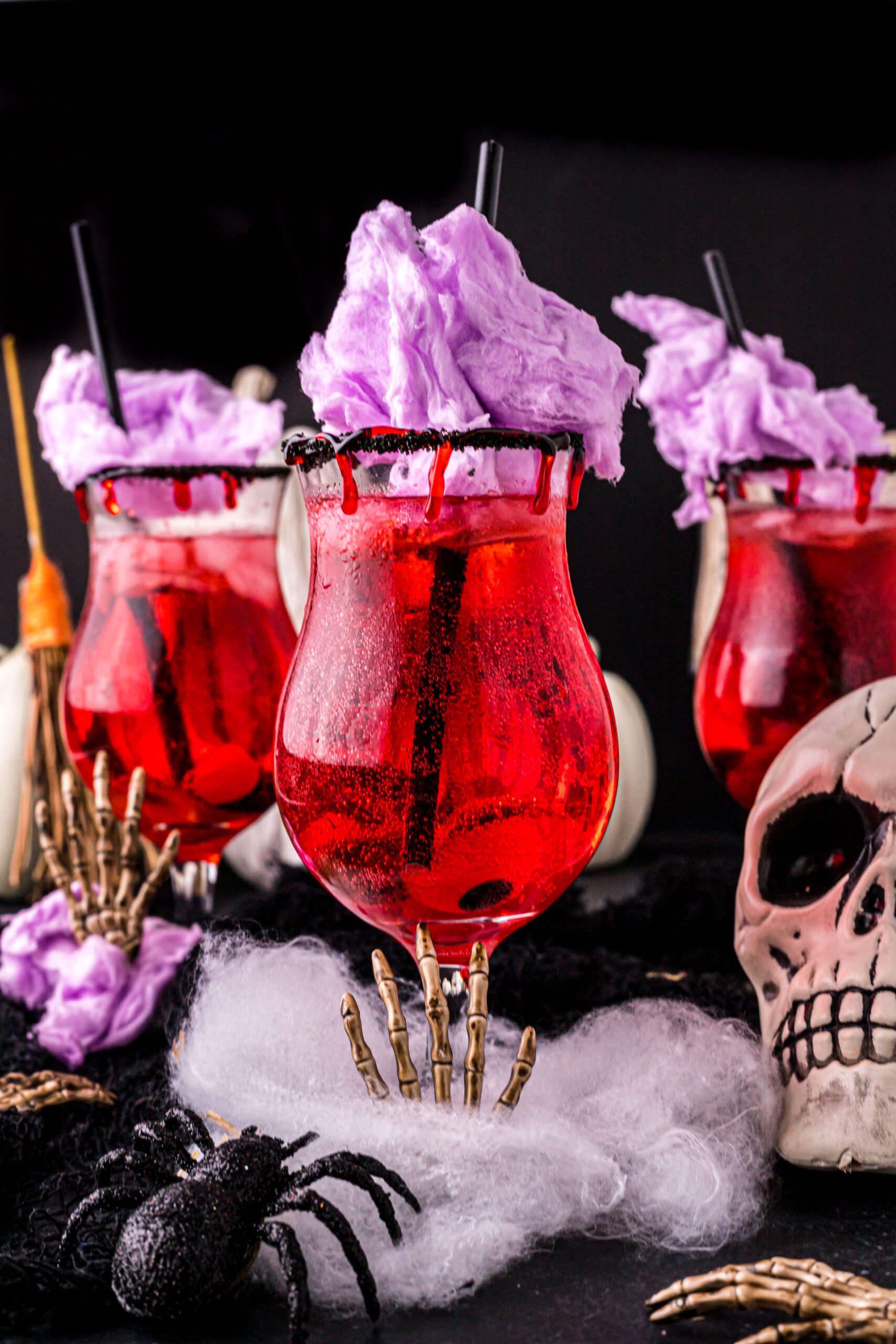 This vampire blood drink may be one of our favorite Halloween drink recipes. It is very festive but also tasty and refreshing. The kid-friendly vampire blood drink is delicious and a welcomed treat for kids and adults before and after they spend all night walking the neighborhood. It also keeps the party going with the creepy look of the drink.
Let me tell you all about how to make this tasty vampire blood drink.



Ingredients in Vampire Blood Drink Recipe
This vampire drink recipe is essentially a fizzy cherry limeade. It is completely alcohol-free and delicious for both kids and adults. Here is what goes into the glass: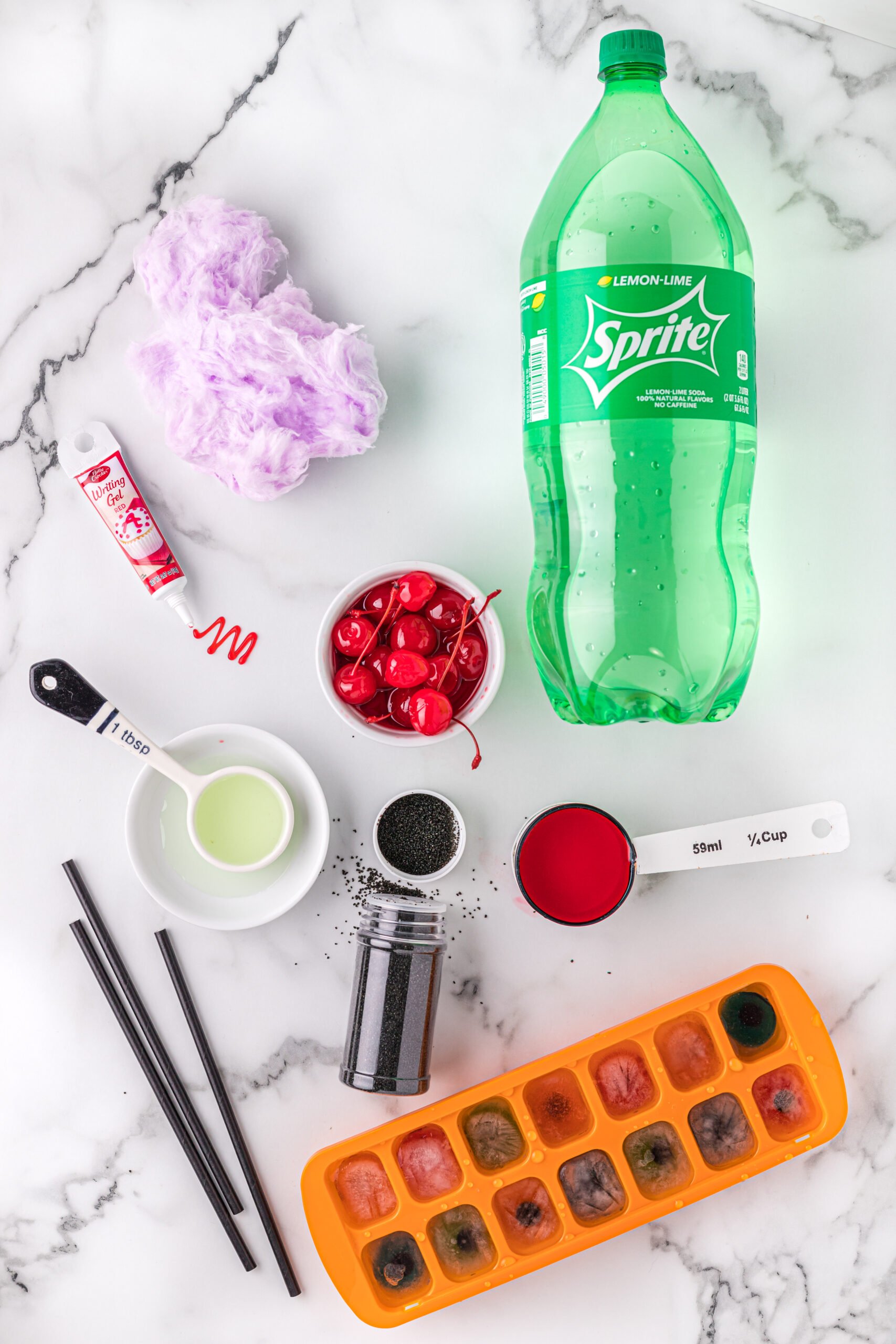 Sprite- The fizzy, lemon lime taste is what this drink is all about
Grenadine syrup- sugary, cherry syrup adds most of the flavor to the drink
Lime juice- fresh lime juice is best
Maraschino Cherries- A delicious garnish that may be mistaken for vampire eyeballs floating in the glass…
Black sugar sprinkles- a black sprinkled rim is fancy and spooky
Red gel food coloring- the deep red color of the drink is very blood-like
Purple cotton candy- This makes a gorgeous, colorful garnish
You can find the black sprinkles, red food coloring and cotton candy online or at your local craft store. Most stores are well stocked for Halloween right now!
How to Make Vampire Blood Drink
Gather your ingredients to make vampire blood drink but wait until you are ready to enjoy the creepy concoctions before you start mixing. The bubbles in the Sprite taste best when very fresh.
Here is what you will need to do:
1. Mix the Sprite, grenadine and lime juice together in a large pitcher.
2. Grab two small plates and add lime juice to one and black sugar to the other. Then dip the rim of glass into the lime juice followed by the black sugar.
3. Drip a little red food coloring over the black sprinkles, letting it run down the outside of the glass.




4. Add the cherries, gummy eyes and creepy ice cubes to each decorated glass.
5. Pour the vampire blood drink mix all the way up to the rim of each glass.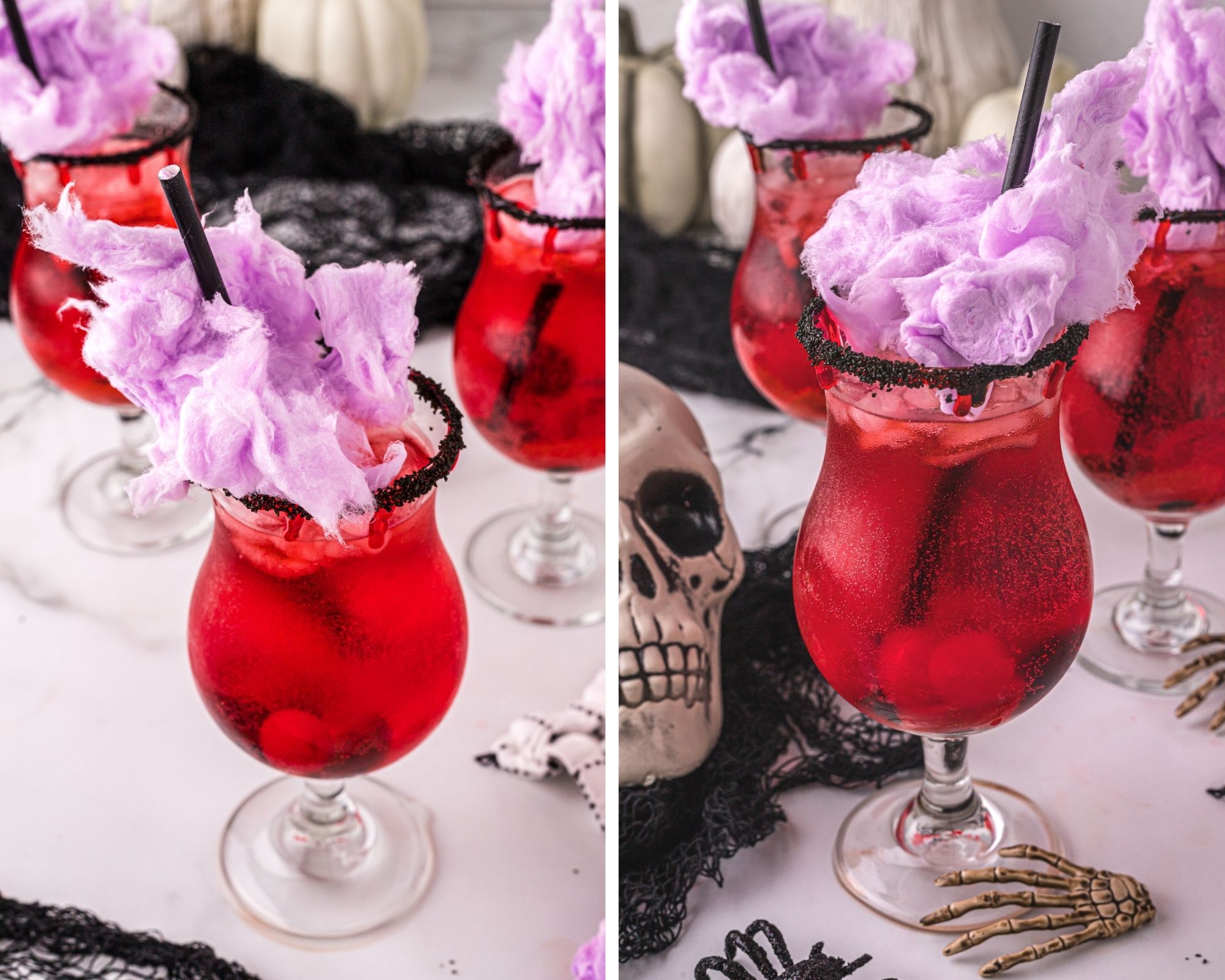 6. Top each glass with some Halloween cotton candy and enjoy with a straw.
See how easy it is to make these incredible, festive vampire's blood drink?! A table full of these creepy drink glasses will really set the Halloween mood. I guarantee that kids and adults will gravitate toward the vampire blood drink. No one will be afraid!
Tips and Tricks for Making Halloween Vampire Blood Drink
I have made this vampire blood drink recipe many times over the years and I have a few tips and tricks to share with you. If you come up with any other stellar ideas, please let me know! I always want to make my Halloween themed treats better and creepier!
Prepare the glasses in advance, dipping the edges in the black sugar and adding the food coloring blood. This will save you time later on!
Wait until you are ready to drink the vampire blood before mixing the drink. Sprite looses its fizz quickly so you want it to be as fresh as possible.
Make scary ice cubes to add to the drink. Place a plastic spider in each section of an ice cube tray and then fill with water. Freeze the cubes and then pop a "spider ice" into each glass!
Make this drink into a Halloween cocktail, perfect for adults. Simply add 1 ½ ounces of vodka to each glass before pouring the vampire blood drink into each glass.
Red gel food coloring will make the thickest "blood" drip for the glasses. Be warned that your mouth will turn red, just like a vampire who just enjoyed some blood…
Any bright color cotton candy will work. Neon orange, green or purple are my favorites. You can find small bags at Party City, the dollar store or order them online!
This Halloween, don't focus just on the candy, remember to make everything creepy, spooky and scary! I never thought sipping vampires blood would taste this good! This Halloween drink recipe for Vampire Blood is the perfect way to add even more fun and spookiness to your house. Give them a try for your Halloween party or to hand out to adults on Halloween night.
Let me know what you think and send me some photos of your vampire blood drink set up or tag me on Instagram @hipmamasplace if you post your own vampire blood drink photos!
Print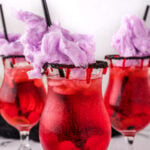 Vampire Blood Drink – Kid-Friendly Halloween Drink
---
Author:

Prep Time:

15 minutes

Cook Time:

0 minutes

Total Time:

15 minutes

Yield:

2

servings, 1 cup per serving

1

x
Description
This vampire blood drink is a spooky fun drink that will be loved by the whole family. We are taking a fun twist on cherry limeade and making it a spooky drink for Halloween! 
---
2 cups Sprite 
¼ cup Grenadine 
1 tablespoon Lime juice 
6 Maraschino cherries 
Black sugar sprinkles (Wilton) 
Red food gel 
Purple cotton candy 
Creepy Ice cubes
Gummy eyes 
Cherries or blueberries 
Water
---
Instructions
In a large pitcher mix together Sprite, grenadine, and lime juice. 

Grab two small plates and add lime juice to one and black sugar to the other. 3. Dip rim of glass into the lime juice followed by the black sugar. 

Drizzle red food gel over the black sugar, it is okay if it drips, that's what you want. 5. Add ice cubes to the glass and pour cherry Sprite all the way up to the rim. 6. Add a big handful of cotton candy to the top and add a straw. 

Cheers!
Notes
I got my gummy eyeball ice cubes at Walmart but if you cannot find these, you can easily just add a cherry or a blueberry to your water before freezing to  give the ice a spooky effect.
Keywords: halloween, vampire blood drink, kid's drink, halloween drink
LOVE THIS RECIPE? PIN IT FOR LATER!