These incredibly delicious homemade peanut butter cups are the perfect dessert to serve this Halloween, or any party! Not only are they a great treat to give to kids, but they are also fun for kids to make with you! These are really the BEST homemade peanut butter cups!
What's your favorite candy? Mine is definitely peanut butter cups. I just love the combination of chocolate and peanut butter. Everyone in my family agrees too – we are peanut butter cup addicts!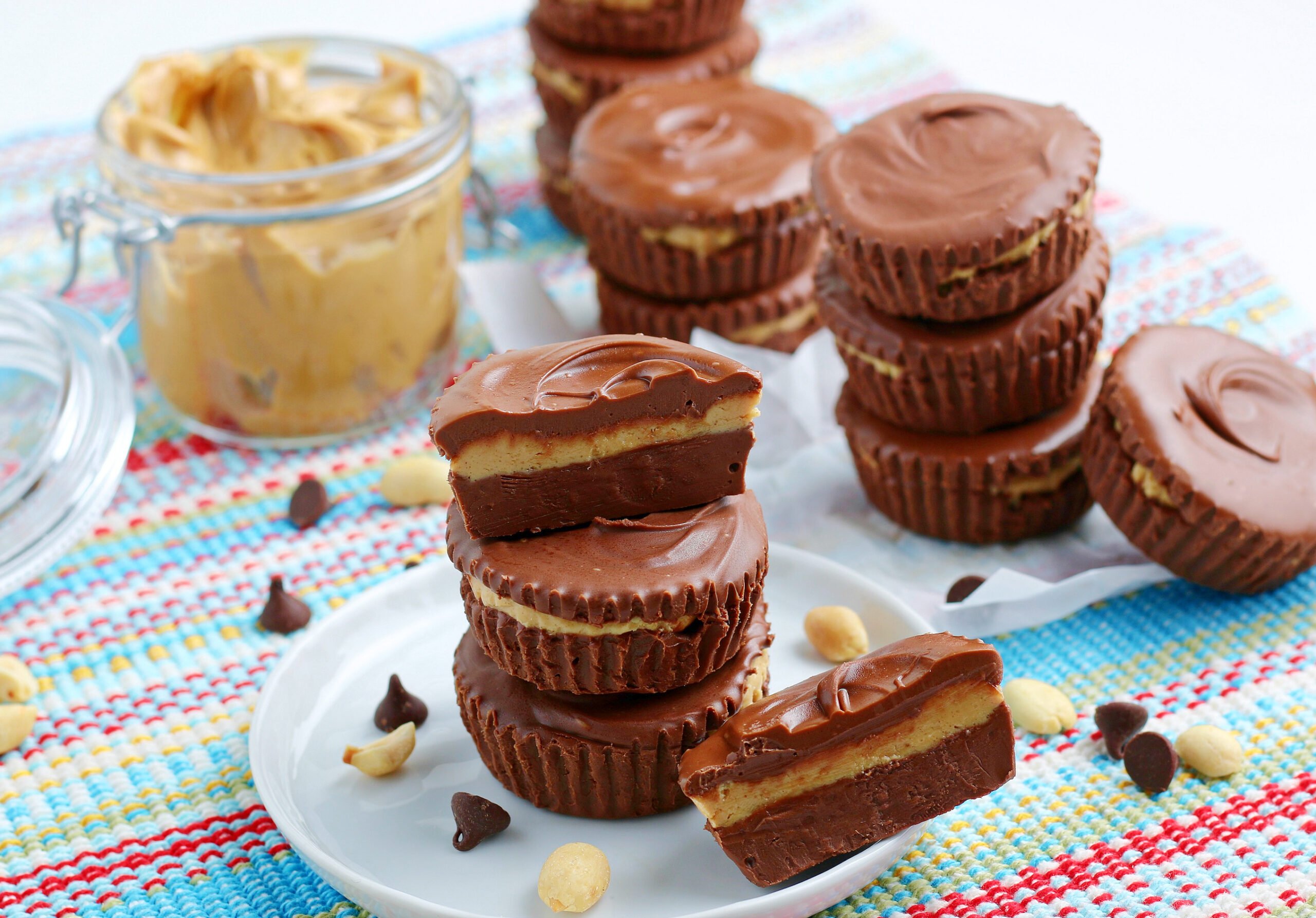 Rather than just buy peanut butter cups at the store, I like to make my own at home. Making peanut butter cups also makes a sweet treat that is better than anything you can buy in the store. Homemade peanut butter cups are so fresh, rich and more irresistible than any other candy out there. You can really tell the difference between homemade peanut butter cups and the ones bought in the store.
Are you ready to make delicious and the BEST homemade peanut butter cups? Good! Because I am here to share all my tips, tricks and secrets!
Ingredients for Homemade Peanut Butter Cups
There's a good chance you already have everything you need to make peanut butter cups in your pantry.
Here are what you will need to make this recipe:
peanut butter- I prefer creamy but you can definitely use chunky if you want your peanut butter cups to have a crunchy texture.
butter- Room temperature butter will blend into the filling best. This will make a very creamy peanut butter filling.
powdered sugar- use powdered sugar which melts into the filling very easily and does not leave a grainy texture behind.
salt- salt always enhanced the flavor of everything
semi-sweet chocolate chips- you can also use milk chocolate for a sweeter candy
milk chocolate candy bars- Use dark chocolate for a richer peanut butter cup.
This recipe will make about 12-18 peanut butter cups but you can easily double it. It even works well in a triple batch for when you want to make lots of candy for a party or event (Halloween is coming up!).
How to Make Homemade Peanut Butter Cups
It takes about 30 minutes to make homemade peanut butter cups, even less time after you master the recipe. Here is a quick look at how to make peanut butter cups that are incredibly delicious.
Line a cupcake pan with paper liners- any color will work!
Blend the peanut butter, powdered sugar and butter together until smooth.
3. Melt the two kinds of chocolate a little of the butter together using the microwave.
4. Pour a little chocolate into each paper liner, covering the bottom completely.
5. Add a scoop of the peanut butter mix to each chocolate lined paper cup.
6. Top the peanut butter layer with more chocolate.
7. Refrigerate until the chocolate is set and then enjoy!
Seems pretty easy, right?! It's essentially just mixing, melting and scooping! The waiting is definitely the hardest part. I always want to peanut a peanut butter cup right away! Being patient is so hard…
Tips and Tricks for Making Chocolate Peanut Butter Cups
After making homemade chocolate peanut butter cups many times, I have found a few tips and tricks that work well. Hopefully, these little secrets will help you make the best candy possible.
Roll the filling – Sometimes the peanut butter filling can be a little thick and hard to spread evenly in the paper cup. I like to scoop about a ½ -1 teaspoon of filling into my hand and roll it into a little ball. I then put the ball in the chocolate lined cup and press it flat with my finger. This makes the perfect layer!
Use chocolate bars AND chocolate chips – Chocolate chips are not always tempered perfectly which means the chocolate does not have a nice shine or crisp crunchy texture. Chocolate bars, on the other hand, do have that amazing mouth-feel. Blending chocolate bars with chocolate chips is an economical way to get the best taste and texture as possible.
Make mini peanut butter cups – Use a mini muffin tin and mini muffin liners to make bite sized peanut butter cups. These are perfect for dessert buffets, goodie bags and passed desserts at parties. This recipe will make about 36 mini peanut butter cups.
Use dark chocolate – For a super rich peanut butter cup, use dark chocolate bars and semi sweet chocolate chips for a very decadent dessert.
Try almond butter – Replace the peanut butter with almond butter to make a chocolate almond butter cup. You may also need to add about ¼ cup more powdered sugar to make the filling nice and thick- almond butter can be a little runny.
Add vanilla extract – I like to keep my recipes as simple as possible. However, ½ teaspoon of vanilla extract in the peanut butter filling is an amazing touch. It really makes them taste homemade.
Homemade Peanut Butter Cups for Halloween
Halloween is coming up and these homemade chocolate peanut butter cups are the perfect dessert to serve at your party. Not only are they a great treat to give to kids, but they are also fun for kids to make with you!
Give this homemade peanut butter cups recipe a try and let me know how many you end up eating. I have definitely had more than one! Enjoy!
Print
The BEST Homemade Peanut Butter Cups
---
Author:

Prep Time:

10 minutes

Cook Time:

20

Total Time:

30 minutes

Yield:

12

-

18

1

x
1 cup creamy peanut butter, divided
1 ½ tablespoons unsalted butter, softened
½ cup powdered sugar
½ teaspoon salt
1 bag (11.5 oz) chocolate chips, semi-sweet or milk
4 (1.55 oz each)milk chocolate candy bars, coarsely chopped
---
Instructions
Add cupcake liners to muffin tin and set aside
In a medium bowl, combine ½ cup peanut butter, butter, powdered sugar and salt until smooth
In a microwave safe bowl, add chocolate chips, chocolate bars and remaining peanut butter
Heat for 1 minute, then stir. Continue heating for 10-20 seconds at a time, stirring after each heating and stopping just before chocolate is completely melted.
Stir until chocolate is completely melted
Using a cookie dough scoop, add chocolate into paper liners
Top each with about 1 teaspoon of peanut butter mixture ** see notes
Add remaining chocolate on top
Place in refrigerator to set
Store in airtight container in refrigerator until ready to serve
Keywords: peanut butter cups, homemade peanut butter cups, chocolate peanut butter cups
LOVE THIS RECIPE? PIN IT FOR LATER!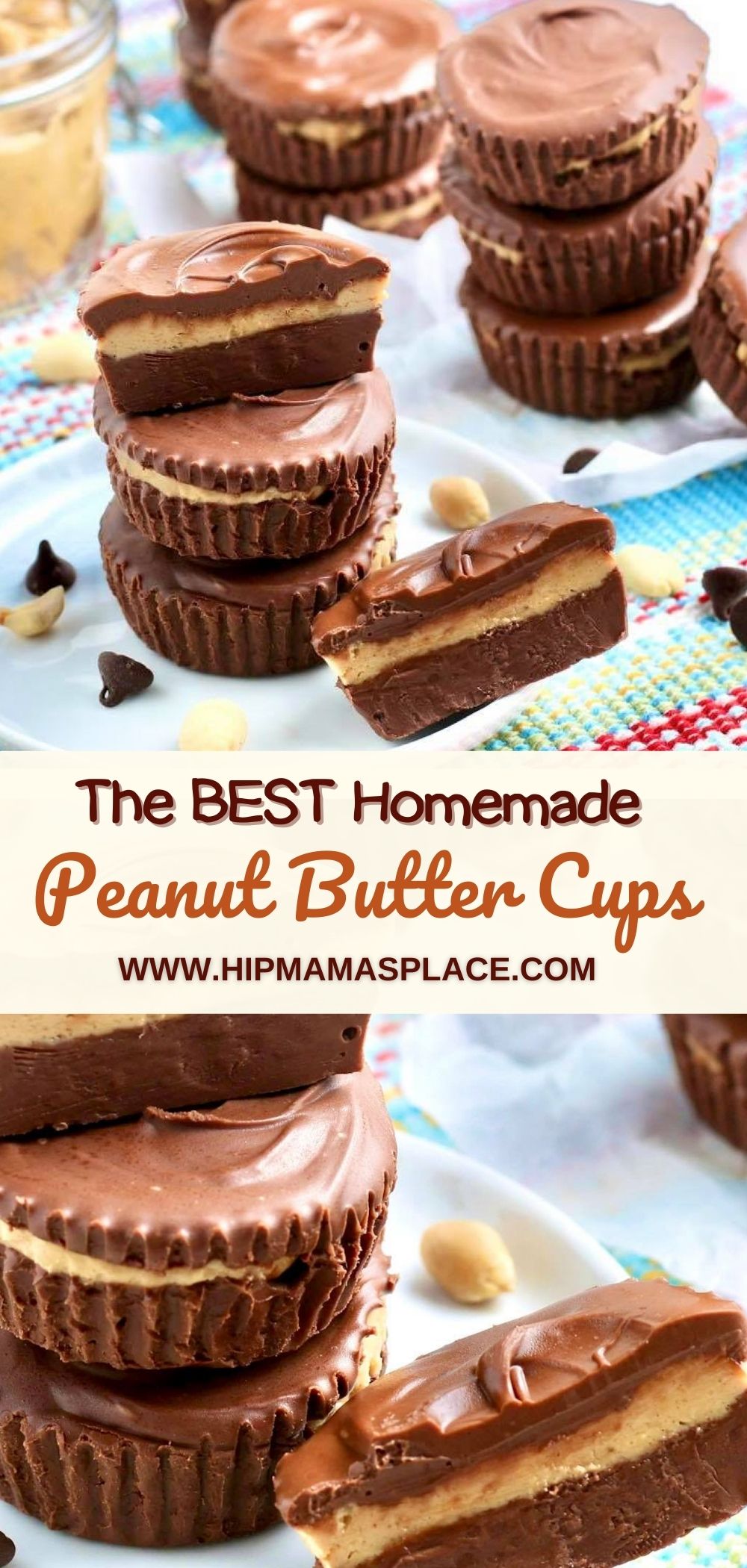 You Might Also Like…