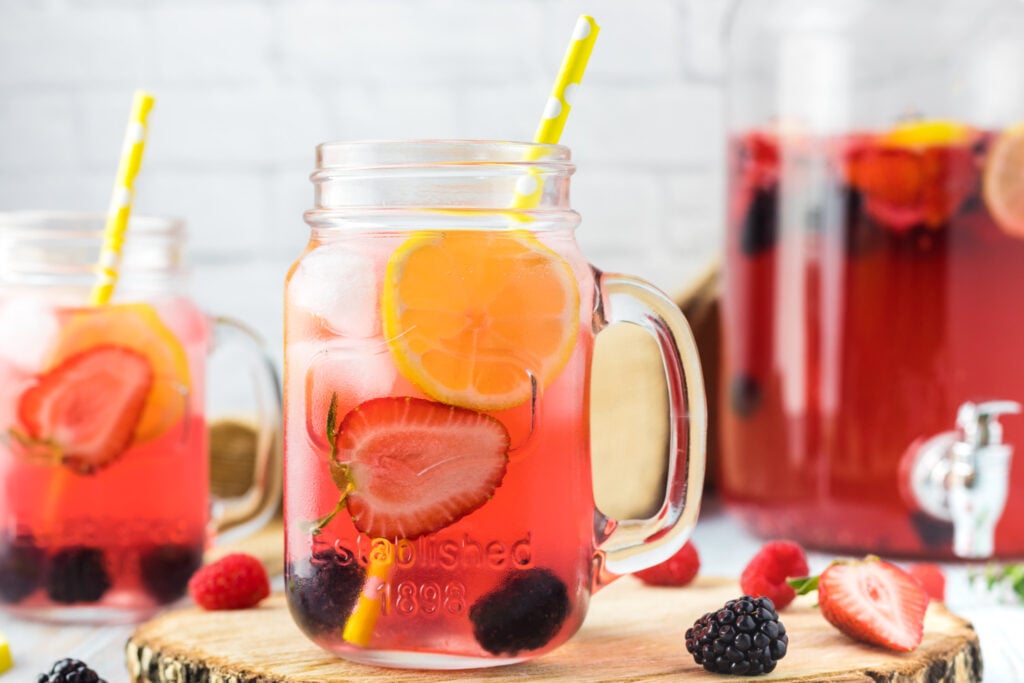 This light, refreshing Sparkling Berry Lemonade recipe with mixed berries can be made kid-friendly or as an adult cocktail drink too! We enjoy this sweet, thirst-quenching drink in the summer and even in spring time!
I'm loving the recent warmer weather and this Sparkling Berry Lemonade recipe is just perfect!
I especially can't wait for summer to finally get here. We have even booked our annual family summer vacation already! We are headed to one of our top favorite beach spots (Myrtle Beach, South Carolina) this July and I'm already dreaming about sitting by the ocean, relaxing with my family with a cold drink in my hand.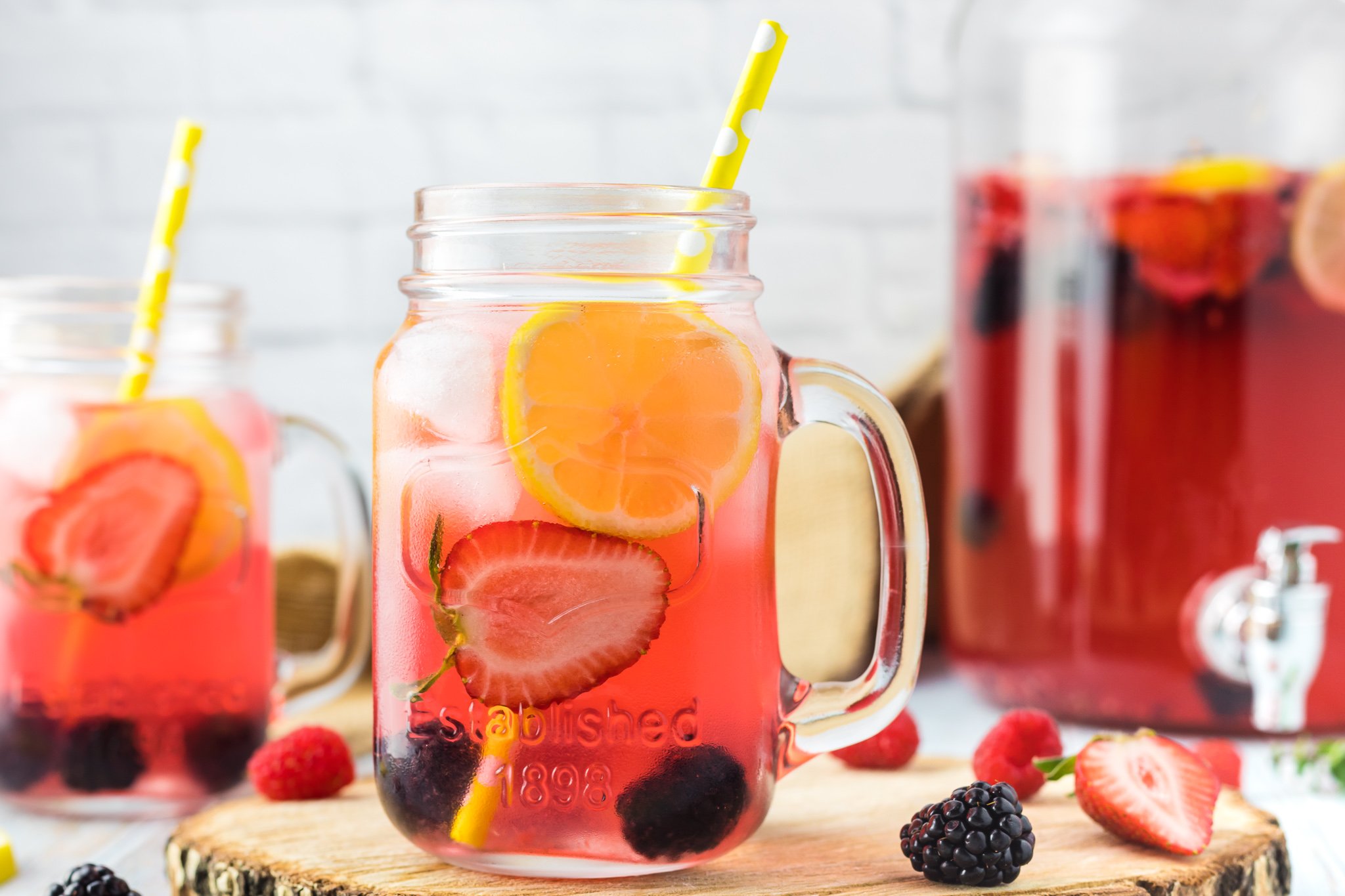 Speaking of cold drinks, I've already started practicing that "cold drink in my hand" part of my fantasy. I've been making sparkling berry lemonade almost every day. The fresh berries and cold bubbles put me in the summer mood! This berry lemonade recipe is super easy and quick to make too! You can whip up a big glass then head outside to sit in the sunshine!



HOW TO MAKE SPARKLING BERRY LEMONADE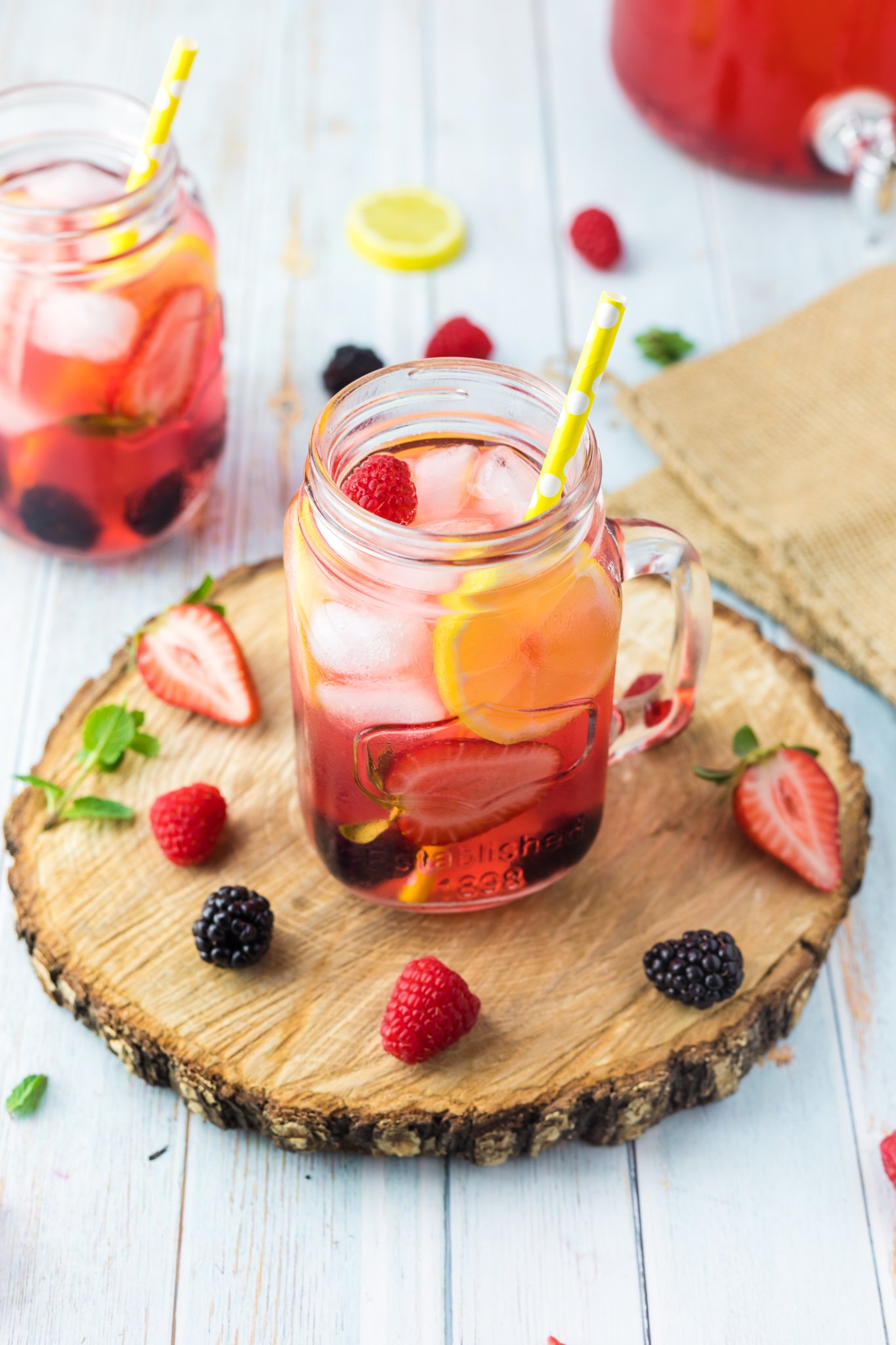 Let me tell you a little more about how to make mixed berry and strawberry mint lemonade and create this summer-perfect drink.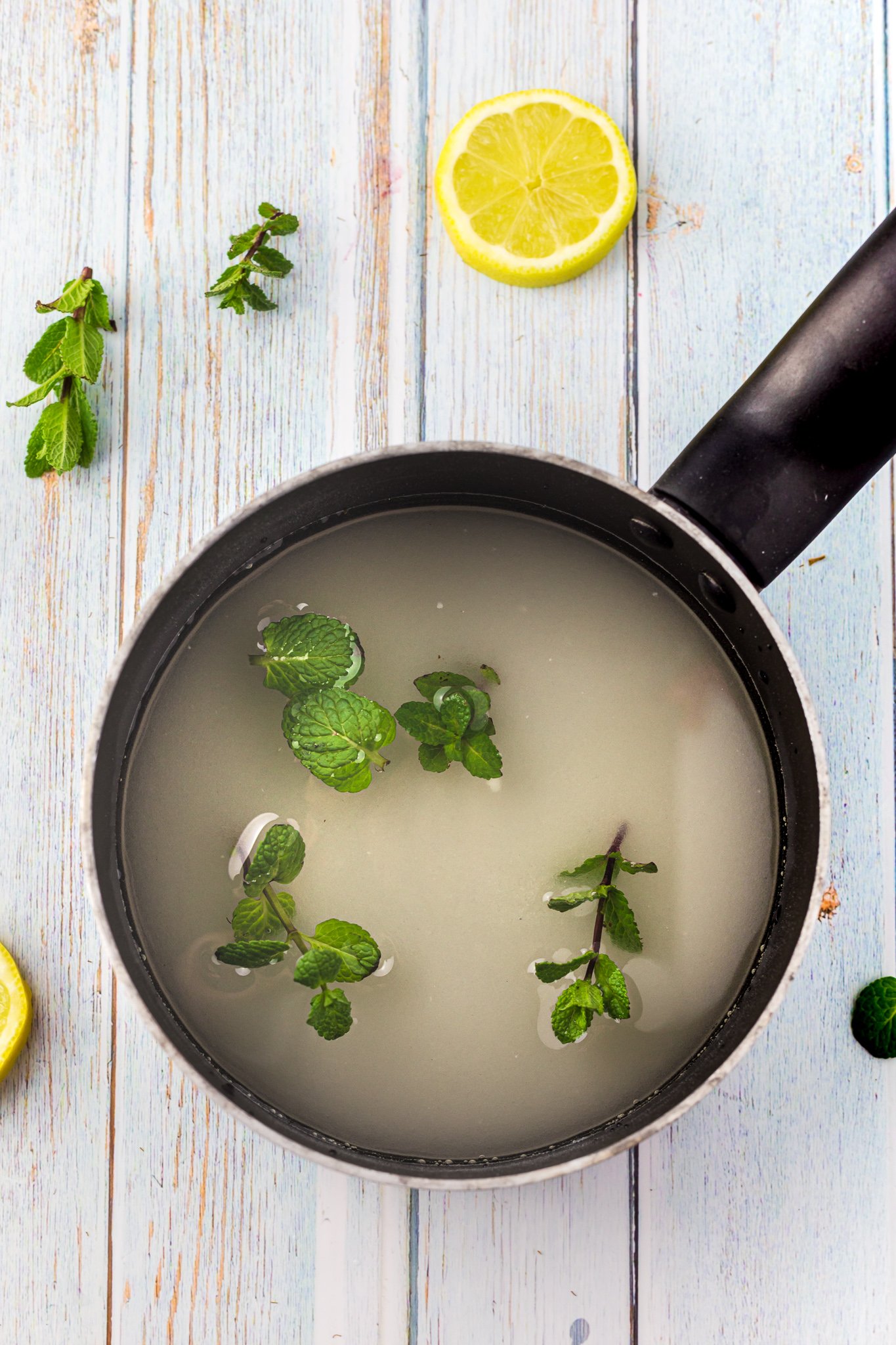 It all starts with a fresh mint simple syrup. Water, sugar and fresh mint sprigs are boiled together then covered and steeped. Letting the mix sit and steep lets that fresh mint flavor really come out. Remove and discard the mint leaves, leaving behind the sweet, mint flavored simple syrup. This is what will sweeten the sparkling berry lemonade and give it that delicious, bright mint flavor.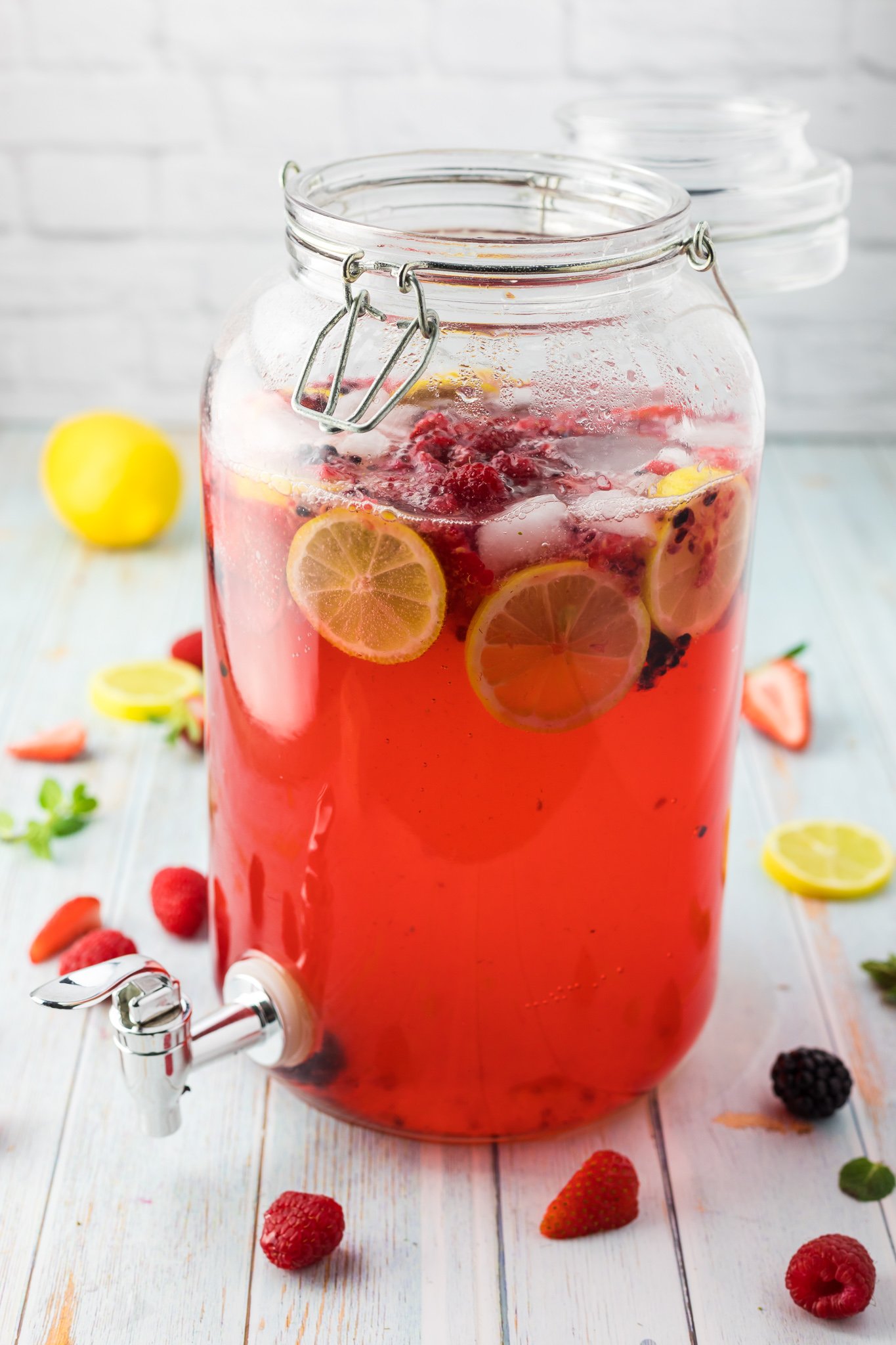 Now that the syrup is made, you are ready to put together a big pitcher of sparkling lemonade! I begin by adding some of the berries to a large pitcher. I mash them up with a muddler, crushing the berries and releasing some of their juices. This will allow the real flavor of the fresh berries to come out and shine in this berry lemonade recipe.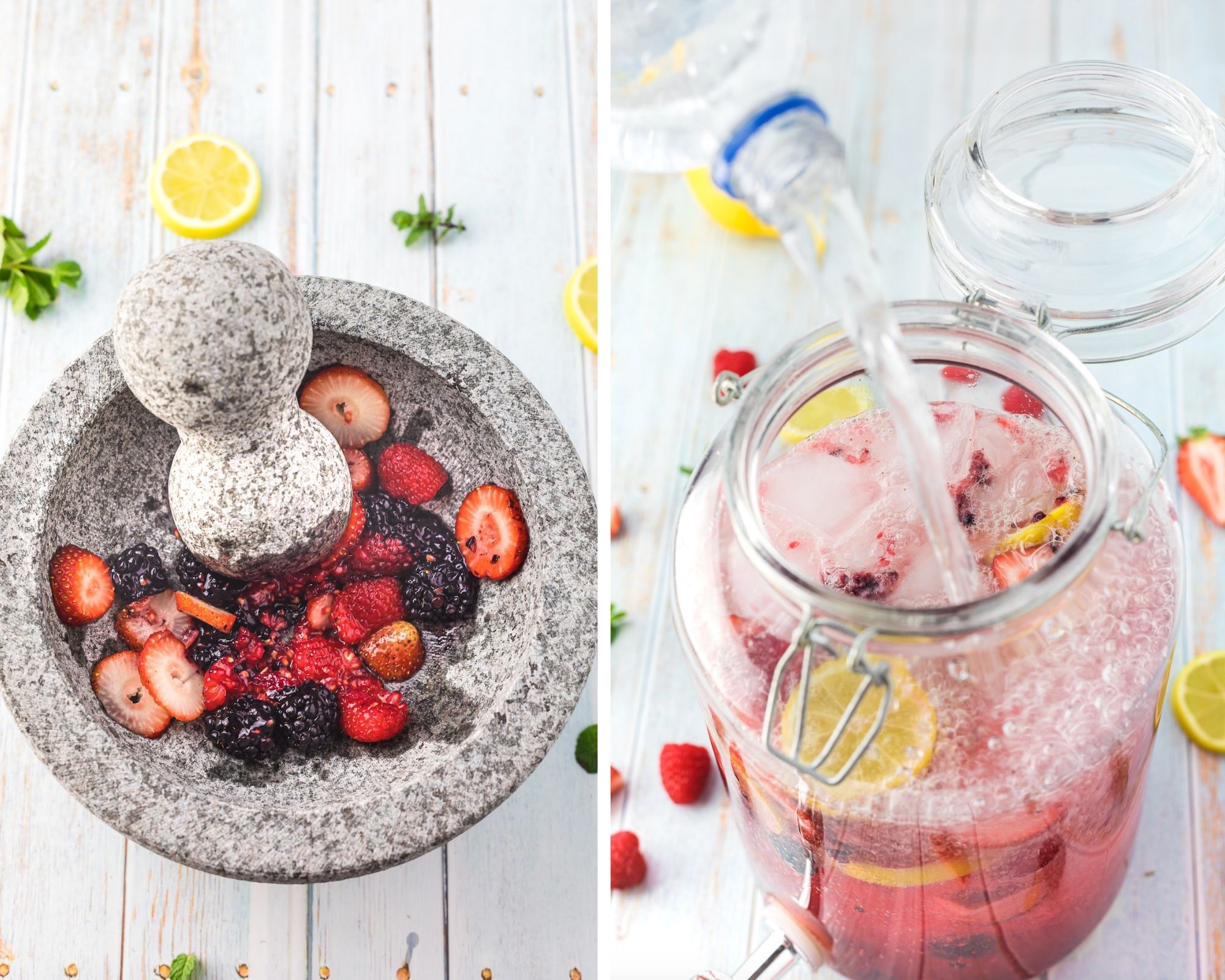 After mashing the berries, add the mint syrup, fresh lemon juice and remaining berries to the pitcher. Stir briefly to mix everything together well. Add the sparkling water to the pitcher to give the sparkling lemonade that signature sparkle! Pour the lemonade into a big glass of ice and garnish with a few more fresh berries or lemon slices. Voila! The perfect summer drink is complete!
TIPS AND TRICKS FOR MAKING THE BEST SPARKLING BERRY LEMONADE
I like to make the mint simple syrup ahead of time and store it in the fridge. It will keep for about a month. Make a double batch of syrup and store it in an airtight container. Then, anytime you are craving a sparkling berry lemonade, a strawberry mint lemonade or just a plain mint lemonade, you have the syrup on hand, ready to use. This little trick will help you make easy, gourmet drinks all summer!
There are a few ways that you can switch up this recipe and make it even more exciting. Try using different berries or just one kind of berry. Sparkling strawberry mint lemonade would be fantastic in the spring when strawberries are in season. Skip the berries all together and just make a mint lemonade using that fresh mint syrup you made. Mint lemonade is refreshing and still very summer-y.
If you are looking for a low carb sparkling lemonade, replace the sugar in this sparkling lemonade recipe with erythritol or another low carb sweetener. Berries are actually part of the keto diet and are considered an amazing low carb fruit. Making this berry lemonade recipe using a low carb sweetener will help you stick to your diet, get that summer body ready and still give you a refreshing, delicious drink.
To make this carbonated lemonade for adults, just add a little vodka to the pitcher. That's right- vodka for adult sparkling lemonade! This would be perfect for summer vacation and surely help you relax on the beach! Citrus flavored vodka will add a nice, light taste to the sparkling lemonade as well.
Making berry mint drinks for summer is something I plan to do all season long. I have already started making this berry lemonade recipe all the time! After all, the weather has been so warm and I have been outside more and more. I need a bubbly carbonated lemonade to keep me hydrated and refreshed!
Give this sparkling berry lemonade recipe a try and let me know what you think. Everyone in my family adores it. I have been keeping a big pitcher in the fridge so we can all easily pour ourselves a glass. This tasty drink is definitely summer-worthy and beach-ready. Now, bring on the warm weather! I'm totally ready for summer!
OTHER REFRESHING DRINK RECIPES TO TRY:
I hope you like this easy berry lemonade recipe– be sure to give it a review below!
Print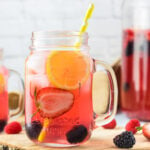 Sparkling Berry Lemonade
---
Author:

Prep Time:

5 minutes

Cook Time:

10 minutes

Total Time:

30 minutes

Yield:

1

large pitcher

1

x
Description
This refreshing, light and sweet Sparkling Berry Lemonade recipe with mixed berries can be made kid-friendly or as an adult cocktail drink too!
---
For Mint Sugar Water:
1 cup sugar
1 cup water
3 sprigs fresh mint, plus more for serving (optional)
For Lemonade:
1/2 cup lemon juice plus 1 lemon cut into thin slices
3/4 cup blackberries
3/4 cup raspberries
3/4 cup strawberries, sliced
2 liters sparkling water
---
Instructions
FOR MINT SUGAR WATER: Place water, fresh mint and sugar in a saucepan and bring to a boil, stir until sugar has dissolved.
Remove from heat, cover and steep for 15 minutes. Remove mint leaves from sugar water and set aside.
MAKE THE LEMONADE: Using a mortar and pestle, muddle 1/4 cup each strawberries, blackberries, raspberries and place in a large pitcher. Can also use a muddler or a wooden spoon to muddle the berries directly in the pitcher or drink dispenser if preferred.
Add mint sugar water, lemon juice, remaining berries and lemon slices to pitcher.
Stir to combine.
When ready to serve add ice and sparkling water.
Keywords: lemonade, berry lemonade, sparkling berry lemonade